Due to health and safety concerns regarding the possible spread of the Corona Virus the Greenbelt Community Center where we meet remains closed to events.
to MAMA's Diner, the official home of the Maryland Automotive Modelers' Association (MAMA), where we serve entrees of fun, friendship, and model cars.
MAMA's current leadership team is:
President: Tim Powers
Vice-President: Dave Toups
Treasurer: Matt Guilfoyle
Newsletter Editor: Tim Sickle

*** Show Updates ***:
CANCELED: Tri-State Trifecta Model Car Show, Swap Meet, & Contest, was scheduled for September 26.
Please continue to follow the 15 Days to Slow the Spread guidelines issued by the White House. Your health and safety are far more important than any meeting, contest, or show. We want to see you there whenever we are able to have in-person meetings, contests, and shows again.
A Note from the MAMA President:
What do you say when you want to wish your fellow club members a Happy Anniversary, but you know that because of current events/circumstances that isn't possible? This whole Cornoa Virus/COVID-19 pandemic has really screwed up every facet of our lives, including the social aspect of model car building. Given that most of us are rather introverted to begin with, the social part of our hobby is minimalistic to begin with. Club meetings, shows, and contests are about all there is for interpersonal interactions with other car modelers. While we still have the virtual aspects like sharing through websites and social media tools, it's just not the same. You don't get the tactile sensation of a handshake or pat on the back. You don't get to hear or share in a raucous round of laughter following a good joke or funny comment. "ROFL" or "LOL" in text just isn't the same.

So, what can you say? Well, I can start with wishing you, your family members, and your friends the best of health at this time and in the upcoming cold/flu/COVID season. I can ask that you remain vigilant in your mask wearing, social distancing, and constant hand sanitizing/washing until this Corona virus is beaten. I want every one of you to be around to attend meetings when we can finally get together again in Greenbelt.

Then, I can suggest that you get yourself some of your favorite cake and raise a glass of your favorite beverage in a toast as you peruse the following pictures of model cars that some of the finest builders in our hobby would've loved to have shown to you in person. Although our world is really screwed up right now I can only hope that these small things can help make this year's club anniversary at least a little bit special for you. I have enjoyed being a member of this club with you for 32 years and I still enjoy it. Happy Anniversary.
.
.
Scenes from our seventh pseudo-virtual meeting in September:
While this pseudo-virtual meeting comcept has been working well, it is disheartening that we have to observe our 32nd Anniversary as a club apart from each other. With the progress that the scientifici community is making in researching possible vaccines and treatments for the Corona virus and that COVID-19 related hospitalizations in Maryland appear to be leveling off somewhat, I am hopeful that we'll be able to resume physical meetings by next spring.
Due to public health and safety concerns and Maryland State restrictions on gatherings aimed at preventing the potential spread of the Corona Virus the Greenbelt Community Center where we meet has been closed since March. We had really good results over the previous six months with members and friends sending us photos and descriptions of the model cars they would have brought if we'd had physical meetings, or just any model cars or projects they wanted to share. This month we're doing it again.
Our 32nd (virtual) Anniversary Pictures.
Rex Turner had a great idea for our 32nd Anniversary, he sent us a retrospective of his builds from the past three decades. Although most car modelers prefer the regular scales or perhaps something larger like 1/16 or 1/12, Rex discovered 1/43 kits back in the 1990's and as you can see built a number of them over the years. He cites several advantages to the smaller scale in that they take up less room, the subject matter (especially vintage race cars) is pretty good and they can be built much faster than a 1/24 kit as most of them do not have a detailed engine or chassis. He says tthat it seems there are a lot more choices of resin or diecast models in 1/43 than ever and they are usually of very high quality but of course the price reflects that which may explain why 1/43 kits are only being made by a few companies. The average price for most of these kits was around $40 each when he bought them, but they were pretty advanced as most of them included photoetch parts and turned aluminum or wire wheels. Of course, we all know the major downside is it takes good eyesight and a steady hand to build these little models. Years ago Monogram released a 1/43 Corvette and Cobra, Those kits were a bargain at $10 each and they even had a detailed engine and chassis. Rex wished they had released more subjects in that 1/43 scale line.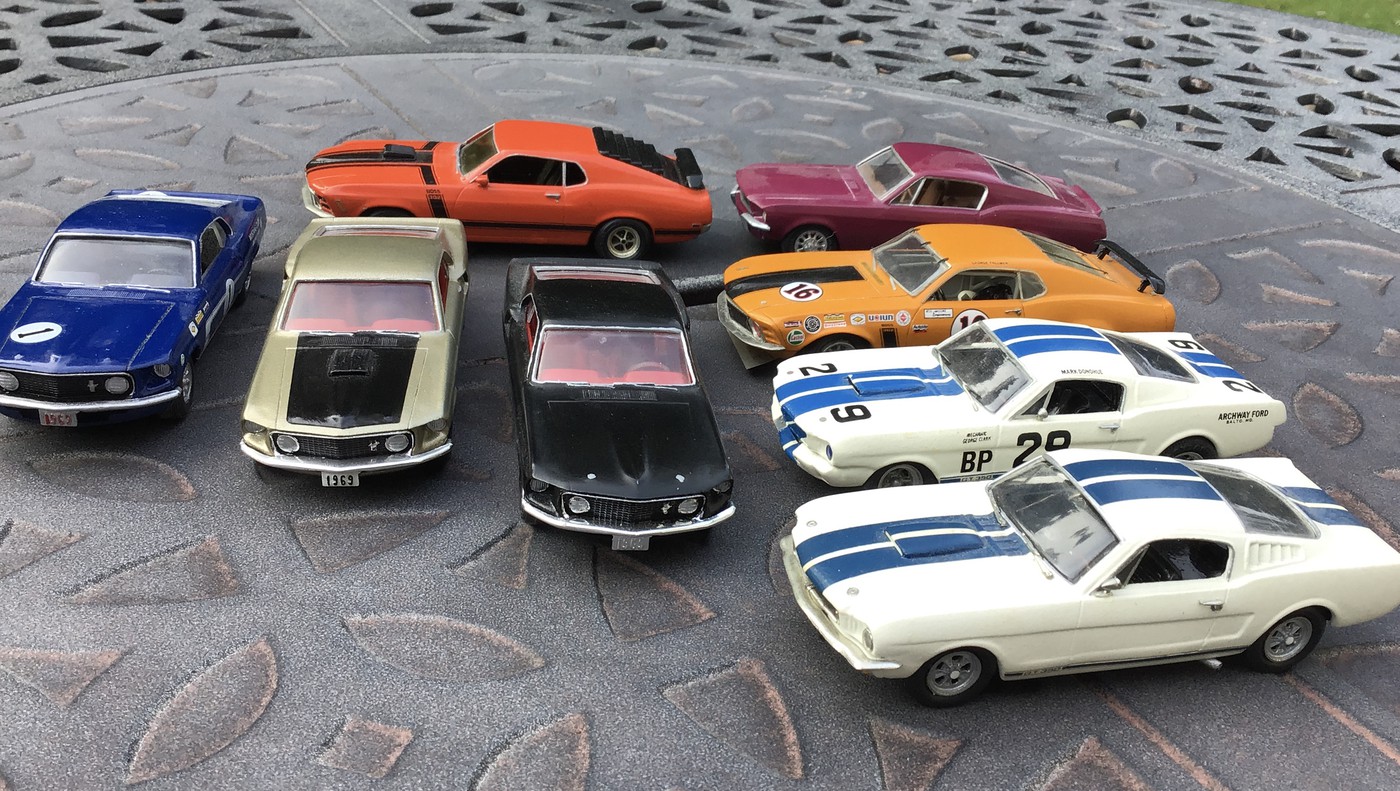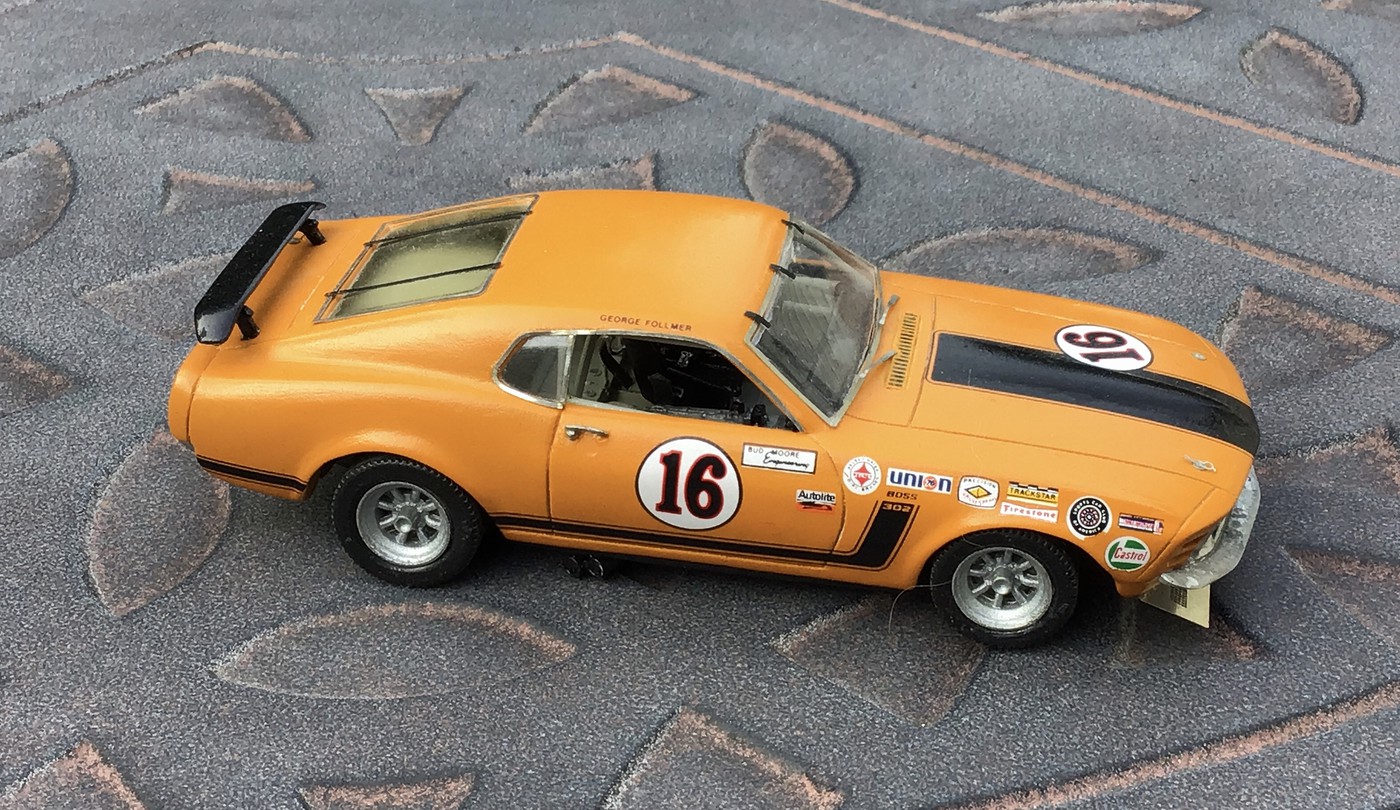 Rex also sent us shots of the current project in his workspace. Says Rex: "I am trying to finish any model since being in a building slump this summer so I finally made some progress starting to paint the rest of the parts on the trees for this faux Mystichrome 1996 Mustang Cobra convertible. It's a unicorn because Ford did not paint any of the Cobra's convertibles that year in the special paint - only the coupes. I bet the Chevy guys did not know that but I must confess I did not either until I researched it after I already sprayed the body with the Testors colorshift paint."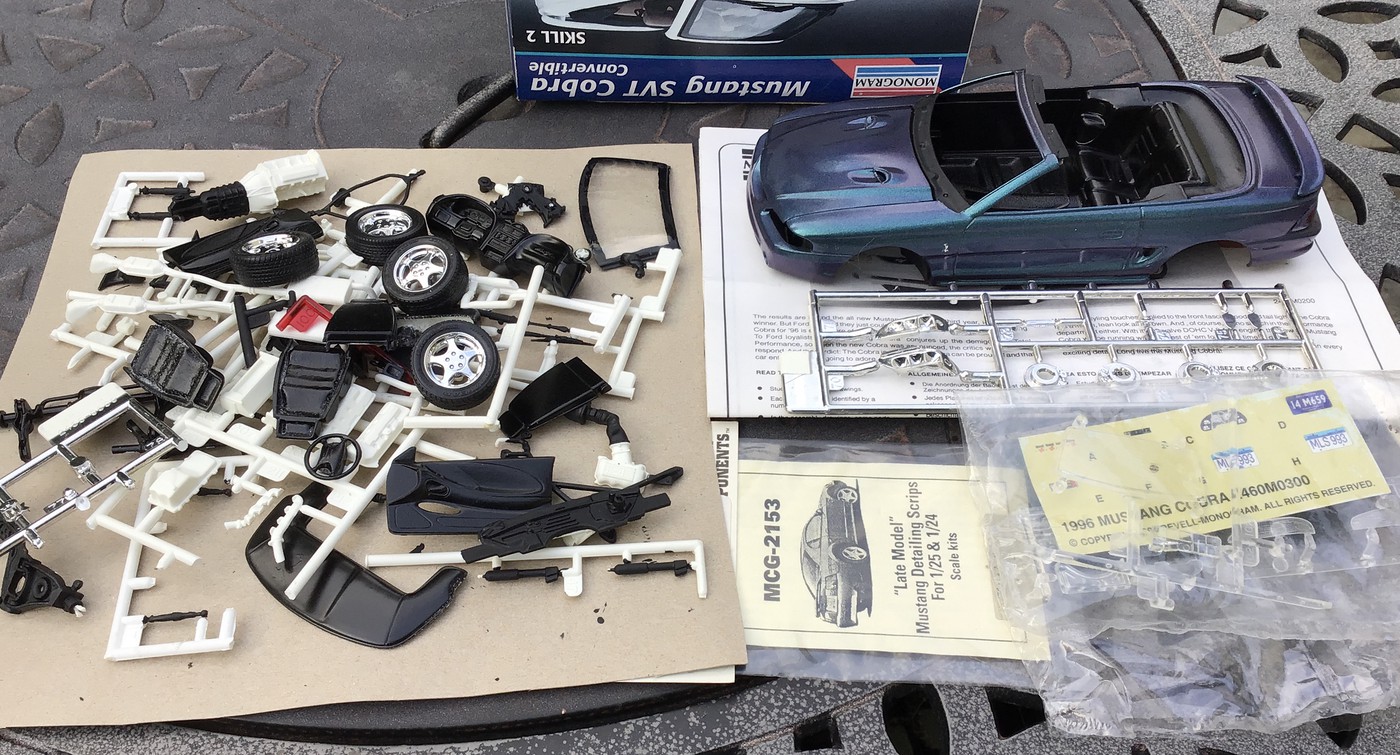 Bobby Reyes came in this month with his build of the Kawasaki Ninja ZX RR which Randy de Puniet raced in the 2006 MotoGP world championship. Based on a Tamiya 1/12 scale kit, Bobby's paint work really brings this well-detailed motorcycle to life.



Bobby also recently completed this lowered Tamiya 2002 Honda Fit.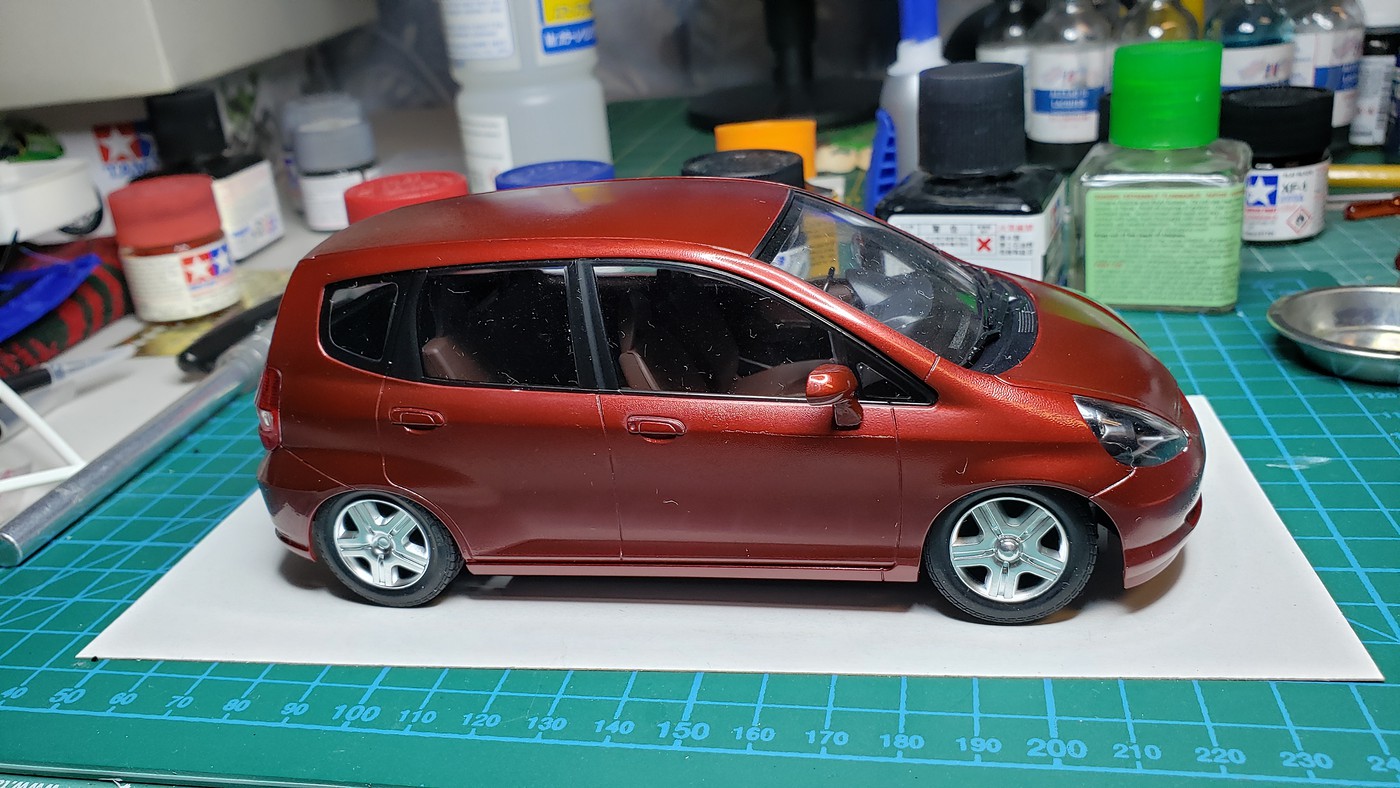 In keeping with our trend of sharing photos of our work spaces, here's where Bobby makes his modeling magic happen.

Paul Lee is back with a new Tamiya Ford Mustang GT4, a Revell Jungle Jim Liberman Vega Funny Car, a Tom Daniel designed Monogram Cop Out Duster Funny Car, an AMT 1976 Vega Funny Car, and a Polar Lights Blue Max Funny Car.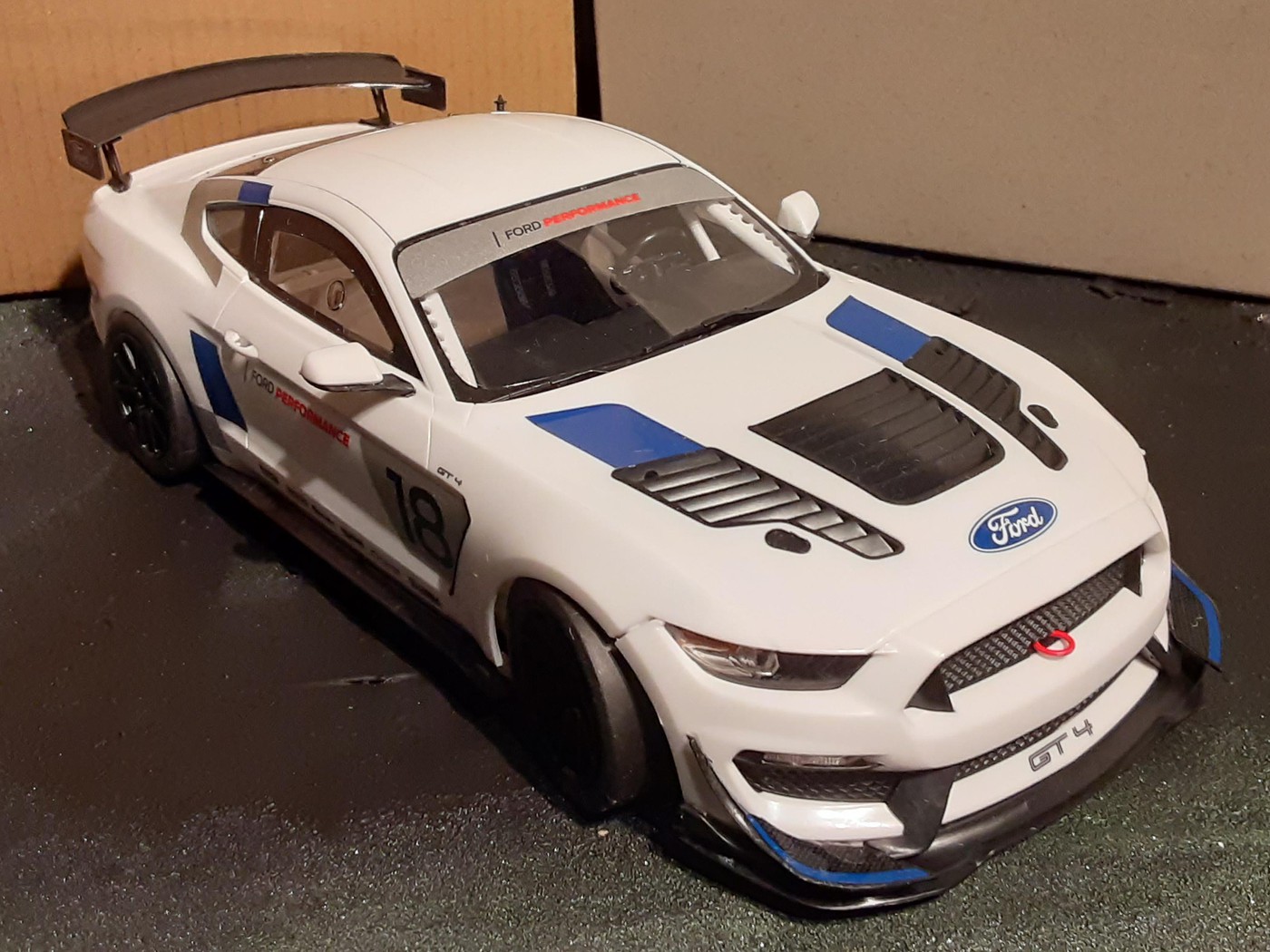 Lyle Willits wrapped up this modern take on a 1940 Ford hot rod. Lyle said that he's always wanted to try his hand at chopping a Tudor Sedan body. Although he assumed that he would wreck the body and put it back in the box, his chop came out okay. He scratch built a 1939 Ford dash, although it can barely be seen through the shallow windows, and he removed the wipers on the cowl. The suspension, wheels, and several other parts came from a Revell Stacey David Rat Roaster kit. Lyle smoothed firewall and installed an injected Buick nailhead engine from a Revell Model A roadster kit with block hugger headers that he scratch built from solder. The paint is Duplicolor Cranberry metallic and clear coat with lots of polishing. Oh, the hood? Lyle says, "It's a hot rod,,,,I dunt need no steenkin' hood!"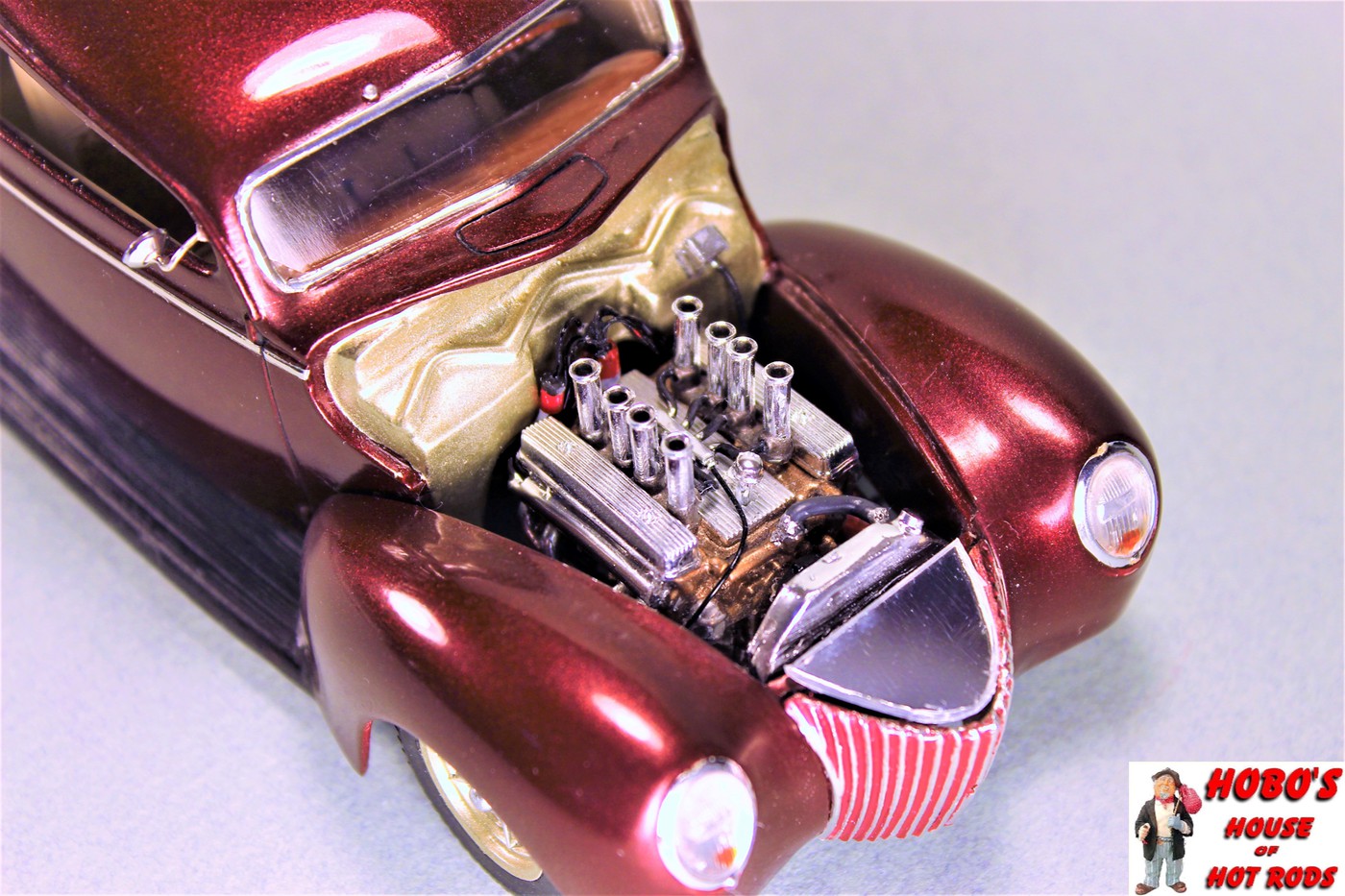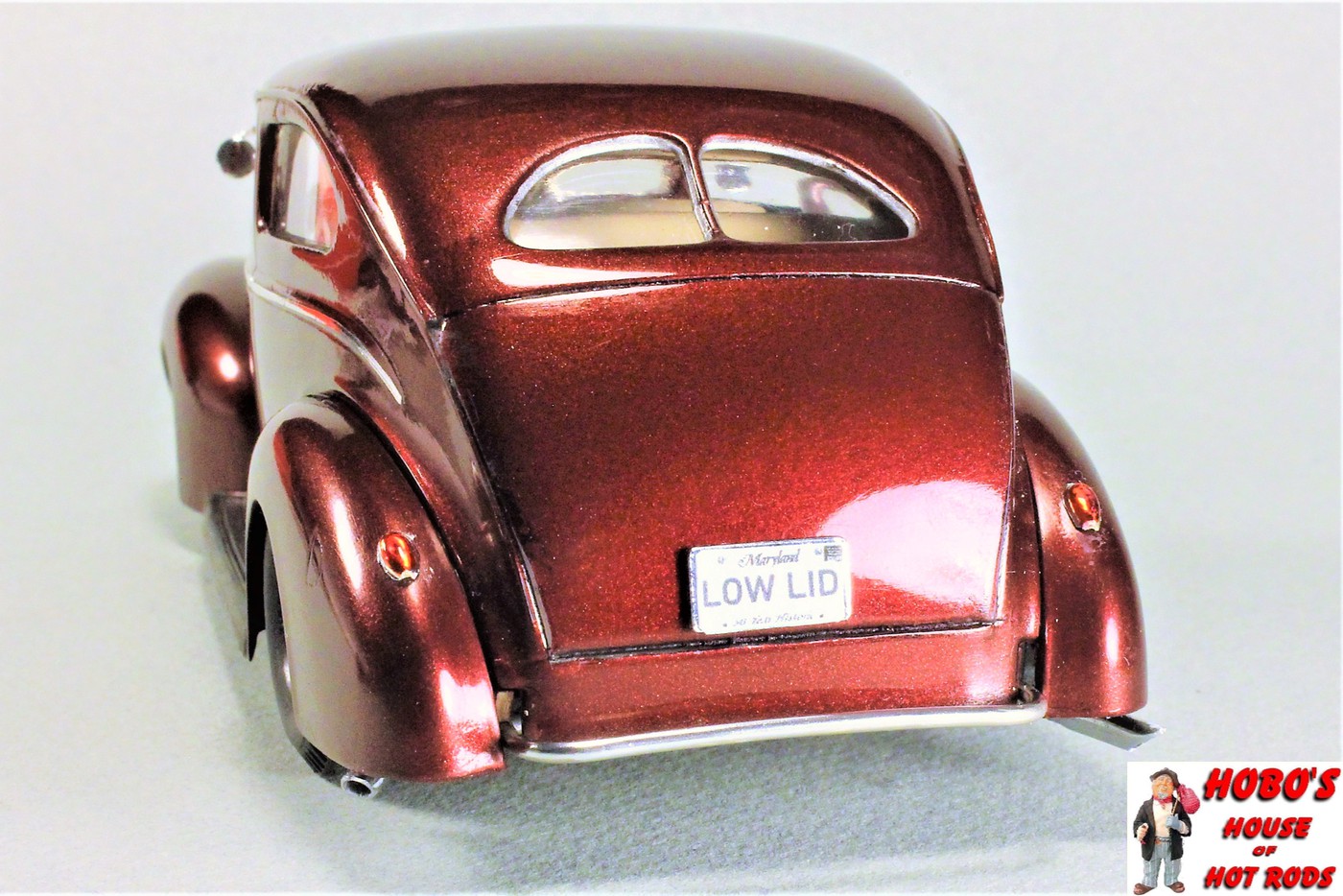 JC Reckner finished up his Ruf CTR build that he started late last year. Based on a Fujimi kit of the 1985 Porsche 911 Carerra, this build features lots of body modifications (including a rear wing grafted in from a Fujimi 1974 Porsche RS3.0 kit). Along with the full roll cage, JC fabricated some engine bits including: Ruf air cleaner, Ruf distributor, dual turbo intake plenum, exhaust and turbo piping, and dual outlet muffler. Scale Production produces the distinctive RUF Speedline wheels that JC used and modified in this build. If you'd like to see more of this model, check out JC's build thread.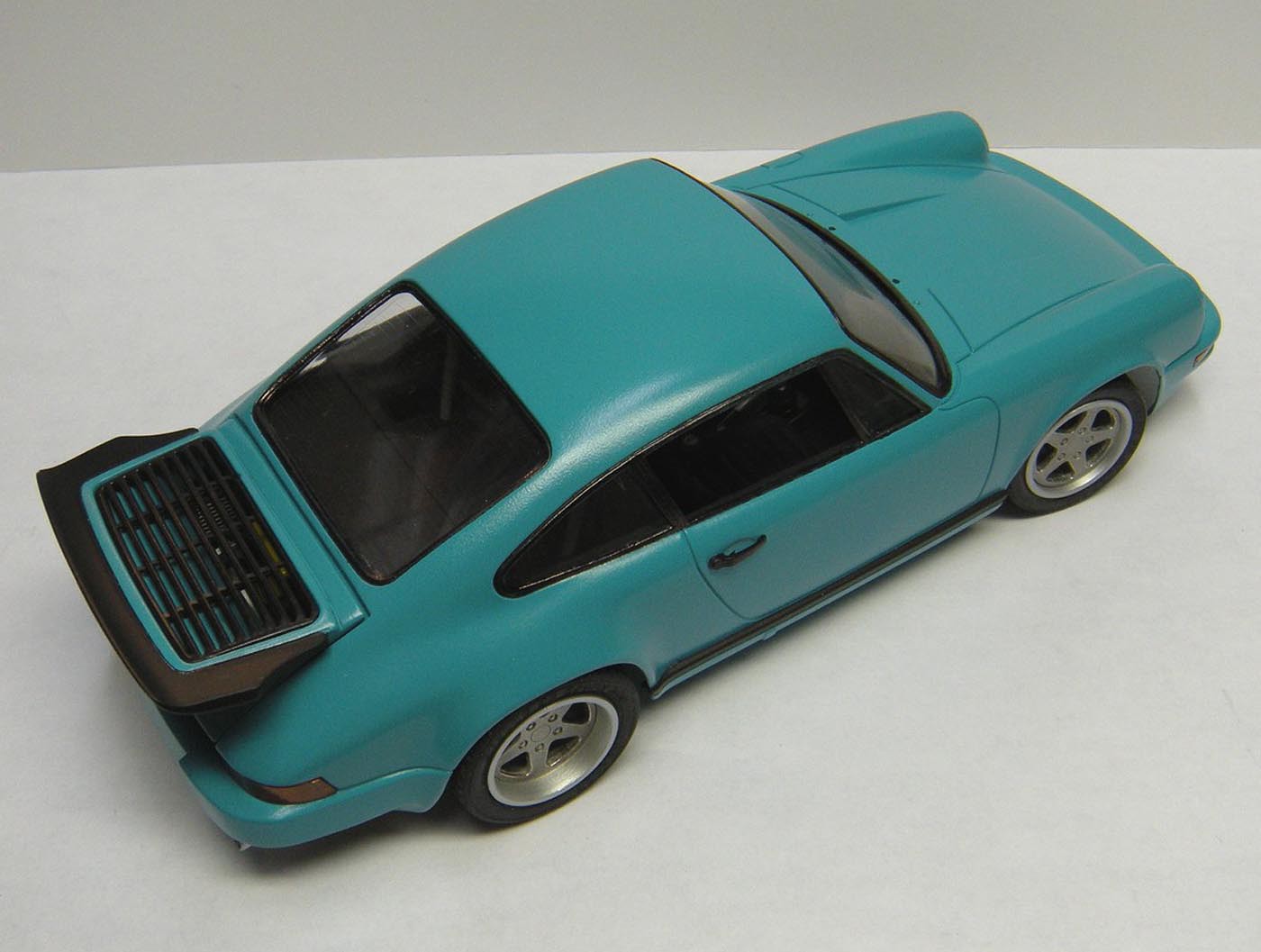 Dan Chicorelli joins in with three projects. First is an inprogress build of the original Hurst Hemi Under Glass 1963 Plymouth Baracuda.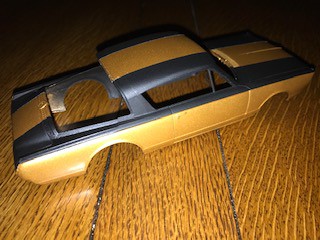 Second is the 1968 version of the Hurst Hemi Under Glass. He built it as the car that Jay Leno was riding in with driver Bob Riggle when it flipped back in 2016. If you haven't seen it, the wild ride was filmed as part of Jay Leno's Garage.



Third is a replica of a 1963 Barracuda owned by a friend of Dan's.

Where are we going this time, Mr Peabody? This month, Sherman, the WABAC Machine takes us to 1929, just before the Big Crash, for some "Improbable History" and a pair of brand-new His 'n Hers Model A Ford Roadsters built by Steve Buter. The green one on the left was built from the Mod Rod repop of the old Ala Kart kit. If you know Steve, you probably guessed he culled the hot-pink one from Rich Meany's Boneyard. The figures are Jimmy Flintstone's "Al The Gangster" and a "hybrid" female made from a Fujimi "Drivers" Set (standing lady body) with a Tamiya "Campus Friends" head. Steve says the two figures appear to be 1/20th scale (guy) and 1/24th (gal), so let's call the scene "Papa arrives to keep his appointment to meet daughter's latest suitor… and make him an offer he can't refuse."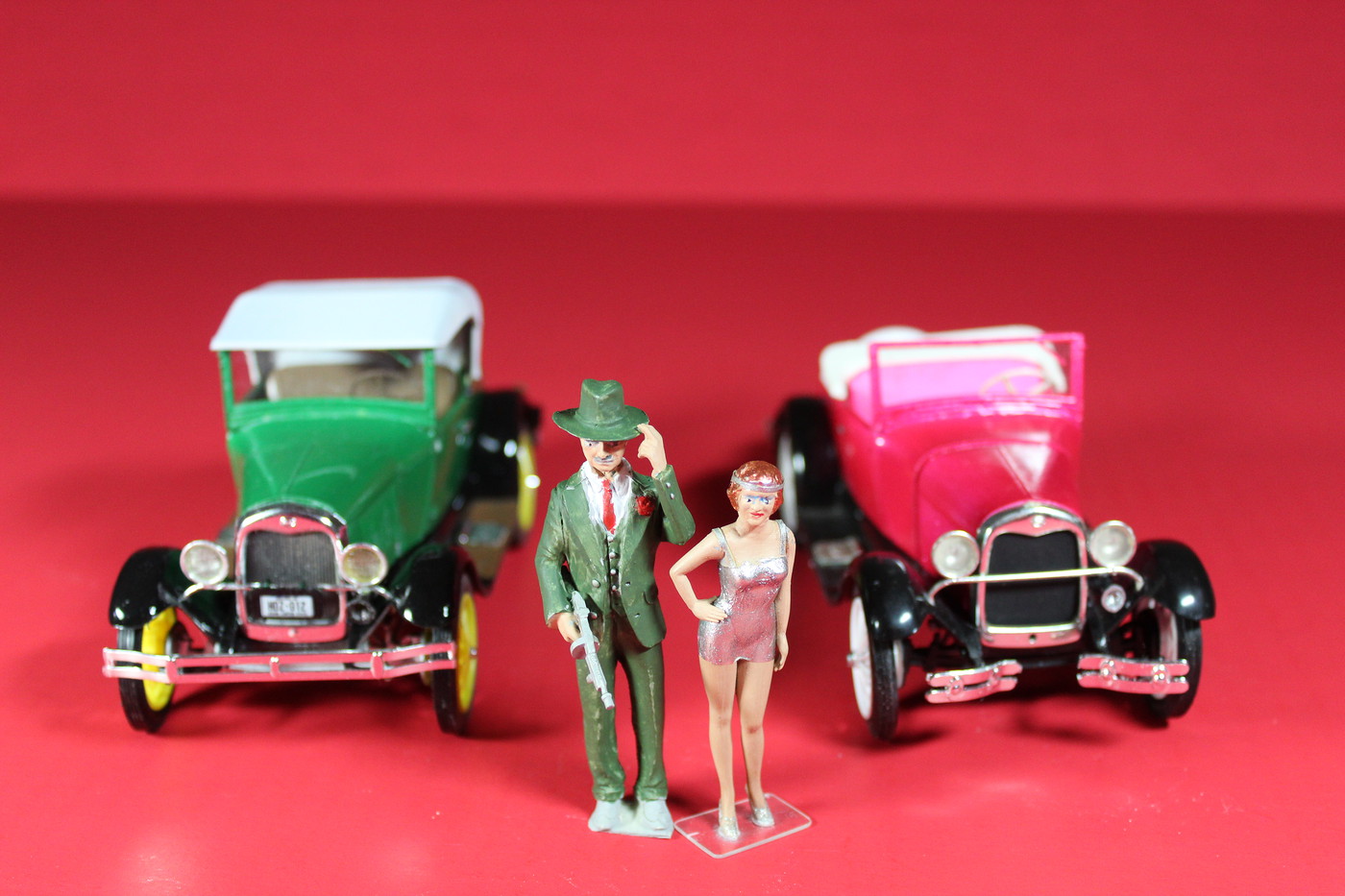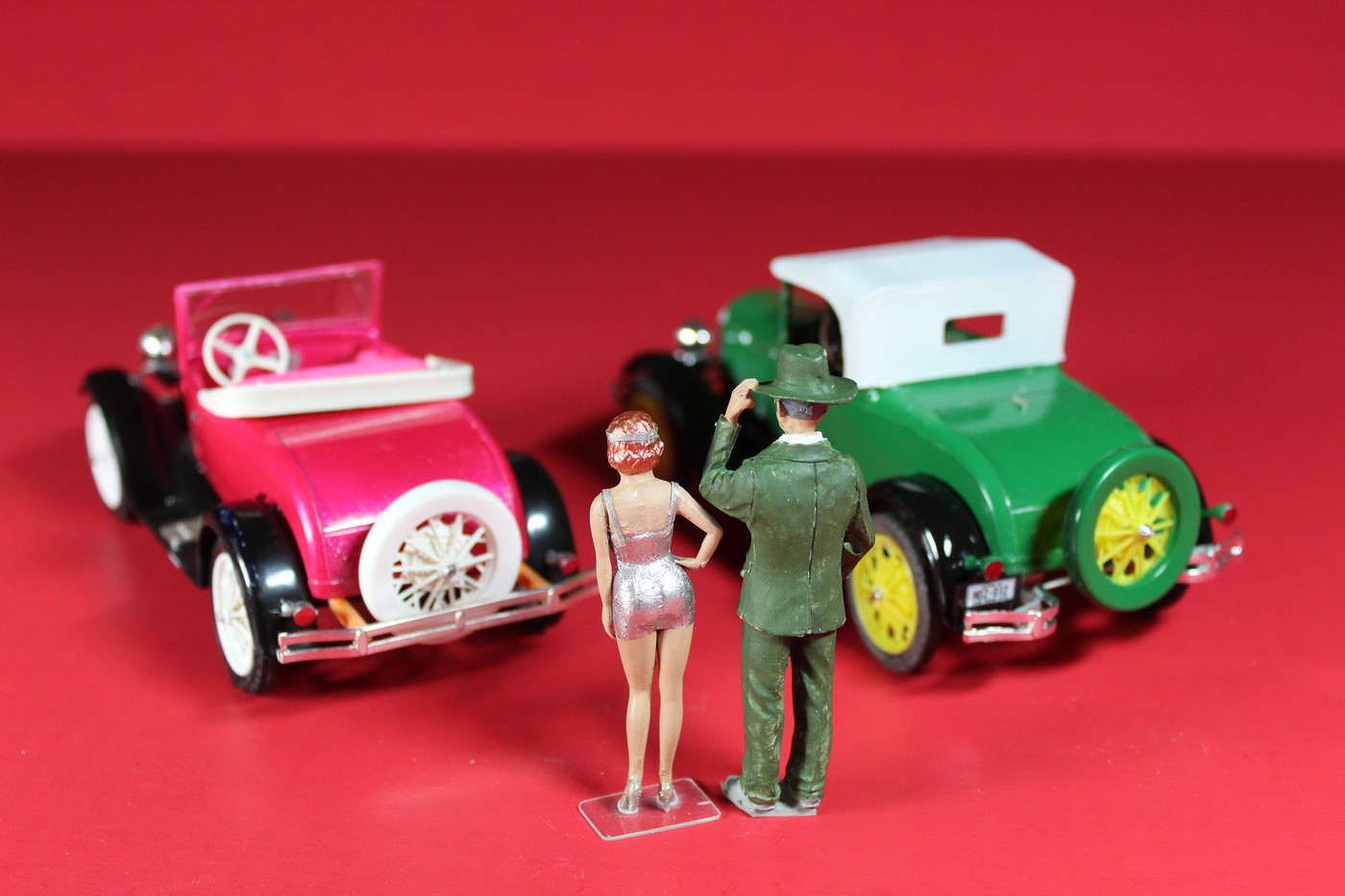 As this month is our 32nd Anniversary, Steve Buter brought the ice cream to help us celebrate. This time, instead of a WABAC machine, it seems "Doc" Brown sped up to 88 MPH and wound up in 1955 or thereabouts acting out his childhood fantasy of being the ice cream man!

Remember the March, 2019 meeting where we met in the GBCC's gymnasium? Well, at that meeting Rich Meany had a lot of nice resin stuff for sale, including several resin ice cream boxes. Steve adapted one to an ERTL Snap-fast 1950 Chevrolet pickup truck. He fabricated the "ring-a-ding" type bells from craft-beads filed into halves and bits of aluminum tubing and sheet styrene. He produced the graphics on his PC. All three figures are from Hendrix Manufacturing Co. Steve says the resin ice cream cooler was a hand-to-glove fit with the ERTL model's rear fenders
Steve waxes philosophic: "Sure," he says, "ice cream trucks still come around even in the midst of the pandemic, but they're almost invariably large trucks converted to food service, with electronic music blaring (often monotonously) from roof mounted loudspeakers. And the operator serves you from inside the truck, likely behind thick Plexiglas. It ain't the same as the open-air innocence announced by a trio or quartet of merry jingling chimes. Then there's the driver standing curbside, swinging open that enchanted door and reaching into his treasure trove of summer's frozen delights. O la."
All things considered Steve's Ice cream truck presents us a fond farewell to the summer.

Hey, as it's our 32nd Anniversary there are no cookies this month, I hope you remembered to eat some cake on September 19th!