Don't forget: Next month is MAMA's Bronco Challenge Build! It started as a challenge between Dave Toups and Norman Veber to complete one of the new Ford Bronco kits. They extended their challenge to the whole club to complete a Bronco by the March 2018 meeting. So c'mon, let's see what you can do with a Bronco! Three contenders have already finished theirs: Bronco 1, Bronco 2, Bronco 3. Looks like there will be good competition for bragging rights!
Photos from our 2017 Mid-Atlantic NNL can still be seen on the (Scale Auto's Facebook page).
As we are into the winter months, remember, if Prince George's county has a snow emergency in effect, there will NOT be a meeting. The inclement Weather Phone Number to check is: (301) 474-0646.
to MAMA's Diner, the official home of the Maryland Automotive Modelers' Association (MAMA), where we serve entrees of fun, friendship, and model cars.
Special Note #1: Aftermarket Companies and Rare/Old Kit Sellers! MAMA is calling out to potential vendors for our upcoming Mid-Atlantic NNL! We have begun sending out packages to those who've vended at out show before, and we have a few tables left availble. If you would like to vend at our show in May, send an email to our club treasurer, Matt Guilfoyle, for table reservation information.
Special Note #2: Calling all sponsors! If you would like to sponsor one or more of the awards at our upcoming Mid-Atlantic NNL email to our club treasurer, Matt Guilfoyle, for category availability. Sponsorships for large awards will be $60, small awards will be $50.
The February meeting was one of our smaller gatherings with somewhere between 35 and 40 folks in attendance. Even so, there was still a good assortment of fine model cars displayed on the front table.

A highlight of the "business" portion of the meeting was Rich Wilson sharing background information on how and why he built a model of the unique 390 FE-powered aluminum big-block prototype that lead directly to the 427-powered Shelby Cobras. Known officially as the Flip-Top Cobra, the car was not only unique for its powerplant, it featured a one-of-kind hand-formed aluminum body with one-piece tilting front and rear ends and tilt-down doors. It rode on a chassis that was designed for the 289 block-powered cars. Word is that Harold Bradford of Historic Racing Miniatures took a mold of Rich's highly modified Cobra body before Rich completed the model. Could a resin kit be forthcoming?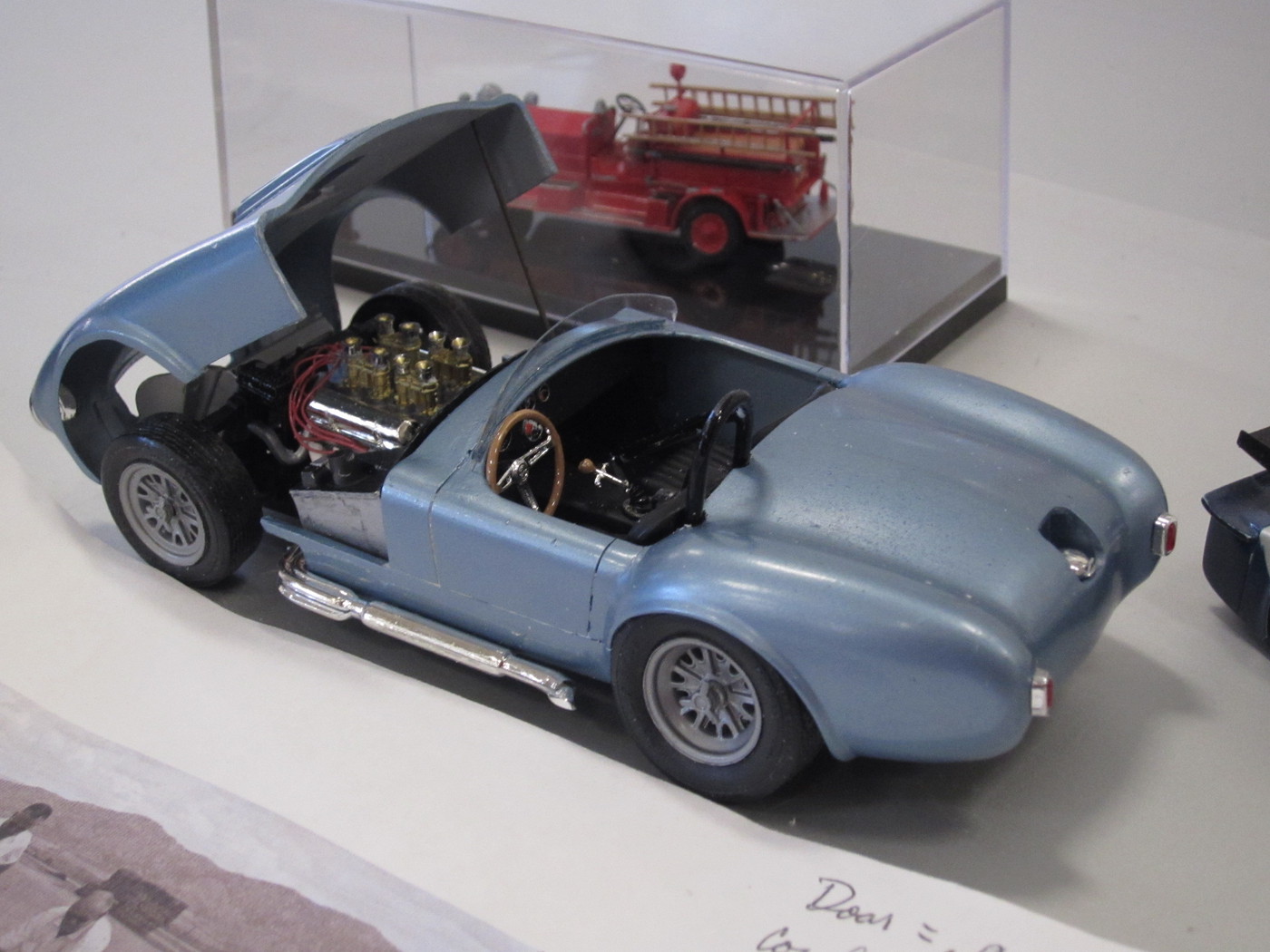 Steve Buter displayed this weathered and rusty 1953 Chevy pickup.

As usual, Ron Bradley had a terrific assortment of new kits available for us.

Someone had the new ICM 1913 Model T Speedster kit opened up and spread out on the side table for us to check out.

This month, the Pontiacs on Parade (PoP) display was overflowing with a dozen Tin Indians of mostly 50's and 60's vintages.

JC Reckner is building both this 1961 Falcon gasser and the 1964 variant behind it.

As always, members spent the day discussing model cars, full-size cars, entertaininment, politics, the problems of modern society, and just about any other subject you can imagine:

When it was all said and done, the cookies were just about gone. A special thank you goes out to Matt Guilfoyle for bringing the cookies!

You can see lots more February meeting photos at:
https://public.fotki.com/partsbox/model-car-shows/2018-mama-february-/ and http://mamaprez.fotki.com/model-club-mettings-2018/mama-meeting-2172018/page2.html