Due to health and safety concerns regarding the possible spread of the Corona Virus the Greenbelt Community Center where we meet remains closed to meetings and events.
to MAMA's Diner, the official home of the Maryland Automotive Modelers' Association (MAMA), where we serve entrees of fun, friendship, and model cars.
MAMA's current leadership team is:
President: Tim Powers
Vice-President: Dave Toups
Treasurer: Matt Guilfoyle
Newsletter Editor: Tim Sickle

Notes from the MAMA President:
Beacuse we were unable to post an update last month this month will be a combined October/November edition.
The major news is that our club Founder, Norman Veber underwent triple by-pass surgery on 19 November. He did very well with no complications and was back at home two days before Thanksgiving! Please keep Norman and his wife Mary in your thoughts and prayers.
Norman is also the sole proprietor of the Replicas & Miniatures Company of Maryland (R&MCoM.) This surgery will be a setback for the business - he anticipates that it will be several months before he can resume production.
R&MCoM is, and always was, a one man operation. Norman casts, packages, prints kit instructions, boxes products for shipping, and makes post office runs 2 or 3 times a week. His large operation is in his basement and he will be unable to use stairs for quite some time, in addition to all the other aspects of self employment. Please be patient. This is NOT the end of R&MCoM. It is just a medium-sized gap in the timeline of this iconic model car aftermarket resin company.
Toys for Tots: Although we are unable to conduct our traditional Toys for Tots collection, The Pep Boys store at 7311 Ritchie Highway in Glen Burnie, MD (21061) is currently collecting toys and bikes and will present them to Toys for Tots at the East Coast Indoor Nationals in Timonium on December 4th & 5th. You can take toys and bikes to the store yourself or you can have such items delivered to the store. To help the process, the store is even holding a Toys for Tots Cruise-In on Sunday 28 November from 11:00 AM – 3:00 PM.
As always, please keep using your masks and hand sanitizers to help reduce the chances of spreading COVID and other diseases. It would be great to see the flu at an all-time low again this year as well as a rapid decrease in the COVID infection rate.
Scenes from our twentieth and twenty-first pseudo-virtual meetings in October and November:
Due to public health and safety concerns and Maryland State restrictions on gatherings aimed at preventing the potential spread of the Corona Virus, the Greenbelt Community Center where we meet has been closed to meetings since March, 2020. We have had really good results over the previous months with members and friends sending us photos and descriptions of the model cars they would have brought if we'd had physical meetings, or just any model cars or projects they wanted to share. This month we're doing it again.
Paul Lee sent us several completed builds. These include a lowered Revell 1999 Chevrolet Custom Silverado pickup truck with ground effects and aftermarket wheels/tires, a Revell/Monogram Ford Street T with trailer, an AMT 1969 Plymouth GTX convertible, an AMT AMC Pacer with the custom nose and baby moon wheels, and an AMT 1963 Corvette Sting Ray.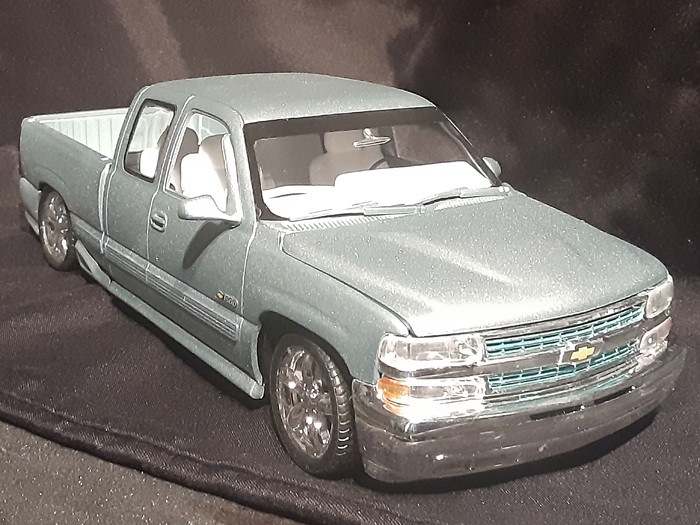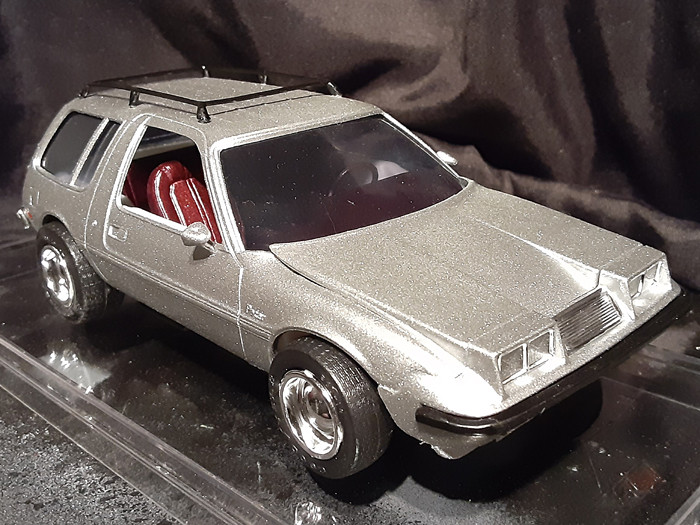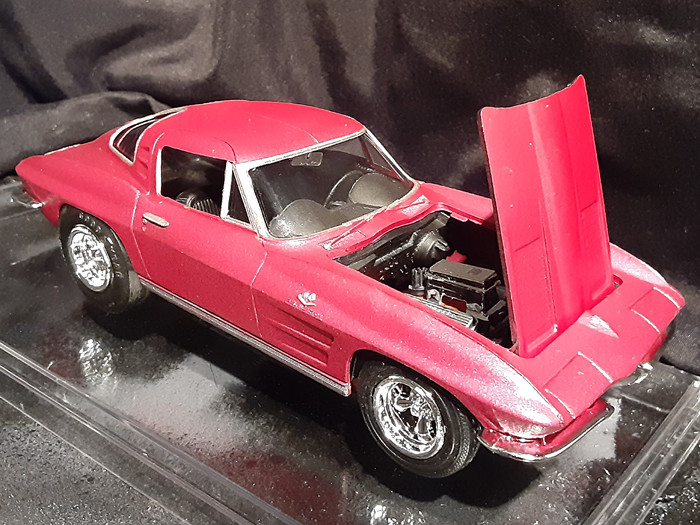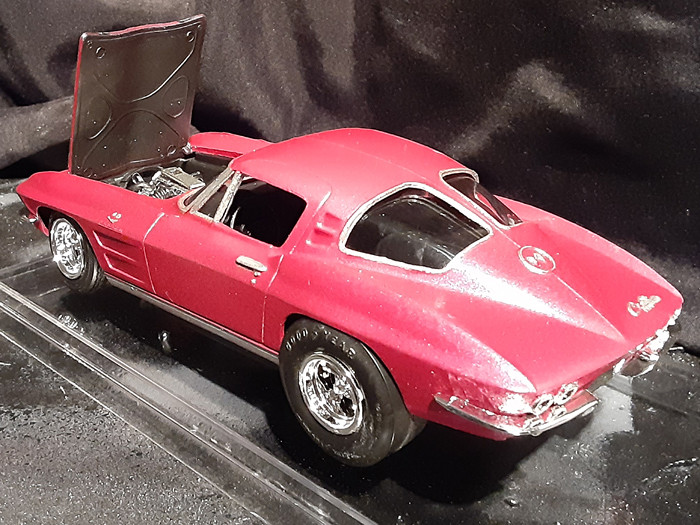 Next, Mike McCloskey shared a few of his builds. These included an AMT 1970 1/2 split-bumper Chevrolet Camaro with a cowl-induction hood and riding on some big 22" rollers, a Revell 1950 Austin Gasser on large diameter wheels, an AMT 1957 Ford Fairlane, and an AMT Willys Pickup Gasser.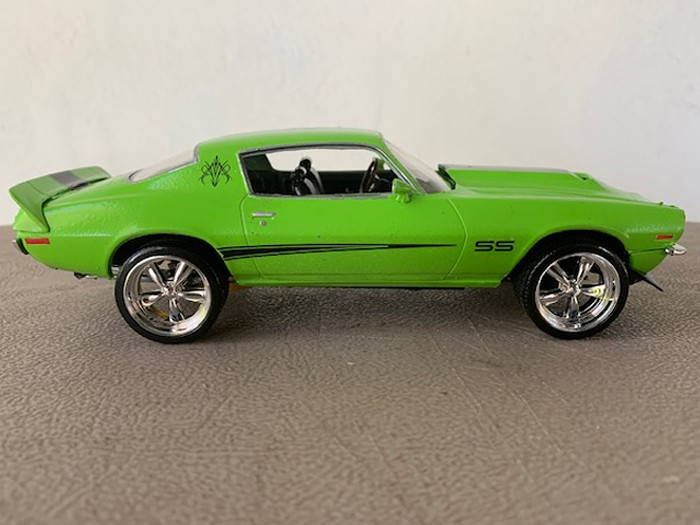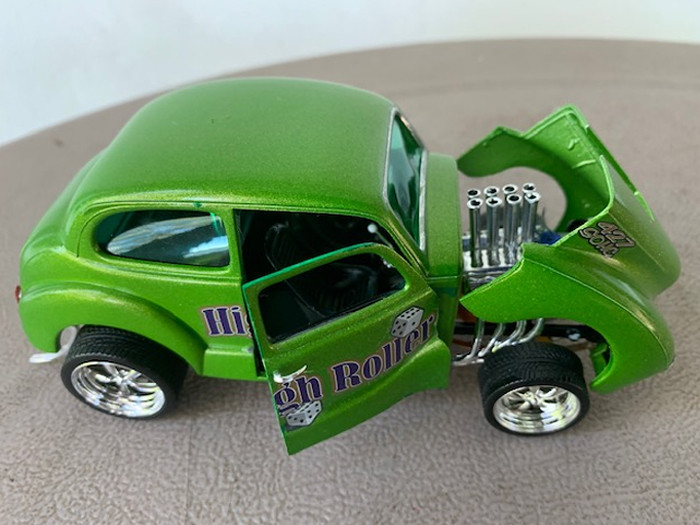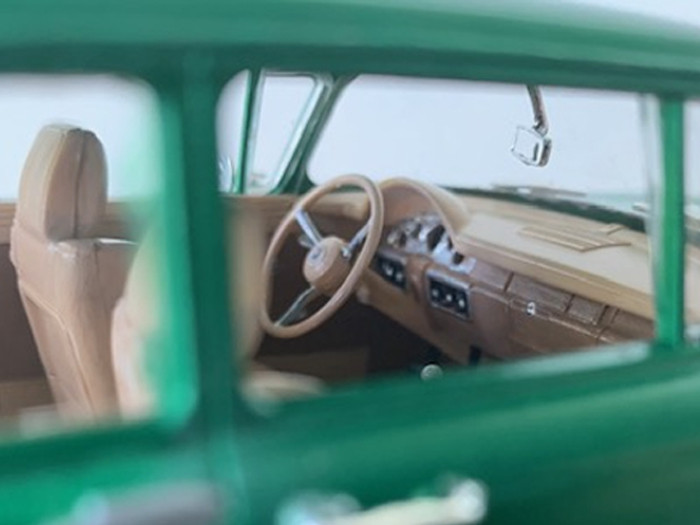 Lyle Willits recently wrapped up this Lindberg 1966 Chevelle kit, built as a 90s street machine. He used the kit-supplied big block Chevy Rat motor with a modified intake to accept the blower parts from a Stacy David Rat Roaster kit. After he smoothed off their molded-on guards, Lyle painted the bumpers to match the body. Paint is Duplicolor Gold and Clear with lots of rubbing out.

Steve Buter provided a follow-up on his Polar Lights Shaggy Van project from Septemeber. Items not seen previously include surfboards, amber roof lights, some signage, "zoomie" style headers, a chute pack (Steve says, "Yes they can race this, too."), and Dagmar-style front bumpers. The side-view mirrors are scratch built. At this point Steve says it's pretty much complete.
Steve also came across a YUFAN figure that he thought resembled Daphne from Mystery Inc. He initially decorated the figure to join the gang in the Polar Lights model of the van, but although the figure was marketed as "1/24th scale," it appeared too small when compared with the Shag 'n Scoob figures included in the.van kit. Steve decided that his"Daphne" looked better suited atop an earlier build of his: a repop of Lindberg's Tall-T style rod from the 60's. That kit is also touted as 1/25th scale, but seems just a tad smaller overall to Steve.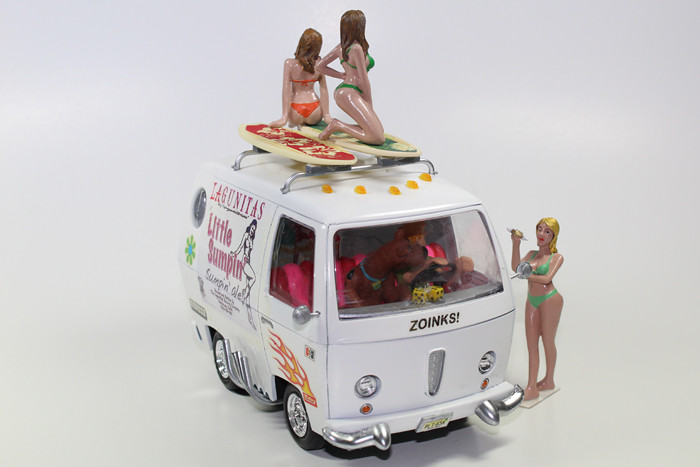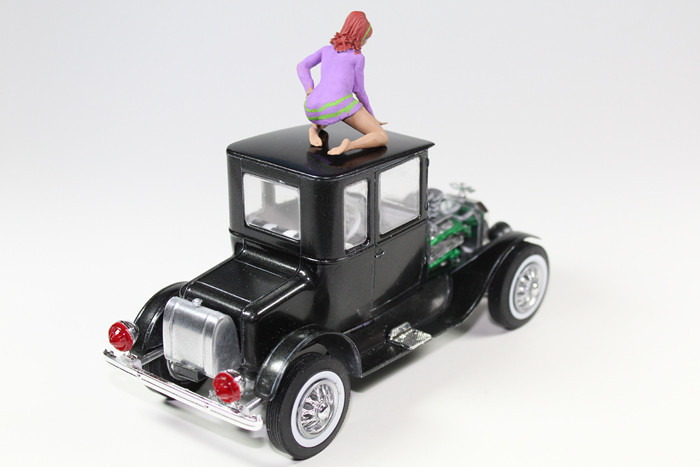 Don Krone built a replica of a real street fighter he drove back in the 80s. It's an AMT 1972 Nova body with nicely radiused rear wheel openings on a Revell 1969 Camaro chassis, everything else parts box or scratch built. Paint is Corvette Electron blue that was mixed w/clear and had the metallic filtered out. It was sprayed over Tamiya metallic silver to replicate the subject's blue Dupont Imron paint job. Don says that with its 8000 rpm small block Chevy engine it was 11-second deadly on the southern Michigan summer streets in the late 70s early 80s. He also says that this car paid for itself.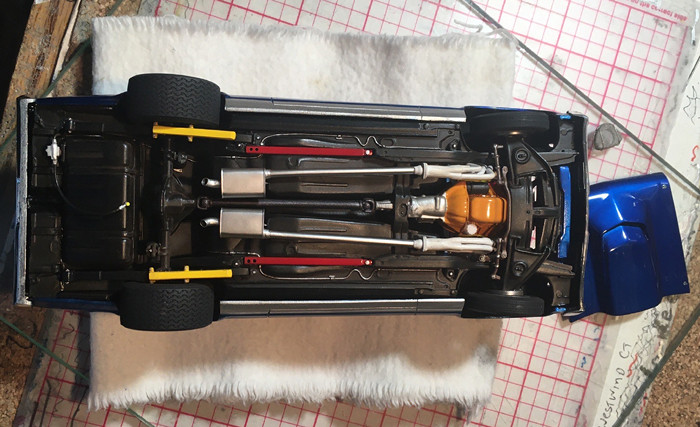 Cary Buter recently finished this Moebius 1966 Ford F-100 pickup that he built out of the box. The only thing he did extra was his first attempt at plug wires, heater hoses, battery cables, etc. He slightly modified the kit distributor so he could drill it out for the 7 wires. He says that in his next build, he'll be using an aftermarket aluminum distributor/coil. Cary says he's really enjoying the hobby and car models are certainly a lot more affordable than his other hobby, model railroading. Like the rest of us, he is also praying for Norman to have a successful surgery and recovery.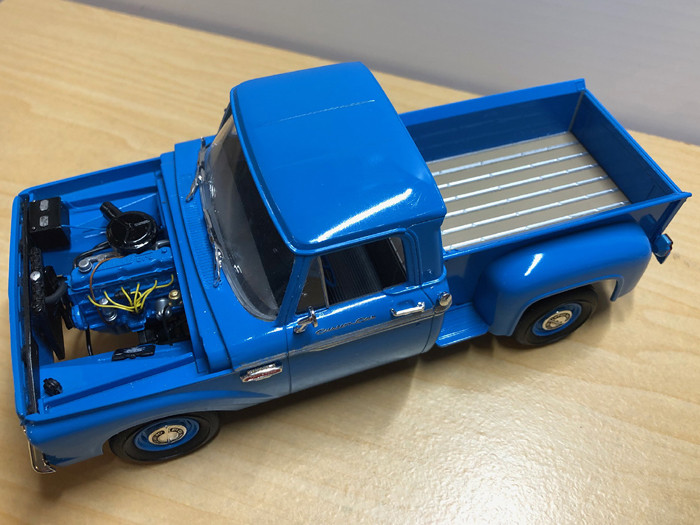 To wrap it up this month, Lyle Willits shares his photos from the Maryland Fire Museum Gathering.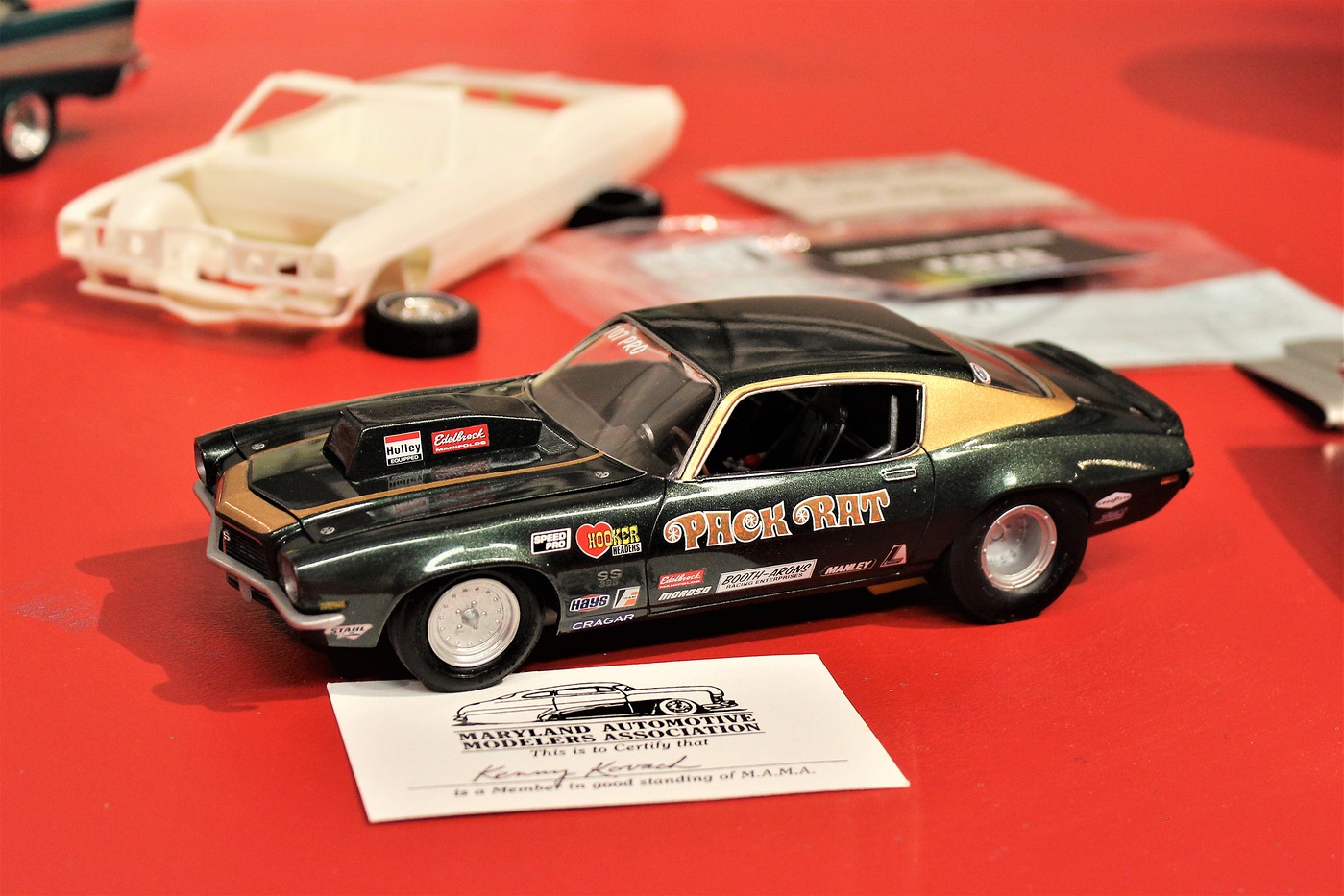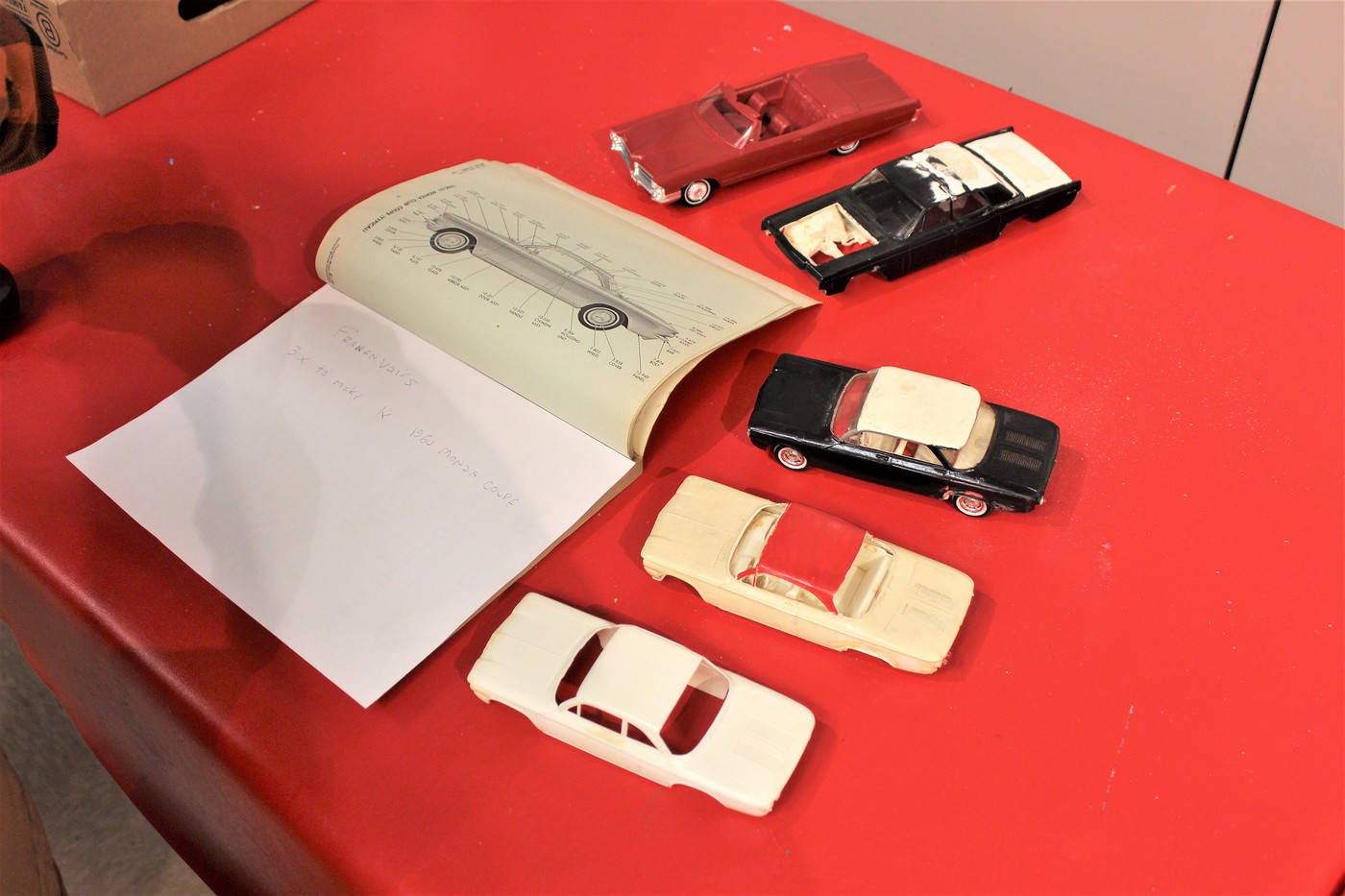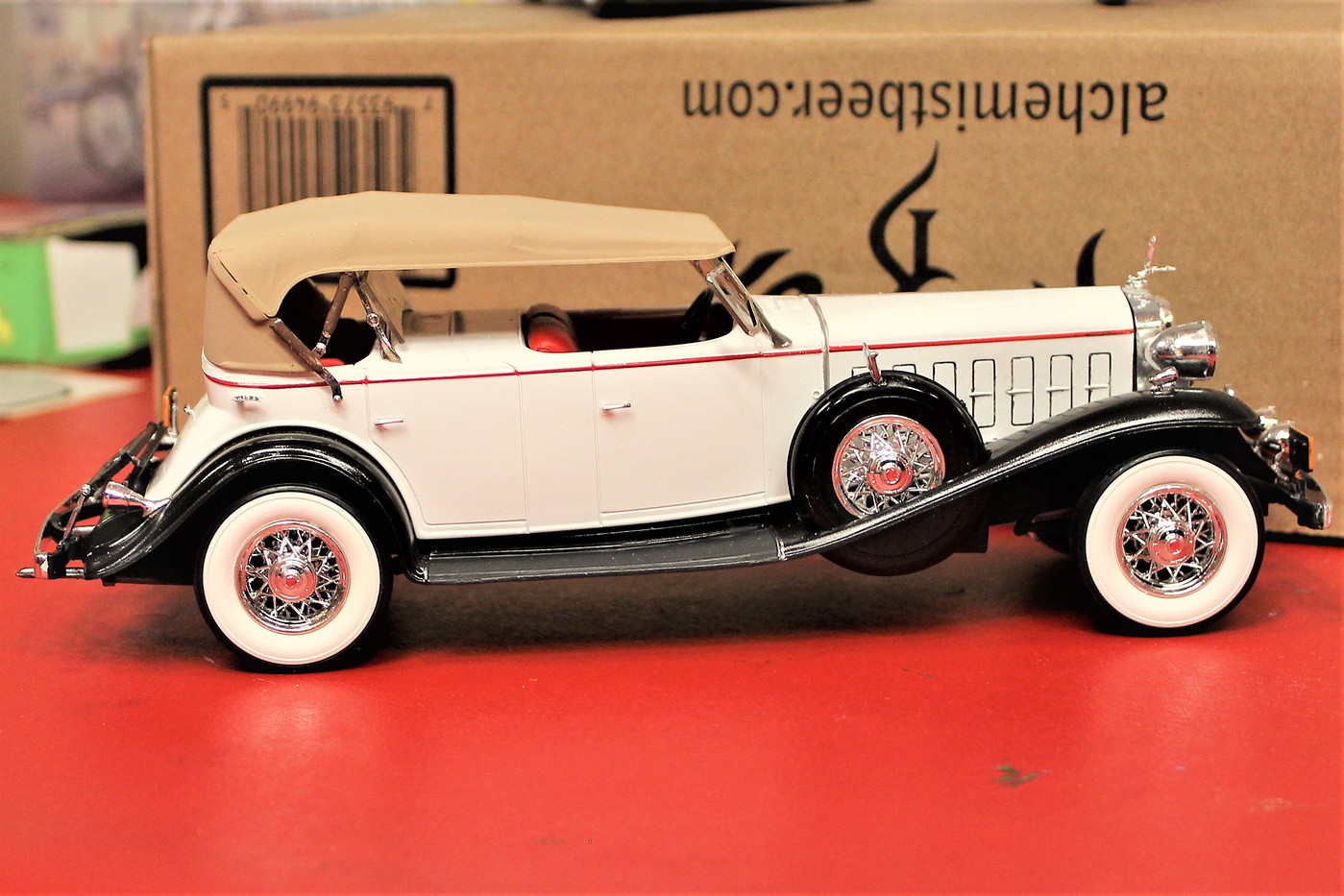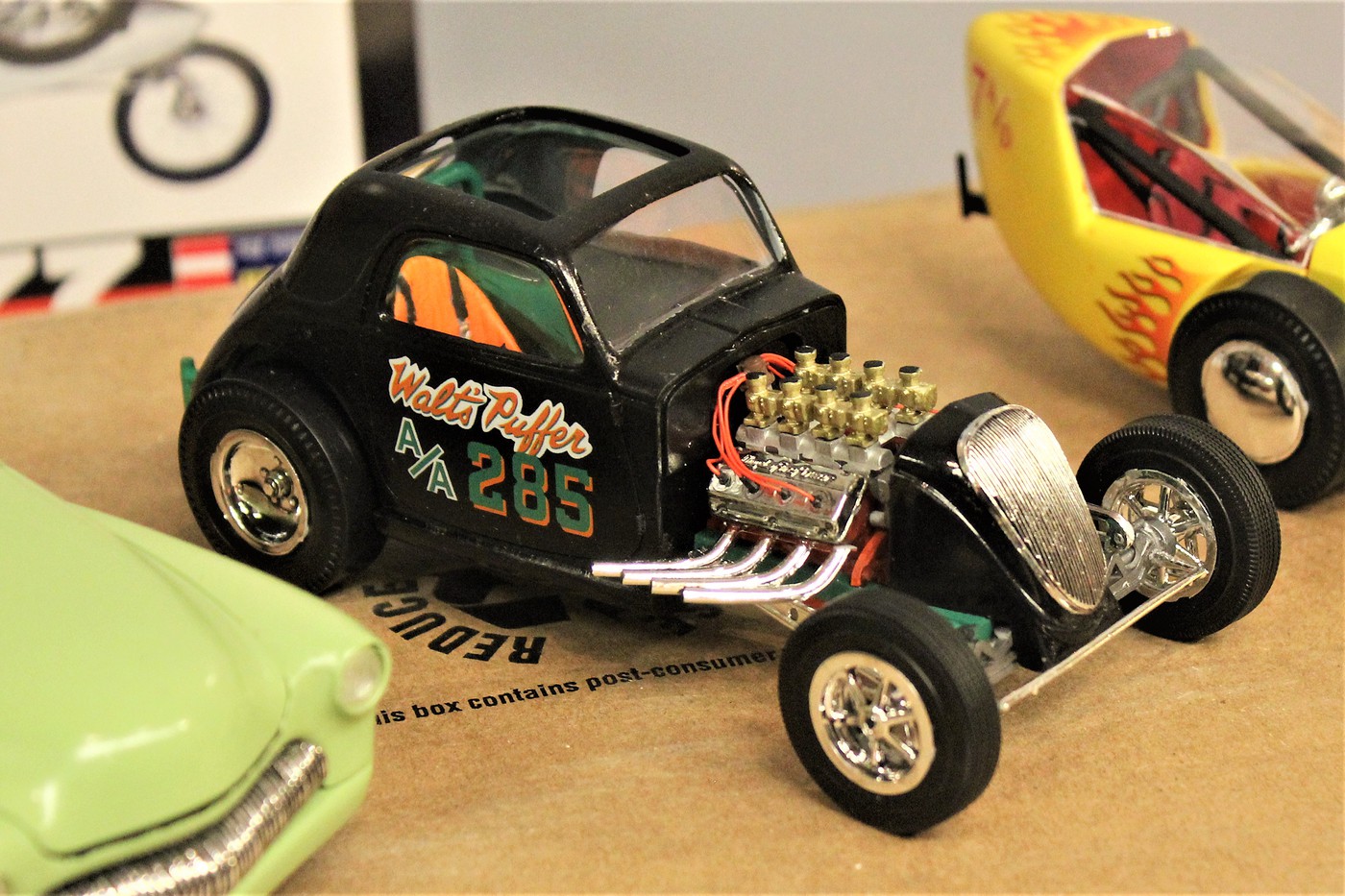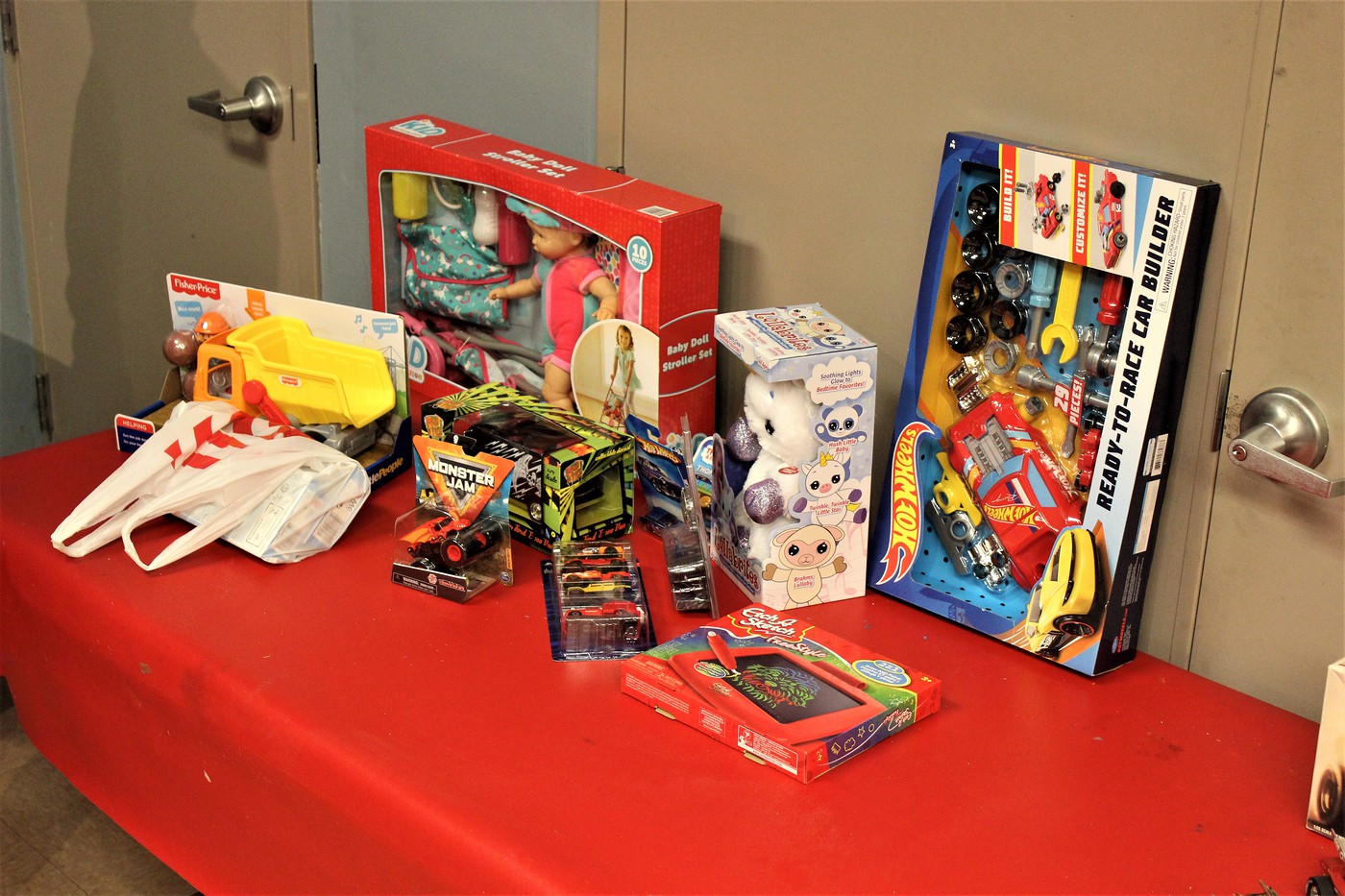 Because this is a combined October and November update we have Halloween cookies and Thanksgiving cookies! Hope you enjoyed yours!