Due to health and safety concerns regarding the possible spread of the Corona Virus the Greenbelt Community Center where we meet remains closed to meetings and events.
to MAMA's Diner, the official home of the Maryland Automotive Modelers' Association (MAMA), where we serve entrees of fun, friendship, and model cars.
MAMA's current leadership team is:
President: Tim Powers
Vice-President: Dave Toups
Treasurer: Matt Guilfoyle
Newsletter Editor: Tim Sickle

Notes from the MAMA President:
You've probably seen or heard the news by now, the COVID numbers are getting better: the number of cases is down, hospitalizations are down, deaths are down, and the number of people who've been vaccinated is increasing. Then the big news that came this weekend was: "Governor Hogan Lifts Capacity Limits on Indoor and Outdoor Venues, All Remaining Restrictions on Indoor and Outdoor Dining As of May 15." The Governor also said "the state's indoor mask mandate will be lifted as soon as 70% of adults receive at least one dose of a COVID-19 vaccine." All his actions are part of his goal to get everything back to normal by Memorial Day (May 31st.) Wow!
Now, with all this positive-leaning news you might be thinking, "There's the light at the end of the tunnel" or "Maybe we can get back to meeting in person now." Well, maybe and maybe not. You see, the fact that the Governor has lifted the restrictions just means that the county executives in each county are now able to choose to either lift or retain them for their particular counties.
Once the Governor's news came out, Matt checked with the Greenbelt Community Center (GCC) to see if there was any news on them reopening. Essentially, they don't have any plans to reopen. What they said was "A date for resuming reservations at the Community Center has not been determined, however, MAMA will be on the priority list when we can offer opportunities." With the GCC being located in Prince George's county and that county being the hardest hit by COVID19 in Maryland it might still be a while before they can reopen.
So what does that mean for MAMA? It means we are right now seeking an alternative location that can properly accomodate us, at least in the meantime, if not permanently. As many of you know this is no easy task. Of the many places that are available, most only come close to meeting our requirements. We need the right combination of enough space, parking availability, good lighting, accessibility (e.g., ramps and elevators), included tables and chairs, scheduling, and affordability that we need.
If you know of a facility in Maryland that you think might be a viable option for MAMA meetings, let us know at: Meeting Location Ideas.
When it comes to COVID vaccinations, several members have told me that they've gotten theirs. Keep in mind that the Governor said he'll lift the indoor mask restriction when 70% of Maryland's population has been vaccinated, so if you want mask-free meetings again, become part of that 70% and go get your vaccine as soon as you can.
While most people are not experiencing any reactions to the vaccines, of those who do, most report they are pretty mild (e.g., chills and lack of energy). With each round of the Moderna vaccine that I got, I felt tired all the next day. Of, course the three-hours drive each time probably didn't do much for my energy levels.
If you don't know where to start in trying to register for your COVID-19 vaccines, here are some resources to try:
Vaccine Hunters, MD Vaccination Locations, Maryland MASSVAX, CVS Pharmacy, Giant Food, Rite Aid, Safeway/Albertson's, Walgreens, Walmart
To register at the MASSVAX sites:
For those who are veterans, Les Whitfield of Chicago wrote to let us know that shots are available at Veteran's Administration (VA) hospitals across the nation. Thanks for the information, Les!
And at least some of the MASSVAX sites are accepting walk-ups a couple days each week. These include the Navy–Marine Corps Memorial Stadium in Annapolis (Walk-Ups: Wednesday-Sunday, 9 am- 3 pm, except on days of large sporting events) and the M&T bank Stadium in Baltimore (200 walk-up vaccination slots will be available each day from 10 am to 2 pm, seven days a week, excluding Orioles day game date.)
Whenever we can resume in-person meetings, I want to see you there. Please take care and stay healthy.
Scenes from our fifteenth pseudo-virtual meeting in May:
Due to public health and safety concerns and Maryland State restrictions on gatherings aimed at preventing the potential spread of the Corona Virus, the Greenbelt Community Center where we meet has been closed to meetings since March, 2020. We have had really good results over the previous months with members and friends sending us photos and descriptions of the model cars they would have brought if we'd had physical meetings, or just any model cars or projects they wanted to share. This month we're doing it again.
Paul Lee is first in this month with a handful of 1930's Fords. First is his build of Revell's 1932 Rat Roaster, next is his gold and bronze Monogram 1930 Touring Car, followed by his blue and white Revell 1932 Three Window Coupe, then his red and silver 1932 Five Window Coupe, followed by his take on Revell's Dan Fink Speedwagon.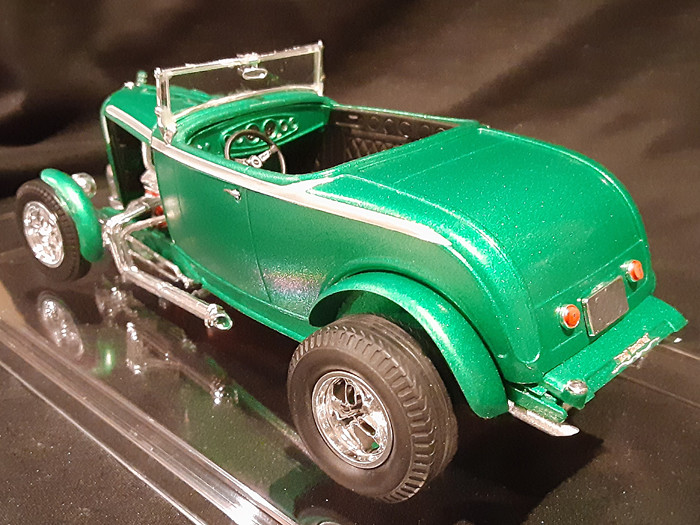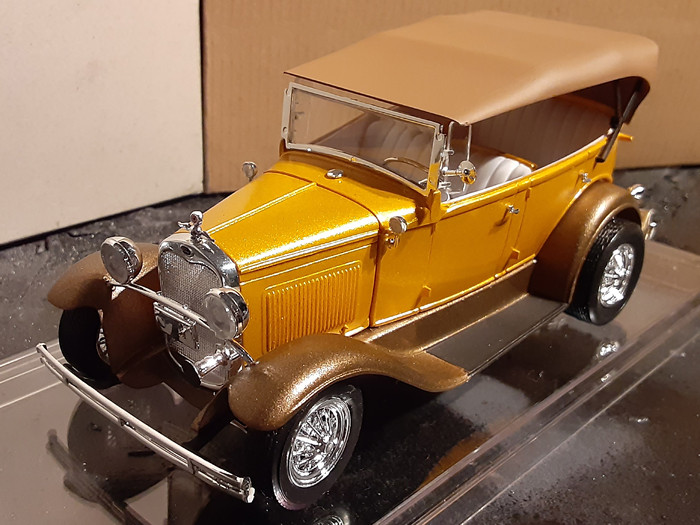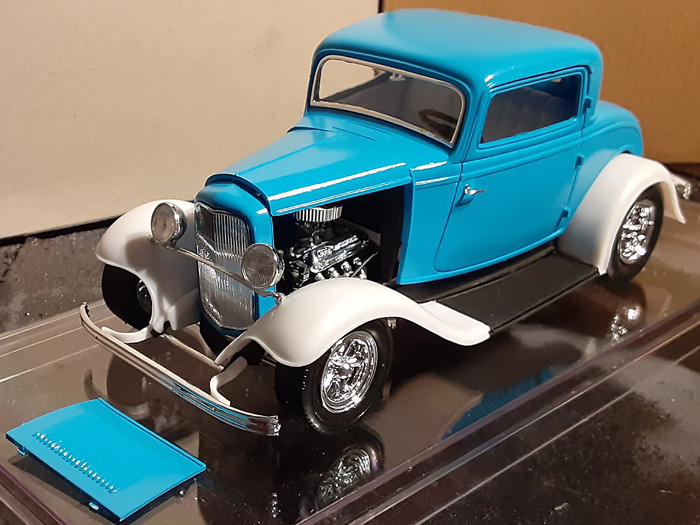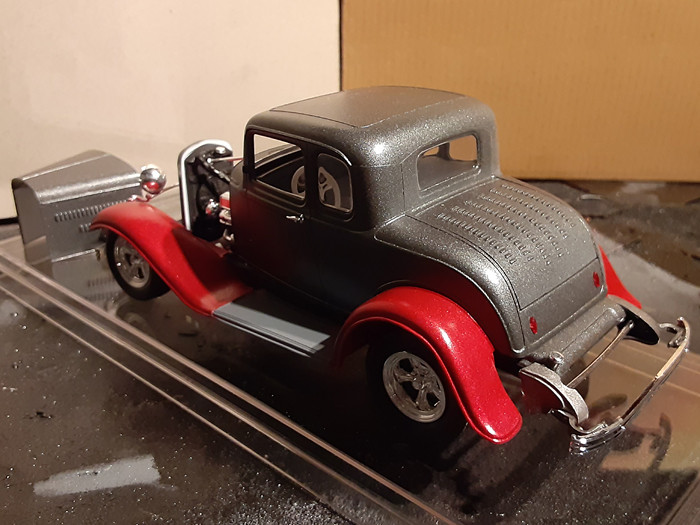 Bob Dudek wrapped up this sharp-looking Revell 1956 Chevy Del Ray kit. He painted it with Tamiya TS-39 Mica Red over Tamiya Semi-Gloss Black.

Ted Bonar's daughter bought him this Aoshima Honda CB400T Hawk II kit in 2012, mostly because he wanted a real one and to keep him from being a danger to himself. This last winter he got back to it in earnest and finished it just last week - only nine years later!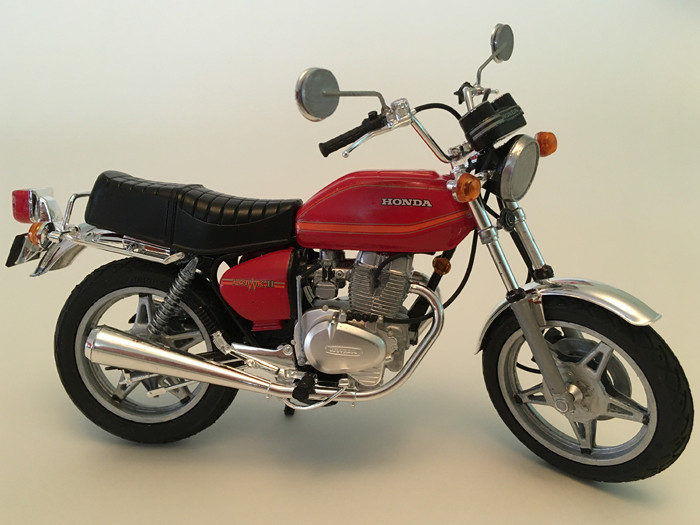 Now that Bruce Black is retired, he finally had the time to finish this "Shelf Queen," a Revell 1959 Chevy Impala hardtop custom. He said it was probably sitting on his shelf for 4-5 years. Everything was finished except for the body. It's a very nice kit. It included a super nice set of decals. He was originally thinking about putting the purple flame decal on the hood but then he decided that it looked better with the clean look! The only body decal he used was the "Teen Angel" decal on the Continental cover. The body color is Tamiya pearl white (TS-45) from a rattle can. The accent color is airbrushed Colors by Boyd purple pearl (#52701) on the engine block, roof top, and the trunk lid. He also brushed that same Boyd color on the interior door panels. Bruce used Detail Master grey spark plug wiring, Model Car Garage spark plug wire looms, Detail Master purple flocking, and of course, we cannot forget the MAMA license plates! Bruce says he was very happy with how it turned out. Now he's on to his next model project.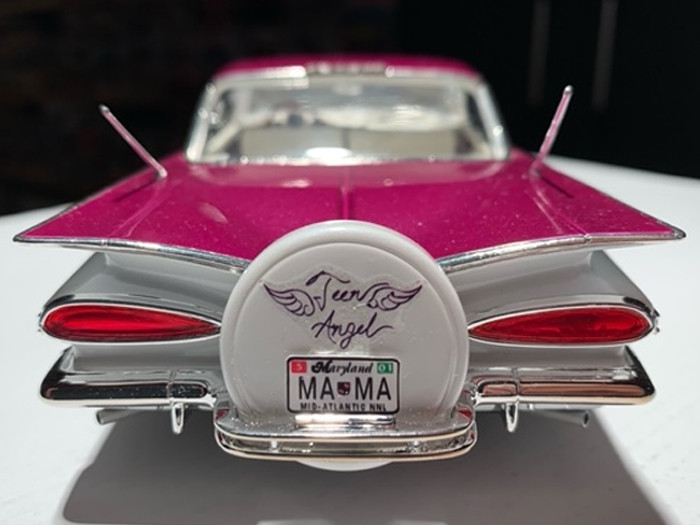 Joe Bush Sent photos of his latest projects. The AMT 1967 Firebird in the planning/beginning stages. His desired color choice is 'Tiger Gold'. The MPC 1967 Toronado is a current work in progress with interior and foiling details remaining. The AMT 1991 Camaro Z/28 is a 'Snap Kit' current work in progress with interior and blackout details remaining. Lastly, the MPC '71 Challenger R/T is painted but needs to be sanded, rubbed out, buffed, and foiled to complete body.

Cary Buter Has just about completed his 1966 GTO all the remains to be done is the driver's side door handle (it broke when he was drilling it out to add a .031 mount pin) and the side view mirror. The 1960 Chevrolet Pickup is his next project in the works. He's going to use the stock 6cyl as is because it brought back memories of the first engine he ever did: he had a 1961 Belair back in 1970 that his father-in-law gave him. He swapped out the tired 235 6cyl for a rebuilt engine, not knowing what he was doing. He said it was a nightmare due to an incorrect pilot bushing on the nrebuilt engine, but with the service of a real shop they managed to "git 'er done" and he learned a lot.

Cary's brother Steve Buter built a GTO of his own - a Monogram 1964 GTO, built straight from the box. The color is Krylon Colormax Gloss Sun Yellow, straight from the can. The trophy-bearer is a figure he got from a vendor at the most recent National Capitol Toy Soldier Show (N. Va. area) held in September 2019.
I believe this figure is some rendering of a Preiser figure meant for "O' scale trains, approximately 1/22 scale. The guy is Masterbox's Stan "Long Haul" Johnson, presented here as Mike Nomad from the gone but not forgotten Steve Roper comic strip, a hard-nosed, rough 'n tumble itinerant loner (thus the last name "Nomad") and perpetual babe magnet. Steve employed some sheet styrene to give this 1/25th scale figure some "lift" so he stands about level with his lady friend. Mike Nomad hang with a woman taller than he? Perish the thought!
If you were at our last in-person club meeting in Greenbelt back in February 2020, you might remember Steve's "Mod Rod" model based on one of AMT's various reissues of the Barris Ala Kart. He got the kit as a door prize at the very last Toledo NNL in October 2019. He placed the car on some scratchbuilt blacktop with a stop line and crosswalk, put a Fujimi driver figure behind the wheel, and added a winsome lassie by YUFAN who "accidentally" dropped her hot-pink purse and Valentine's Day candy right in front of the guy.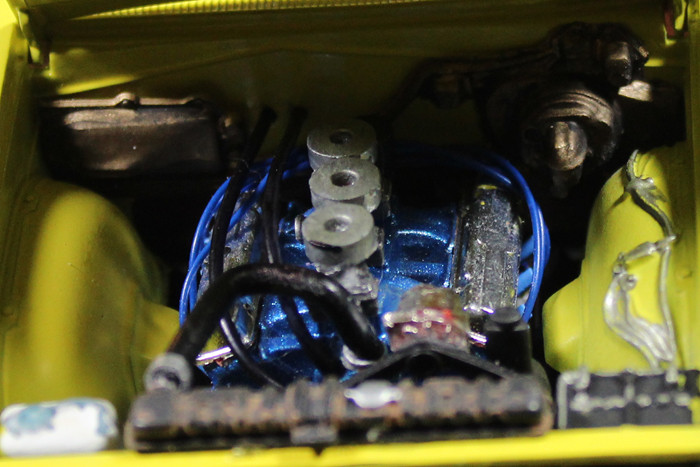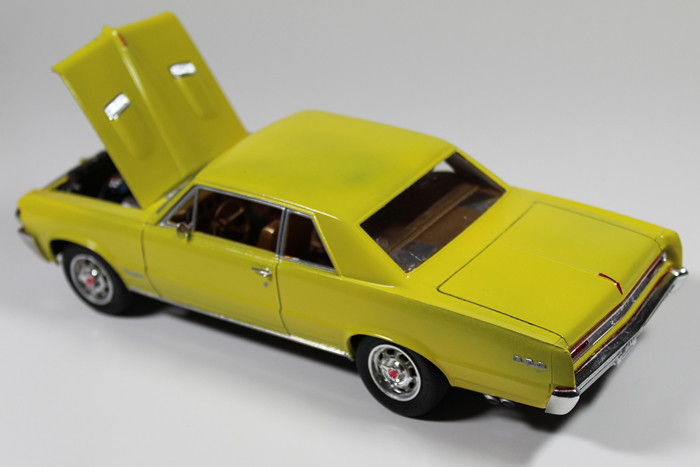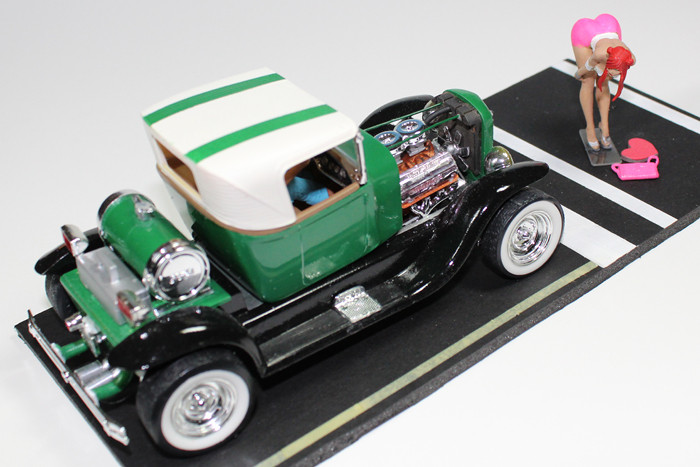 Cary's other brother Kevin Buter has finished this 1/8th scale Pocher 1907 130 HP Fiat. The year this car was manufactured, it won the French Grand Prix. Quite a victory for Fiat.

Rick Martin shared an old build of his. Based on Revell's 1/25th scale model released back in 1987, it's a replica of "Big Daddy" Don Garlits' Swamp Rat XXX dragster that won NHRA's Top Fuel Championship in 1986. "Big" said the canopy (now common on today's dragsters) and small front wheels under the streamlined nose helped him push his dragster thru an aerodynamic hole. However, once the front went up, that nose piece led to an iconic blowover at Englishtown that same year. The engine is fully wired and plumbed, as is the enclosed cockpit. It is painted Testor's Gloss Black & clear coated, with all of the kit's decals. Rick recalls it being a fun build.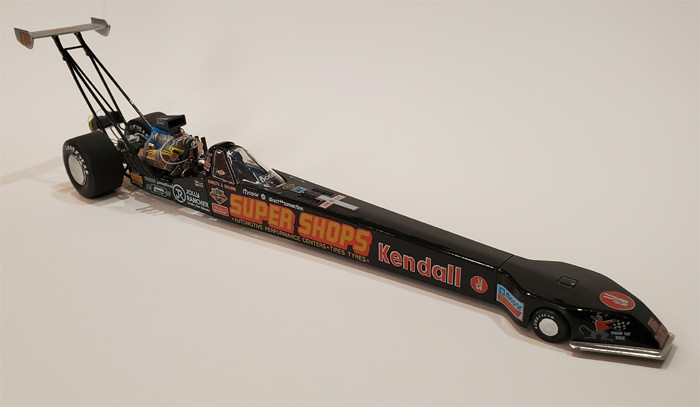 MAMA's founding father, Norman Veber, sent in these photos he took at this month's Fire Museum gathering.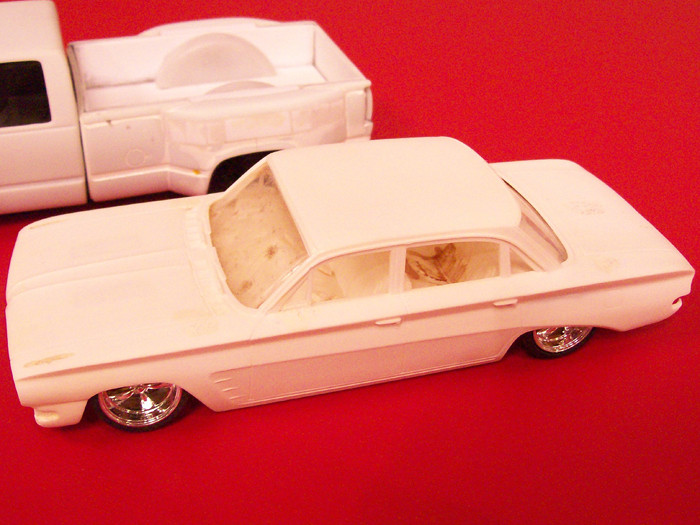 Hope your May cookies were tasty.