The 28th edition of the Mid-Atlantic NNL was a terrific hit thanks to the exceptionally generous sponsors listed here who supported us in ways far beyond what we could have ever hoped for. Please take a few moments and visit their sites by clicking on their name below or on their logos in the sponsor gallery.
On a sad note, we have learned that long-time member John Foster passed away on April 25th. John is survived by his wife, Debbie Allinson.
The next MAMA meeting will be 17 June 2023 at the Salaried Employees Association (SEA) Union Hall.
to MAMA's Diner, the official home of the Maryland Automotive Modelers' Association (MAMA), where we serve entrees of fun, friendship, and model cars.
MAMA's current leadership team is:
President: Tim Powers
Vice-President: Dave Toups
Treasurer: Matt Guilfoyle
Newsletter Editor: Tim Sickle

Notes from the MAMA President:
Well, there was no MAMA meeting this month, but that was a good thing! That's because instead of a meeting in May, we celebrate the Mother's Day weekend with our MAMA Mid-Atlanitic NNL model car, truck, and motorcycle show. This year's show took place on May 13th at the Level Volunteer Fire Company building in Havre de Grace, MD and welcomed 169 modelers from all over the Mid-Atlantic states who displayed 342 fantastically built models. It featured 24 vendors, 25 show sponsors (please check them out in the Sponsor Gallery below or on the Mid-Atlantic NNL show page), and 281 raffle items, the most in the show's history. All of the feedback I received directly, indirectly, or overheard was positive, except for one individual (guess he was the one that's in every crowd?)
So the show was a big success and what made it great was all the participants who displayed their models, the spectators who attended, and the vendors who vended. With out them, there is no show.
For me, the biggest highlight of the day was when our VP, Dave Toups, made a very special presentation to our long-serving and truly selfless newsletter editor, Tim Sickle. In honor of Tim's 35 years of recording and reporting the club's activities and bringing us the latest model and full-size car industry news, Dave colluded with fellow member Marcos Cruz to build and present to Tim a detailed replica of the 1-to-1 scale Solar Red 1968 GTO he's restored and cherishes. This was a most wonderful way to show Tim how deeply his support to and efforts for the club are appreciated.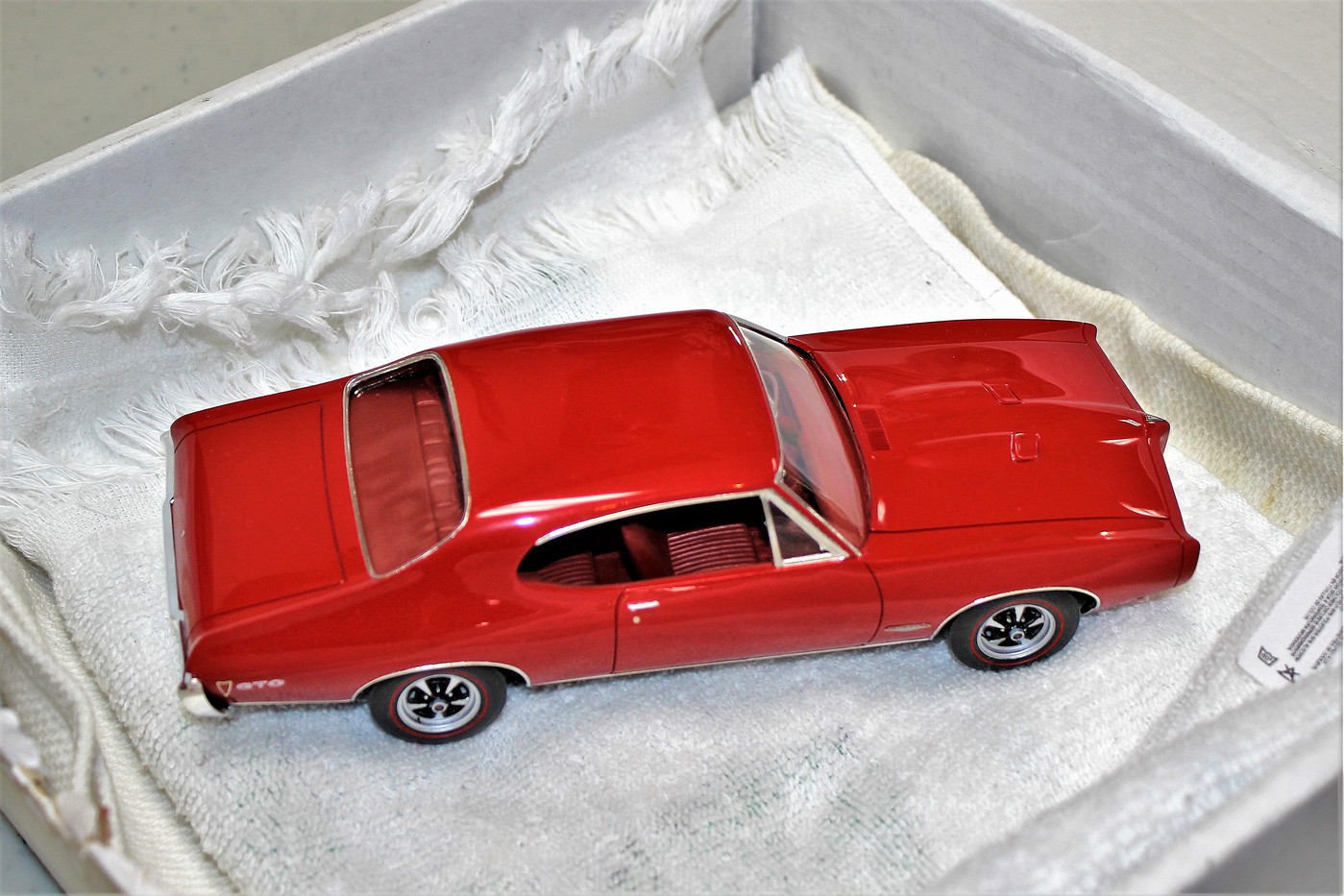 Last, but not least I want to thank all those club members who worked so hard behind the scenes to make the show happen, so here in no particular order is a great big MAMA shout out to every one I can pull to mind (if you know of anyone I missed, let me know and I'll add their names):
Dave Toups: Managing vendors spaces, planning room layouts (including several plans to cover multiple possible room scenarios), renting tables, raffle operations, soliciting/signing up vendors and all the details that go with that (like printing name tags, collecting payments, making table assignments, etc...), table setup/tear down, vendor entrance monitoring/greeting vendors, directing vendors where not to park, assisting with admissions
Matt Guilfoyle: All business/financial related activities, ordering and picking up the trophies, negotitations with the fire hall, running the admissions table/process, preparing/bringing supplies (entry forms, placemat cards, name badges, markers, easel, whiteboard, raffle tickets, table wrap, etc...)
Tim Sickle: Ballot preparation, vote tracking/tabulations, show fliers, show marketing/advertising, registration forms, placards, and ballots, trophy presentations
Bobby ??? (Bobby, so sorry none of us could recall your last name - Please email us and we'll get it corrected right away!): Helped Tim Sickle with vote tracking/tabulations
Ron Hamilton: Assisting with admissions
Ron Drechsler: Table setup/tear down, raffle operations, vendor load-in/pack out
Sean Kirby: Assisting with admissions, table setup/tear down, vendor load-in/pack out
Lewis Hicks: Table setup/tear down
Marcos Cruz: Table setup/tear down, vendor load-in/pack out
Dean Lewis: Table setup/tear down, raffle operations
Mike Costic: "Make and Take" operations
Lyle Willits: Photography (show activities, the models on display, and the award presentations)
Norman Veber: Bringing MAMA banner and admissions signs/tri-pods
MAMA also wants to thank Ms. Karen Lopes and the Level Volunteer Fire Company Ladies Auxiliary for their tremendous eforts in setting up tables, interacting with the hall's Operational and Administrative officers on our behalf, and staffing the kitchen to make sure there was a good selection of tasty menu items available for us to nosh on for breakfast and lunch.
The wonderful sponsors represented below provided us with very generous product contributions to make our 2023 Mid-Atlantic NNL show the success it was.
Click the icons in the Sponsor Gallery below to visit and shop on their web sites in a new browser tab.
Please continue to keep the people of the Ukraine in your thoughts and prayers as Russia's senseless war on them drags on.
May Meeting Photos:
For those members who cannot make it to a meeting in person for whatever reason, we mainatin the psuedo-virtual aspect of the web site. Any one who wants to is encouraged and welcomed to send in photos of their builds, so if we can't see you and your model cars in person at meetings, we still want to see photos of your projects here on the site. Please keep those photos and descriptions coming. Remember to send them in by the third Saturday each month.
Paul Lee sent photos of his Subaru Legacy Wagon.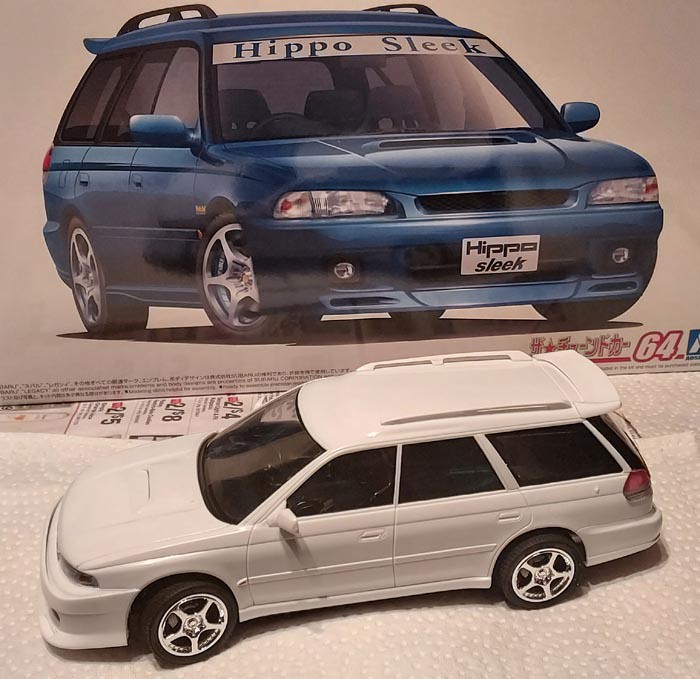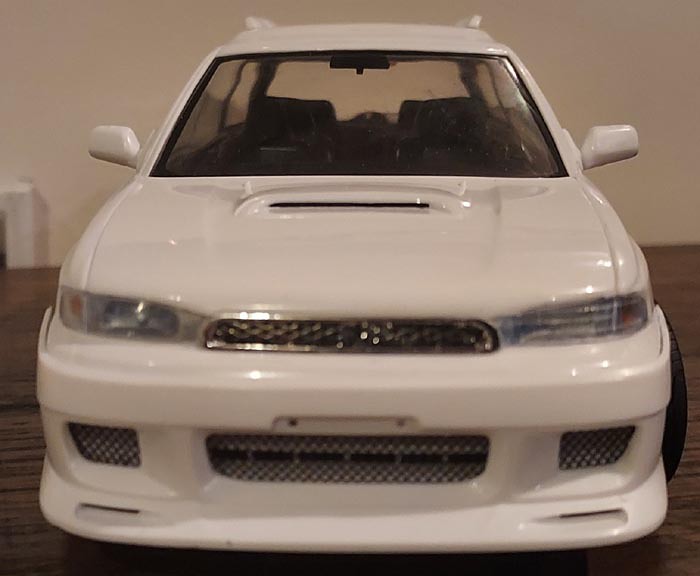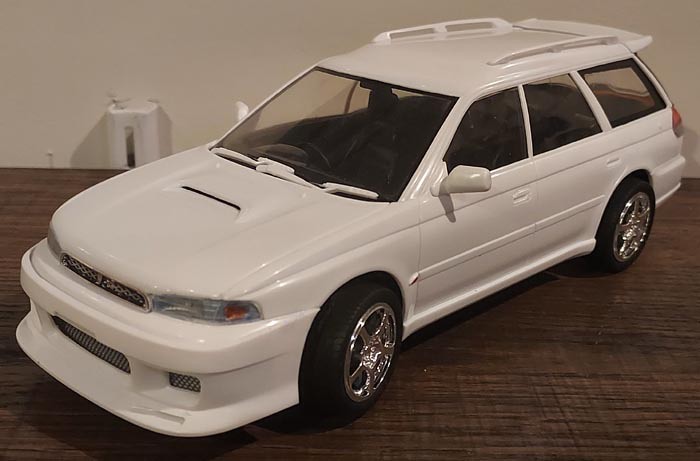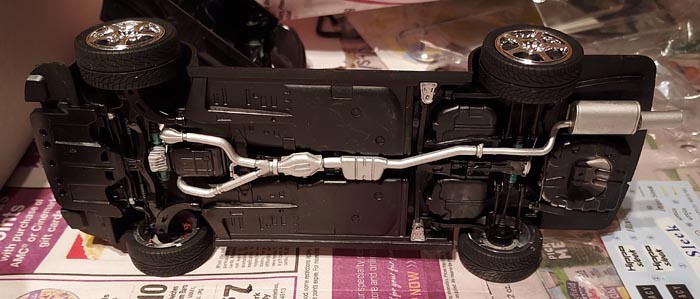 Steve Martin picked up this 1965 Pontiac Grand Prix kit at Hobby Lobby for $5.00 (it was on clearance). He used Duplicolor paint and clear coated it with Minwax polyurethane.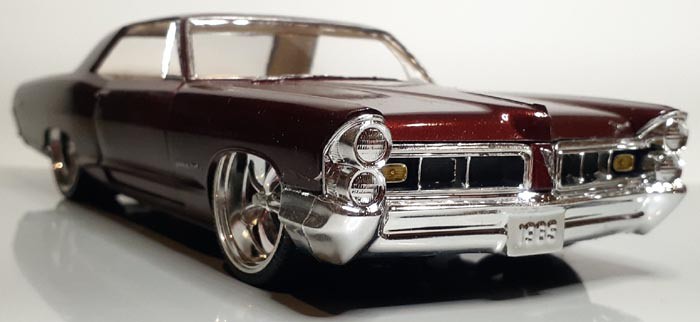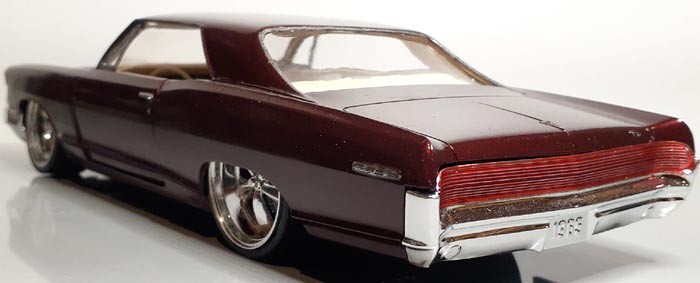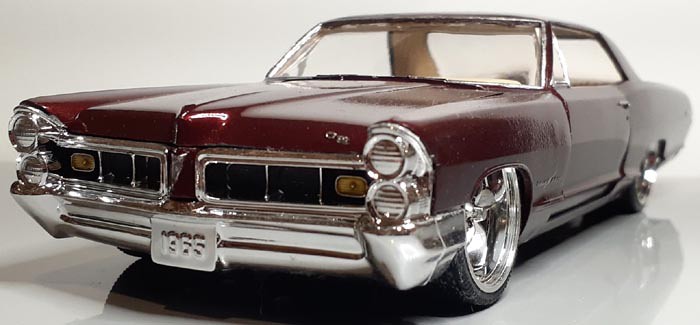 Scenes from the meeting:
As there was no May meeting, we have pictures here of some of the action from the 28th Edition of the Mid-Atlantic NNL for you to enjoy. If you want to see the models that were on display as well as the show trophy winners, check out our Mid-Atlantic NNL page.