to MAMA's Diner, the official home of the Maryland Automotive Modelers' Association (MAMA), where we serve entrees of fun, friendship, and model cars.
MAMA's current leadership team is:
President: Tim Powers
Vice-President: Dave Toups
Treasurer: Matt Guilfoyle
Newsletter Editor: Tim Sickle

Notes from the MAMA President:
Happy 34th Anniversary, MAMA! Way back in 1988, Norman Veber saw an opportunity to do a good thing for Baltimore Area Model Car Builders and he founded a club to give these builders an opportunity to meet, look at model cars, talk about model cars, and even share hints and tips for building them. While we were all happy to have found these benefits, the one thing none of realized was that we'd also found some new friends. Thank you Norman for providing us all these benefits. And thank you to all MAMA members for being an essential part of MAMA. You are MAMA's history and you will be MAMA's future. You are MAMA.
Where's Lyle?
When I was at the Super September Showdown back on the 11th, the number one question that people at the show asked me was, "Where's Lyle?" Other MAMA members reported getting that question a lot, too. Well, that gave me an idea for a new game...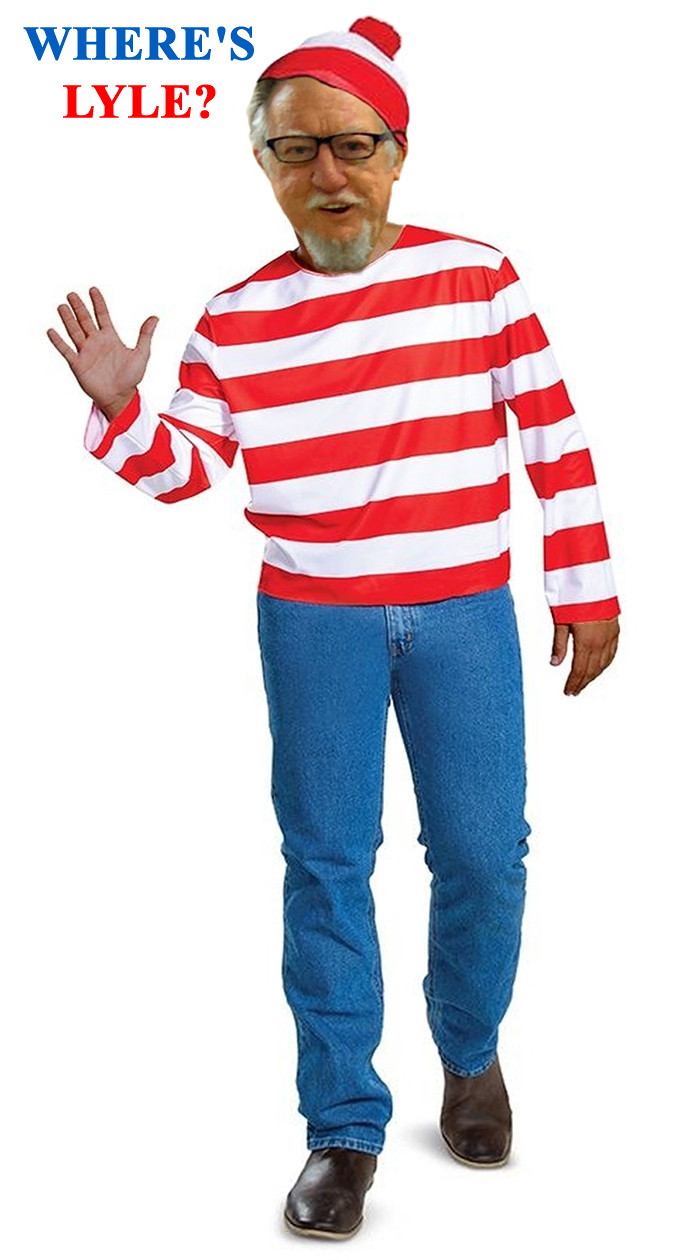 So we had planned on taking a club vote at the September meeting regarding whether or not to move back to the Greenbelt Community Center (GCC). The word we had gotten at the August meeting was that the Union Hall we were looking into was a dead issue. Well, suprize! During the week before the September meeting a call came in from one of the people running the hall and as a result, Matt is scheduling an in-person meeting with all the key players to make sure the hall folks are all on the same page about renting it to us. Because of this new turn of events, we decided to postpone the vote until the October meeting. We have received the following details from the folks at Greenbelt: we can get the same room, same price, same hours, and same schedule. The drawback is that the West-side entrance (near the little playground area) that the majority of us used is no longer open to the public. This means if you can't find a spot in the tiny East-side entrance, you'll have to hoof it up the hill between the GCC and the library, then around to the front entrance that faces Crescent Road, and then walk all the way through to the back of the building where the room is. Hopefully we'll have more information next month.
The National Capital Model Soldier Society show is coming up on 01 October at the Springfield Hilton in Springfield, VA. The NCMSS has once again graciously offered a table for MAMA member to display our cars and talk with attendees about our facet of the model-building hobby. Looks like Steve Buter and Mike Coastic are already planning to attend, although I don't think Rex Turner will make it this year. To learn more, check out the show web page.
This year the MarauderCon hosted by IPMS Baltimore & IPMS Washington DC will be held 22 October at the Level Voolunteer Fire Company in Havre de Grace, MD. MAMA is planning to sponsor a trophy package for one of their automotive categories. To learn more, check out the show web page.
Speaking of sponsoring, our founder, Norman Veber, will be participating iin the 2022 Greater Maryland Heart Walk on 08 October at the Maryland State Fairgrounds in Timonium. For more details about the heart walk and how to donate or enter check out the event web page.
Steve Buter shared with us that this November FineScale Modeler magazine is launching a new celebration of model building to be known as Build a Model Month (BAMM). BAMM is all about building scale models, raising awareness of the hobby, building models with each other, and spreading the fun of scale modeling by helping someone get started on building them. They are encouraging model clubs/organization to consider group builds. FineScale Modeler will also be holding an on-line model contest featuring a cash prize, cover position and story for the winner.

Please continue to keep our friends in the Ukraine in your thoughts and prayers as Russia's senseless war on them continues.
Since last month, the COVID positivity rate for Maryland has been hanging around 9%. This is good news and I hope it continues to fall. I do still urge everyone to remain cautious for ourselves, and our families, friends, co-workers, and acquaintances. It ain't over yet. Please continue to follow changing county mandates and mitigations as they adapt to address the evolving COVID virus variants. As always, I reccommend that you keep wearing your masks when in public spaces even if they are not required and continue to use hand sanitizers to help reduce the chances of spreading diseases like colds and the flu, especially as we are about to enter the fall season.
September Photos:
Because our current meeting location at the Fire Museum of Maryland is both limited on space and out of the way for some members (What location isn't?) we are keeping the psuedo-virtual aspect of the web site going. Any one who wants to is encouraged and welcomed to send in photos of their builds, so if we can't see you and your model cars at meetings, we still want to see photos of your projects here on the site. Please keep those photos and descriptions coming. Remember to send them in by the third Saturday each month.
Paul Lee is in first with a red Pontiac Fiero, 1953 Ford Pickup, and everyone's favorite Gruesome Twosome - the Munster Coach and Dragula.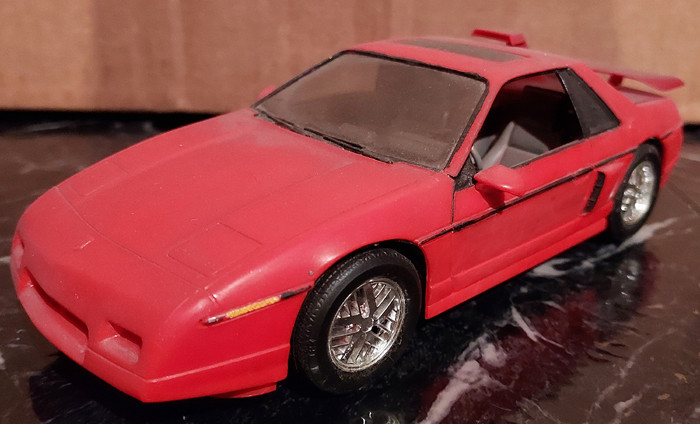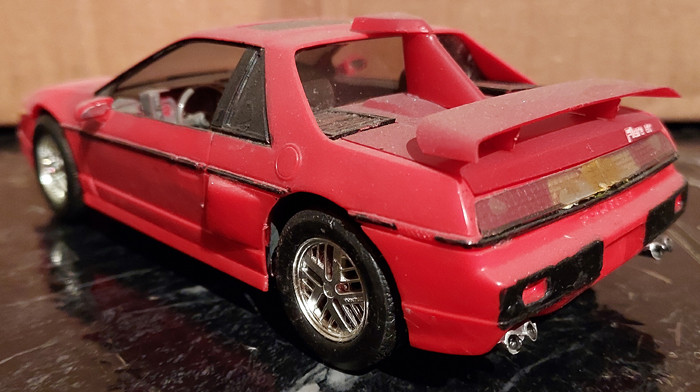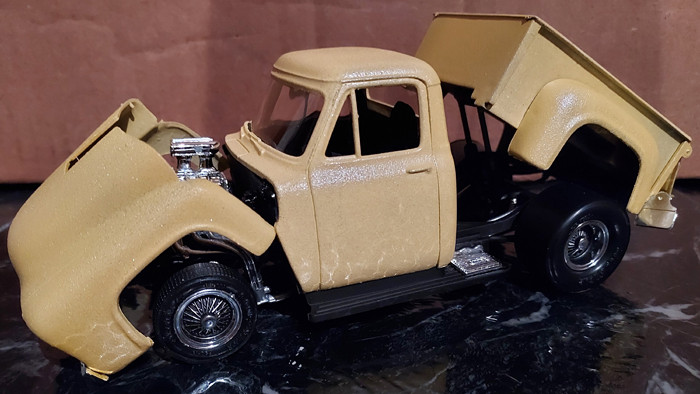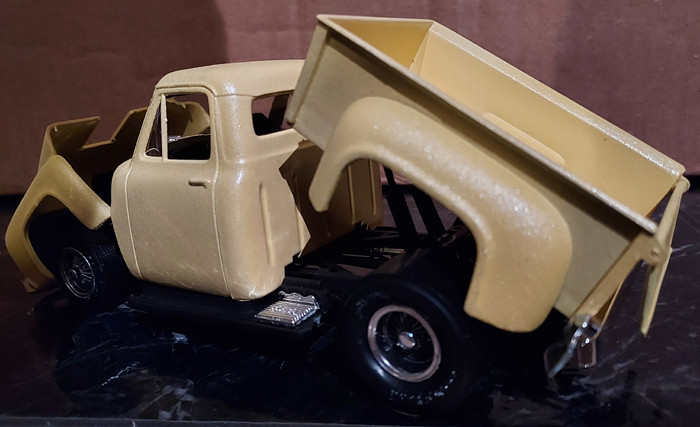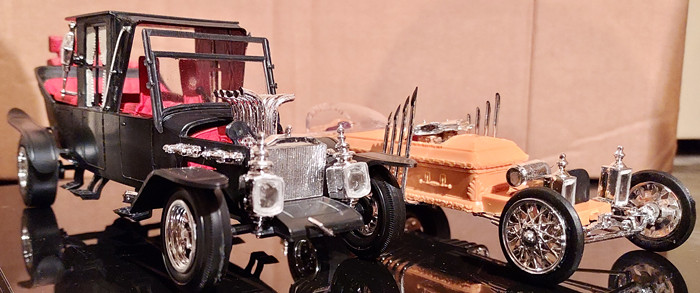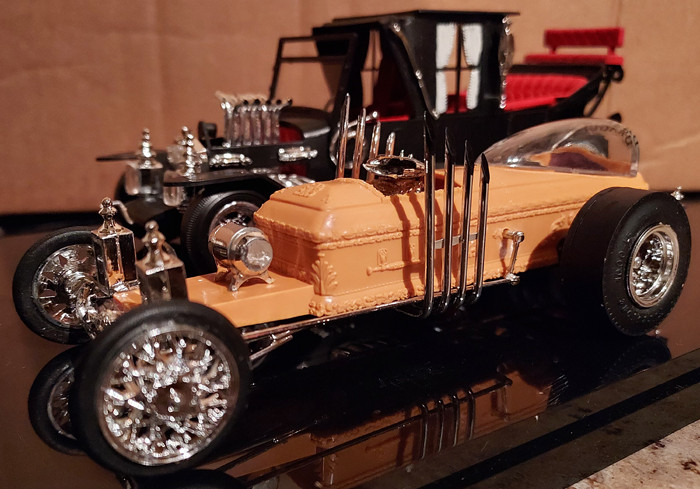 Kevin Buter gives us a progress report on his latest 1961 Chevrolet Impala project - the chassis and the interior are completed. He says that this is his first 1/25th scale project in probably 40 plus years. He also says there's no extra stuff to be added to the build, he's just building it box stock.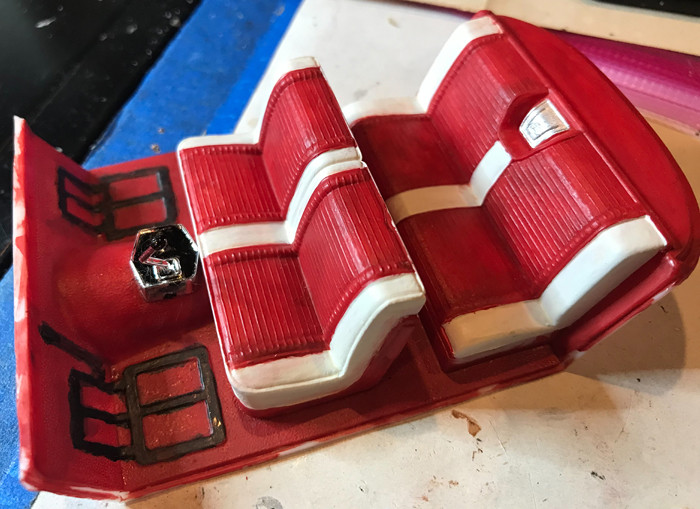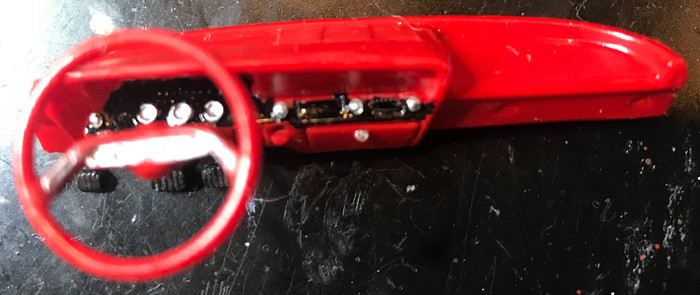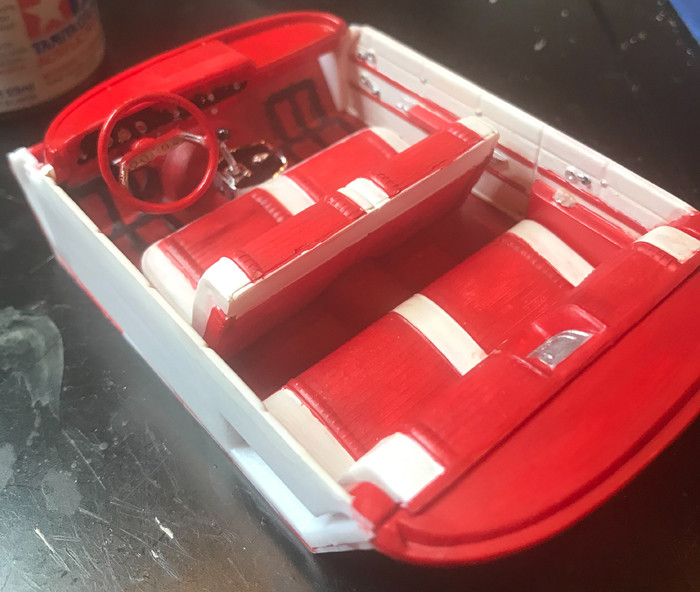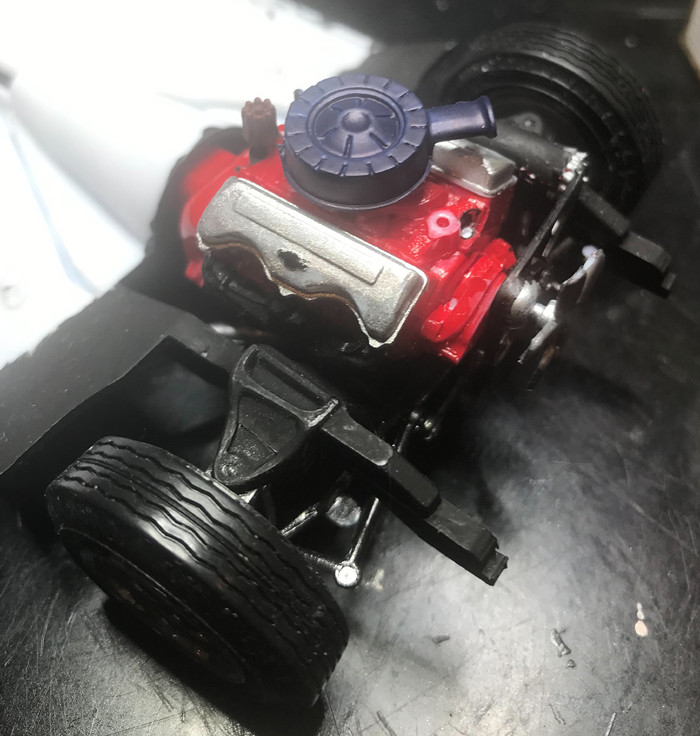 Scenes from the meeting:
Norman Veber showed us some of his earlier builds. He brought a Ford GT-40 Mk II from Fujimi that he built in 1989, and for contrast he brought a Ford GT-40 Mk II from IMC that he built around the 1966-67 timeframe. He also brought a set of shop tools (compressor, welding set, gas can, and bench grinder) from R&D Unique that he built.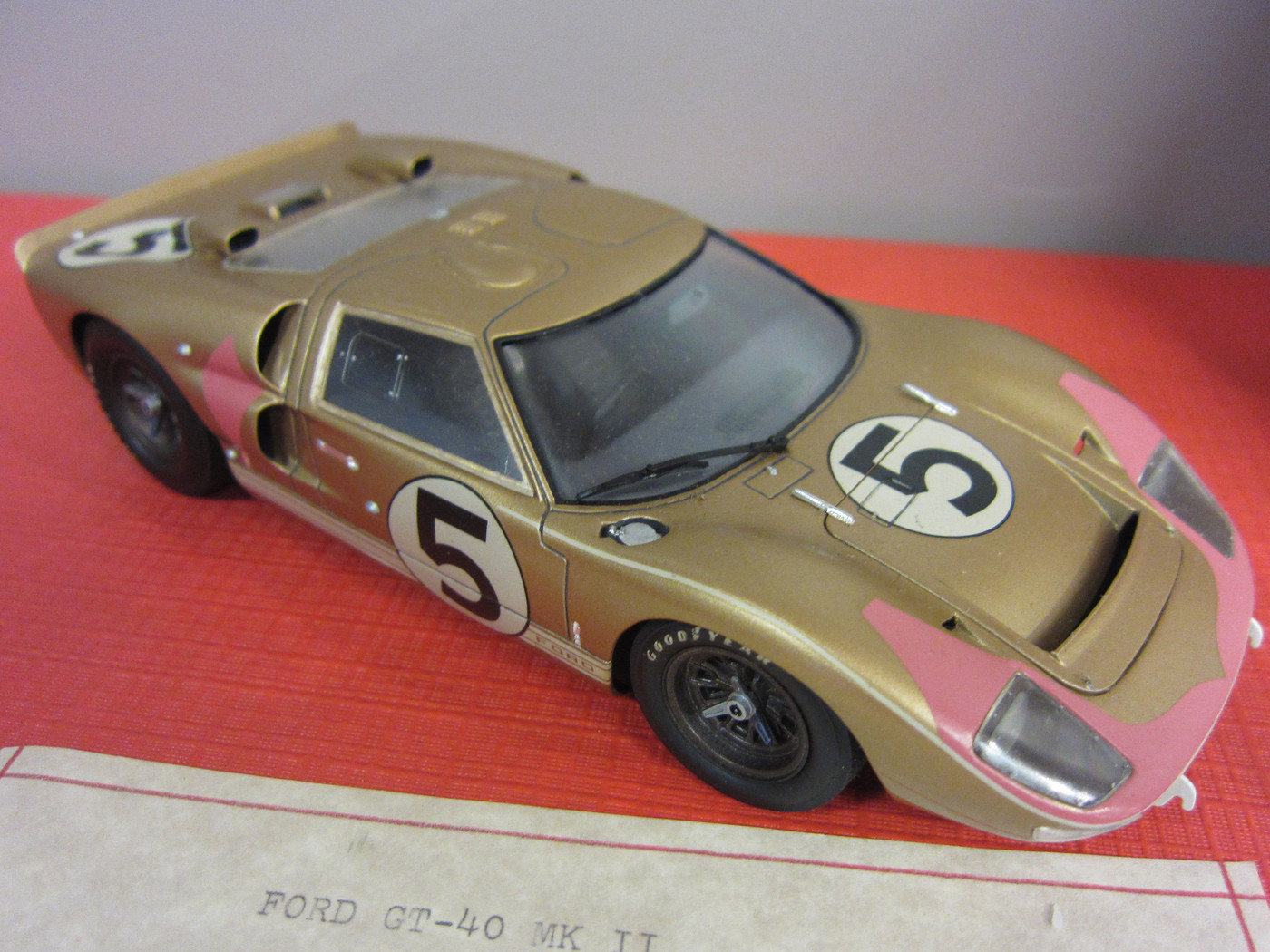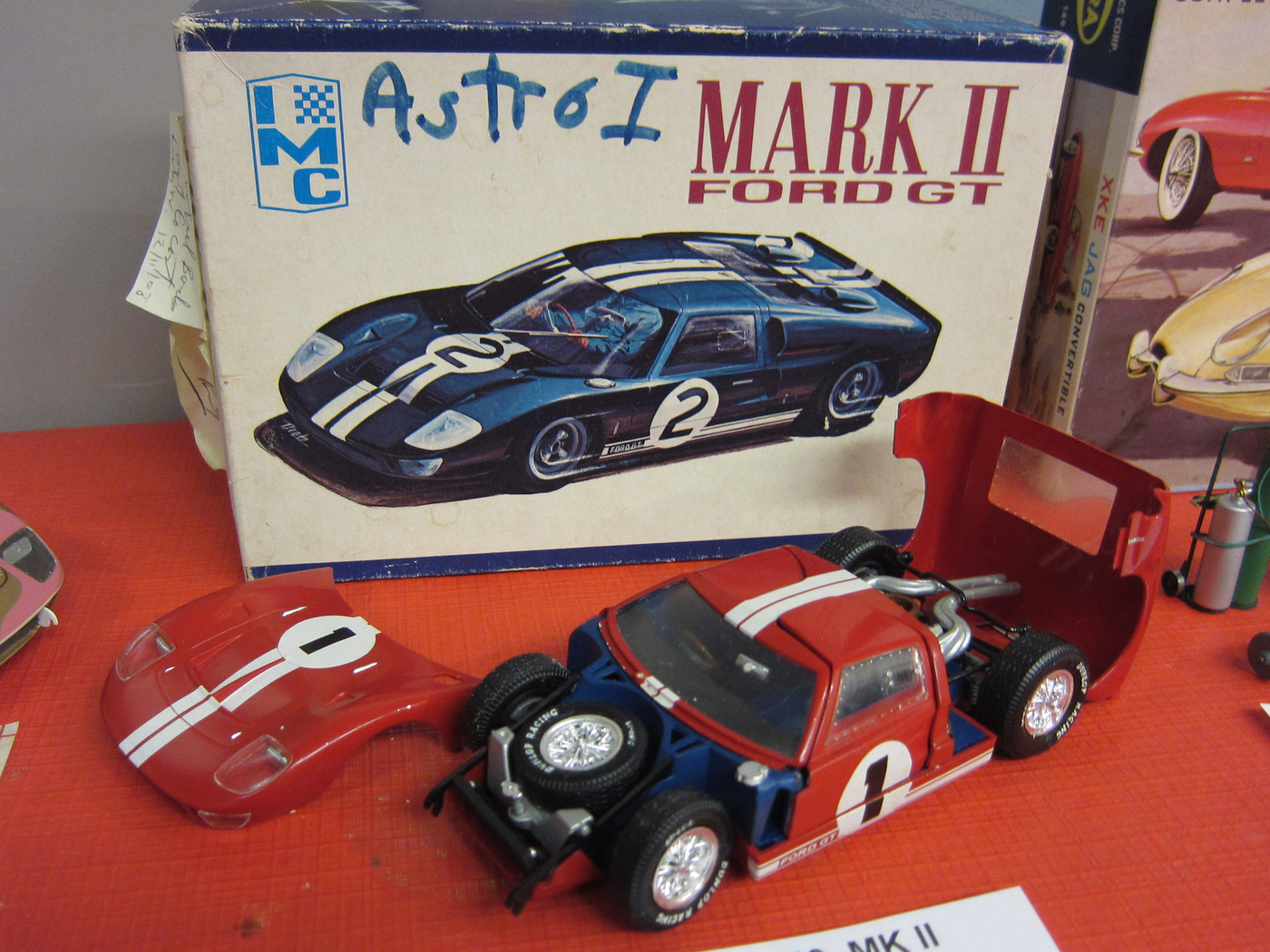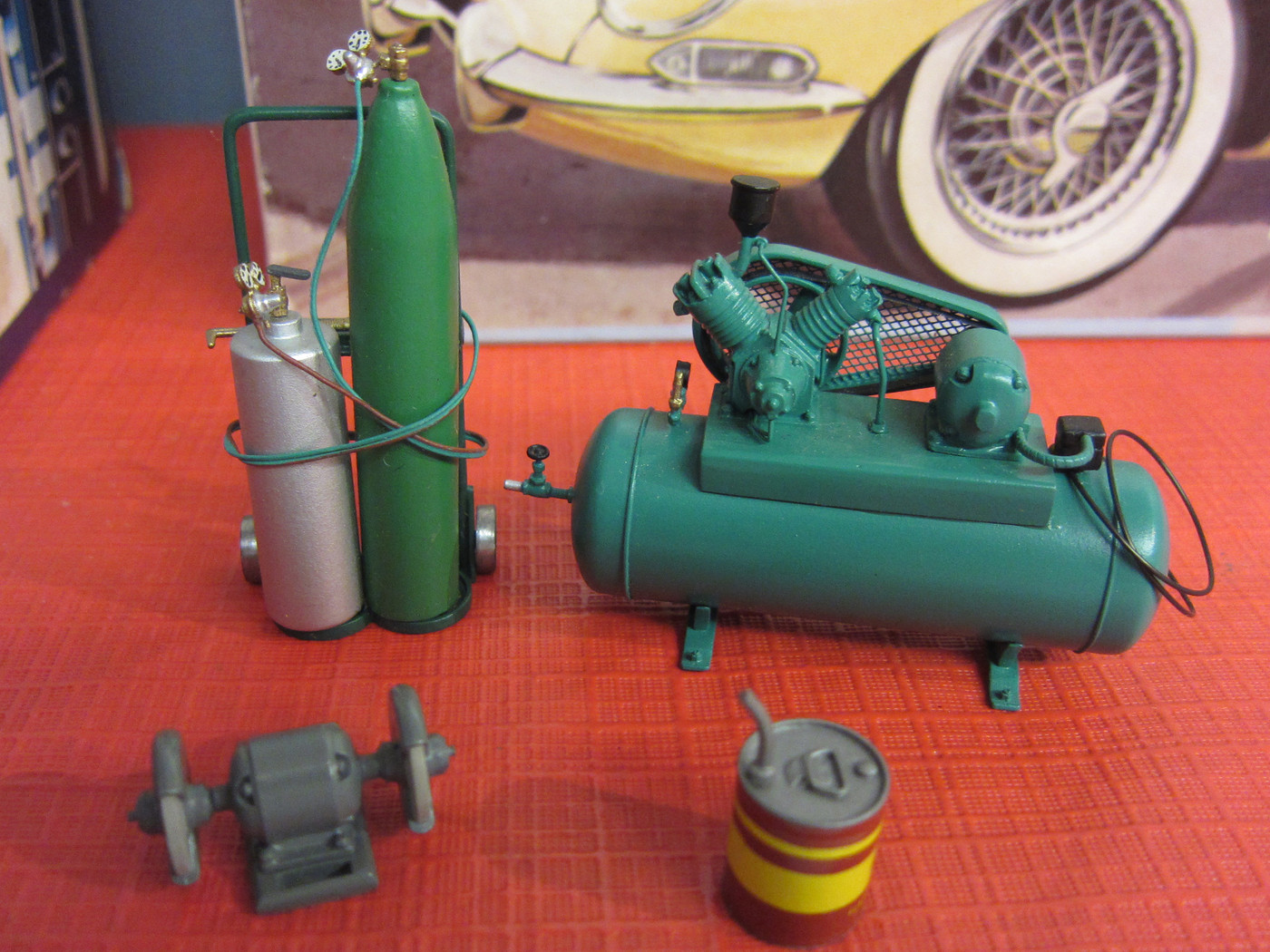 Steve Buter showed up with a green custom 1960 sedan delivery called, "Gambler" and a 1/32 scale Cadillac drop top.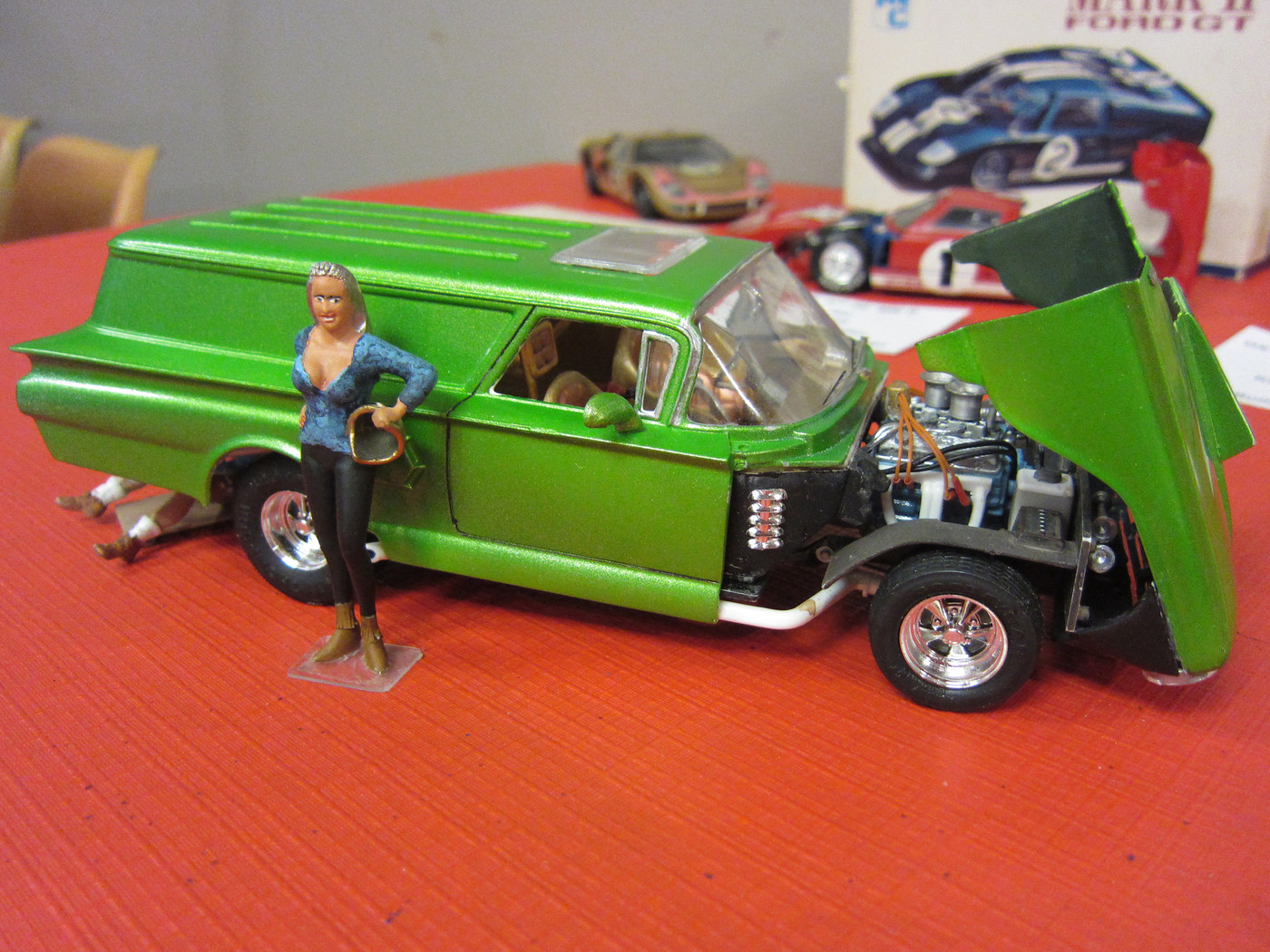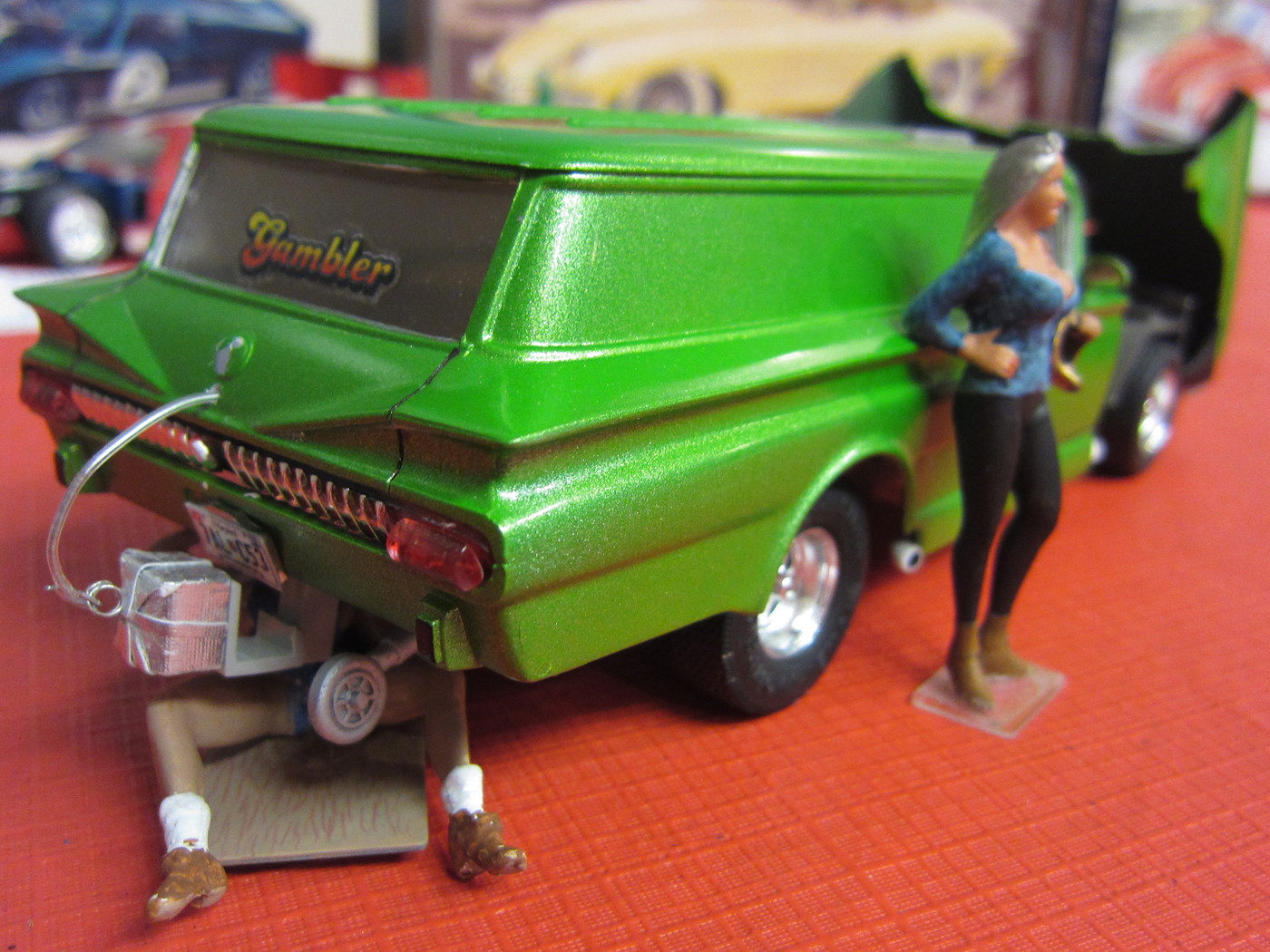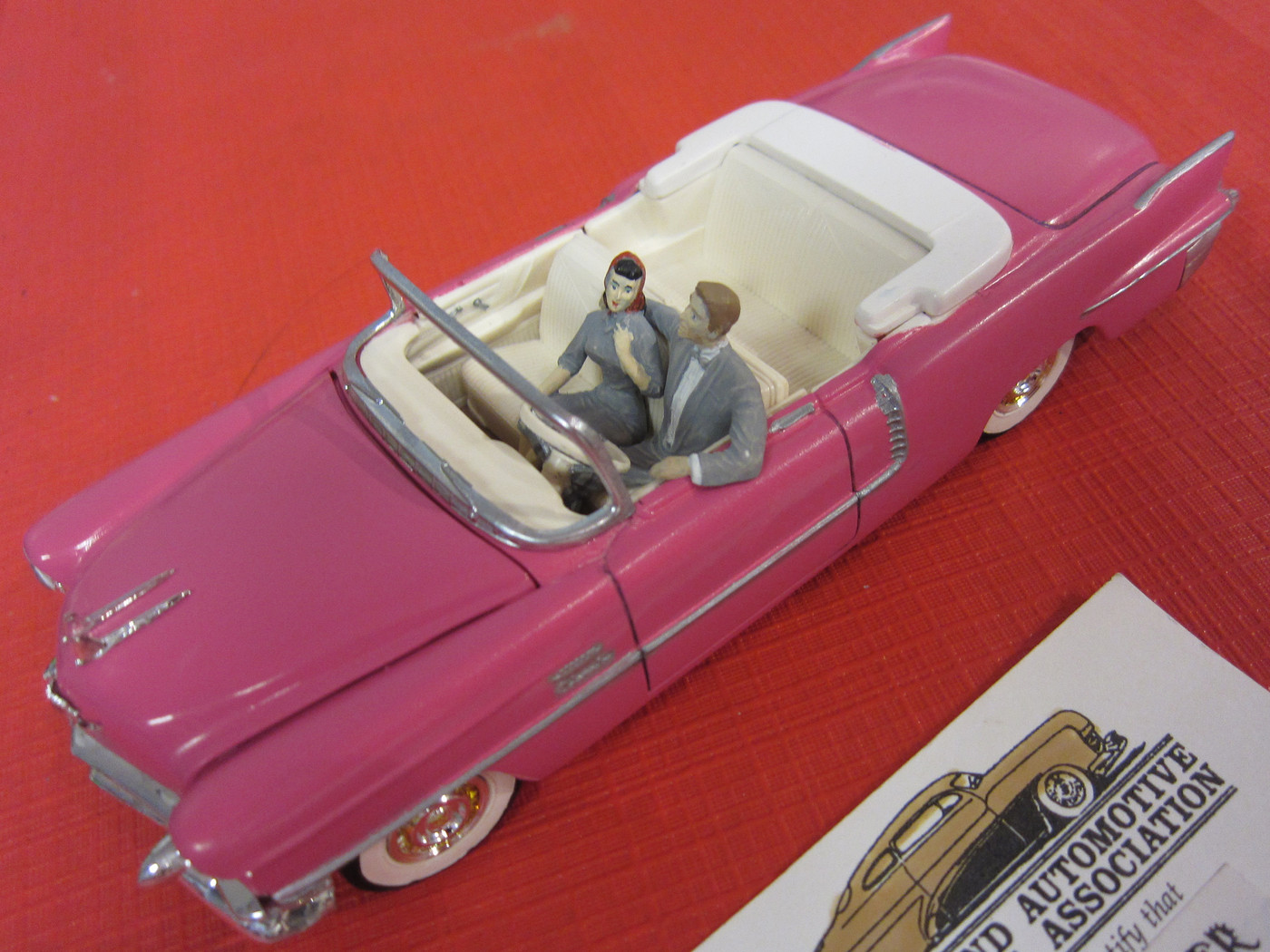 Ron Hamilton is starting a couple new builds: a VW Beetle and a T1 Van.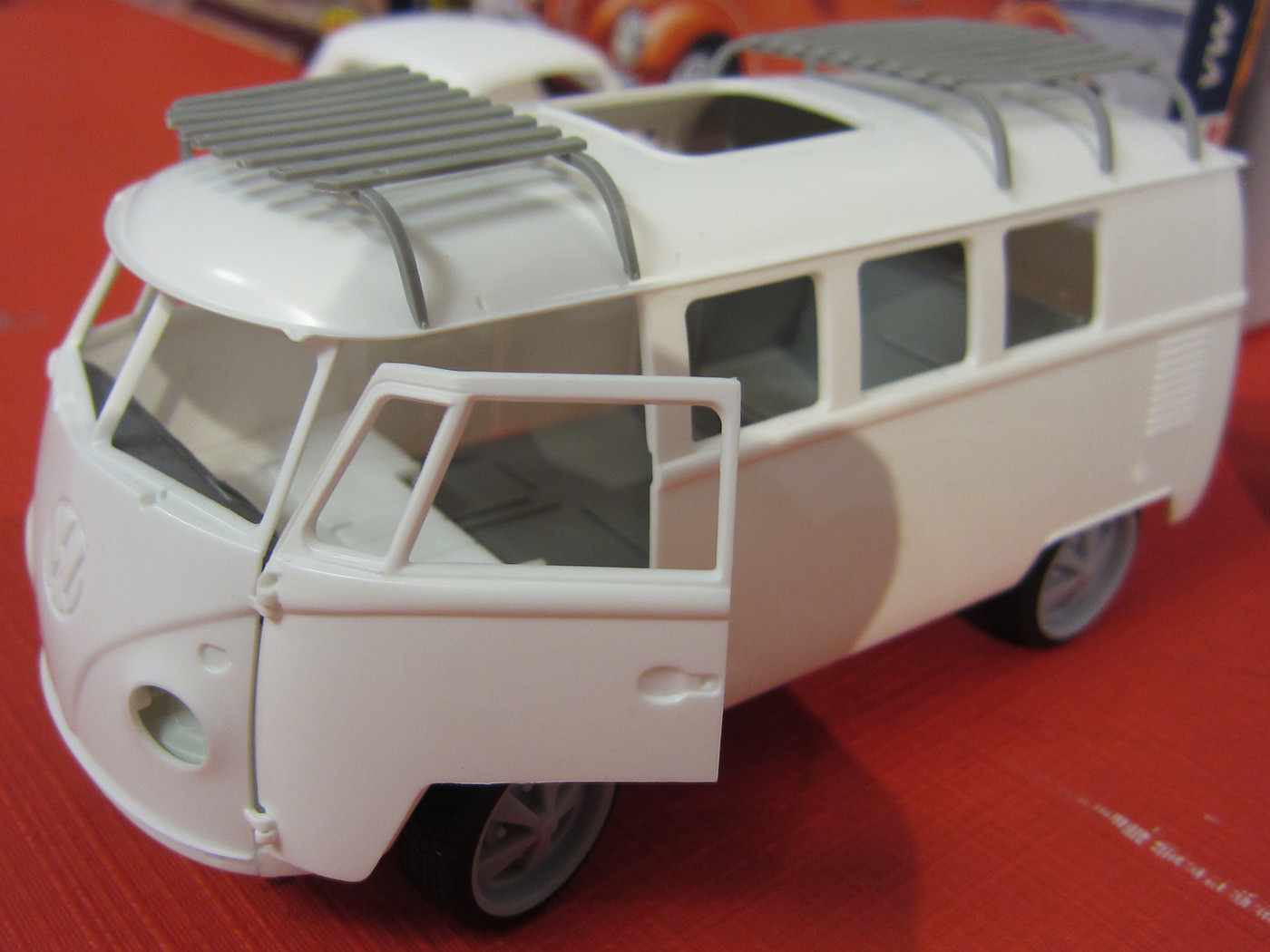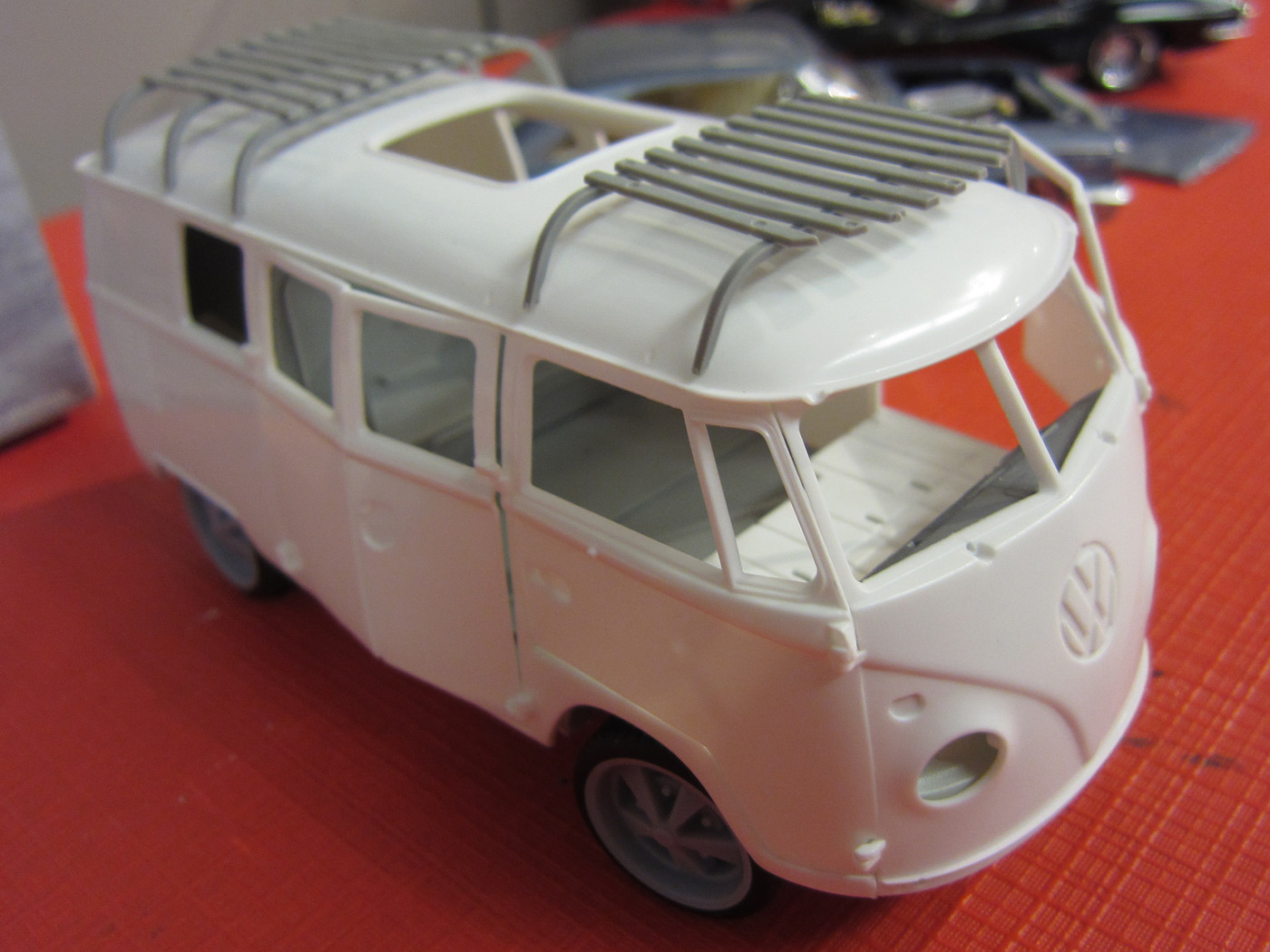 Continuing his streak of 1934 Ford 3-Window Coupe builds, Russ Kirkpatrick exhibited this Maryland State Police themed "Car 54".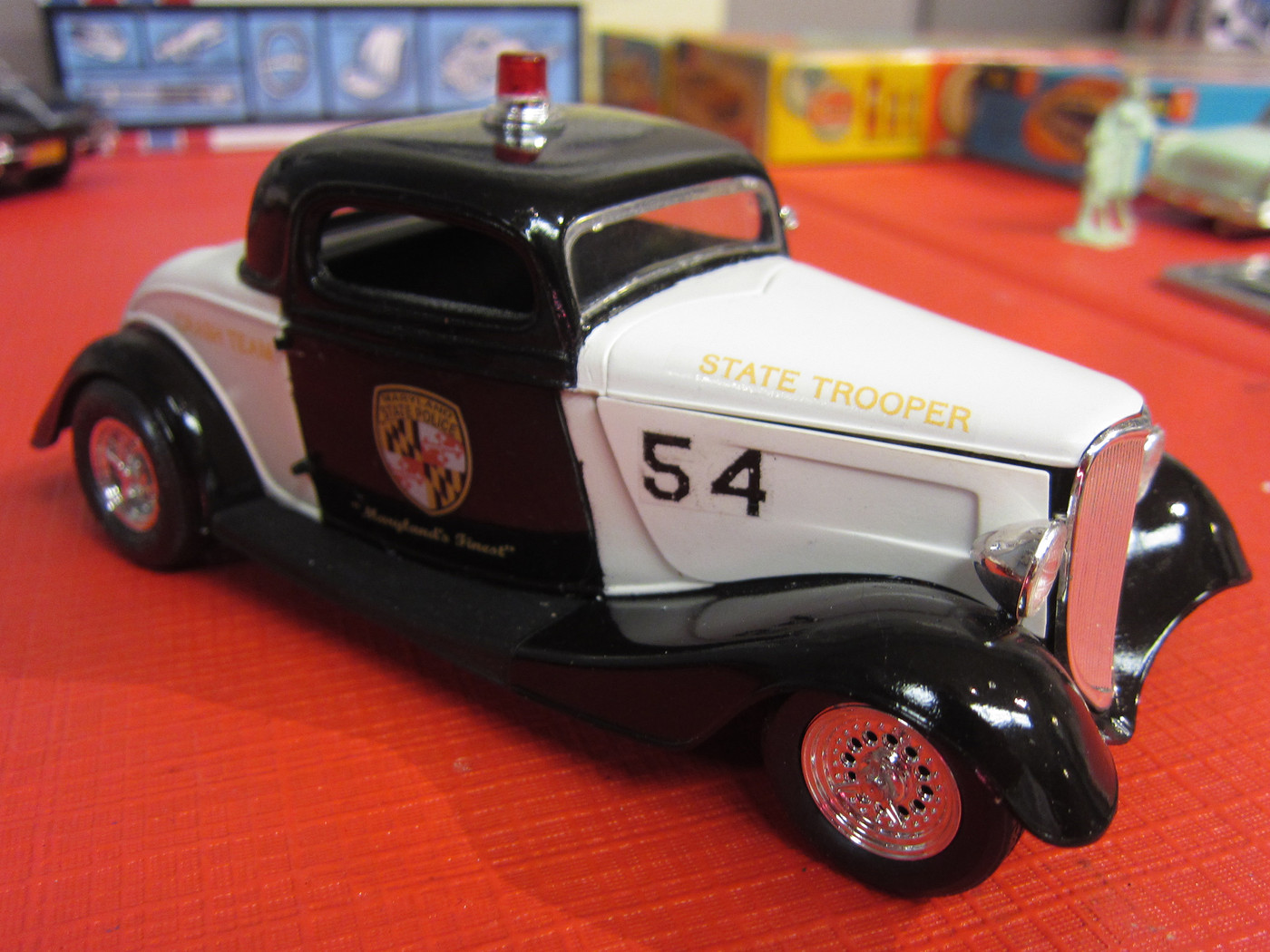 Chris Whalley displayed some interesting finds: the Ford, Cadillac, and 1956 Chrysler kits are marked with the Orange Crush soft-drink logo (probably a promotional effort back in the day) and the Mercury and 1955 Chrysler kits are marked as Revell/AMT kits. He showed a built Chrysler and the figures from a 1956 Chrysler kit. Chris also showed us a car club club plaque from the area where he grew up.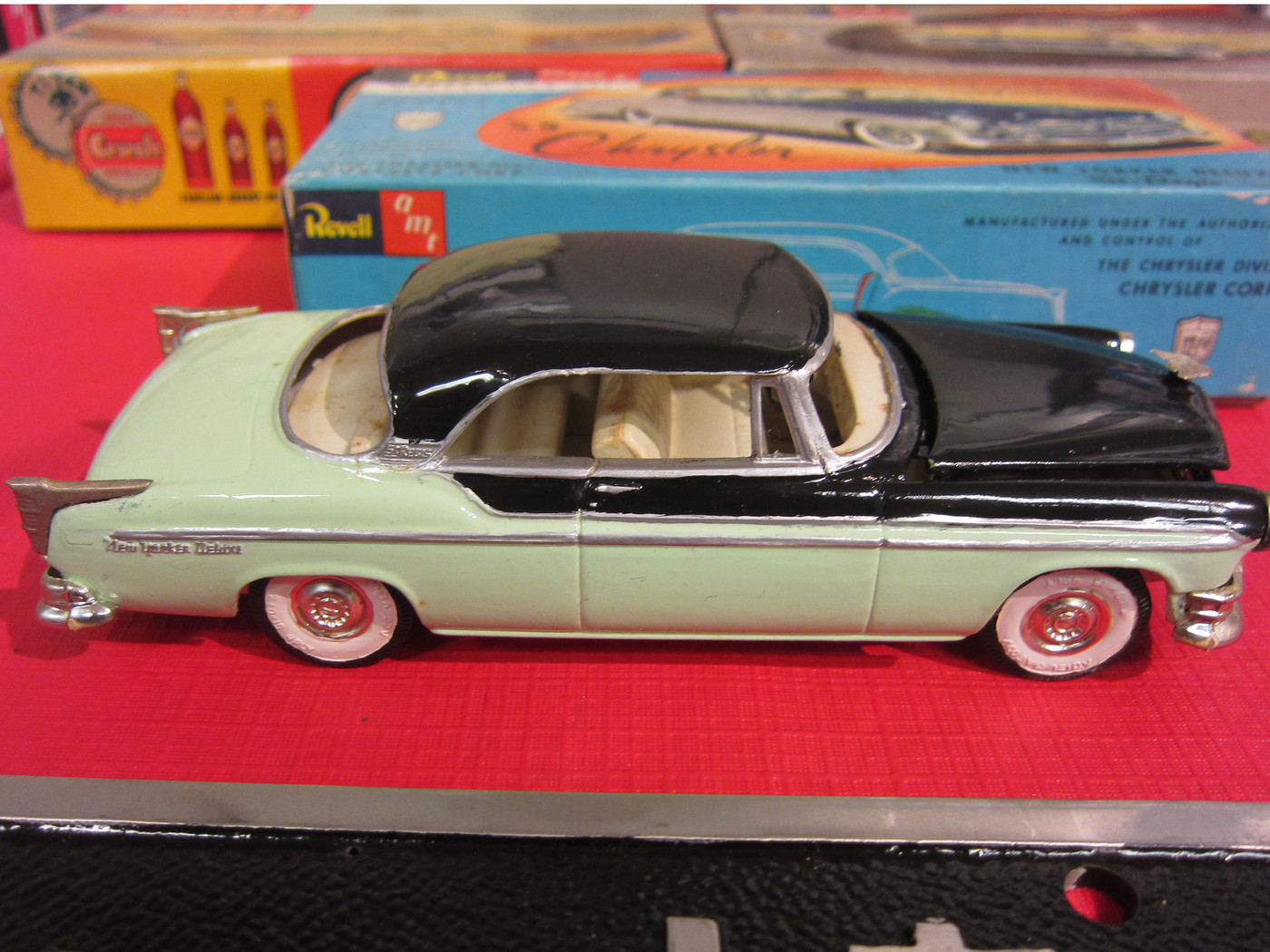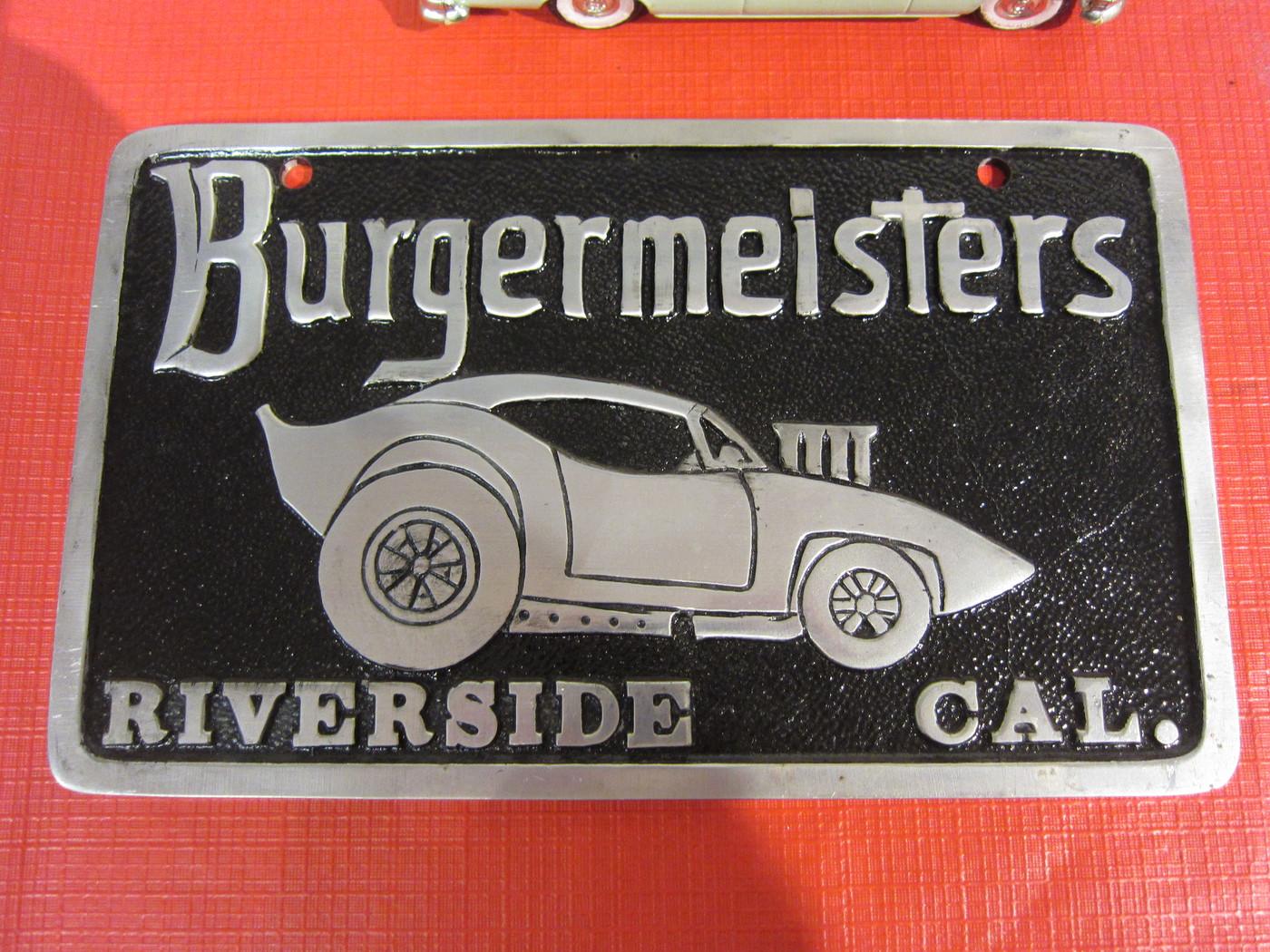 Steve Martin brought back the 1963 Ford Galaxie model that he bought at last month's meeting, only fully built! He parked his 1963 Split-Window Corvette behind the Ford.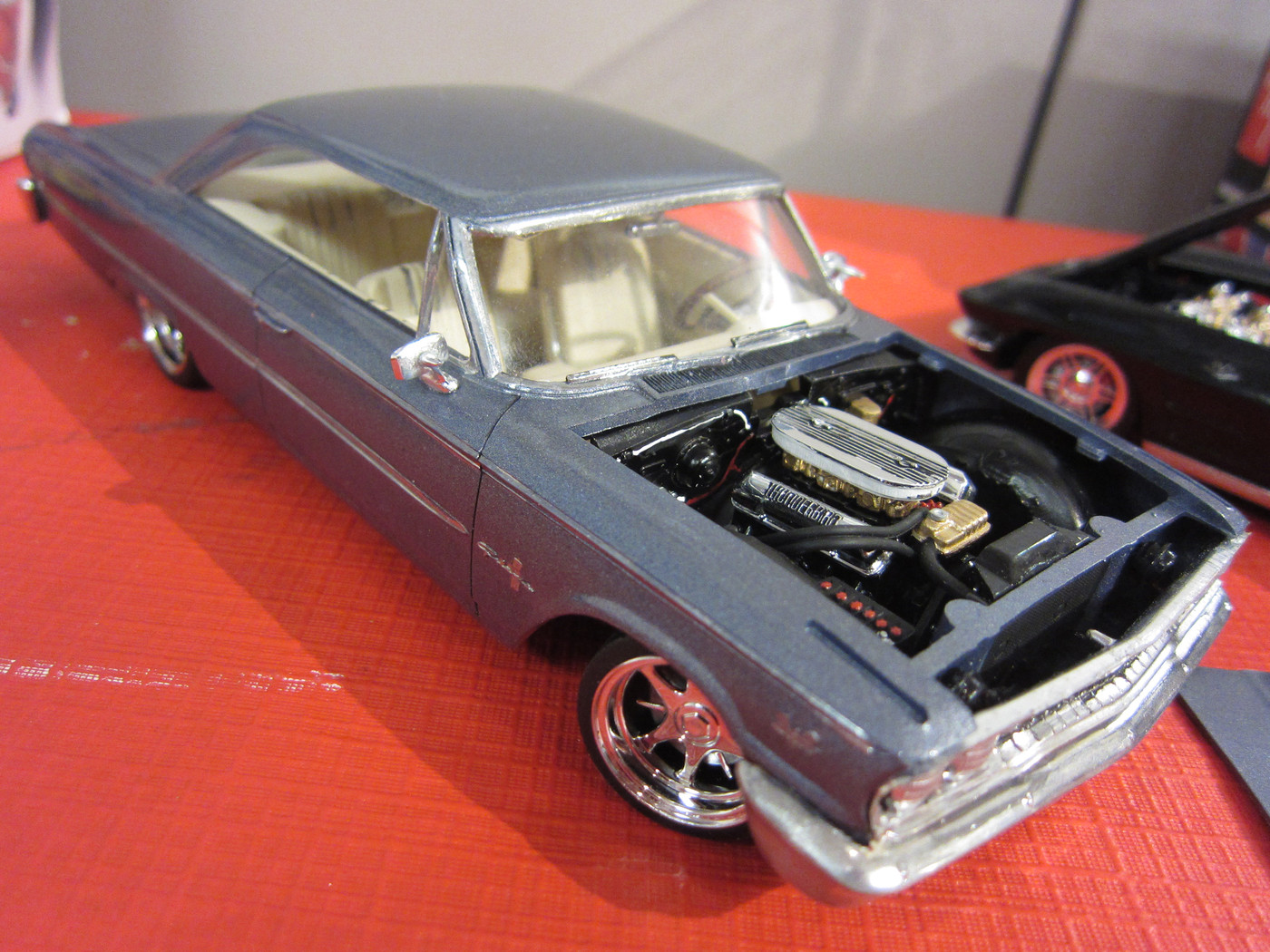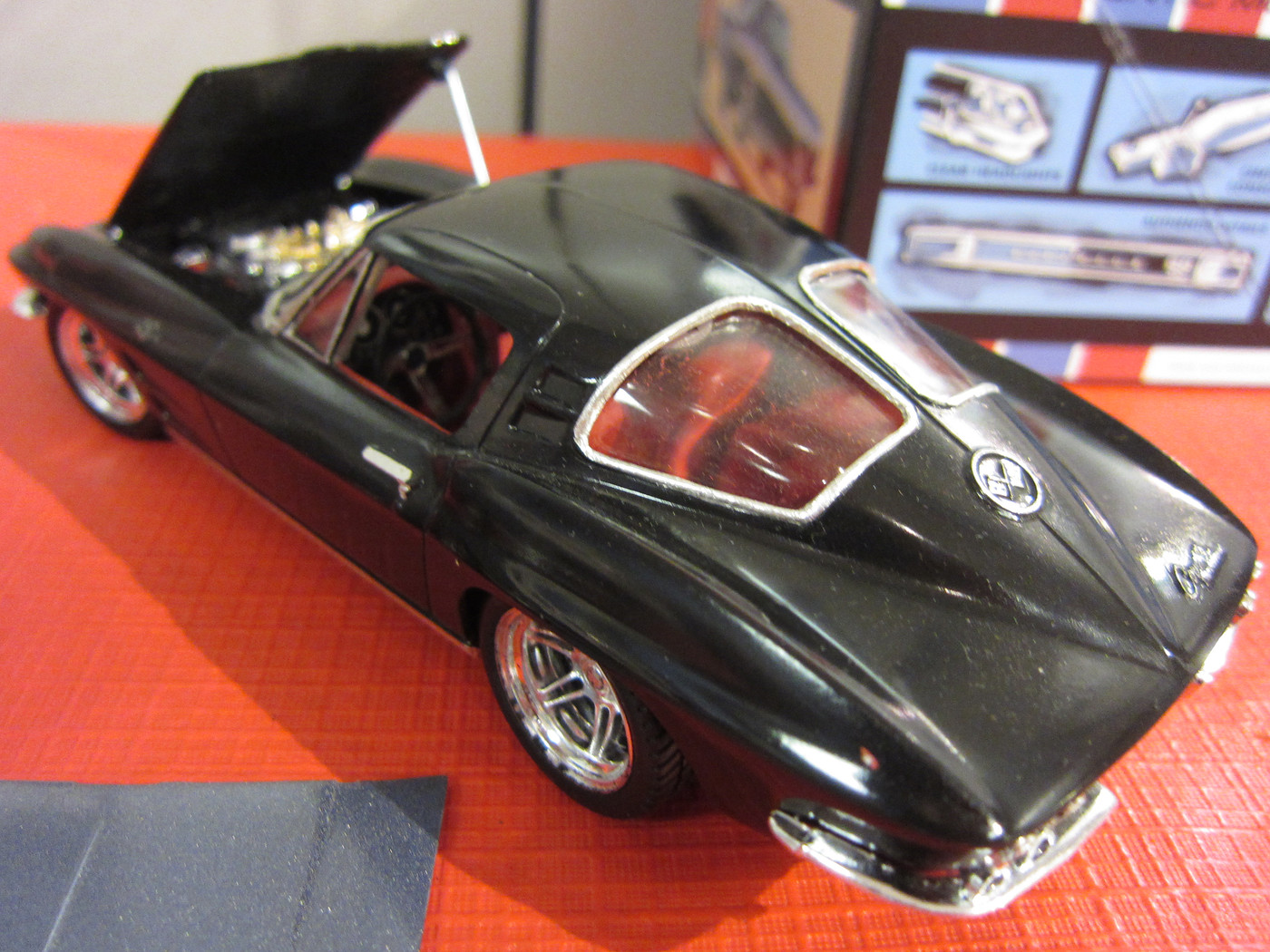 Dave Schmitt diplayed an AMT 1969 Chevrolet Corvair Convertible (think about that for a second, they didn't make a convertible kit of that car). Along with removing the roof and creating a boot, he also opened and hinged the doors. Dave also showed his 1967 GTO.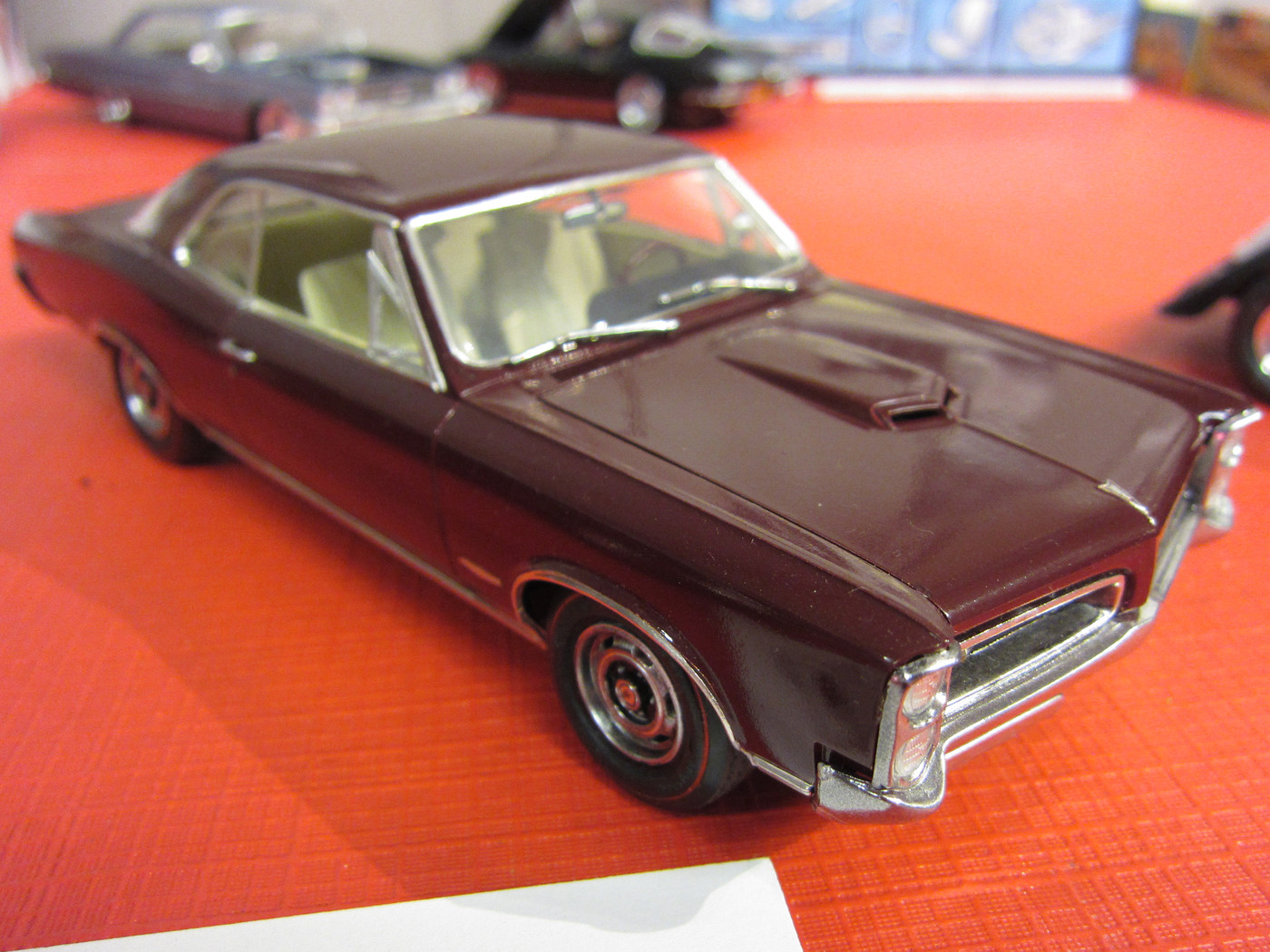 Jim Maness brought out his 1934 and 1936 Fords. He says he's been drawn back to earlier cars lately.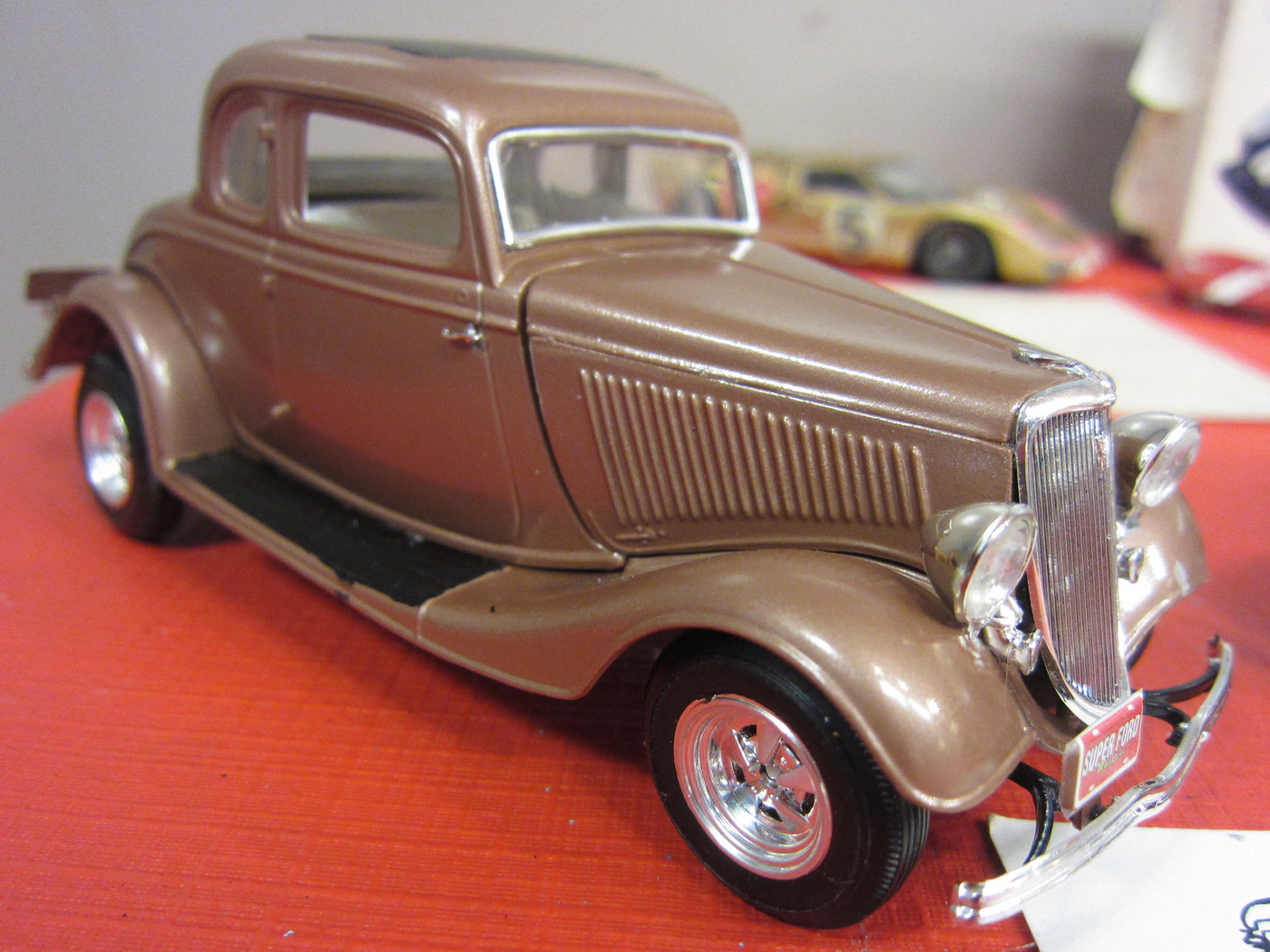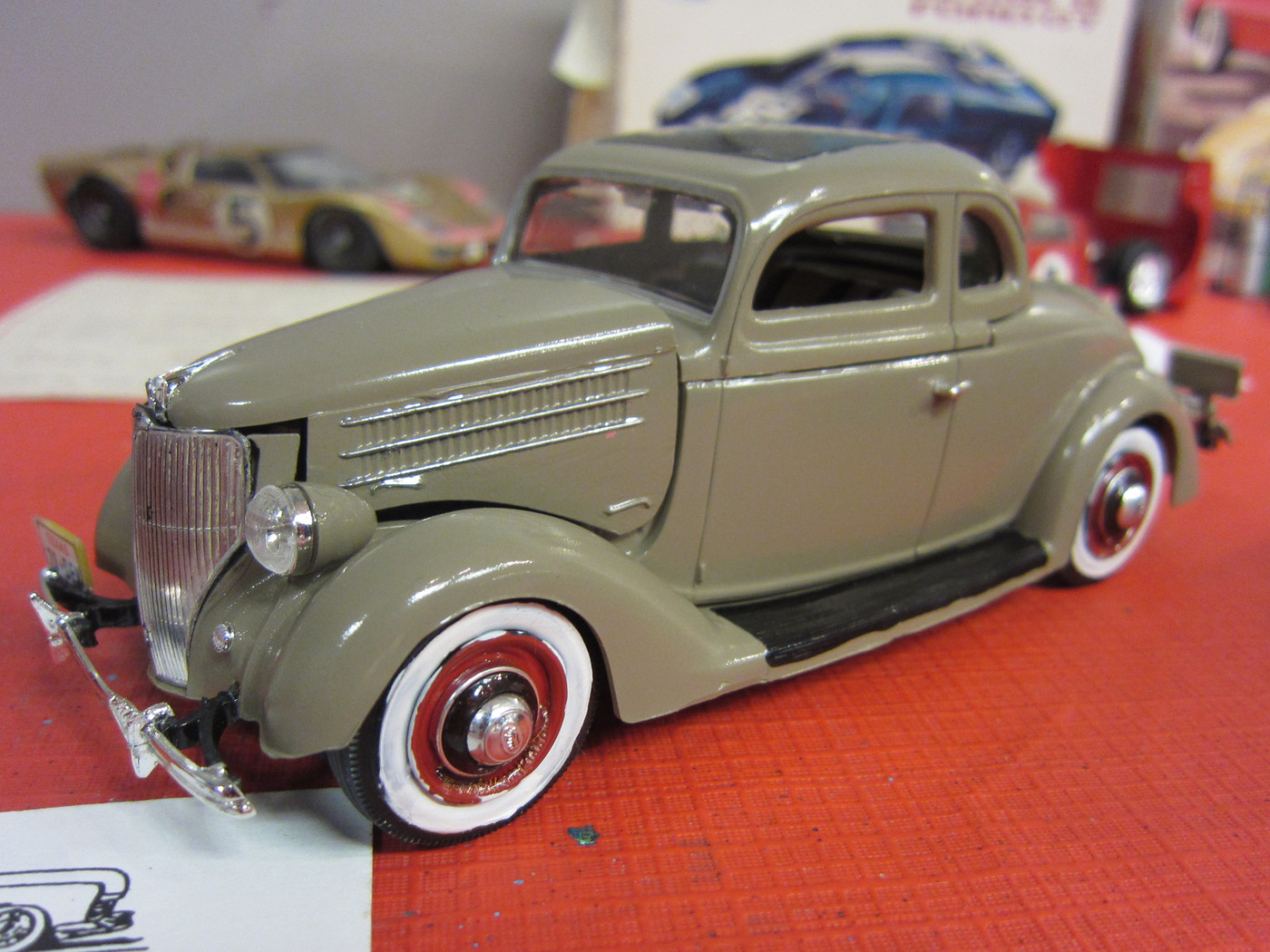 George Openhym showed his Acura NSX racer from Tamiya, Sammy Swindel Channel Lock sponsored sprint car from Revell, and a 1947 Chevrolet Coupe from Galaxie Limited.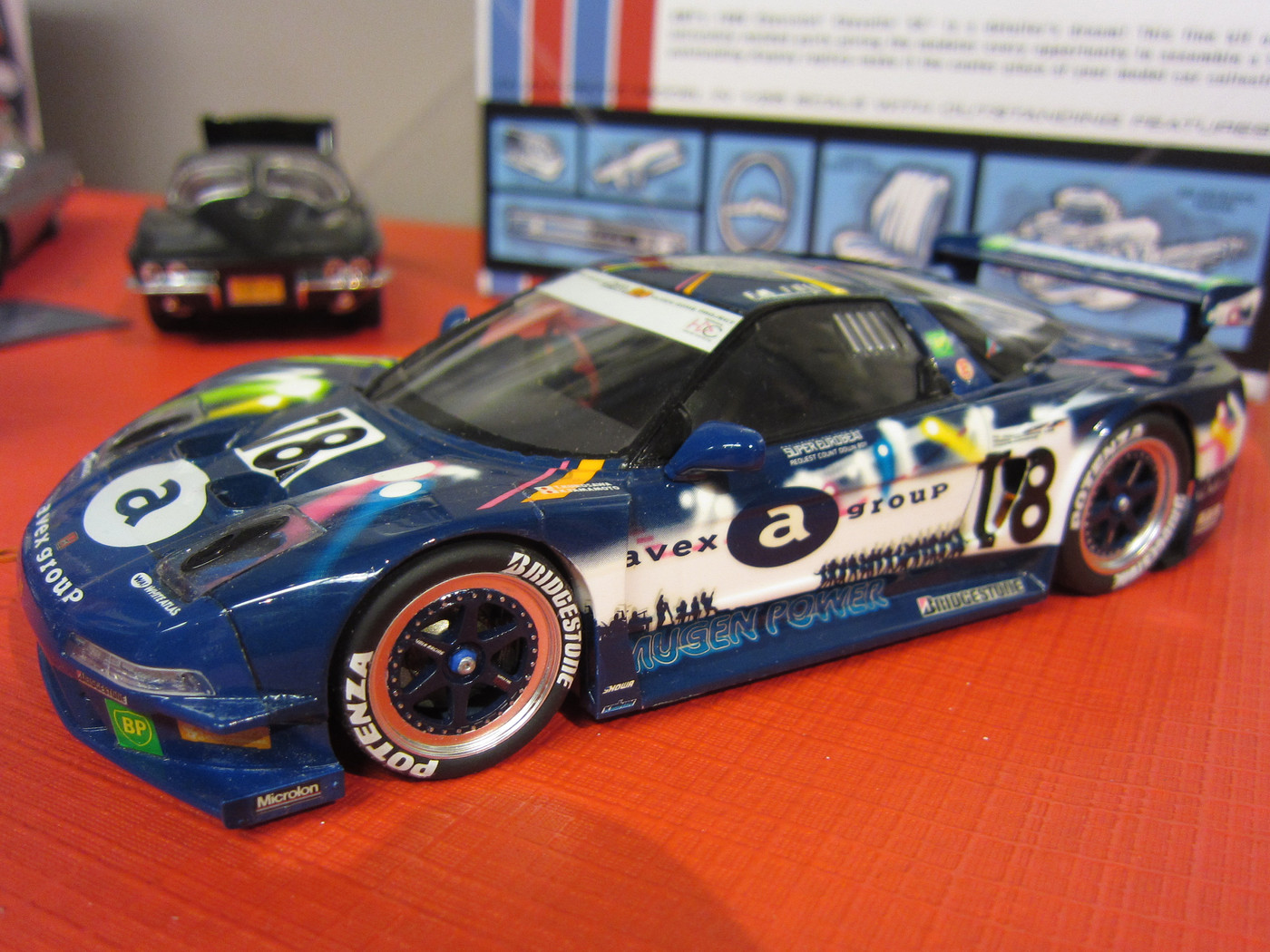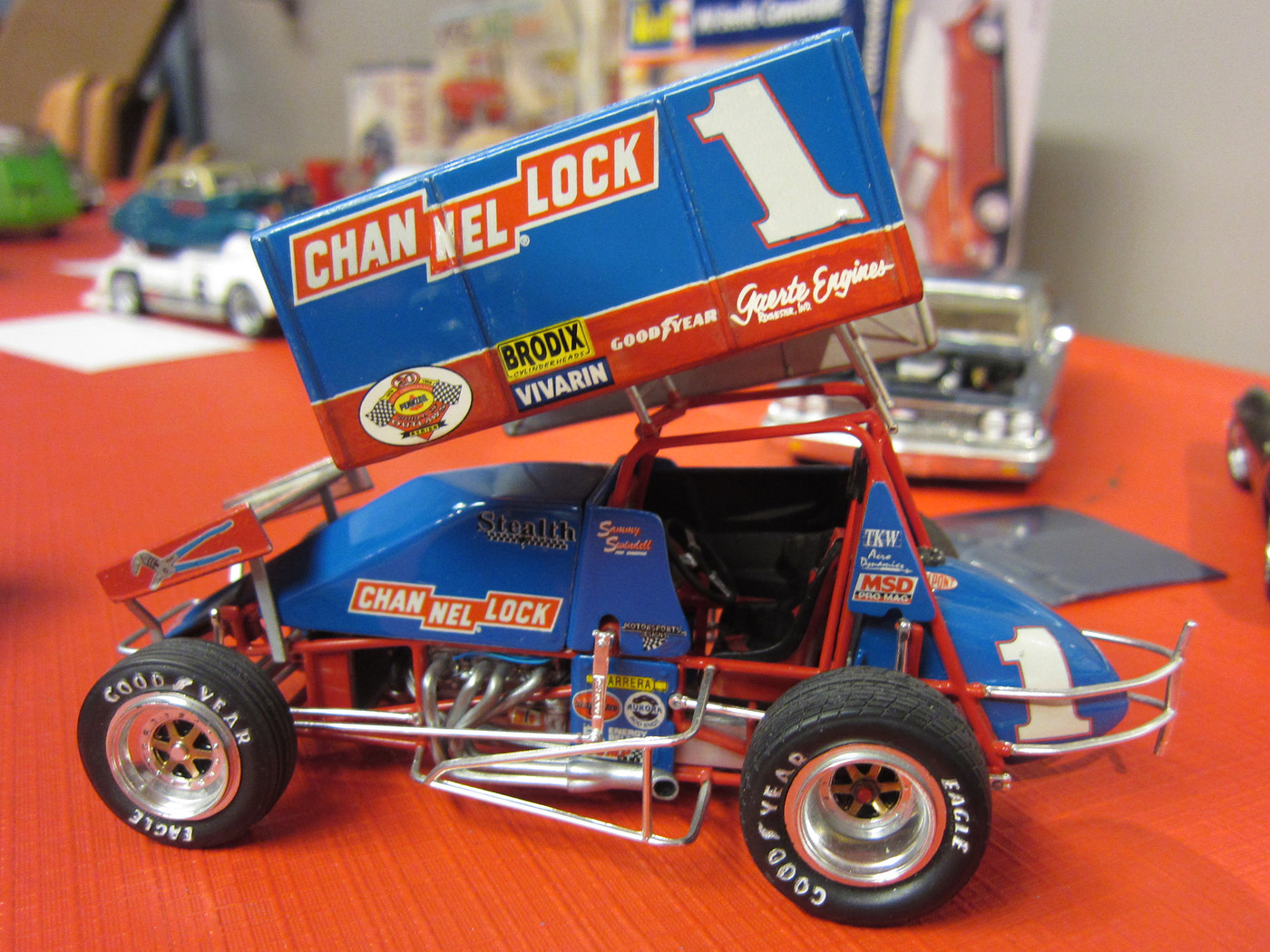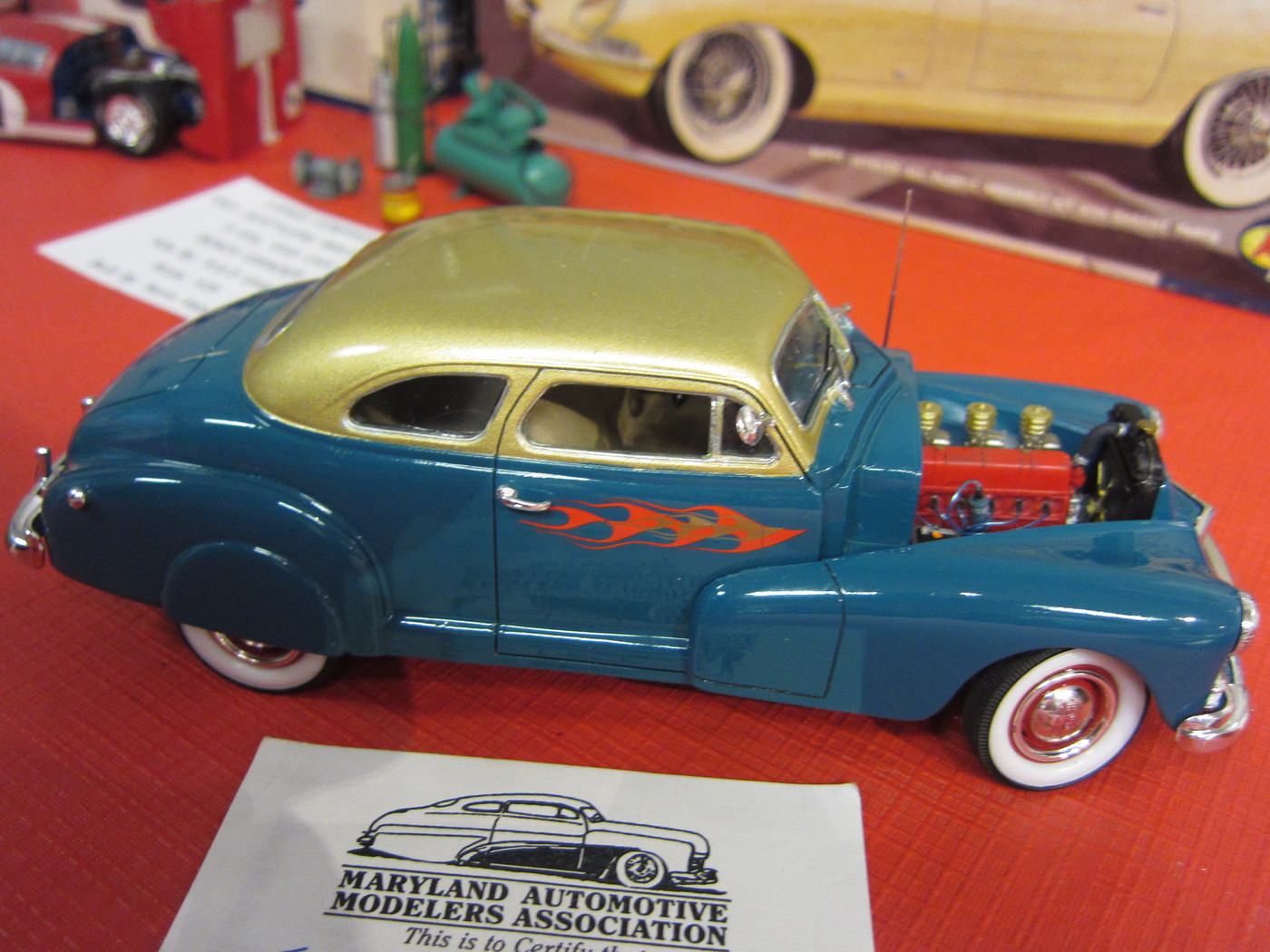 Matt Guilfoyle presented the Kaido House Datsun 510 Wagon he just acquired.

Mal Douglas gave us a look at his progress on his 1964 Chevelle Wagon gasser project.

As always there were some nice prizes on the The raffle table.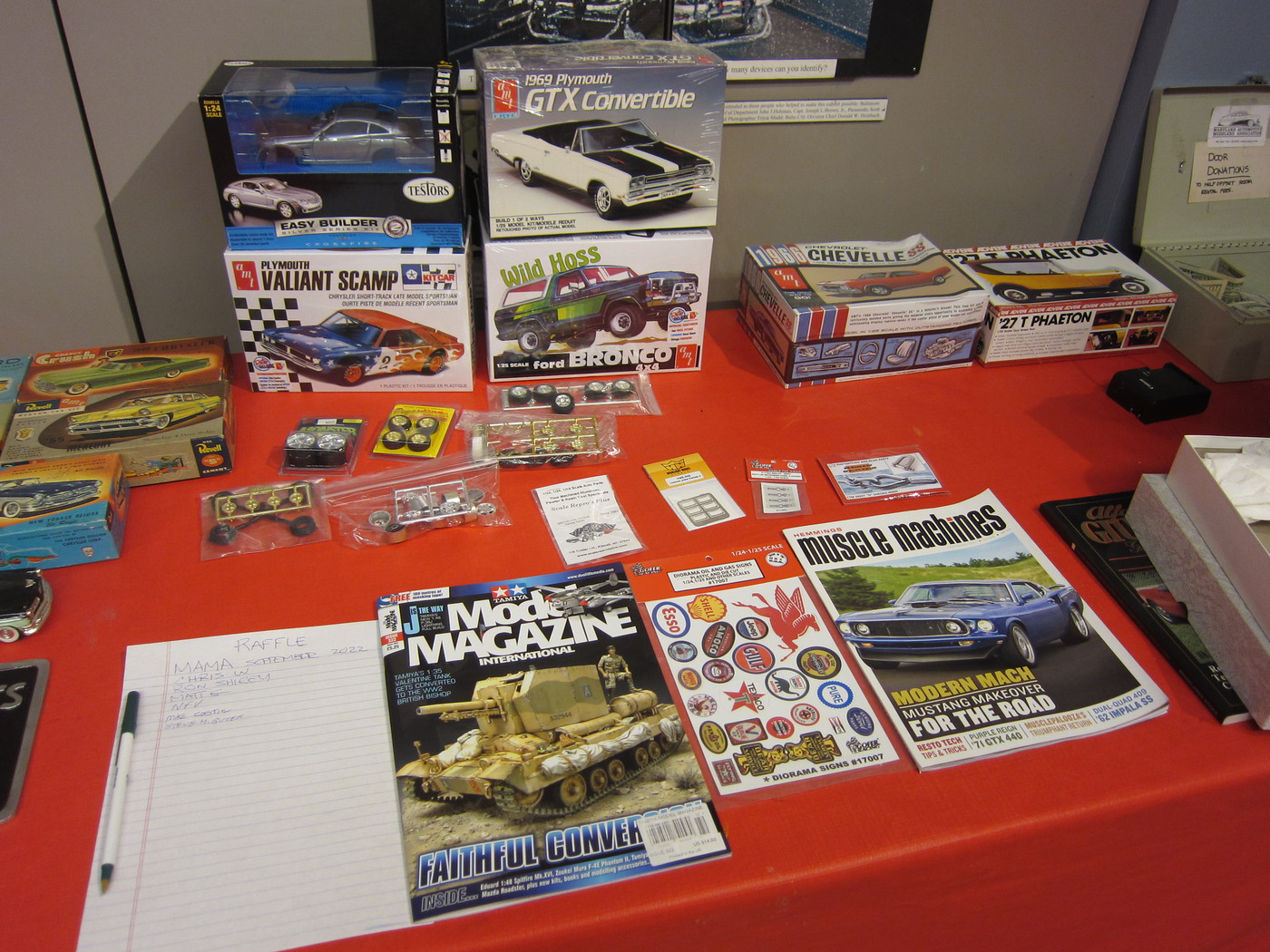 Some of the action: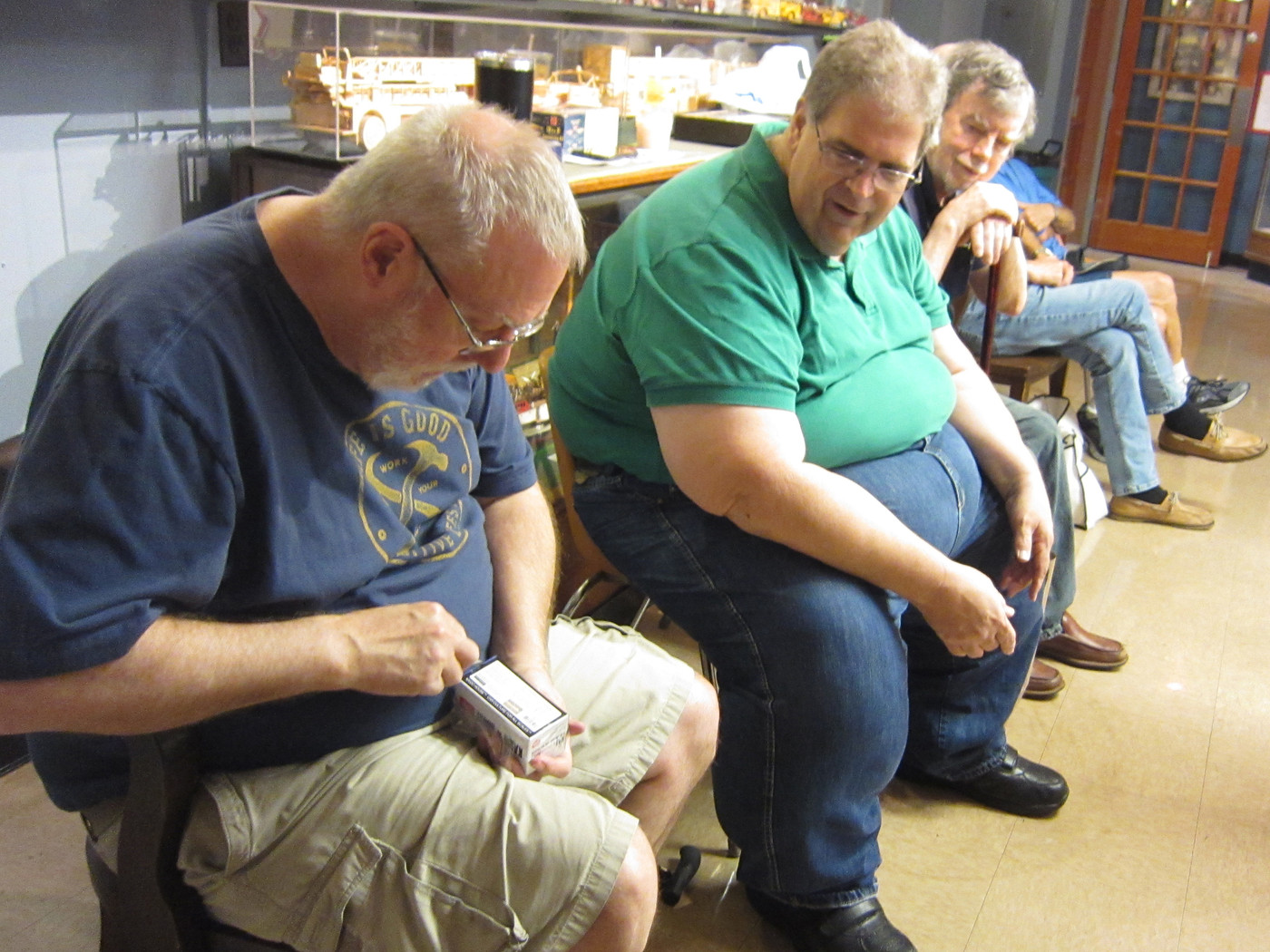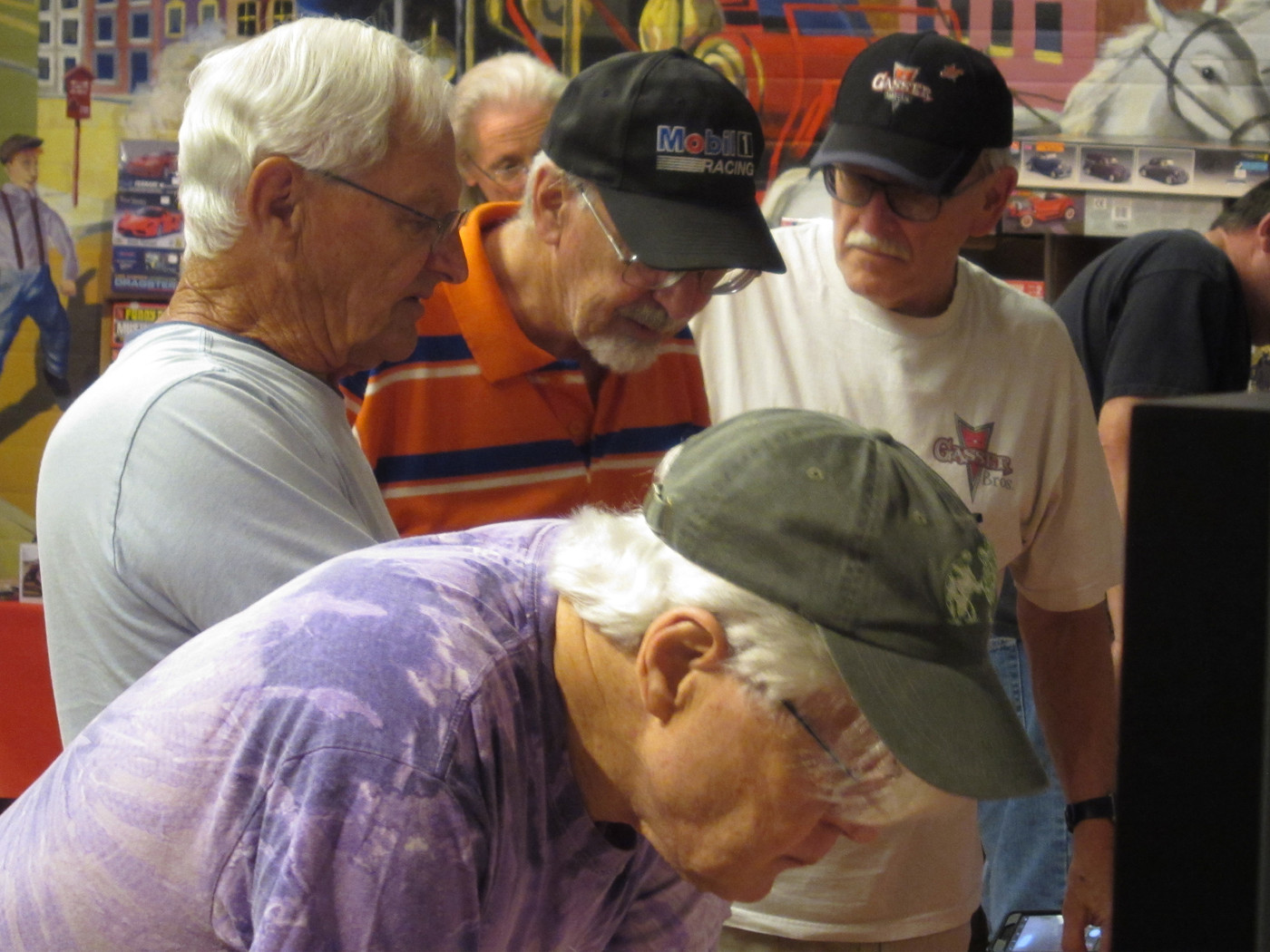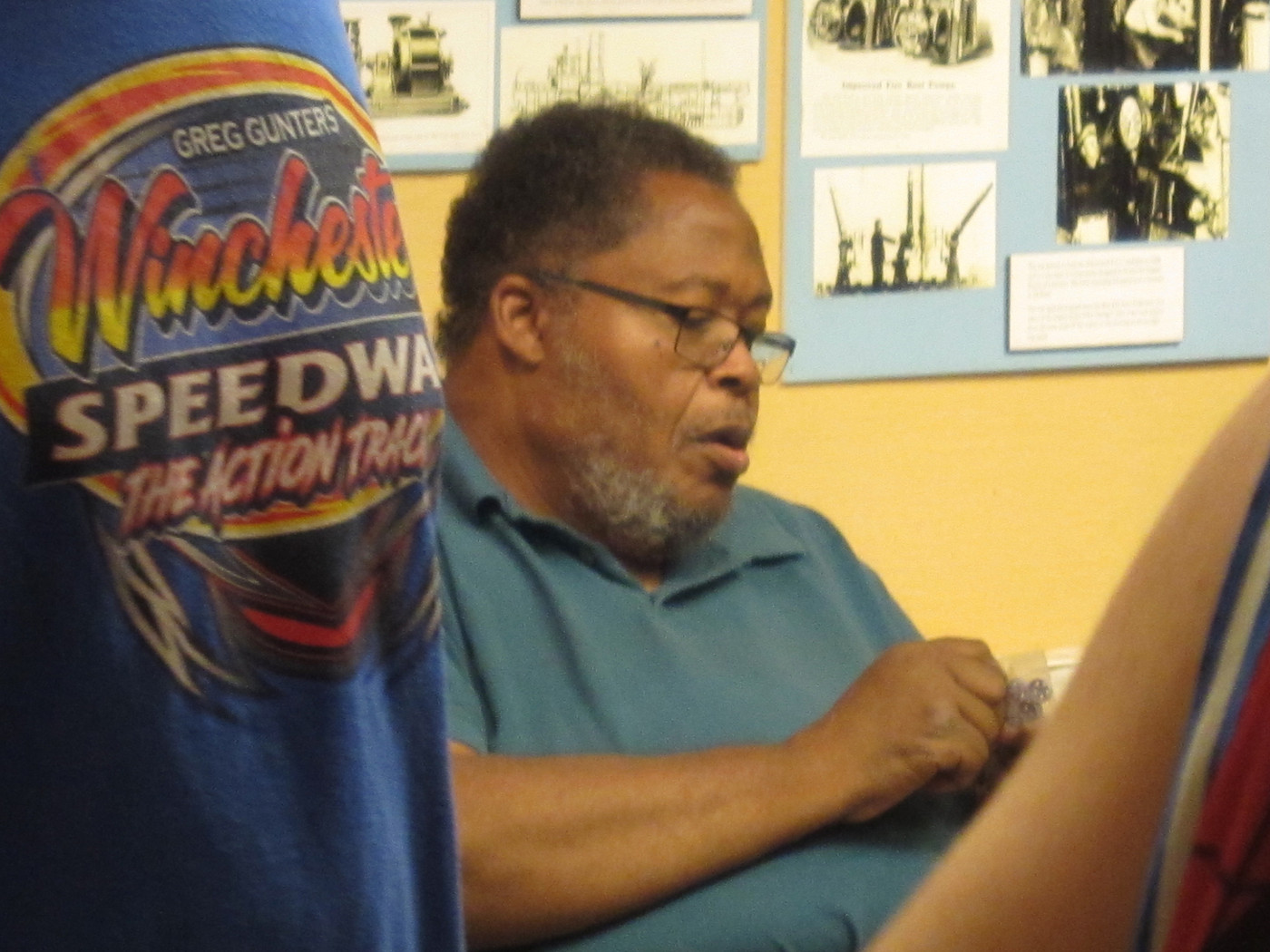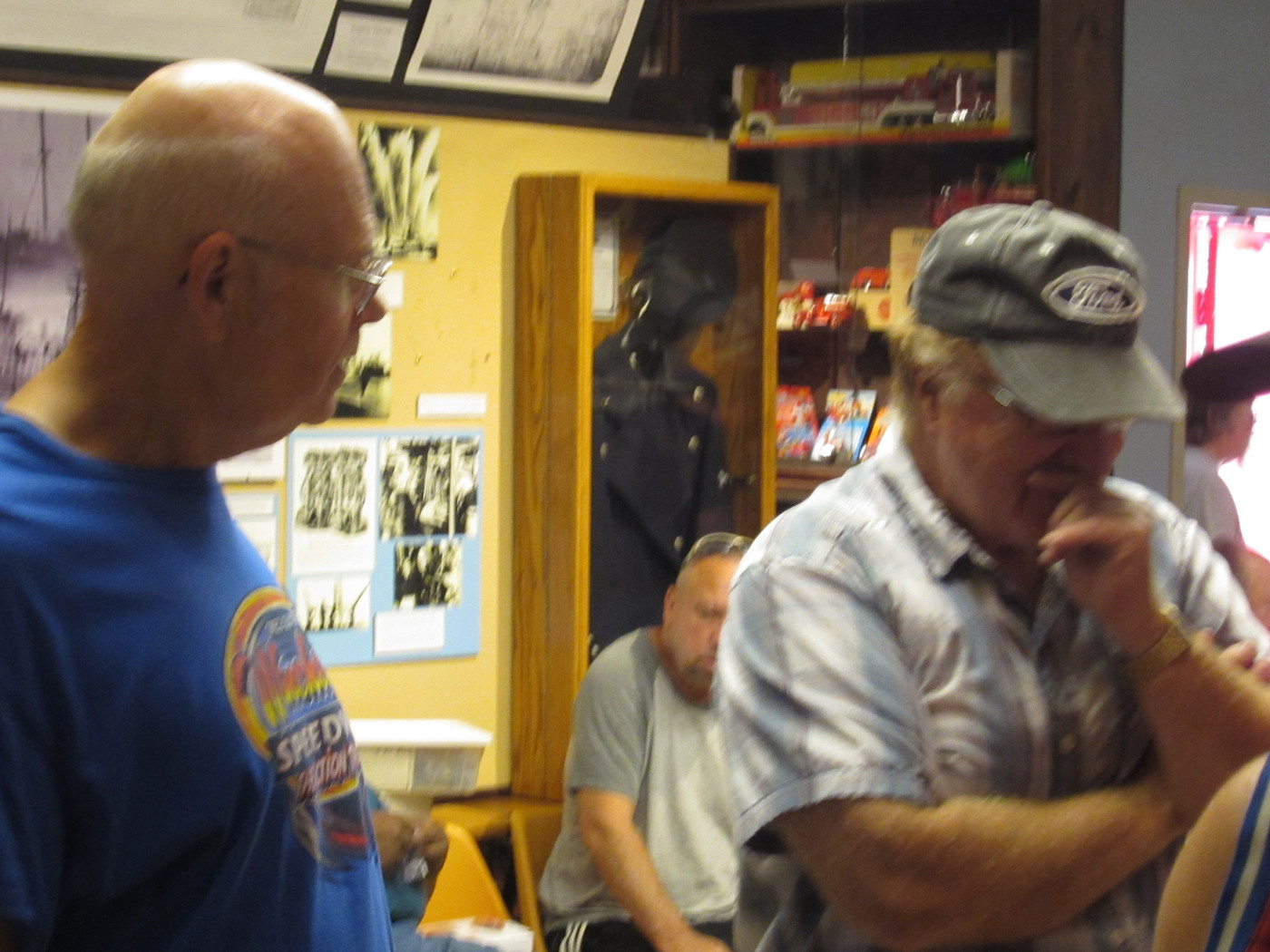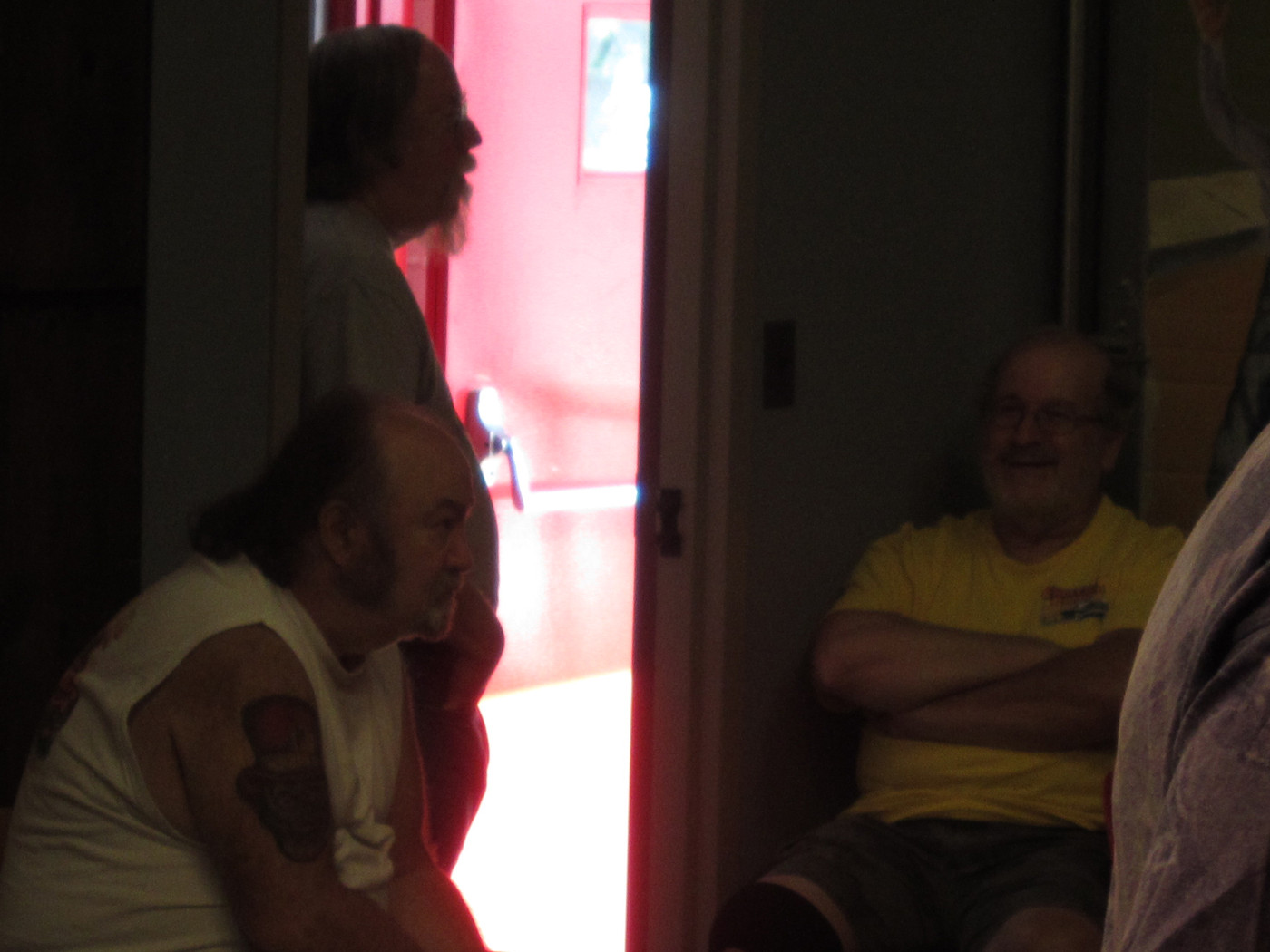 No virtual cookies for us this month, September means we have virtual Anniversary cake!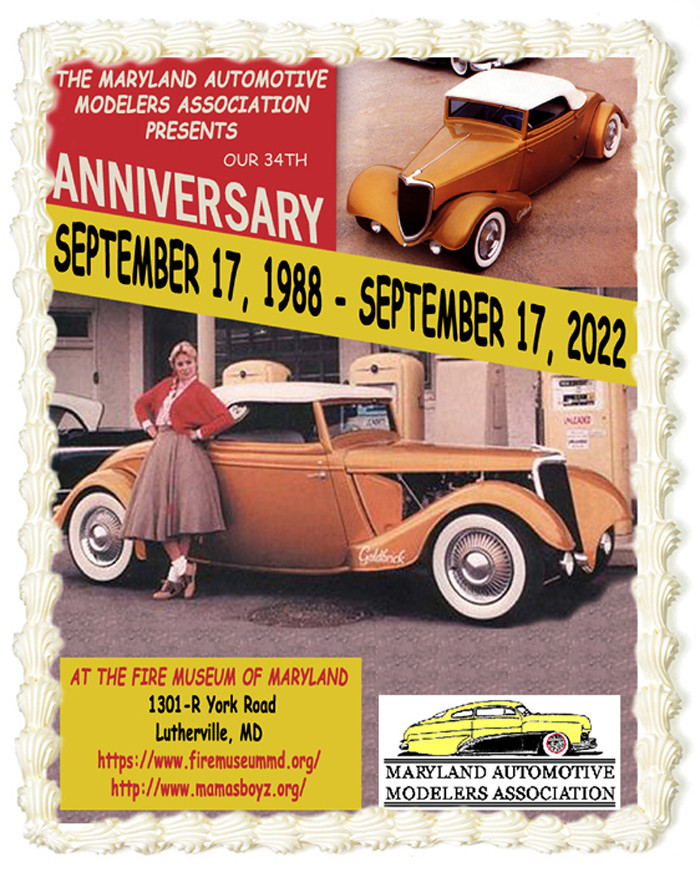 You can see even more photos of this month's meeting at:
https://public.fotki.com/partsbox/model-car-shows/2022-09-september-m/