Revell USA is back in business with offices and a warehouse in Northlake, Ill. (suburban Chicago). Reportedly the US distribution channel will be much as it was before the ownership change and before Hobbico's closure. All engineering and product development will be done in Germany and marketing for the US market will take place in the Illinois office. Read more at: Scale Auto Magazine.
to MAMA's Diner, the official home of the Maryland Automotive Modelers' Association (MAMA), where we serve entrees of fun, friendship, and model cars.
As a result of our most recent elections, MAMA's current leadership team is:
President: Tim Powers
Vice-President: Dave Toups
Treasurer: Matt Guilfoyle
Newsletter Editor: Tim Sickle

Scenes from our September meeting:
MAMA is 30 years old! We celebrated our 30th Anniversary on Saturday September 17th.

Member Mike Costic even brought MAMA an Anniversary card!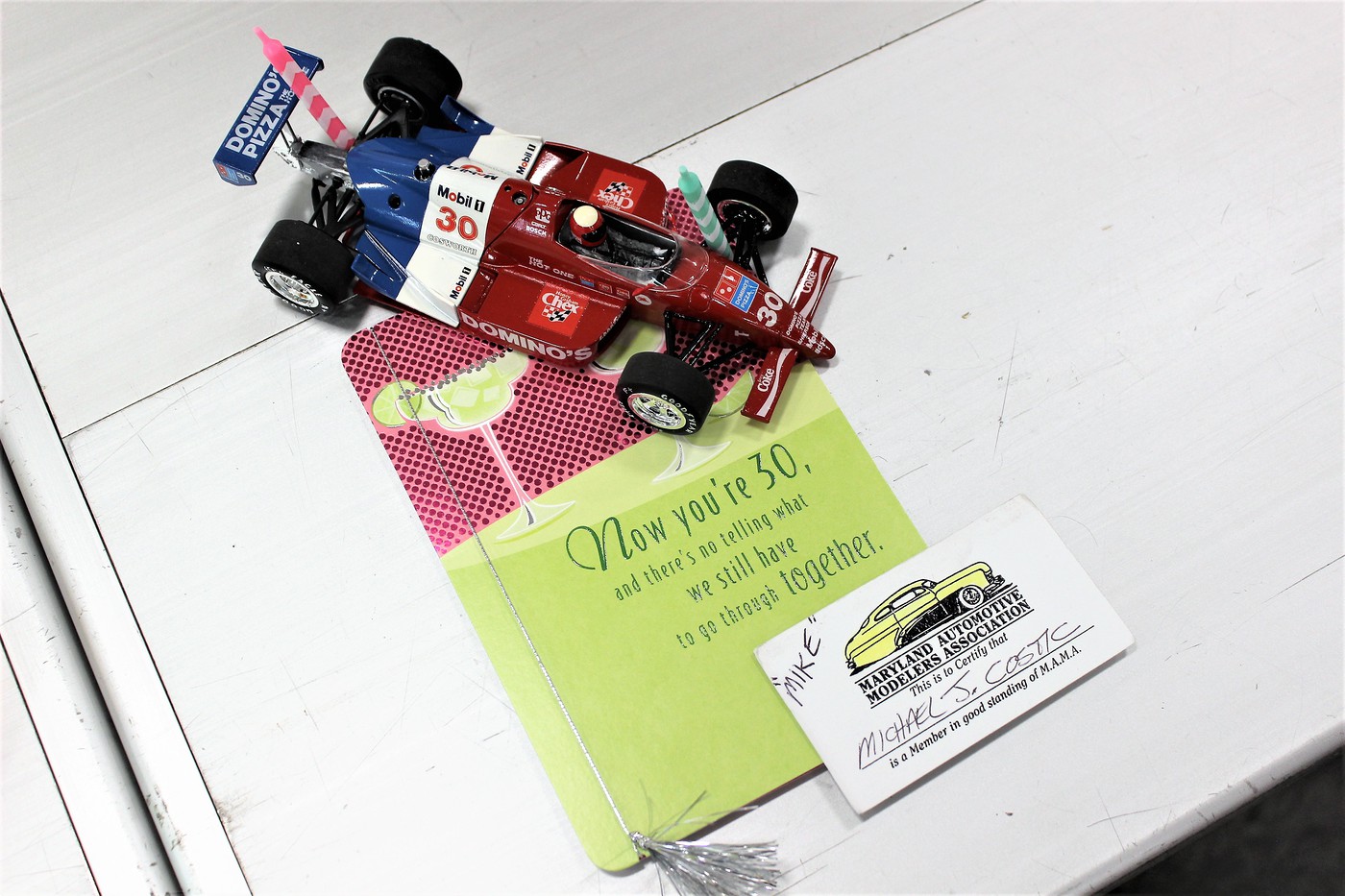 As you might expect there was a lot of nostalgia at the meeting. Here's a copy of the flyer that our founder, Norman Veber, sent out to draw us together in the first place.

Before forming the club Norman had conducted a model car contest at the Baltimore International Auto Show. It was there that he collected names to see if there would be enough interest in the area to even form a club. We're all glad he did.

Several members who had attended that very first club meeting displayed some of models that they showed on that day. Here MAMA founder Norman Veber displays a 1934 Ford sedan and a Jaguar XJS TWR racecar that were at the first meeting.

Several members who joined MAMA later on displayed the first models that they ever put on our display table. Here Rich Wilson shows the 1932 Ford hot rod that he first shared with us at the December 1990 meeting.

Along with some of his earlier builds, former president Lyle Willits displayed issues of hobby magazines featuring models built by MAMA members and coverage of MAMA's early contests. He also dug out MAMA's first full-color newletter, which editor Tim Sickle had assembled in celebration of our 5th anniversary in 1993.

During the meeting Ryc Martin thankfully reminded us to salute the far too many MAMA members and friends of our club who have passed away over the last 30 years. Here we see the late Pat Maphis on the cover of the February 1992 issue of Scale Wheels magazine with former MAMA president Larry Boothe in a photo taken at the 1991 AMS convention. Pat was MAMA's first historian and assembled photo albums of meeting throughout our early years of meeting at the Catonsville Community College.

Howard Weinstein - yes that Howard Weinstein - the New York Times Best Selling Author of Galloway's Gamble displayed this Brontosaurus Skeleton kit that he had just recently scored off of eBay. We just figured he was trying to subtly tell us that after 30 years, we're a buch of dinosaurs.

Tim "PoP" Sickle included this tribute to the late Burt Reynolds in his Pontiacs on Parade display.

The room seemed extra noisy with one of the largest crowds we've seen in a while. Look how crowded the display tables are.

Susann and Harold "Brad" Bradford, propriators of Historic Racing Miniatures, scan through the photo albums that our first club historian, the late Pat Maphis, assembled during our earliest years. They were marvelling at the vast amount of color in everyone's hair back then.

Once again our raffle table featured a variety of temping goodies.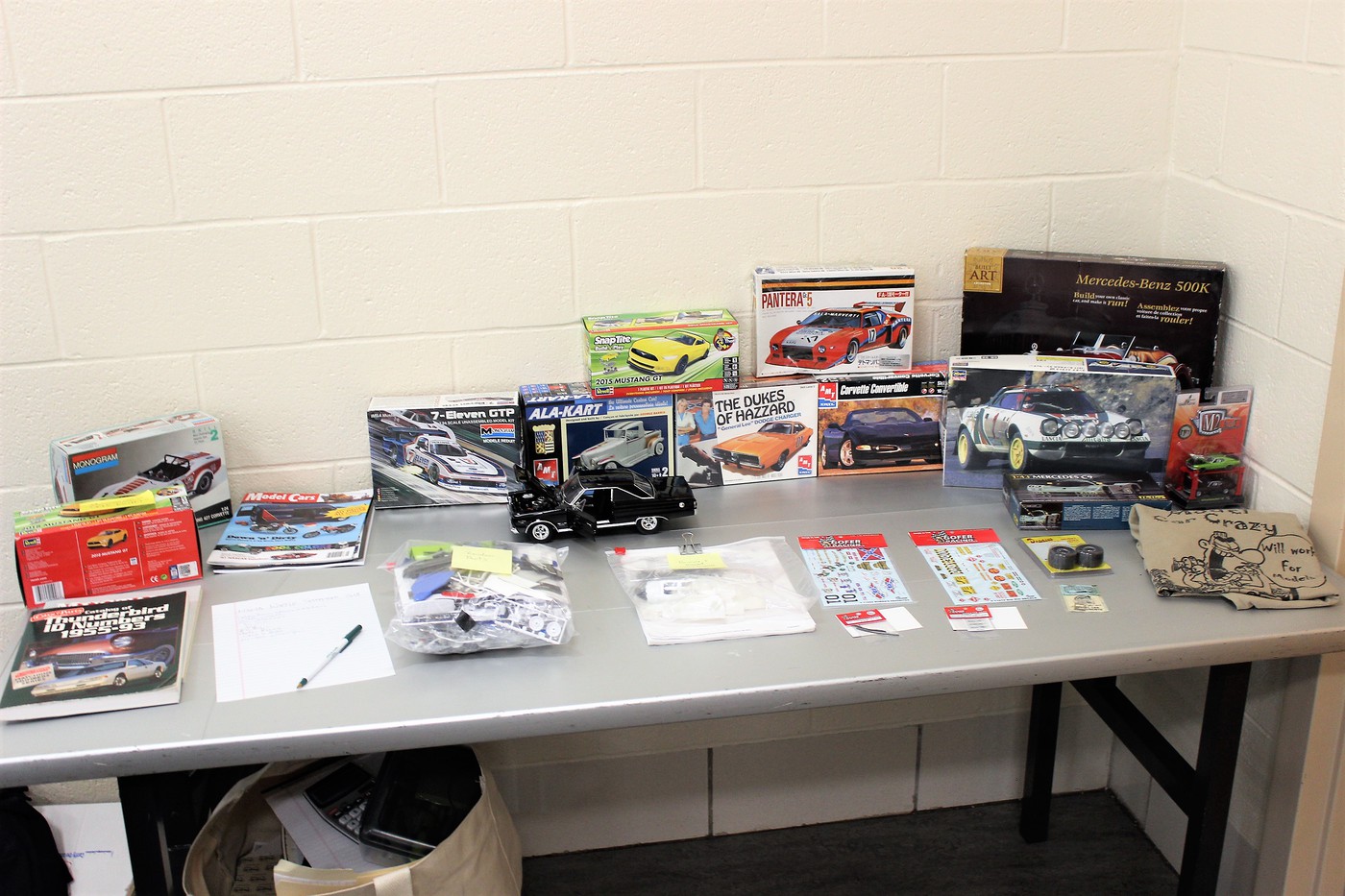 The day wasn't all just about reminiscing and old build, there were plenty of newly finished models, too. Such as Leonard Harrod's Pro Street Oldsmobile Cutlass.

Former President Marcos Cruz built this 1969 Dodge Super Bee which is fully detailed in the October 2018 issue of Scale Auto magazine.

Ryc Martin's awsome Henry J.

What? No cookies?!?! This time Matt Guilfoyle fed our celebration with glorious stacks of pizza.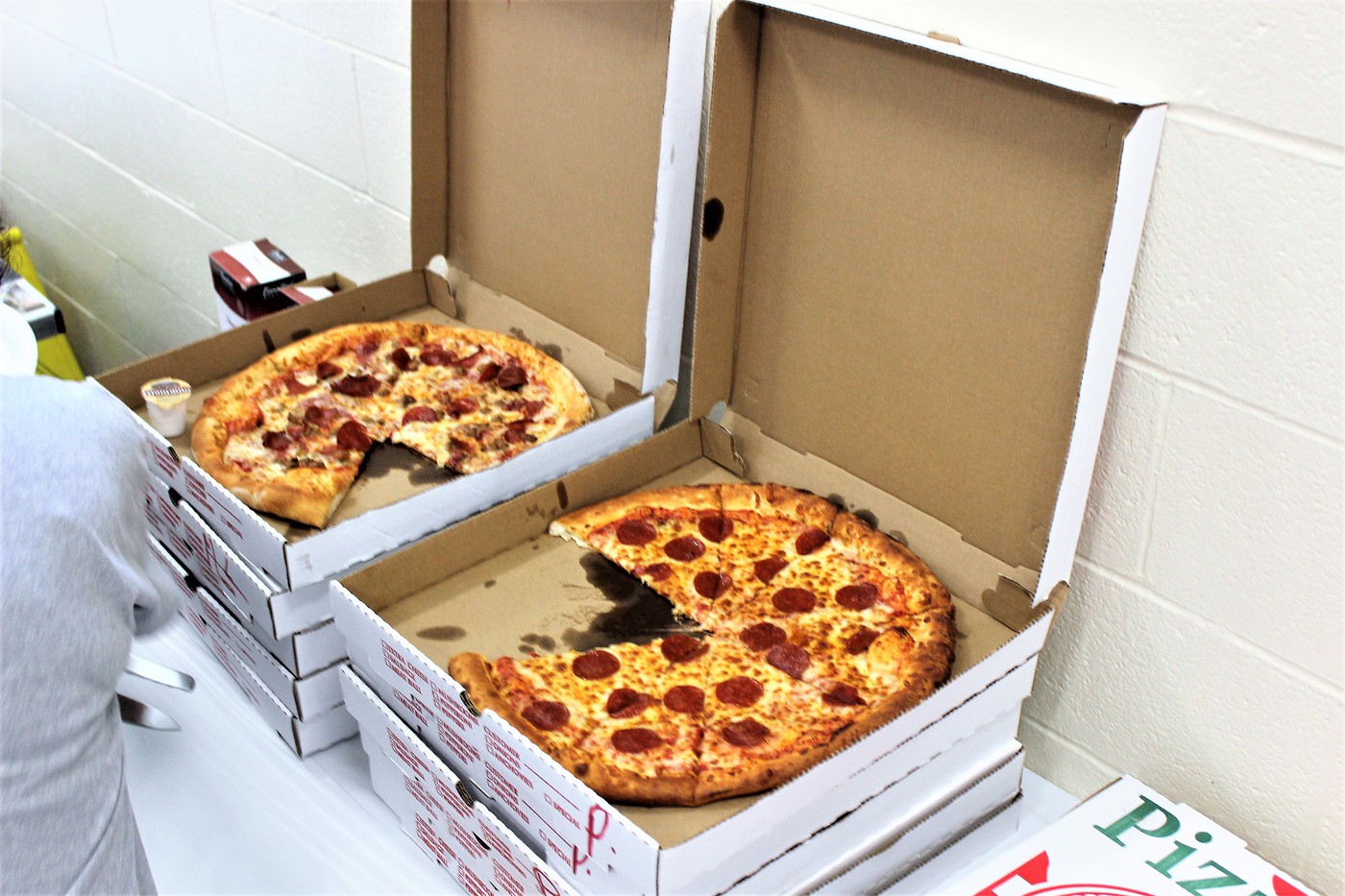 You can see a LOT more photos of our September Anniversary Celebration meeting at:
http://mamaprez.fotki.com/model-club-mettings-2018/30th-anniversary-ma//