Due to health and safety concerns regarding the possible spread of the Corona Virus the Greenbelt Community Center where we meet remains closed to events.
to MAMA's Diner, the official home of the Maryland Automotive Modelers' Association (MAMA), where we serve entrees of fun, friendship, and model cars.
MAMA's current leadership team is:
President: Tim Powers
Vice-President: Dave Toups
Treasurer: Matt Guilfoyle
Newsletter Editor: Tim Sickle

Notes from the MAMA President:
On a sad note, Ted "Chopper" Lear passed away on the morning of 04 November, he was 49 years old. Ted was a gifted model car builder with a talent for bringing custom designs to fruition and a truly nice guy. Ted and his custom creations will be sorely missed throughout the nation's model car community. Our thoughts and prayers go out to his family.
Our annual Toys for Tots (TFT) meeting would have been this month, but as we are not able to gather and deliver our donations as usual, I wanted to remind everyone to please keep MAMA's tradition of generosity going and remember to buy and donate new toys toys to TFT. Check on the Toys for Tots website to locate the drop off point nearest you. Their site is currently under construction, so check with them from time to time. Don't forget, the best gifts to donate do not require batteries or electricity. They also don't require buying tools or supplies to be able to use them.
For those in or near Anne Arundel County, I've recently learned that Arundel Federal Savings Bank will be conducting their annual Toy Drive and accepting toy donations at all six of their locations in Annapolis, Brooklyn, Gambrills, Glen Burnie, Pasadena, and Severna Park. You can find their branch locations and hours here. They will accept donations through Friday, December 11, 2020. With the current up surge of COVID19 cases, many facilities, such as banks, are once again closing their lobbies to the public, so please check before taking your donations to any drop off site. Rex Turner was able to drop his donations at his local Fire Station.
Scenes from our ninth pseudo-virtual meeting in November:
Due to public health and safety concerns and Maryland State restrictions on gatherings aimed at preventing the potential spread of the Corona Virus the Greenbelt Community Center where we meet has been closed since March. We had really good results over the previous eight months with members and friends sending us photos and descriptions of the model cars they would have brought if we'd had physical meetings, or just any model cars or projects they wanted to share. This month we're doing it again.
This month Paul Lee is back with a bevy of builds and they are looking pretty racy. This month's line up comprises a Pro-Street Lincoln Mark VII, Bob Glidden's Motorcraft Pro-Stock Thunderbird, an AMT 1993 Mustang street racer, a 1941 Willys Gasser, and the Reher-Morrison Pro-Stock Camaro driven by Lee Shepherd.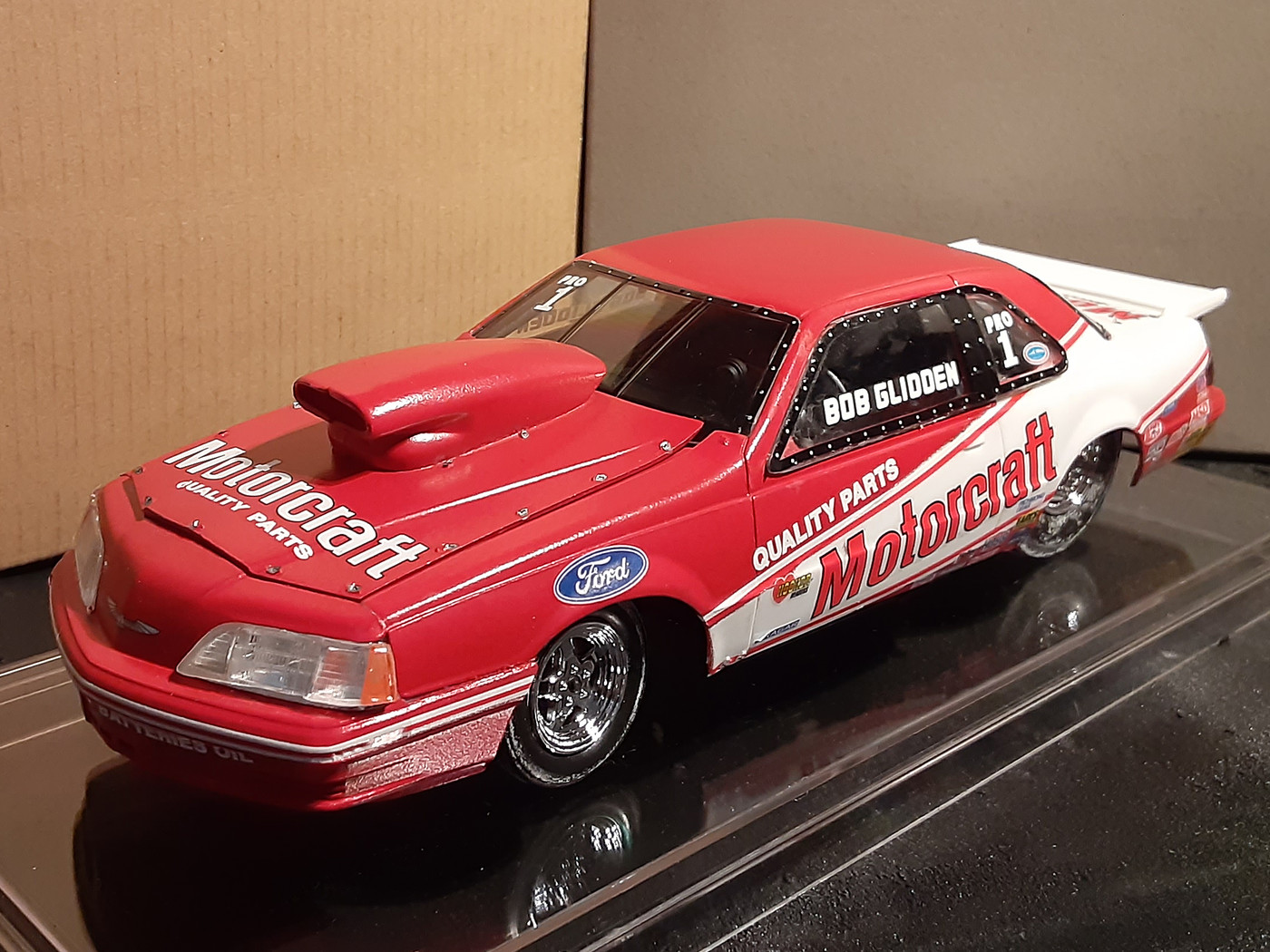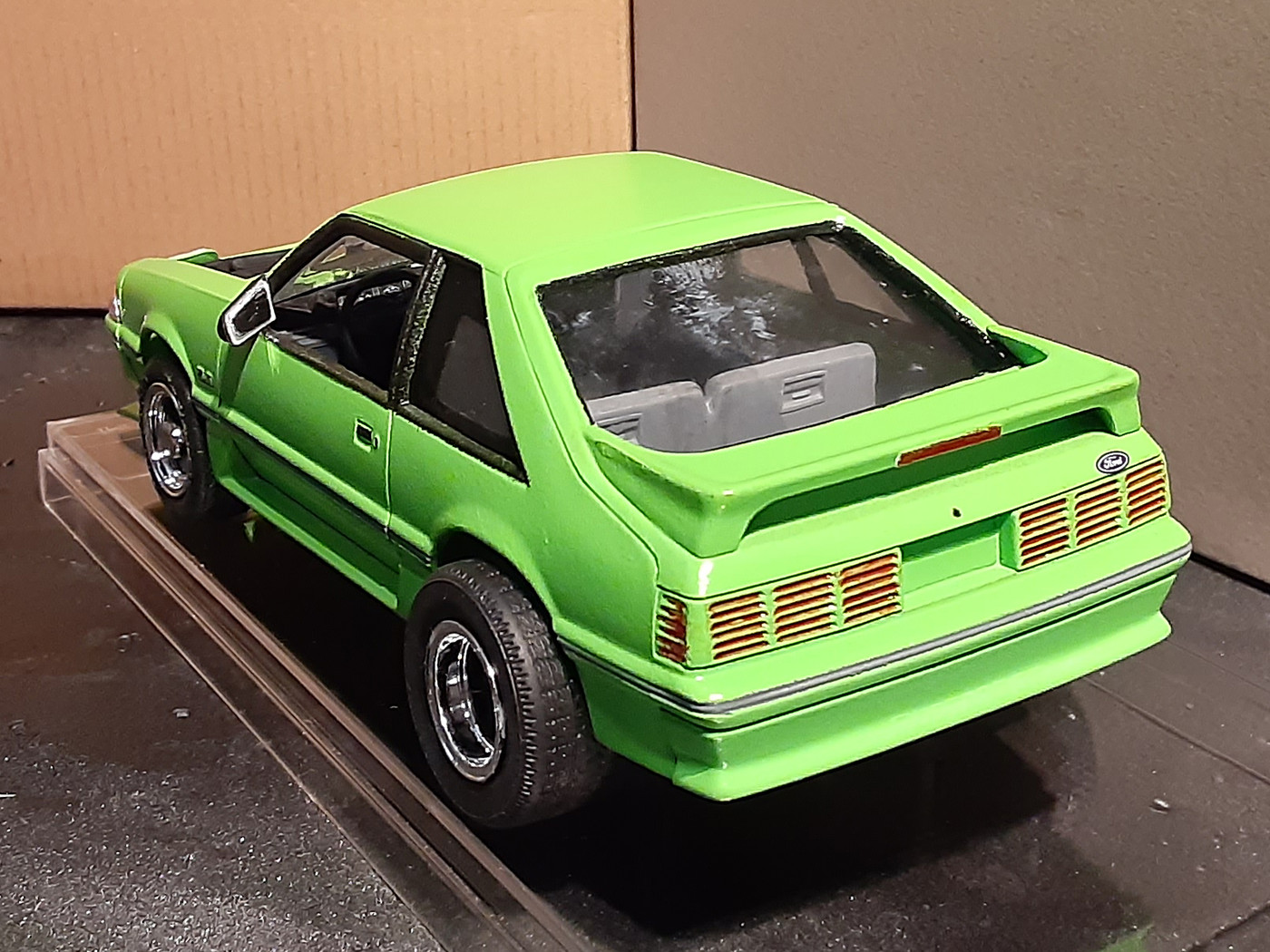 JC Reckner has launched a racy new Porsche project - converting a Fujimi RS 3.0 kit into an RSR model. He started with a smashed flatnose body like the one in the first photo and modified the nose (removed the rubber moldings, filled the light openings, and enlarged the oil cooler opening) into the piece in the first photo. The second photo shows the heavily modifed bumper attached to the RS 3.0 body with brake cooling ducts opened up. For the RSR's much larger competition style rear wing, JC massaged a Reji Model resin unit intended for a Tamiya 934 kit to fit. To the hood he's added hood pin plates, fuel filler, and gas tank vent. In the third photo you can see the Hobby Design SSR Formula Mesh wheels and Scale Productions tires JC selected for this build.

Rick Martin joins in this month with his 1934 Ford 2-Door sedan that he calls, 'Steam Roller' due to the wide Pro-Street tires on the back. Rick crafted the body from an AMT 1933 Ford sedan body, fitting a Revell ZZ Top 1934 Ford coupe cowl, windshield and some of the top to get the right chop. He also used the rear fenders from the 1934 to accommodate the wide tires. The engine is a 392 hemi from the AMT1932 Ford kit; the blower & injector came from the AMT Bantam roadster AA/FA fuel altered kit. The frame also came from the '32 Ford kit, back-halfed with tubs & suspension from the AMT '67 Chevelle pro street kit. Rick covered this racy build with Tester's Extreme Lacquers paint: Five coats of Icy Blue, followed by four coats of Wet Look Clear.

Rich Wilson starts by showing us his build of the Tamiya second generation Ford GT which, while it is technially a sports car, pays homage to its racy heritage. Looking through the rear window in the second photo, you can almost see the top of the car's 647hp, 550 ft. lbs of torque-producing 3.5 liter, twin-turbocharged Ford EcoBoost V6 engine.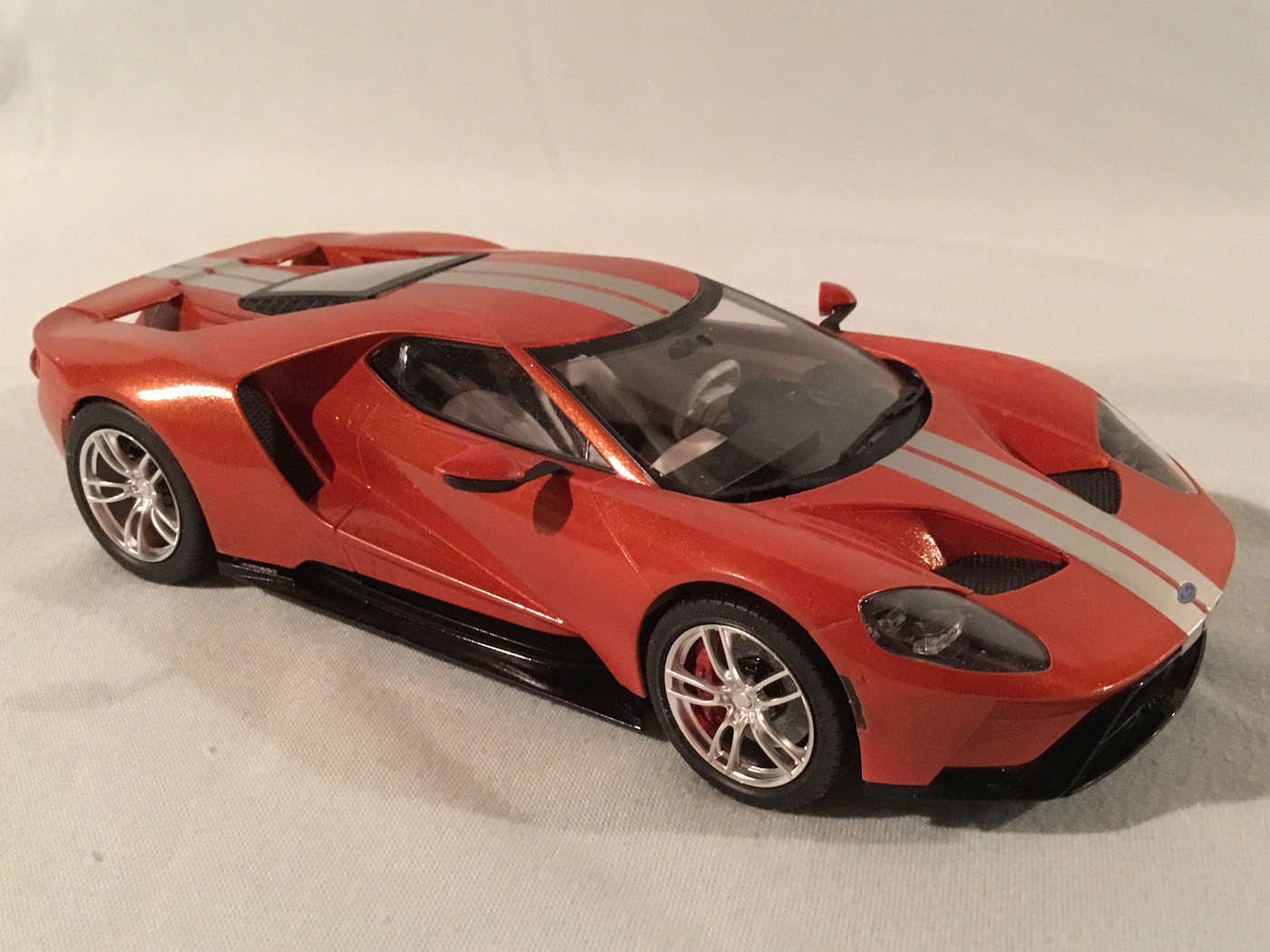 Next, Rich shows us a heated up 1964 Plymouth Belvedere. With its modern 475 hp 6.4 Liter Hemi engine it's ready for some racy action.

Don Stone just finished this racy Monogram Ford Thunderbird stock car with Power Slide decals representing the Chameleon Sunglasses-sponsored vehicle owned by Junie Donlavey and driven by Dick Brooks. Don built it pretty much out of the box, but made a lot of body modifications to lower the stance and fix issues with the shape of the fenders and front wheel openings.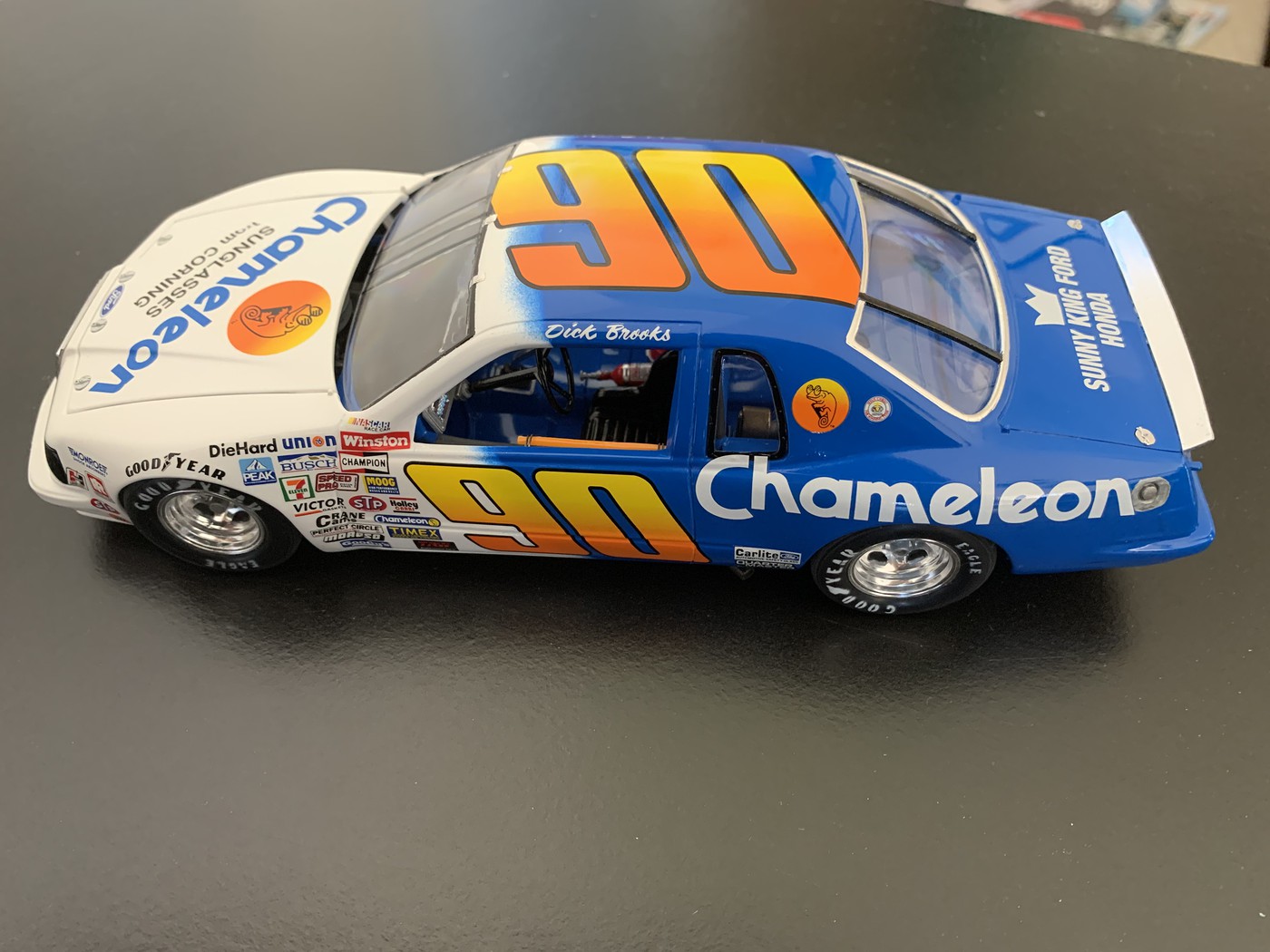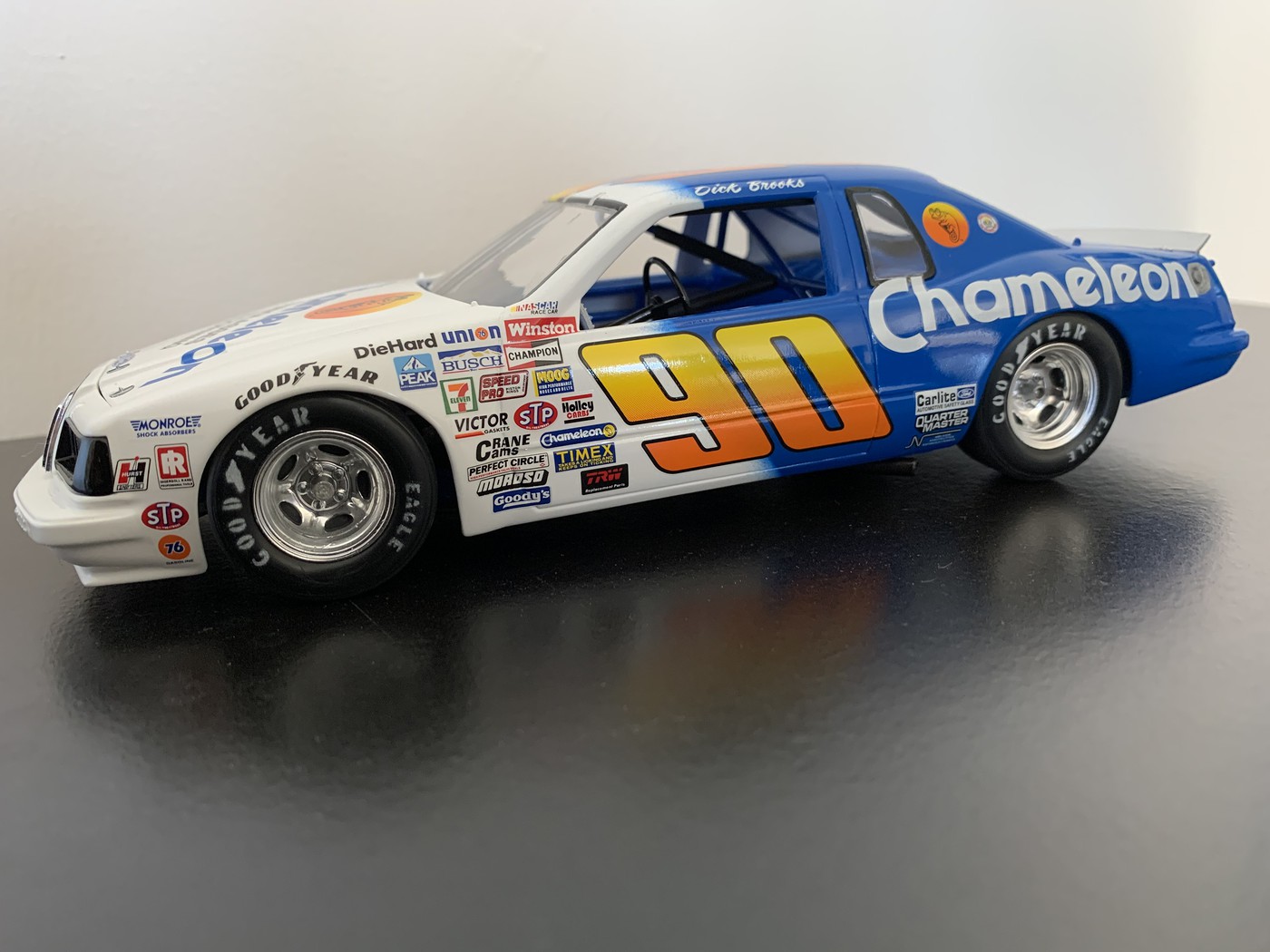 Steve Buter cheks in this month with an AMT 1953 Ford F-100 that is accompanied by some racy figures. He calls this one the Purple People Pleaser, in reference to the old Sheb Wooley song, "Purple People Eater." Steve radiused the stock wheels to fit wider radial tires, added the custom "Wildcat" grille option, and replaced the stock engine with the optinal 1962-vintage Thunderbird powerplant from an AMT 1934 pickup kit. He scratchbuilt the bed cover from plastruct rectagular pattern stock, using lengthened hydraullic lifts from an AMT 1959 El Camino kit, and coated the body in Testors spray enamel.

This month, Rex Turner started in on a project that appears to be inspired by memories of how racy Farrah Fawcett looked as detective Jill Munroe while driving her 1976 Ford Mustang Cobra II on the Charlie's Angels TV show.Rex says he's made some progress on it this month. The kit he started with wasn't a Cobra II so he bought decals and some resin parts to make it a Charlie's Angels Mustang II. Now, he wonders if Steve Buter can make a Farrah figure for him to pose on the hood when it's done. Rex says he hopes to see everyone sometime in 2021.

Here's a peek at some of the Hotwheels car sets that Rex dropped off at his local Fire Station for the Toys for Tots campaign.

Bobby Reyes has displayed this racy Toyota 86 model at our in-person meetings some time ago, but now it's time to bring it back out. The drift-ready car features Rocket Bunny wide-body aero panels designed by Greddy and low profile tires on Enkei RS05-RR wheels.

MAMA wishes you a safe, healthy, and Happy Thanksgiving! Now, go eat some cookies.