Our March meeting will be held in the gym at the Greenbelt Community Center. See you there!
As we are now into the winter months, remember, if Prince George's county has a snow emergency in effect, there will NOT be a meeting. The inclement Weather Phone Number to check is: (301) 474-0646.
to MAMA's Diner, the official home of the Maryland Automotive Modelers' Association (MAMA), where we serve entrees of fun, friendship, and model cars.
MAMA's current leadership team is:
President: Tim Powers
Vice-President: Dave Toups
Treasurer: Matt Guilfoyle
Newsletter Editor: Tim Sickle

Special Note #1: Aftermarket Companies and Rare/Old Kit Sellers! MAMA wants you at our show! We are calling out to potential vendors for our upcoming Mid-Atlantic NNL! We have begun sending out packages to those who've vended at our show before, and we have a few tables still availble. If you would like to vend at our show in May, send an email to our Vice President, Dave Toups, for table reservation information. This is your opportunity to mingle with your customers in person and learn what they want to see from you in the future.
Special Note #2: Calling all sponsors!
1.

Trophy Sponsors

: If you would like to sponsor one or more of the awards at our upcoming

Mid-Atlantic NNL

email to our club treasurer,

Matt Guilfoyle

, for category availability. Sponsorships for large awards will be $60, small awards will be $50.

2.

Raffle/Door Prize Sponsors

: If you would like to donate product samples, promotional materials, etc, this is an opportunity for potential new customers to learn of your products, see them in person, and understand the quality you bring to the hobby market. To put your company's name and products directly in front of our participants and help us defray the ever-rising costs of conducting a regional model car event, send an email to our President,

Tim Powers

for details.
Scenes from our February meeting:
Rich Wilson wrote an item titled, "I Hate Painting" for the February Newsletter about his technique for painting colored plastic without having the plastic dye bleed through light colored paints. He showed off this Bronco body to illustrate his results. The body had been molded in the dark orange color of that sprue piece you see in the picture. There's not a hint of orange bleed-through in the white and yellow paint that Rich applied. Check out his article to see how he did it.

This Beetle Van, presumably based on the C-1 Models resin kit, made for a sharp-looking modern custom with its color-keyed large diameter wheels.

Ron Bradley debuted this handsome trophy (which he designed and assembled) to be awarded to the winner of the "The Race of Gentlemen" class in our upcoming Mid-Atlantic NNL.

Here's Sean receiving his punishment for showing up late.

Leaning up against that block wall must've made Bill think he was posing for a mug shot.

Now, here's an El Camino that can really haul.

Sorry to report that I did not see who displayed this well-executed Carson-topped custom.

Again, I didn't see who put this Mustang/Ford GT mash-up on the table. But it was very well done.

You can see vestiges of this Salt Flats competitor's previous life as a 1968 Corvette before Bill Stillwagon "adjusted" it.

Newsletter Editor Tim Sickle displayed this die-cast K.I.T.T. car with working scanner LED hood light.

Lyle Willits showed off this very tastefully done Ford F100 custom based on the Monogram Foose kit.

Whoever assembled this cleanly built Bronco has every reason to be pround.

As usual, Ron had plenty of new kits available for us to buy.

Here's a large scale project just getting started.

Here's a VW Caddy pickup done in tuner fashion.

There was even a die-cast Saturn Sky on display.

Looks like Dave Schmitt is starting in on another highly detailed build.

As always, there was the non-stop talking about model cars.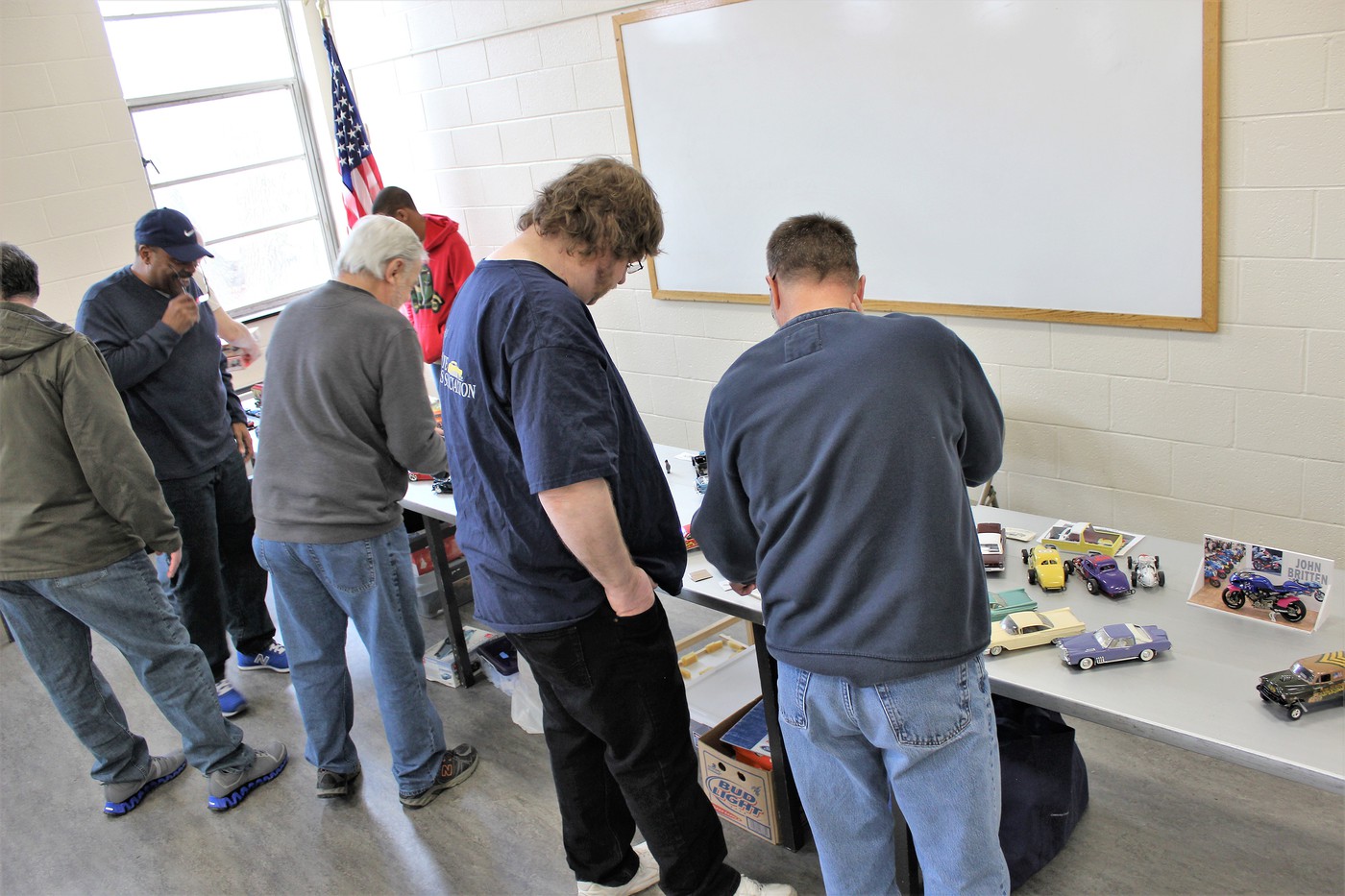 Some one built 1957 Ford and 1953 Chevy Gassers.

When was the last time you saw a built JoHan Mercury Comet funny car?

There is a lot of work going into this 1966 Chevrolet Nova.

There were quite a few nice items available on the raffle table.

We celebrated the return of the cookies to our meeting! There was much rejoicing.

You can see a LOT more photos of our February meeting at:
https://partsbox.fotki.com/model-car-shows/2019-january-mama-m/ and
https://mamaprez.fotki.com/model-club-meetings-2019/mama-meeting-1262019/