to MAMA's Diner, the official home of the Maryland Automotive Modelers' Association (MAMA), where we serve entrees of fun, friendship, and model cars.
MAMA's current leadership team is:
President: Tim Powers
Vice-President: Dave Toups
Treasurer: Matt Guilfoyle
Newsletter Editor: Tim Sickle

Notes from the MAMA President:
To all our veterans MAMA expresses her deepest appreciation. We are truly grateful for the dedication and sacrifice that you have demonstrated to our country.
MAMA is Moving! That's right, starting with our December meeting (next month) MAMA will now be meeting at the Salaried Employees Association (SEA) Union Hall located at 1300 Hanover Road, Hanover, MD 21076. At this new location we will still have the same meeting meeting schedule: 10 am to 2 pm on the third Saturday of each month. This is a more centralized location within Maryland, a much larger space, and we'll be able to have food at the meetings again. MAMA deeply thanks the Fire Museum of Maryland for having so graciously hosted us during our interim time.
Which reminds me: We will be reinstating our annual holiday pot-luck feast at the December meeting, so be sure to bring a dish to share and a big appetite. As in past years, MAMA will be supplying the luchmeat platters and sodas.
Our November meeting was our Toys for Tots collection meeting. WOW! Did you guys ever out do yourselves! There were so many toys for me to haul to the drop-off site that there almost wasn't enough room for me to fit in my car with them! The large pile of toys you donated is simply a testament to just what wonderful people you guys truly are. Your caring and efforts are worth celebrating, so give yourselves a big pat on the back!
I also want to give the Fire Museum of Maryland a big Thank-You for donating to our Toys for Tots drive, too! Check out the donations!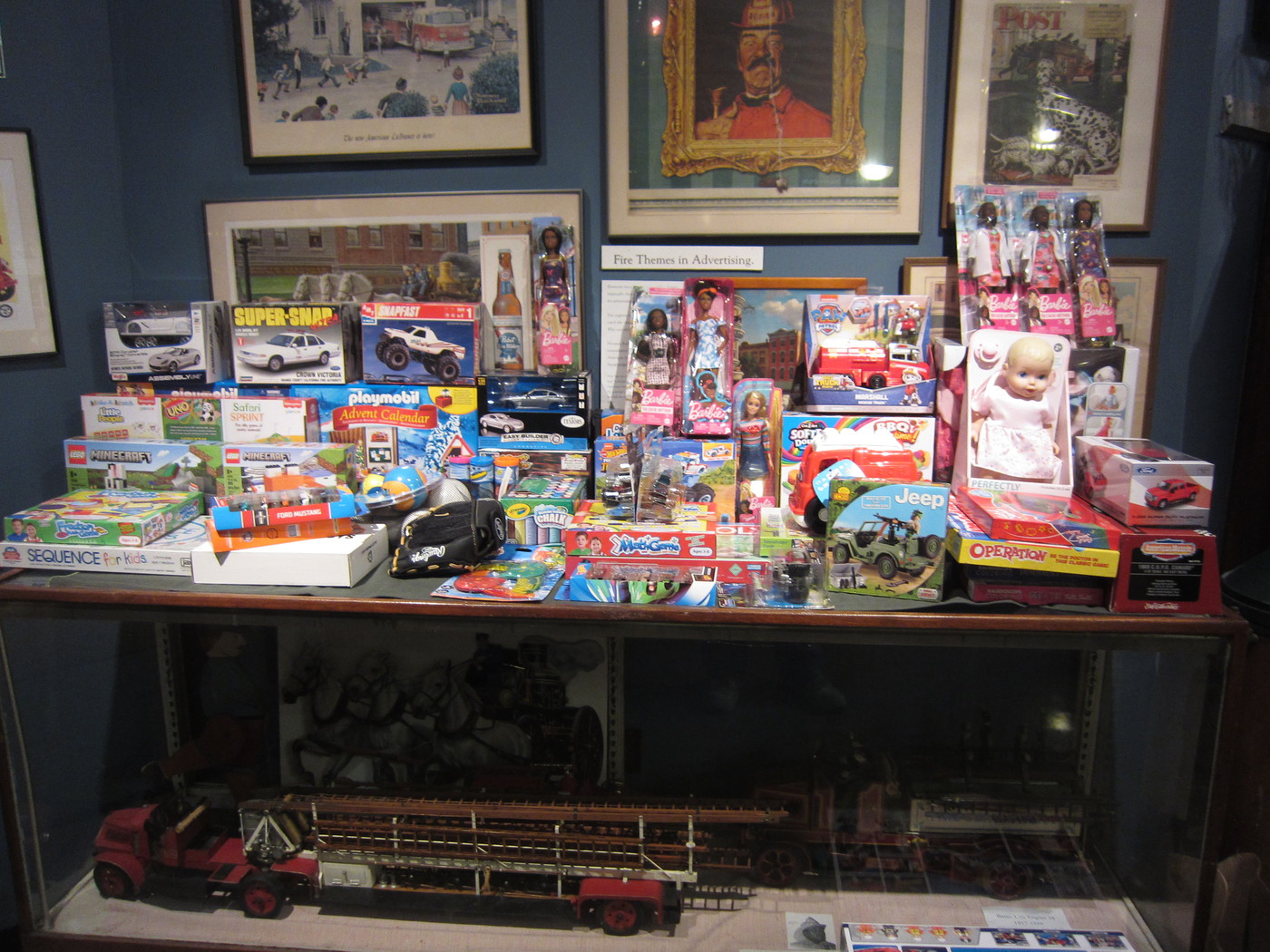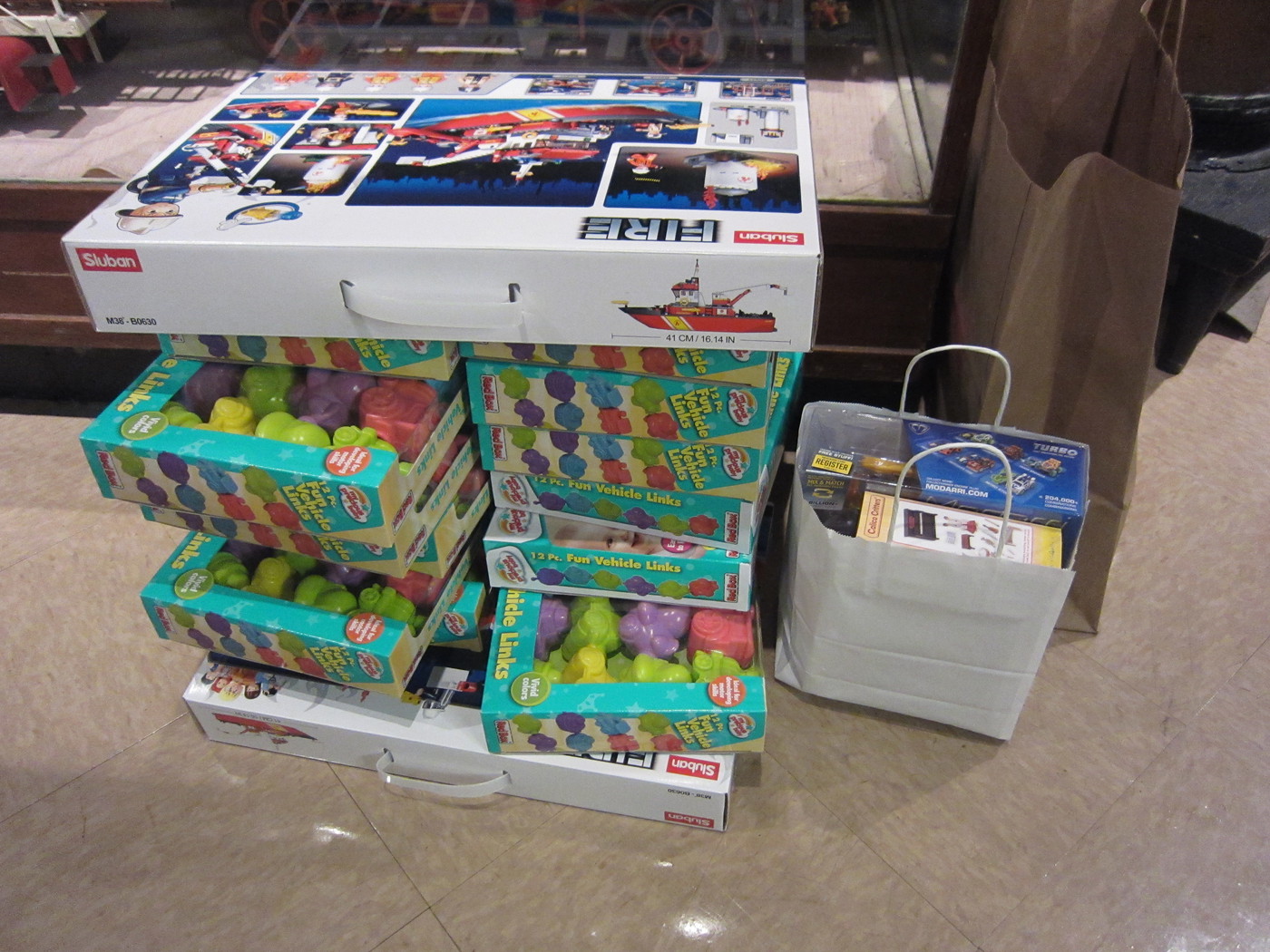 Great news! MAMA members Bill Geary, Mark Wheeler, Mike Costic, and Steve Buter have all pulled through their respective medical issues and are all recovering or recoverd at this point. I believe that your thoughts and prayers were an important part of all their recoveries.
One other member has had a recent serious medical issue is Rich Meaney. Whiile he's pulled through with a bit of surgical assistance, he's now going back under the knife next month for another, unrelated issue. So, let's keep Rich in our thoughts and prayers, too.
All this medical stuff reminds me that our November 19th meeting was also the one year anniversary of MAMA Founder, Norman Veber's heart attack. We're so glad he pulled through and is thriving these days!
Even if you don't know how to pronounce it correctly, you might recognize the name George Bojaciuk from his many magazine articles, his work with Franklin Mint and GMP, his Runnin' at Redline email series, his diecast auctions, or maybe even one of the many models he's built over the years. Well, recently George has been helping Wylde Parnell of Canuck 3D with making sales within the U.S. Wylde and his 3D-printed parts business are located in Canada and shipping costs across the border are brutal enough to prevent lots of people here from placing orders with Canuck 3D. Buying Wylde's parts through George brings the shipping costs down to normal rates that we're accustomed to. Even better, George has made a very special offer to MAMA members: one low, flat shipping rate for any size group order we place with him. To help urge our members to take advantage of this special offer, MAMA will pay the shipping rate, so all you members have to pay for is your parts. I will be collecting the club members' orders at the November and December meetings (be sure to give me your name, contact info (phone # and email), the part numbers you want to buy, and the cash (yep, cash only) to pay for them) then we'll forward the combined order to George following the December meeting. *** The latest update is that George has extended this offer to include the $45.00 Firebird Formula 400 kits that Gregg Wann has recently produced.***
This month FineScale Modeler magazine launched a new celebration of model building known as Build a Model Month (BAMM). BAMM is all about building scale models, raising awareness of the hobby, building models with each other, and spreading the fun of scale modeling by helping someone get started on building them. They are encouraging model clubs/organization to consider group builds. FineScale Modeler will also be holding an on-line model contest featuring a cash prize, cover position and story for the winner.

Please continue to keep our friends in the Ukraine in your thoughts and prayers as Russia's senseless war on them continues.
Since last month, the COVID positivity rate for Maryland has been hanging below 7%. This is good news and I hope it continues to trend downward. I do still urge everyone to remain cautious for ourselves, and our families, friends, co-workers, and acquaintances. It ain't over yet. Please continue to follow changing county mandates and mitigations as they adapt to address the evolving COVID virus variants. As always, I reccommend that you continue wearing your masks when in public spaces even if they are not required and continue to use hand sanitizers to help reduce the chances of spreading diseases like colds and the flu, especially as we are entering the fall season.
November Photos:
For those members who cannot make it to a meeting in person for whatever reason, we are keeping the psuedo-virtual aspect of the web site going. Any one who wants to is encouraged and welcomed to send in photos of their builds, so if we can't see you and your model cars at meetings, we still want to see photos of your projects here on the site. Please keep those photos and descriptions coming. Remember to send them in by the third Saturday each month.
As is often the case, Paul Lee is the first one in. In honor of Veteran's Day, Paul completed a 1/24 scale Huey Army Helocopter and Army Jeep display.


Paul also sent photos of his big (1/24) and little (1/64) Plymouth Superbirds.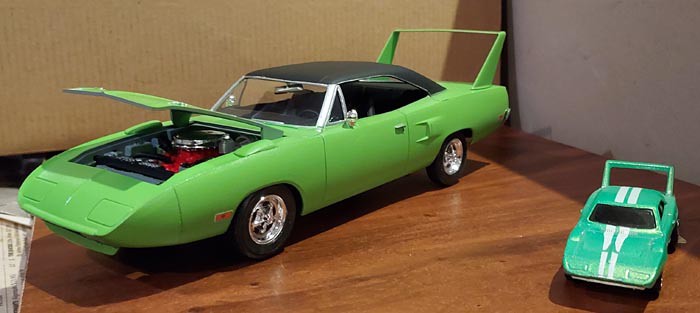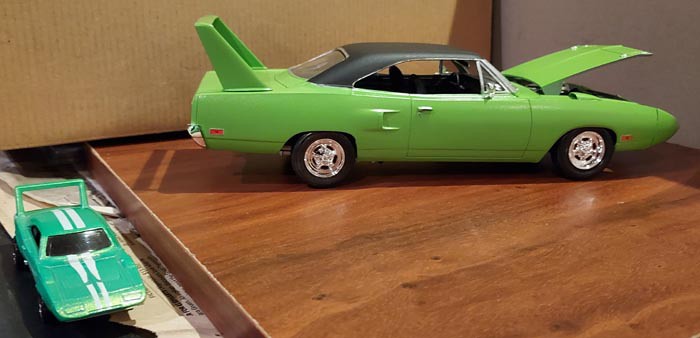 Next in was our newest member Barry Worthington whose first meeting with us was our last at the Fire Museum. Here he shares with us various car, truck, and motorcycle projects he's been working on 1/25, 1/64 and 1/18 scale.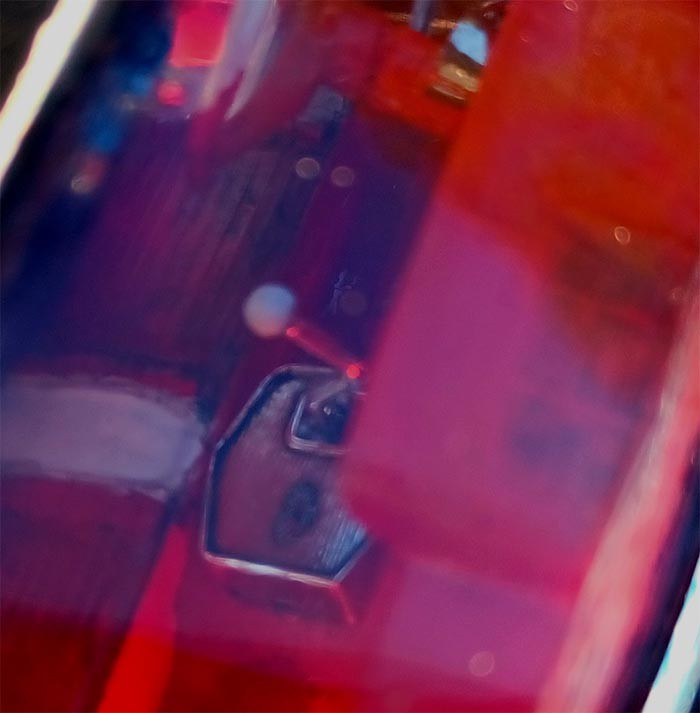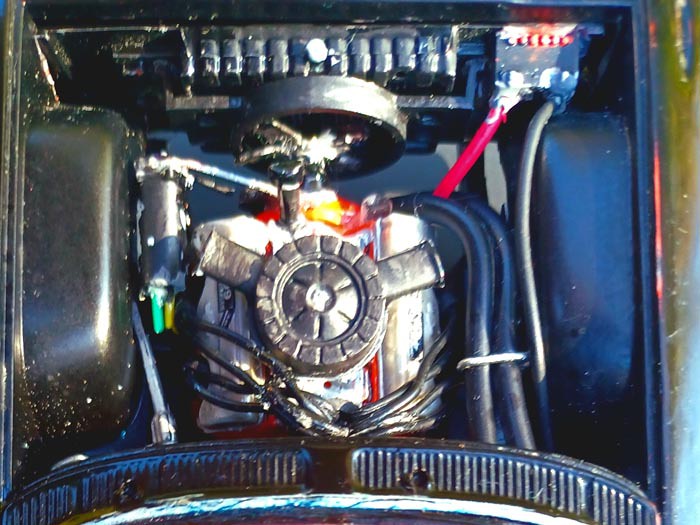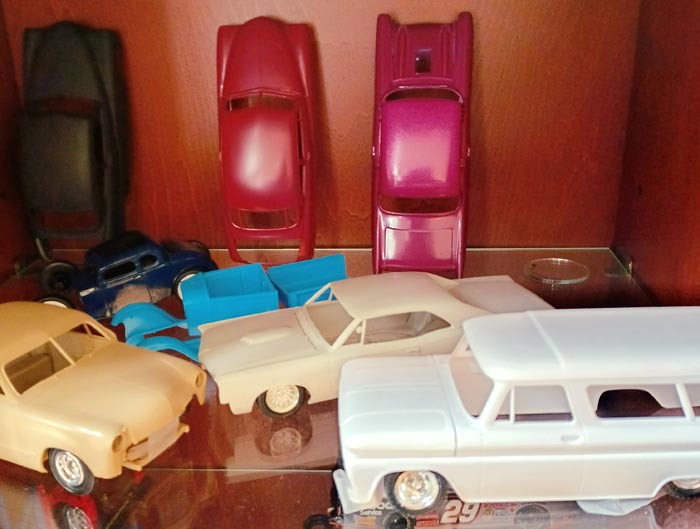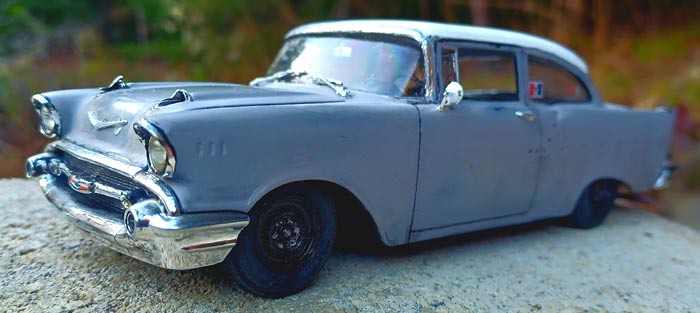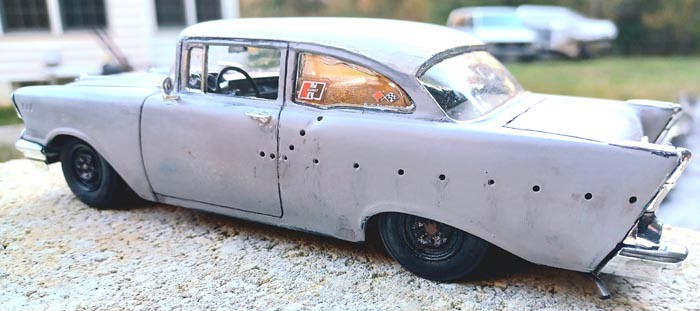 Scenes from the meeting:
Russ Kirkpatrick built this 1957 Ford Gasser.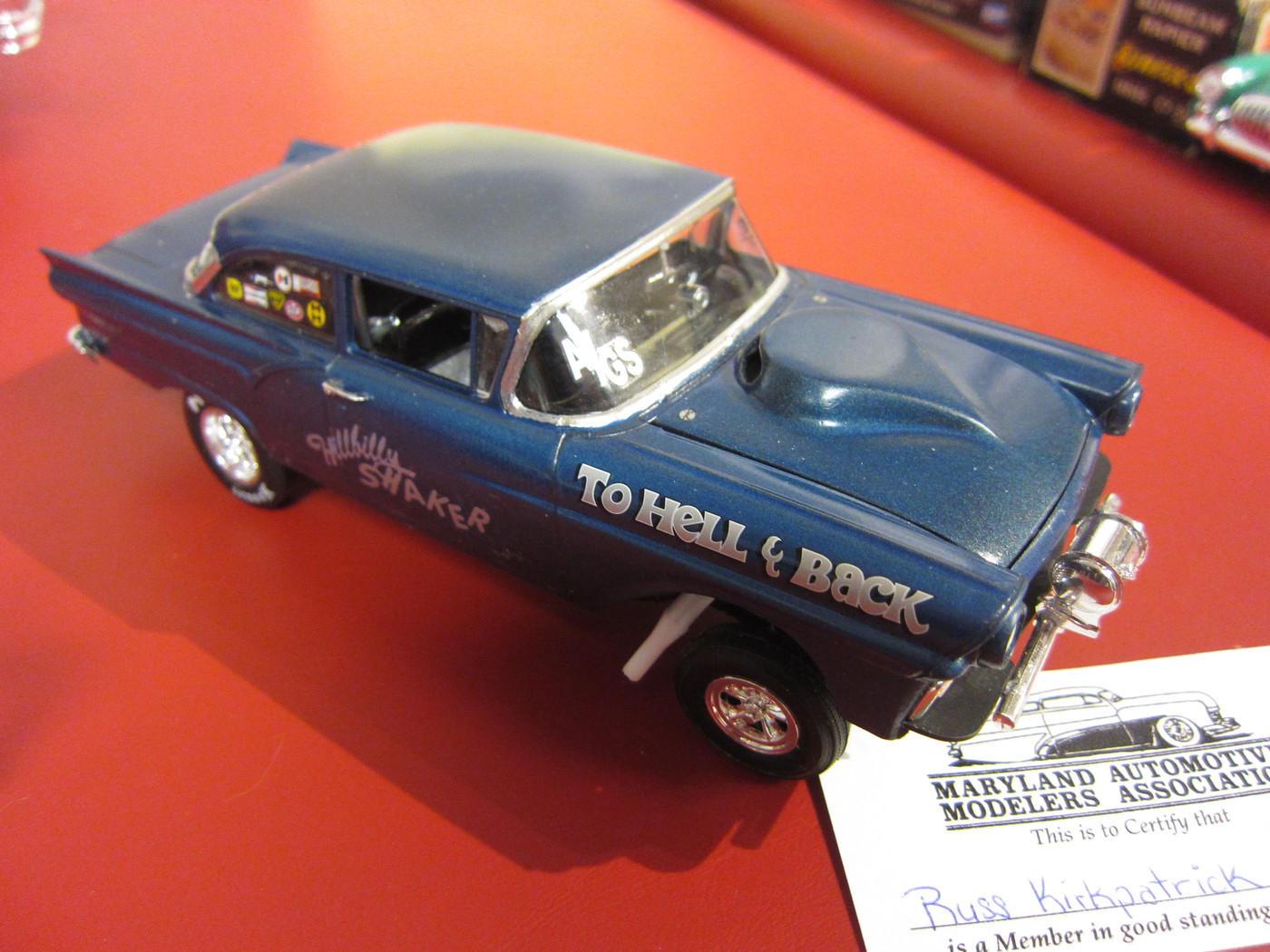 Lyle Willits showed us his very first, and quite possibly last 1/8 scale build, a Monogram 1932 Ford Roadtser that he built to represent a hot rod owned by Mike Szuba who is well-known around here for putting on the Jalopyrama car show. Lyle lamented that parts were very ill-fitting and that because of its size, the finished model is so heavy that the suspension parts keep breaking under the weight.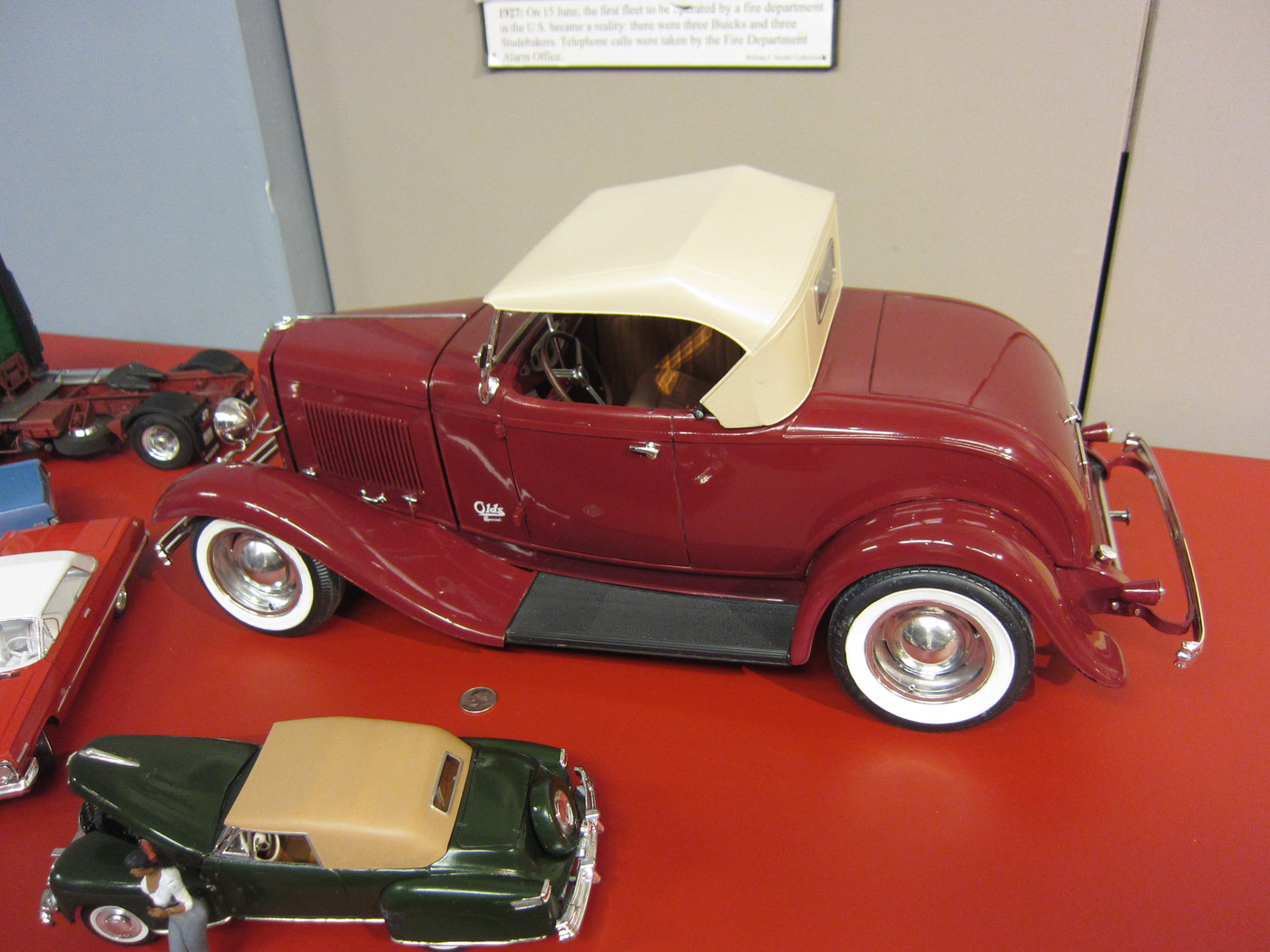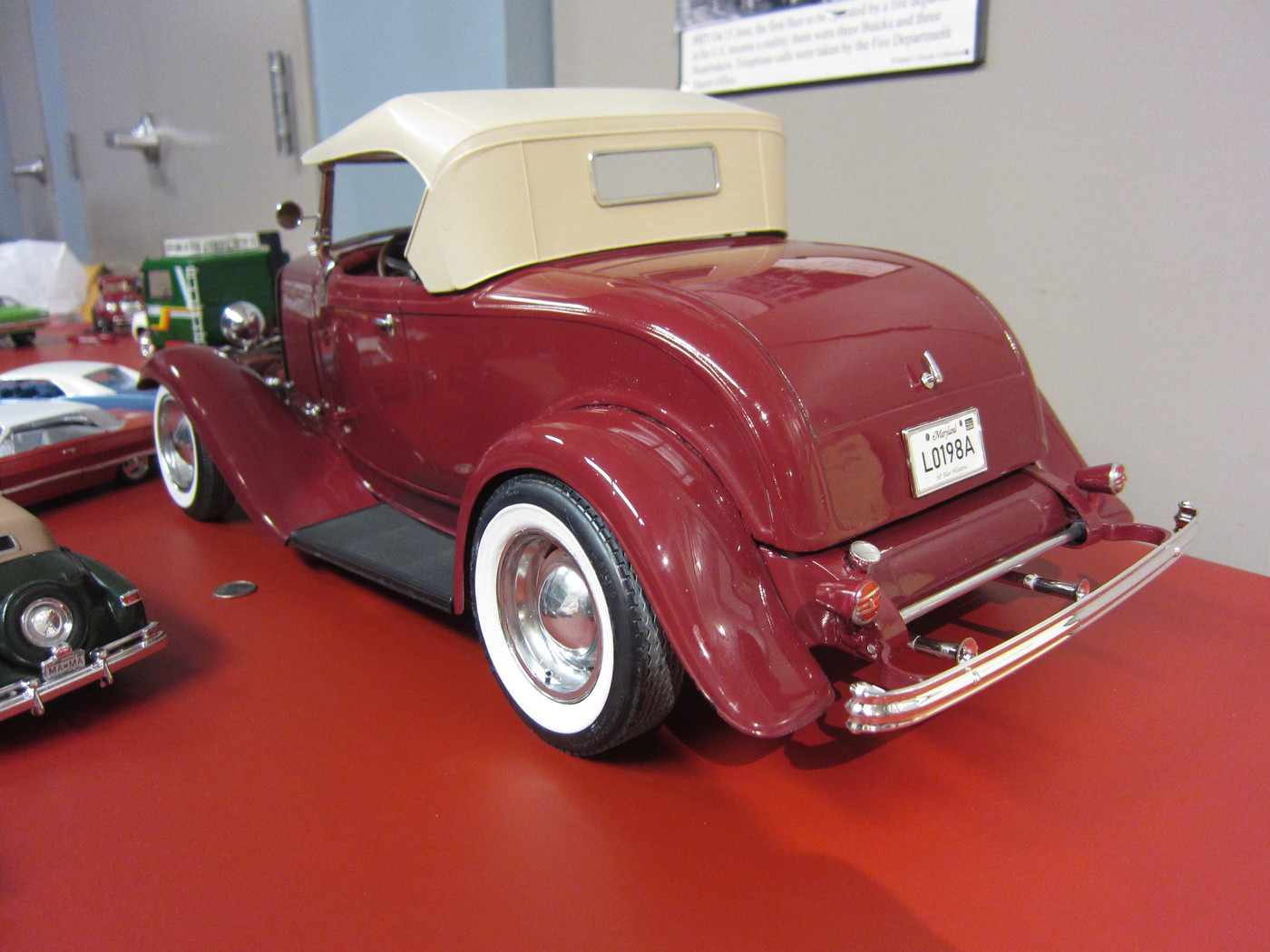 Chris Walley and Matt Guilfoyle displayed their most recent purchases. Chris' older treasures are on the left, Matt's new valuables are on the right.

Steve Buter trotted out more of his Buter's Beauties this month, oh, and some cars to go with them.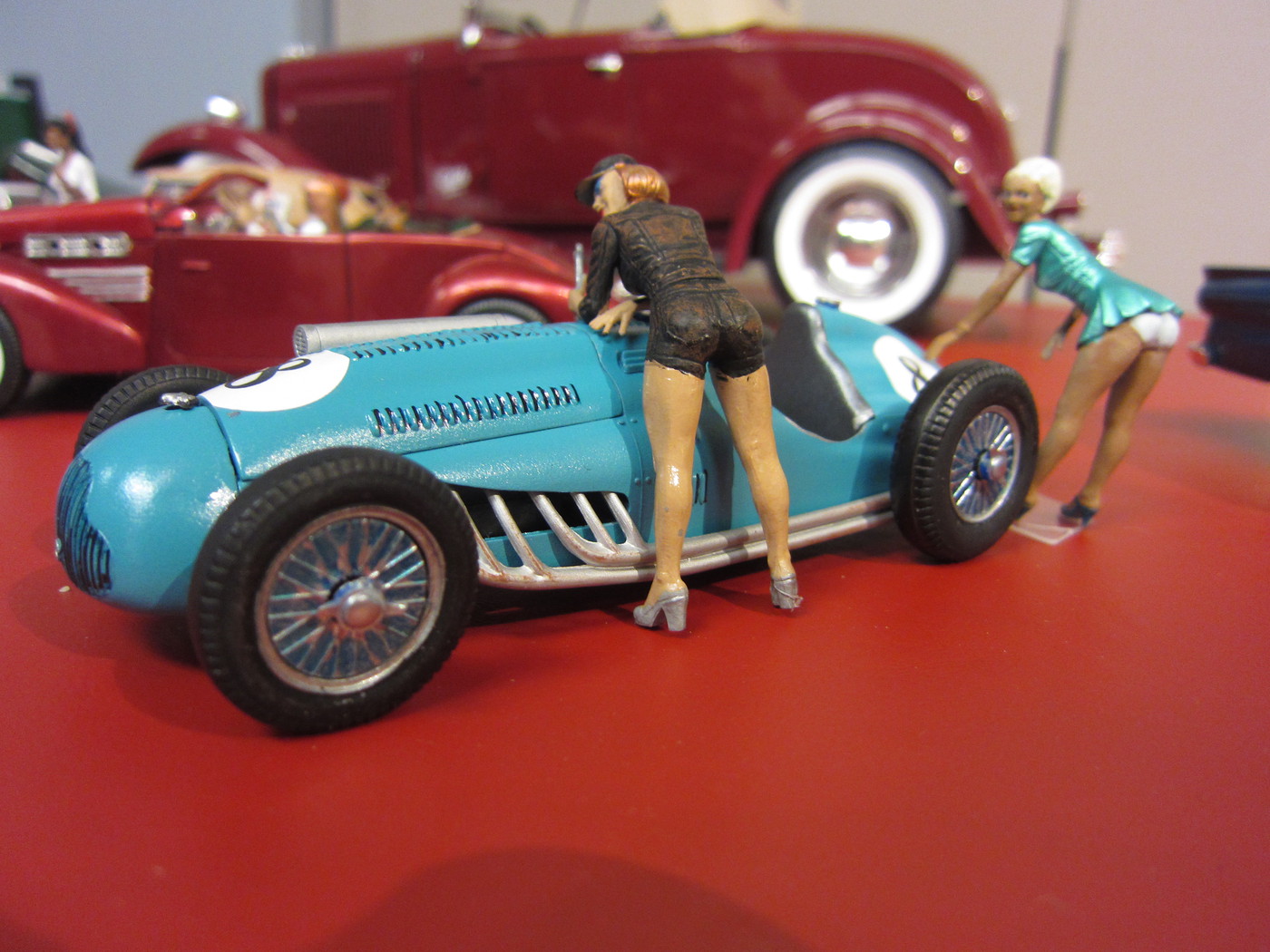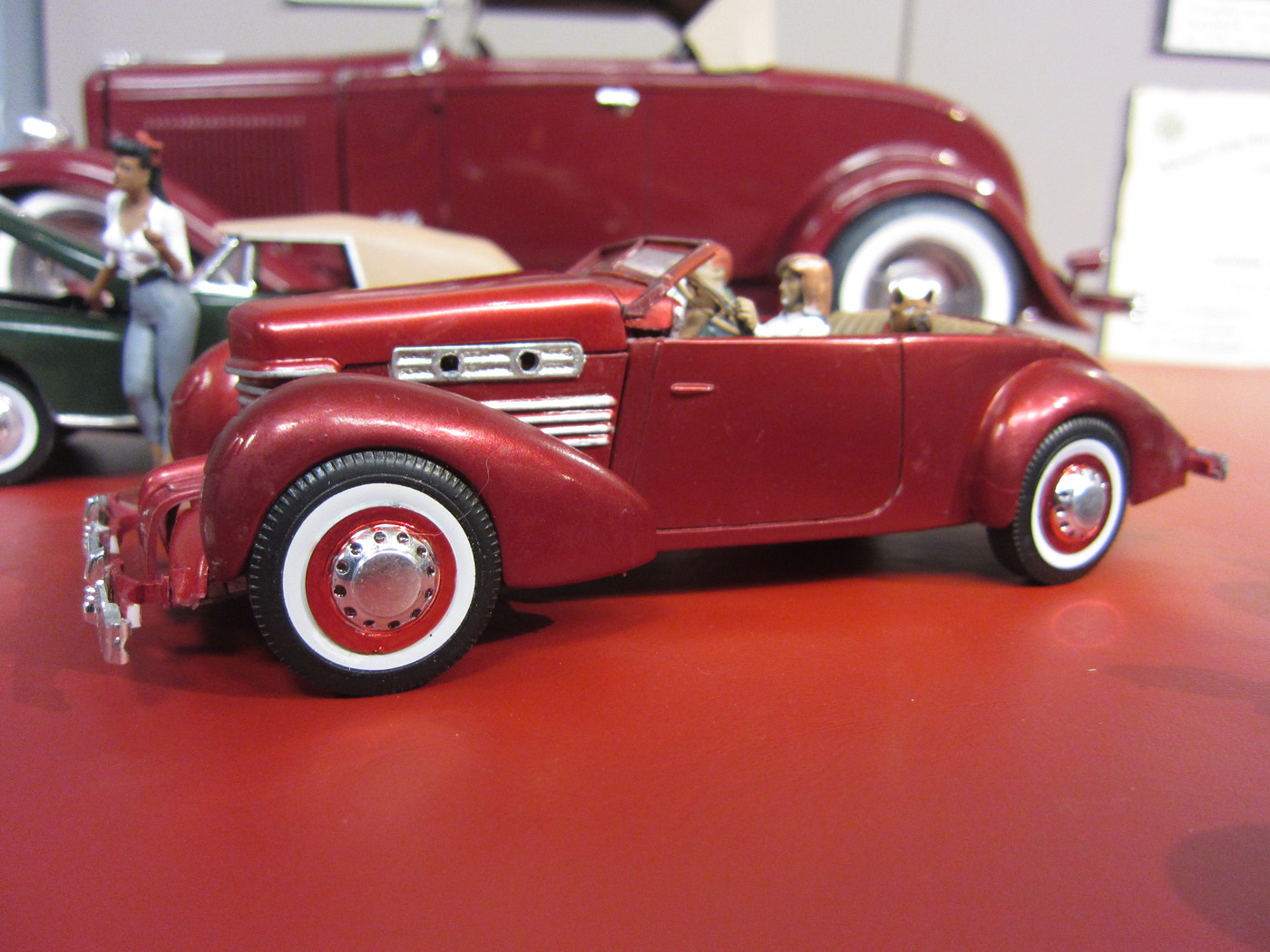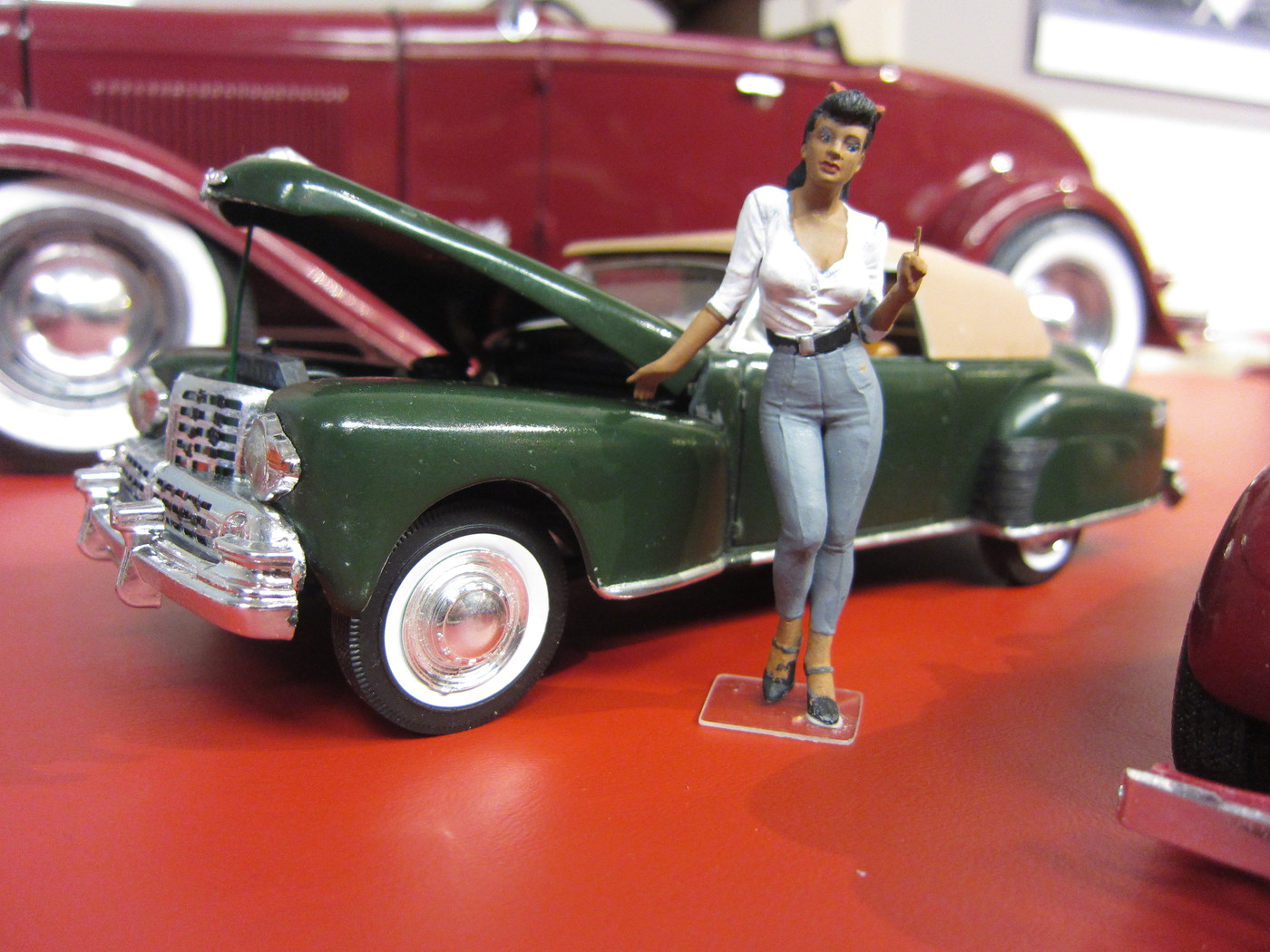 Steve Martin showed this 1962 Chevrolet and 1967 Oldsmobile.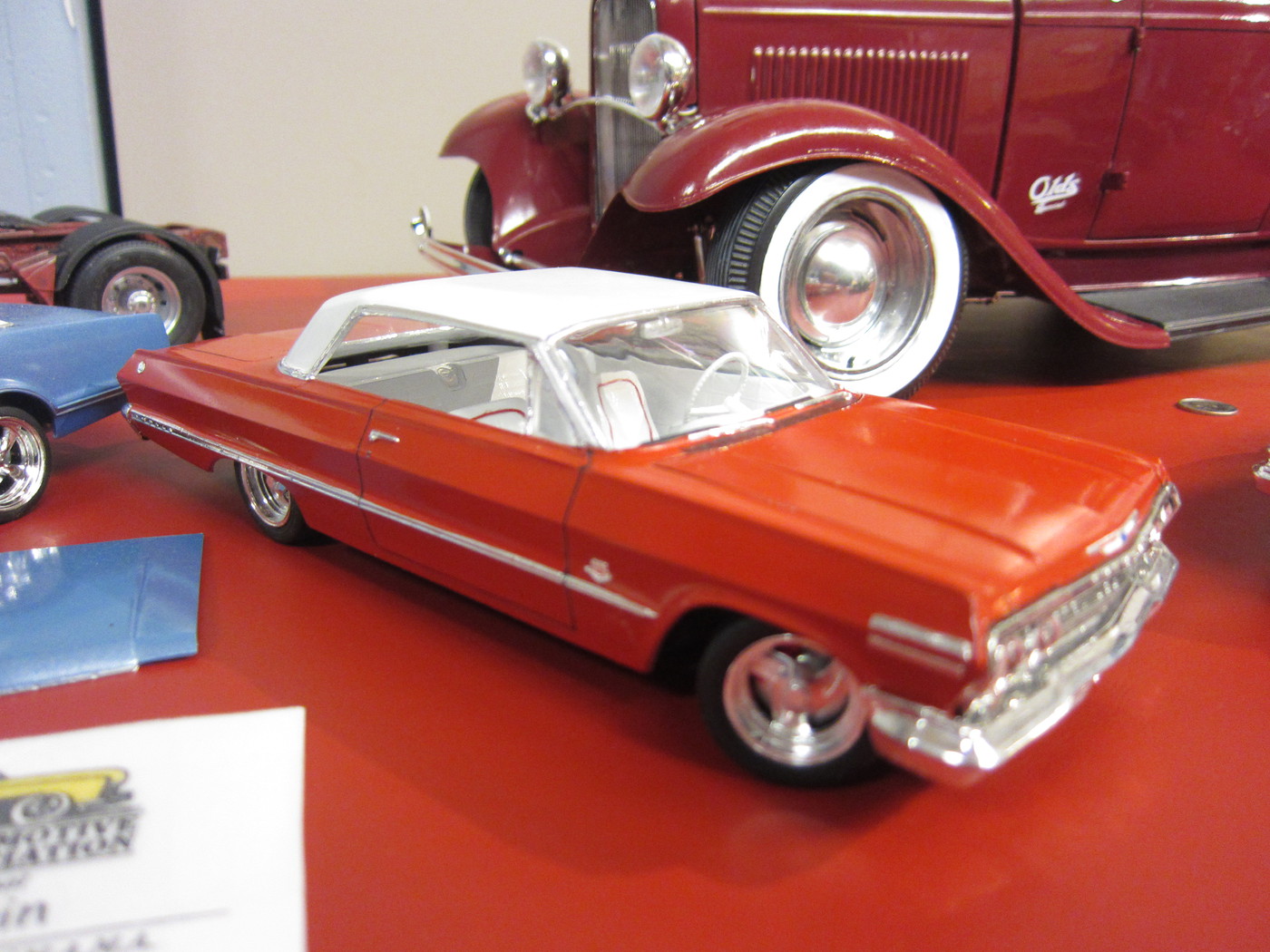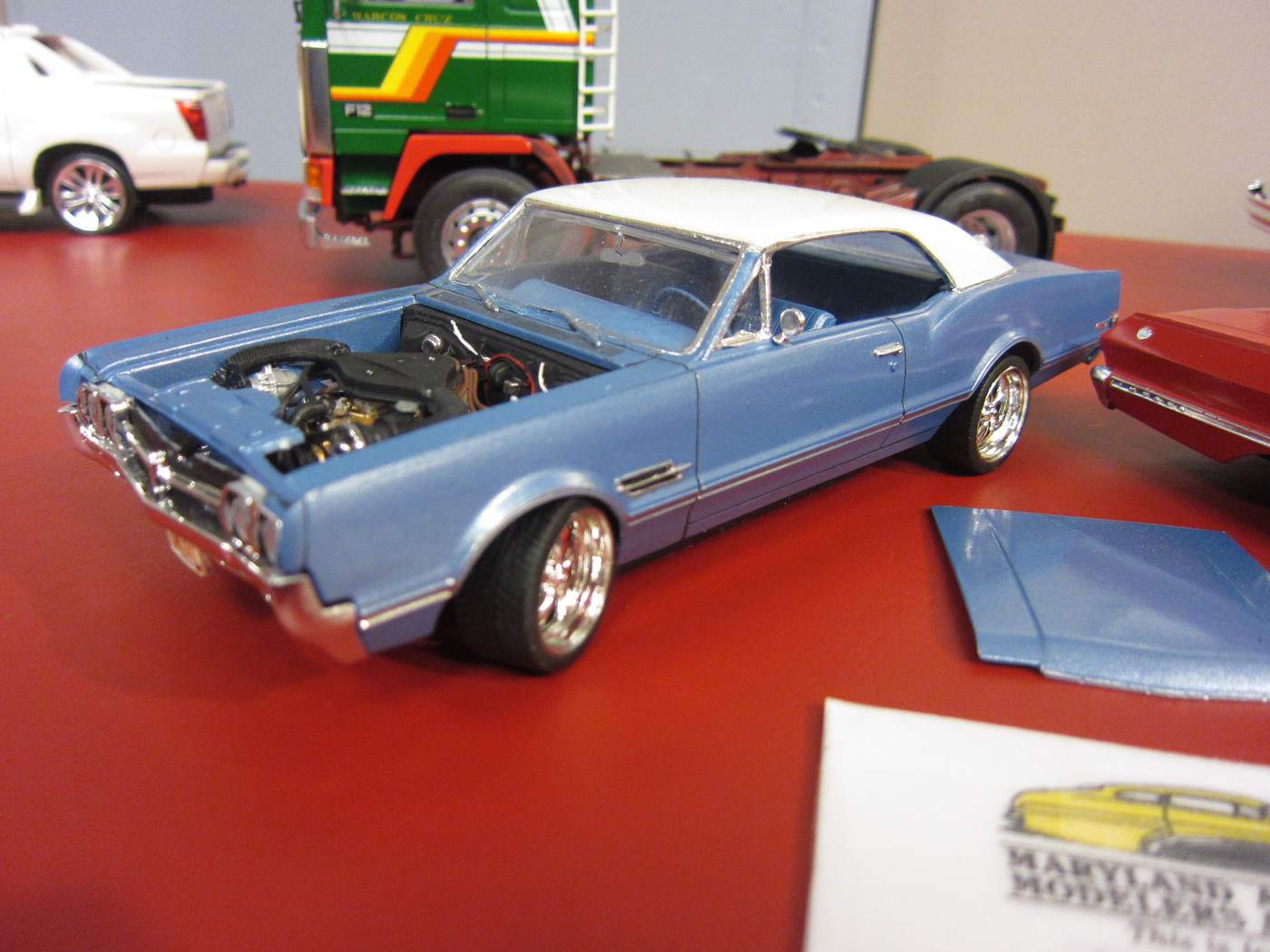 Dave Schmitt gave us a peek at his progress with this first-generation Chevrolet Camaro.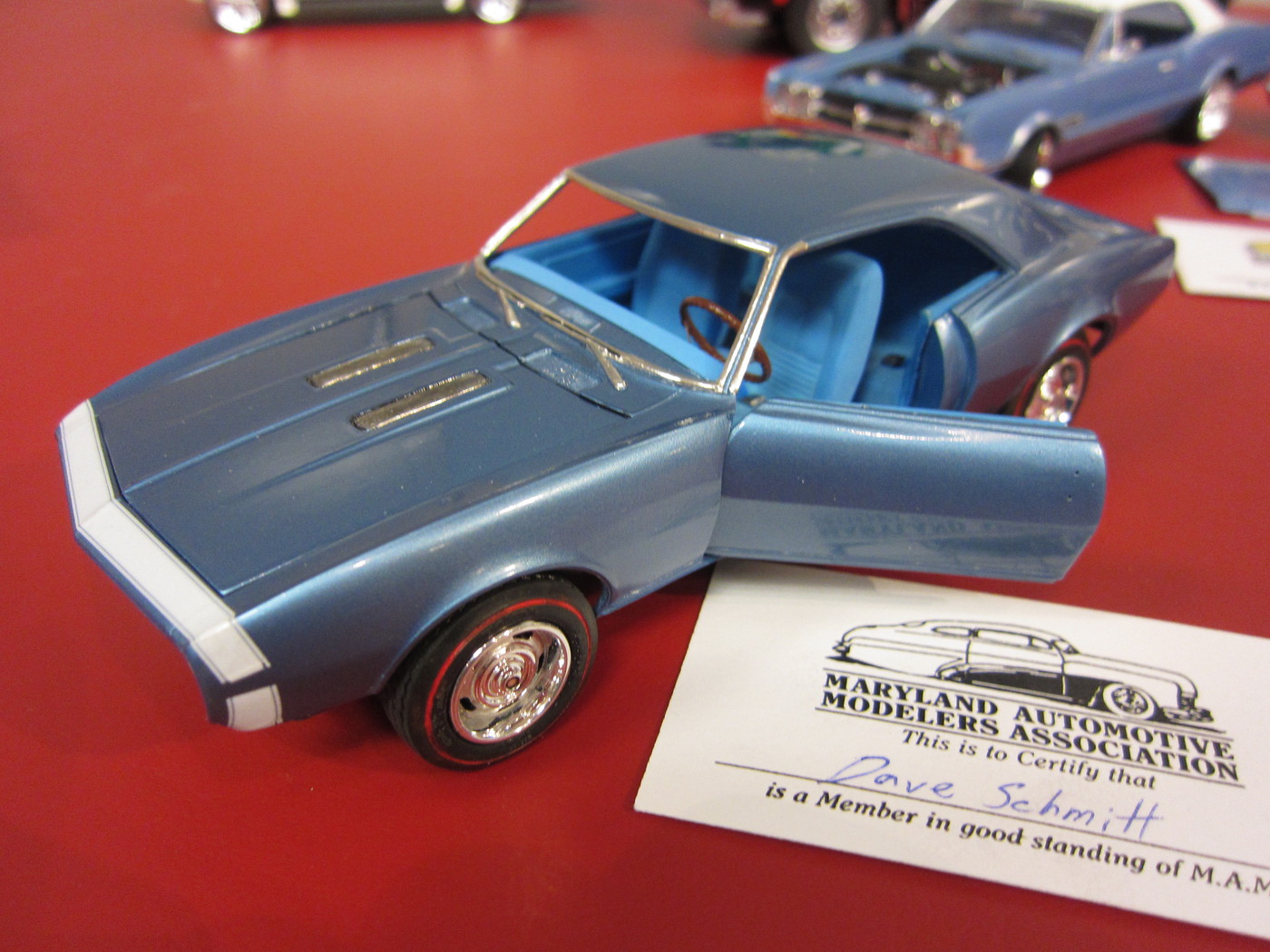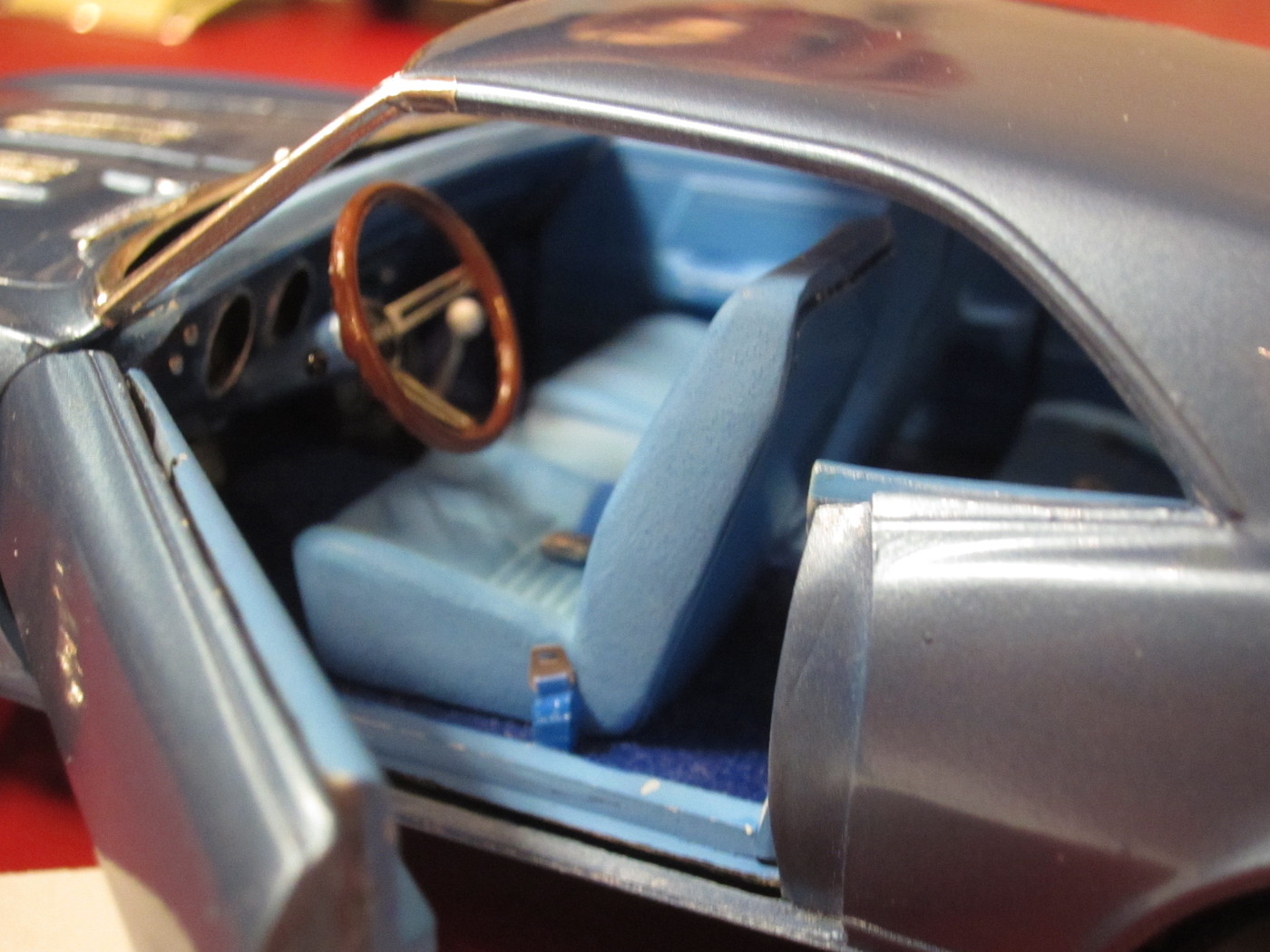 I didn't see him put it on the table, but there is a subtle hint that Marcos Cruz displayed this Italeri Volvo F12 tractor.

Cruz also displayed this late model Cadillac Escalade EXT SUV on the table.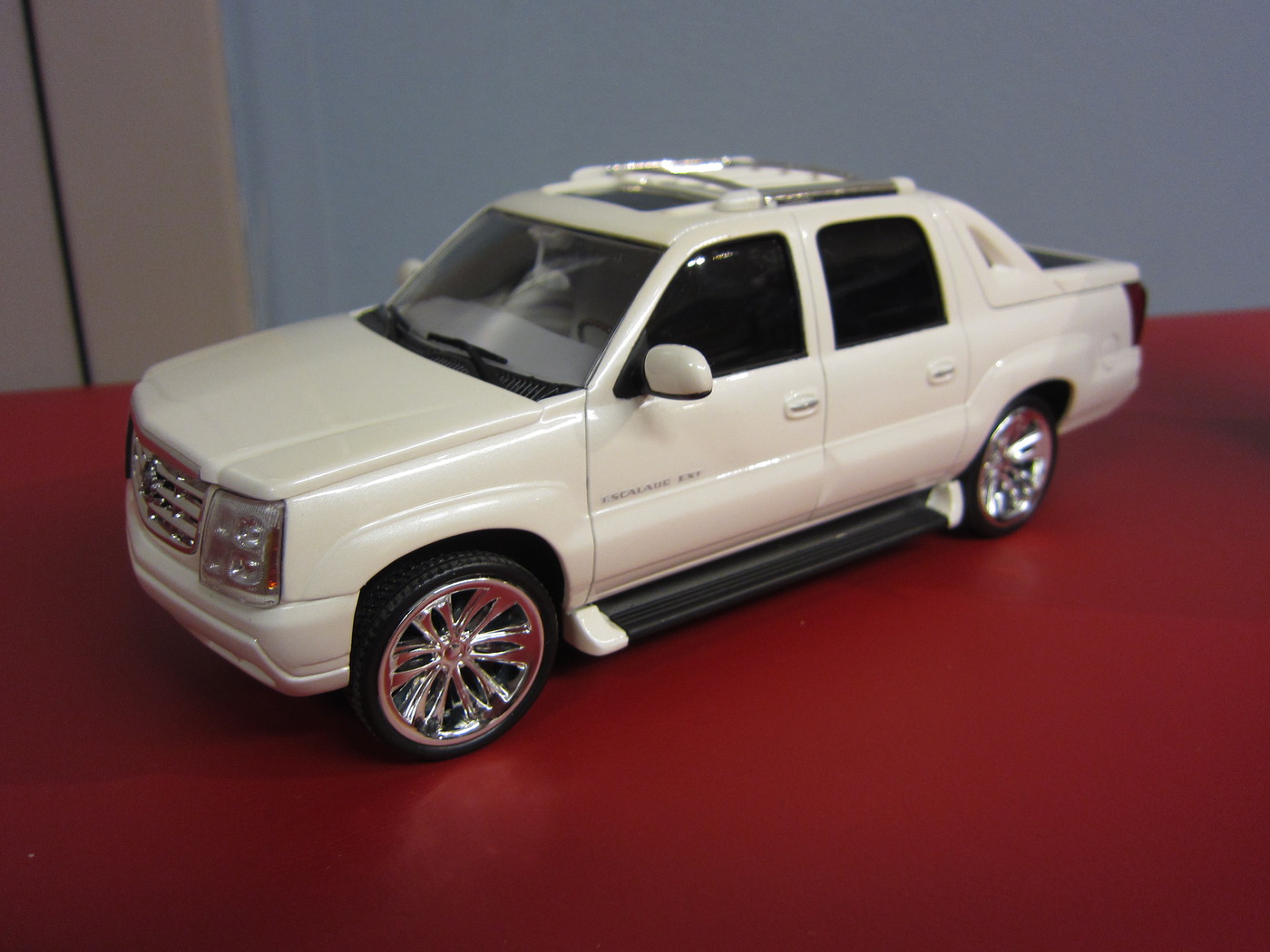 Jim Maness showed this 1967 Plymouth GTX.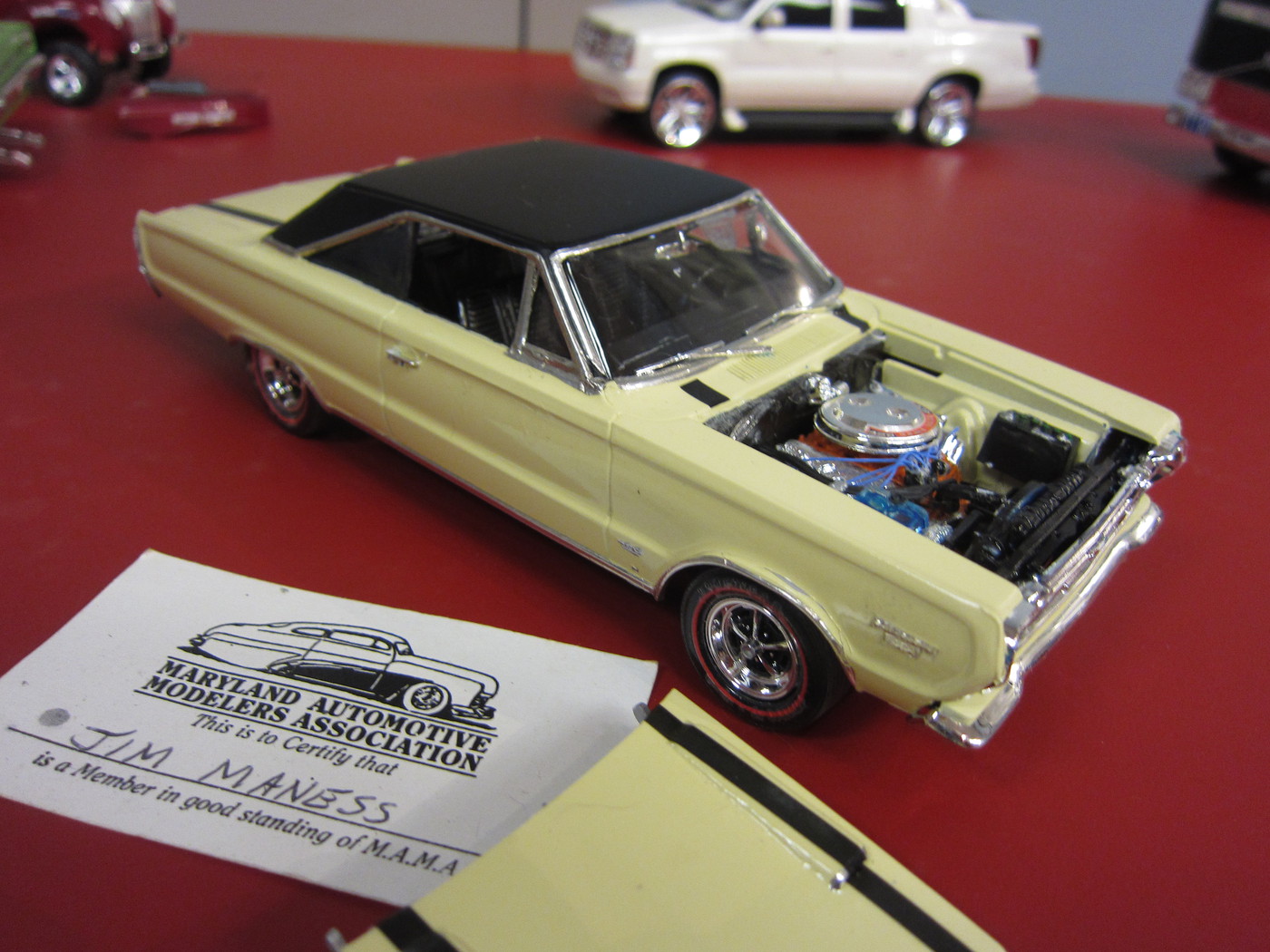 Rick Donovan brought out Ford and Chevy Gassers and a tubbed-out, Pro-Style Plymouth Road Runner.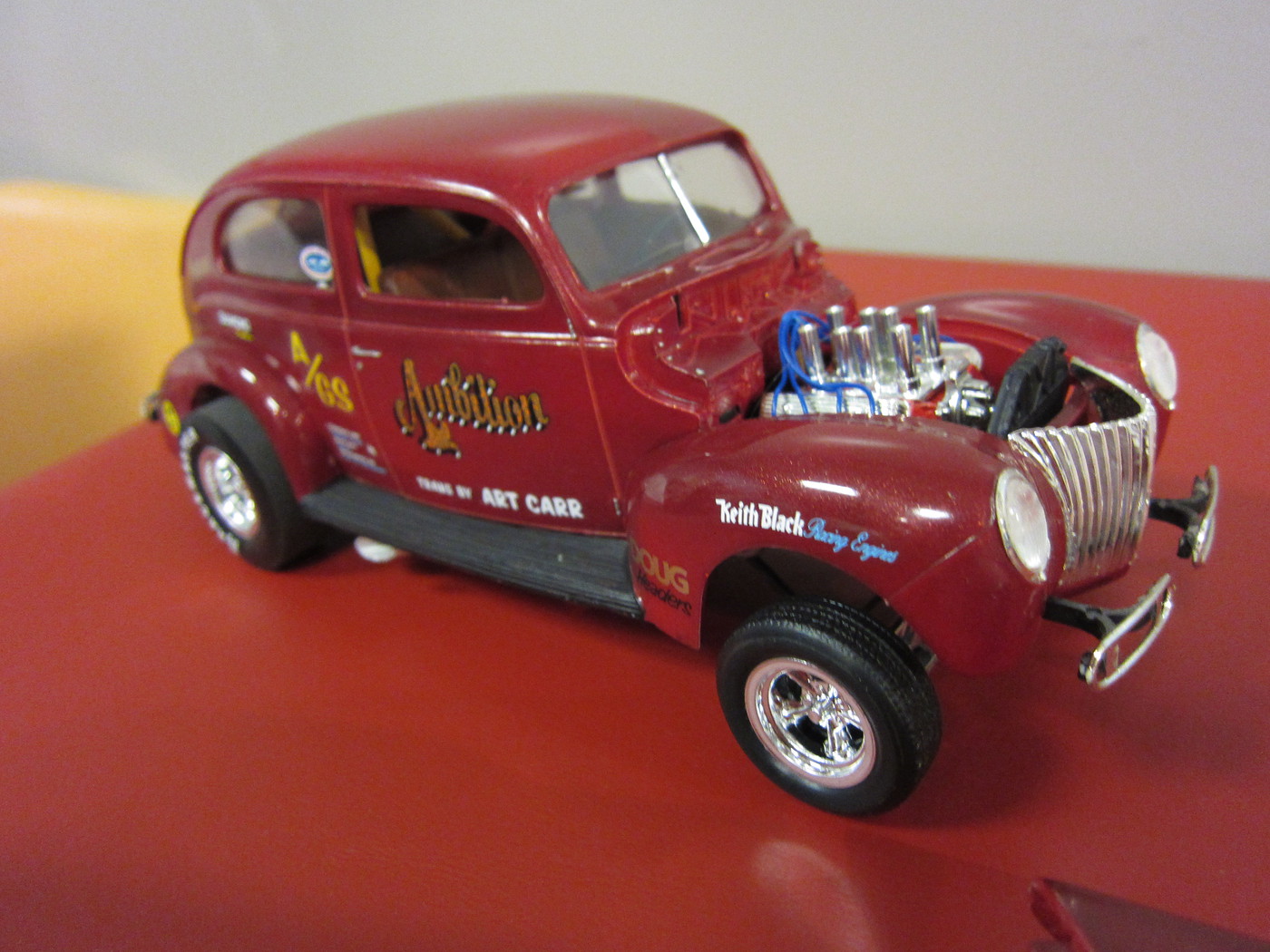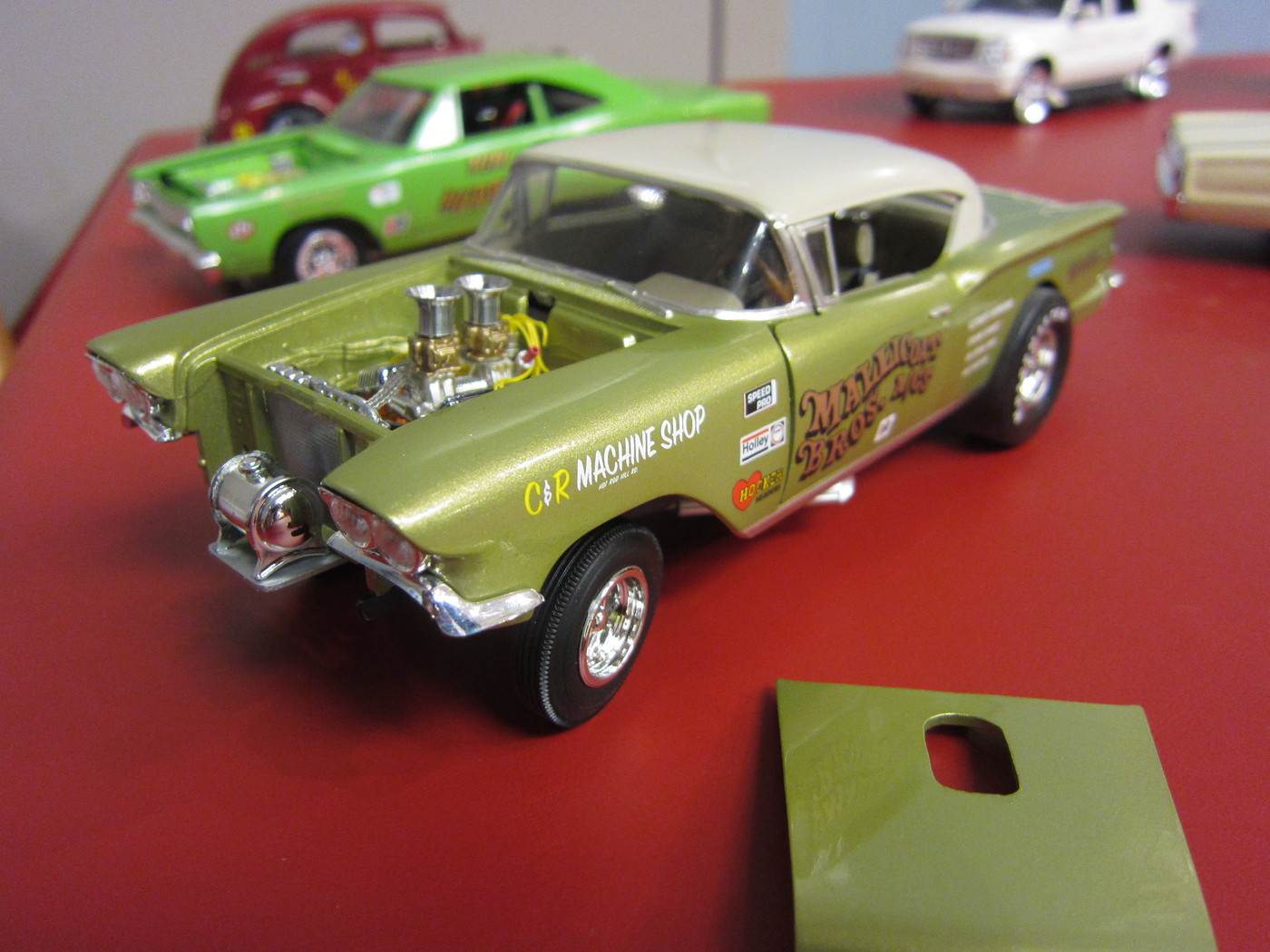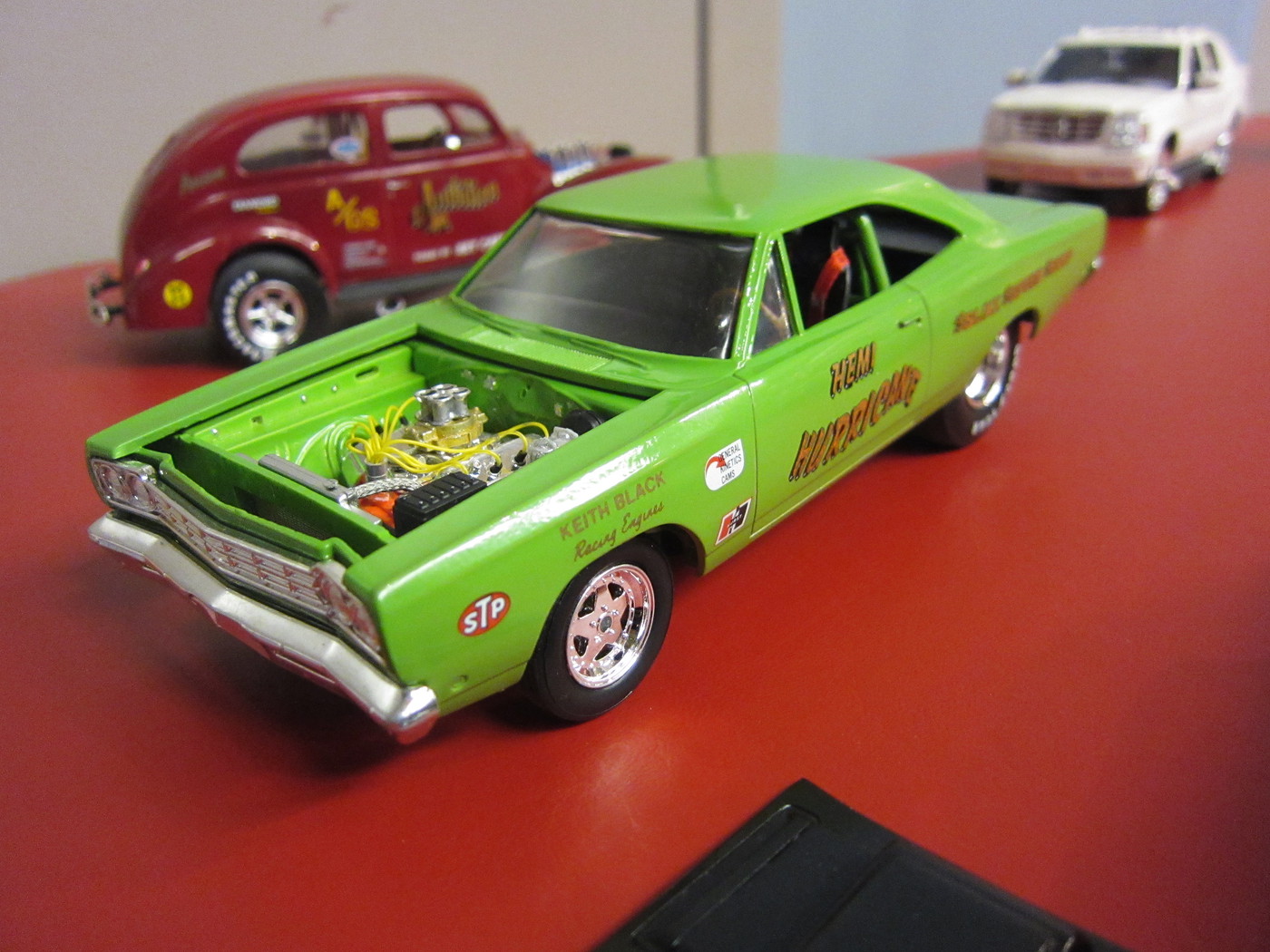 Dean Lewis showed this sharp-looking 1971 Plymouth GTX built from the Revell Fast and the Furious series release.

I didn't see who brought out this vinyl-topped 1971 Chevrolet Impala.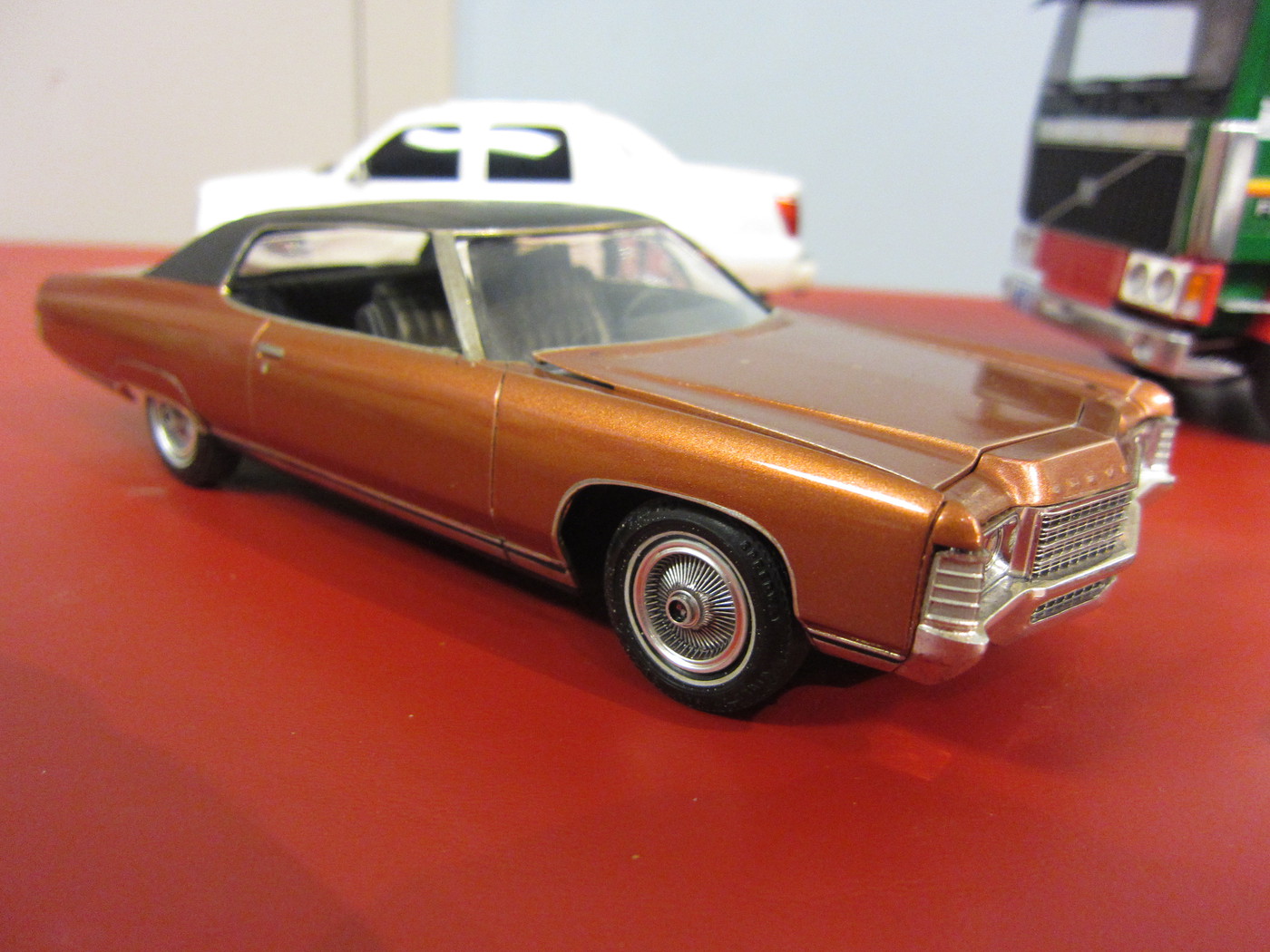 Nick Sickle showed his latest 1/64 diecast purchases.

I spotted this trio sitting on chair in the corner and wasn't able to find information about them.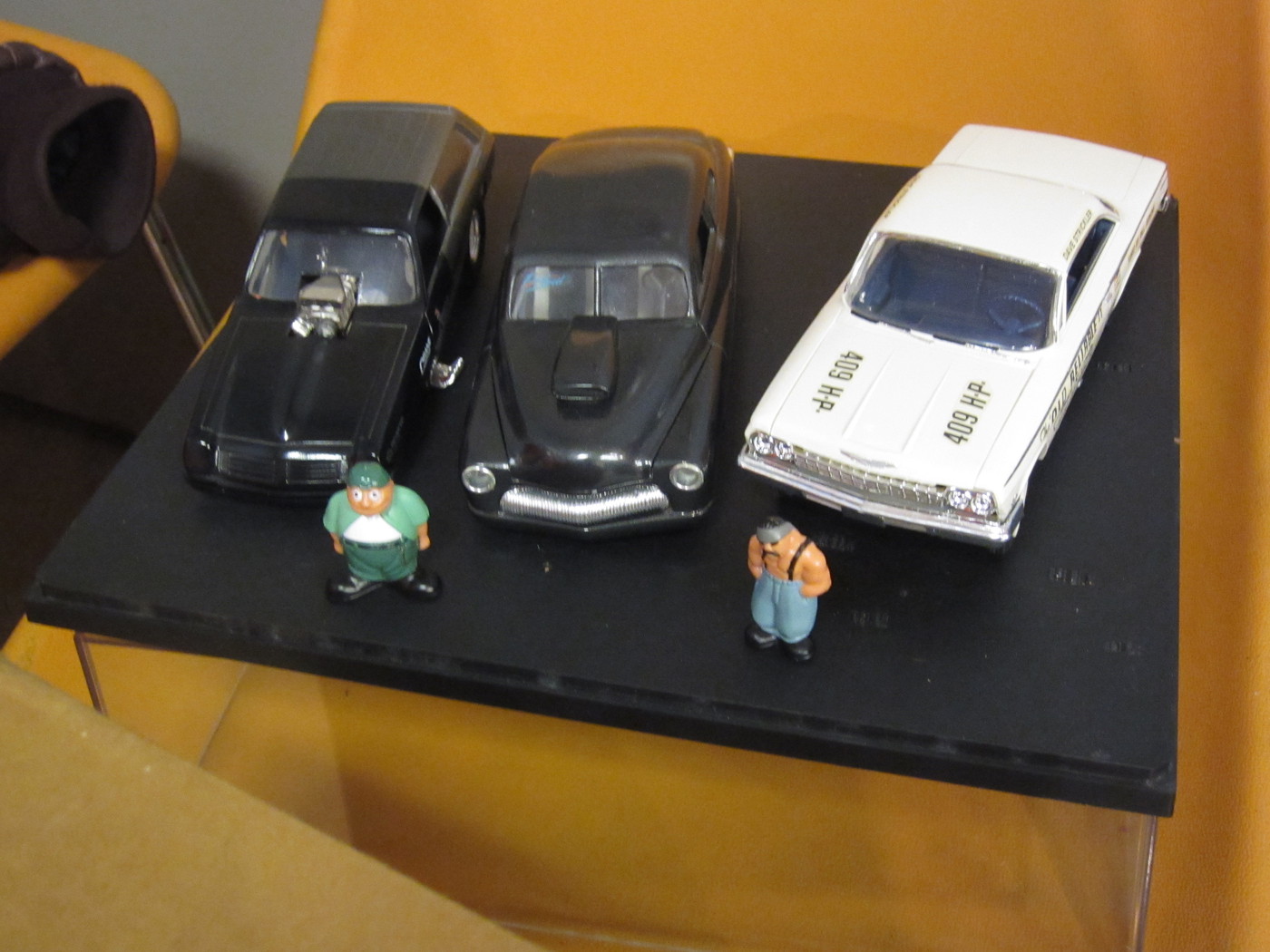 As always there were some nice prizes on the The raffle table.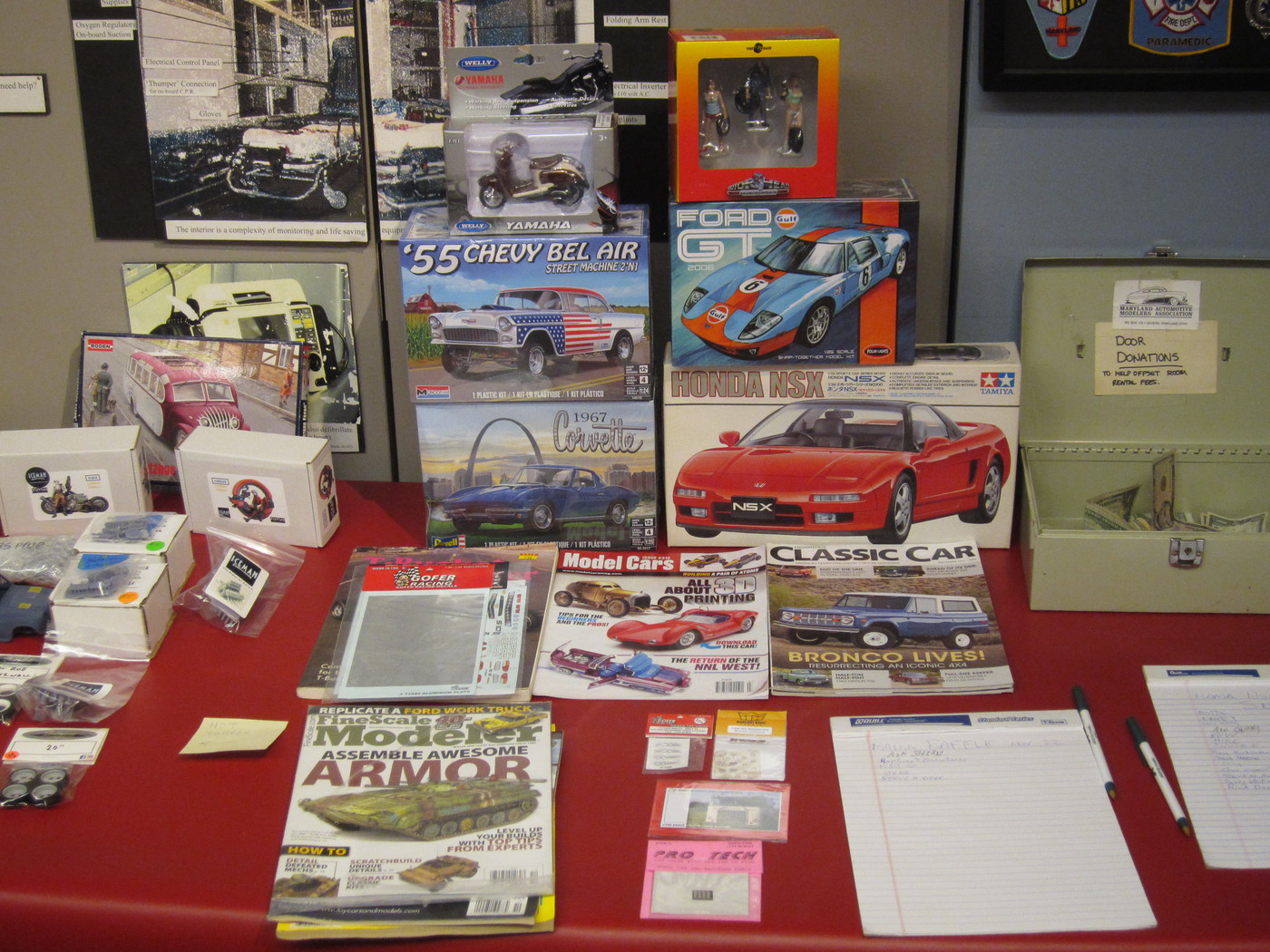 Some of the action: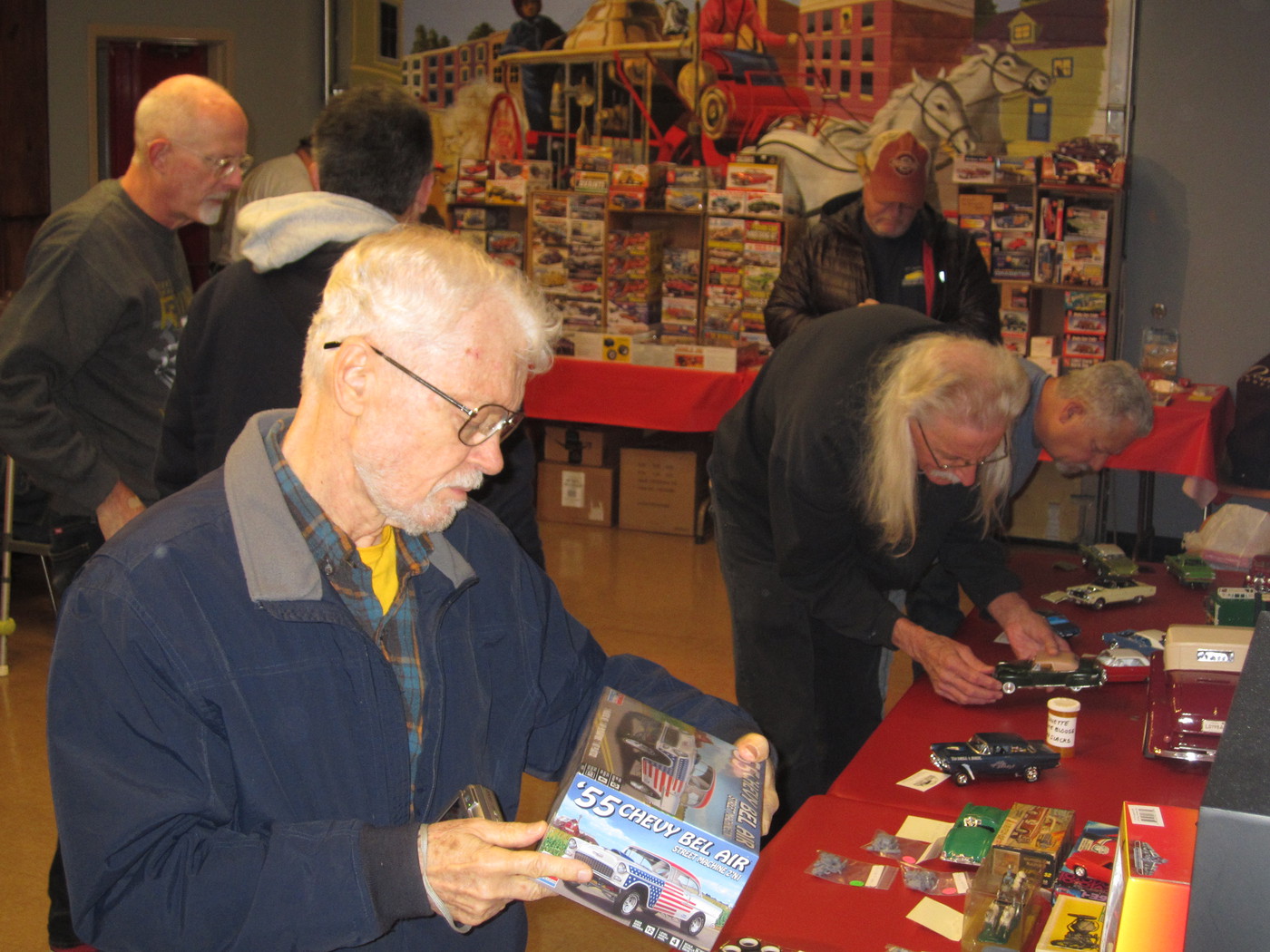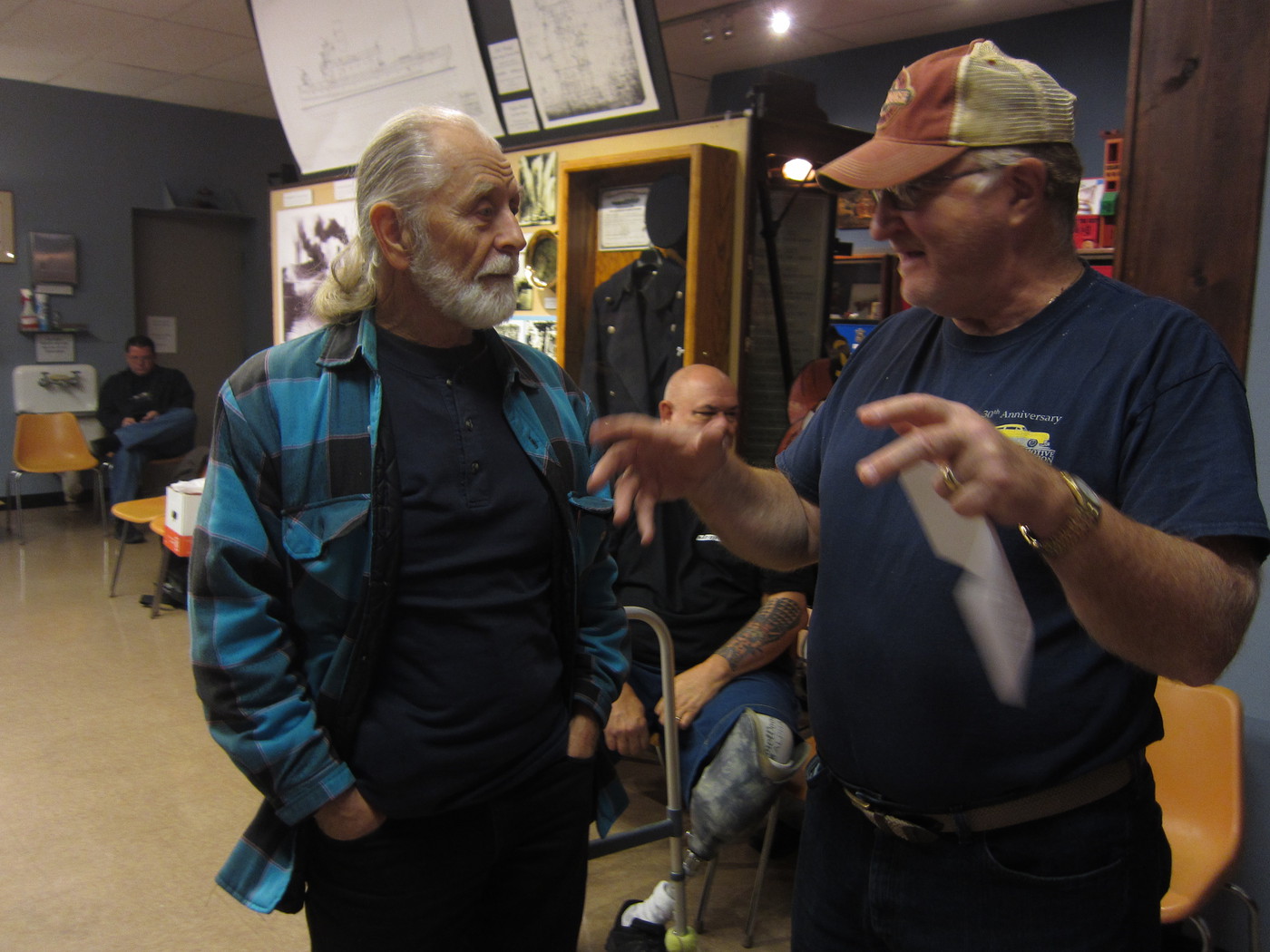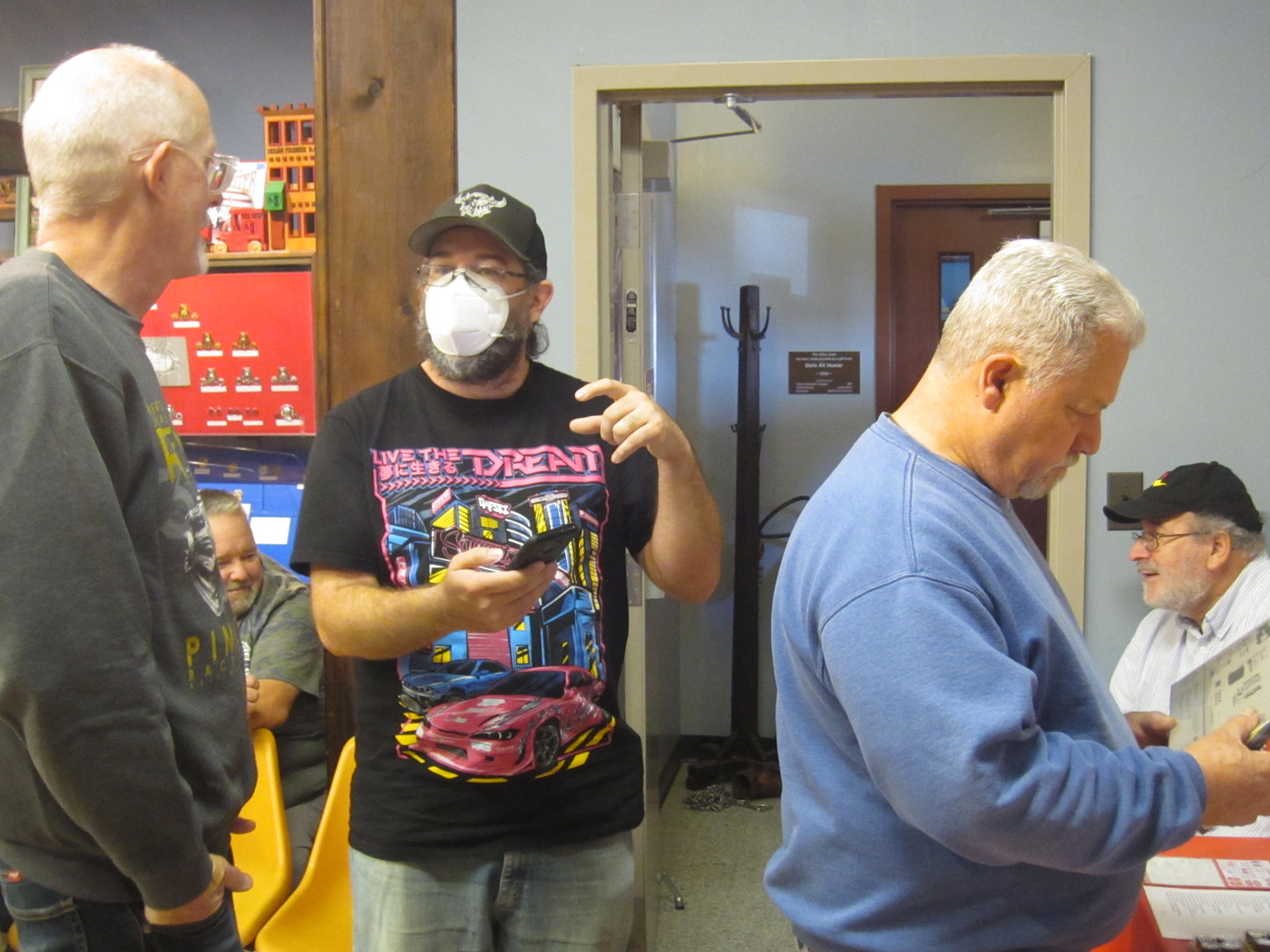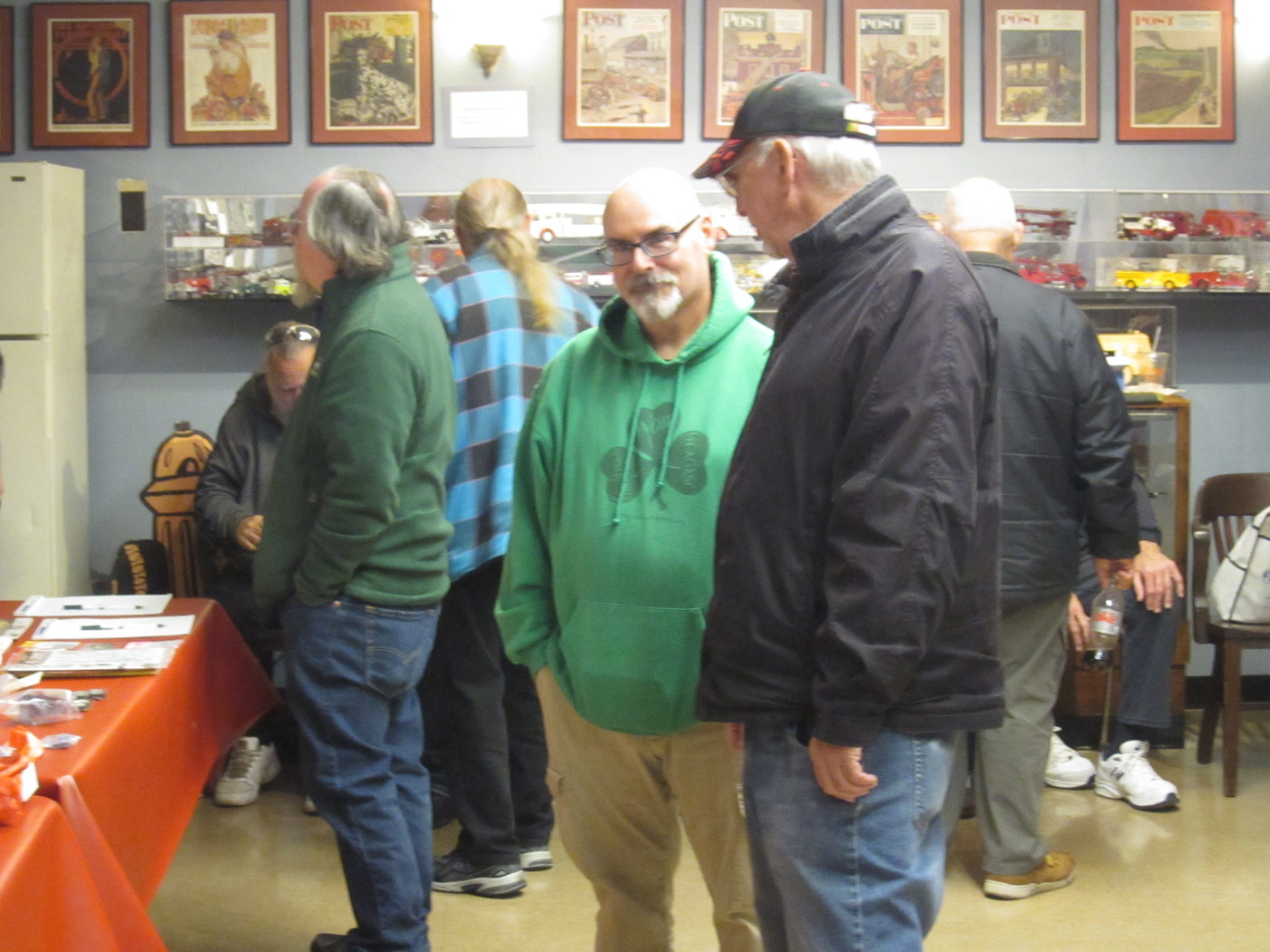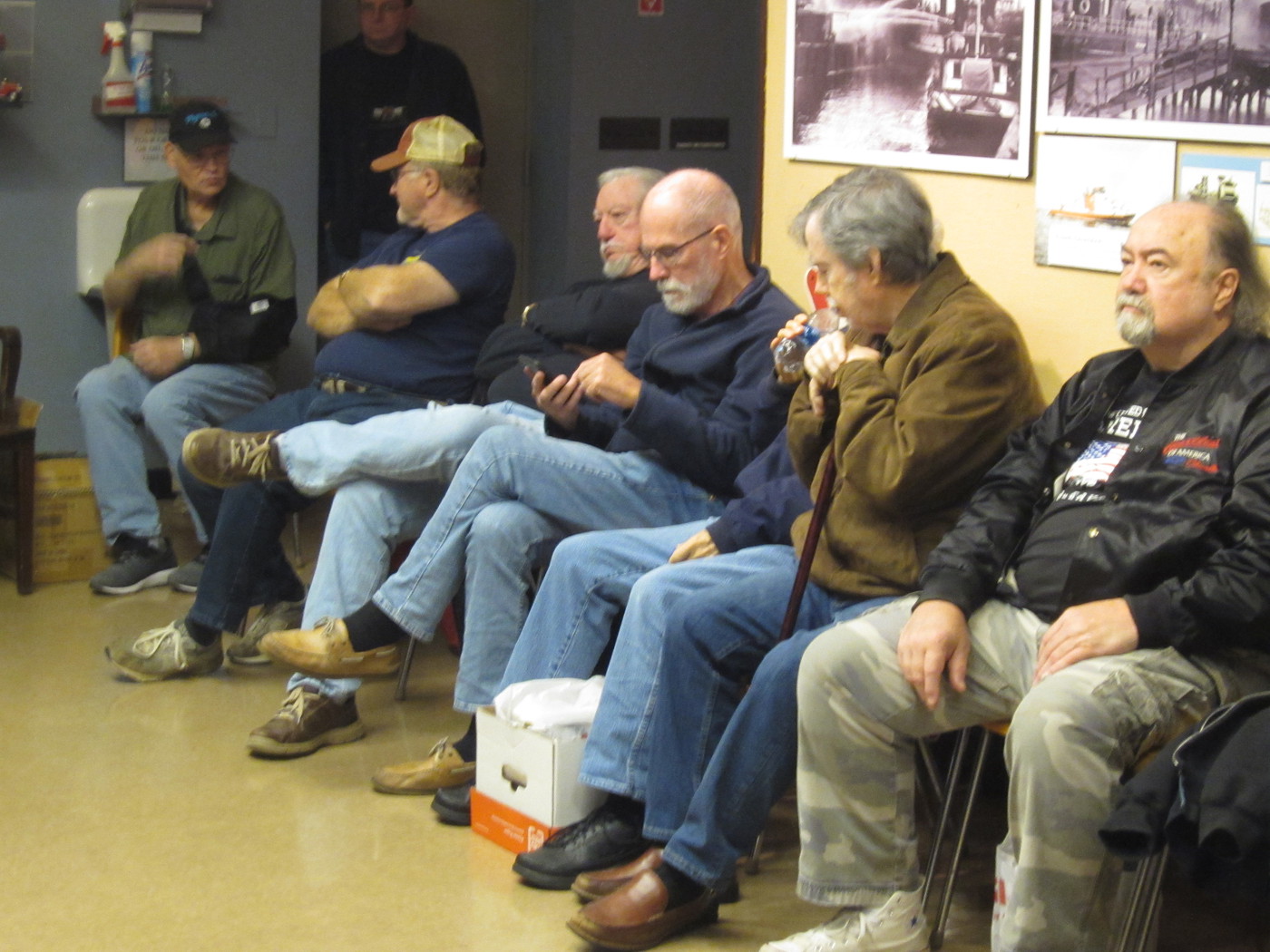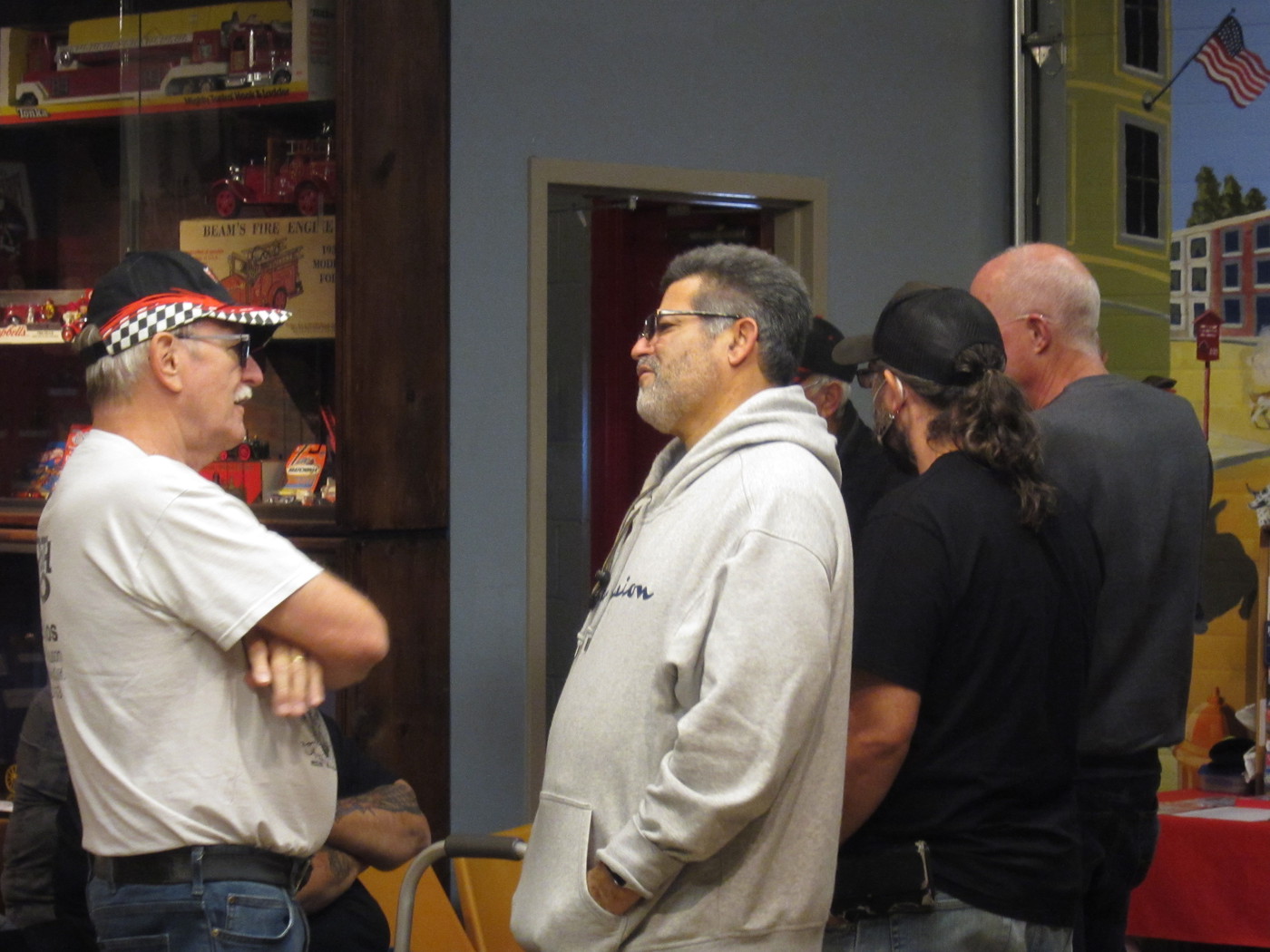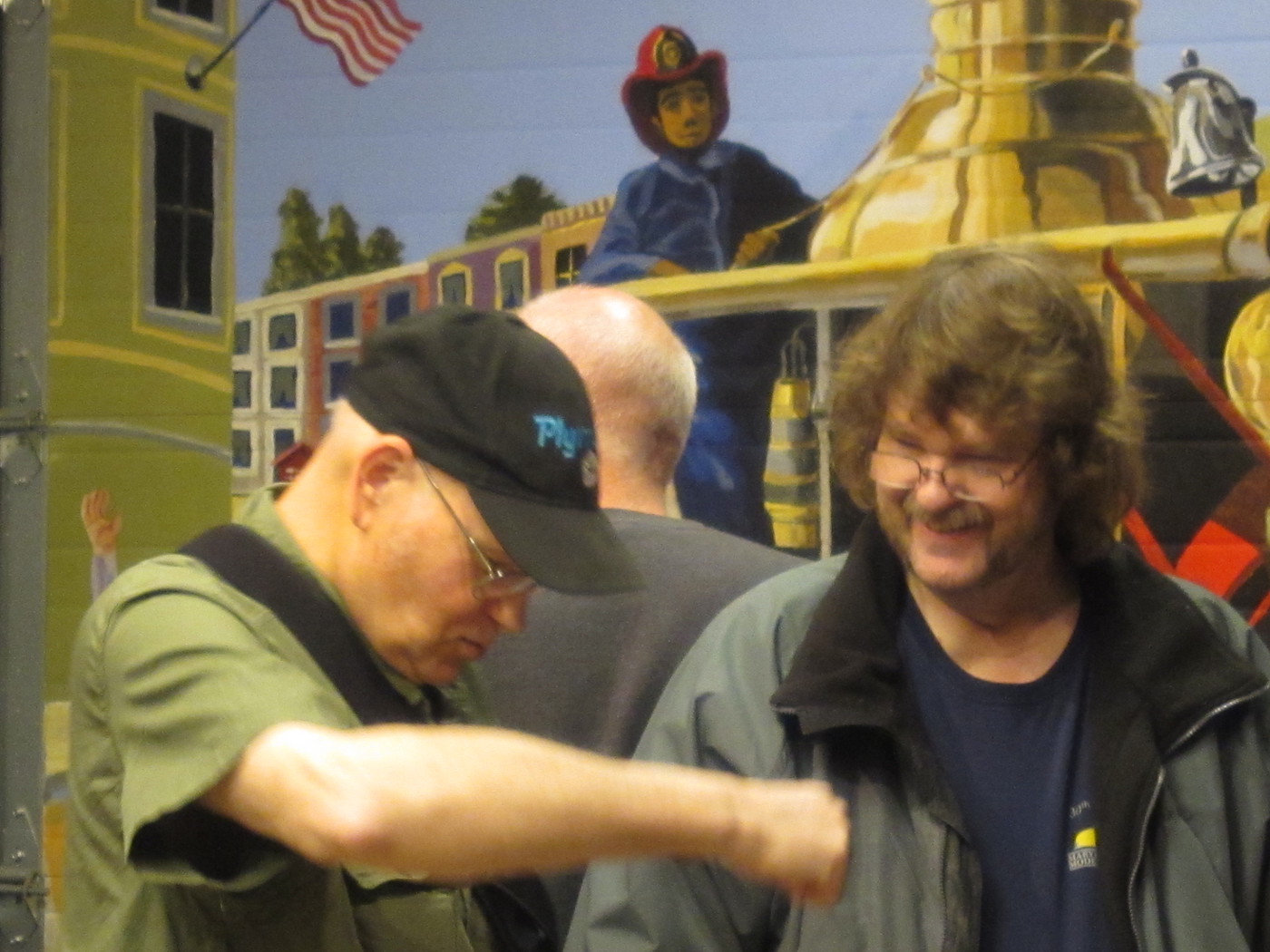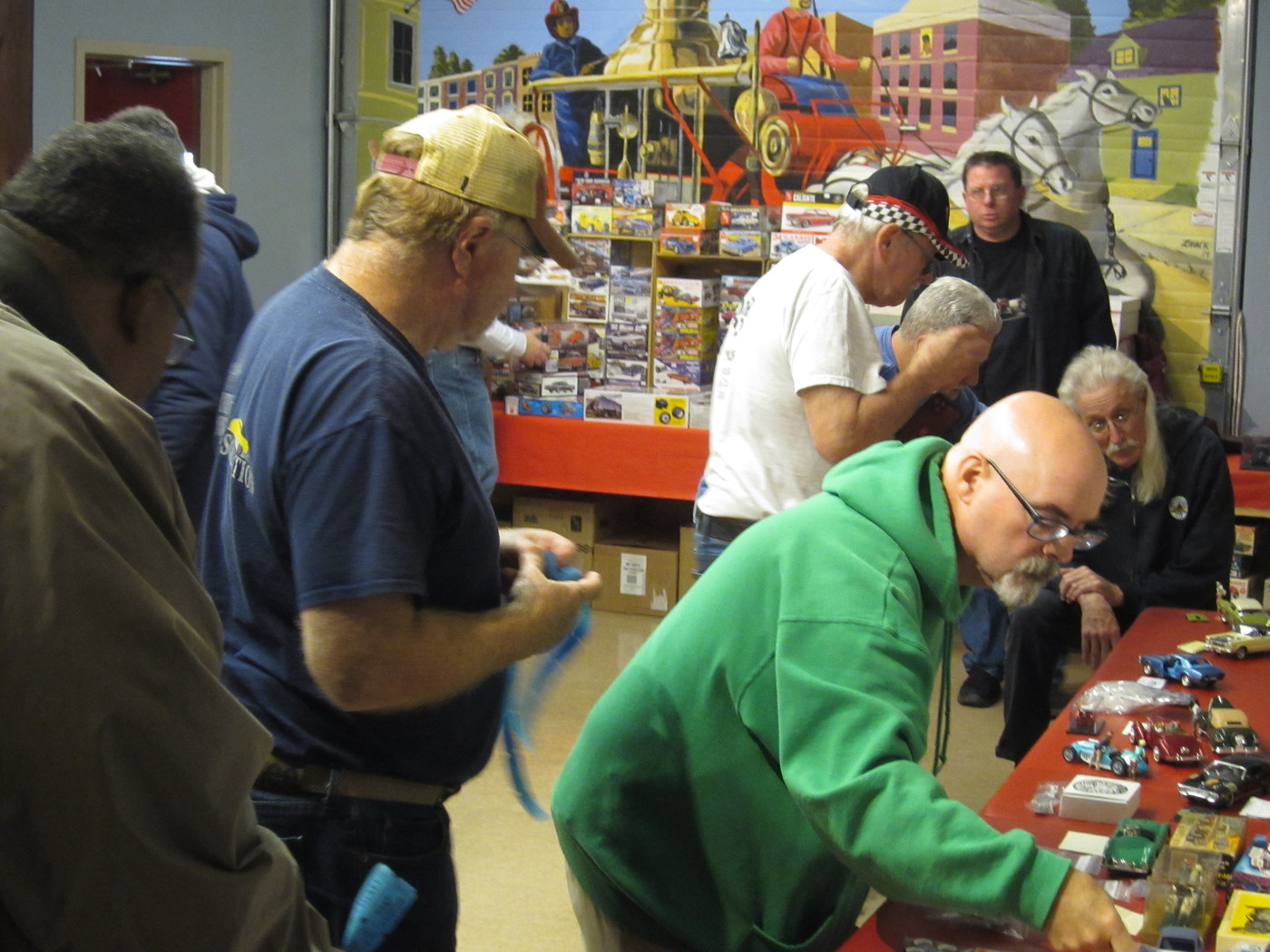 Since we still can't have shared food at the Fire Museum, we'll celebrate this month with some seasonal cookies and a bit of pumpkin pie for us car guys. Happy Thanksgiving!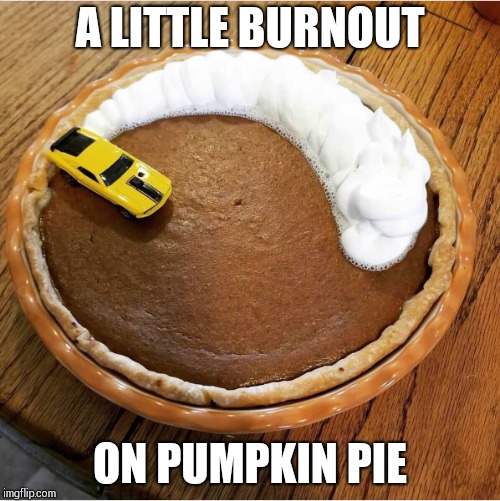 You can see even more photos of this month's meeting at:
https://public.fotki.com/partsbox/model-car-shows/2022-11-november-ma/ and
https://mamaprez.fotki.com/model-club-meetings-2022/mama-meeting-11192022/