Due to health and safety concerns regarding the possible spread of the Corona Virus the Greenbelt Community Center where we meet remains closed to events.
to MAMA's Diner, the official home of the Maryland Automotive Modelers' Association (MAMA), where we serve entrees of fun, friendship, and model cars.
MAMA's current leadership team is:
President: Tim Powers
Vice-President: Dave Toups
Treasurer: Matt Guilfoyle
Newsletter Editor: Tim Sickle

*** Show Update ***:The Super September Showdown Model Contest and Vendor Show presented by Len Feinberg and the Central Pennsylvania Model Car Club (CPMCC) planned for September 13th has been CANCELED.
Special Event Notice: The flyer below announces a special event at Ron Bradley's house (in his garage) in an attempt to whittle down the enormity of Gary Sutherlin's parts collection, while at the same time also attempting to move much of the "Pandemic Kits" Ron has received since March and been unable to sell. To schedule a block of time in which to peruse the parts tubs, call Ron at: 410-551-8960(H) or 410-916-3239 (C). Given the pandemic, "social distancing" needs and the amount of modelers expected, please be respectful and not overrun your time window. Masks and "social distancing" based on your comfort level.

A note from our Club President:
In the spirit of planning ahead, Gary Sutherlin had instructed his wife, Janet, to contact Ron Bradley for assistance with disposing of his model kit collection in the event of his passing. For the past few weeks Ron has graciously liquidated Gary's collection for Janet so that she can sell her Manassass, VA house, and move closer to her daughter. Ron transported to his garage and sold more than 4000 sealed, open but sealed inside, and resin kits along with parts and magazines. I am deeply grateful to Ron, and those who were there helping him (Howdy and Norman), for stepping up to carry out Gary's wishes, which benefitted both Janet and our car modeling community.
Shortly after our May Pseudo-Virtual meeting, the wonderful folks at Olson Brothers Resin Cast Model Parts sent us a sponsorship package for our 2021 Mid-Atlantic NNL show. Their generous donation included several popular Early Ford Bronco parts: Legendary winch/bumper set, high clearance quarters, Jumbo fender Flares, and roadster doors along with a set of fender skirts for the Foose Cadillac kit. The abundant generosity of Olson Brothers and all the other sponsors who've already contributed to our next show is a deeply appreciated virtue and MAMA is proud to be associated with these outstanding hobby supporters.
It is hobby-related businesses like those who have donated to our show's raffle (Automodello, Flock It!, Highlight Model Studio, Olson Brothers Resin Cast Model Parts, Pro-Tech Model Parts, and Ukrainian Scale Cars Production) and those who are planning to help us in time for our 2021 show that truly make our hobby better and more interesting. Please don't forget to let them know you appreciated what they do for our show and others shows/contests. And please, give them your patronage whenever you can to help assure that they will always be here with us. Don't forget: Automodello is giving MAMA members and friends a 10% discount off of any purchase from their ONE24 collection. If you've been thinking about buying one or more of their 1/24 scale models for your collection, purchase it at https://www.automodello.com/ and be sure to enter discount code "NNL2020" at check out and save.
The Tri-State Trifecta Model Car Show, Swap Meet, & Contest in New Jersey is still scheduled for September 26 and MAMA plans to present the 1955-1957 Vehicle theme award that Ron Bradley previously had built for our 2020 Mid-Atlantic NNL before we had to cancel it.
We encourage everyone to attend/participate in the Tri-State Trifecta event, assuming things are at least somewhat back to normal by then, proper social distancing is possible, and that the event is still held.
Please continue to follow the 15 Days to Slow the Spread guidelines issued by the White House. Please be safe and stay healthy. We want to see you there whenever we can have in-person meetings again.
Scenes from our fourth pseudo-virtual meeting in June:
This pseudo-virtual meeting thing has been working pretty well. Due to public health and safety concerns and Maryland State restrictions on gatherings aimed at preventing the potential spread of the Corona Virus the Greenbelt Community Center where we meet has been closed since March. We had really good results over the previous three months with members and friends sending us photos and descriptions of the model cars they would have brought if we'd had physical meetings, or just any model cars or projects they wanted to share. For June we're doing it again.
Howdy Hoffman starts us off this time around with three cars he's been working on, a Nova and two Thunderbirds. He built the yellow T-Bird to match the '66 that belonged to his dad.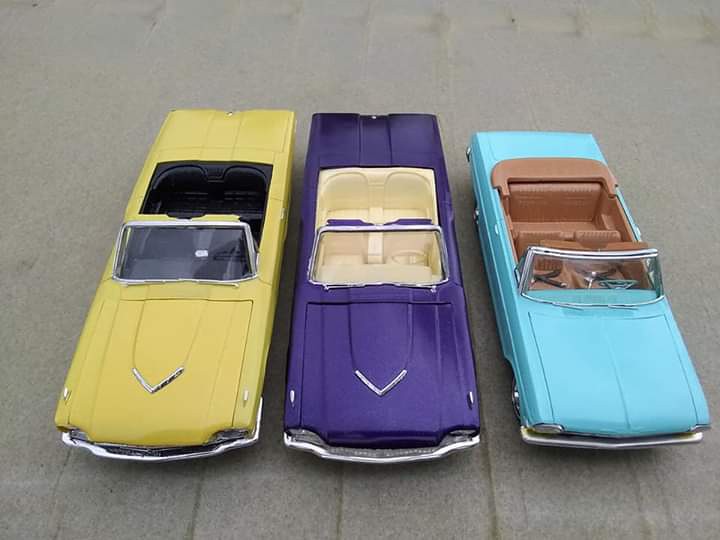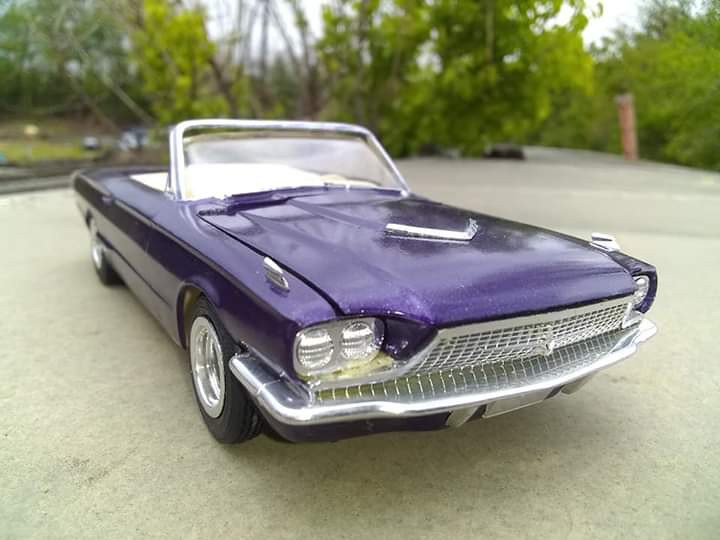 Howdy followed that triad with this Sublime Green 1971 Plymouth Roadrunner. This was a used model that he brought back to life. He says the body was so rough that it had to be wet sanded and primered three times before he shot five coats of lacquer and three top coats of clear.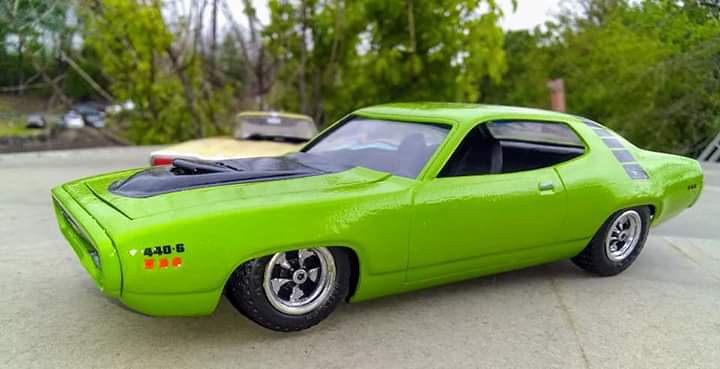 Howdy wrapped up with a blast from the past. He's had this MPC Don Grotheer '71 Cuda since 1971!

Rich Wilson put his creative touch to this sharp-looking customized 1965 Buick Riviera.

Next, Rich doubled-down with this pair of Oldsmobiles. The pair comprises a 1983 Hurst/Olds and a Bill Porterfield designed 1985 442 FE3-X Concept/Show Car. Rich mades changes to the engine and seats toward improving the accuracy of the kit.

Lyle Willits finished up this cool Icy Blue 1964 Chebrolet El Camino. He kept it a simple build, using a '65 El Camino interior, 348 engine from the AMT 1957 Chevy, wheels from the AMT 1955 Nomad, a little detail under the hood and Testors paint buried under Duplicolor Clear. Lyle says bulding this easy screw-bottom kit made him feel like a kid again and now he seems to be in the mood to build some of the obscure kits that he's had on the shelves for 35 to 45 years.

Our model car building machine, Paul Lee, completed seven models this month. They are: 1954 Chevrolet drag racer, 1953 Chevrolet Bel-Air, 1966 Ford Thunderbird, 1970 Chevrolet Chevelle, WWII Jeep, 1929 Ford Pickup, and 1959 Impala.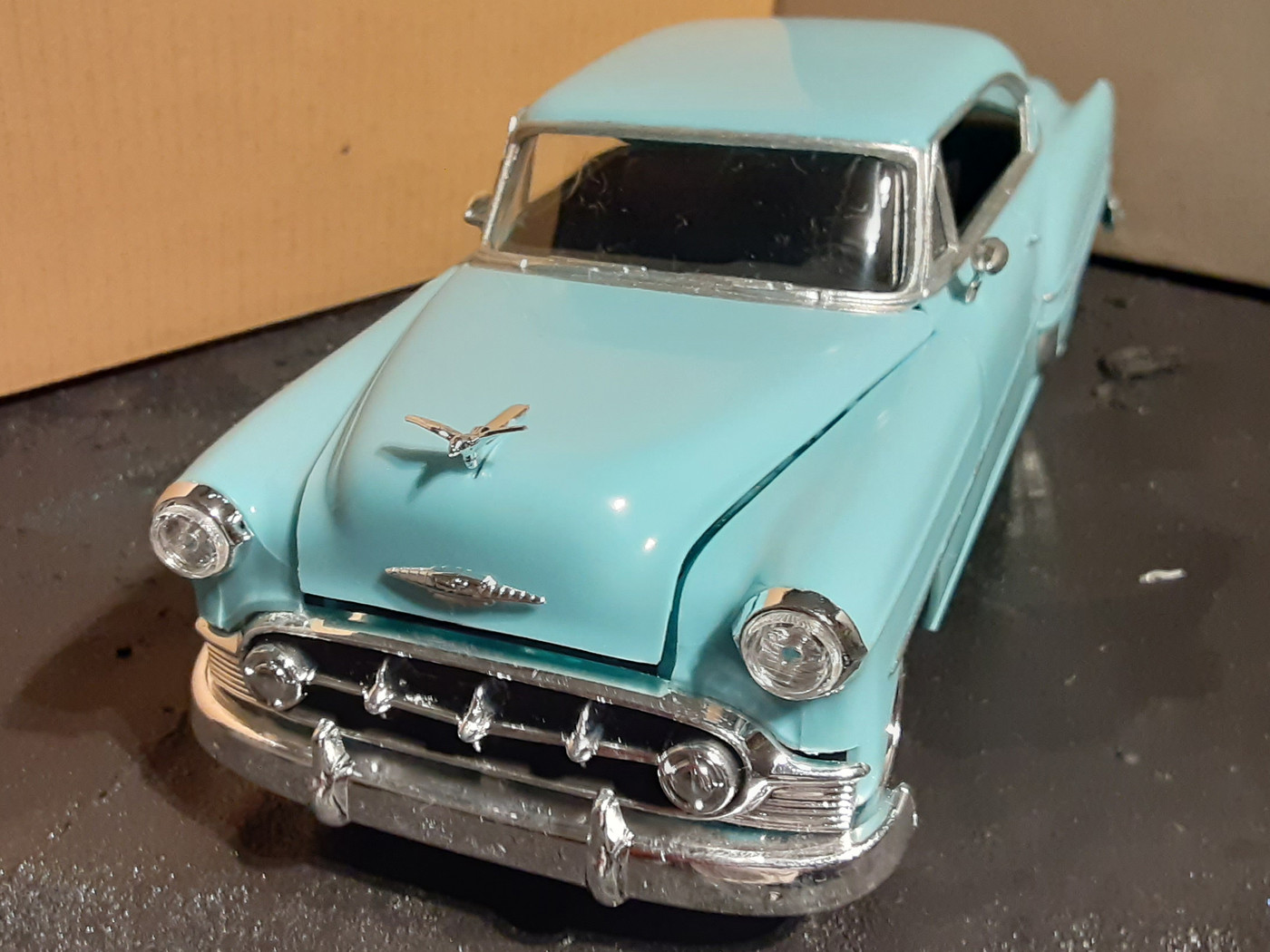 Ruddy Hernandez built this American Graffitti inspired 1932 Ford coupe. His build combines parts from Revell's '32 Ford 5-Window Coupe kit and the AMT American Graffiti '32 Deuce Coupe kit. Ruddy opted to go with a stock height roof rather than a chopped top as it wasn't intended to be a replica of Milner's car.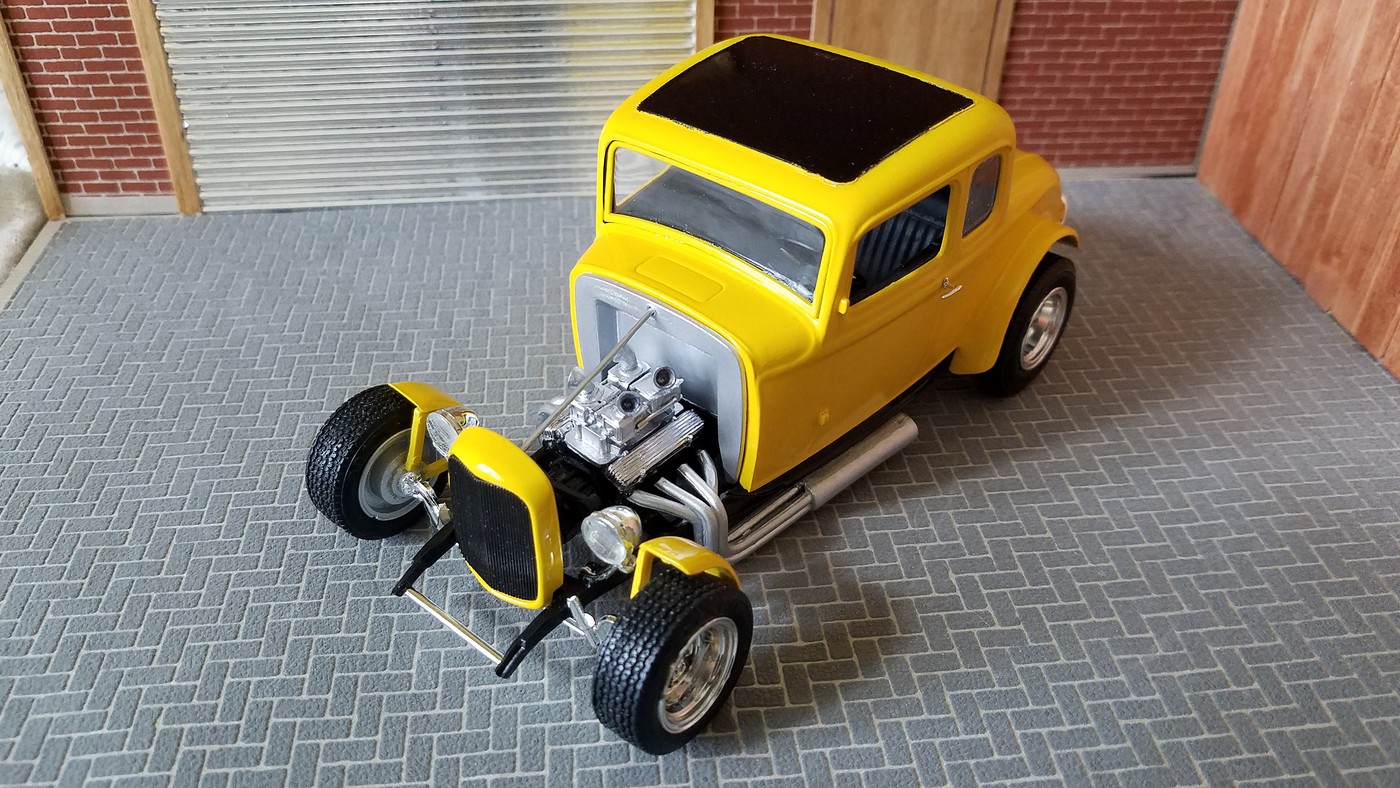 Jim Maness finished this two-toned1955 Chevrolet Bel-Air with a modern take on the classic Salmon and Gray paint scheme.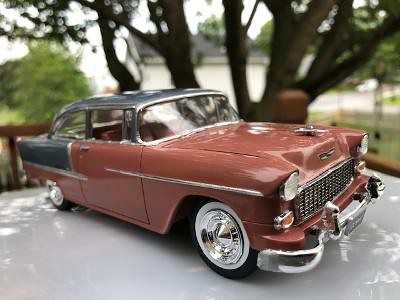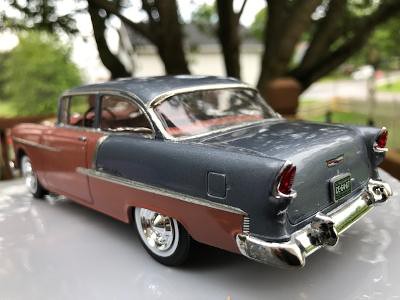 Tom Jerow sent us photos of two newly finished builds. First is this 1/12 scale Kawasaki Ninga ZX-R2 MOTOGP bike from Tamiya. Tom says it is an Out of the box build with some small paint and decal changes. Rather than go with the stock colors, Tom painted the upper fairing and seat with Tamiya Metallic Green. He sprayed Tamiya Bright Red and White on the lower fairing, and Vallejo Aluminium on the fuel tank cover. Along with kit decals, he also added miscellaneous decals from other kits to the lower fairing.

For his second build Tom sent us this 1965 Plymouth A/FX altered wheelbase race car. Starting with a Moebius kit, he built it box stock except for the Sox and Martin paint scheme and SLIXX decals. Paints are all Tamiya and include Brillant Blue over-coated with Clear Blue, Bright Red, and White.

Rex Turner completed this 1972 Mustang Sprint Sportsroof this month. He added a few extra parts (oval mufflers and a stock 351 Cleveland engine that was not in the kit). Rex says he hopes to see everyone in July.So do we, Rex!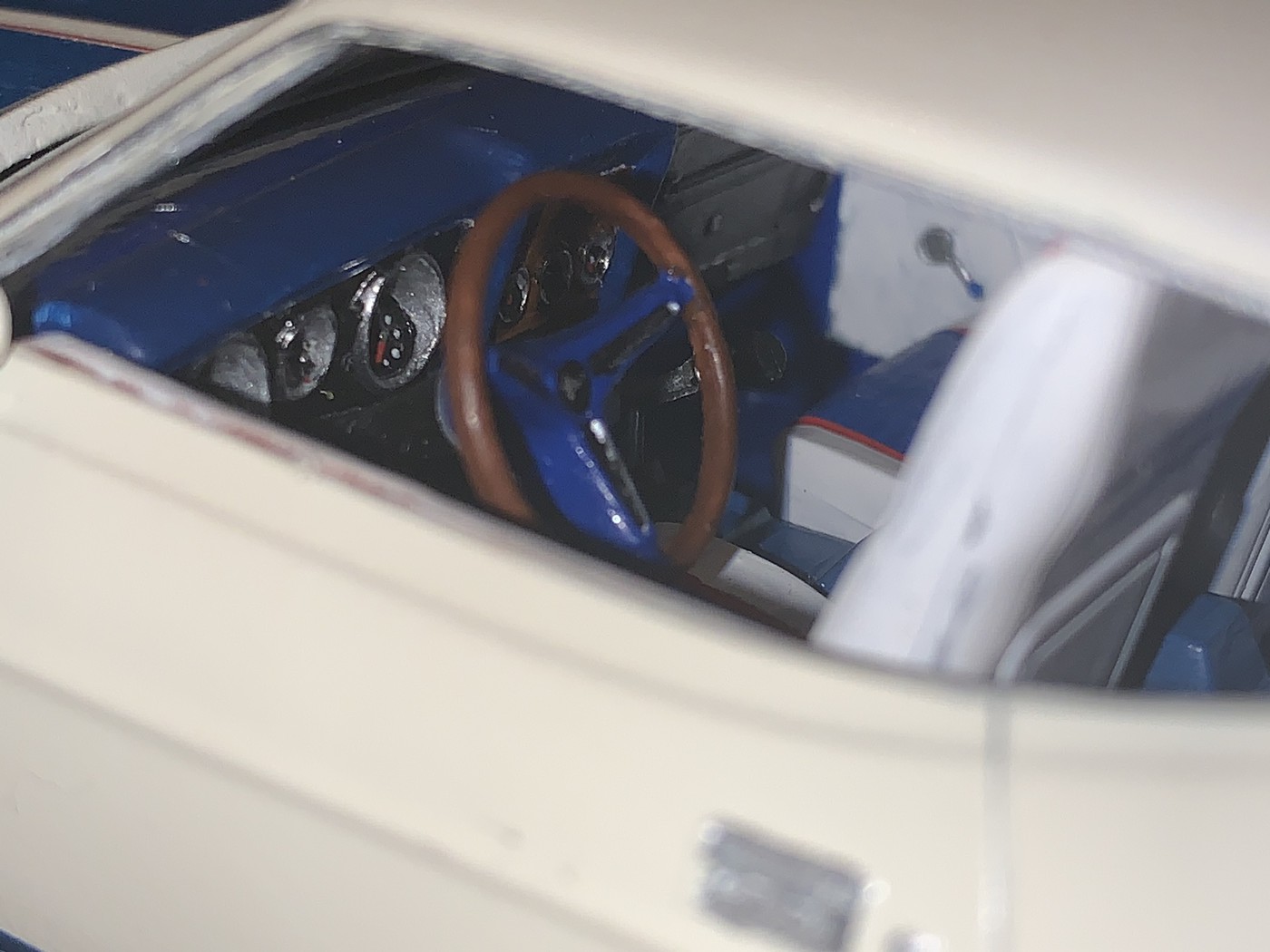 Brian Schindler shared two models with us this month, an ongoing custom project and a finished replica. He calls the ongoing project NOVACAM. It was inspired by a 1969 Nova with a twist that Steve Strope's crew at Pure Vision is building for comedian, podcast host, and mixed martial arts color commentator Joe Rogan. Brian was really taken by the Camaro side panels that Pure Vision had blended in to the Nova's fenders and doors. Here's a picture of Brian's inspiration.


Brian set to work building his own interpretation of the Rogan car using a 1969 Nova and a 1969 Camaro, both from Revell, that he'd bought for parts at a MAMA club meeting. He removed the side panels from the Camaro and grafted them directly to the Nova. He pitched them just a tad lower to give the illusion of the car being lowered without having to adjust the suspension. The car is shown mocked up here with a set of "Z's Wheelz!" by Steven Zimmerman of Meadville, Pennsylvania.


Brian did a lot of attaching plastic stock, shaping, filling, sanding, priming, fixing the rough spots, priming, more sanding, more priming and... well, you get the picture! After the final primer, fixing a pinhole in the front 1/4 panel, and a bit of light wet sanding, the body is looking good. He left the Camaro gills in the rear quarter panels to provide a subtle hint as to what he did to the body so when the average person looks at the finished model and wonders "why does this look different?", they'll have some help figuring it out.


Because the fenders are a bit flared out now where the bumpers meet the body, Brian had to adjust them. He really disliked the overall shape and bulkiness of the bumpers. After an overnight soaking in Windex (along with the grille and hood trim) to remove the chrome, he made quick work of reshaping and smoothing the bumpers to bring them in tighter to the body and remove the sharp curves. He also smoothed and tapered the grille just a touch at outer edges. The bumpers, grille, and hood trim will all be color matched to the body.


He's already finished up the interior using Ferrari seats with "SS" badging and a flocked floor. Because he was out of semi-gloss paint (both brush and spray) and feeling impatient since the local hobby shops are all pandemically closed, he used Krylon black semi-gloss that he purchased at Home Depot.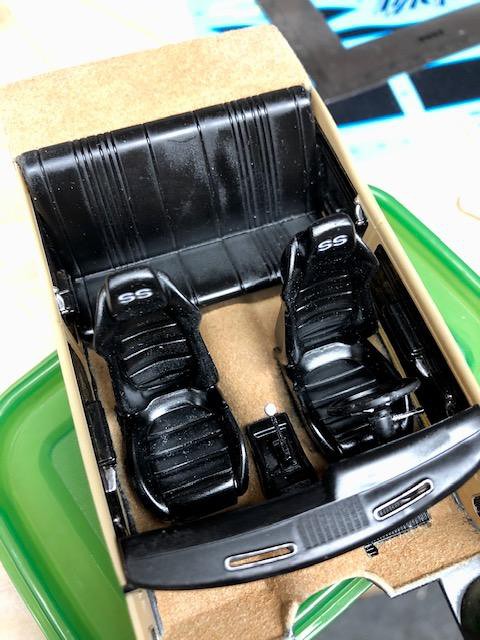 The finished replica that Brian shared represents his brother's 2005 Corvette Convertible. He kitbashed a curbside 2010 Corvette convertible kit with a Revell 2005 Corvette Hardtop to build a C6 generation convertible with an opening hood and engine detail. He removed the greenhouse from the hardtop body and replaced it with the convertible deck/"waterfall" from the convertible. Here's the inspiration:


And here's Brian's work:

Next up are two models that Don Stone recently finished for this month's virtual meeting, although he does say he's looking forward to a real meeting. First is a project build. Don normally just uses the MPC Southern Stocker series of kits for their chassis, but he wanted to make something out of the Pontiac Grand Prix kit body this time. He trimmed the wheel openings so they looked more realisitc and made a few other tweaks. He had two cans of Testors purple that he had gotten dirt cheap on clearance so he used them instead of his favored Tamiya paint. He top-coated it in Krylon Crystal Clear straight out of the can based on an on-line forum suggestion. Used aftermarket "no name" Marty Robbins decals, Pro Tech hood pins, and Slixx grille decals. Don says that overall it was a good experiment and that he learned a few things.

Next from Don is the first non-race car build he's done in a while. He remembers building the AMT 1965 El Camino as a kid and set out to raise the bar this time around. He said that was not an easy goal to acheive with a 35-year old model design but he feels the finished build looks okay from a distance. He sparyed it with Testors paint that he had leftover from a race car build. Don says he chose the green color scheme because that was the first reference photo he pulled up. His applied his signature touch of metal tail pipes out the back. (Don jokes, don't look underneath!!)

Lyle Willits came back a couple weeks later with another completed build. Stating that he seems to have a new fascination with the 40 year old kits on his shelves, he built this 1977 Camaro Rally Sport over the course of two weeks.The kit itself didn't impress Lyle as he feels it was a very poor effort from AMT and he thinks it must have been based on a previously released kit. He said it came with a ONE page instruction sheet (which he didn't really need) that basically told the builder where to break off this thing or cut down that thing. Surprisingly, only one of the stripe decals came apart in 3 places. With more patience than he knew he had, he got the pieces lined up on the model. All the paint, from primer to the polished clear is Duplicolor. Other than the addition of red line tires from a recently released AMT parts pack, this build is box stock. As the kit had no mirrors, he used a pair from an AMT 1986 El Camino kit. Lyle says, "It came out okay, I guess, but basically,it's a 10 footer." It looks much better than that.

Steve Buter checked in with a couple of newly finished projects. First is a slingshot dragster from an AMT Double Dragster kit that he bought built from Rich Meany. He brought it back to life with a Cadillac mill and a considerable amount of scratchbuilding.
Next, Steve shared his take on a 16-piece AMT Snapfast Slammers "Street Heat" Chrysler Concorde curbsde kit. In tribute to a couple of classic TV shows, he converted it into a Gotham City police cruiser (Batman) and gave it number 54 (Car 54 where are you?) He accessorized his patrol car with an "Officer Patty Patrol" figure from Jimmy Flintstone Studios.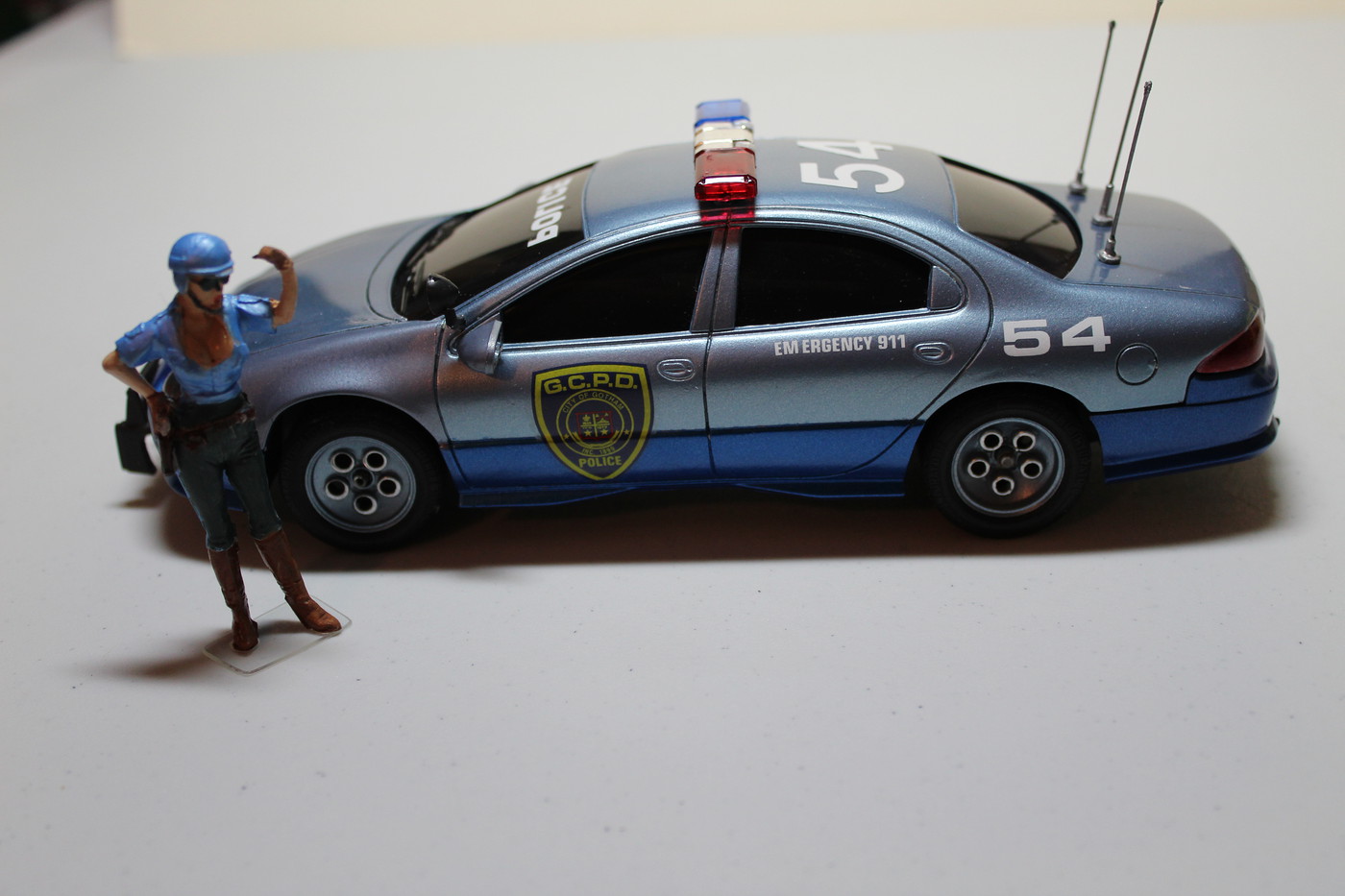 And now for something completely different. For a change of pace Howard Weinstein built this Glencoe re-issue of a classic late-1950s-vintage ITC/Palmer Brontosaurus kit. Talk about your antique transportation! This gently used AWD heavy hauler is being offered for sale by none other than Fred Flintstone. It features dangling fuzzy dice and a Buick-style grinning grille up front. Ever the honest seller, Fred does admit that it needs some work. Howard first built ones of these kits as a kid in the early '60s and says it was fun to build one again today using skills and methods learned from building car models. These include using dry-brushing techniques presented in an October 1996 Scale Auto how-to article. Howard detailed his build by adding real rocks, a twig "log," a fish-pond, and a Photoshopped graphic from the 1964-65 NY World's Fair Sinclair Oil Dinoland exhibit to the display base.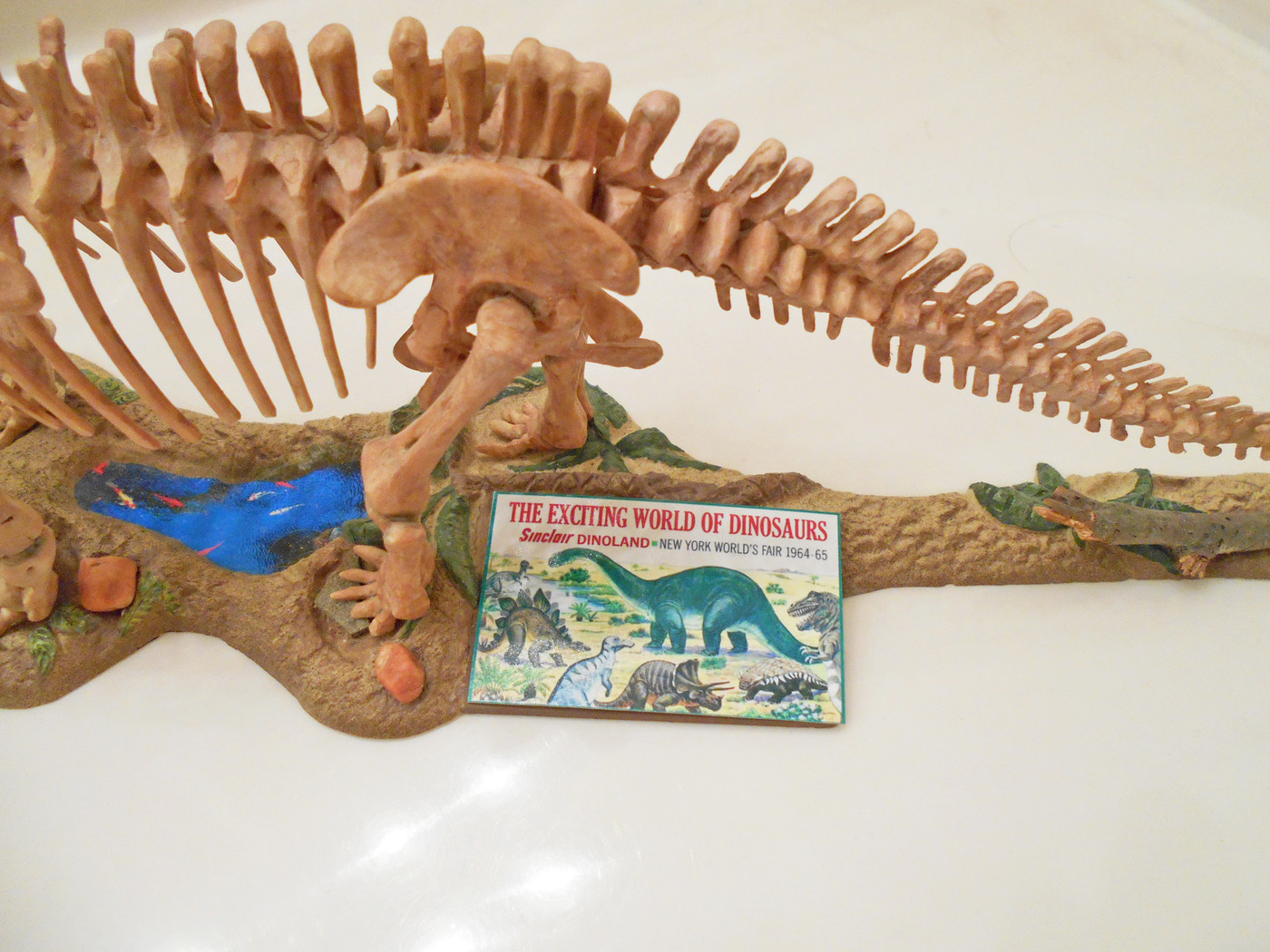 Did you remember to enjoy some cookies on June 20th?