Due to health and safety concerns regarding the possible spread of the Corona Virus the Greenbelt Community Center where we meet remains closed to events through May 31.
to MAMA's Diner, the official home of the Maryland Automotive Modelers' Association (MAMA), where we serve entrees of fun, friendship, and model cars.
MAMA's current leadership team is:
President: Tim Powers
Vice-President: Dave Toups
Treasurer: Matt Guilfoyle
Newsletter Editor: Tim Sickle

A note from our Club President:
As we've noted previously on this site and in our mass emails to members, the NNL Philly, NNL East, and Diversified Scalerz have combined their shows into one big Tri-State Trifecta Model Car Show, Swap Meet, & Contest in New Jersey on September 26. We've confirmed that MAMA will be there to present the 1955-1957 Vehicle theme award that Ron Bradley previously had built for our 2020 Mid-Atlantic NNL before we had to cancel it. MAMA thanks the Tri-State Scale Model Car Club, Philly Area Car Modelers, and Diversified Scalerz Model Car Club for this show of unity in inviting our participation as we all continue dealing with this still evolving national COVID-19 crisis.
Don't forget that the Super September Showdown Model Contest and Vendor Show presented by Len Feinberg and the Central Pennsylvania Model Car Club (CPMCC) is still planned for September 13th.
We encourage everyone to attend/participate in the Super September Showdown and the Tri-State Trifecta events, assuming things are back to normal by then and that those events are still held.
We continue to recommend that everyone follow the 15 Days to Slow the Spread guidelines issued by the White House. Please be safe and stay healthy. We want to see you there when we can have meetings again.
Scenes from our third pseudo-virtual meeting in May:
That's right, since we couldn't have a meeting again this month, we're doing the pseudo-virtual meeting thing again. Due to public health and safety concerns and Maryland State restrictions on gatherings aimed at preventing the potential spread of the Corona Virus the Greenbelt Community Center where we meet was closed. We had really good results over the past two months with members and friends sending us photos and descriptions of the model cars they would have brought if we'd had physical meetings, or just any model cars or projects they wanted to share. For May we're doing it again.
Paul Lee was first throught the virtual door with this build of the MPC rendition of Ed Roth's Mail Box Chopper Trike just after our last pseudo-virtual meeting.

Mr. Paul followed up a few days later with these 13 finished builds.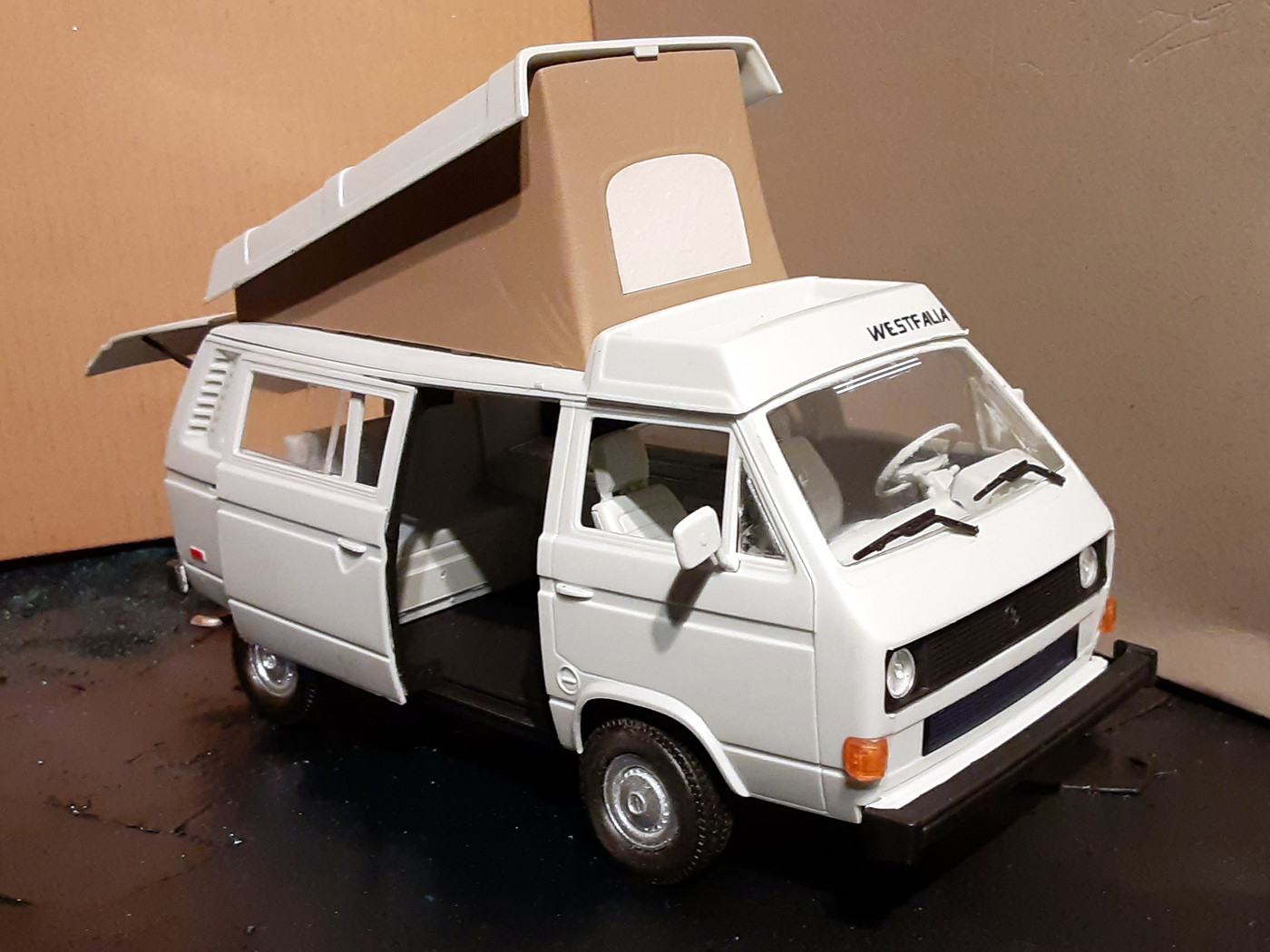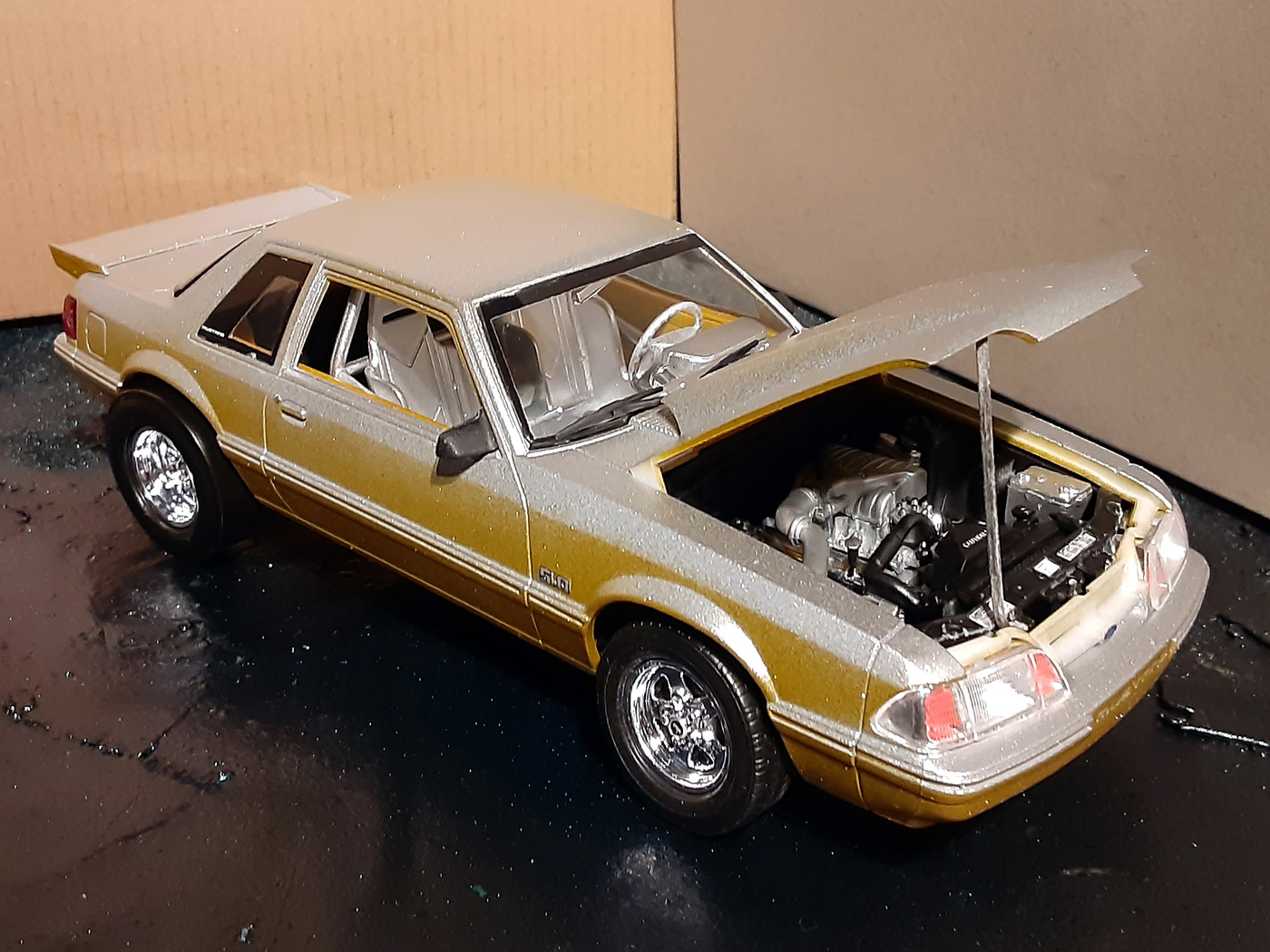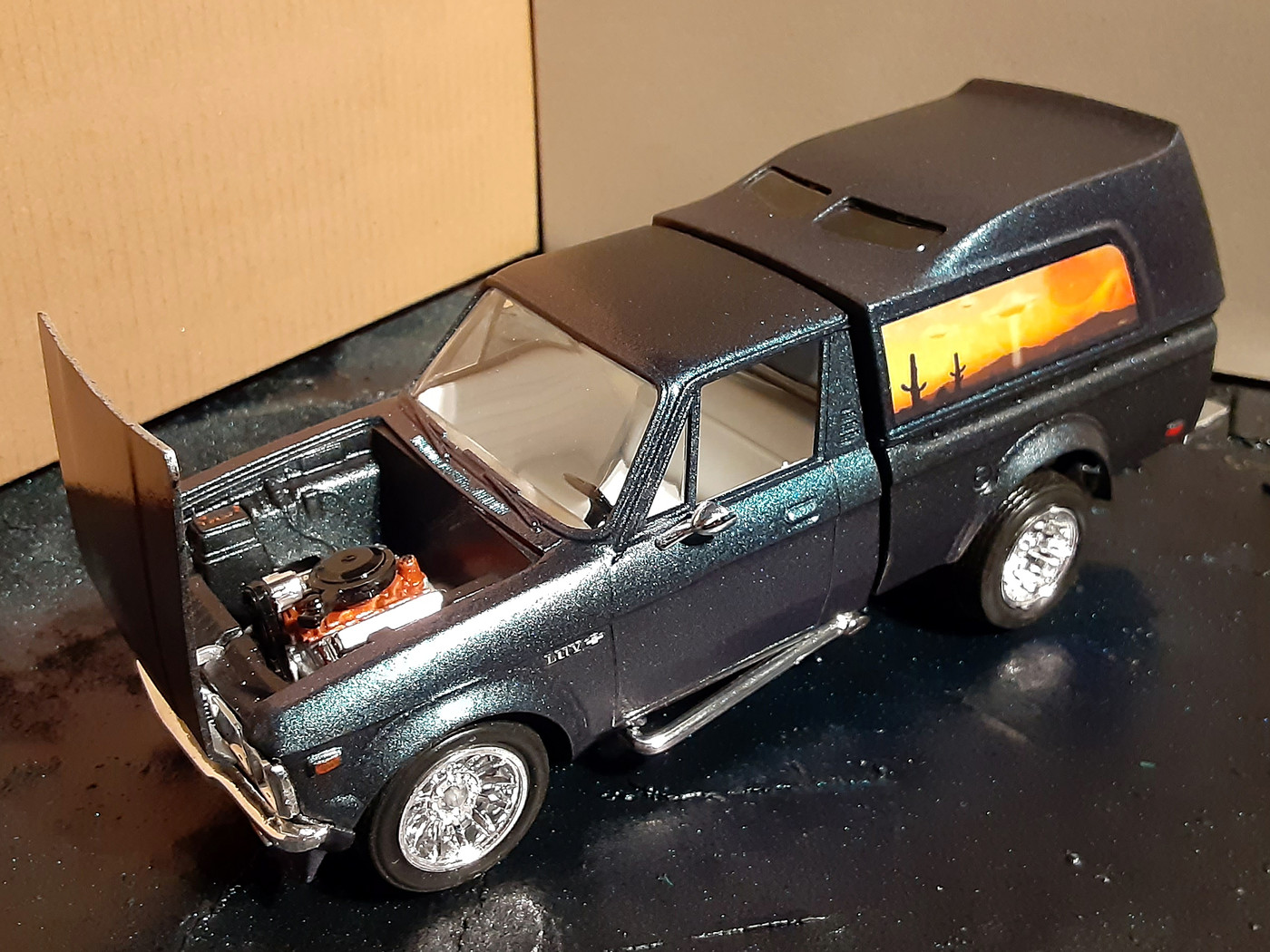 Tom Jerow completed an out of the box build of the SOGO KEIBI version of Tamiya's Porsche 911 GT2. He shot Tamiya Bright Red and Bright Silver paints straight from the rattle can and applied Flying Lizard Motorsports livery decals from an unidentified aftermarket supplier.

Here's a selection of Mustang models that Rex Turner would have entered for the 1970 theme category of the 2020 Mid-Atlantic NNL Model Car Show. He built the convertible last year and the other ones go back 2-3 decades.

JC Reckner has made more good progress on his Esci Fiat 131 Abarth replica of the Jean-Claude (JC) Andruet rally car that raced in Monte Carlo in 1977 and the gravel spec version of the car that won San Remo in 1980. In the first image you can see the modified exhaust and rear axle assembly. The next two photos show the ride hight difference between the cars and some of the wheel options he's evaluating for use on each version. The last two images show the wonderfully detailed dashboards for each car. You can follow his build on-line at: http://www.modelcarsmag.com/forums/topic/149970-fiat-131-abarth/. His detail work will amaze you.

Rex Turner came back with this Special-Edition Mustang Sprint he's started working on. Ford released the all-American red, white, and blue Sprint package for the Mustang, Maverick, and Pinto to celebrate the 1972 Summer Olympics.

Ruddy Hernandez creatively combined resin parts from the Replica and Miniatures Company of Maryland with gems from his parts box to bring this inspired phantom 1929 Edsel Highboy to life.

Here's a blast from the past by Rick Martin. Built back in the days of the Novascale model car club this 1948 Plymouth was named "Rocky" (after Plymouth Rock, not Mr. Balboa of the movie Rocky.) It's a resin body, built on a 1941 Plymouth pro-streeted frame. A blown 392 ci Chrysler hemi powers it. In Pro-Street fashion, it has a narrowed rear, billet wheels, scratch built interior, suicide doors, and a hinged trunk. Paint is Competition Orange with lots of pearl clearcoat.

A couple weeks ago Lyle Willits decided to build something simple, without all the intricate scratch building, modifying, kit bashing, etc that he usually does. He pulled an old Monogram Early Iron Series 1930 Ford Touring Phaeton kit from the 1973 era off the shelf, polished the black plastic fenders, and painted the body Duplicolor Bright Red. The big modification was adding wheels and tires from the newer Revell 1929 roadster kit. He also added some detail to the ancient tri-carbed 283 Chevy engine and called it done. He says this build was fun.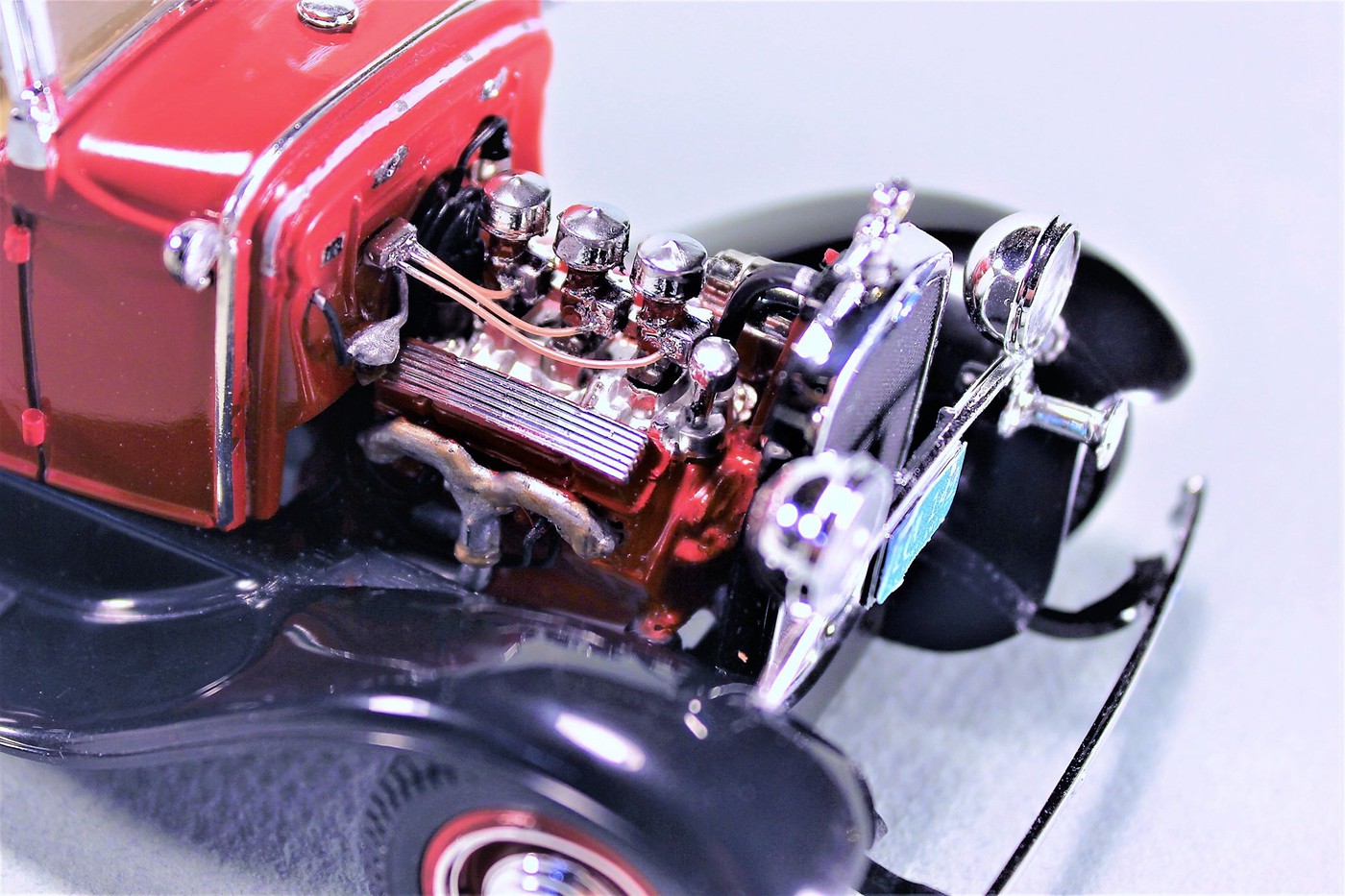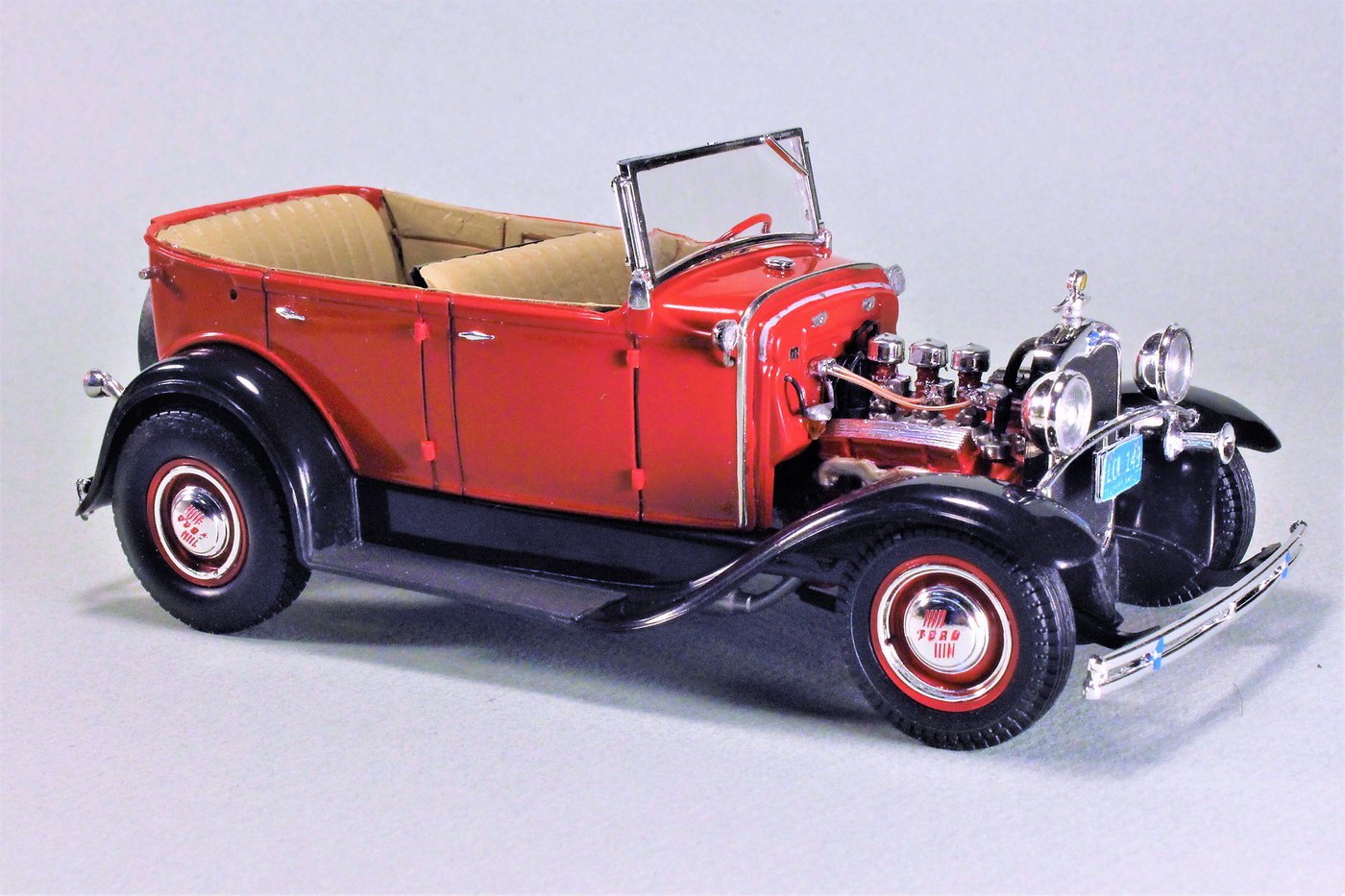 Bobby Reyes built this curvaceous 2017 AKKA ASP Mercedes Benz AMG GT3 kit from Tamiya. He painted it with Gravity Colors Sofina Blue and applied Sofina livery decals. The actual car was driven by Edoardo Mortara, Michael Meadows, and Raffaele Marciello at the 24 hours of Spa, where it had high potential to win, but placed third. Bobby says he is planning to bring this beauty to the next meeting he can attend.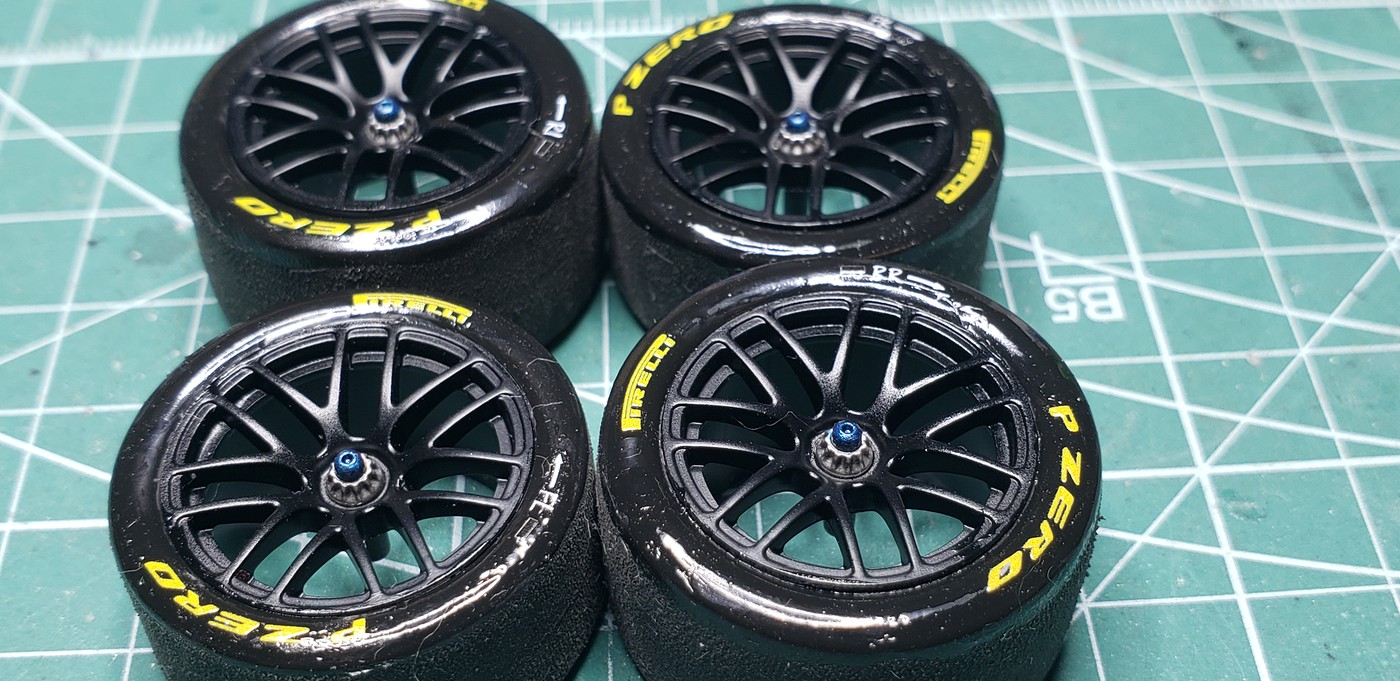 Lyle Wilits came back with this accurately detailed replica that honors the 1961 Ford Galaxie he drove in his high school years. He kitbashed an old promo-style AMT 1961 Ford kit with the chassis and underhood detail from a newer, detailed AMT 1960 Ford kit and added an AMT 1957 Ford kit's Y-Block engine to build it. You can read the whole story on this car in the April 2020 issue of MAMASez, our club newsletter.

Mike DuLaney, whose career in Building Information Modeling (BIM) took him from Maryland to Colorado back in 2015, built this 1931 Packard Phaeton from a "Scale Models" reissue of an old Hubley die-cast metal kit. The first two images show the cleaned up frame and the frame as it came, of which Mike commented, "It had enough metal flash on it to start my own razor blade company!" The third image shows Mike's intricate work in capturing the interior stich patterns.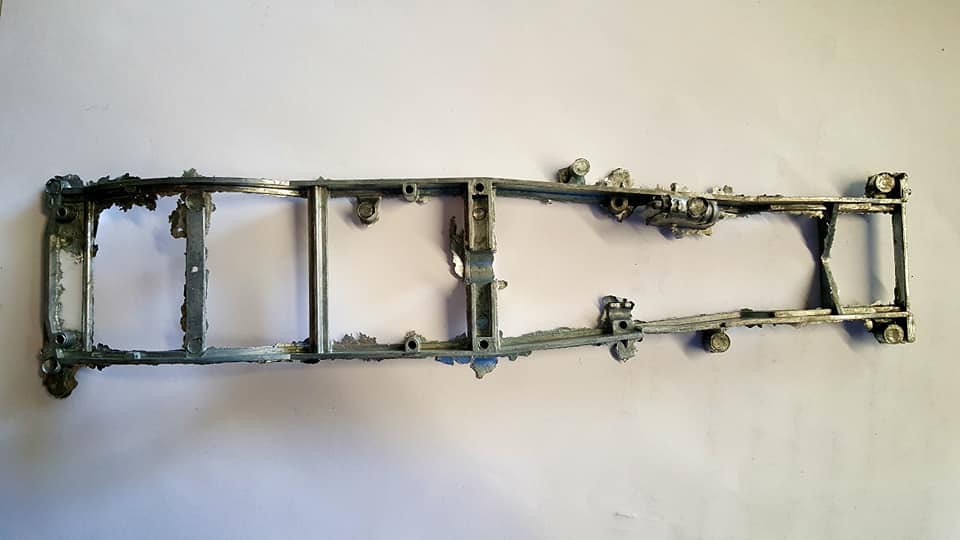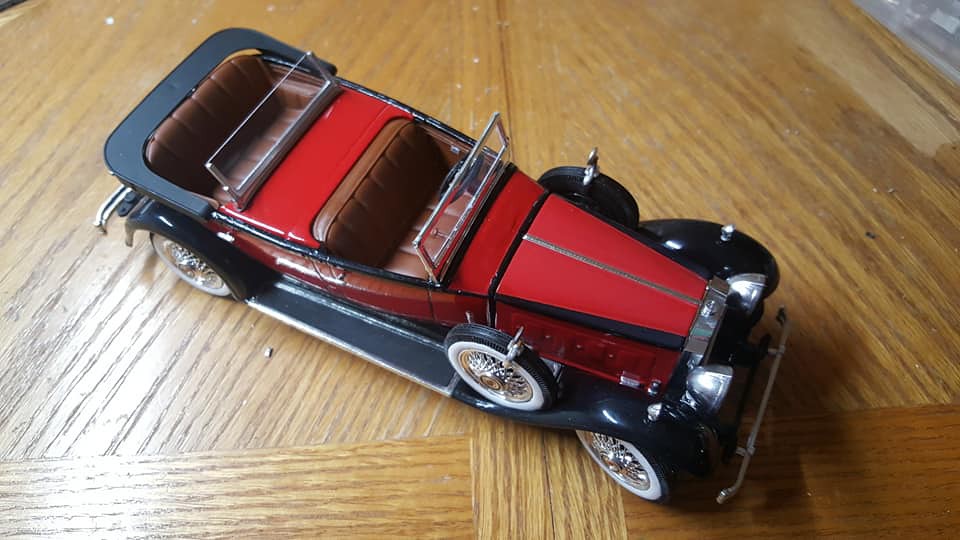 We'll wrap it up this month with three fine builds from Don Strong. First up is this 1962 Plymouth modifed racer based on a chassis from the reissued MPC/Model King/AMT modified kits. The body was something that had been thrown in with a purchase of several stock car kits that Don made at the MAMA Mid-Atlantic NNL show four or five years ago. Don says the chassis is fairly basic, but builds up nice. The tires and wheels are aftermarket items.

Second from Don is this 1981 Chevrolet Malibu modified, which he feels is one of his better efforts. It features a resin body over an MPC Southern Stocker chassis. The wheels and tires are aftermarket items. The markings are the main decals from the sheet included with 20th anniversary edition of Scale Auto magazine and the bumpers are coated with Alclad.

Lastly from Don is this "phantom" version of a Jack Bland Late Model Sportsman team as it might have appeared at theBeltsville speedway in the '70s. The Nova body, number, and paint scheme are based on Bland's, but he never had a hauler like this. The hauler is a GMC tow truck kit with an extended chassis. The ramp body is from the Model King ramp/camper kit reissue. Don coverted the ramp from two wheel openings to one and built the tire rack from floral wire and plastic. The Nova racer is a resin body over an MPC Southern Stocker chassis with aftermarket tires and wheels.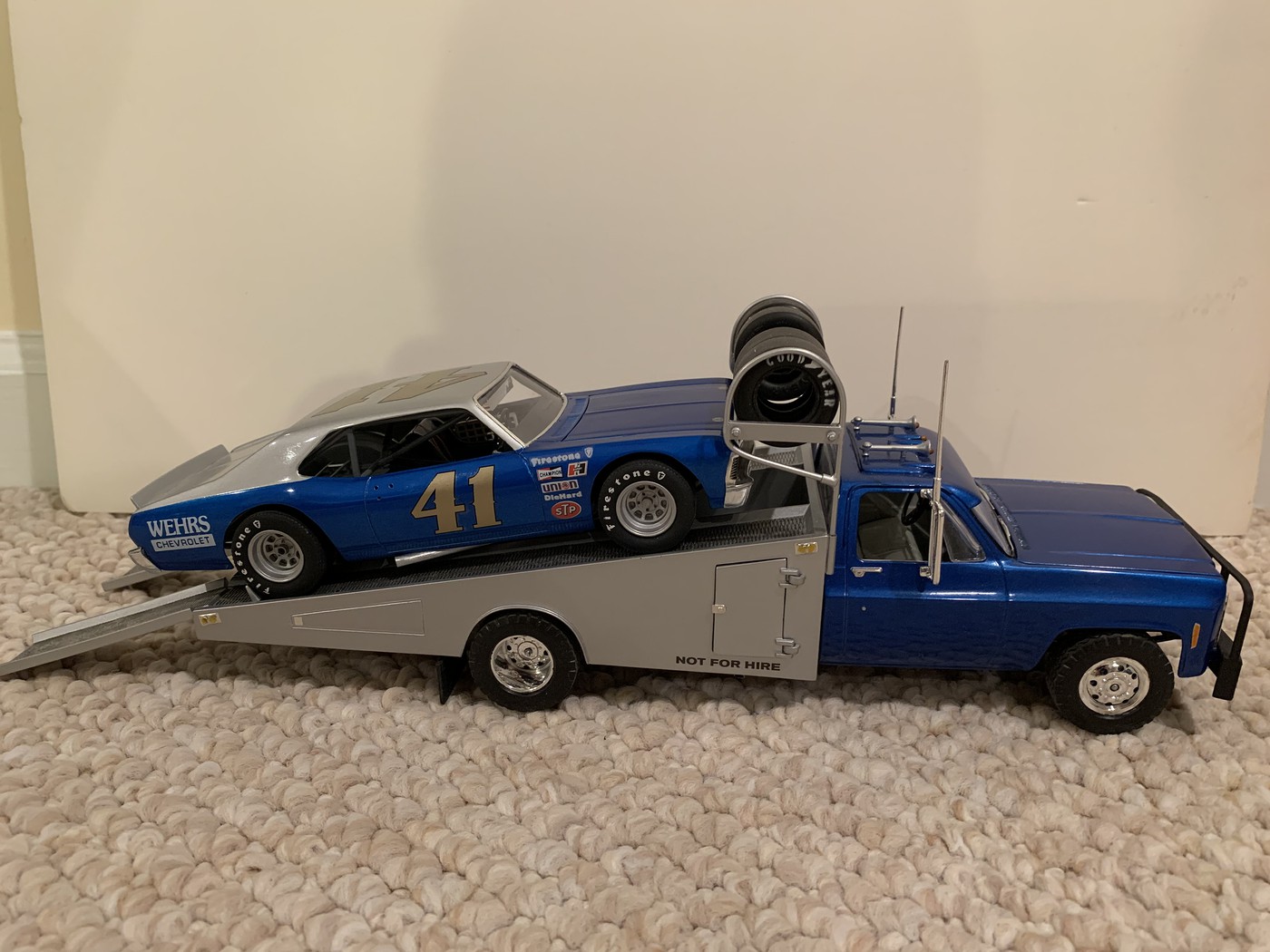 We hope you all remembered to eat some cookies on May 16th. Here are some oatmeal raisin cookies for Brad!

If you'd like to see more photos of our pseudo-virtualized May meeting, well there just ain't no more. Sorry.