Due to health and safety concerns regarding the possible spread of the Corona Virus the Greenbelt Community Center where we meet remains closed to meetings and events.
to MAMA's Diner, the official home of the Maryland Automotive Modelers' Association (MAMA), where we serve entrees of fun, friendship, and model cars.
MAMA's current leadership team is:
President: Tim Powers
Vice-President: Dave Toups
Treasurer: Matt Guilfoyle
Newsletter Editor: Tim Sickle

Notes from the MAMA President:
Did you get your Fauci Ouchie? I've heard from some members who have gotten their COVID vaccinations and the worst reaction reported so far has been one member feeling like he had a bad cold for one day, and then taking a couple of days to recover. He said it was, "certainly manageable." He also added that going by our general age, we MAMA guys are a prime group who should get that vaccine. Besides, when you get vaccinated, they give you a neat sticker (mine looked like the one below) and what model car builder doesn't like stickers?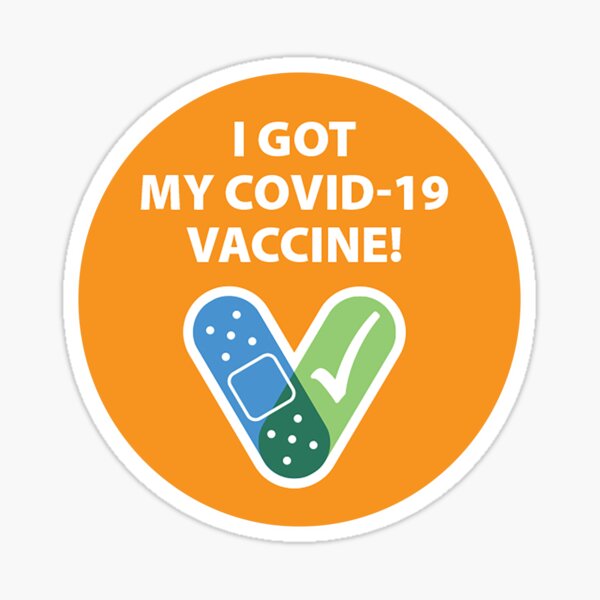 Vaccination eligebility is opening up further: As of April 6, all Marylanders 16+ are eligible to receive the vaccination at a Mass Vax site and as of April 12, all Marylanders 16+ are eligible to receive the vaccination at all locations including pharmacies.
As I've said previously, I understand that there are medical or religious reasons for which people might opt against getting vaccinated. But I still hope that all of us will be able to get protected. And as we're hearing, reactions, if any are generally pretty mild (e.g., chills and lack of energy). And remember, the great majority of those who have received the vaccine had no reaction whatsoever.
Like I said last month, as more and more of us get the vaccine, the sooner facilities, like Greenbelt will be able to reopen for in-person meetings. And who knows, maybe one day later this year or next, we'll even be able to meet in person without masks?
And as before, if you don't know where to start in trying to register for your COVID-19 vaccines, here are some resources to try:
Vaccine Hunters, MD Vaccination Locations, Maryland MASSVAX, CVS Pharmacy, Giant Food, Rite Aid, Safeway/Albertson's, Walgreens, Walmart
And more MASSVAX sites are opening up. Ways to register include:
Whenever we can resume in-person meetings, I want to see you there. Please take care and stay healthy.
Scenes from our fourteenth pseudo-virtual meeting in April:
Due to public health and safety concerns and Maryland State restrictions on gatherings aimed at preventing the potential spread of the Corona Virus, the Greenbelt Community Center where we meet has been closed to meetings since March, 2020. We have had really good results over the previous months with members and friends sending us photos and descriptions of the model cars they would have brought if we'd had physical meetings, or just any model cars or projects they wanted to share. This month we're doing it again.
Paul Lee starts us off this month with a collection of Corvettes. This group includes a big-block powered 1967 ragtop, a 1968 with a big block Chevy engine and large diameter aftermarket wheels, and a trio of Compuware-sponsored racecars spanning from the 1990s to 2014.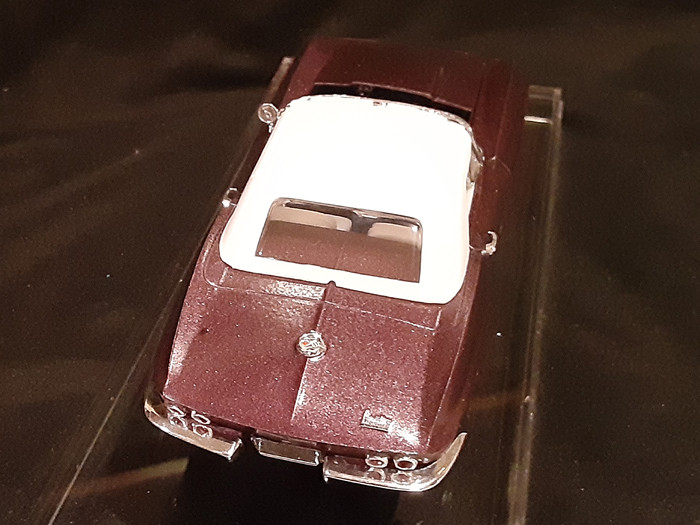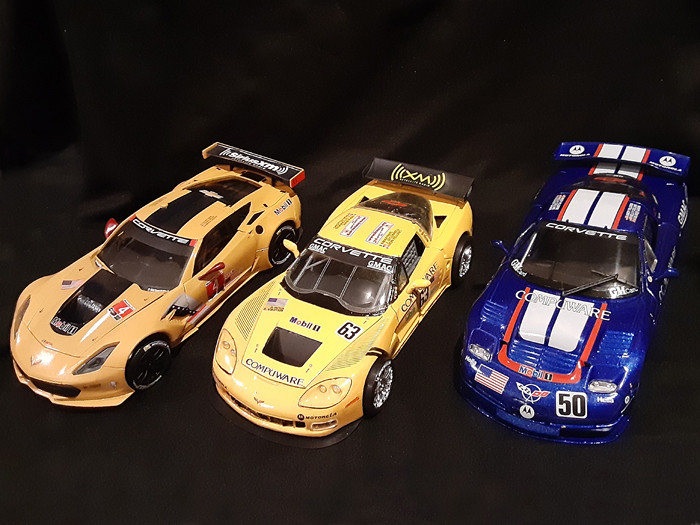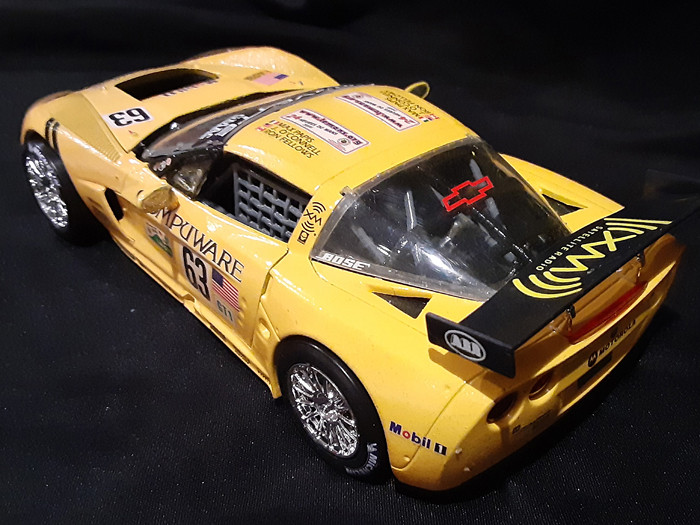 Some of you might recall when John Jacobus visited with us at Greenbelt a while back. During that vist he presented a talk about the Fisher Body Craftsman's Guild. The Guild was a national automotive design competition sponsored by the Fisher Body Division of General Motors that ran from 1930-1968 and taught the art of craftsmanship and design to boys and young men aged 12-20 during the Golden Age of automobile design. It also helped identify and nurture an entire generation of designers and design executives. Contestants vied for college scholarships by designing and building scale model "dream" cars. John has spent many years researching, documenting, and writing books on the history of the Fisher Body Craftsman's Guild, from its inception as a philanthropic project by the Fisher family during the Great Depression, to its expansion overseas, and through its end in 1968. John has worked with Randy Derr in Ohio on a Guild model display at the Dayton Concours d'Elegance and also worked with Mark Gustavson on a 2015 Guild Model display and Guild Seminar at the Greater Salt Lake (GSL) City event. He even has a Guild model exhibit at the International Model Builder's Museum in Utah. For those who'd like to learn more about the Fisher Body Craftsman's Guild, John's books are available on Amazon.
We are priviledged this month to show you a few examples of the 1/12 scale scale, scratch-built models that were made for the Fisher Body Craftsman's Guild national competition that John has shared. In order we have: the 1957 Top National winner by Art Russell, who received a $5,000.00 award; a 1962 State winner by Sam Kjellman, who received a $150.00 award; the 1963 Top National winner by Bob Davids, who won a $5,000.00 award; and a 1933 Napoleonic Coach State winner by Bobby D'Mura who received a $50.00 award (John displayed a similar Coach model during his visit with us.)

Ruddy Hernandez, shared his take on the newly re-issued AMT "Craftsman Plus" Series curbside 1963 Chey II Nova Station Wagon.

Bob Dudek wrapped up the Fujimi McLaren MP4-12C GT3 kit that he started last month..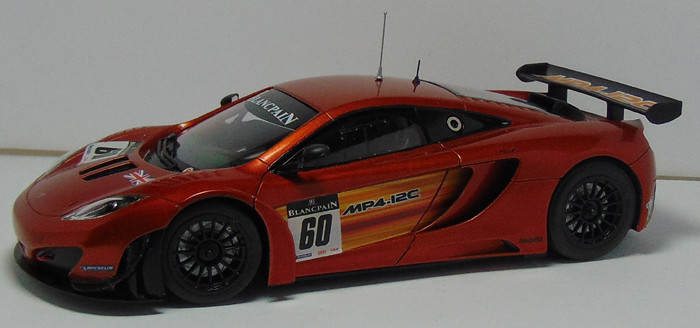 It's 1940 Ford time with Jim Maness. Jim brought us four variants of the 1940 Ford: a two-door mild custom coupe, a custom sedan delivery, a stock coupe, and a street rodded convertible. The coupe was built from an original 1960's AMT kit using a chopped body from J&J Resin and Testors Mythical Maroon paint. The Delivery is painted in Duplicolor Honda Electric Blue. The stock coupe is painted in the factory Mandarin Maroon paint. The street rod is done in a black and tan color scheme.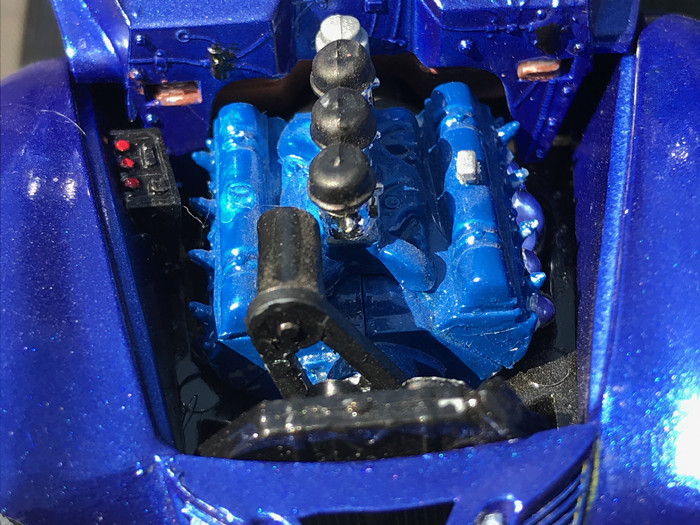 JC Reckner continues working on his Lancia Beta Montecarlo. He settled on replicating the one-off livery of the Jolly Club entry for the 1980 Daytona 24 (shown in the first photo) and had a custom set of decals designed and printed. So far, he's completed the engine bay and interior. His full build thread can be viewed on the Model Cars Magazine forum at: http://www.modelcarsmag.com/forums/topic/158866-lancia-beta-montecarlo/.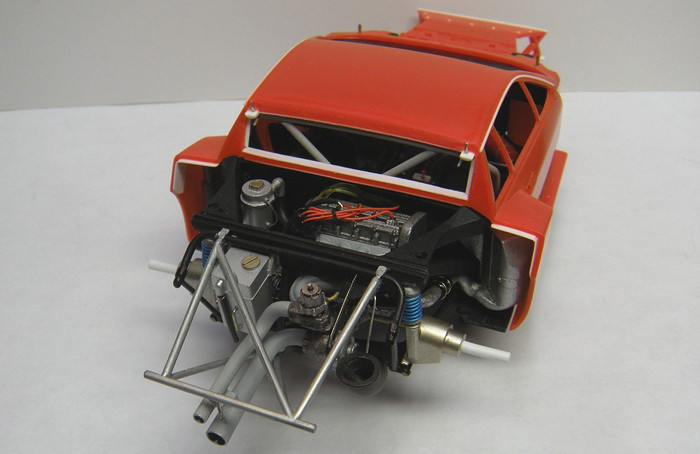 This month,Ted Bonar joins in the photo sharing fun with several nice builds. First up is a Revell-reissued Monogram Porsche 904 GTS in silver with some bold accent colors on the hood. Next is a Revell Datsun 240Z with Testor's Root Beer paint sprayed on from rattle can. After that is a dark blue Tamiya Porsche Boxter followed by a shots of a green 911 Porsche. After that is a Revell Porsche 356 Speedster in silver with black accents and a dark blue AMT 289 Cobra with tan interior. If you notice a sandy theme in Ted's photos, it might have been inspired by the final build he shared with us this month, a double-decker VW Surf Bus that he constructed from a Revell Rubber Duck kit and a California Roller kit, although he says it was because he had the good fortune to be able to take some of the kids to the beach last fall. He also said that while lying in the wind-blown sand, he was glad he was double masking.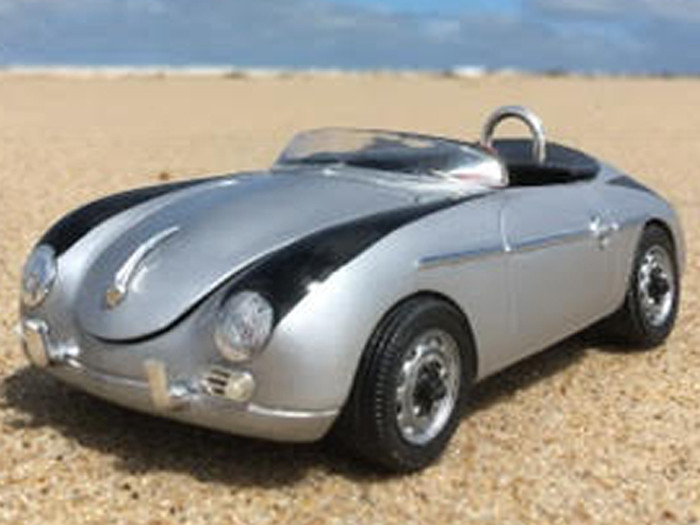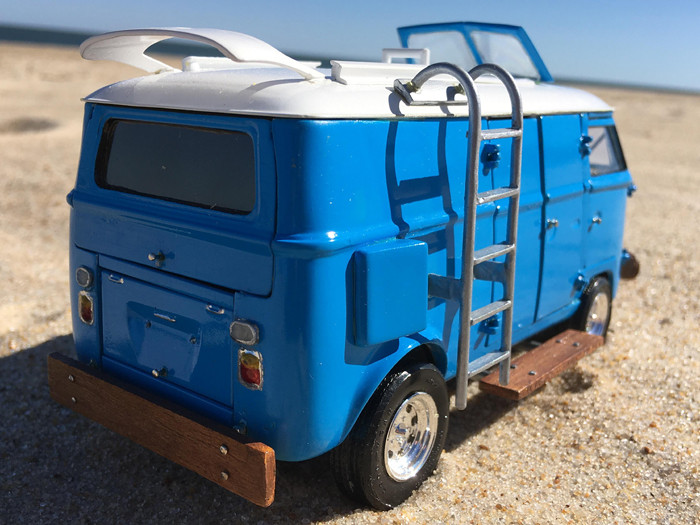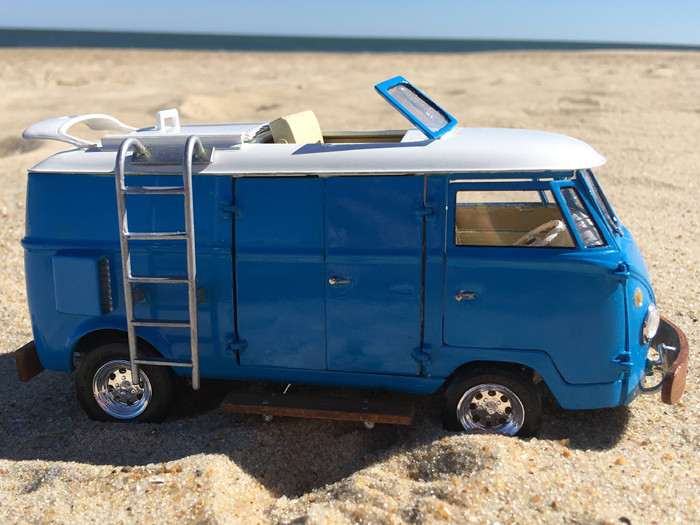 Bobby Reyes has been hard at work on his Tamiya Toyota Corolla WRC project. Here are a few in-progress shots.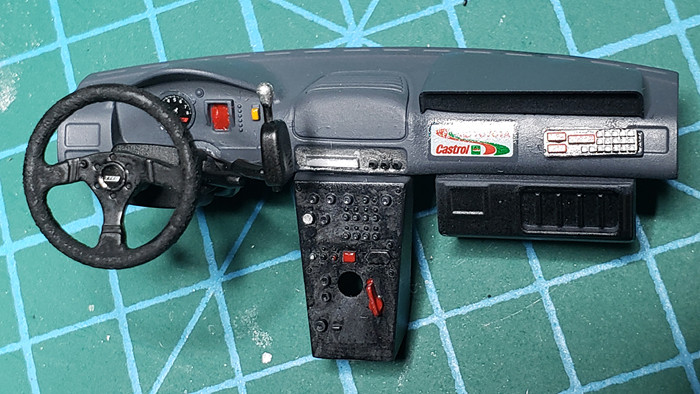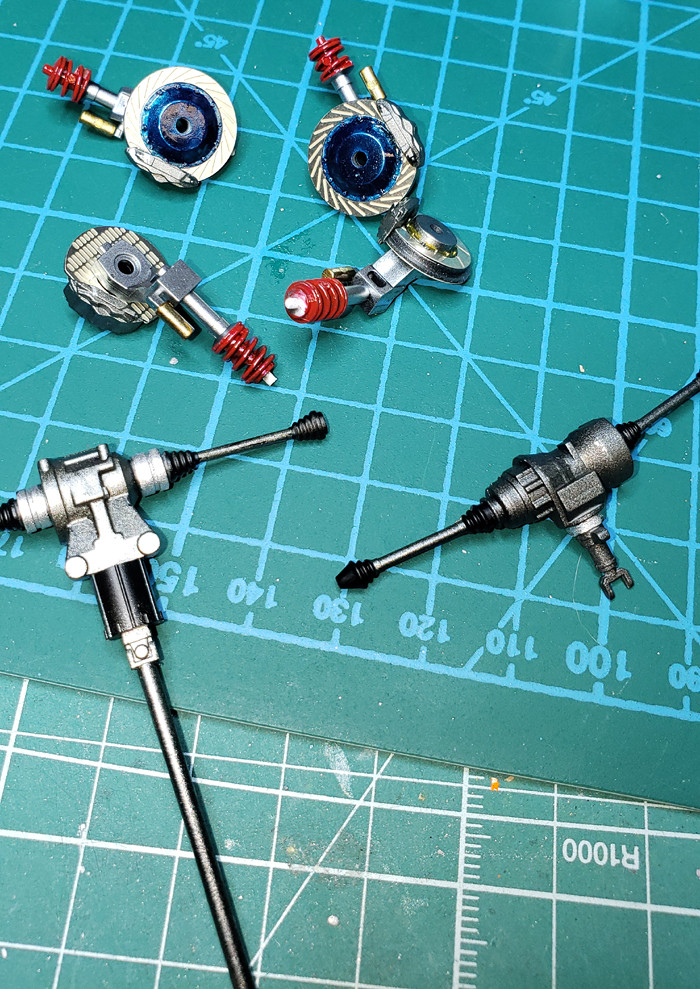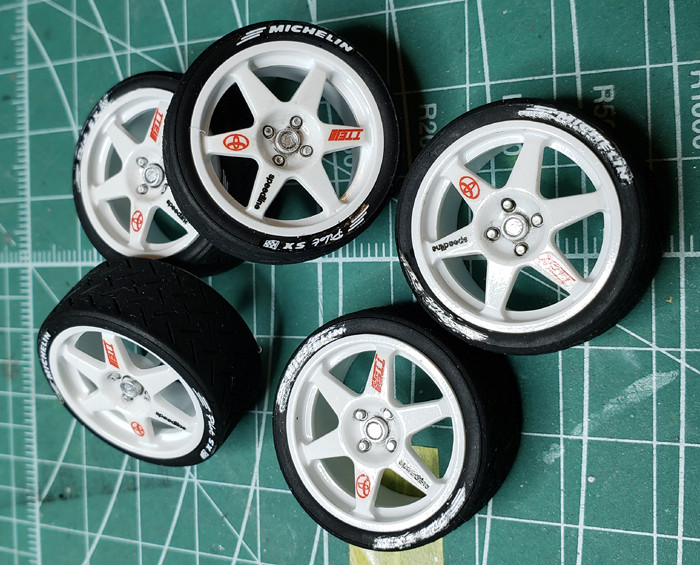 Kevin Buter has completed his latest project: a Pocher 1935 Mercedes Benz Cabriolet convertible. It was still in progress when we last saw it on the web site in February. This large-scale model features a working convertible top, steering, headlights, and very detailed suspension. The license plate "MY 5206" on this model pays homage to Kevin's very first car.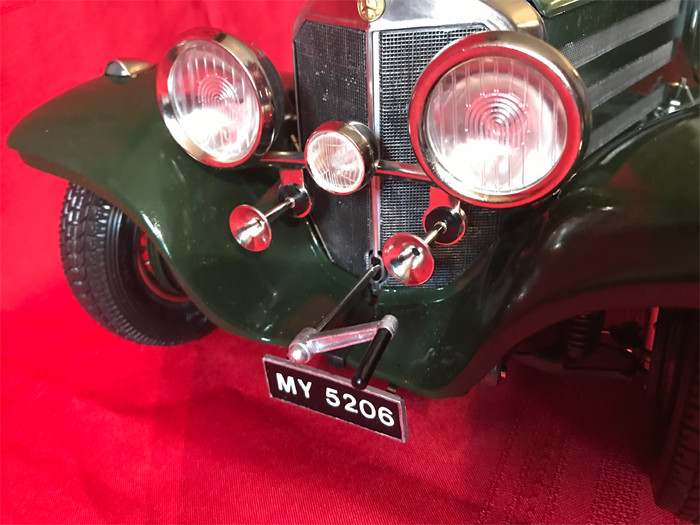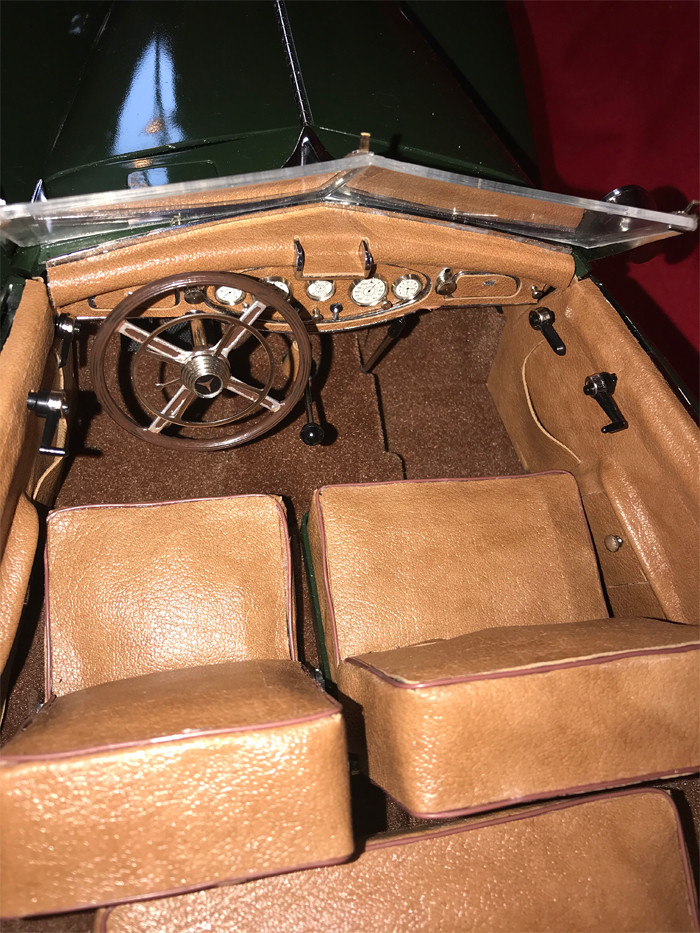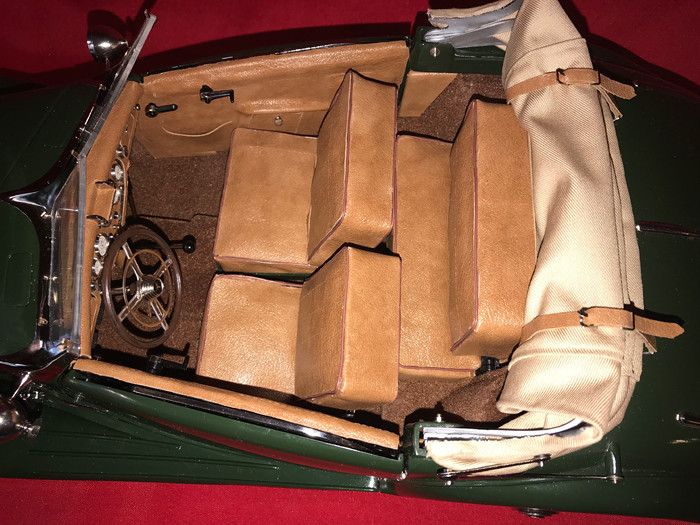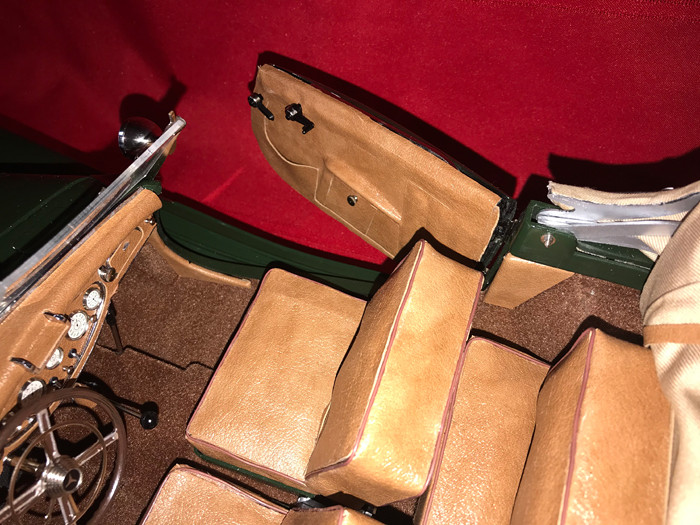 Don Stone just finished this one. He started it years ago and stalled over the two tone paint job. It was originally going to be a Davey Allison build then Don changed his mind and decided to build the Alan Kulwiki car. It is based on Monogram kit with Tamiya paints and Power Slide decals.

Steve Buter is all about works in progress this month. To start, he's building a 1964 Pontiac GTO from a Monogram kit. Since he's building it straight out of the box, he says he's really taking his time with it. So far he's managed to get the body primed, prime-sealed (the plastic is bright red color), and top-coated with Krylon Color Max Bright Sun Yellow. All the was sprayed from a rattle can, outdoors, before the pollen really began taking off. The interior is Testor's Craft metallic gold, from a 3 oz. spray can. Follwing the GTO build is a Monogram 1958 Thunderbird in the bubble-top custom mode. Steve started the project back in the late 90's, but for whatever reason shelved it. Over the lengthy hiatus, some parts from the original project got lost. Then recently, Steve bought a built-up from Rich Meany's Boneyard that enabled him to resume the project by providing replacement partss and a delightful bonus: the twin bubble-tops are in the original tinted green plastic that seems to have been dropped for the various re-issues of this kit over the years, like the chrome trim piece that mounts at mid-point on those tops. The rear end is essentially from the kit, with seams filled and molded to blend in better. The front end is tweaked to accept part of a 1959 DeSoto grille from the AMT grilles parts pack. Steve found the whitewall skinnies that were on the parts car to be "not-too-impressive" so he mounted American Satco wide-whites on all four corners. He says he hopes to finish this one before summer gets here.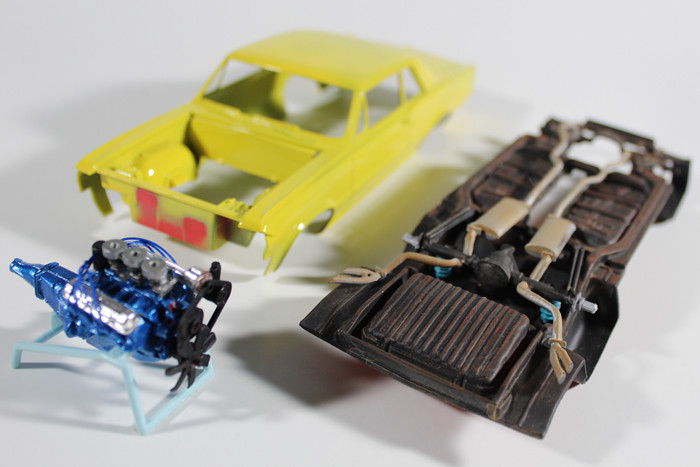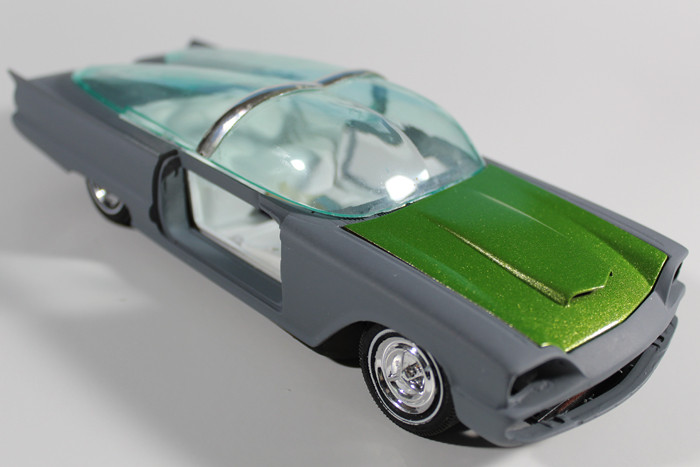 Bruce Black started building this AMT 1977 Ford Pinto because it would be a quick and simple fun build, or so he thought. He said it seemed like he spent more time on this "simple" model than he would have on a higher quality and "more difficult" model. The Pinto had tons of fit problems and it took a lot of time to make things fit right. After all the fixes, he is happy with it. Bruce says that the whole point of modeling for him is to have fun and be happy with the build when he's finished. The paint color is Testors one coat lacquer, Lime Ice (#1835).

Cary Buter hopes to finish this 1966 GTO that he started in February for next month. His next steps are to paint the engine compartment, try a black Matt headliner, and paint the window trim with liquid chrome (this will be his first attempt).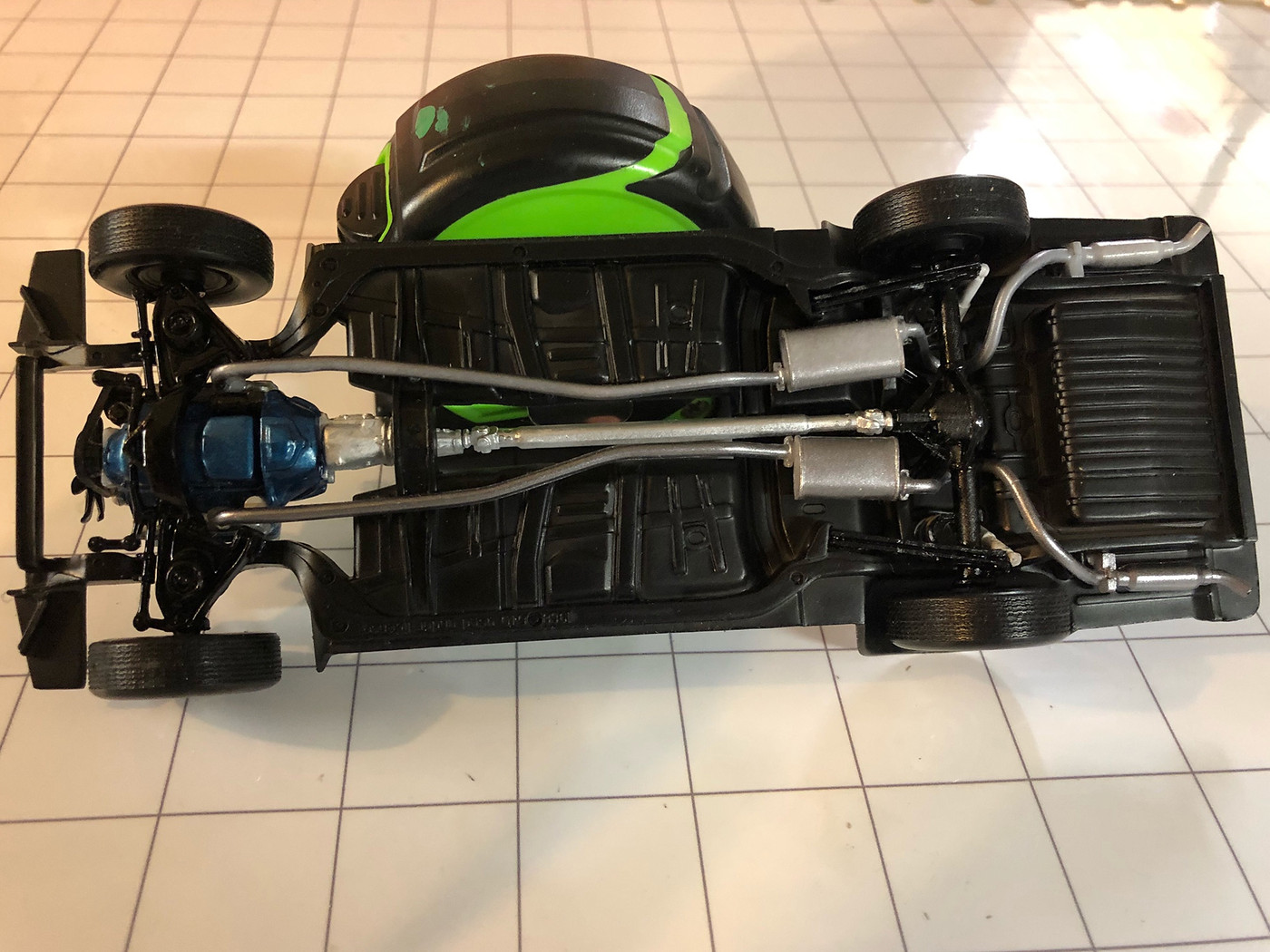 To wrap things up this month, Lyle Willits Shares some photos he shot at the latest gathering of a group of MAMA members and friends at the Fire Museum of Maryland on April 17th. You can see all of his photos from that gathering at: https://public.fotki.com/mamaprez/random_stuff/fire-museum-of-maryland/.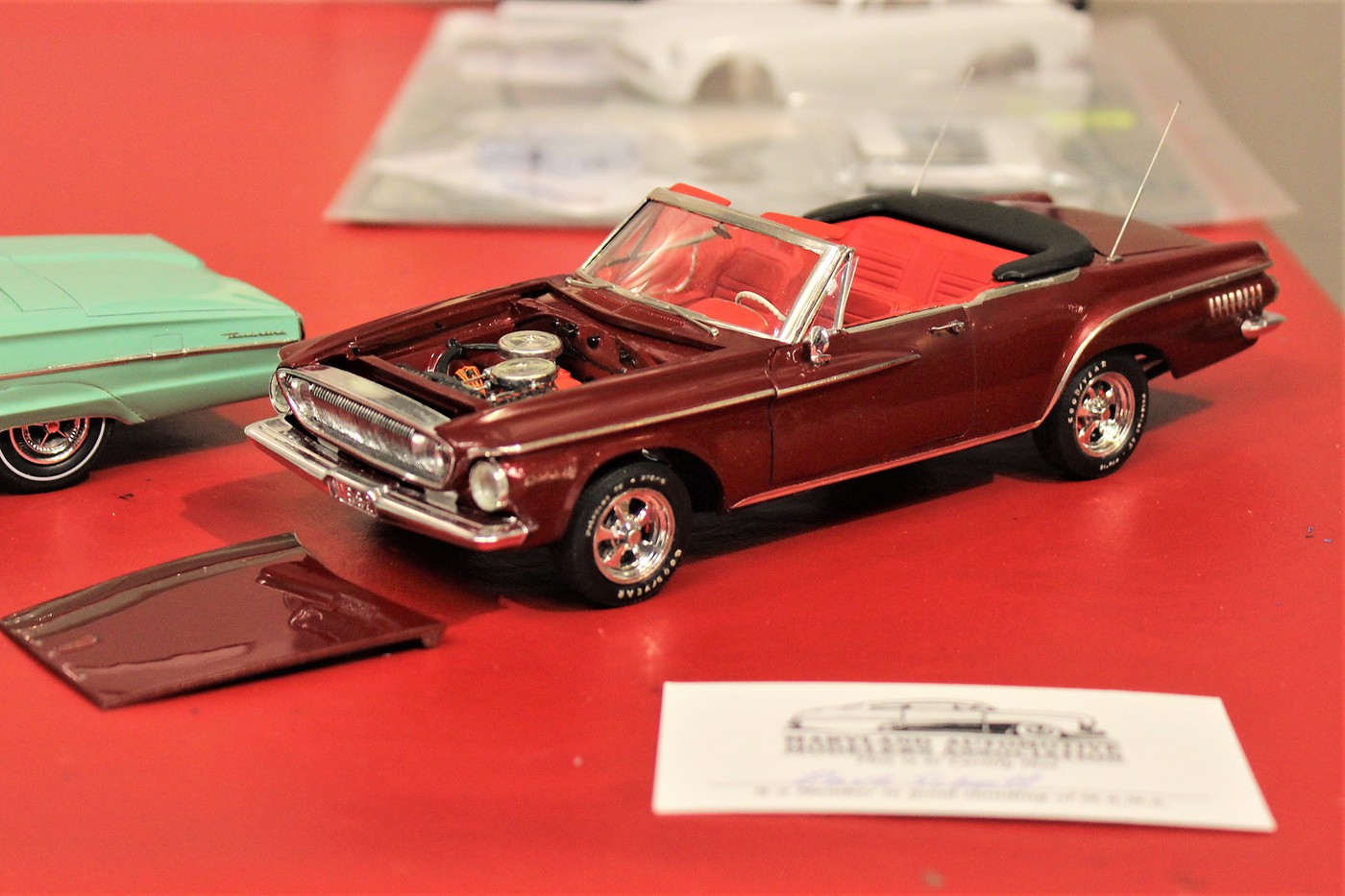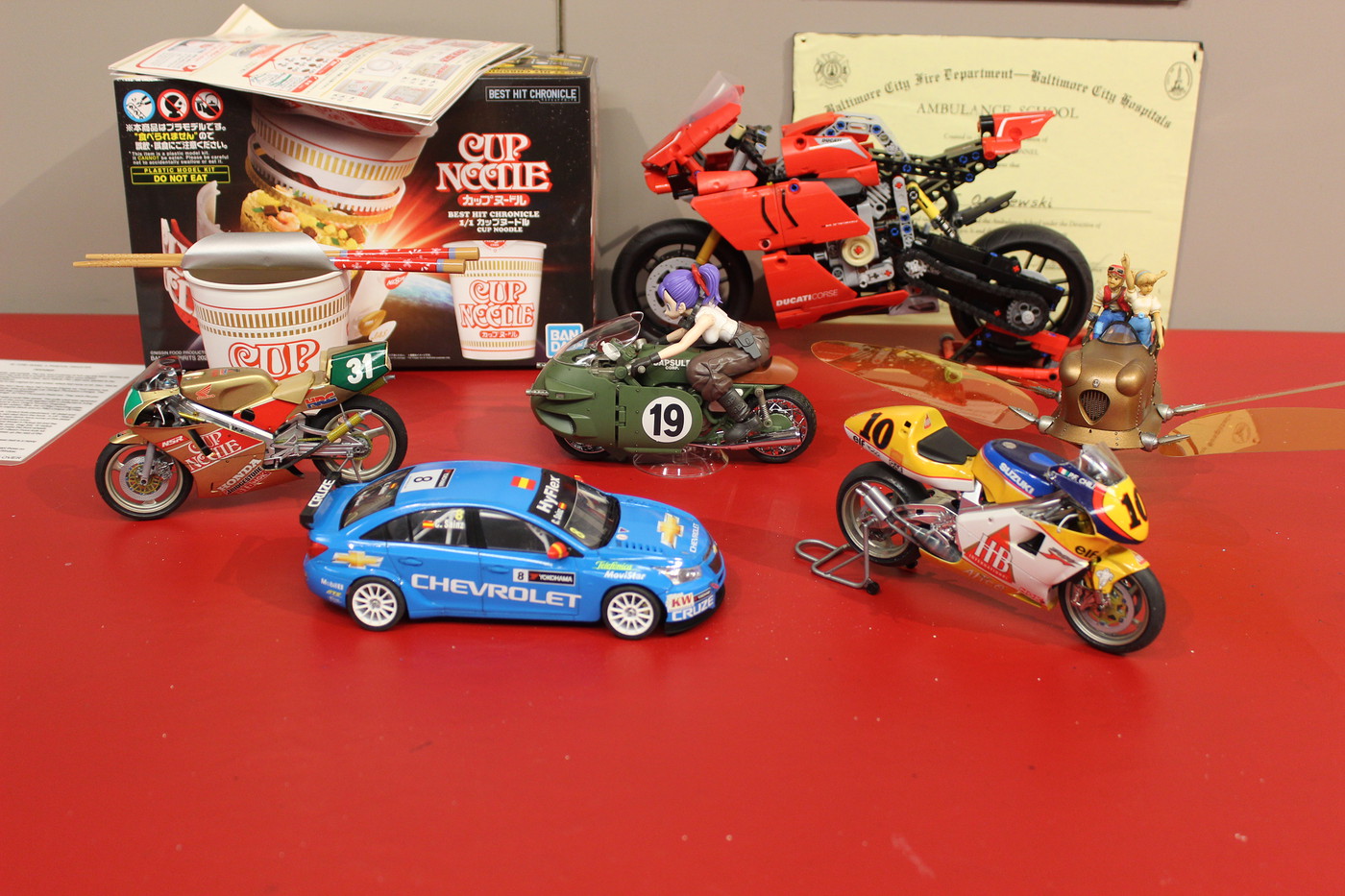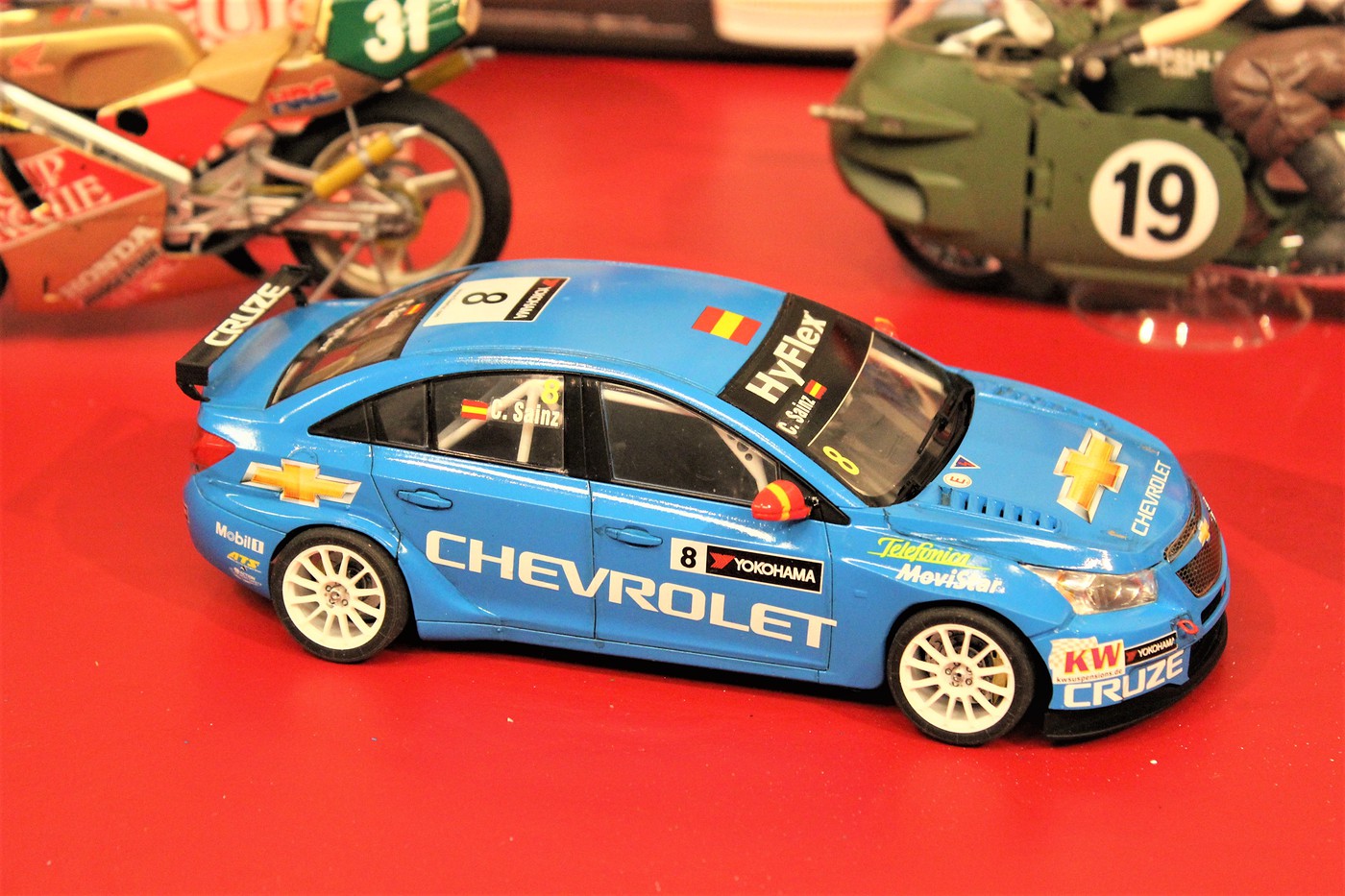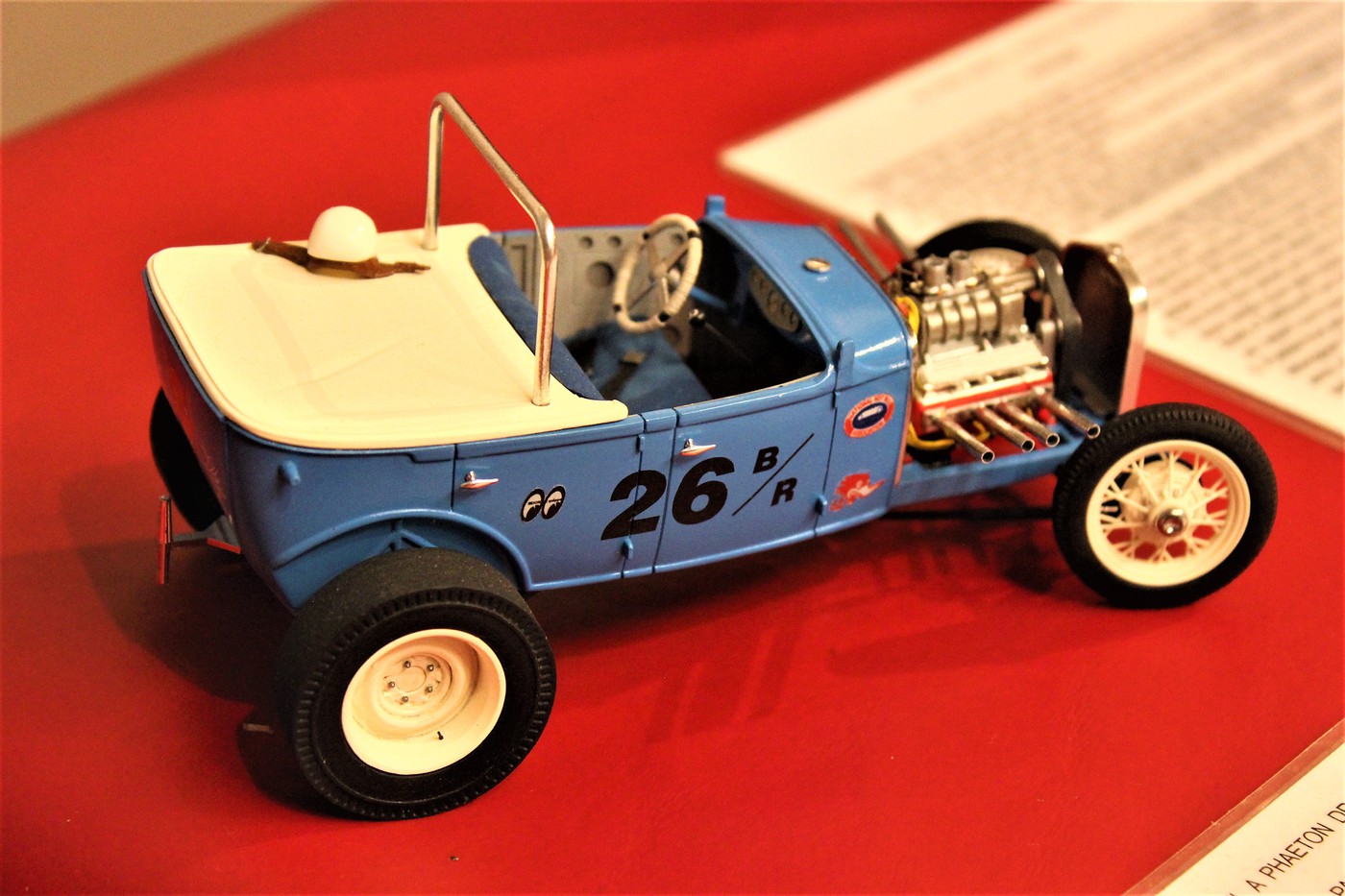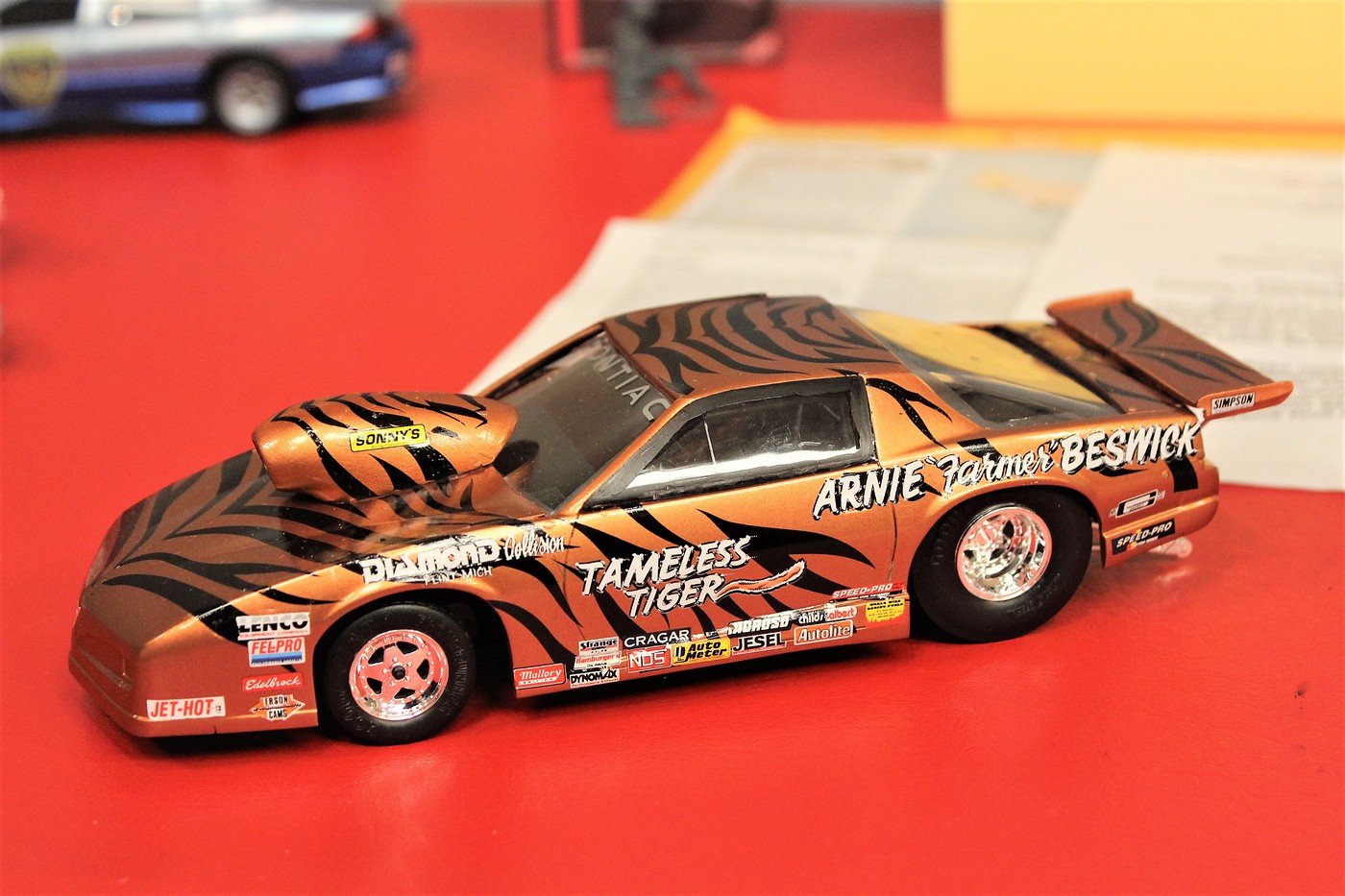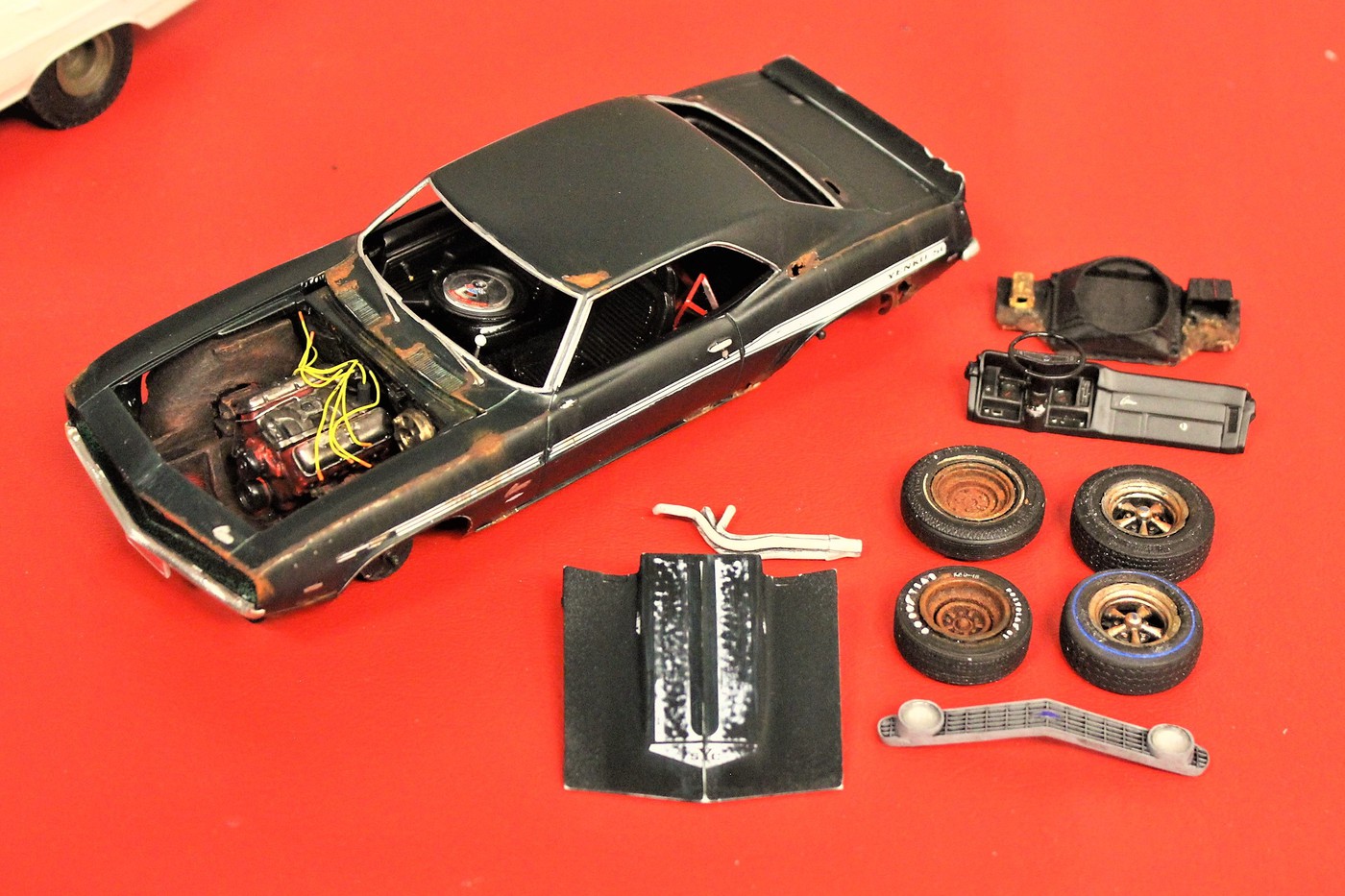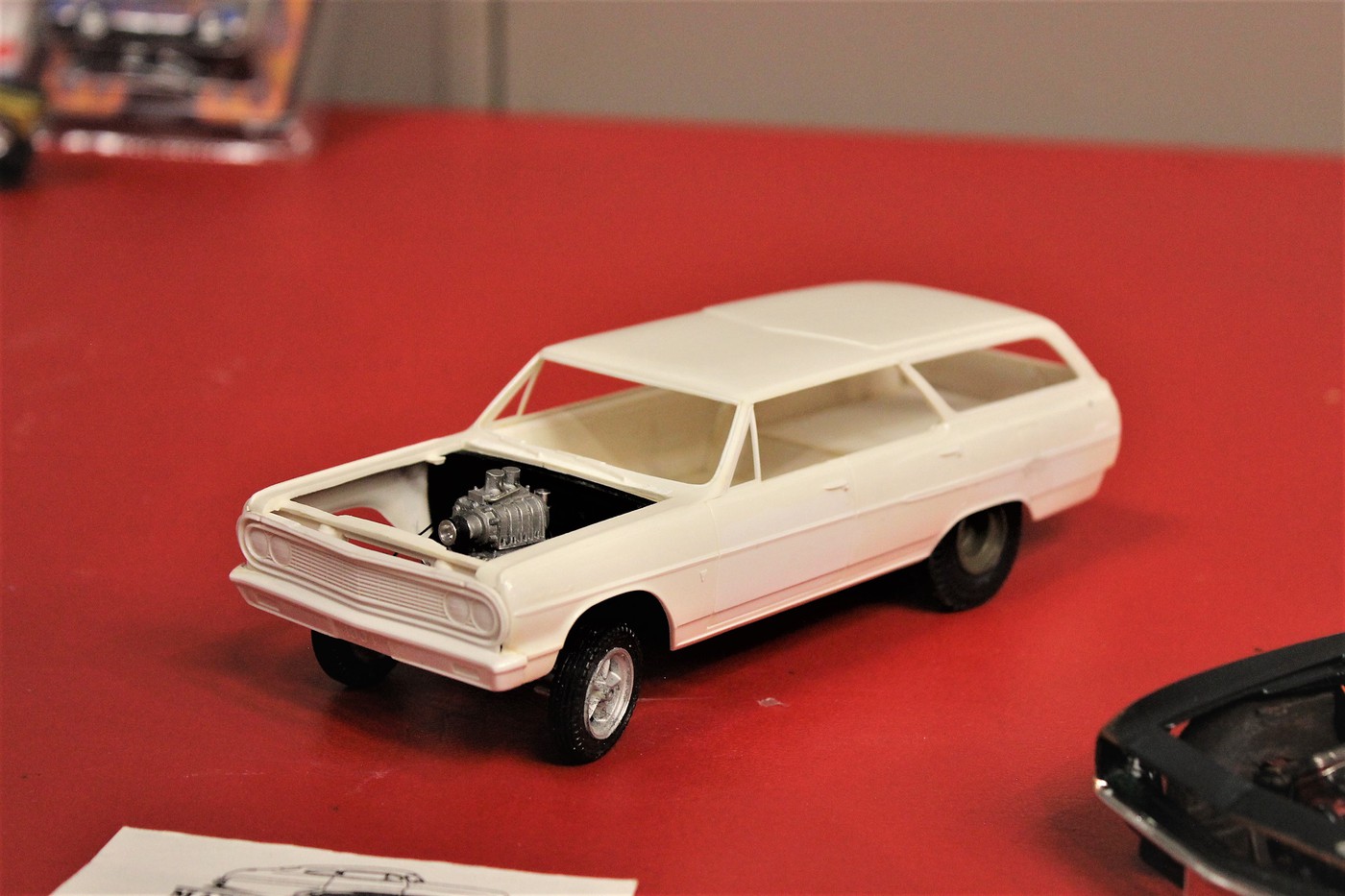 Hopefully, nothing rained on your Easter Cookies, and that's no foolin'!