Due to health and safety concerns regarding the possible spread of the Corona Virus the Greenbelt Community Center where we meet remains closed to meetings and events.
to MAMA's Diner, the official home of the Maryland Automotive Modelers' Association (MAMA), where we serve entrees of fun, friendship, and model cars.
MAMA's current leadership team is:
President: Tim Powers
Vice-President: Dave Toups
Treasurer: Matt Guilfoyle
Newsletter Editor: Tim Sickle

Notes from the MAMA President:
After Mandy Wheeler's sudden passing late last month, her parents, Mark and Johnna, set up a GoFundMe page seeking financial assistance with the unexpected funeral expenses. They received that assistance in a big way and MAMAs Boyz were quite a part of that effort. Mark, Johnna, and Mandys' big sister Lisa shared the following message with us:
Thank all the MAMA BOYZ for the very generous gift. We are overwhelmed by your love and kindness. We appreciate from the bottom of our hearts.

The MAMA members with always hold a special place in our hearts. Members were always so gracious with both girls, but especially Mandy. She so loved go to club meetings. She was so proud to wear her MAMA shirt when we went to meetings or shows. Loved loved model club as she would always say.
I know we'll all miss Mandy.
It has now been a full year since we were last able to conduct an in-person club meeting at the Greenbelt Community Center because of the COVID-19 pandemic. Now that there are two vaccines approved for use and a third one getting close to release, the big challenge appears to be getting appointments for vaccinations. Even though more than a few of our members qualify for the current phase of vaccinations because they are 65 or older, there just aren't enough available appointments. A lot of my friends and co-workers are checking all the on-line registration sites they can find on a daily basis to try registering for their shots, but there are so many people to vaccinate and so little vaccine getting delivered that it is proving very difficult to get in.
If you don't know where to start in trying to register for your COVID-19 vaccines, here are eight resources to try:
MD Vaccination Locations, Maryland MASSVAX, CVS Pharmacy, Giant Food, Rite Aid, Safeway/Albertson's, Walgreens, Walmart
Scenes from our twelfth pseudo-virtual meeting in February:
Due to public health and safety concerns and Maryland State restrictions on gatherings aimed at preventing the potential spread of the Corona Virus, the Greenbelt Community Center where we meet has been closed to meetings since March, 2020. We have had really good results over the previous eleven months with members and friends sending us photos and descriptions of the model cars they would have brought if we'd had physical meetings, or just any model cars or projects they wanted to share. This month we're doing it again.
Paul Lee celebrated Black History Month by building something different in order to recognize and honor the valor and accomplishments of the Tuskegee Airmen, the first Black military aviators in the U.S. Army Air Corps. He built a replica of one of the Redtail P-51 Mustang airplanes that they flew on more than 15,000 sorties in Europe and North Africa during World War II. Named after the Tuskegee Army Air Field in Alabama where they received their flight training, the Tuskegee Airmen earned more than 150 Distinguished Flying Crosses and helped encourage the eventual integration of the U.S. armed forces.

Along with his Mustang airplane Paul Lee wrapped up a Mazda R-7 and a Cadillac Escalade towing a Speed Boat this month.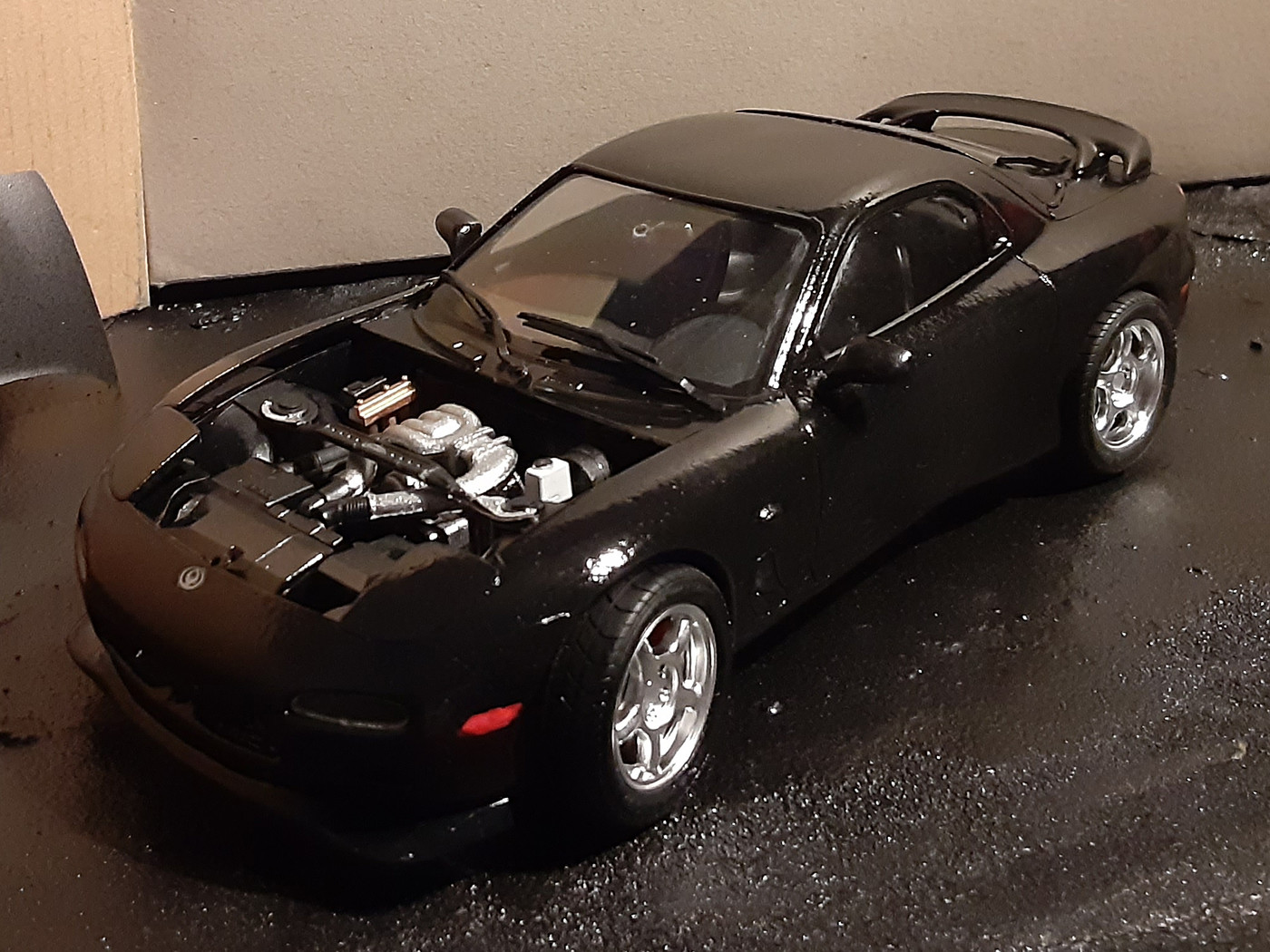 Back in August Steve Buter showed us photos of an in-progress Monogram 1932 Ford Deuce Five-Window Sport Coupe he'd started to restore along with a Jimmy Flintstone James Dean figure and Wurlitzer juke box. At that time the Ford was was just a frame and body in primer and on cinder blocks and the figure and jukebox were raw, unpainted resin. Now, they are done. Steve endeavored to restore the car to as much of its original 1959 release as possible. It came to him in two Ziploc bags of parts that he purchased from Rich Meany's "Boneyard" at two separate MAMA meetings. Between the two finds, there were nearly enough parts to completely reconstruct the (near) iconic Monogram model. He kept the underside of the chassis intact with the space where a battery case once existed. Also kept intact was the 45 degree angle hole above the differential where the drive gear from an electric motor was hidden behind the seat at one time (you could motorize this model in its earliest incarnation.) Steve preserved the circa 1959 Monogram logo as well, but it's largely hidden by the 1/20 scale Lindberg driveshaft and U-joints (Monogram identifies this kit as "1/21 scale"). Close examination of the original box art showed the header pipes to end abruptly beneath the car. Steve fashioned aluminum tubing into pipes that run to the rear of the car. The tail lights are police roof lights from two MPC faux cop car 1949 Merc kits. The kit's original push-to-snap axle ends were long gone so Steve used a few sizes of aluminum tubing to replace them and provide for something he generally doesn't do: wheels that roll. He says it was a refreshing change from most of his model cars/trucks which he fashions to stand still. As he aquired it, the front axle was broken in the Ziploc bag and the shocks were missing. Only one radius rod was present and it was broken. The headlamps were also missing. He replaced the missing and broken parts with suitable items from his patrsbox and fashioned radius and steering rods from aluminum tubing. The front and rear push bars are also scratchbuilt from plastruct and aluminum tubing. The build does have one aftermarket part: the generator on the otherwise all-kit motor is a Replicas and Miniatures offering. The James Dean guy and the juke box were painted with acrylics. The "approaching road hazard" sign is scratch built.Steve built the Wayne gas pump from R&D Unique about twenty years ago. It came as a single hunk of cast resin and included white metal nozzle hardware, a soft black rubber hose section, and a transparent plastic globe with decals. It had vertical shaft bored through it from top to bottom so that one could wire up a tiny bulb through there and light the globe on top. He bored out the gauge face section out all the way through the casting as well so he could illuminate the face-plates as well.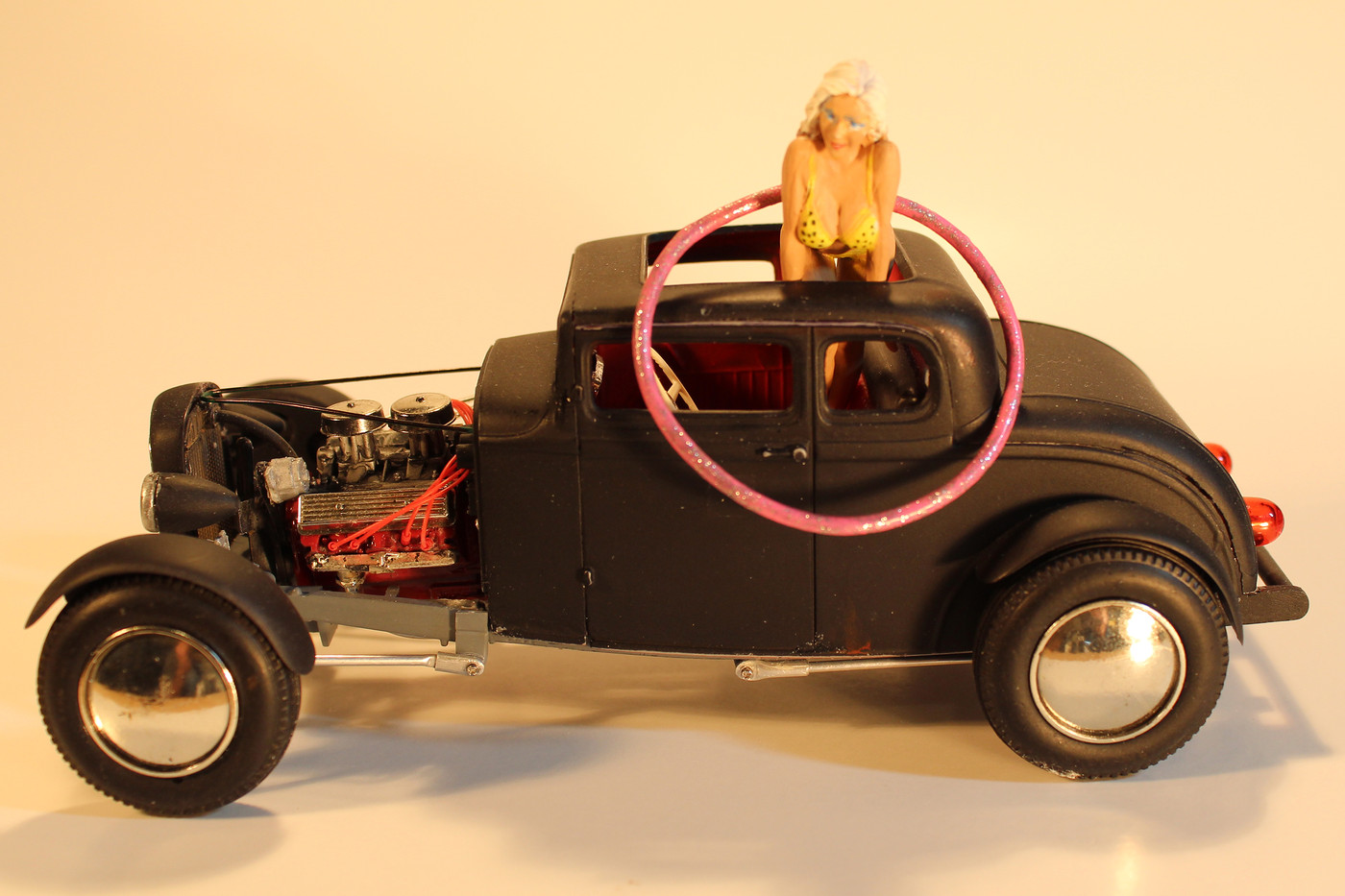 Dan Chicorelli sent us this photo of his 1941 Willys Street Rod with its detailed blown Hemi engine exposed so we can see the fine detailing he did.

Brian Schindler has completed project NOVACAM (Camaro side panels on a Nova.)


Brian has also just started in on a 1971 GTX. Here he shows the mild restyling he's done to the rear and shares a hint of what will wind up beneath the hood.

JC Reckner says he's having a hard time focusing on any one build. Last month he started a Lancia Beta Montecarlo - Short Tail Version based on an old ESCI kit. That project has now turned into a pair of Lancia Beta Montecarlos - both short-tail (shown in white) and long-tail (shown in red) versions. You can read much more in-depth information about these projects at: https://race-car-models.proboards.com/thread/2408/lancia-beta-montecarlo?page=1&scrollTo=23079.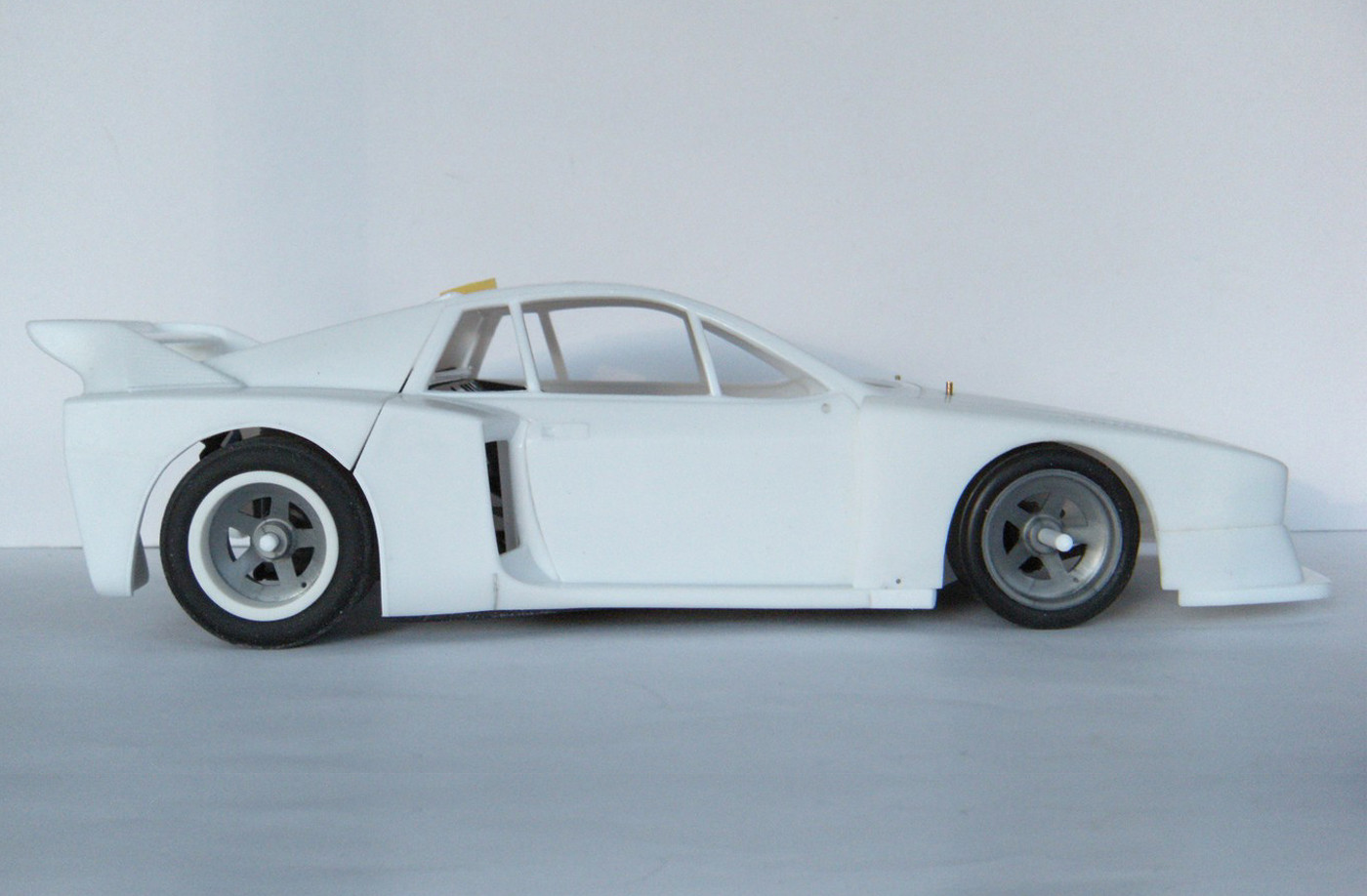 Mal Douglas has his 1964 Chevelle wagon gasser up on four wheels. The blown small-block Chevy engine is mostly done with the fuel system plumbed. Mal originally bought the built wagon from Rich Meany at one of our Mid-Atlantic NNL shows. Underneath, he has adapted a 1969 Olds 442 chassis with racing suspension parts and hand-made poseable steering. Mal says he is missing our meetings!

Rex Turner started this 1996 Mustang Cobra a few years ago and now it is finished. Itís box stock and painted in Blue Galaxy Colorshift spray paint. In 1996, Ford made Cobra coupes painted Mystichrome but not any convertibles. Rex wanted to build this kit in a cool color so this is the result. Rex says he hopes to see his MAMA buddies at at meeting soon. I think we all hope to see you, Rex (and each other) at a meeting soon, too.

Cary Buter is back into the model car hobby after a 40 plus lapse. If his last name looks familiar, it's because he is Steve Buter's brother. Cary's son-in-law gave him a 1963 Chevrolet Impala Low Rider die-cast kit and a 1966 GTO plastic kit for Christmas. Cary has been back into model railroading for about five years and had been thinking about getting back in to model cars and trucks as well. These gifts gave him the "push" he needed. Cary said that the low rider made for an easy start with its pre-painted/decorated body. As for the GTO, he's finished the engine and will be painting the body when the weather gets a little warmer. Cary owned a full-size 1966 GTO back in the 1970s so he plans to paint this model in the same shade of yellow as that car. He also has a set of "very close to scale" coil springs for this kit that will be for appearance only.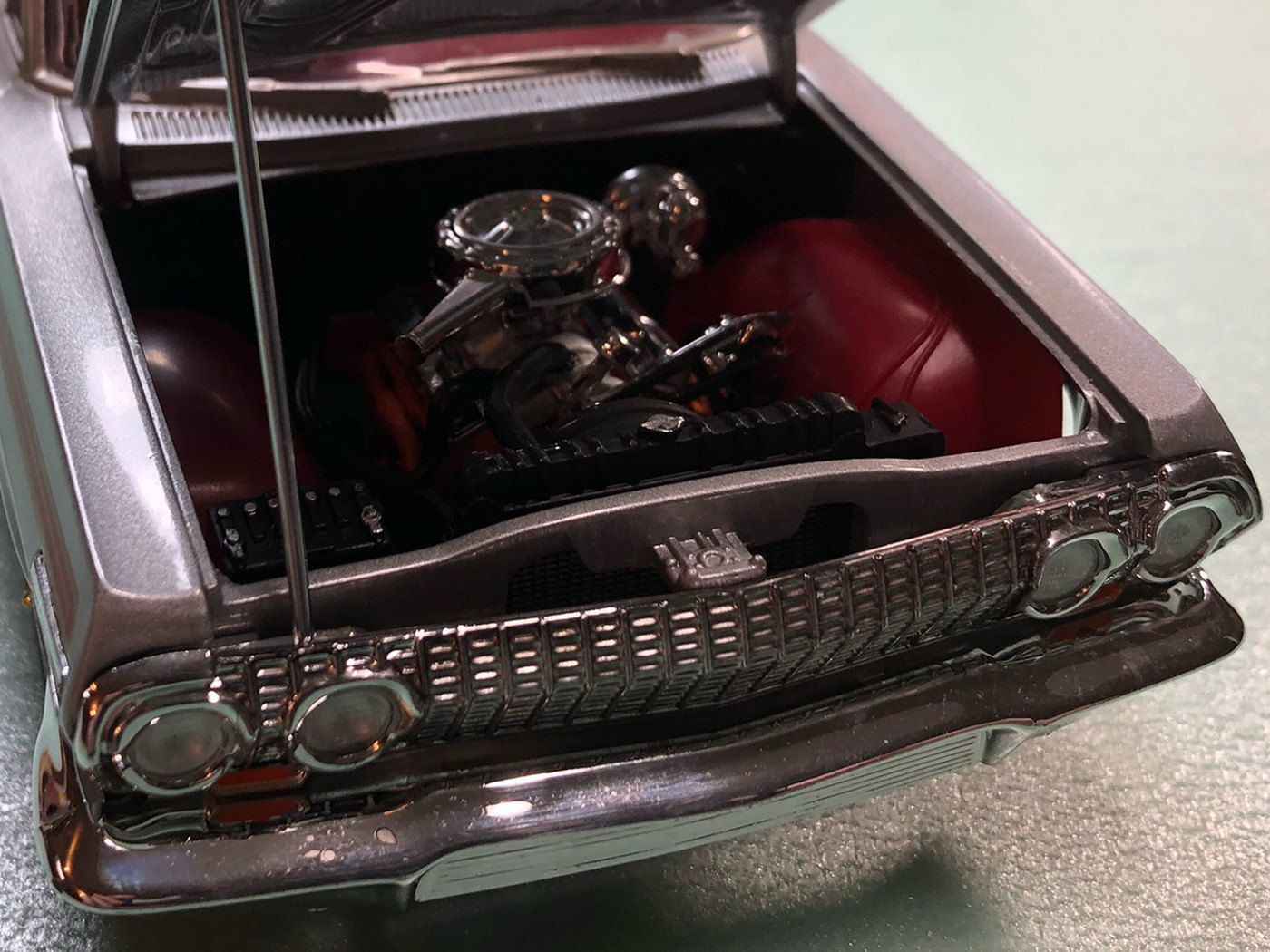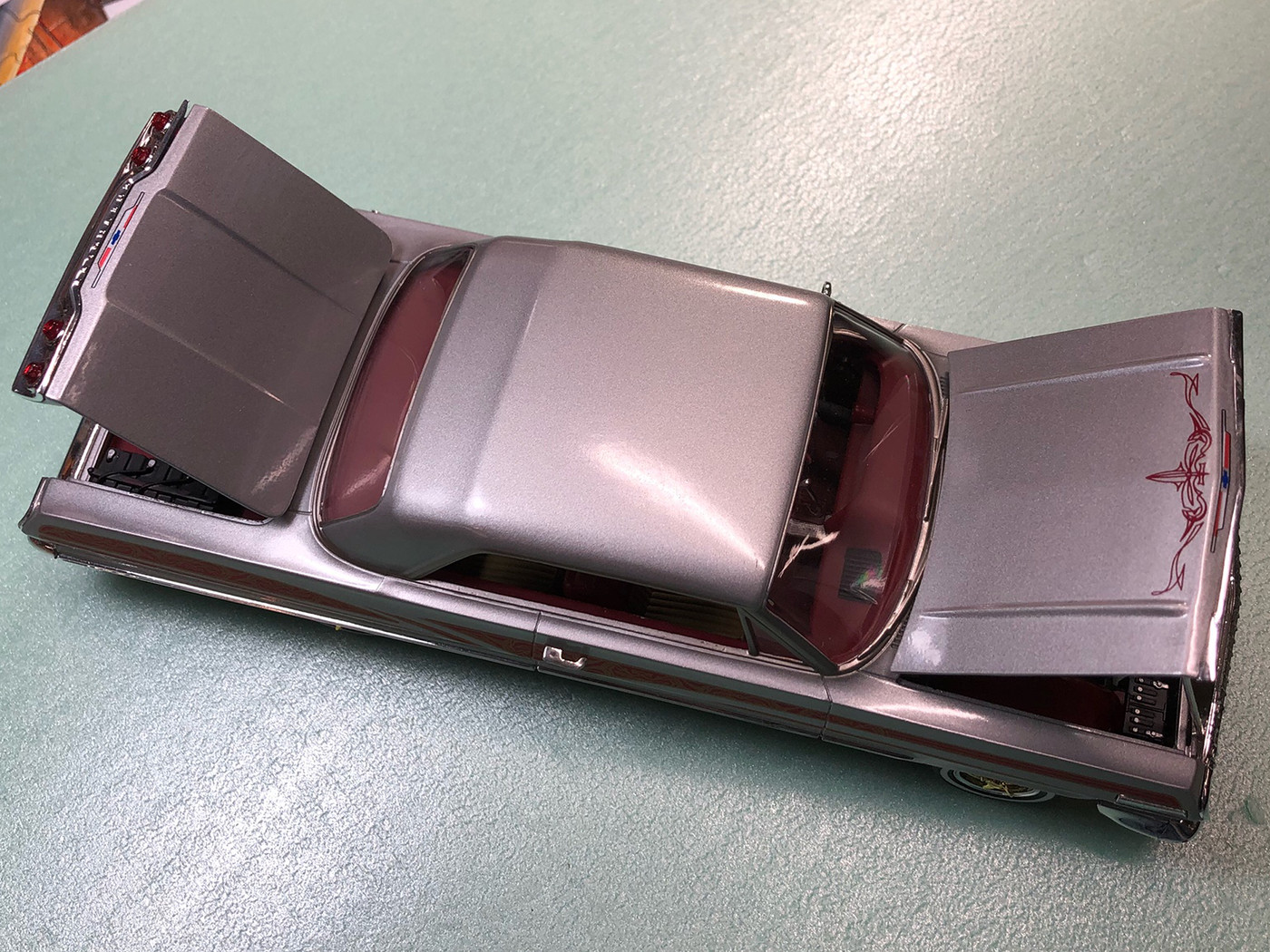 Kevin Buter Now, if this guy's last name looks familiar, it's because he is Steve Buter's other brother. Steve, Cary, and Kevin all grew up building models from an early age. Kevin says his model building has been off and on through the years as he's also a model railroader as well. The pandemic has gotten him back into model building during the last year. he has been building 1/8 scale Pocher models. He built his first one in 1975 and he now has seven of them, two of them are not completed and one is going to be rebuilt. The pictures he shared here are three shots of his completed 1932 Rolls Royce Phanton II Drop Head Sedanca Coupe and three of his i-progress 1935 Mercedes Benz Cabriolet convertible. So far, he's completed the chassis and is now fitting the body. Kevin says that he is looking forward to the time that meetings will be live so he can meet us and follow the lead of brothers Steve and Cary by becoming a MAMA member for life by walking in the door.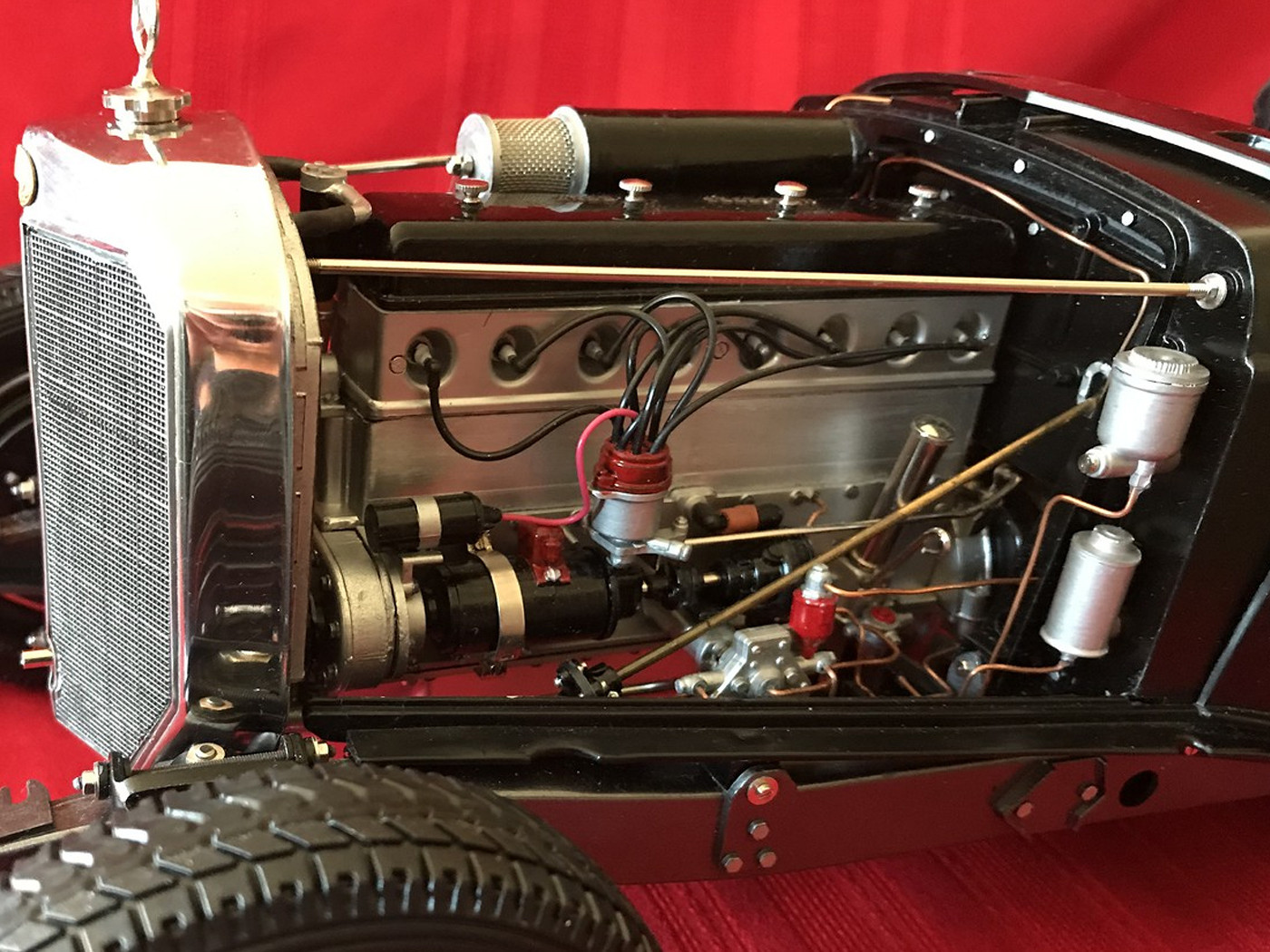 Don Stone returns this month with another Richard Petty car. Based on an old MPC 1971 Plymouth NASCAR Series body and an after market hood, Don fitted it over a Polar LIghts chassis. He says it was a pretty tight fit, but he got it on there. Don applied Tamiya paints and Power Slide/Yesterdays decals.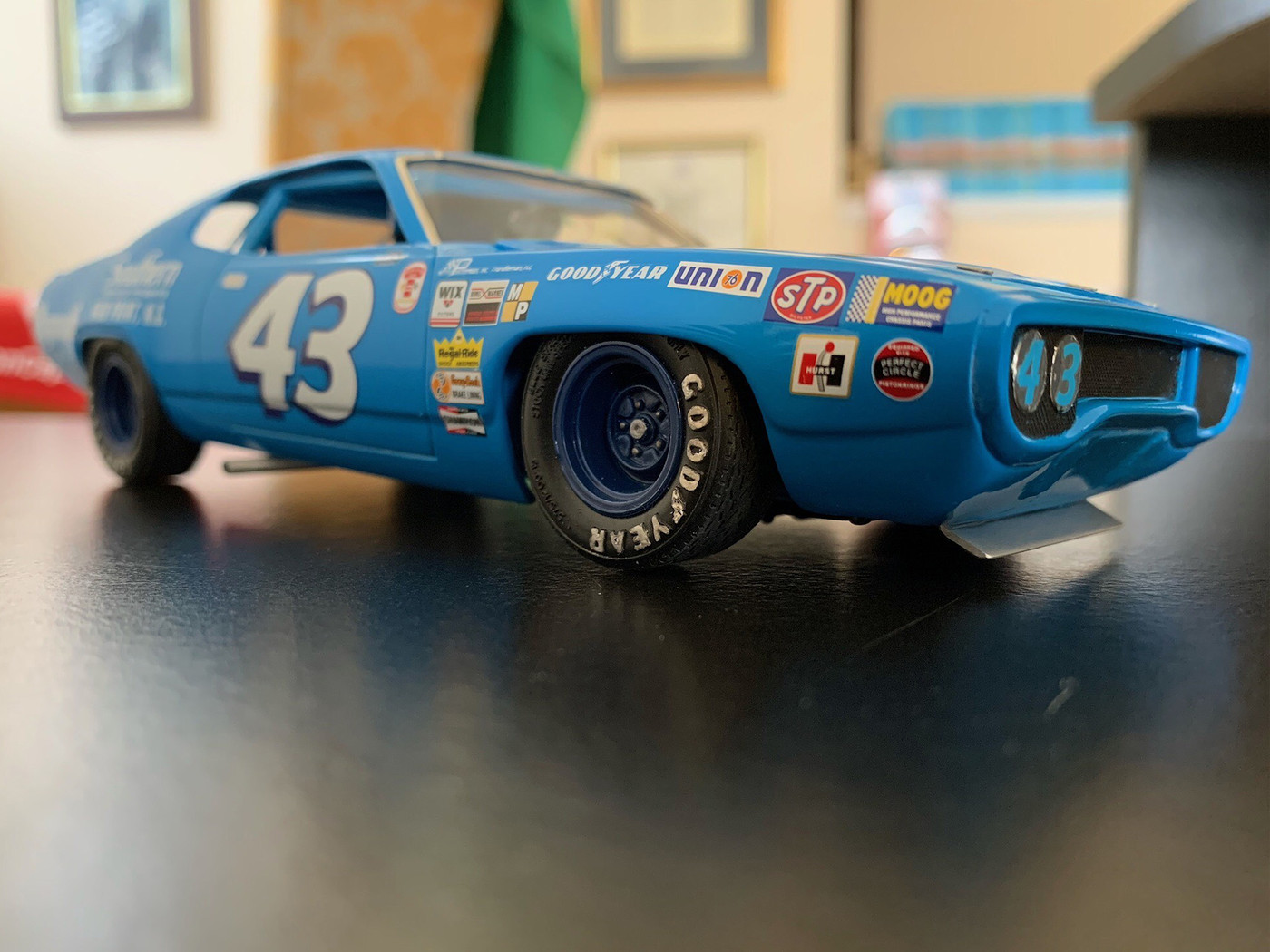 Kenny Kovach is here with three works in progress. First is a Camaro Funnycar project based on a Competition Resins Body and a Revell Jungle Jim frame. This asphalt burner rides on wheels and tires from Kenny's parts box and will feature Old School Chevrolet Power. Second is a Chevrolet Camaro Pro Stock racer that Kenny resuurected from a glue bomb he purchased at NNL East. It features a scratch- built roll bar and hood scoop. He used "Tamiya Masking Tape for Curves" to make the sharply-defined two-tone paint scheme in Model Master Fathom Green and Testors Pure Gold Lacquer. The third project is Bill "Grumpy" Jenkins' Pro Stock Vega. Base on an original issue kit that his son Kevin found on eBay. Kenny has added scratch-built rear wheel wells and parts box wheels and tires. He says he spent lots of time masking that Testors White Lightening Pearl w/ Dupli-Color Dark Garnet Red Pearl Stripes paint scheme.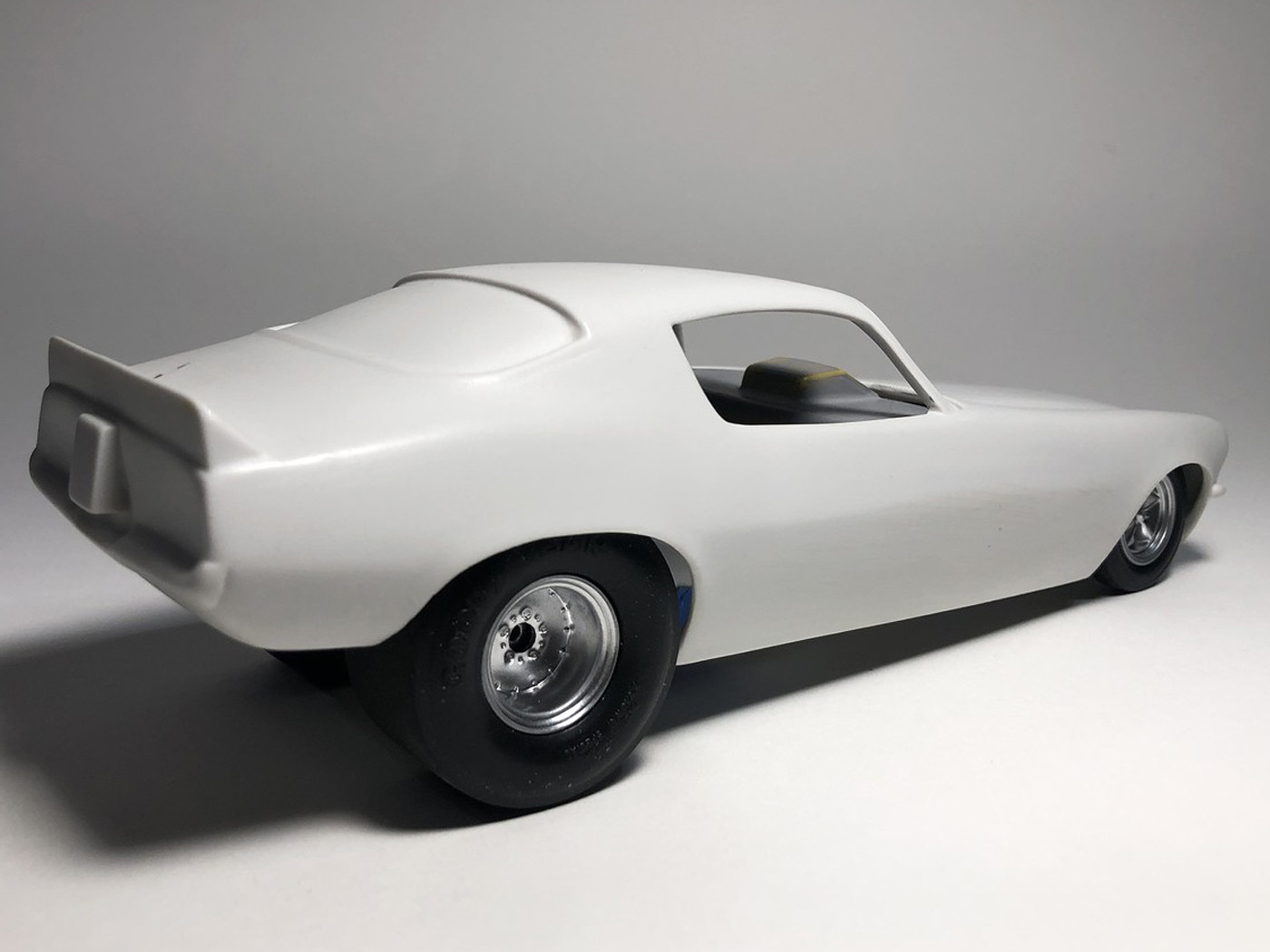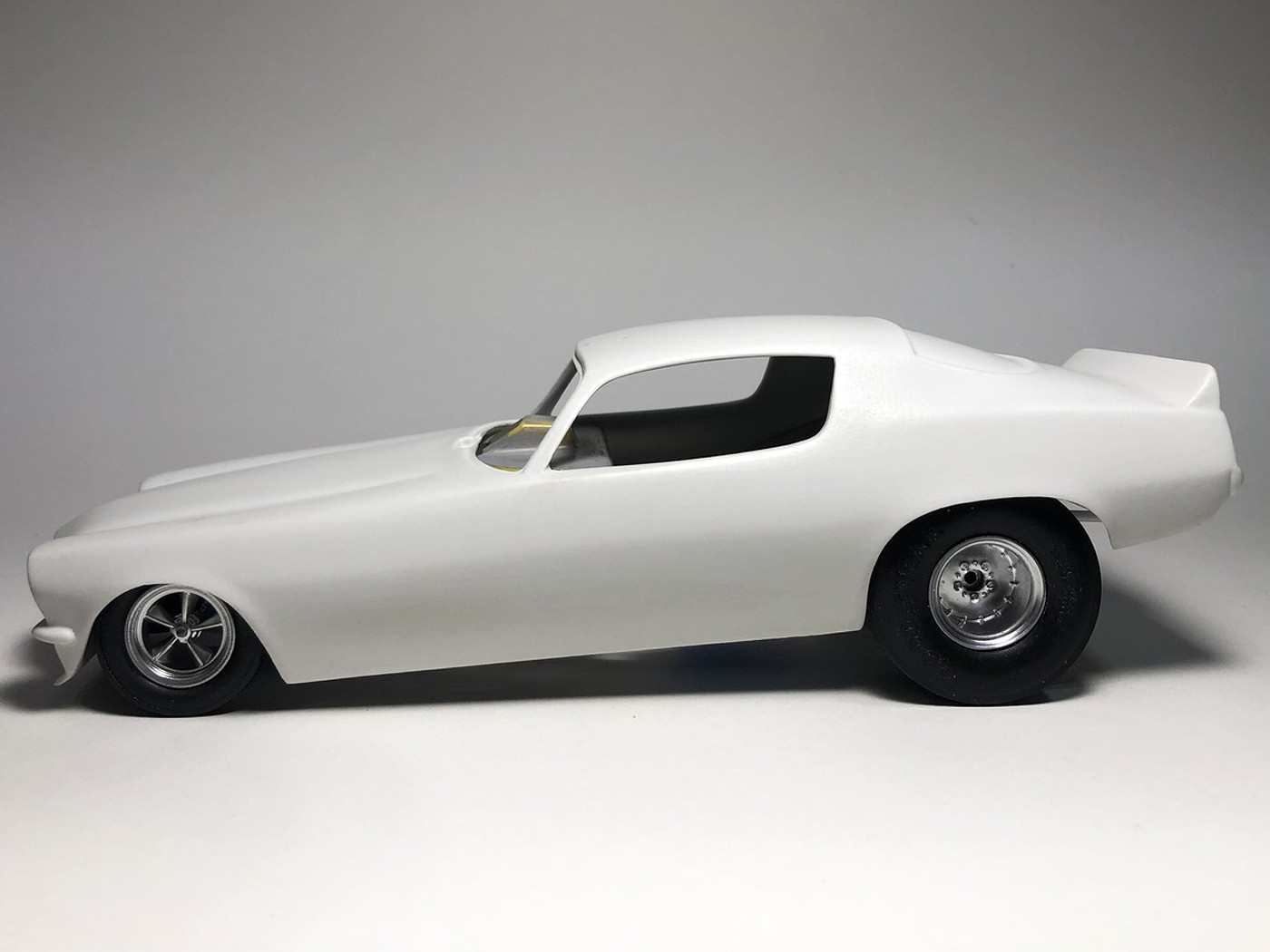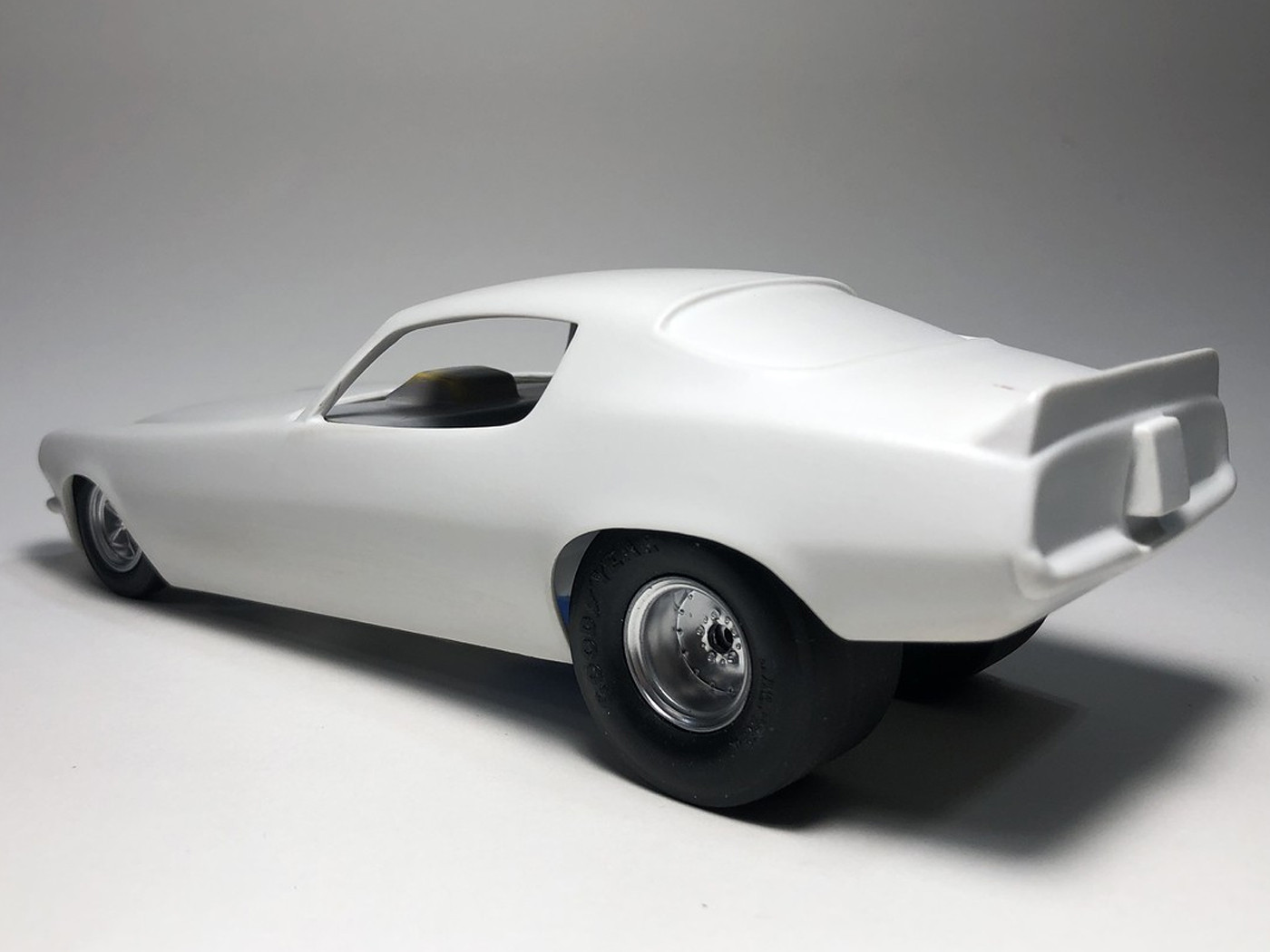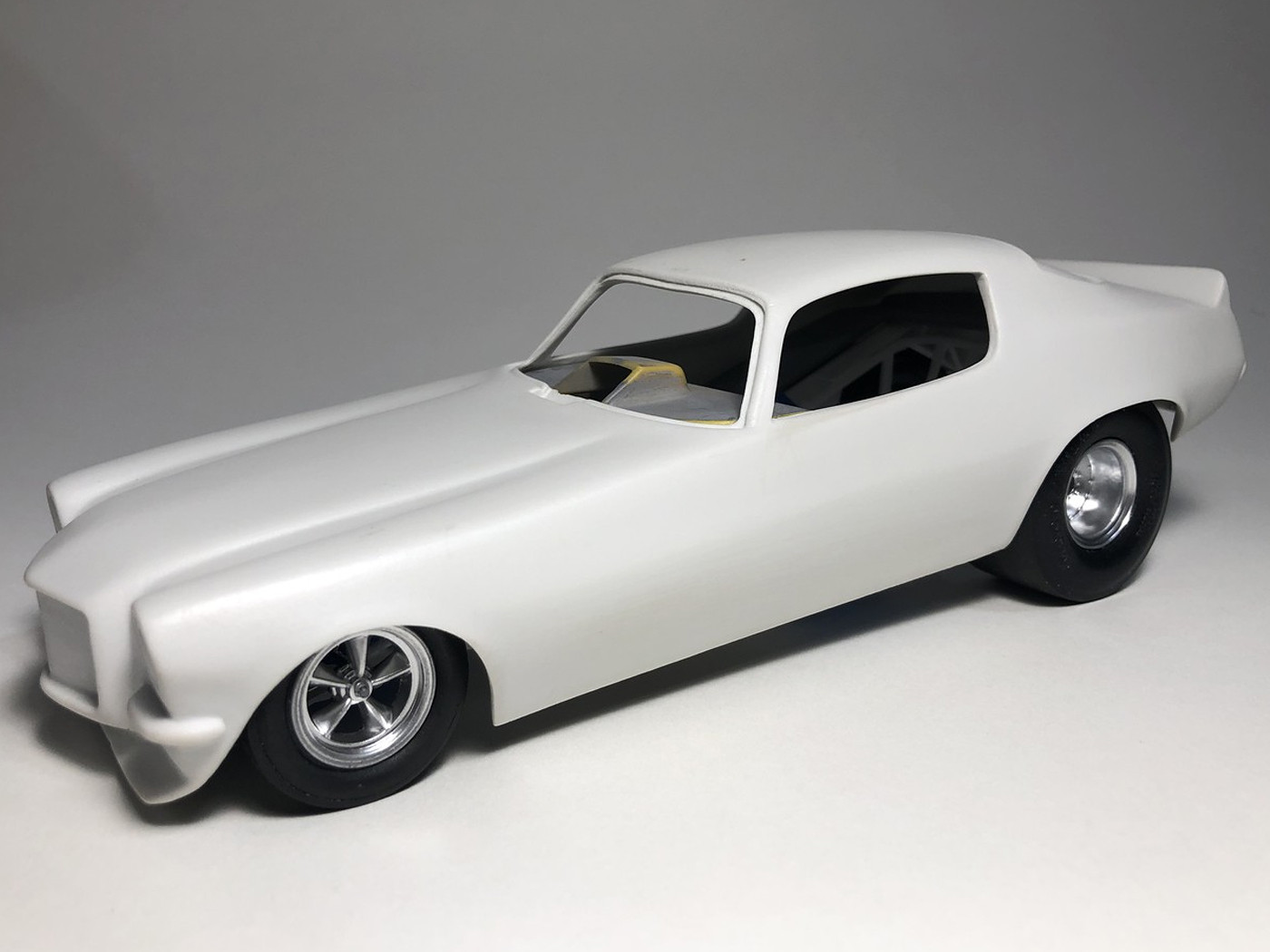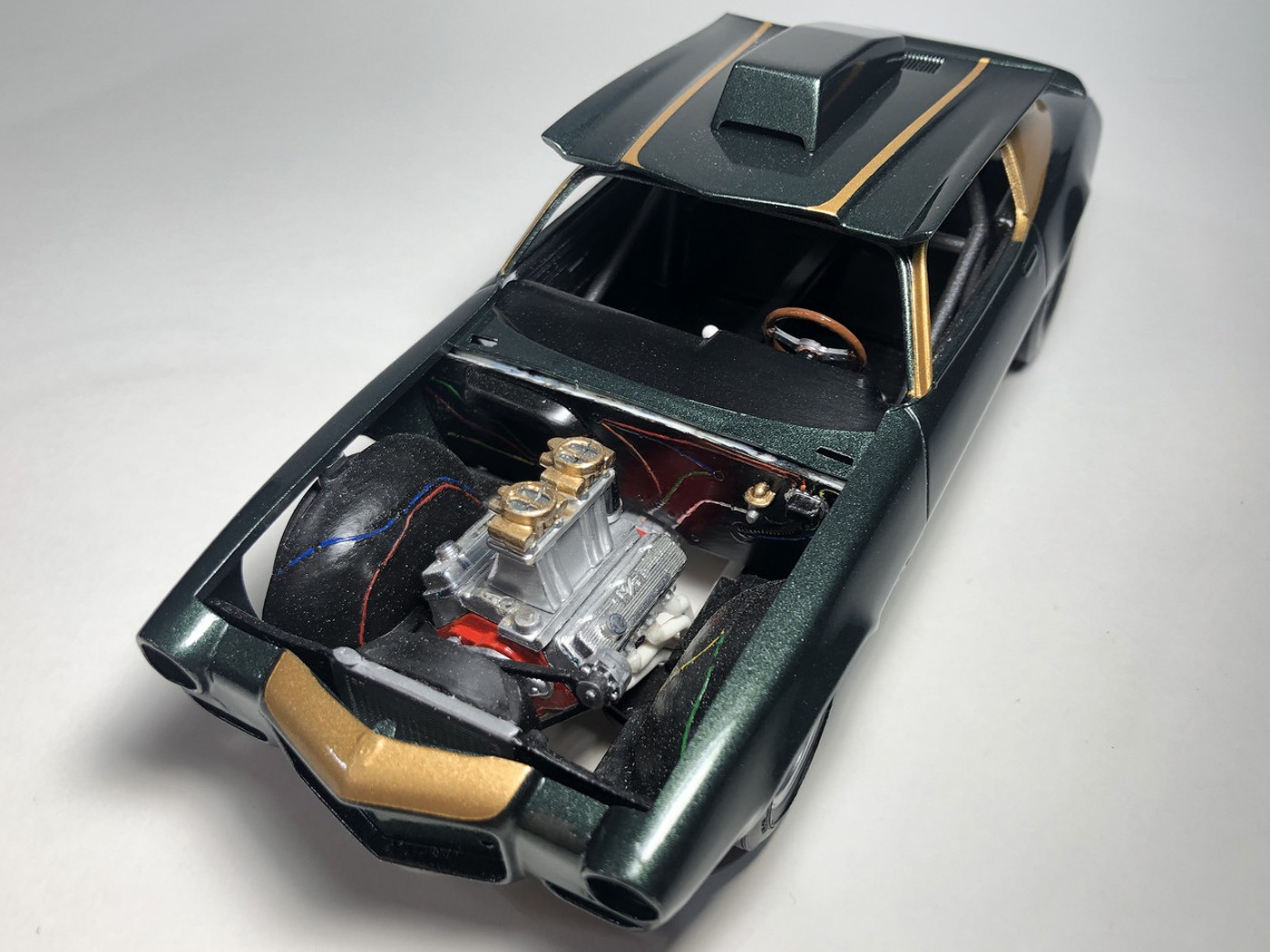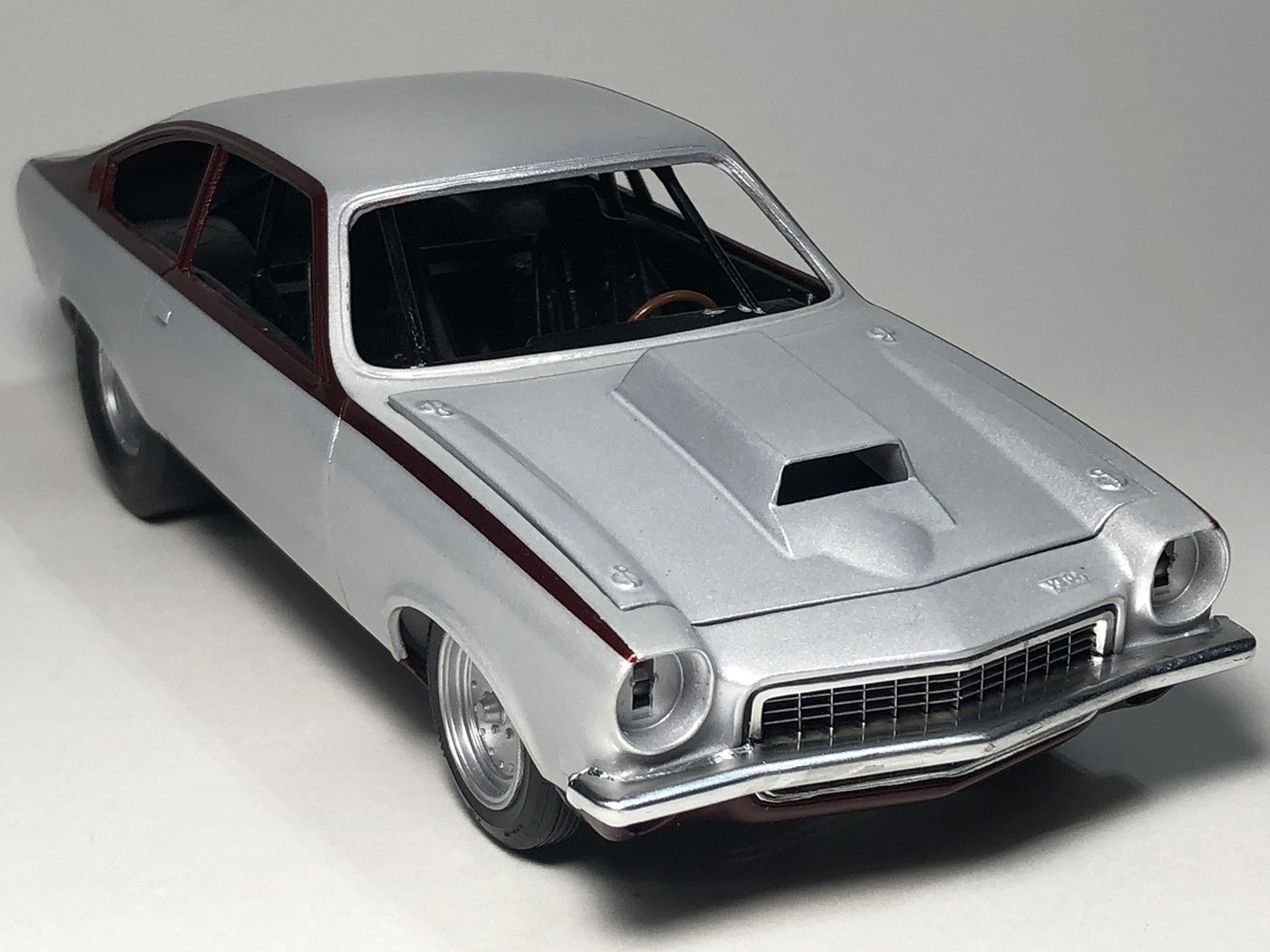 Next one in is Kenny's son Kevin Kovach who also has three works in progress. First is an unusual Corvette gasser. The car rides on a frame, interior, and wheels and tires from a Mustang Funny Car kit. Even more unusual, it also featuires a Ford 427cid engine and transmission. The rear wheel wells have been radiused and the fuel injection system is plumbed with craft wire. Second is a Chevy II Nova Gasser. The straight axle front suspension and stripped interior are scratch-built and the rear wheel wells are radiused. Kevin's parts box supplied the wheels, tires, big block Chevy egine, and Hilborn injection. Third is a rotted out 1969 Yenko Camaro "Barn Find." This one started out as a glue bomb that Kevin built some time ago. In rebuilding it to this state he used Dremel fine carving bits to create rust holes and applied Citadel Typhus Corrosion and Ryza Rust for weathering. The wheels and tires for this one also came from Kevin;s parts box.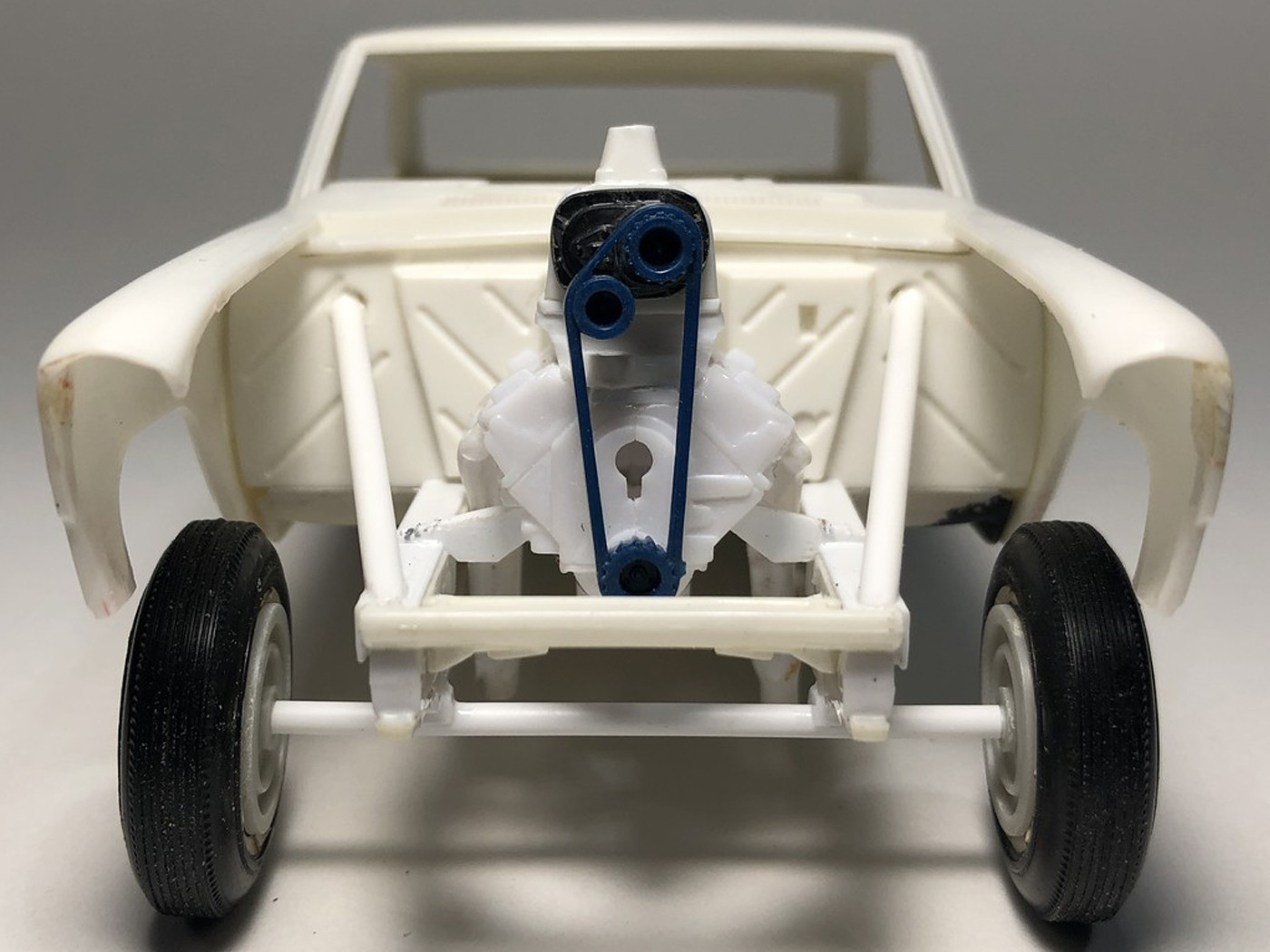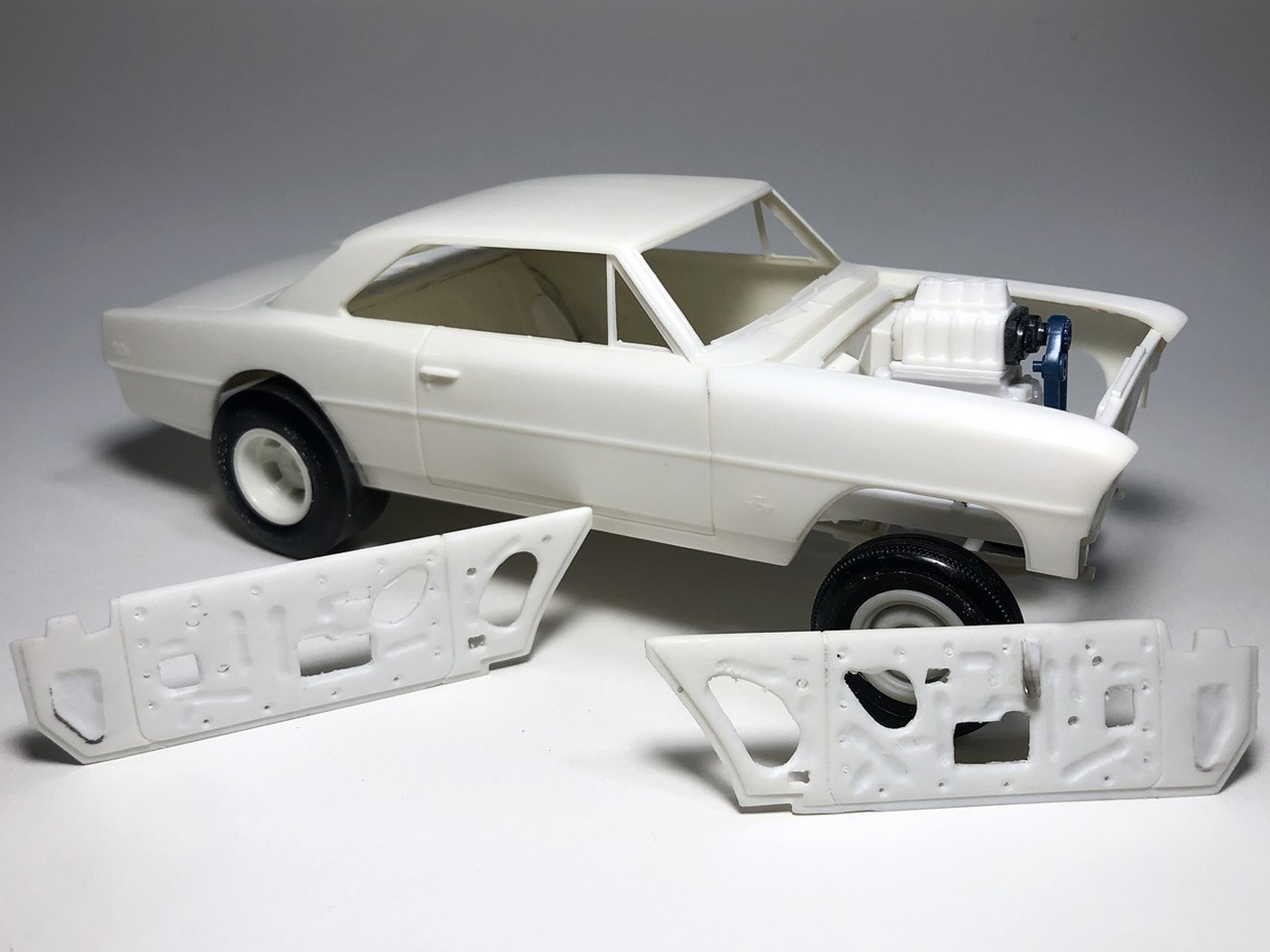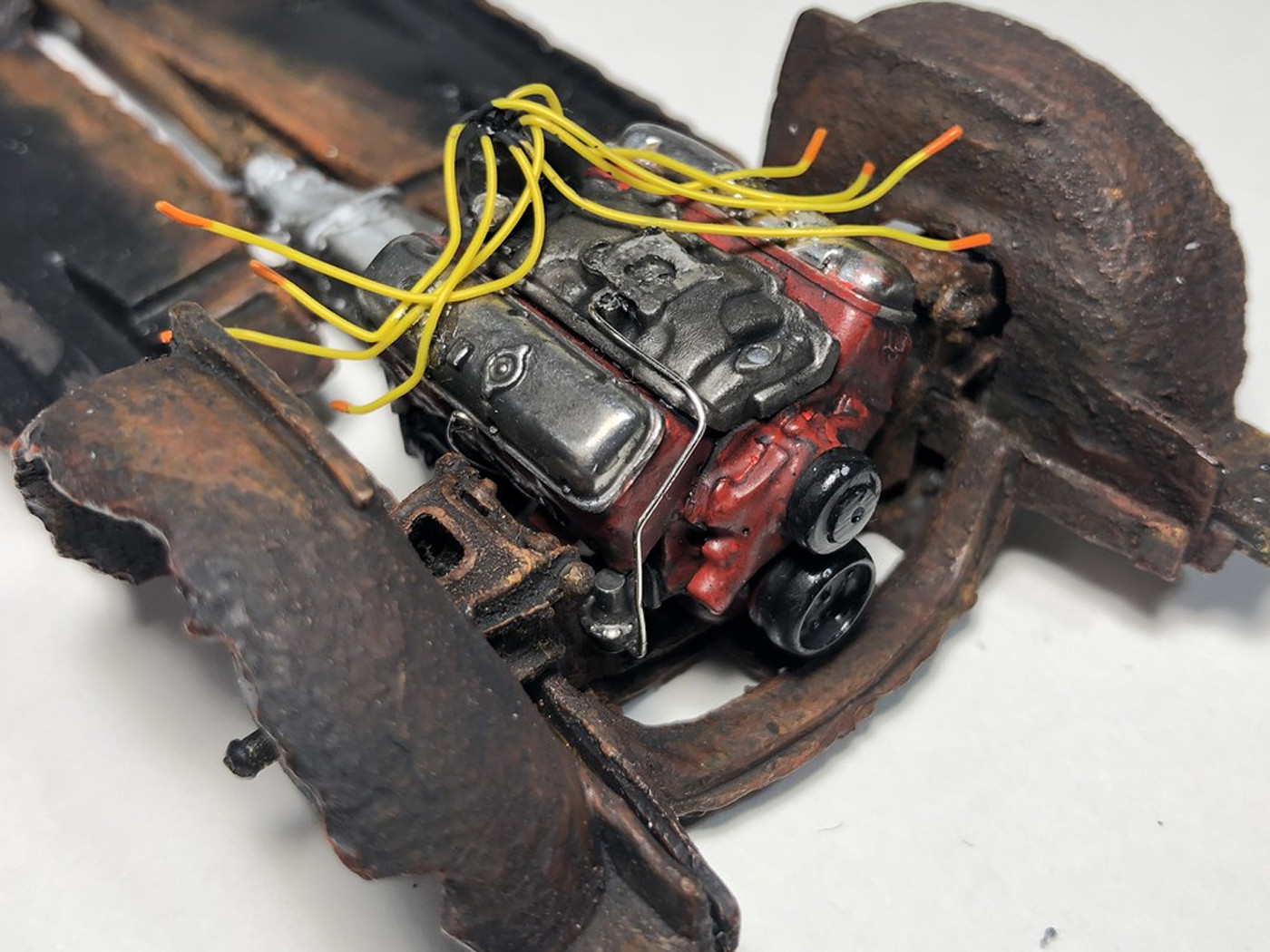 Lyle Willits dropped in with his latest build, "SHORTY." It's an AMT/Lindberg 1934 Ford Pickup riding on a modified Revell Rat Roaster frame and related running gear. The top's been chopped and the bed shortened. Scratch built parts include the fuel tank, interior door panels, and peep mirrors. Lyle applied his masterful woodgrain painting technique to the bed with water based acrylics. The taillights are from Bob Dudek and the wheels and tires are from a Revell Model A kit.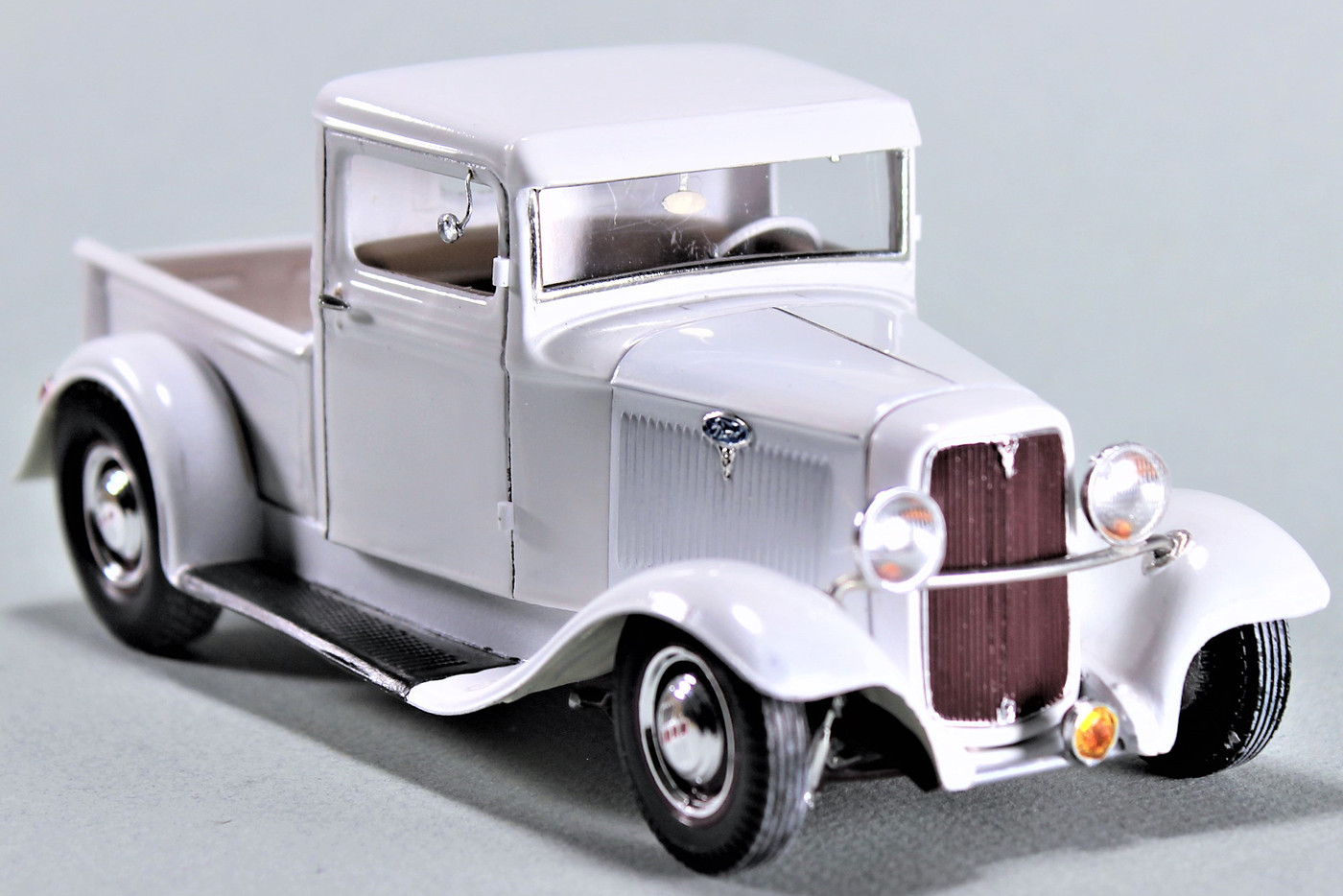 Rex Turner stopped back in with this newly finished 1976 Mustang II Cobra II. Itís a blend of an MPC King Cobra kit, resin and photoetch parts, aftermarket decals, and some parts from other kits. All it needs now is a Farrah Fawcett figure sitting on the hood.

How about having some Valentine's Day cookies?