Due to health and safety concerns regarding the possible spread of the Corona Virus the Greenbelt Community Center where we meet remains closed to meetings and events.
to MAMA's Diner, the official home of the Maryland Automotive Modelers' Association (MAMA), where we serve entrees of fun, friendship, and model cars.
MAMA's current leadership team is:
President: Tim Powers
Vice-President: Dave Toups
Treasurer: Matt Guilfoyle
Newsletter Editor: Tim Sickle

Notes from the MAMA President:
MAMA is 33 year old! I just wish we could have gotten together to celebrate.
Sorry I wasn't able to push out the monthly call for model photos for this month's virtual pseudo-meeting, but a confluence of events (including repeated ISP/email provider failures, loss of a famliy member, and an emergency surgery) prevented that.
There were also a few items that I wasn't able to push out via email: First was a note from Ron Drescheler about a new FIOS TV program on Motor Trend: "Steve Magnante's Super Models" on Friday nights. Ron had just viewed Season 1 Episode 1 which was a 1/2 hour show with Steve building a model of the Jimmy Addison Silver Bullet 1967 factory built drag car using a Revell Sox & Martin GTX kit as a starting point with part substitutions, etc. Ron reports that it looks like Steve will be doing a series with episodes based on some well known vehicles. Ron said it might be "On Demand" for FIOS and that he doesn't know if other providers carry the Motor Trend station. He set his DVR on 'record series'...we'll see. Based on Motor Trend's website, it looks they have completed four episodes so far: The Silver Bullet GTX, an altered wheel base 1967 Chevelle, a Little Red Wagon wheelstander, and a 1968 Charger R/T from his own past. All four appear to be available through Amazon's Prime Video as well.
Another item I didn't get to push out was shared with us by John Jacobus. John let us know that Jim Grace of Carthropology.com has completed the second part of his YouTube series on the Amazing Cars of the Fisher Body Craftsman's Guild (FBCG.) If you have any interest in the FBCG or automotive desgin history check out both Part 1 and Part 2 of this informative series.
John also sent an item from the Dayton Daily News about an FBCG display that Randy Derr had organized for the Dayton Concours d'Elegance on September 19. One of the neatest models scheduled for that display is a 90-year-old Napoleonic coach built and entered in the first FBCG contest in 1931 by Russell Nielsen of Minnesota.
Another cool item that came in was a link to Doug Whyte's Model Car Muse site on YouTube. In his series, Doug will explore the cars, the tech, the automobile art, and legends, that inspire modelers to build scale replicas of their favorite rides or craft their dream car. Model Car Muse was created to preserve the stories behind the models. Mark Gustavson called it, "...a thoughtful and spectacular presentation -- exactly what our hobby needs.
Word came in from David Hoffman, National Capital Model Soldier Society (NCMSS) Adjutant/Secretary that they are still planning to have their 60th Washington Show at the Springfield Hilton, this weekend on September 25th. Check out their Show Flyer for additional information.
Availability of COVID booster shots for Phizer and Moderna vaccines is opening up. I got mine already. Please do yourself, your familiy, your friends, and your co-workers a favor and get yours as soon as you can. As with the initial vaccines, it won't prevent you from catching the disease, but it can greatly reduced the chances that you will catch it and it will help to reduce the severity of the symptoms (less chance of dying) if you do.
Please keep using your masks and hand saniizers to help reduce the chances of spreading COVID and other diseases. It would be great to see the flu at an all-time low again this year as well as a rapid decrease in the COVID infection rate.
Scenes from our nineteenth pseudo-virtual meeting in September:
Due to public health and safety concerns and Maryland State restrictions on gatherings aimed at preventing the potential spread of the Corona Virus, the Greenbelt Community Center where we meet has been closed to meetings since March, 2020. We have had really good results over the previous months with members and friends sending us photos and descriptions of the model cars they would have brought if we'd had physical meetings, or just any model cars or projects they wanted to share. This month we're doing it again.
This month we start with a first-time visit from Mike McCloskey who shared with us four photos of some of the models he's built and is hoping to enter in contests soon. In order, the photos are the engine in a yellow 1932 Ford hot rod, a silver 80s Corvette with custom wheels, a red Mercedes Benz SLS AMG, and a hot-rodded blue 1934 Ford 5-Window Coupe.

This month's selection from Paul Lee includes a Monogram 1955 Ford Panel Truck, Revell 1955 Ford Pro-Stock, Revell 1950 Ford Pickup, AMT 1957 Ford Coupe, and a Revell/Monogram 1957 Ford Station Wagon.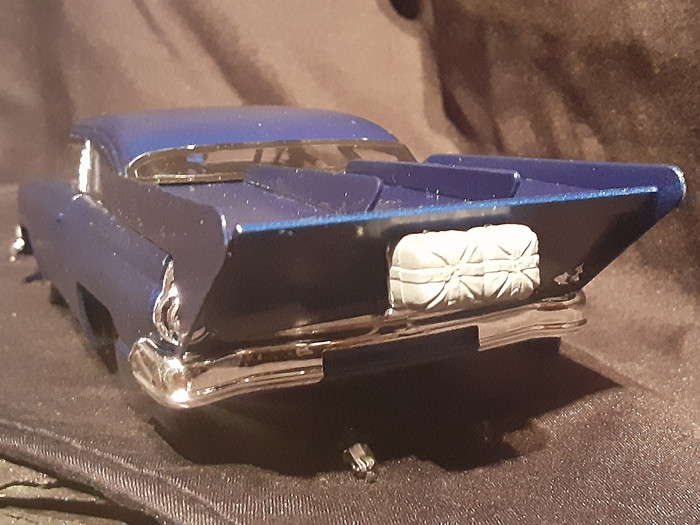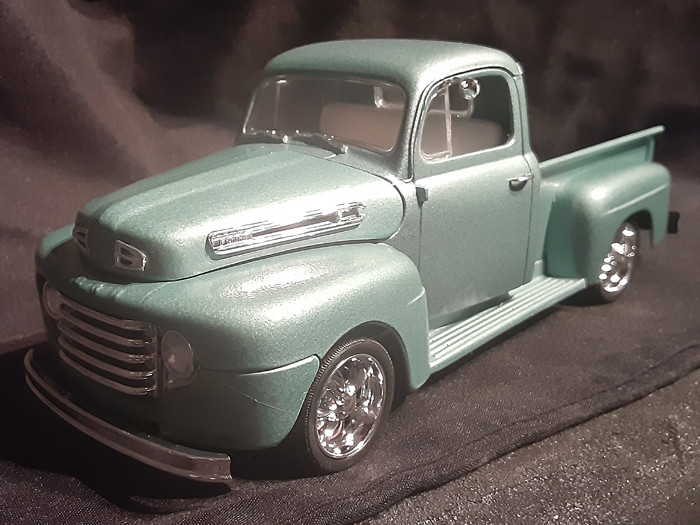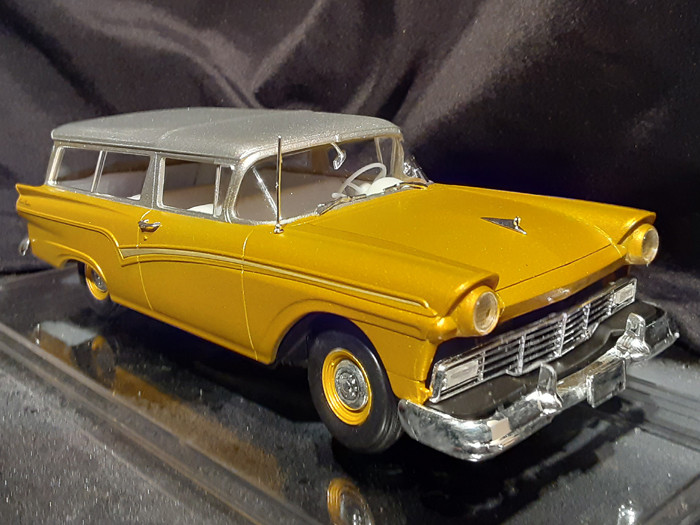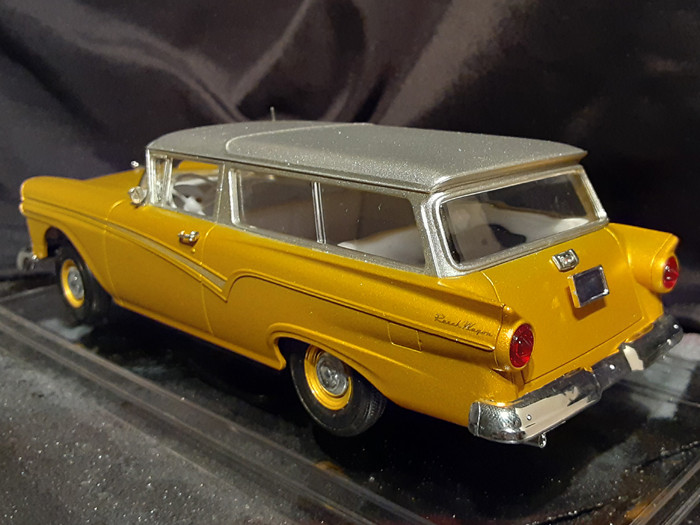 Steve Buter brought an in-progress project this month. Says Steve, it seems like wrapping up a mystery every Saturday morning before noon should rate more than a slice of pizza at the local teen hang-out. Scoob 'n Shag have been quietly squirreling away money for several years now towards the ultimate goal of having their own "Machine" for fun 'n frolic on their days off from Mystery Inc. Shown here is the Polar Lights Mystery Machine given to Steve as a Christmas present in 2020 by his daughter. The most difficult challenge so far has been "burying" the turquoise plastic that the snap-kit was molded in. First Steve primed, then primer-sealed, then sprayed chrome silver as a base=coat for the Krylon gloss white.In pursuing a "surf" theme (surfboards will come later) Steve punched out openings for port-hole style windows out back. The window glasses are the clear section of 5/16" "wiggle" eyes from the craft store that he set into the body shell with Testors clear parts cement. The wine bottles were a craft store find as well. The figures are all American Diorama, pre-decorated. At "1/24th scale, Steve feels that they complement the size of the Polar Lights Shag 'n Scoob figures better than some of the stuff like YUFAN which he's been more used to working with. Future touches include "Zoomie" style headers (think Mad Max's car) made from the rounded off parts trees included in the kit. And yes, that is indeed an Edsel grille that Steve set into the nose of the van.

Lyle Willits shared the photos he shot at this month's September Fire Museum Gathering.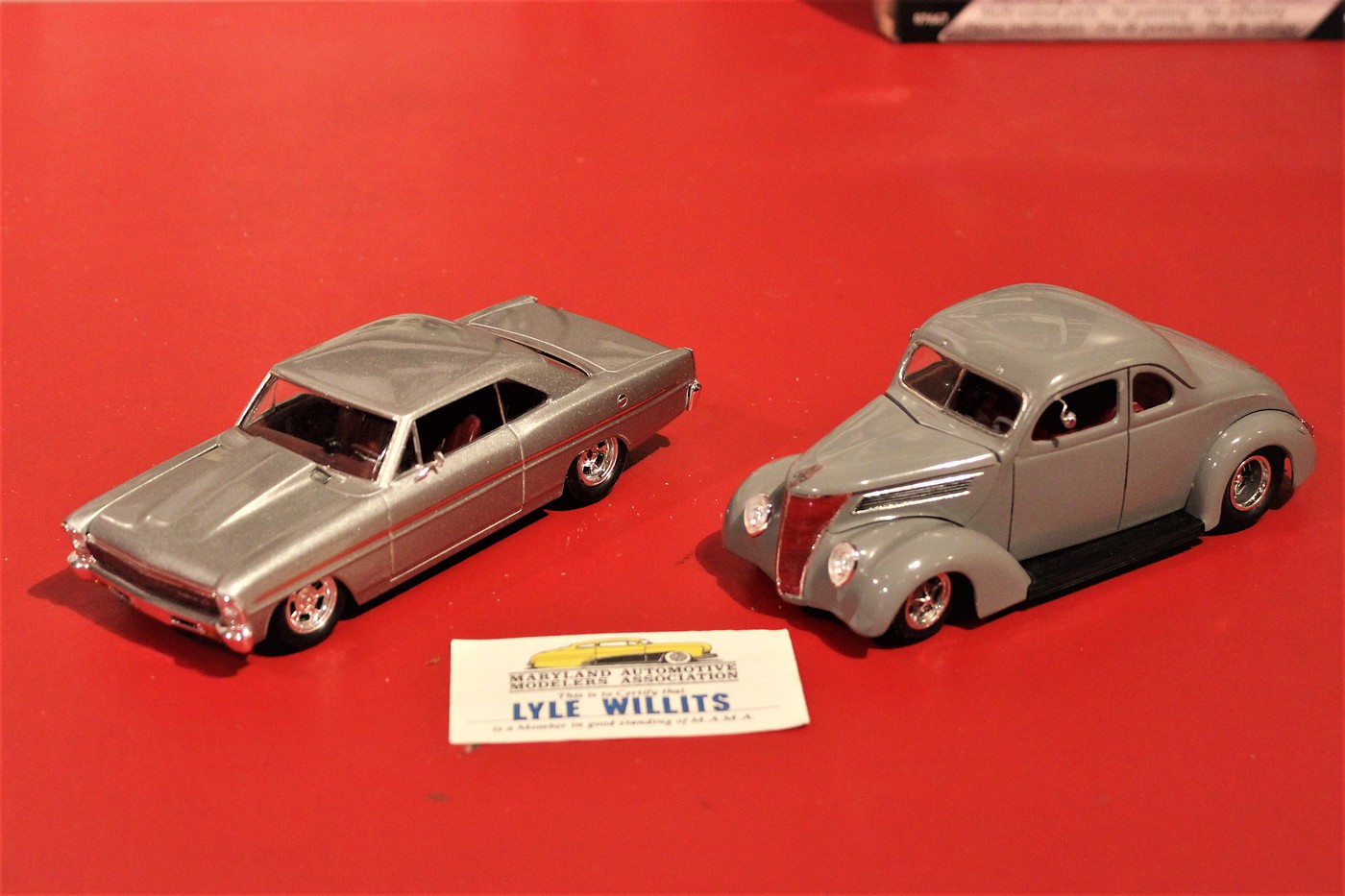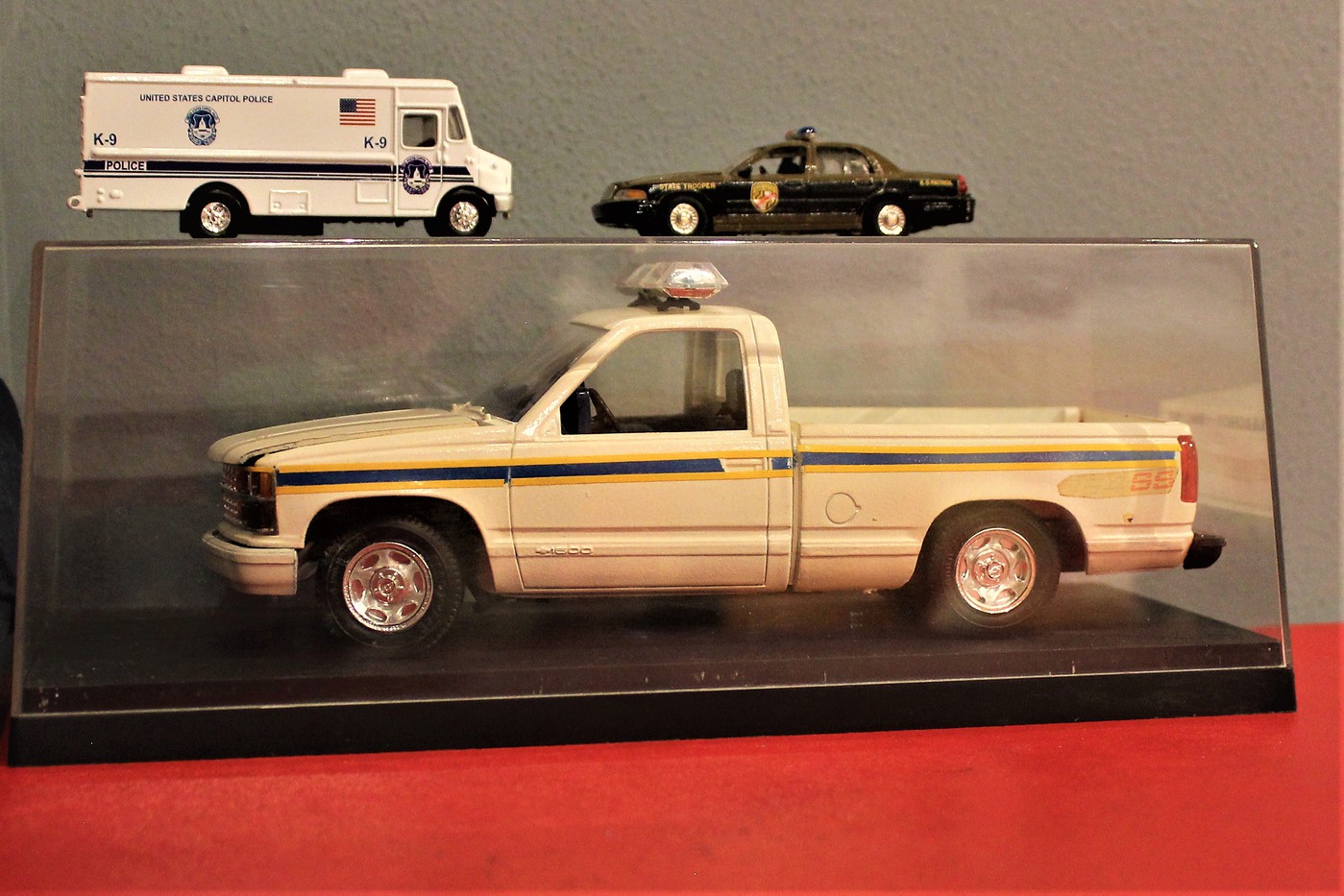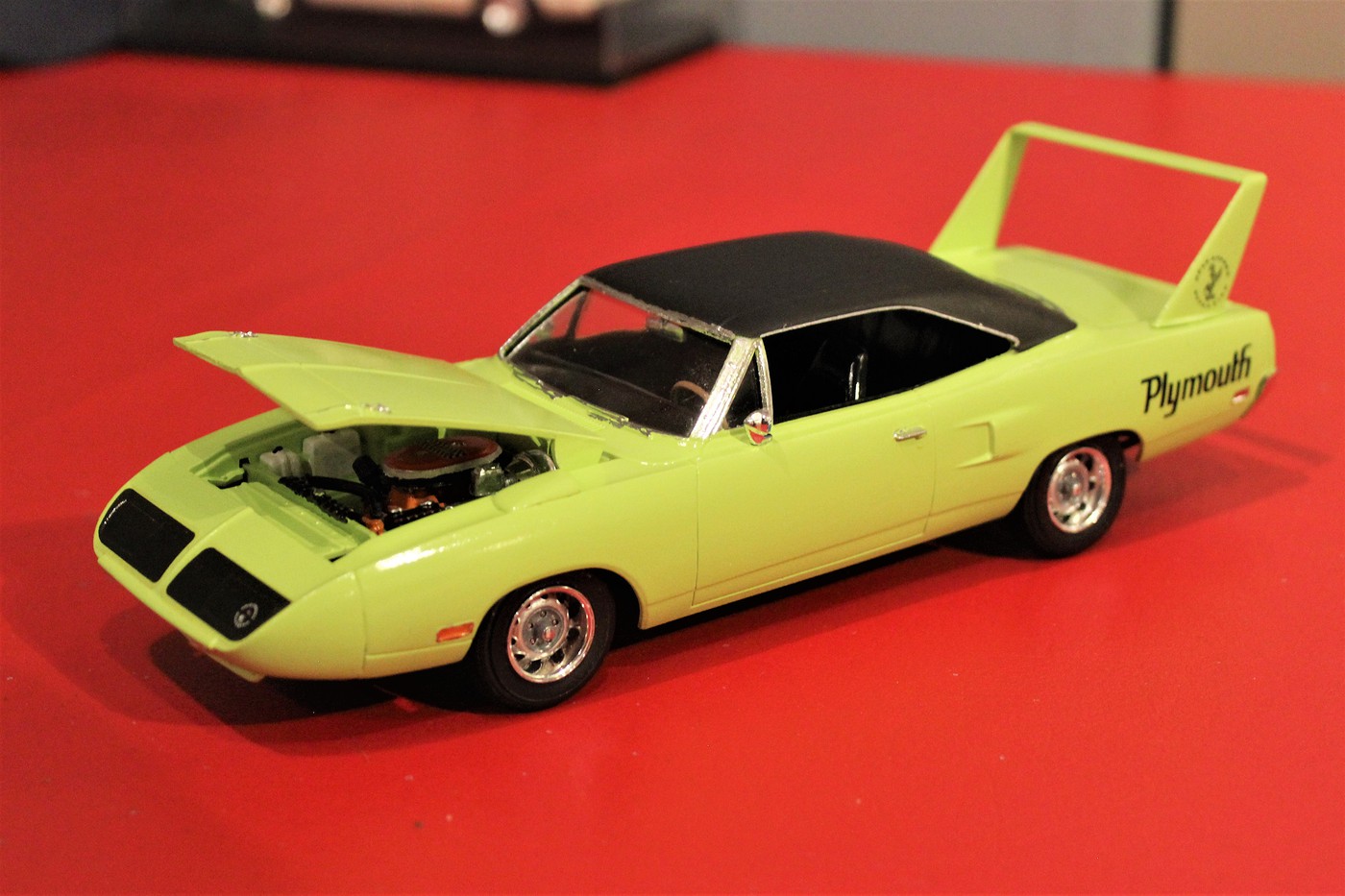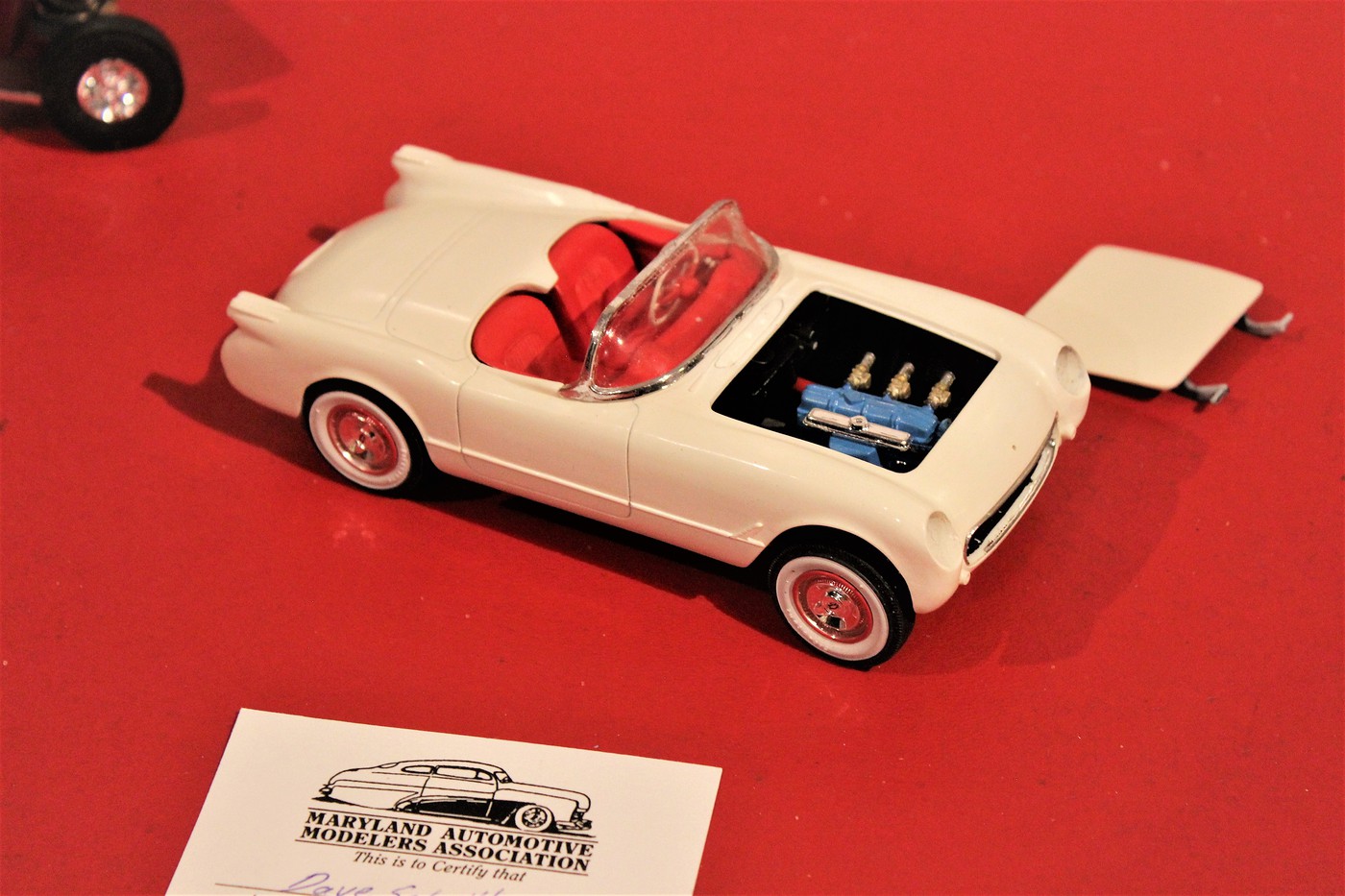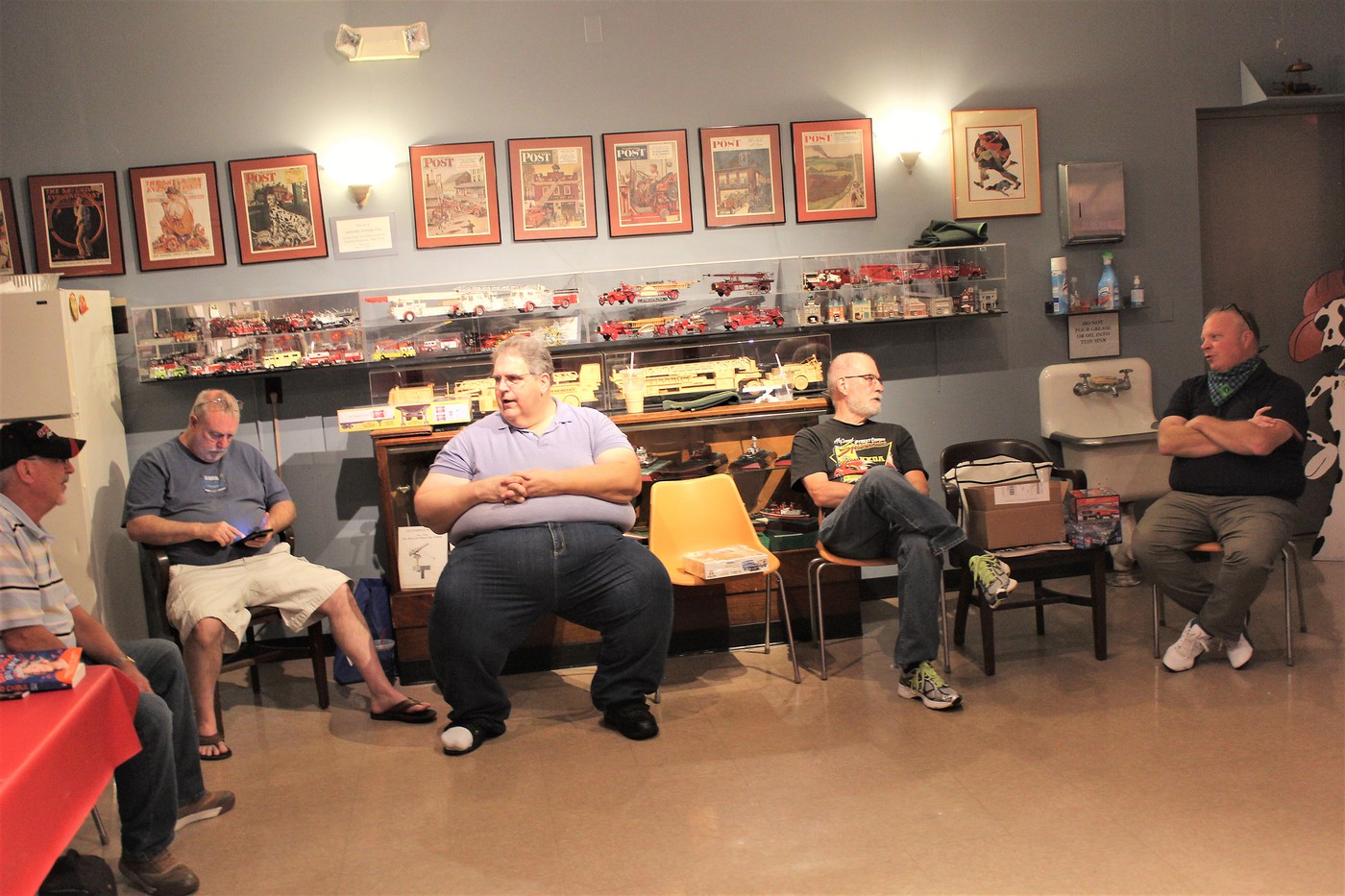 Norman Veber shared the photos he took at last month's August Fire Museum gathering..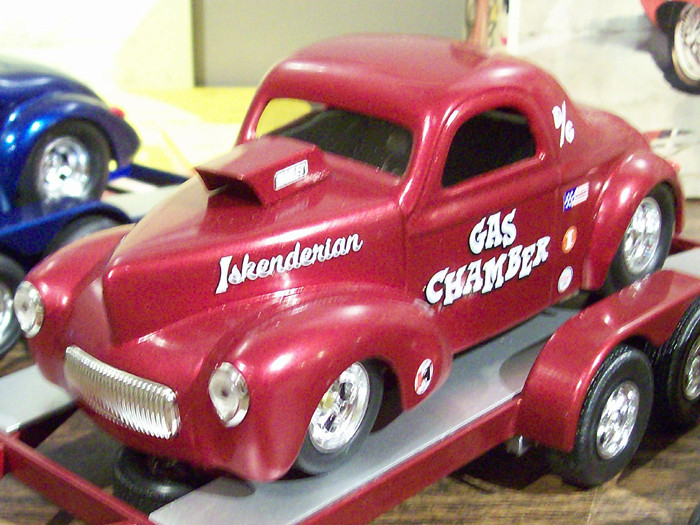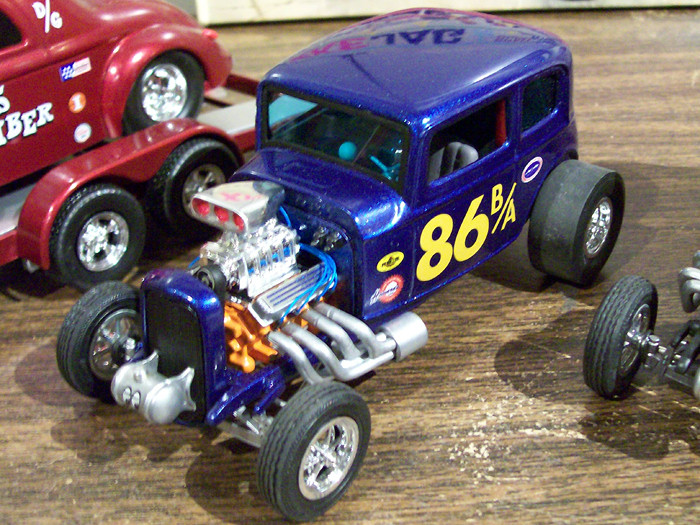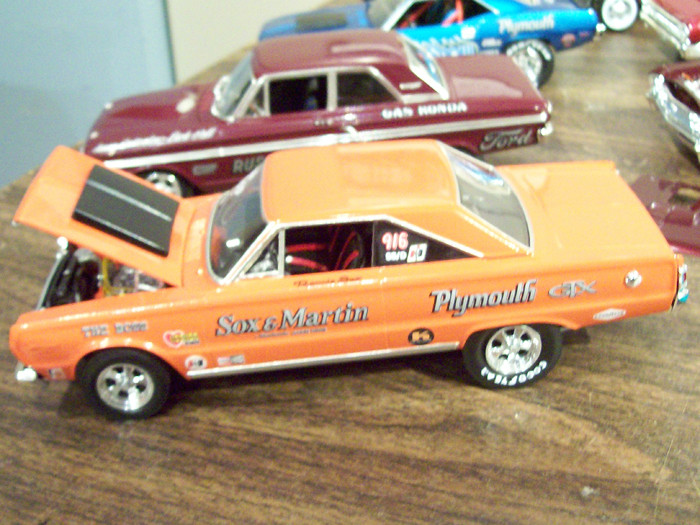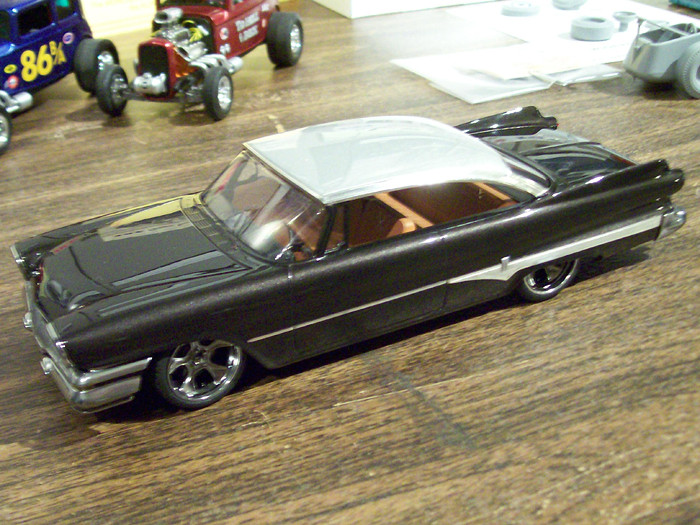 Sorry, no cookies this month. We have cake! Well, virtual Anniversary Cake, anyway (no carbs or calories!)