to MAMA's Diner, the official home of the Maryland Automotive Modelers' Association (MAMA), where we serve entrees of fun, friendship, and model cars.
MAMA's current leadership team is:
President: Tim Powers
Vice-President: Dave Toups
Treasurer: Matt Guilfoyle
Newsletter Editor: Tim Sickle

Special Note #1: Aftermarket Companies and Rare/Old Kit Sellers! MAMA wants you at our show! We are calling out to potential vendors for our upcoming Mid-Atlantic NNL! We have begun sending out packages to those who've vended at our show before, and we have a few tables still availble. If you would like to vend at our show in May, send an email to our Vice President, Dave Toups, for table reservation information. This is your opportunity to mingle with your customers in person and learn what they want to see from you in the future.
Special Note #2: Calling all sponsors!
1.
Trophy Sponsors
: If you would like to sponsor one or more of the awards at our upcoming
Mid-Atlantic NNL
email to our club treasurer,
Matt Guilfoyle
, for category availability. Sponsorships for large 8" awards will be $87, small 6" awards will be $61.
2.
Raffle/Door Prize Sponsors
: If you would like to donate product samples, promotional materials, etc, this is an opportunity for potential new customers to learn of your products, see them in person, and understand the quality you bring to the hobby market. To put your company's name and products directly in front of our participants and help us defray the ever-rising costs of conducting a regional model car event, send an email to our President,
Tim Powers
for details.
Notes from the MAMA President:
By my count, we had nearly as many people at the January meeting as we did at our annual Holiday Pot-Luck feast in December. That's impresive. We also welcomed a few new members and were happy to see a couple returning members whom we hadn't seen in quite some time.
This is the time of yeare where we begin preparing for our annual Mid-Atlantic NNL. This year it will be on May 13. We are already discussing how we'll apply the things we learned during the last show and are preparing to start soliciting award sponsors and raffle donations.
Please continue to keep our friends in the Ukraine in your thoughts and prayers as Russia's senseless war on them drags on.
Now that we are through the big holiday get-togethter/party season, and the COVID positivity rate for Maryland had climbed to more than 13%, it is finally working its way back down to the low 11% range, soon to get down in the 10% range, I hope. While it is good that COVID is coming back down, wearing your mask is still a great idea. It not only helps prevent pasing COVID around, it also helps reduce the chances of catching or spreading other contagious diseases like colds, RSV, and the flu.
January Meeting Photos:
For those members who cannot make it to a meeting in person for whatever reason, we mainatin the psuedo-virtual aspect of the web site. Any one who wants to is encouraged and welcomed to send in photos of their builds, so if we can't see you and your model cars in person at meetings, we still want to see photos of your projects here on the site. Please keep those photos and descriptions coming. Remember to send them in by the third Saturday each month.
Paul Lee not only starts off the virtual portion of our site this month, he also attended the meeting in-person. Here we see his Son of Troublemaker El Camino Funny Car from Atlantis Models, a blue Revell Ferrari 360 Modena Spider, a Revell Tom "the Mongoose" McEwen rear-engined dragster, a silver Revell BMW Z8 roadster, a Revell 1972 Olds Custom Cutlass Supreme Convertible in silver with a white top.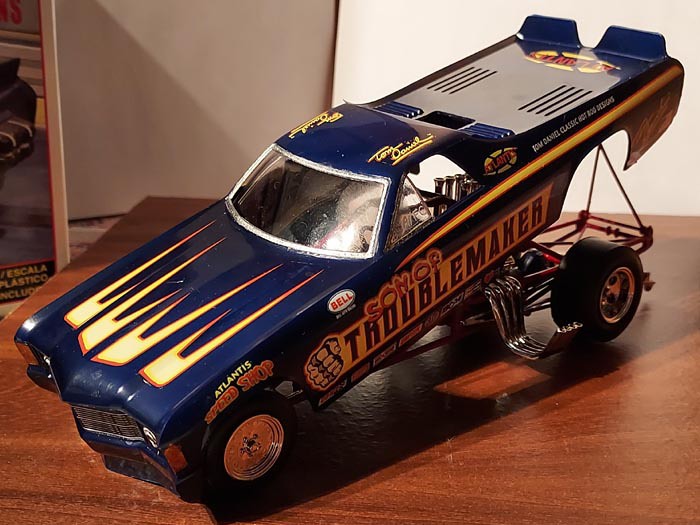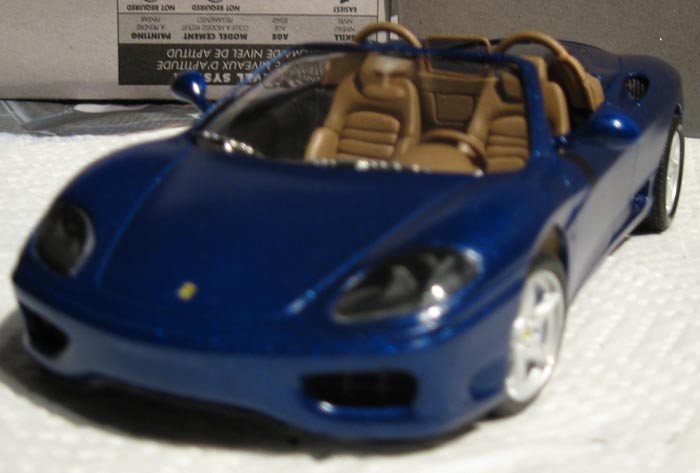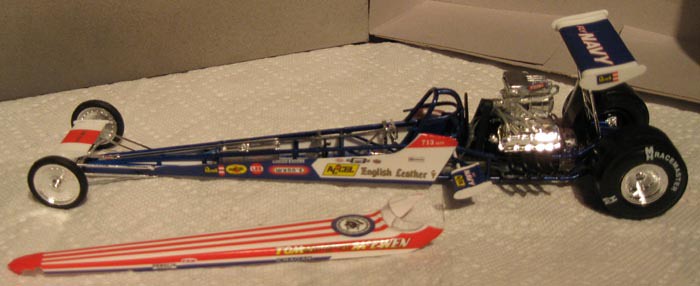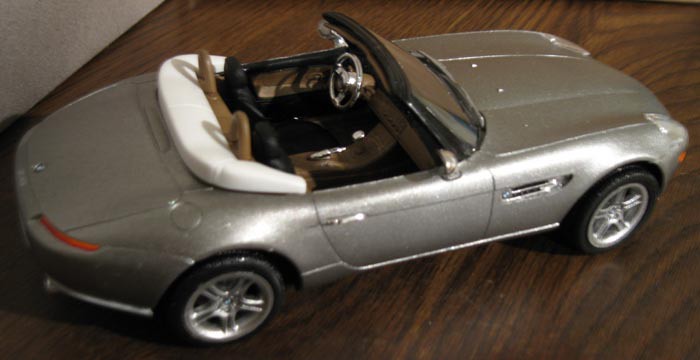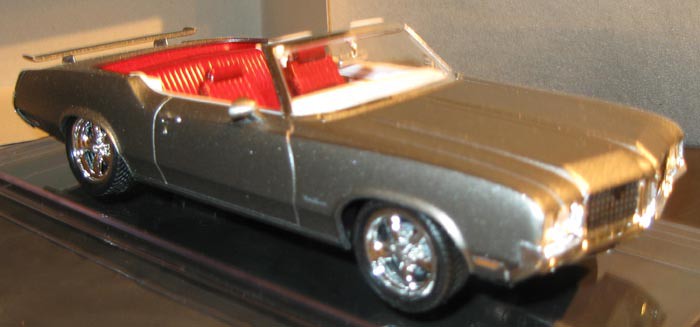 Steve Martin sent shots of his Monogram 1940 Ford Pickup. It's his example of what might happen if a 90s Street Rod was left for dead in the woods and then found and brought up to today's looks. He also sent photos of his Revell 1937 Ford 5-Window hot rod, which he said was inspired by something he'd seen on the web. He built it box stock except for the wires and wheels. Lastly, Steve sent pics of his first Deuce. He desccirbes it as mostly a bone yard build with some parts scratch built like bomber seats, fuel pump, and pulleys. The fan belt is electrical tape and he usedyellow cellophane for the window glass.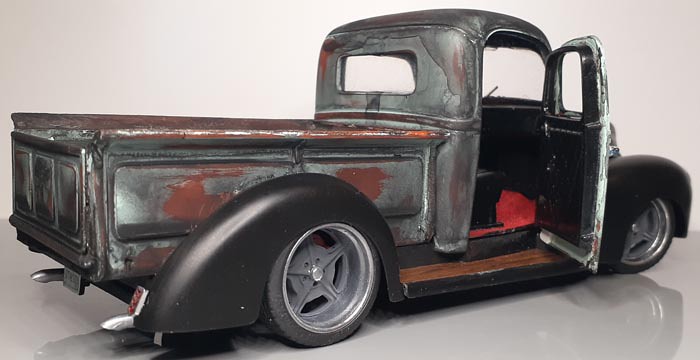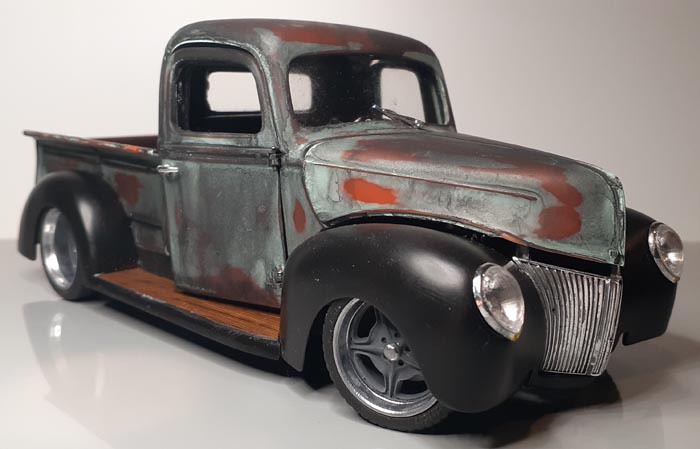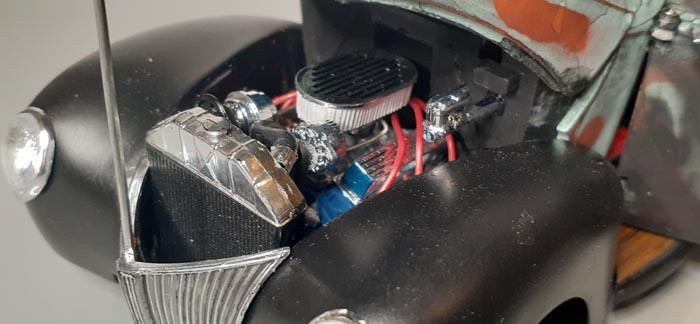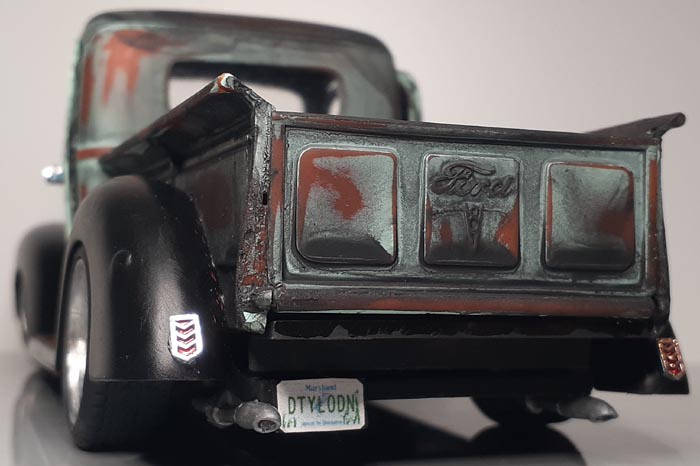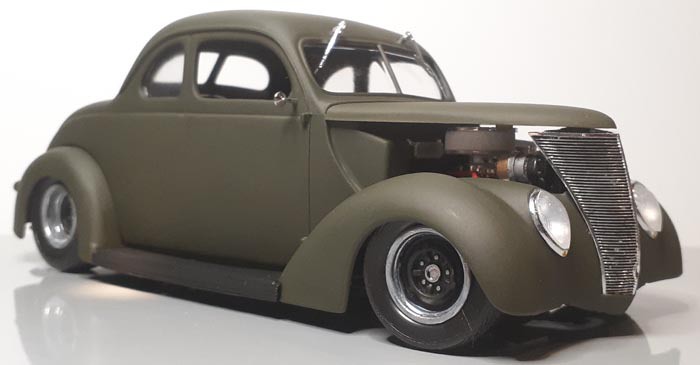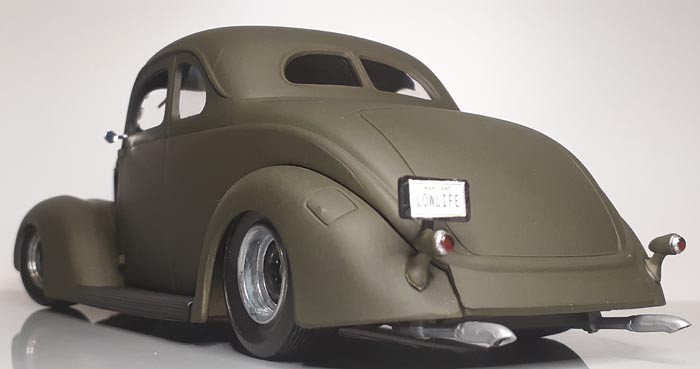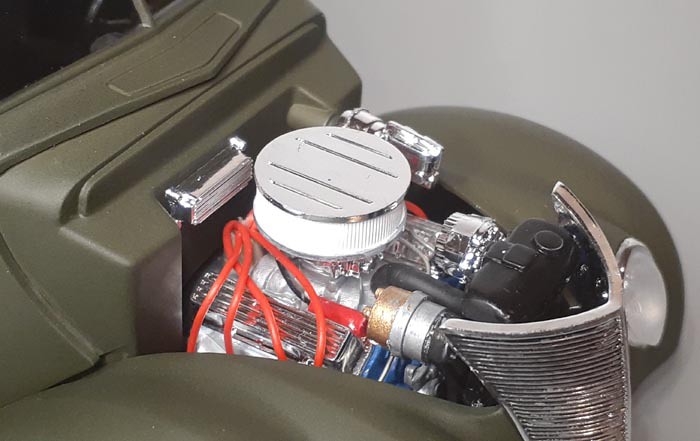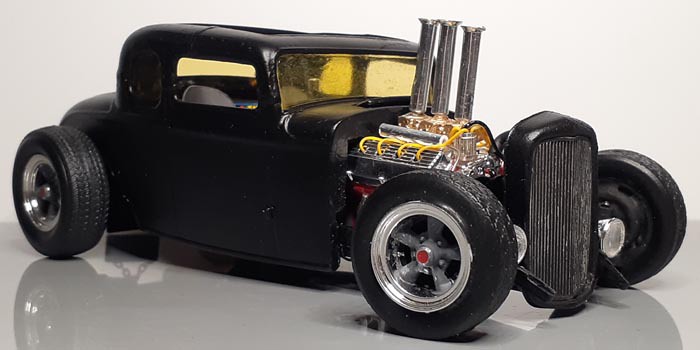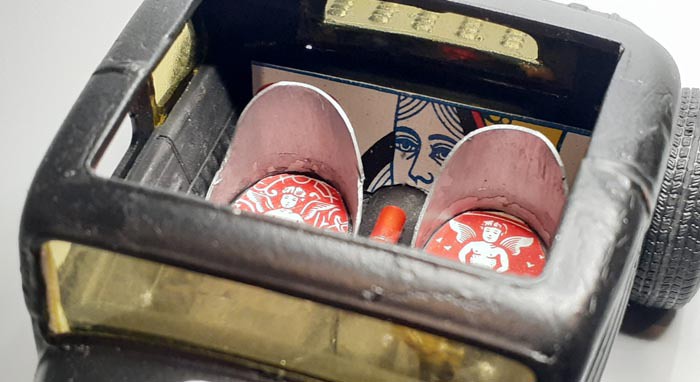 Rex Turner sent his regards from Florida along with photos of his George Follmer 1970 Boss 302 T/A Mustang. He says he started it as a conversion from a Monogram Boss 429 kit, but because it was taking longer than some of Larry Booth's projects, he resorted to using the interior from a diecast to finally get it finished.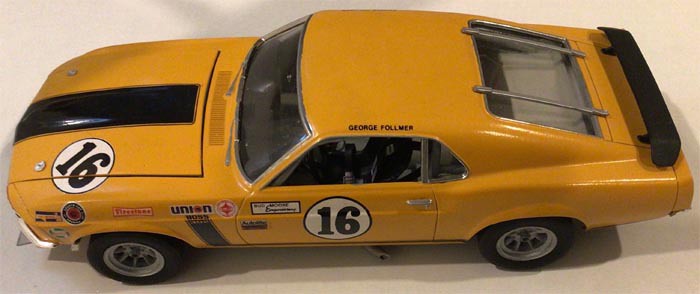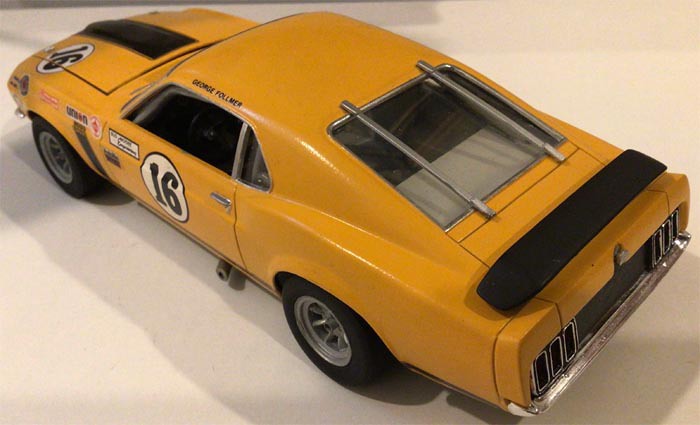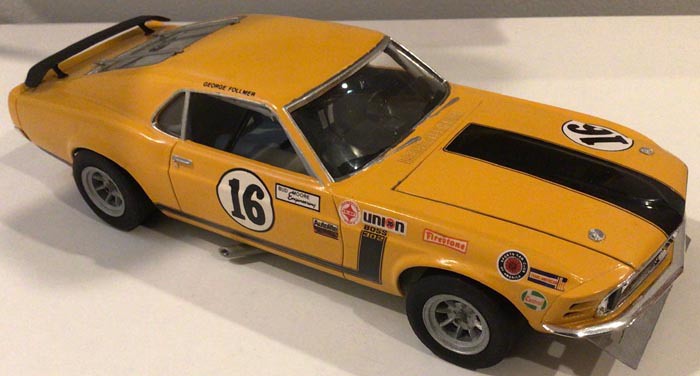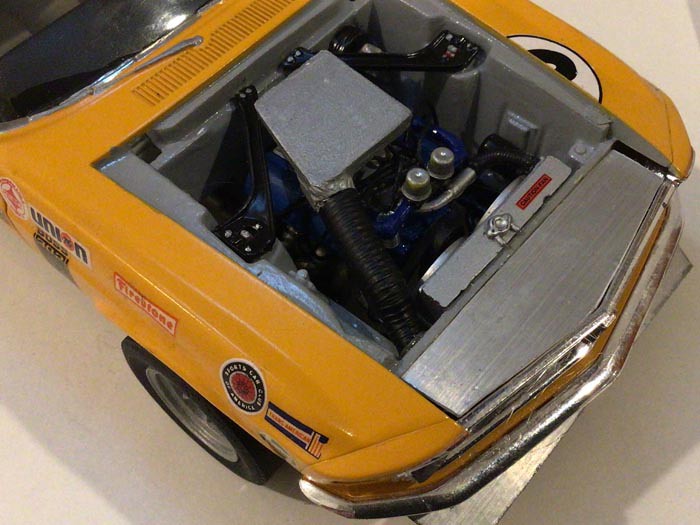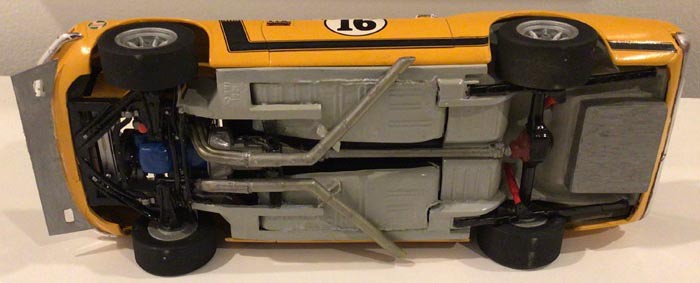 Scenes from the meeting:
Nick Sickle gave a look at his latest 1/64 scale aquisitions.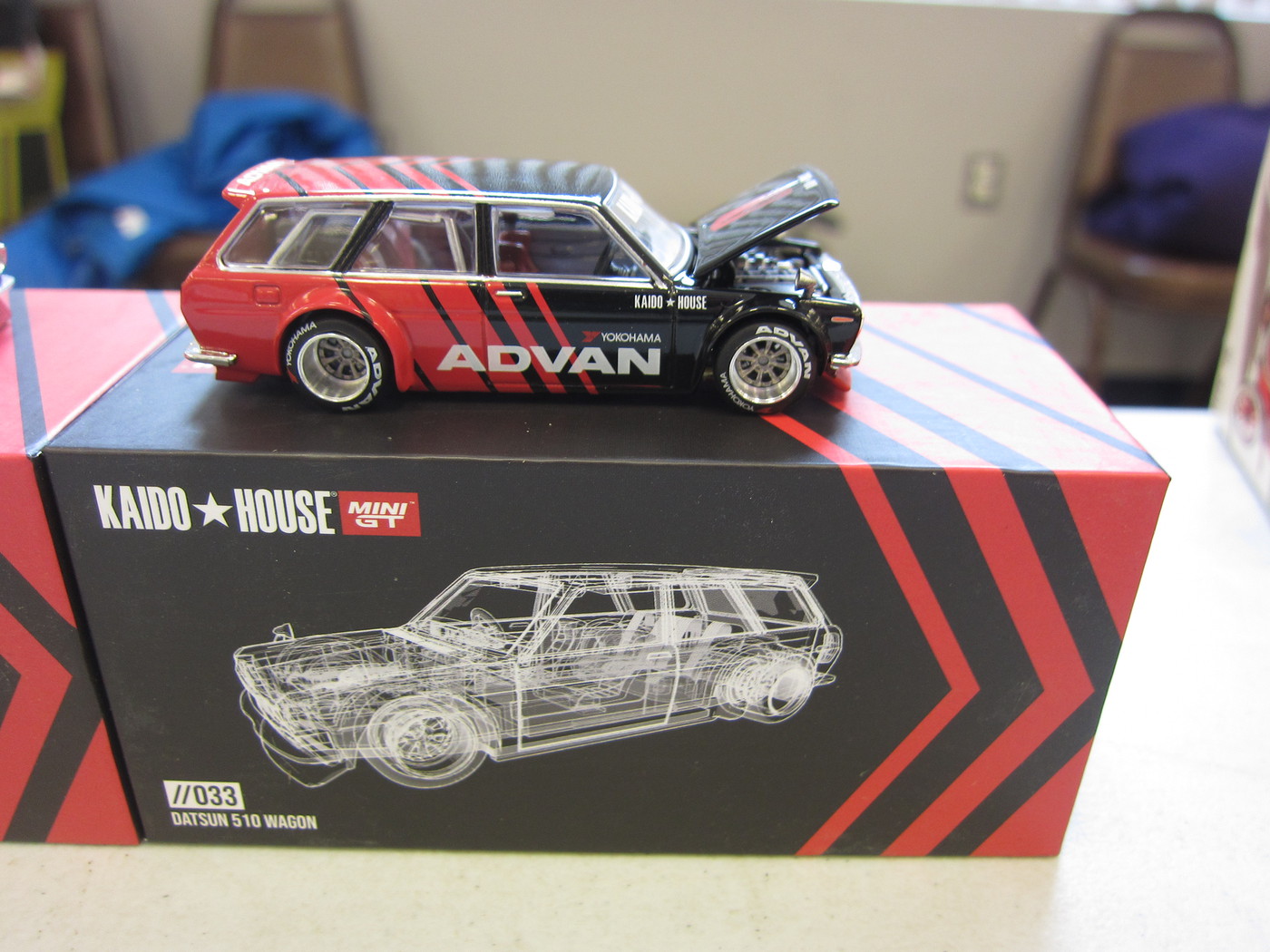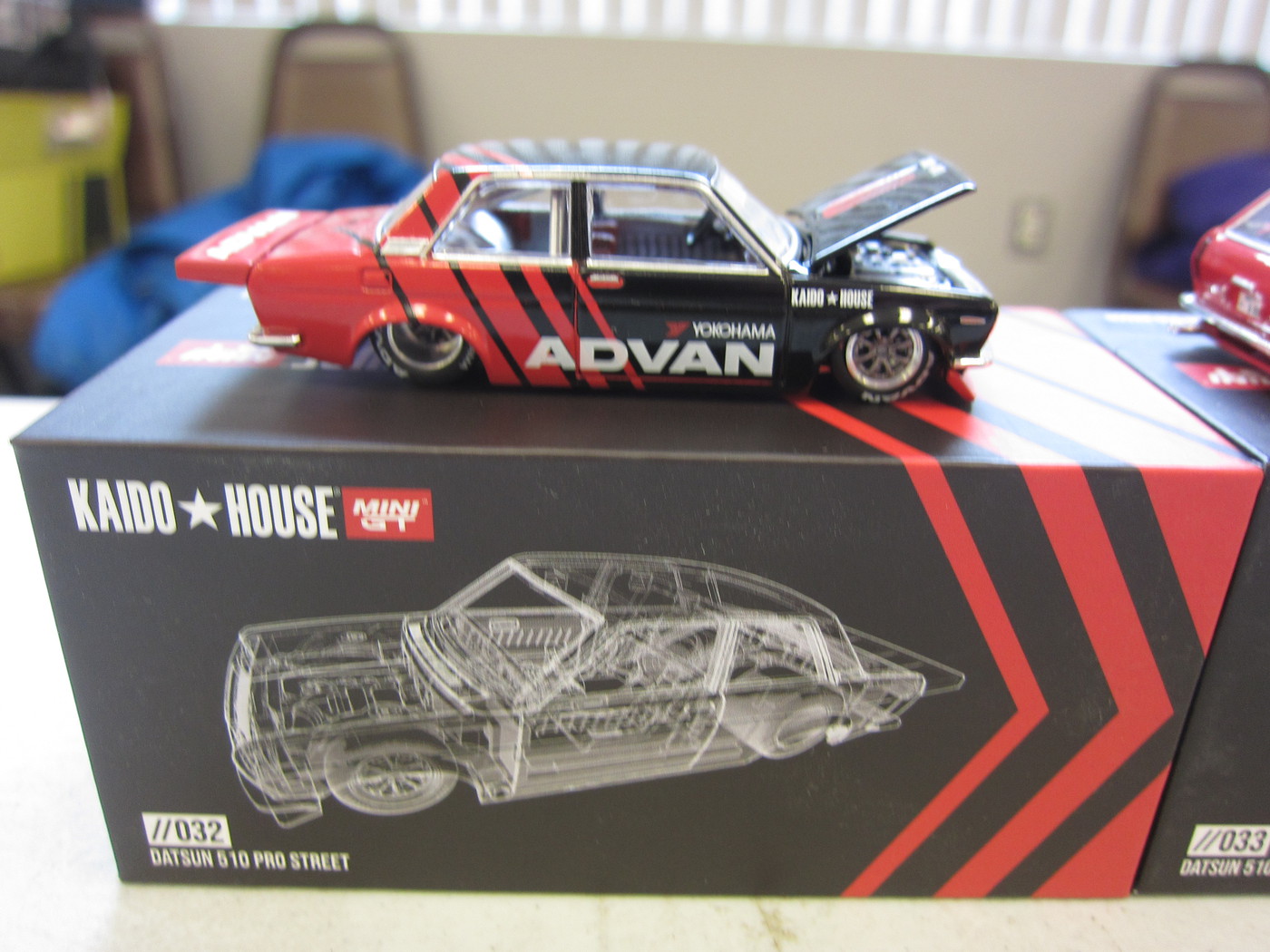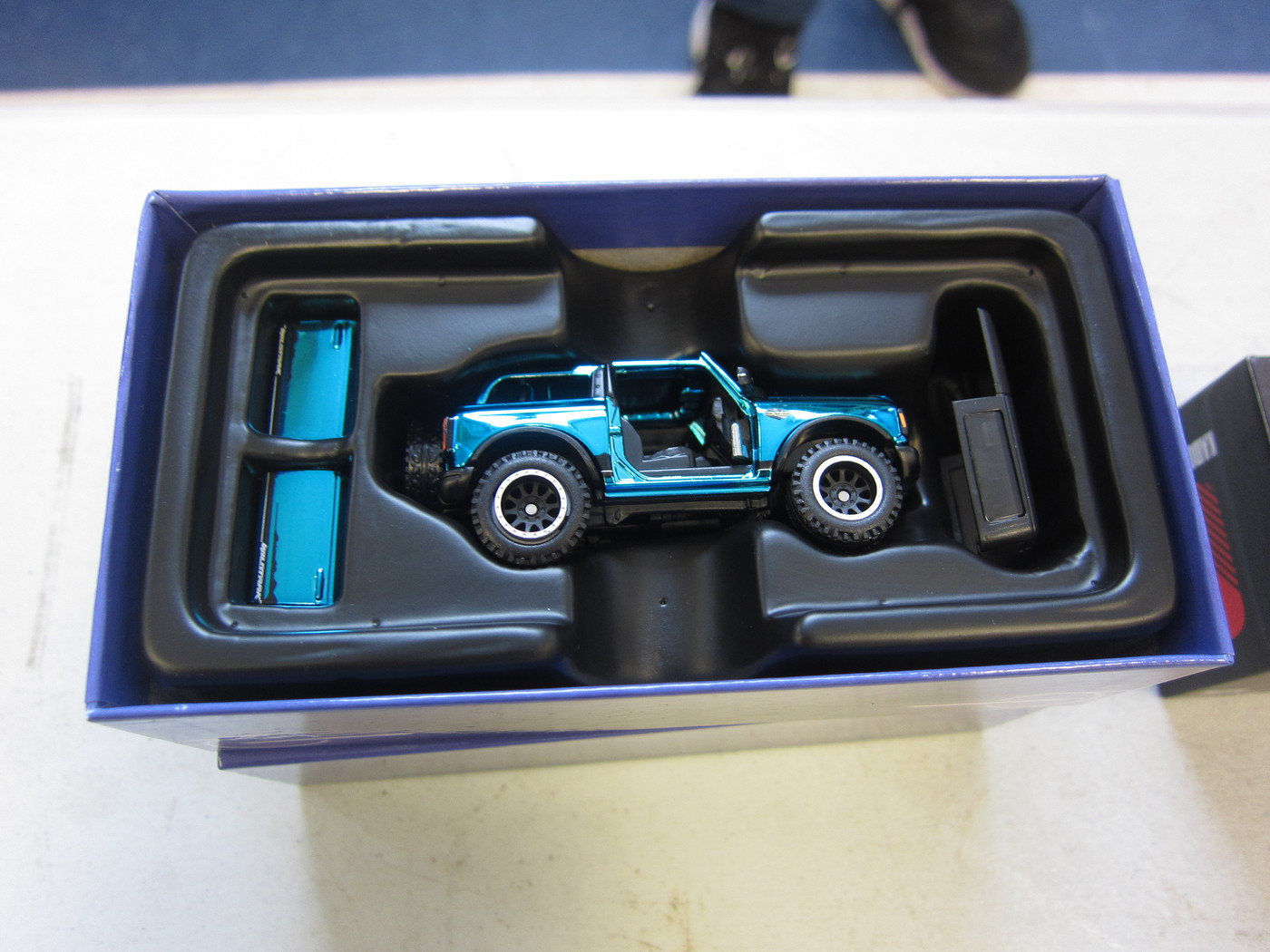 Lyle Willits displayed a 1932 Ford 5-Window gasser, a 1932 Ford roadster with Duvall windshield, and a 1937 Ford coupe.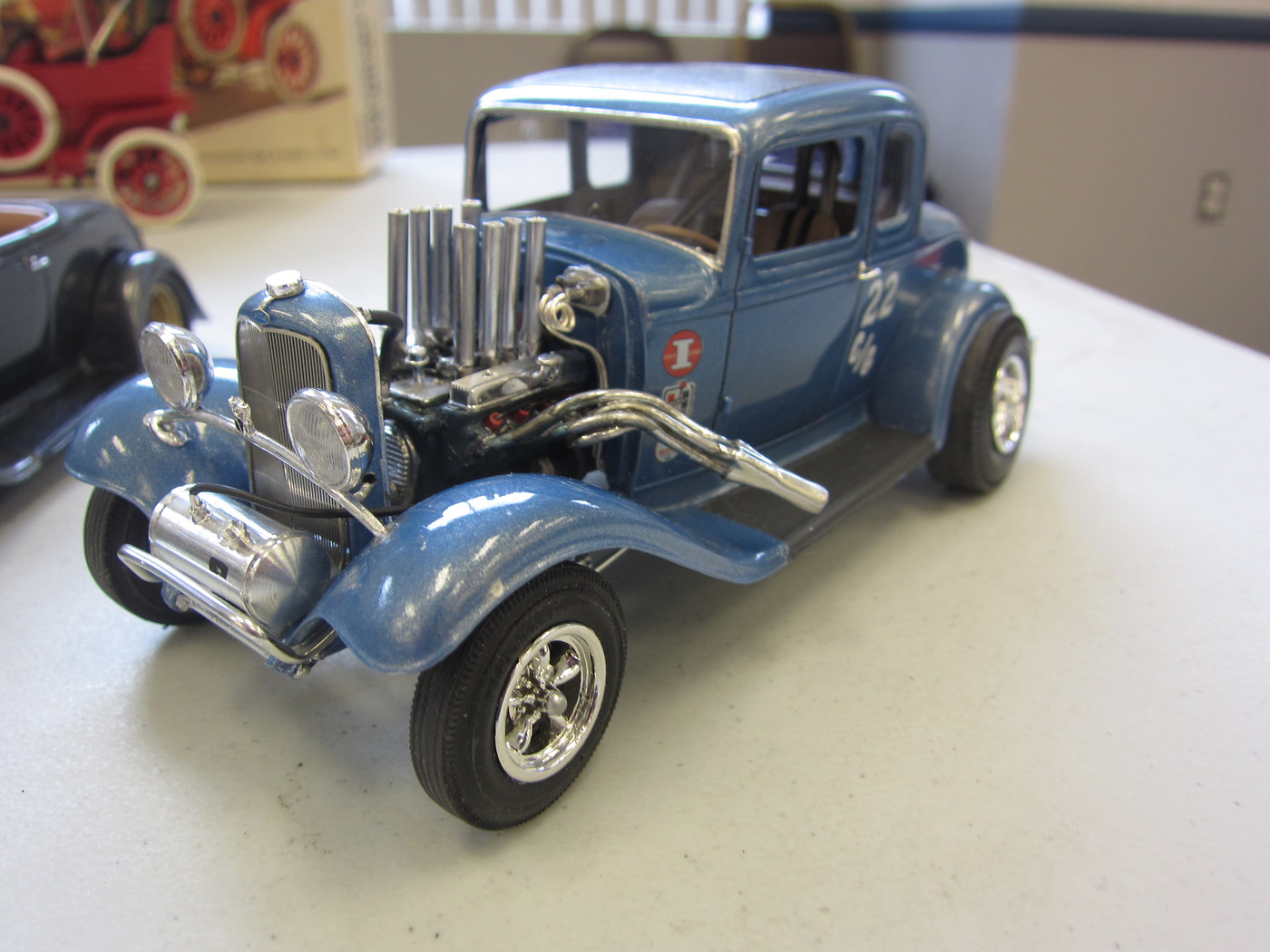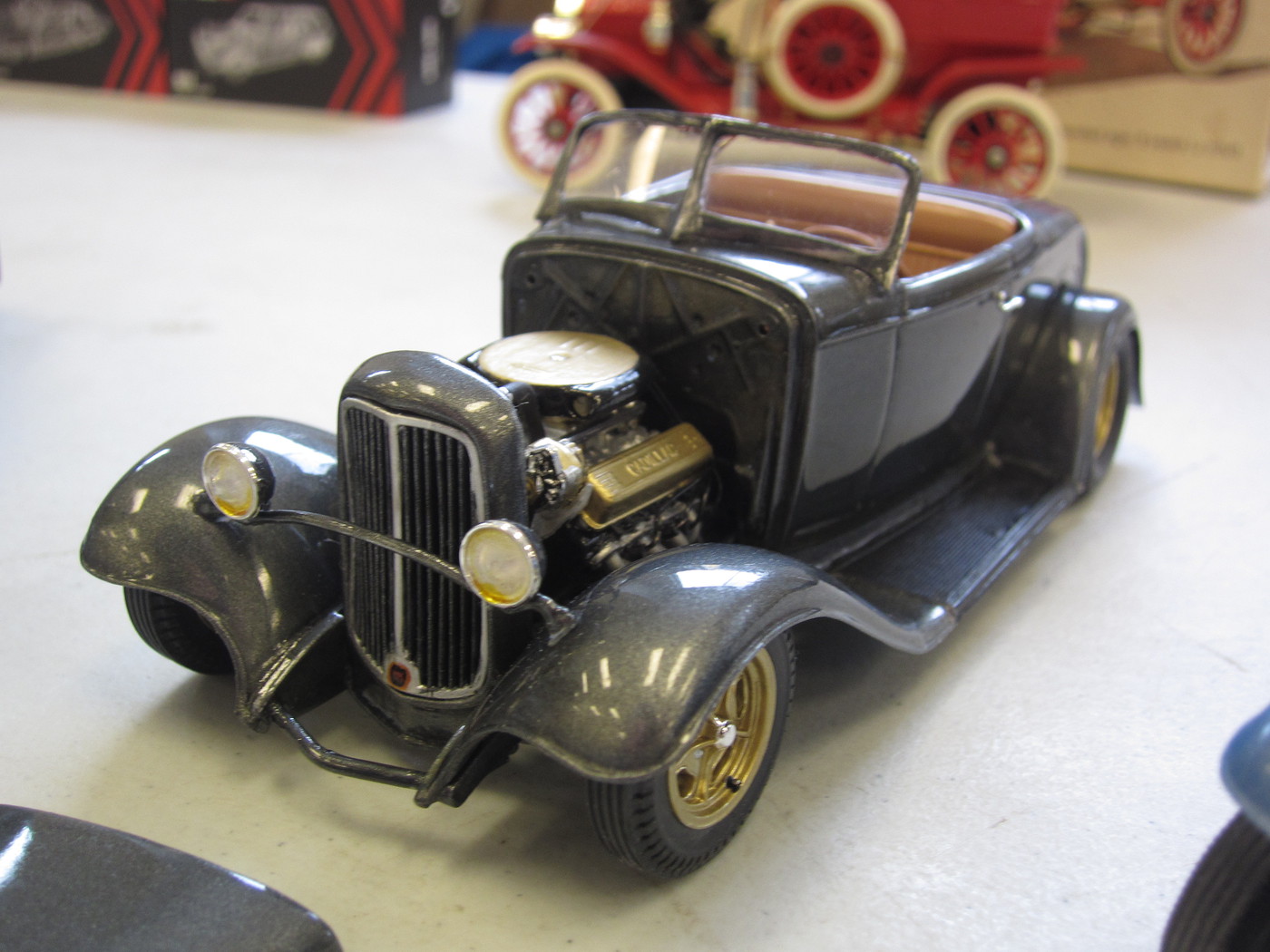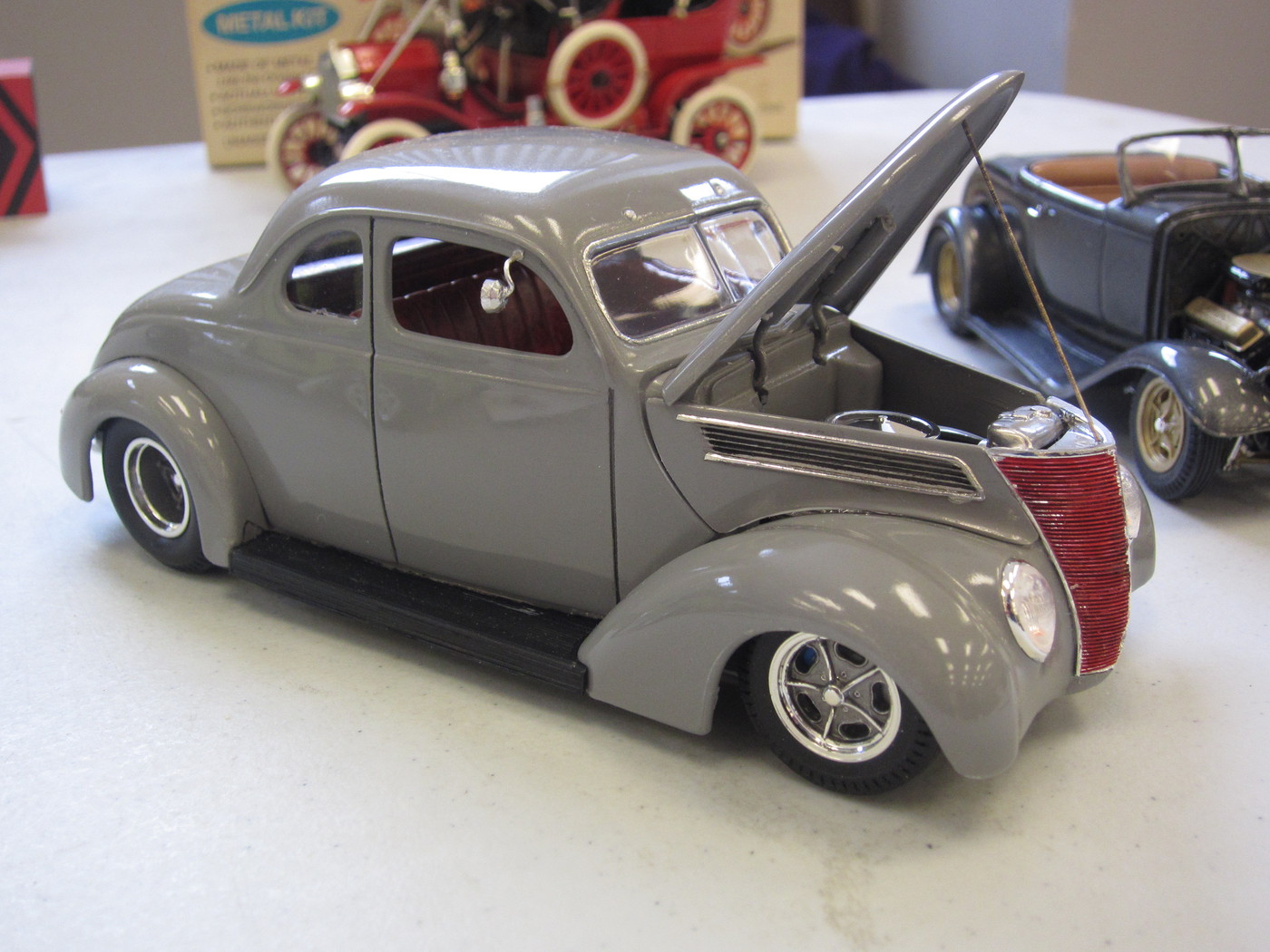 Russ Kirkpatrick showed his Tom Daniels designed Monogram Beer Wagon in the Mountain Dew livery.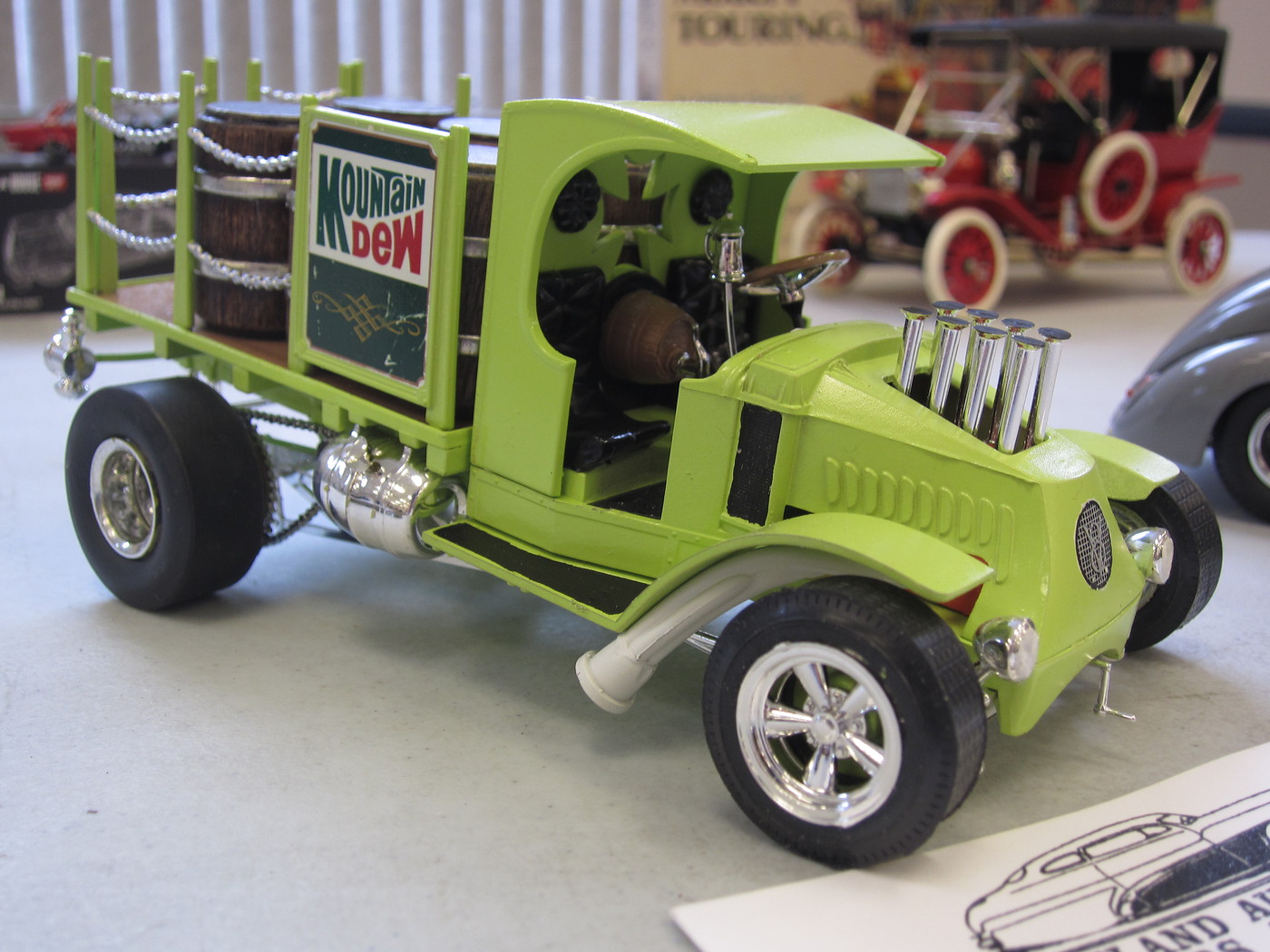 Mark Wheeler displayed a group of five models that included a very special Porsche Boxster in Mandy's memory. He also had some works in progress to show.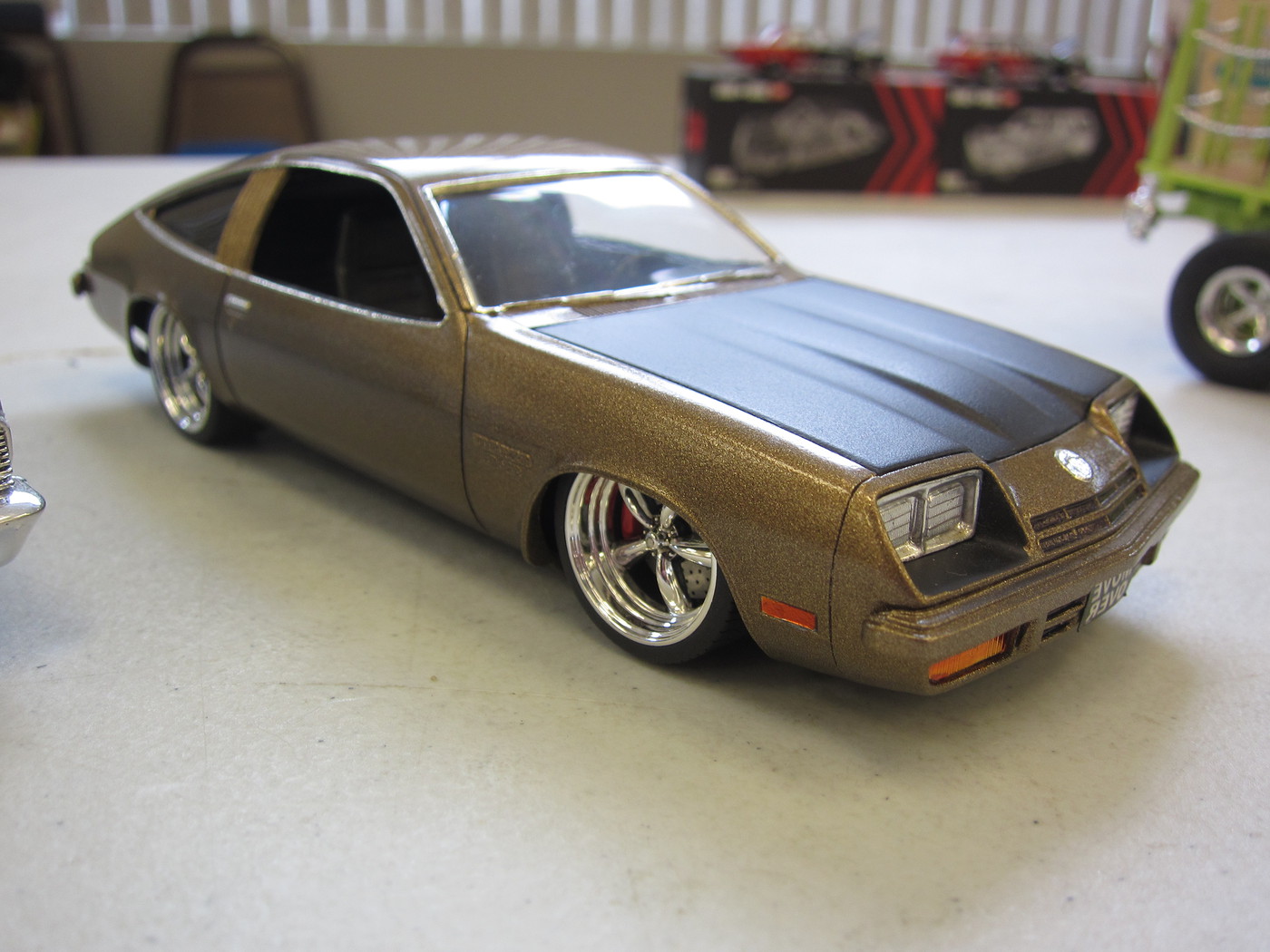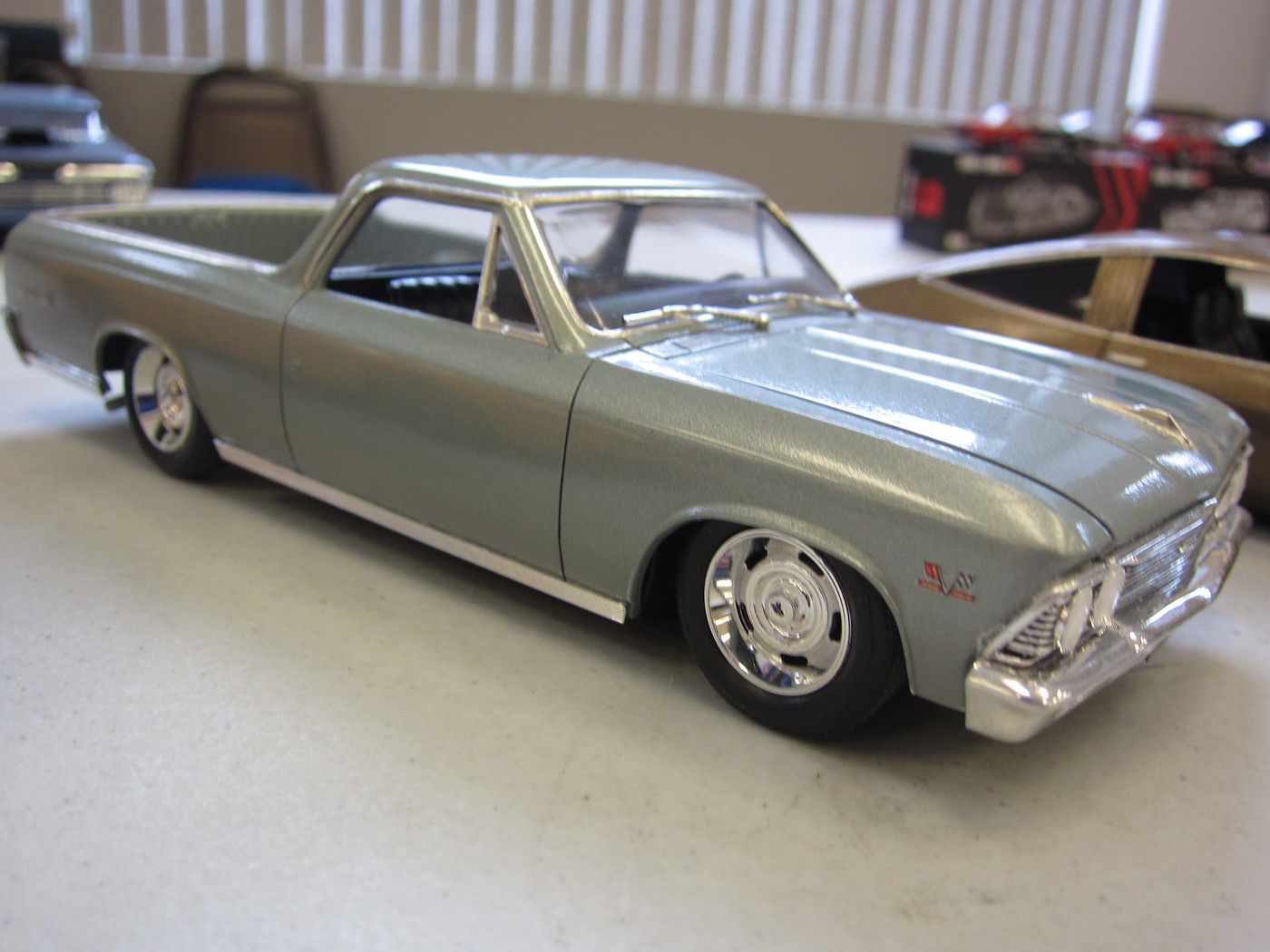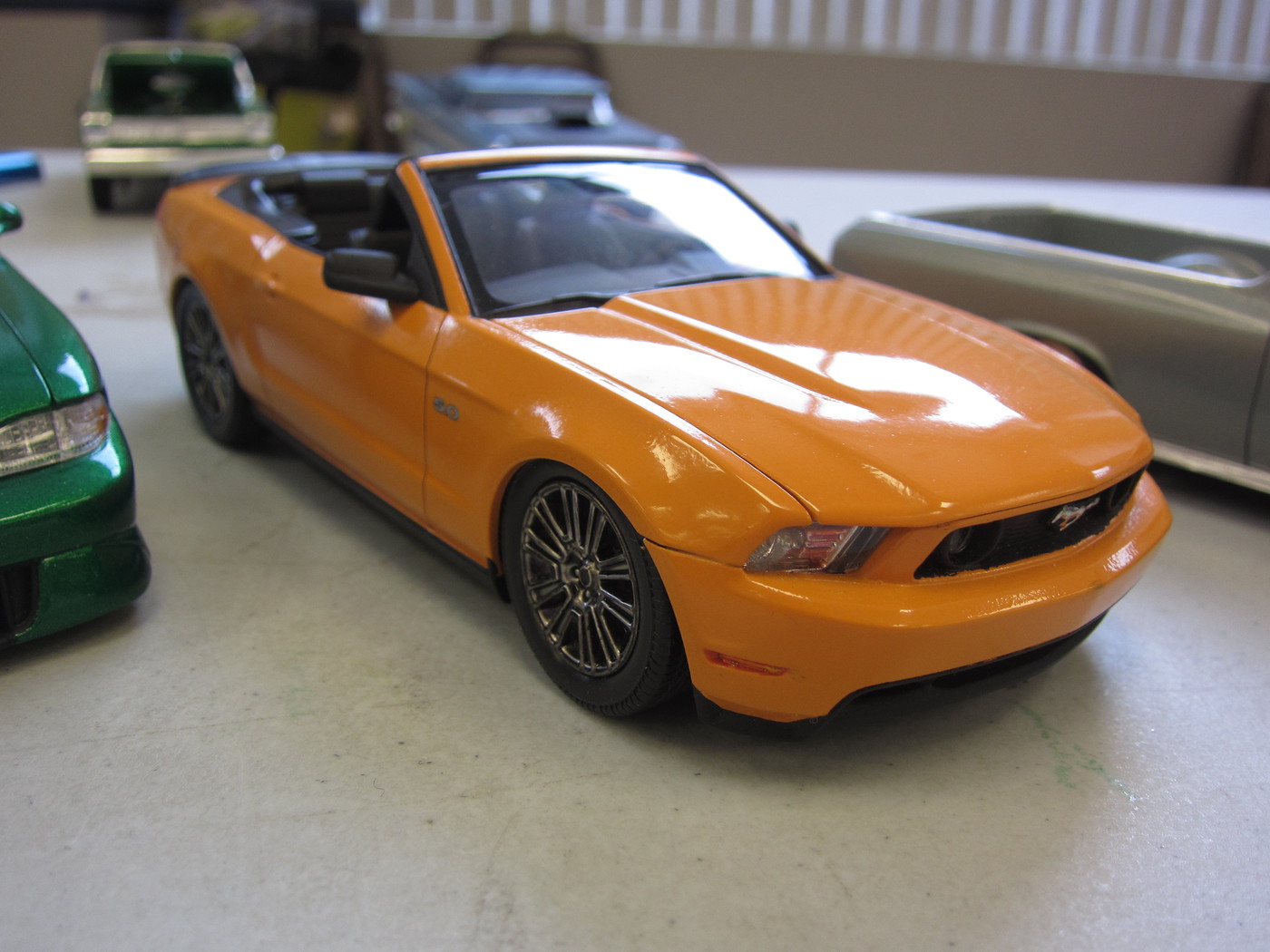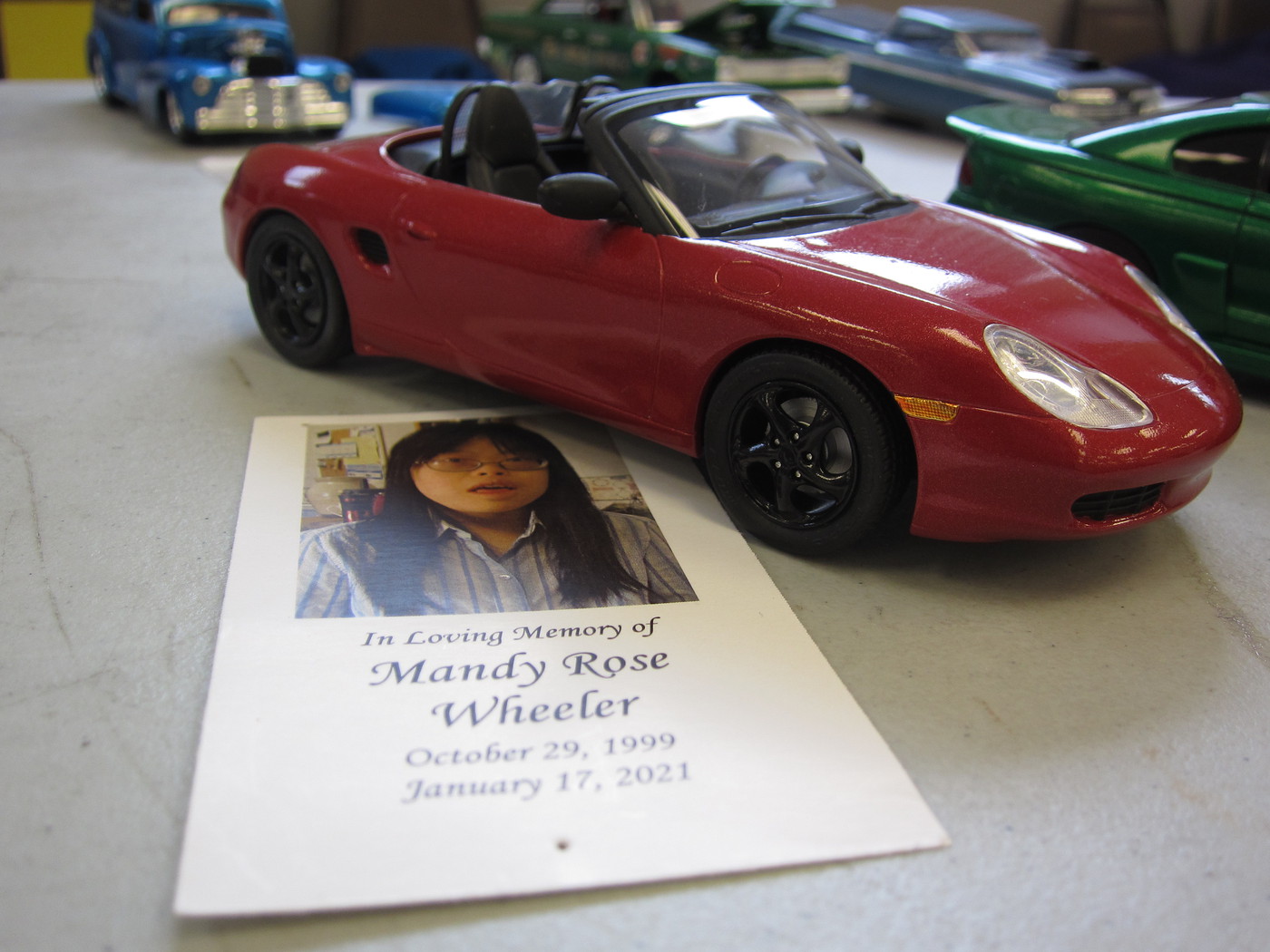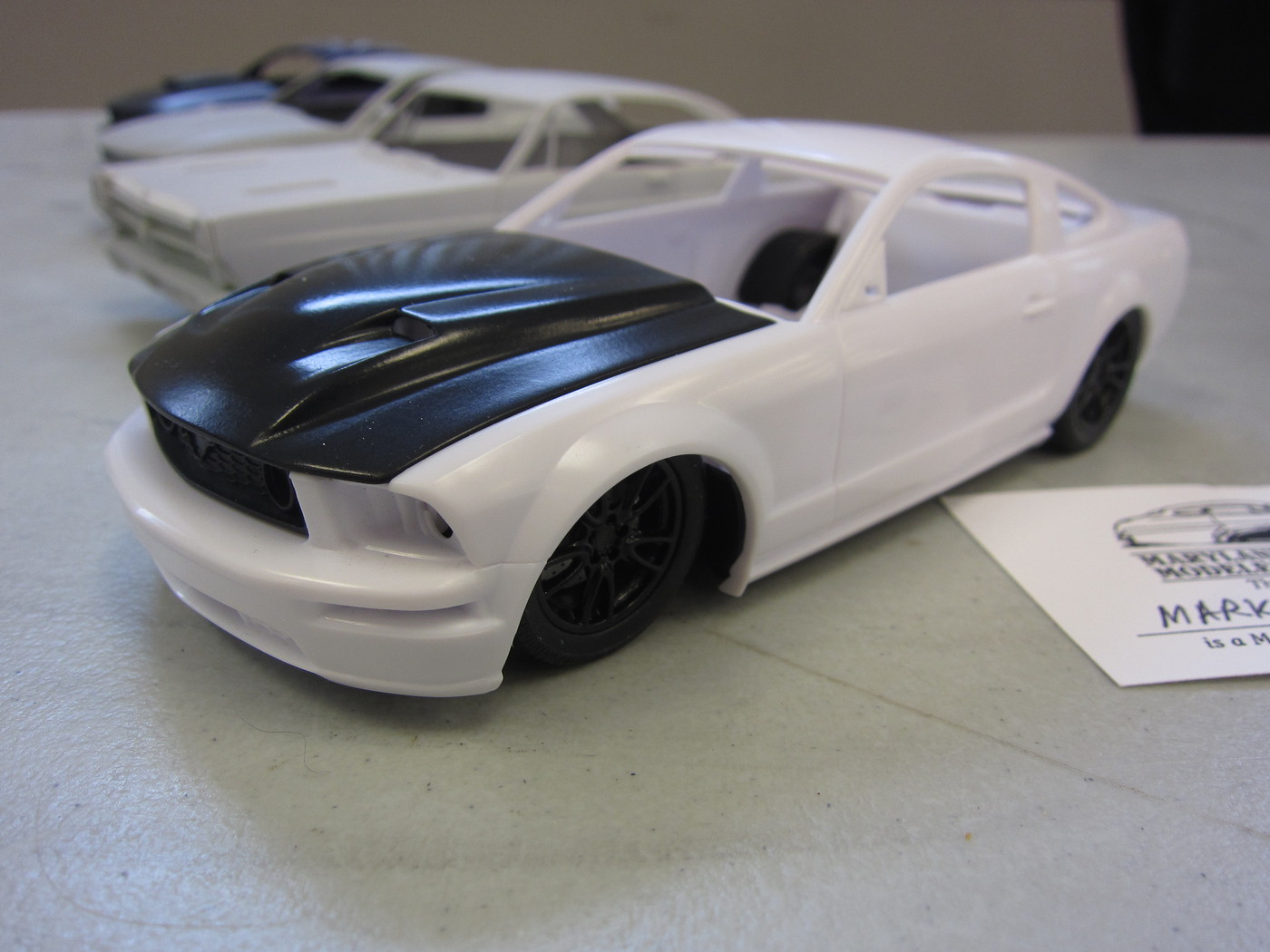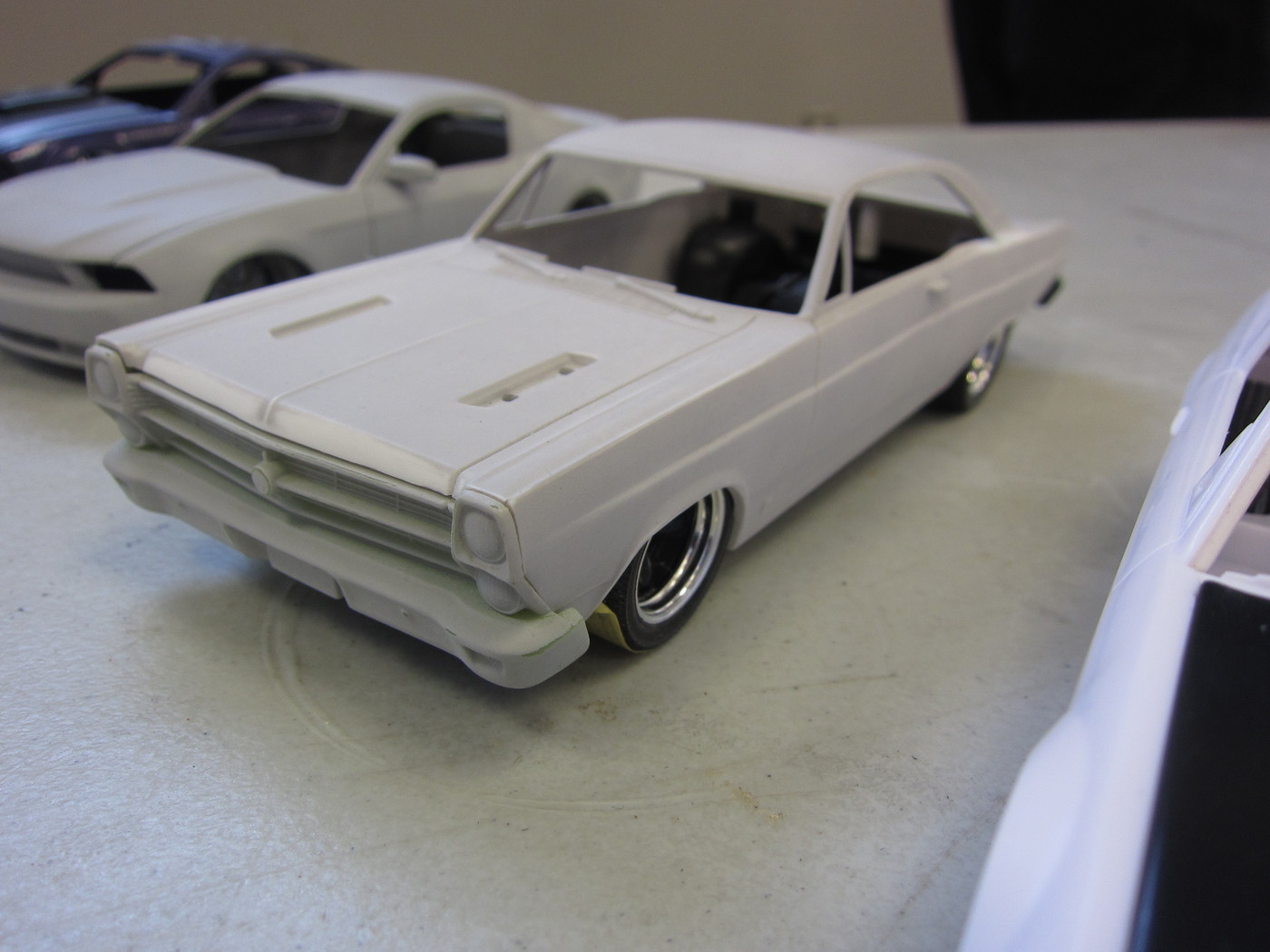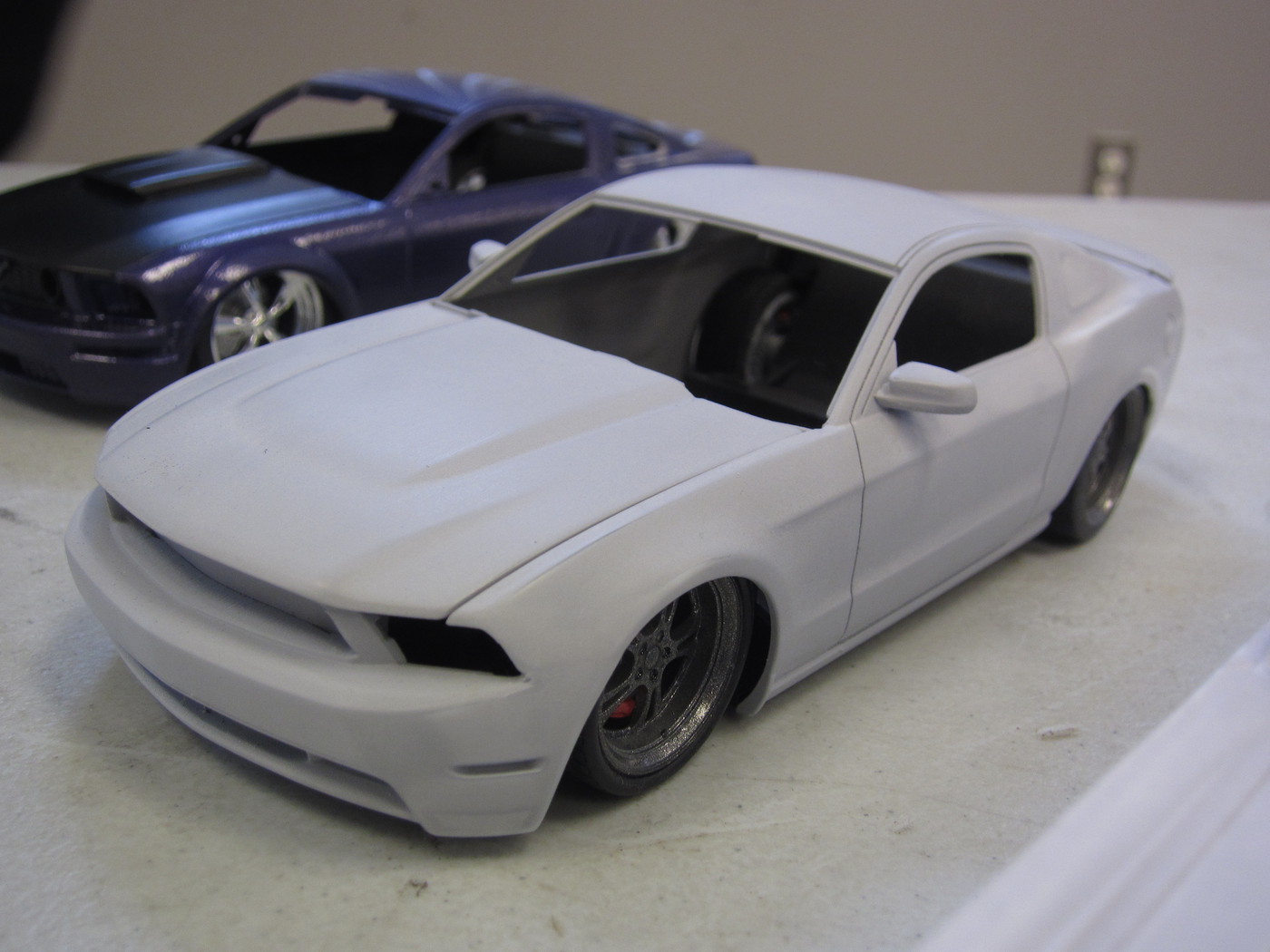 Rick Donovan brought out a half-dozen of his models including a radically chopped 1959 El Camino that had been waiting for a custom windshield until he recently found a special piece of super-thin lexan that could be heated and bent to the needed shape with out discoloration.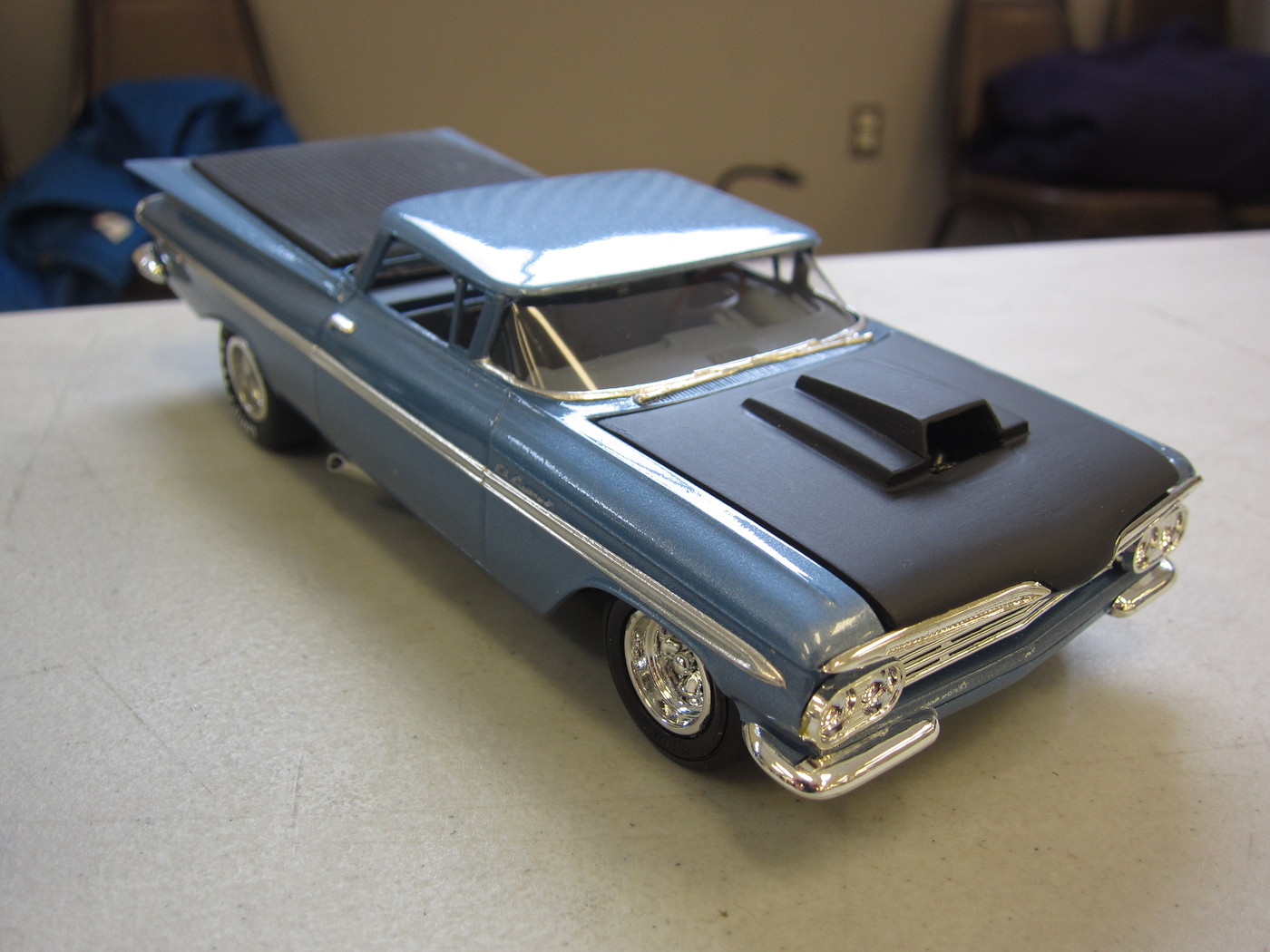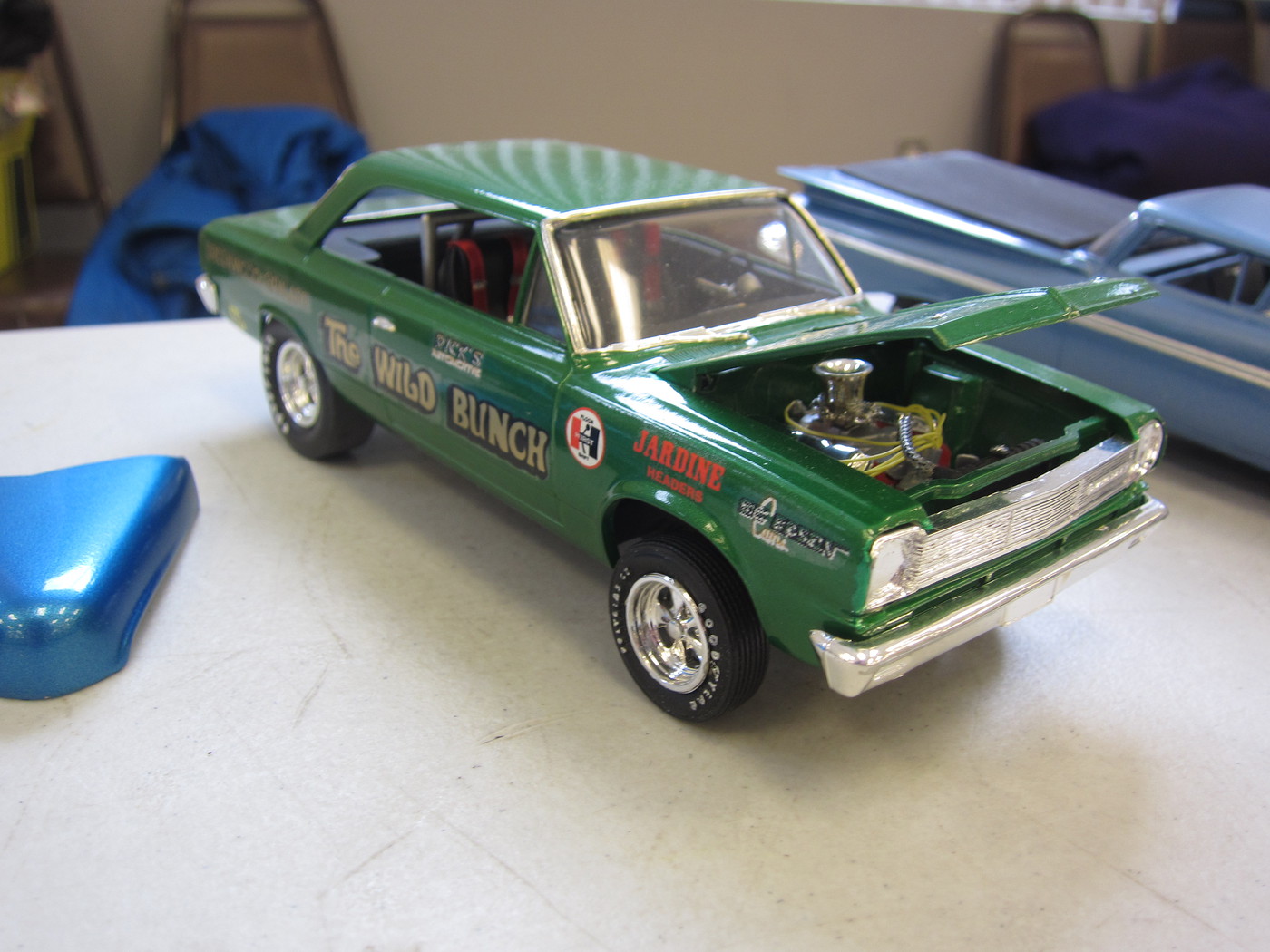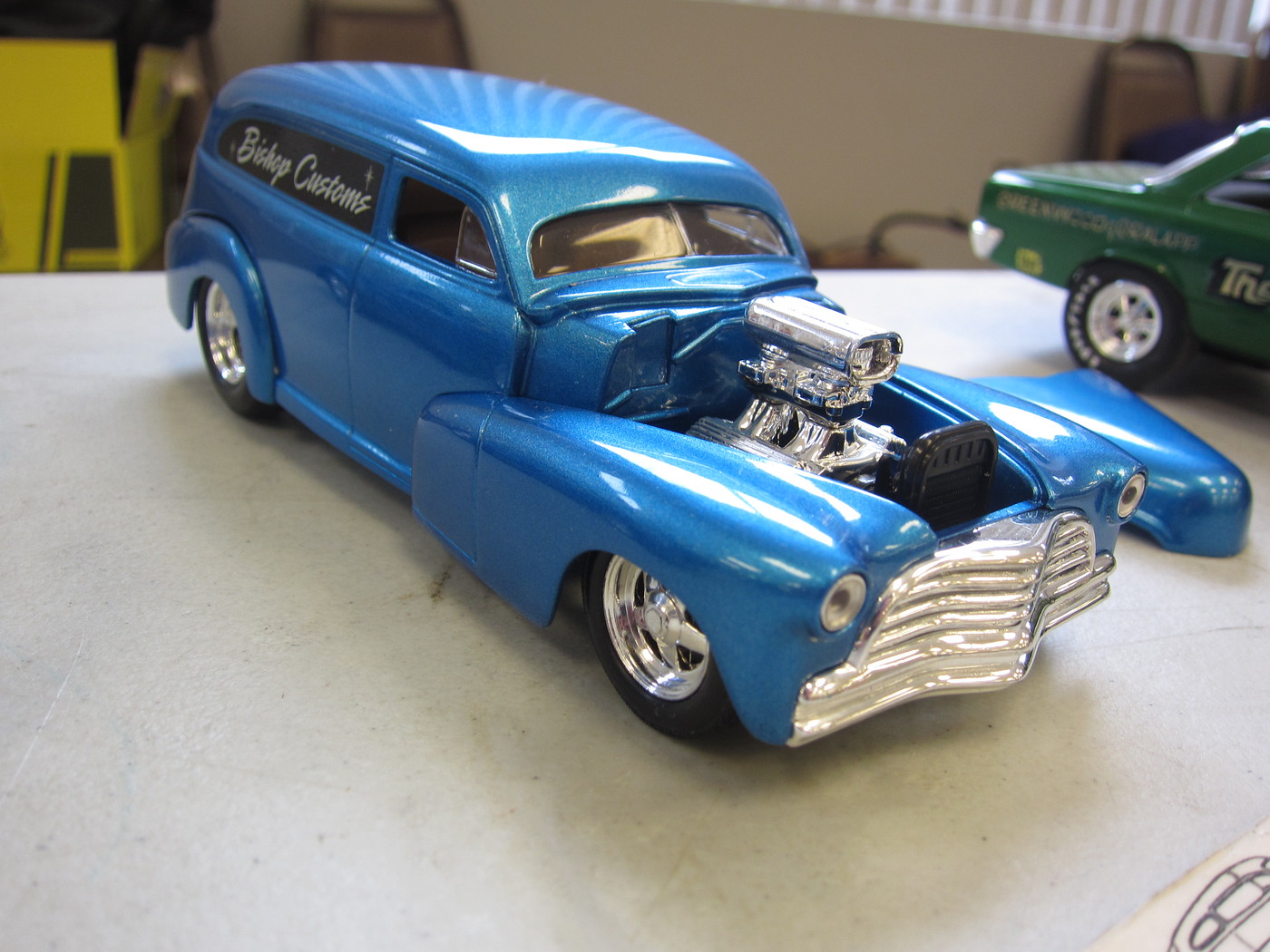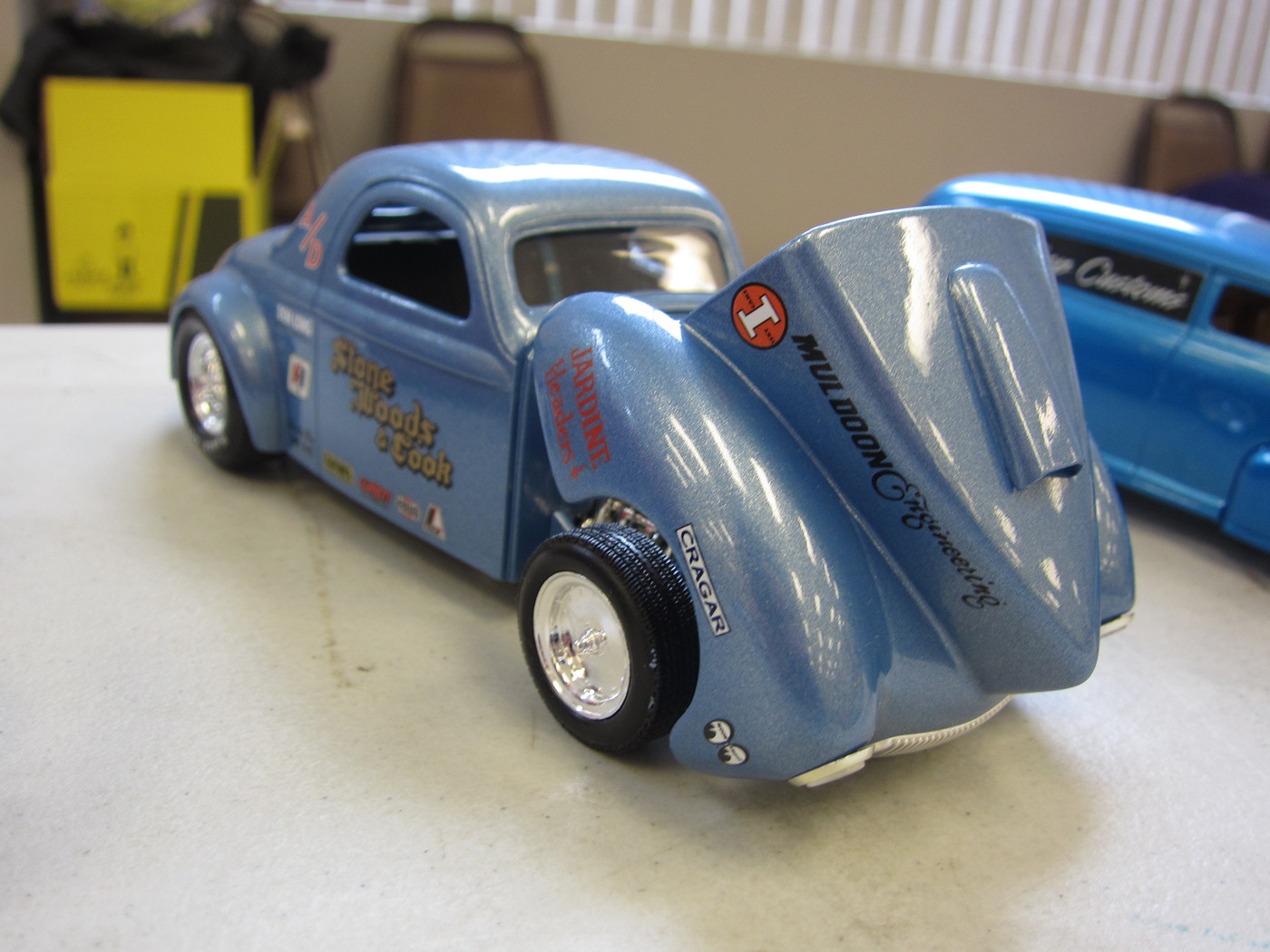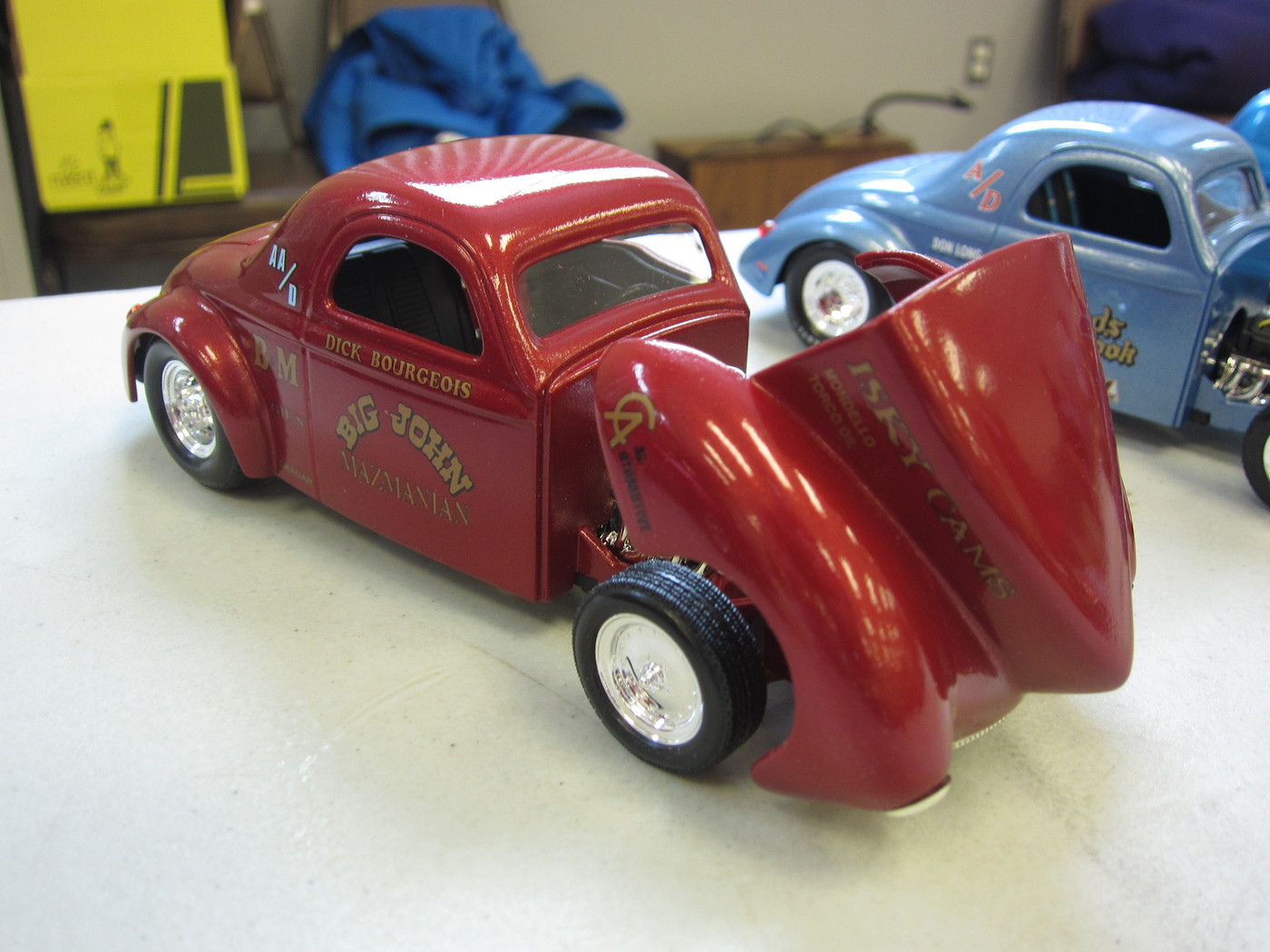 Marcos Cruz placed four cars on the table: a Camaro Z-28 with T-Tops, a Porsche 911, a Mazda RX-3, and a BMW 2002 Turbo.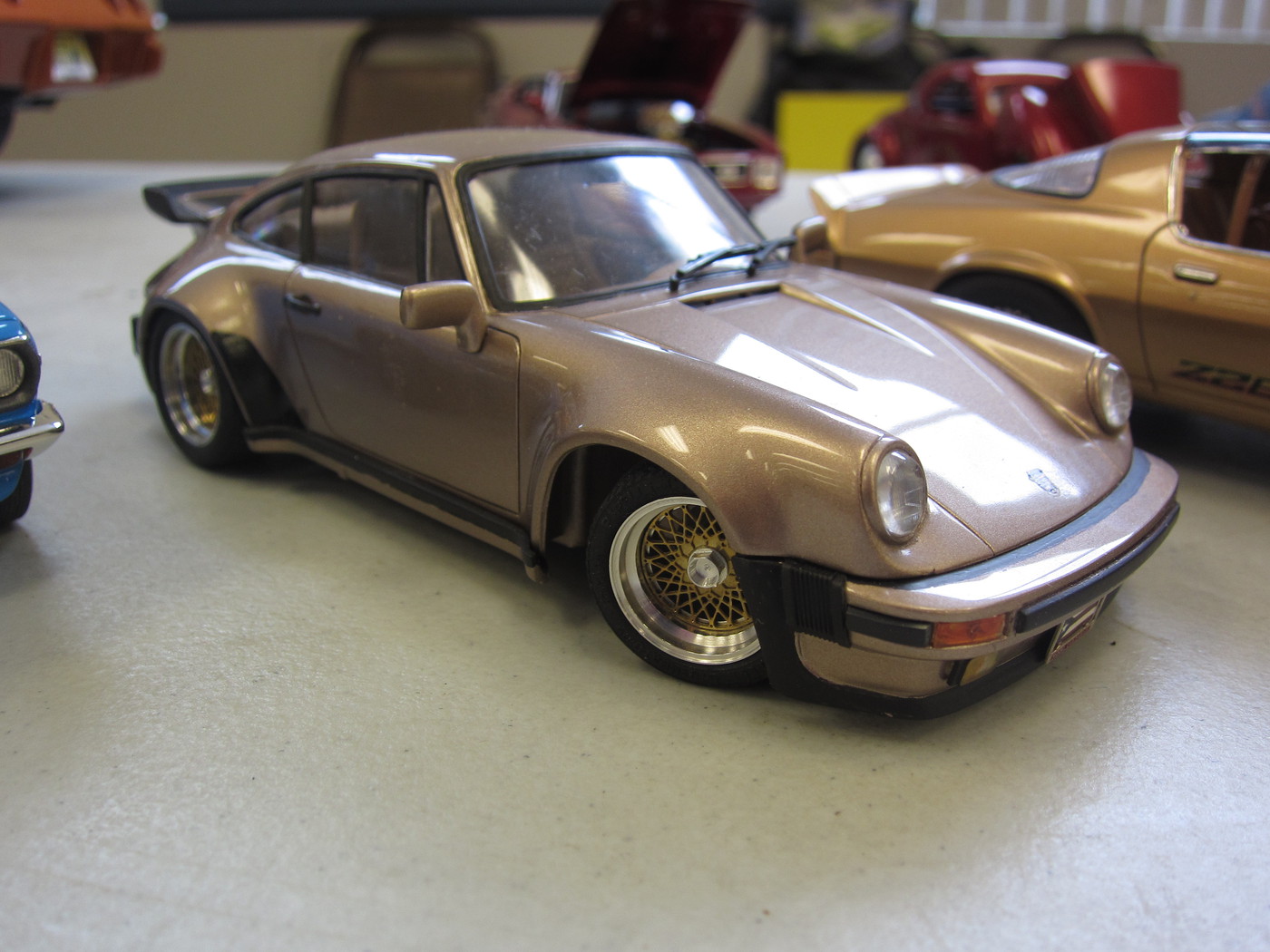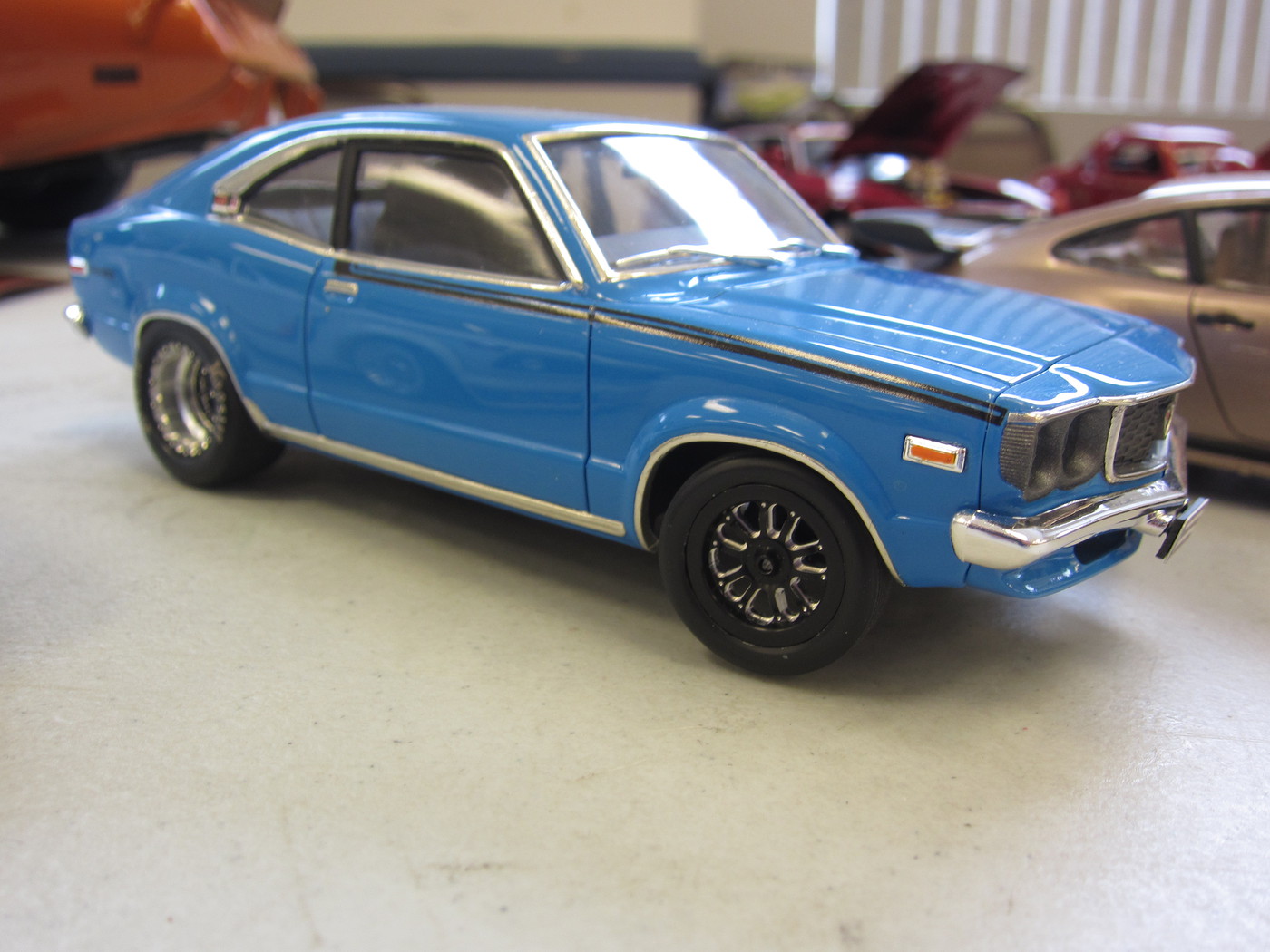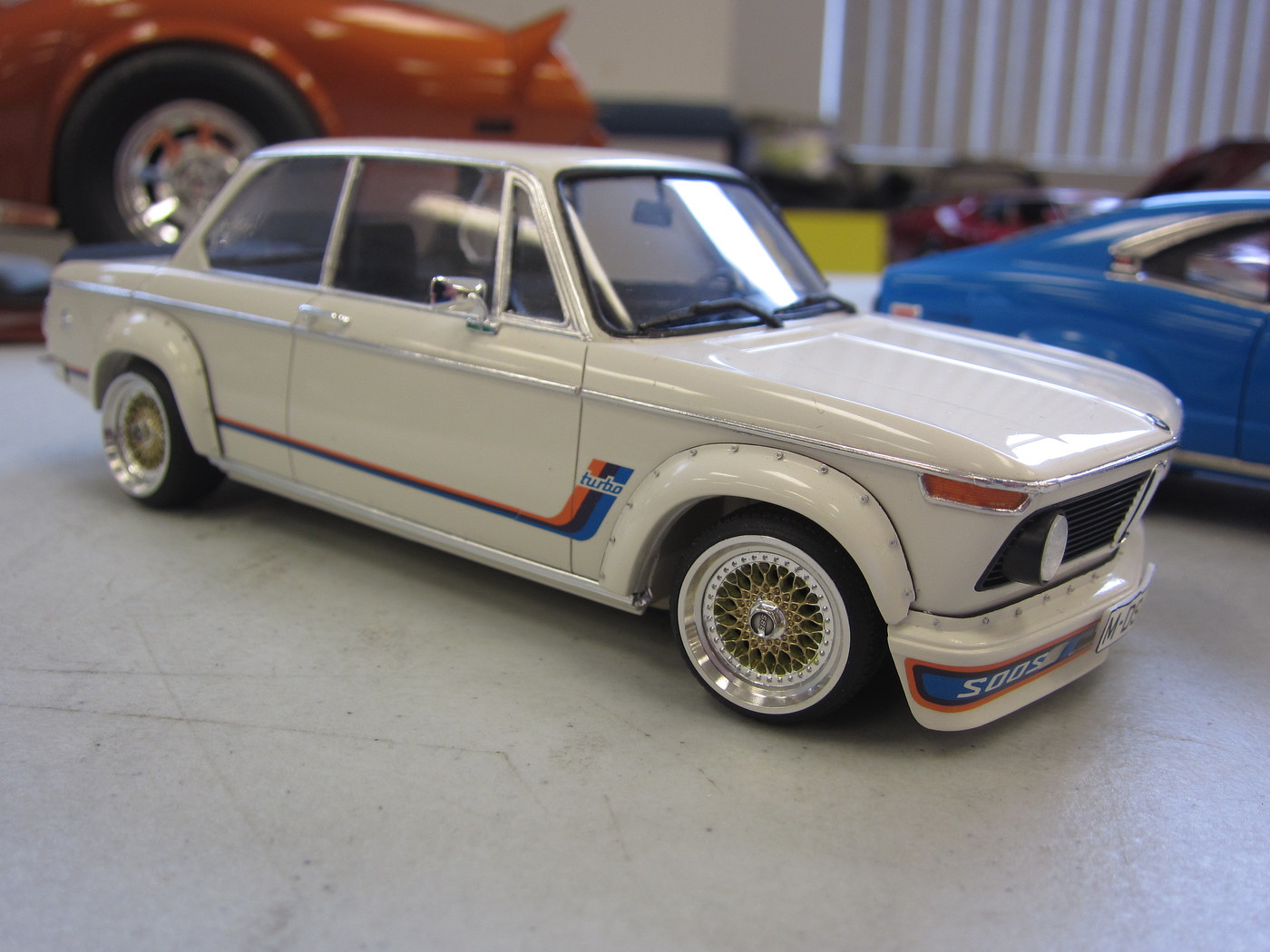 A brand new member,Gordon Chin, displayed a 1/8 scale Corvette and a 1/12 scale Big Red Baron.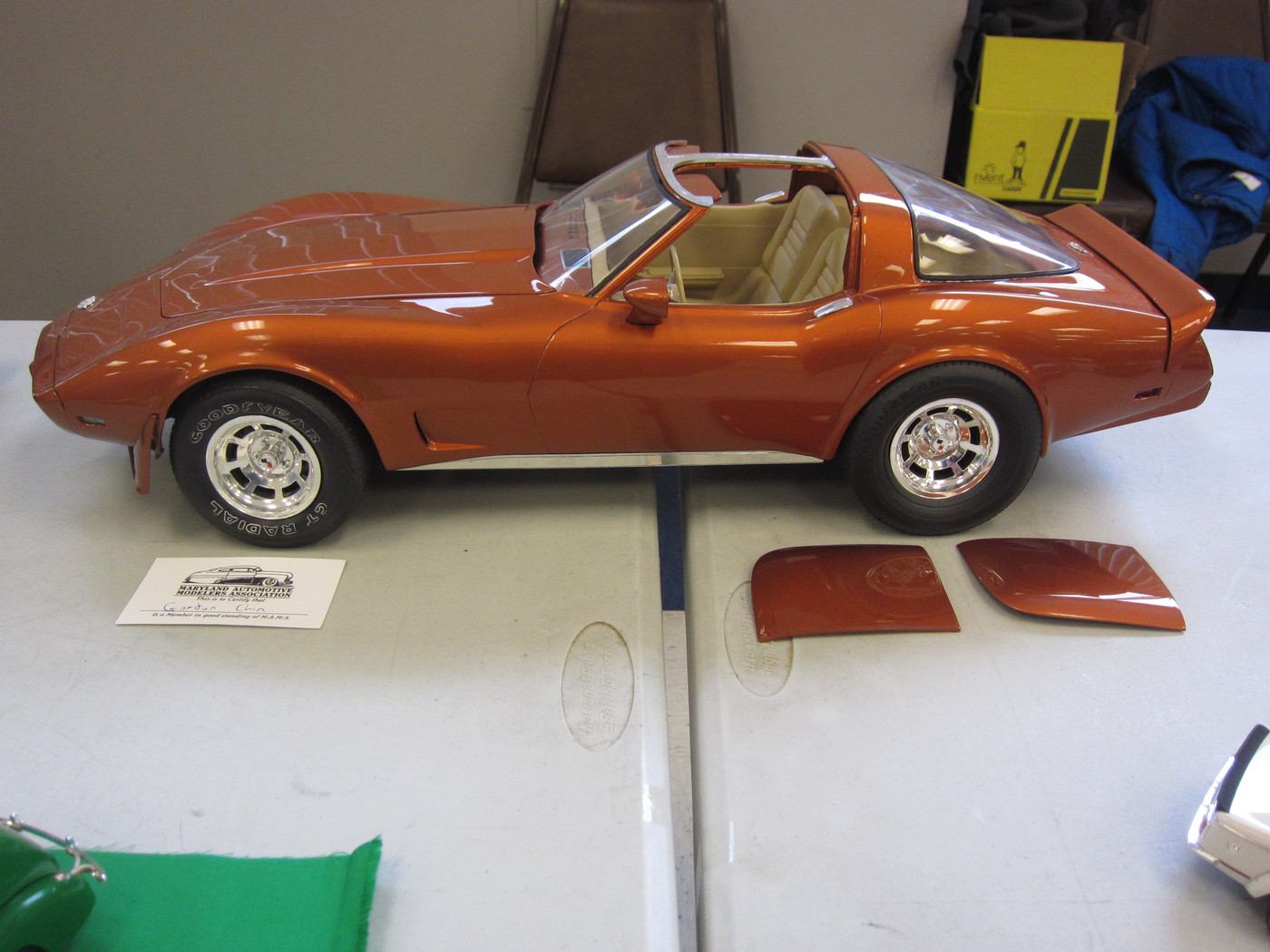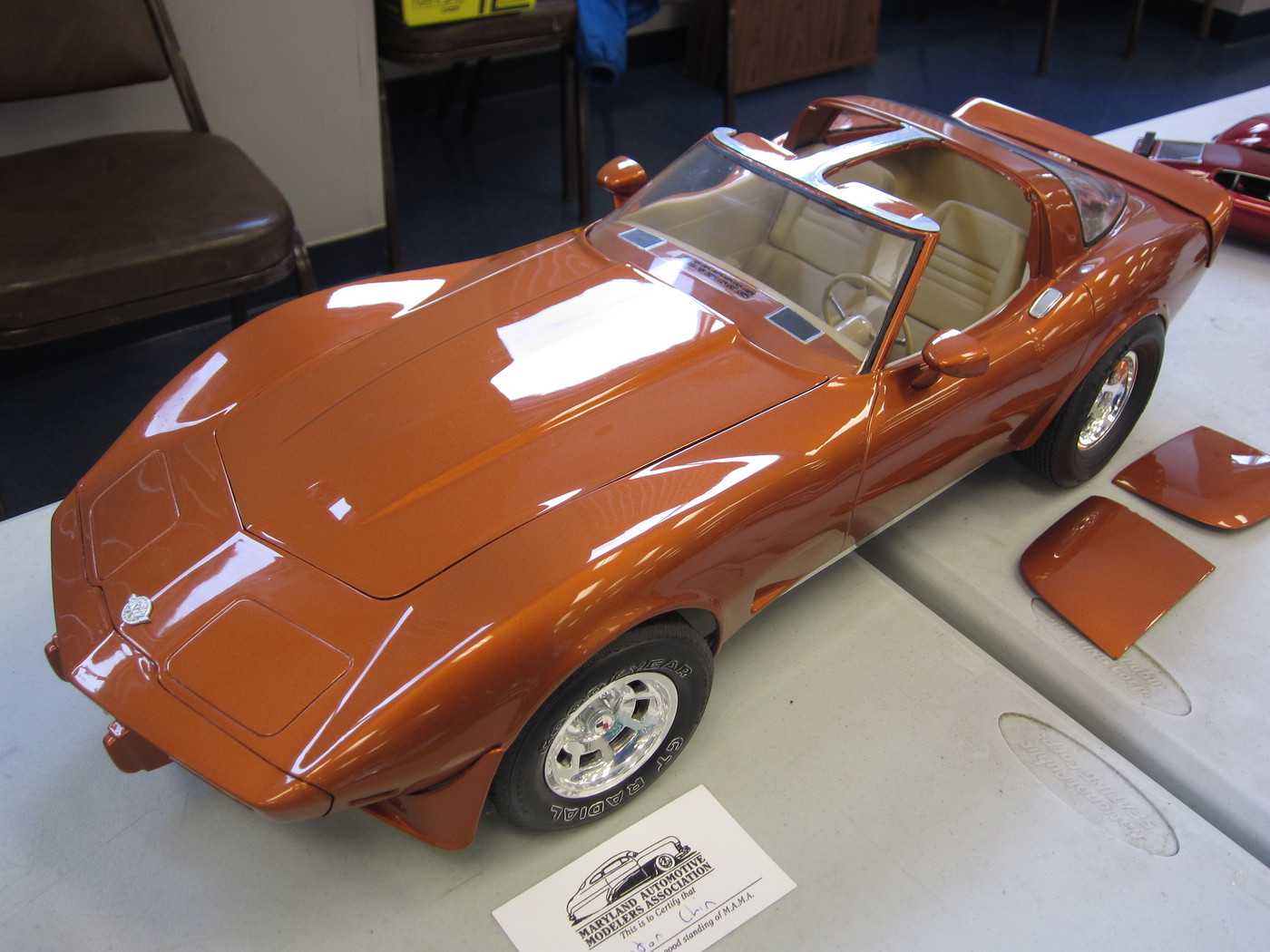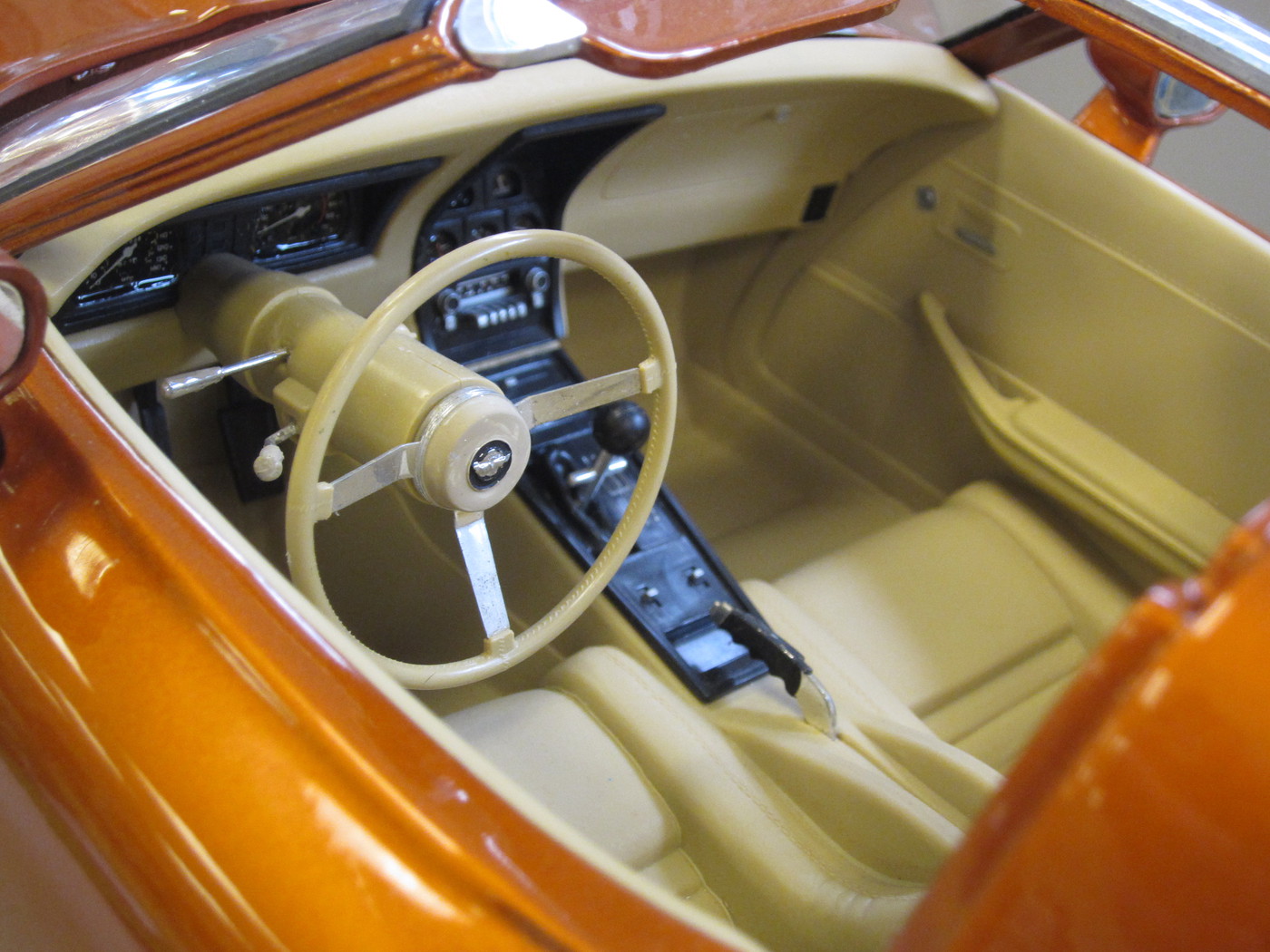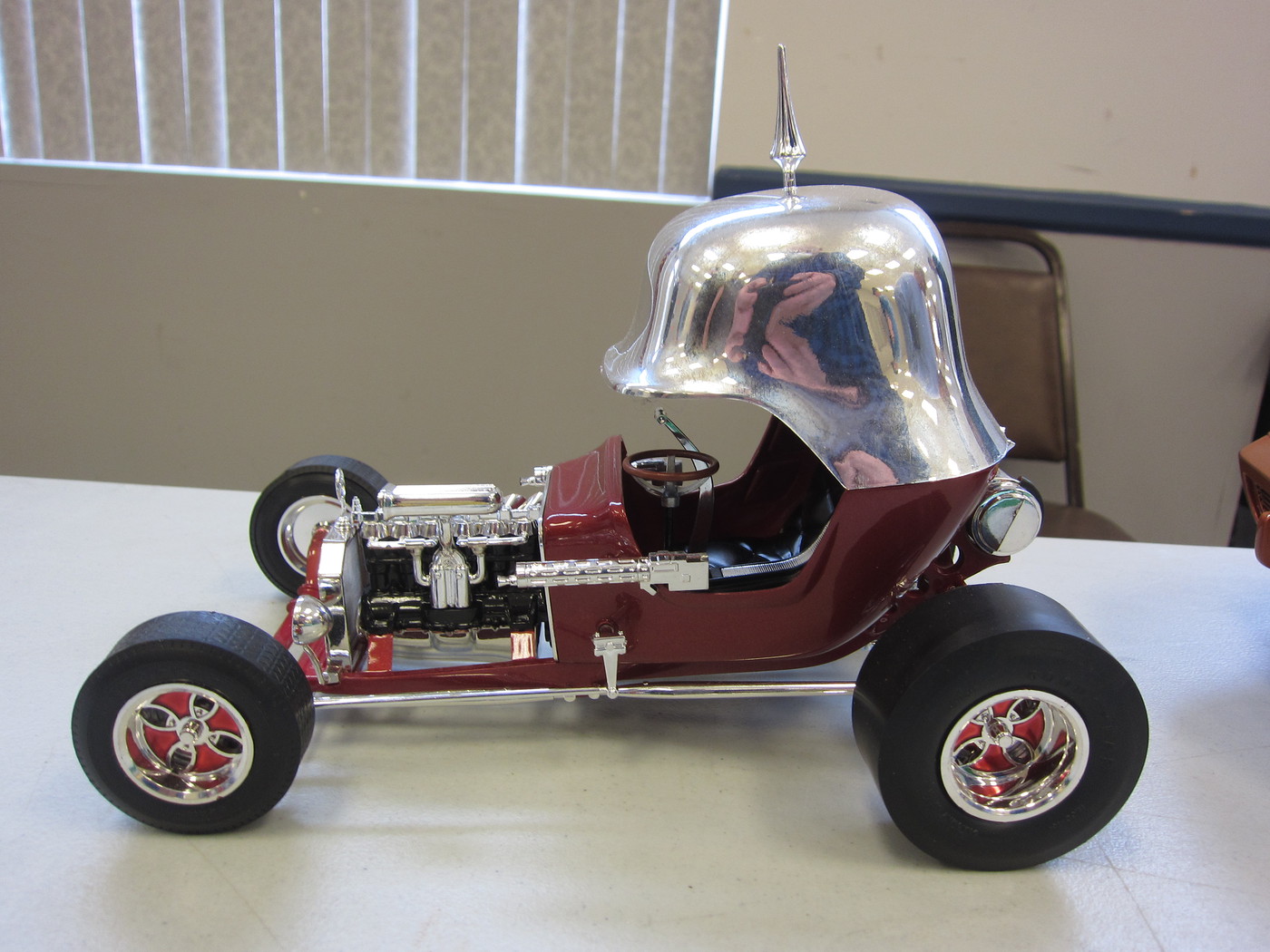 Don Sutherland showed his 1960 El Camino, 1953 Ford 2-Door, and 1939 Ford Sedan builds.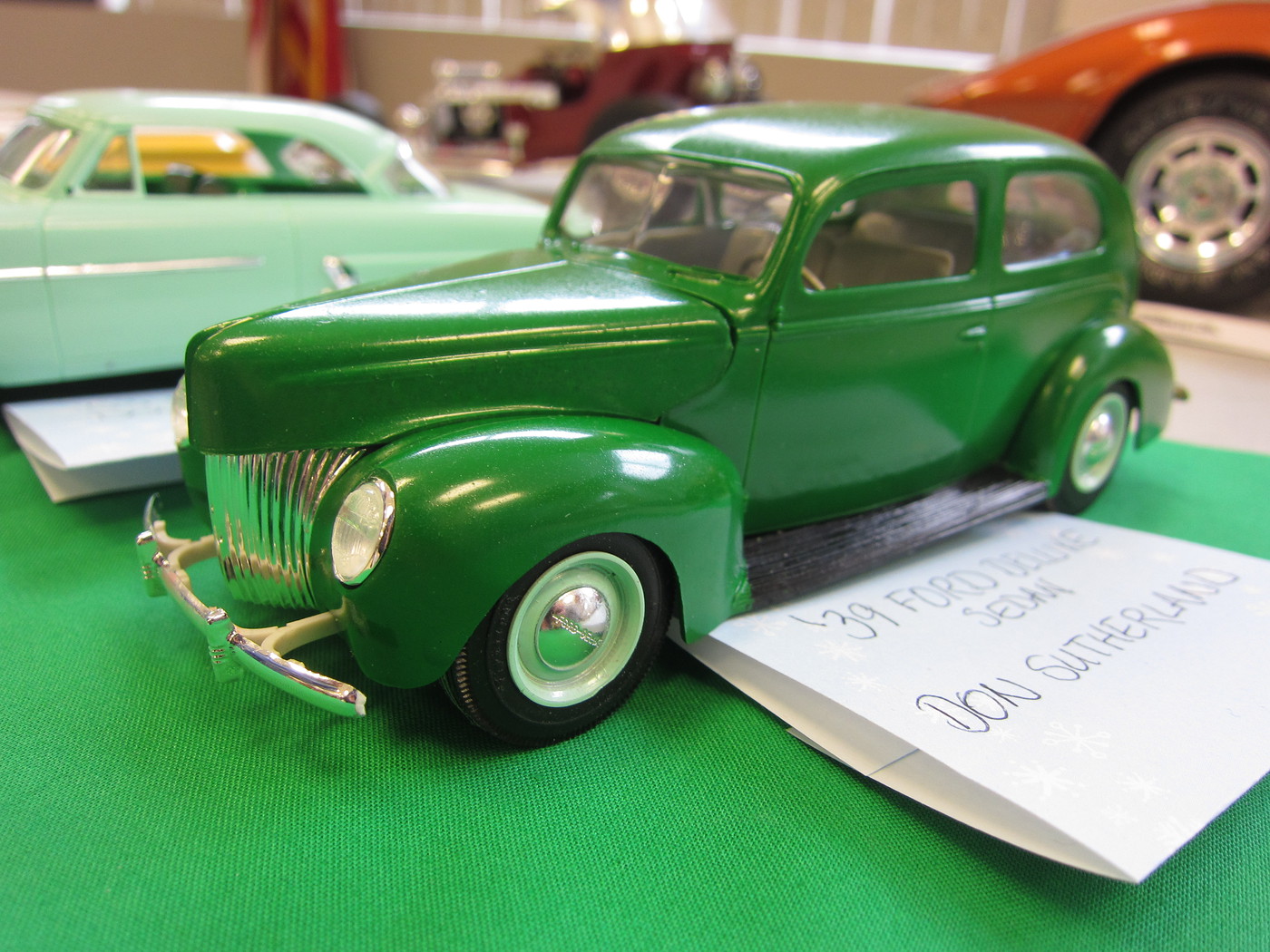 Steve Buter brought out a pair of early front-engined dragsters and an MG TC that appears to have a bit of engine trouble.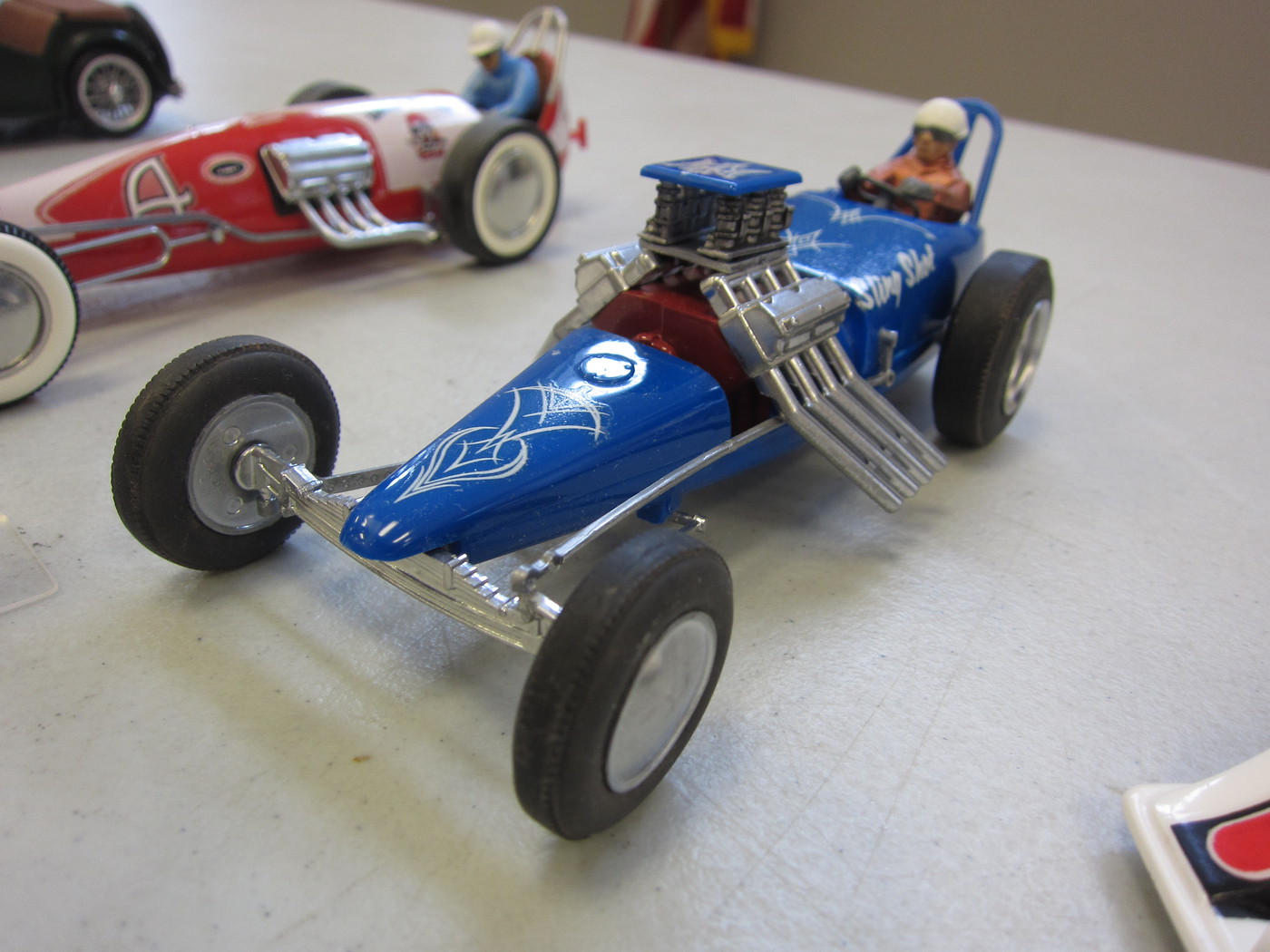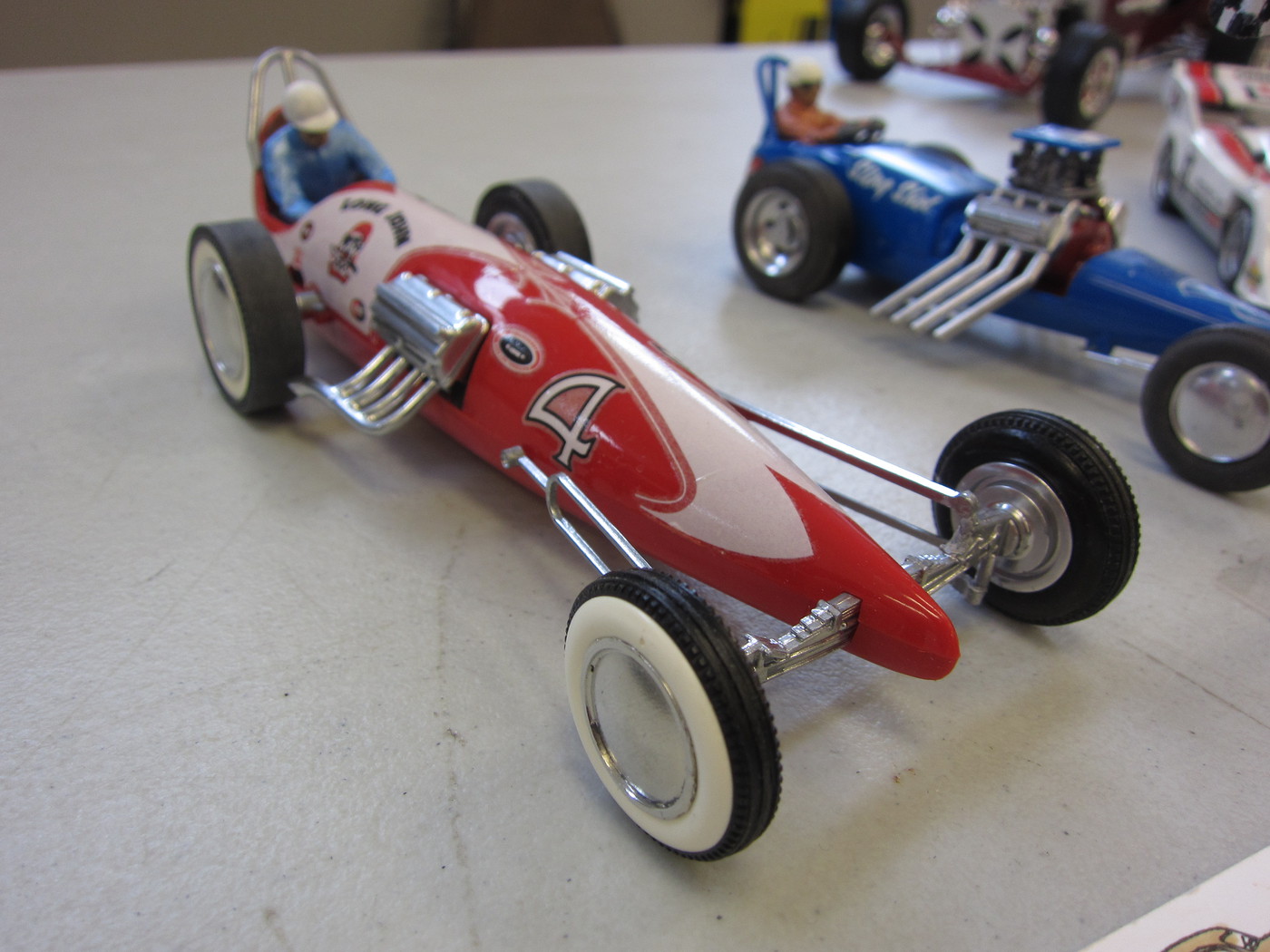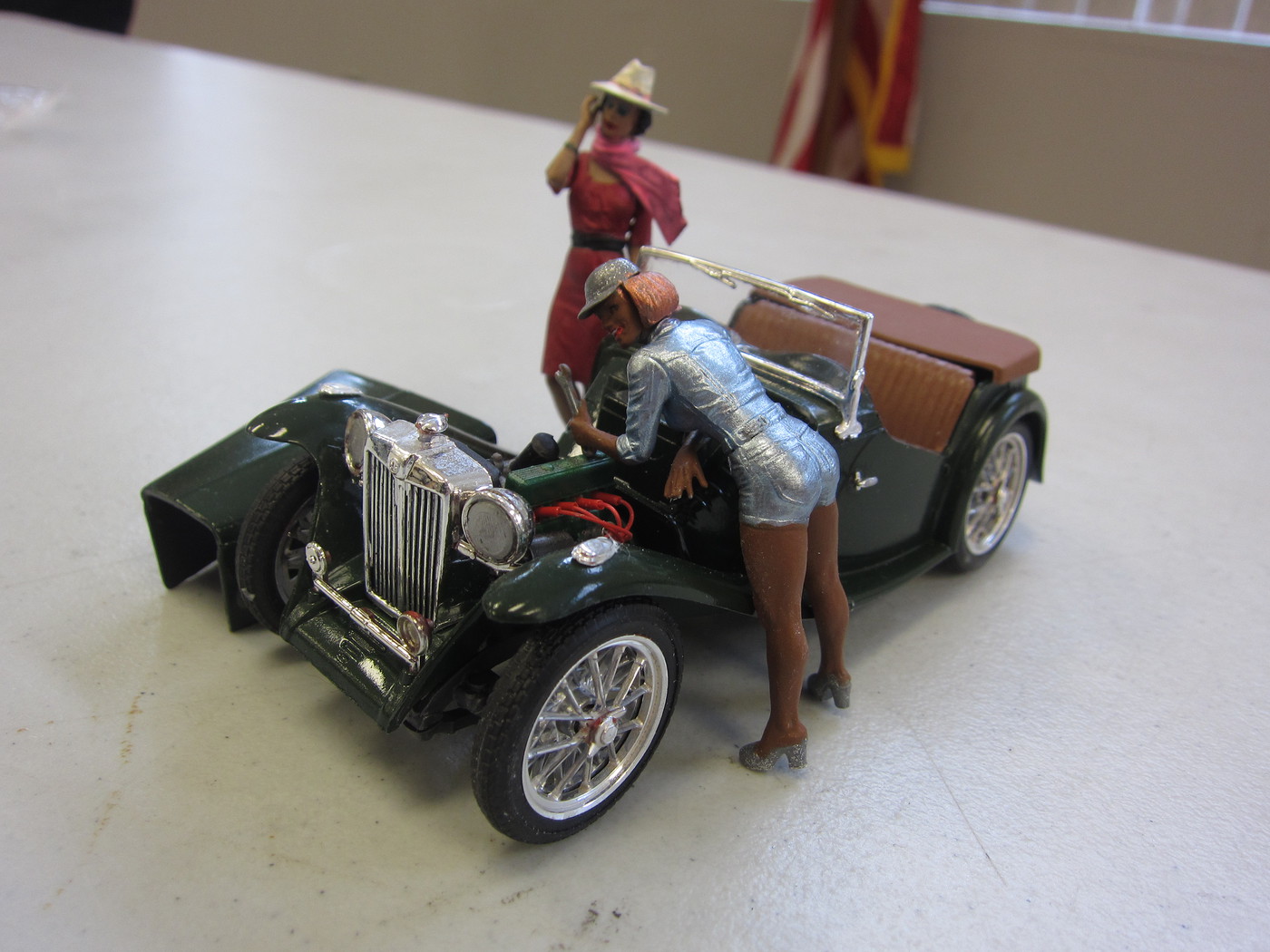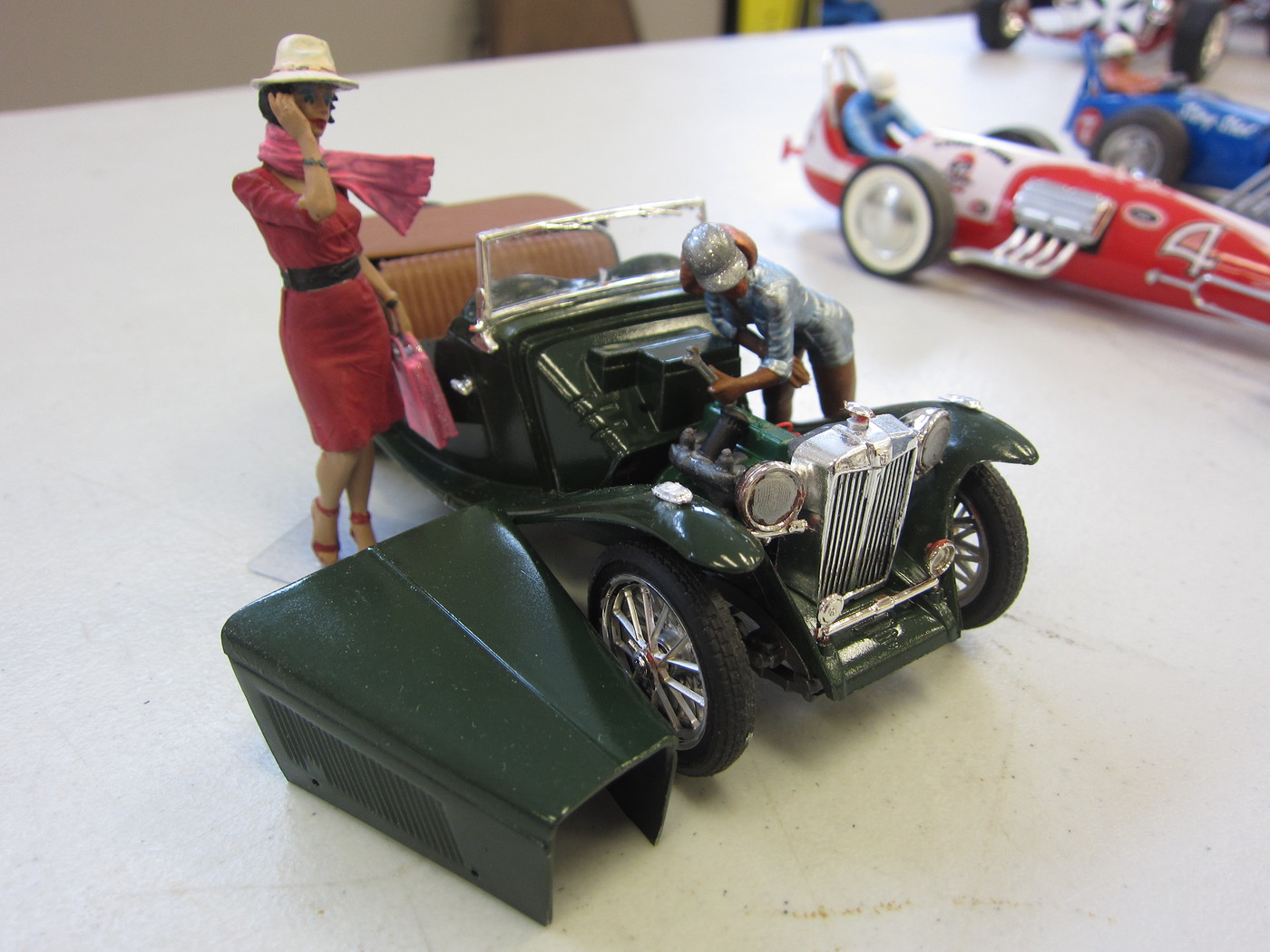 Dean Lewis showed a pair of finished models and a pair of projects he has under way.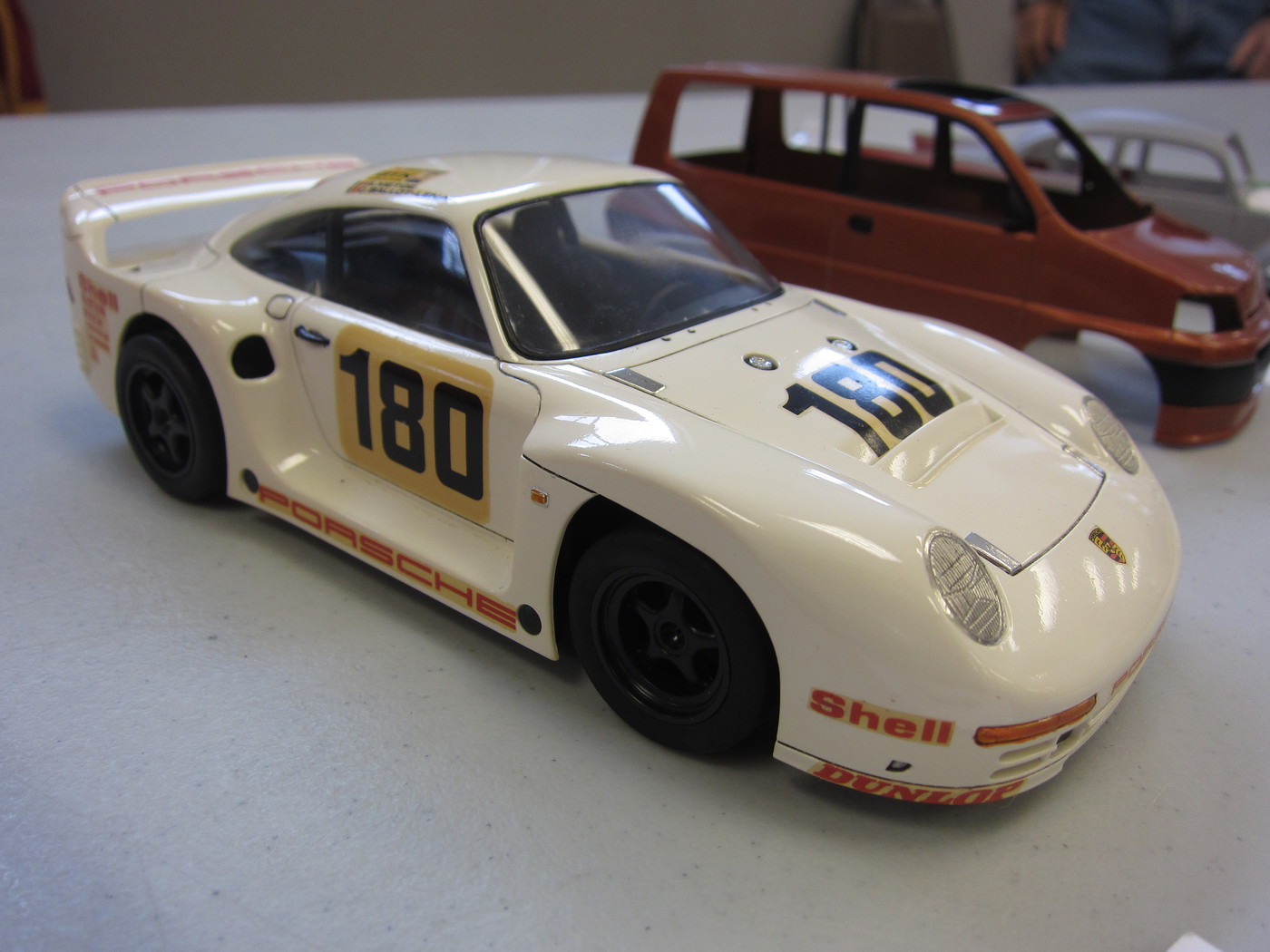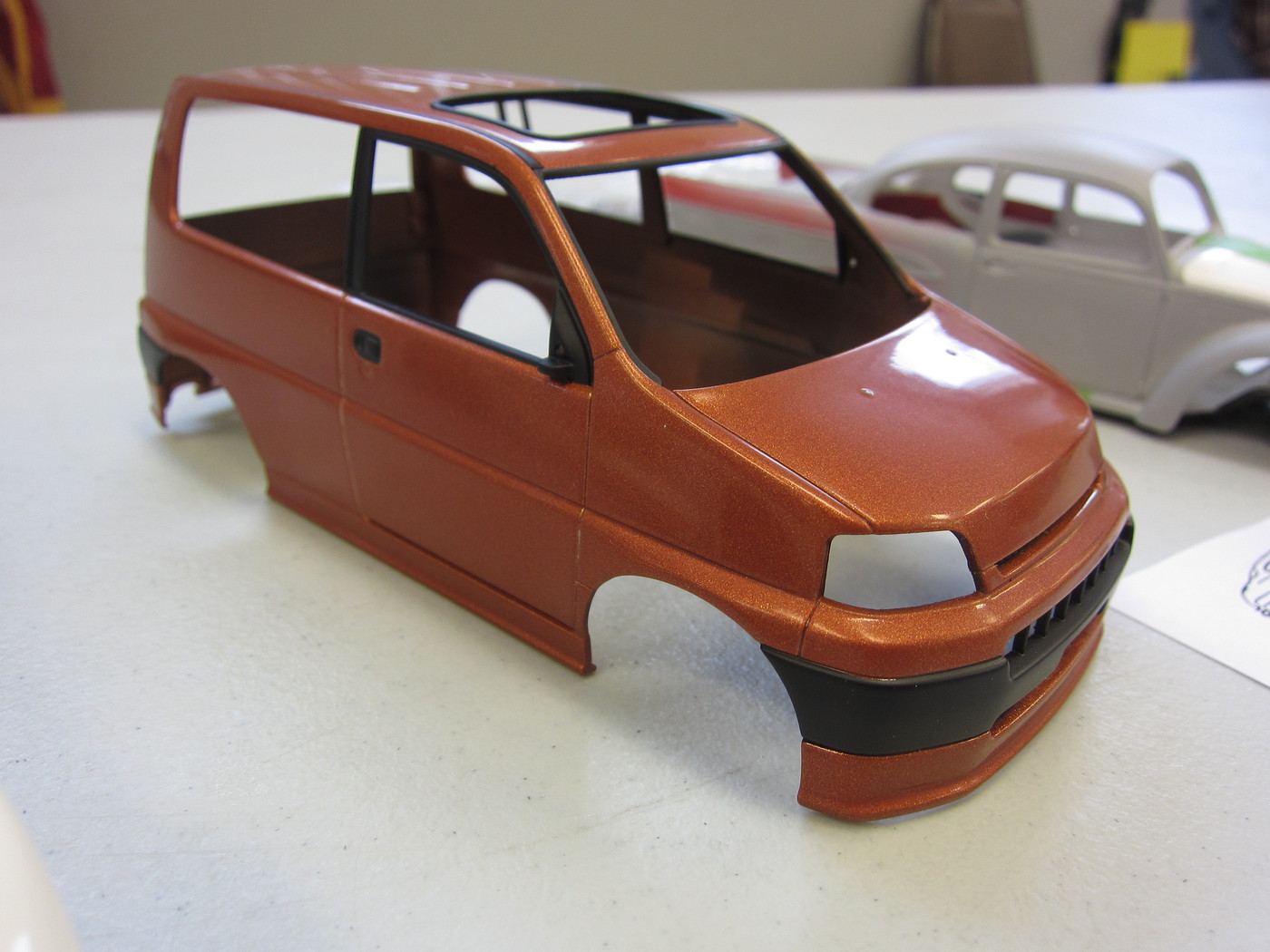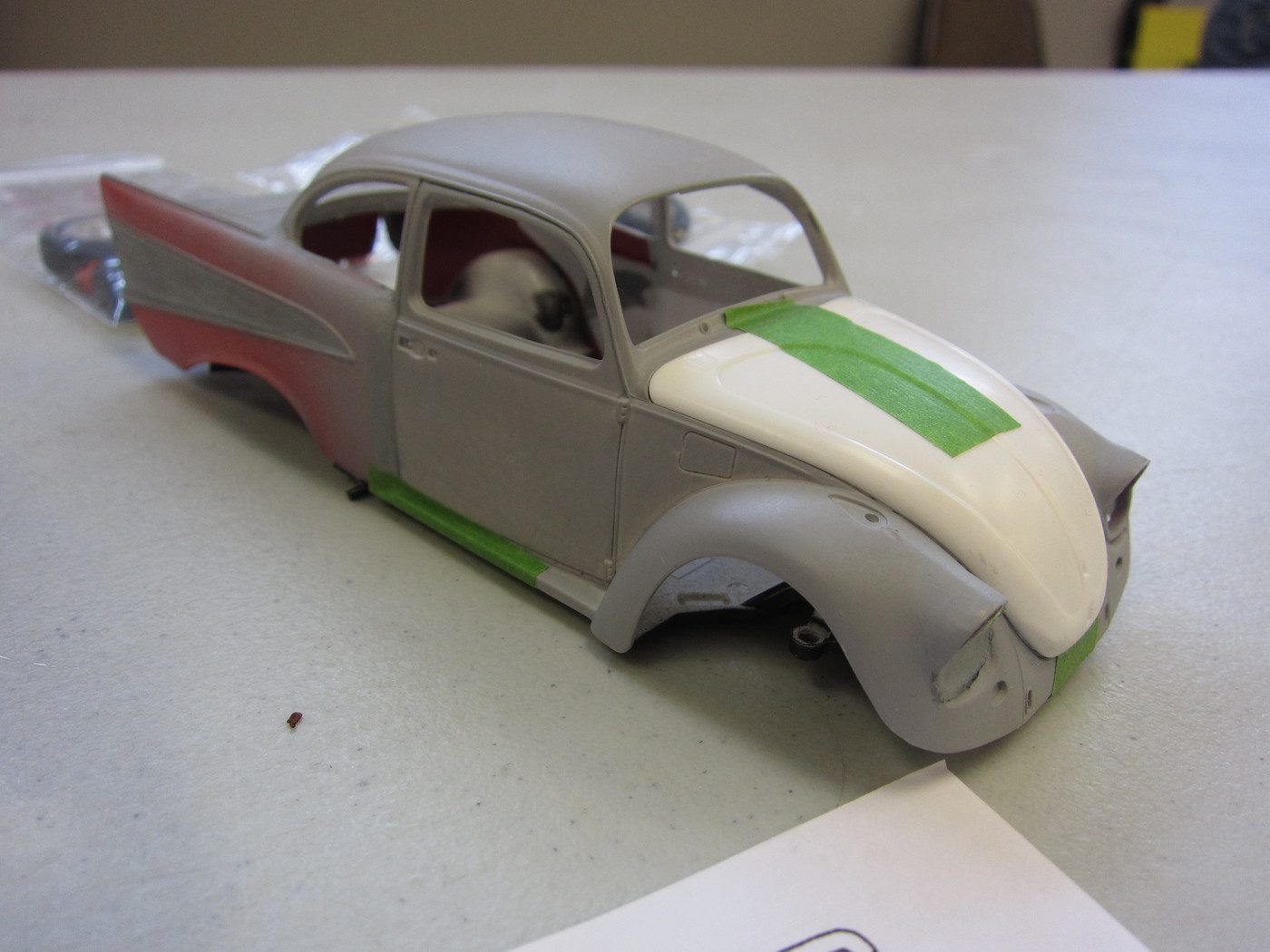 Dave Matiko shared a model he built from a resin kit about 15 years ago for his father. It's a replica of the 1962 Chrysler Newport station wagon hardtop his dad bought new and kept until 2005. Dave shared several memories of his times in and with the car. The model came back to him after his father's passing about a year ago.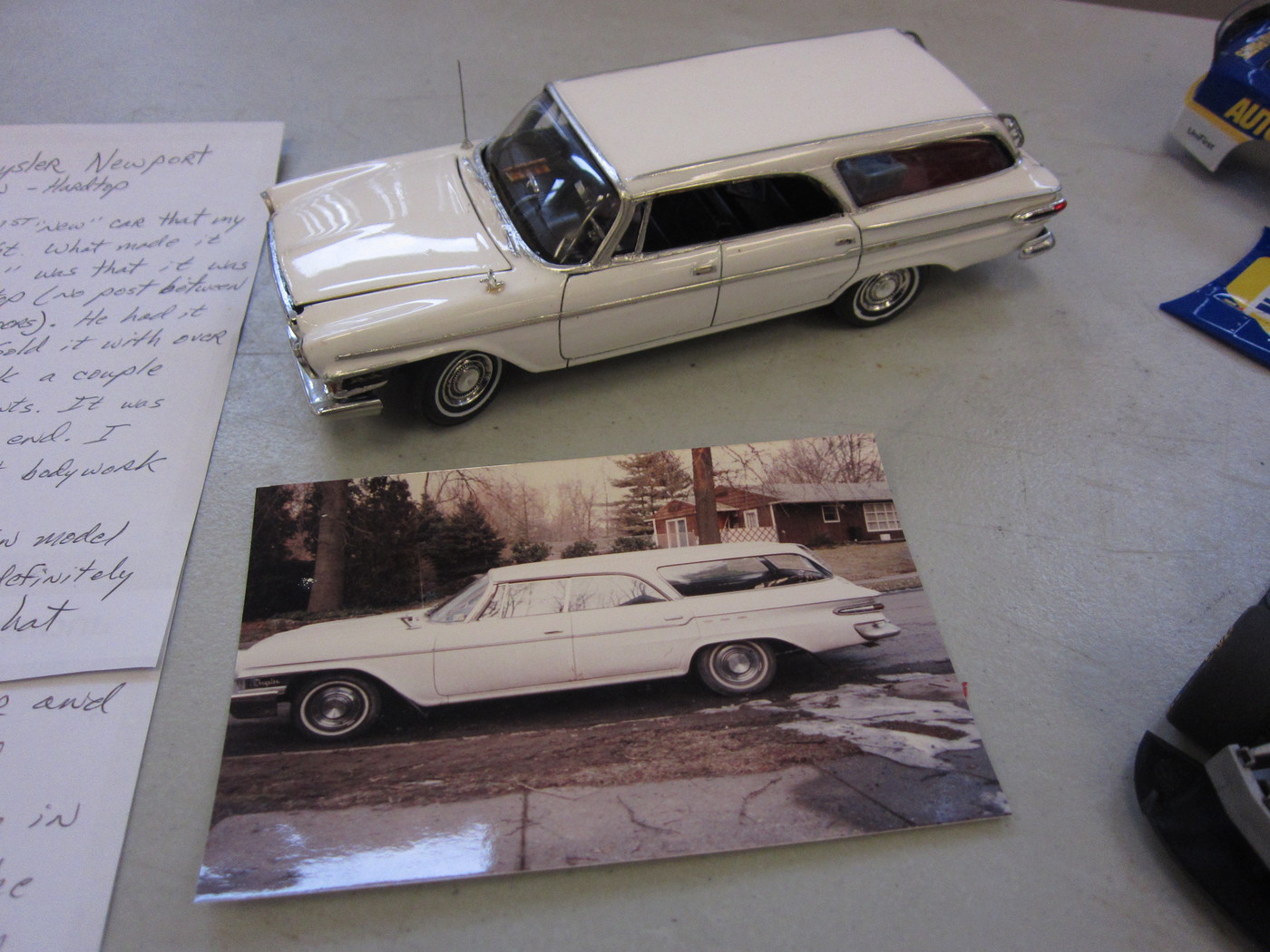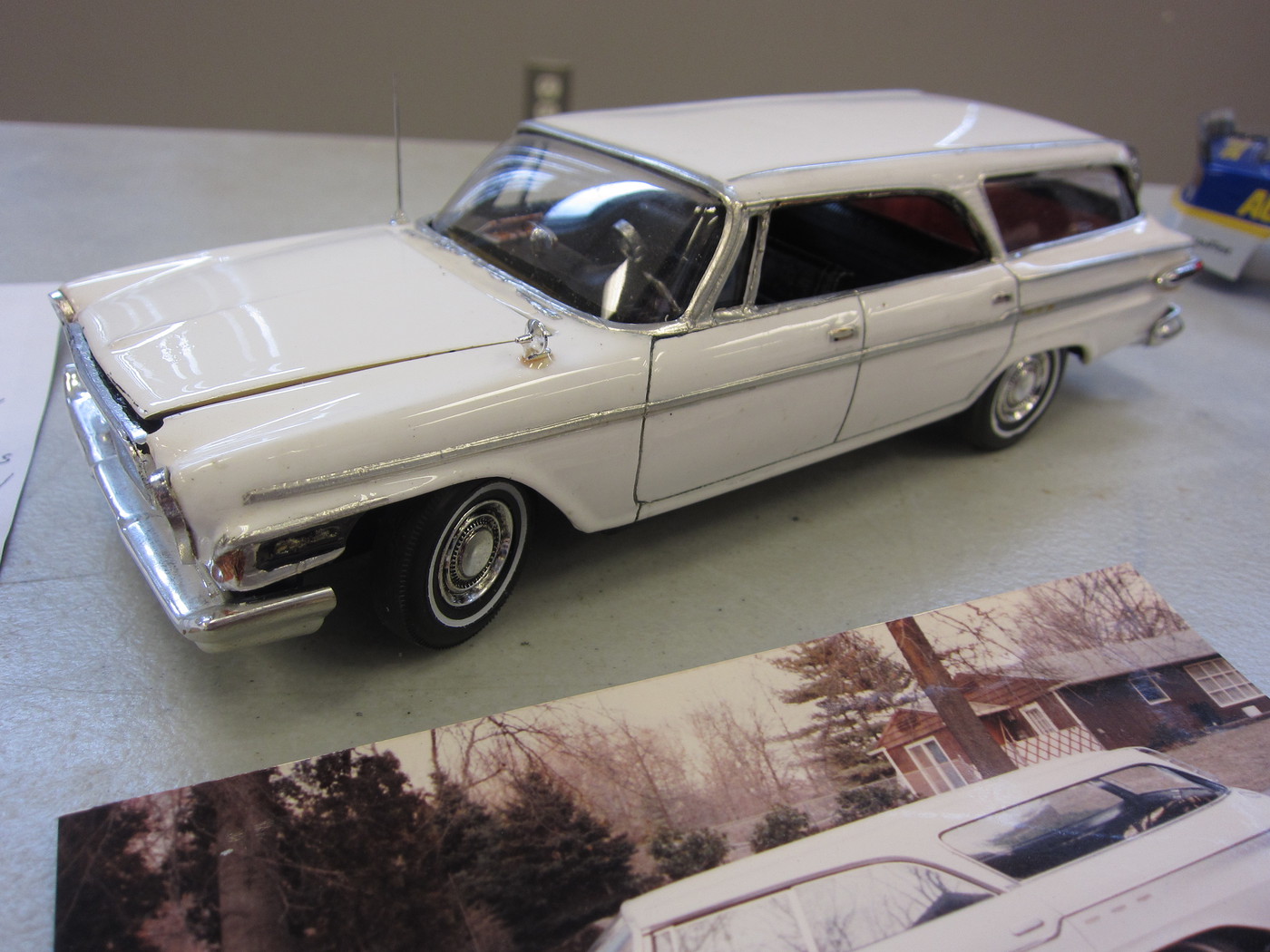 Duane Hinton displayed this Pro-styled Chevelle.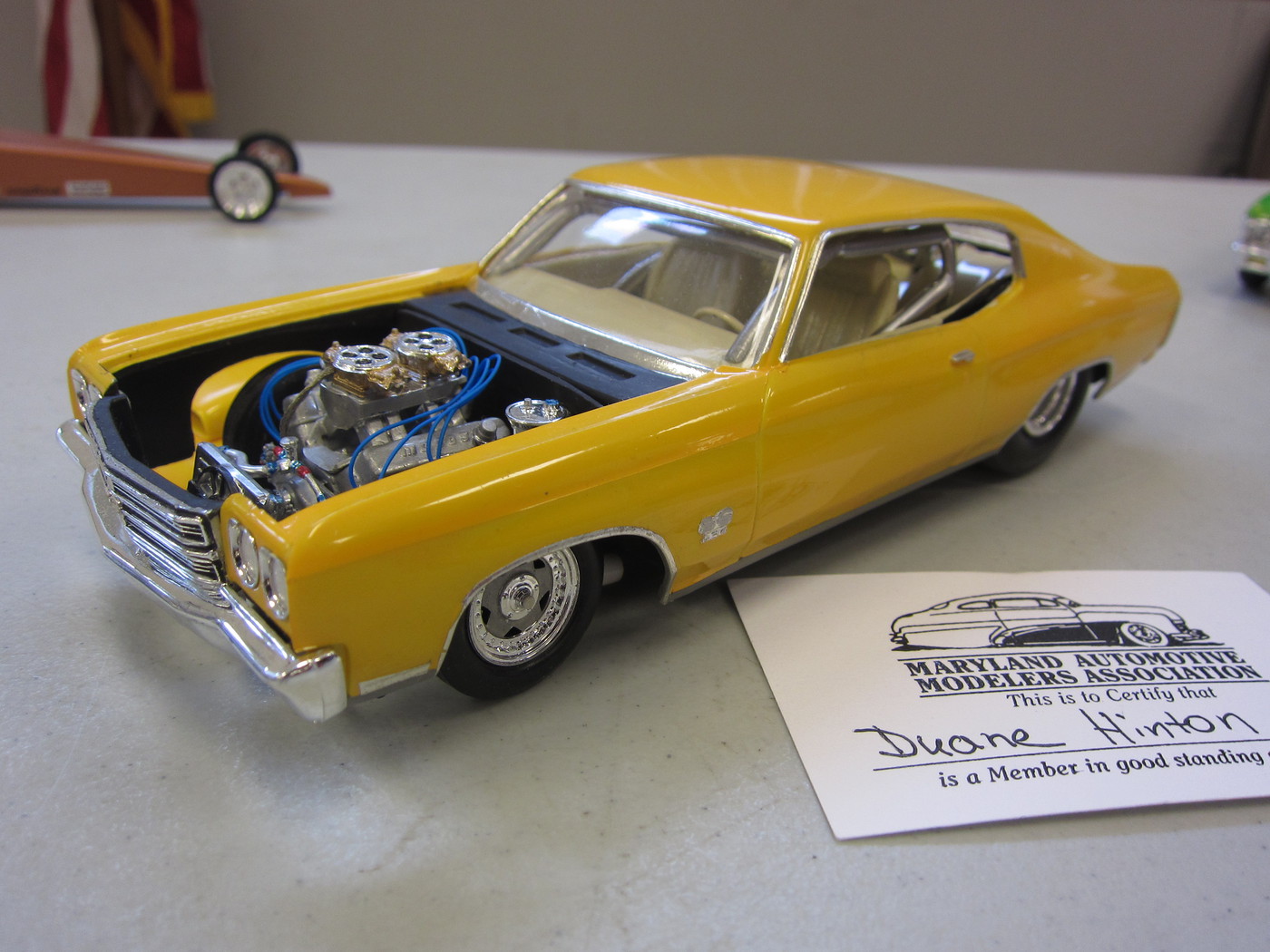 Jim Derreth displayed this 1963 Chevrolet Implala.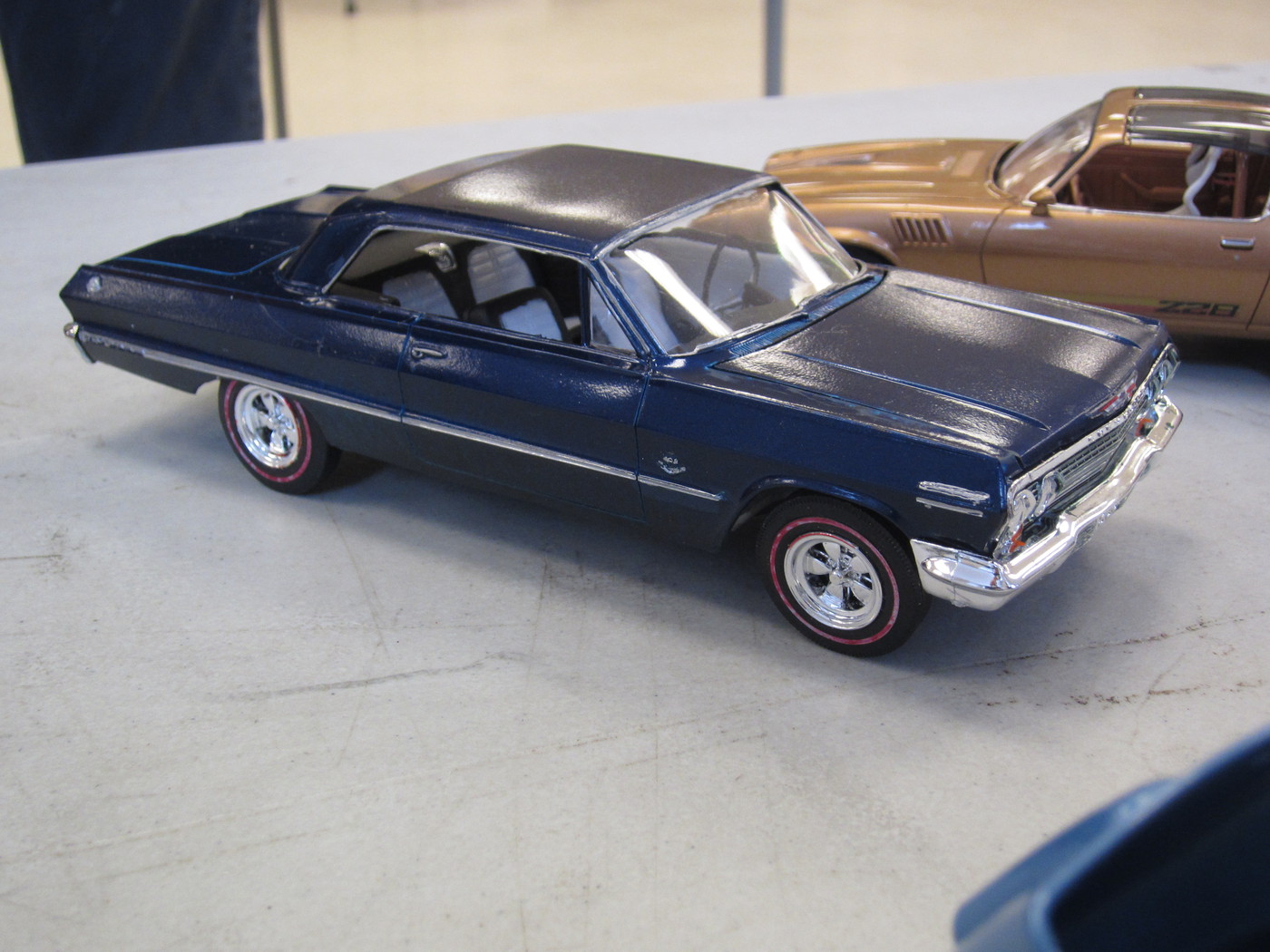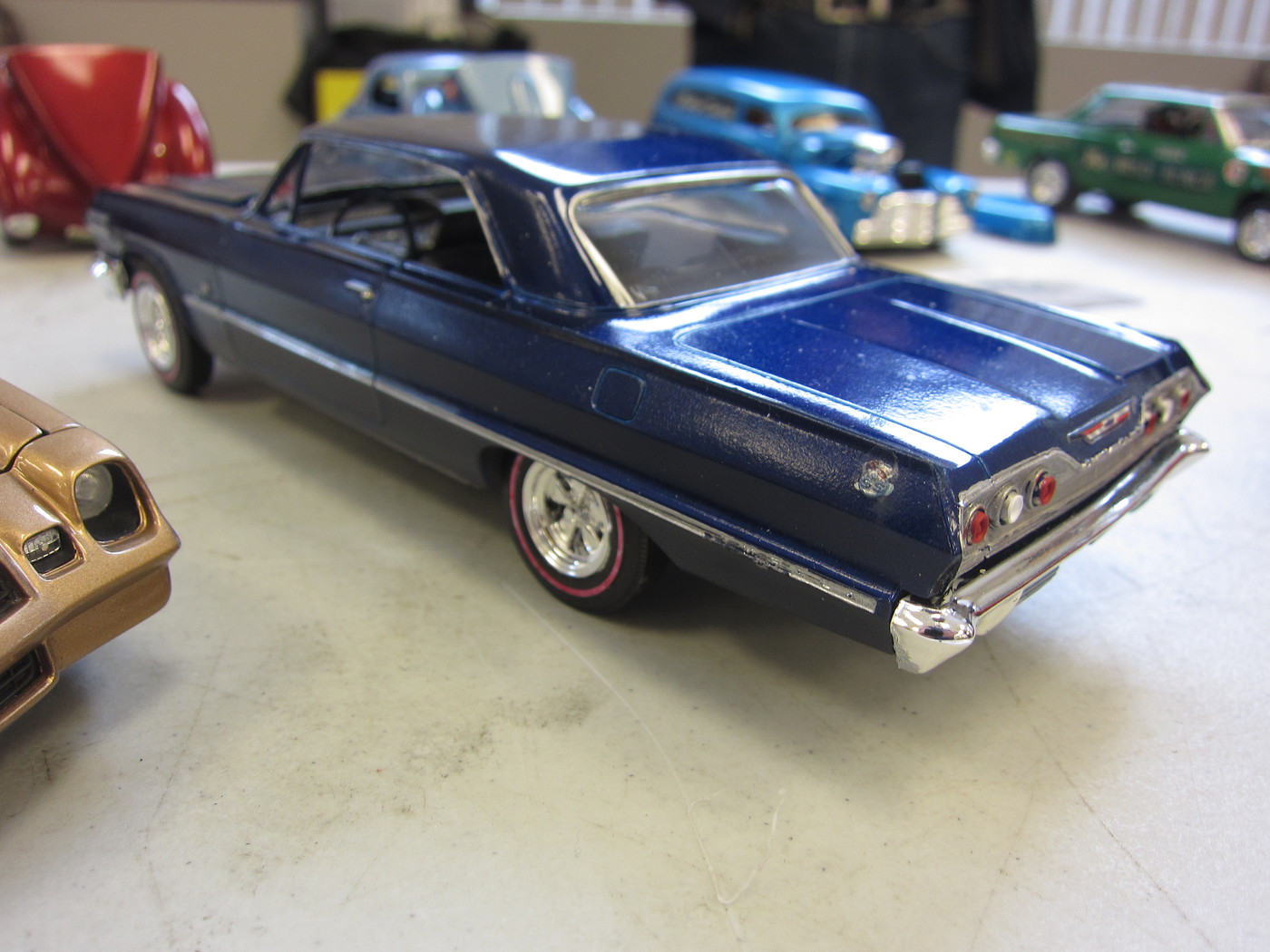 Mal Douglas brought the chassis of his on-going 1964 Chevelle gasser where he's just finished making posable steering, and an HO scale train car project to share one of his other hobbies.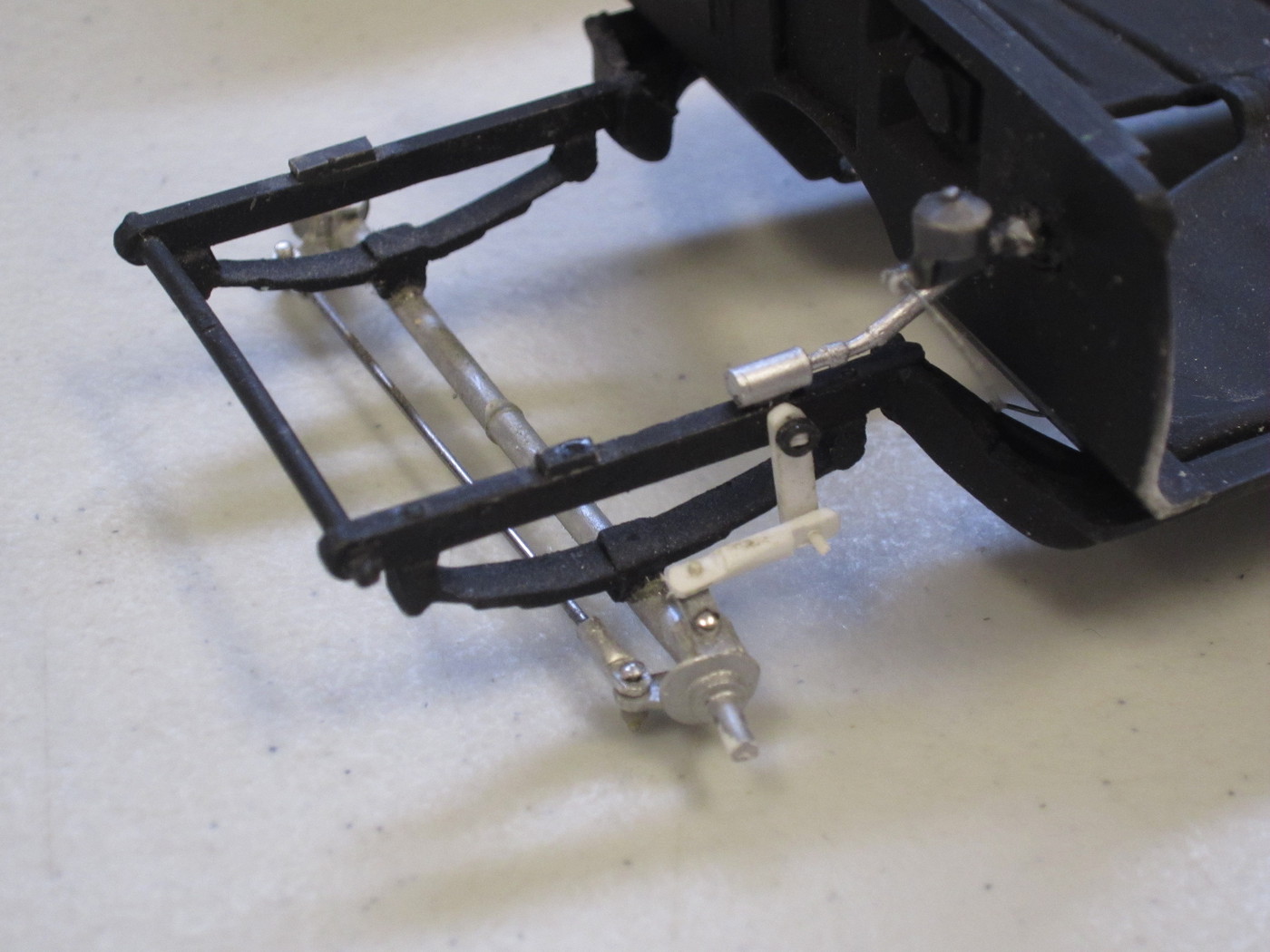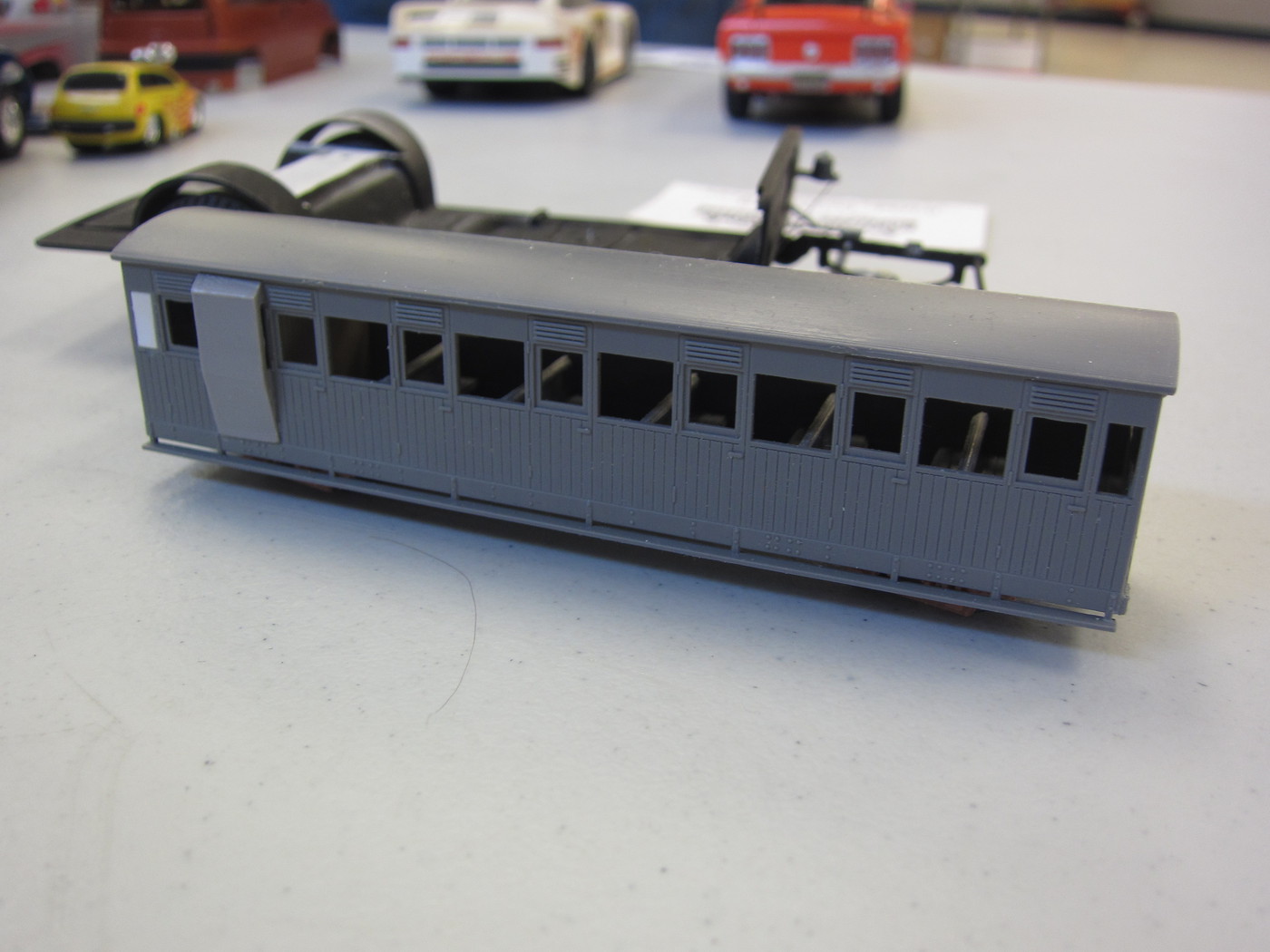 Leonard Harrod showed some of his projects and an older 1957 Chevy race car build that's being updated with some newer wheels and headers.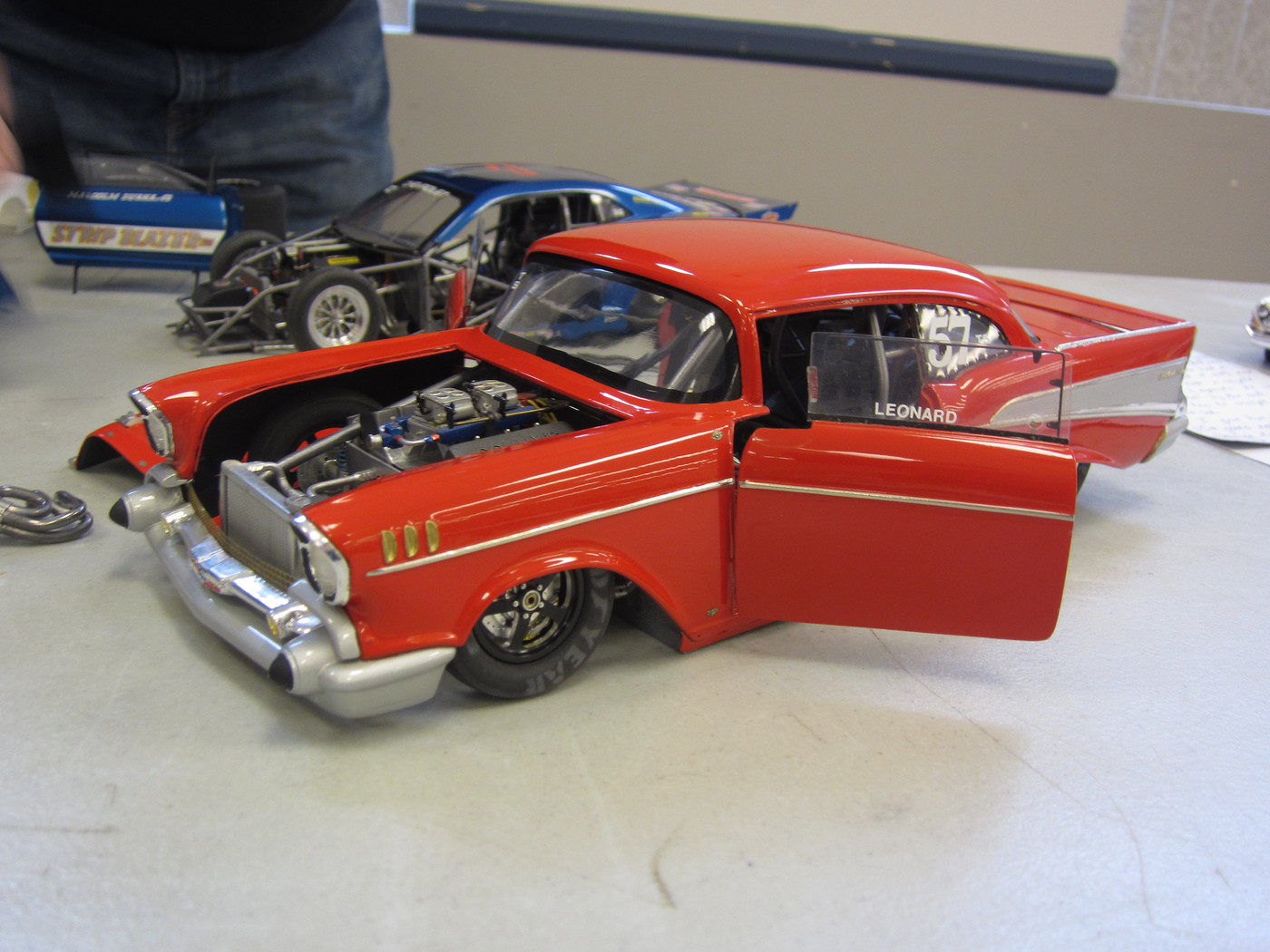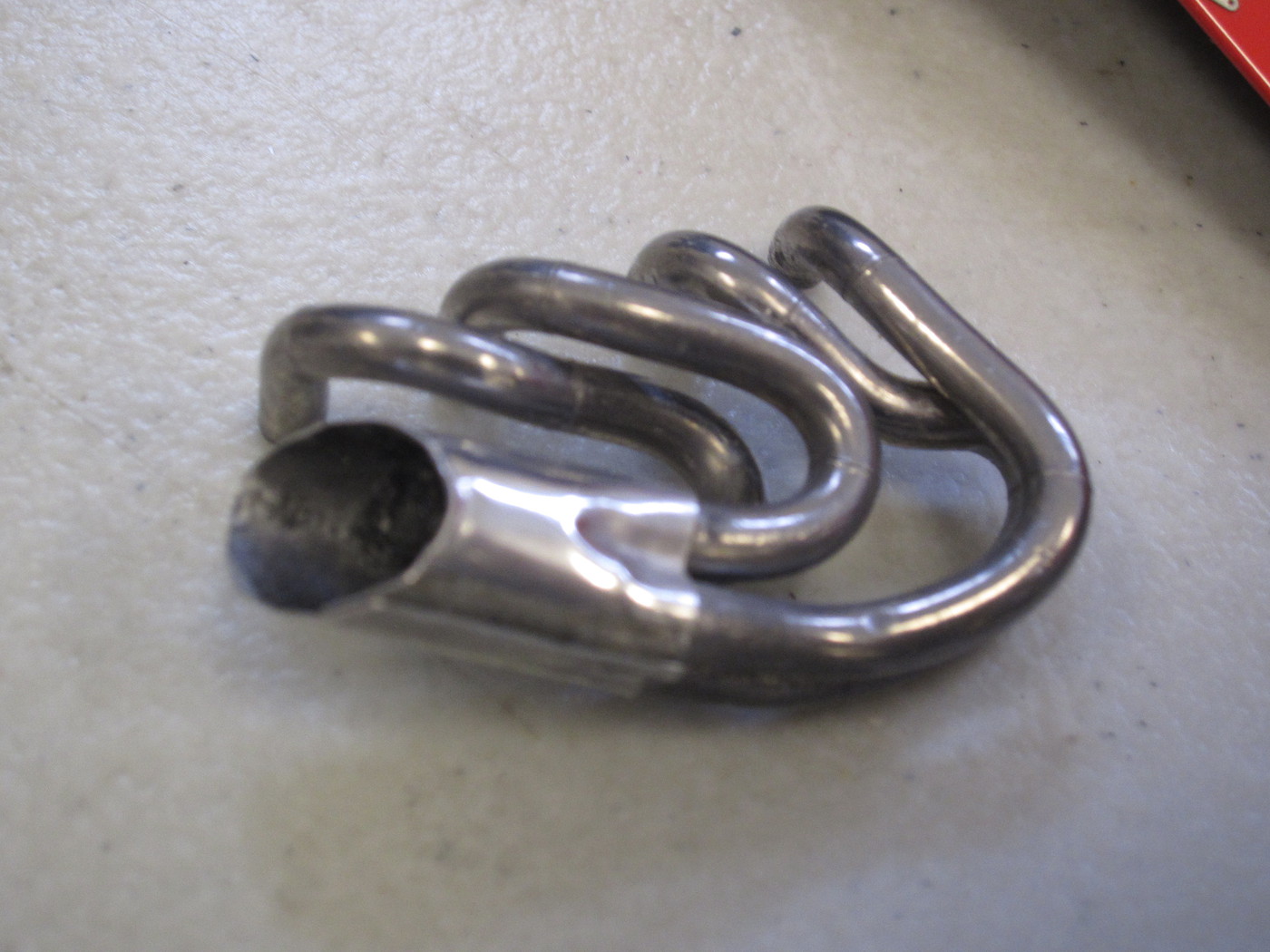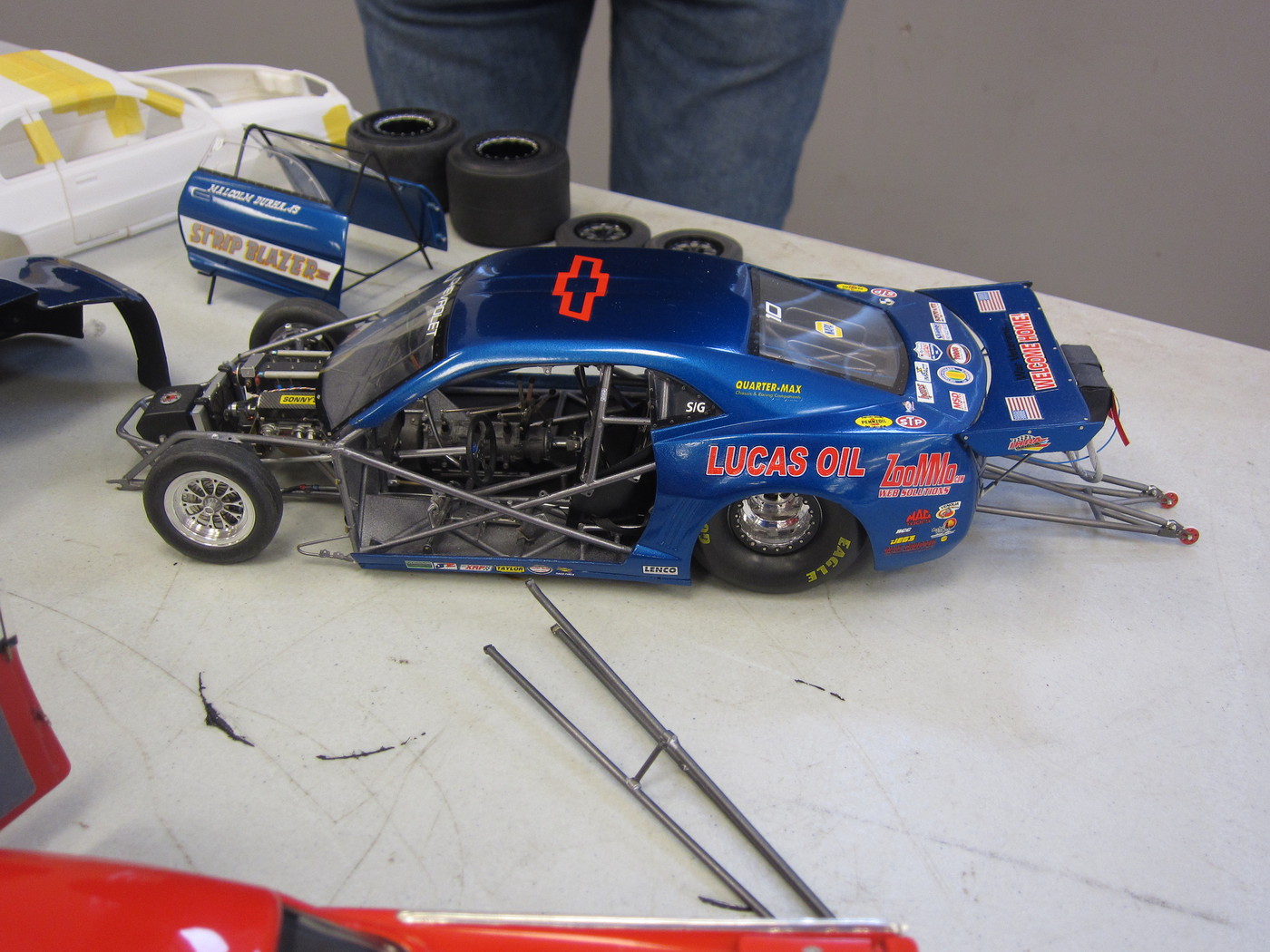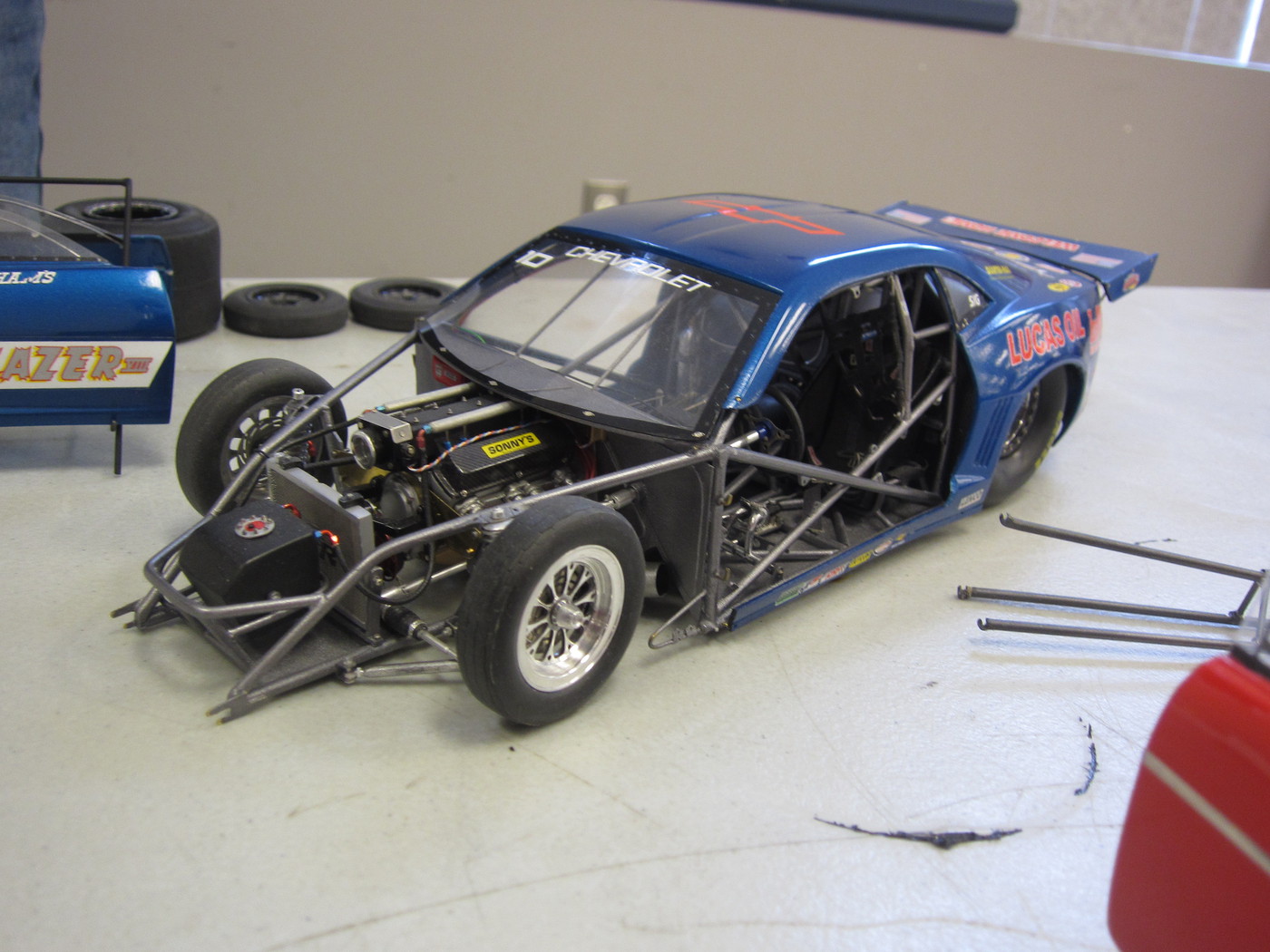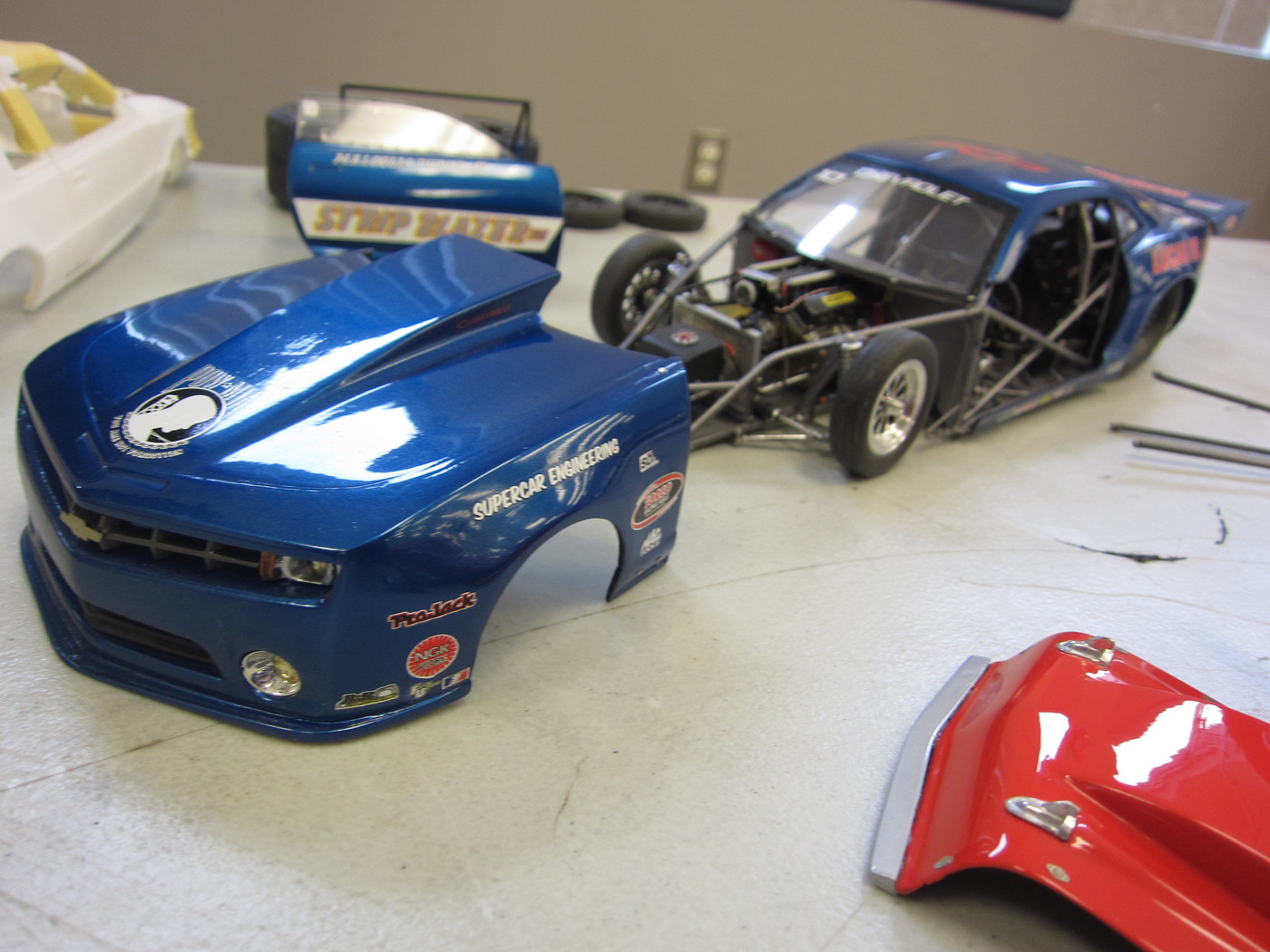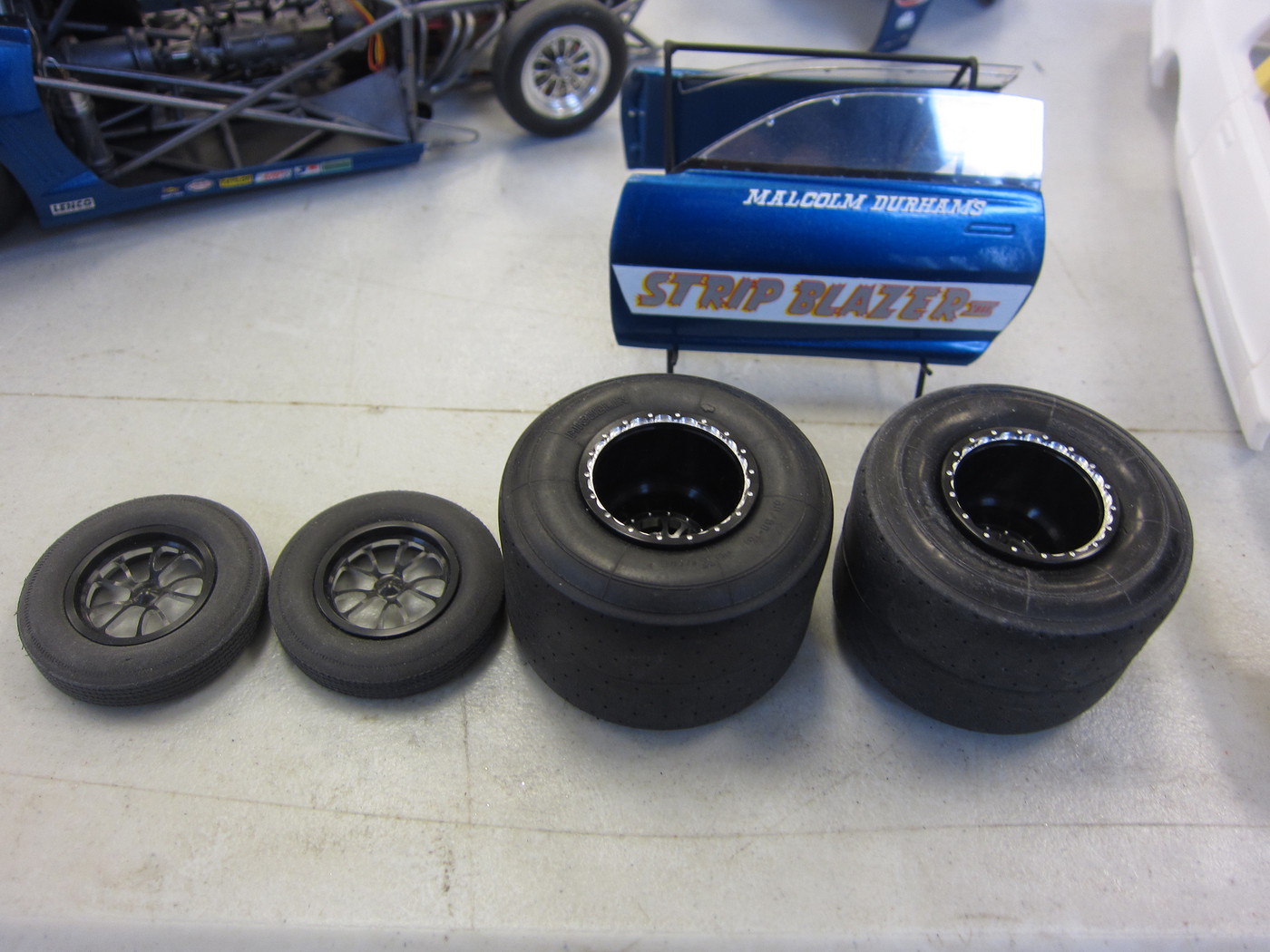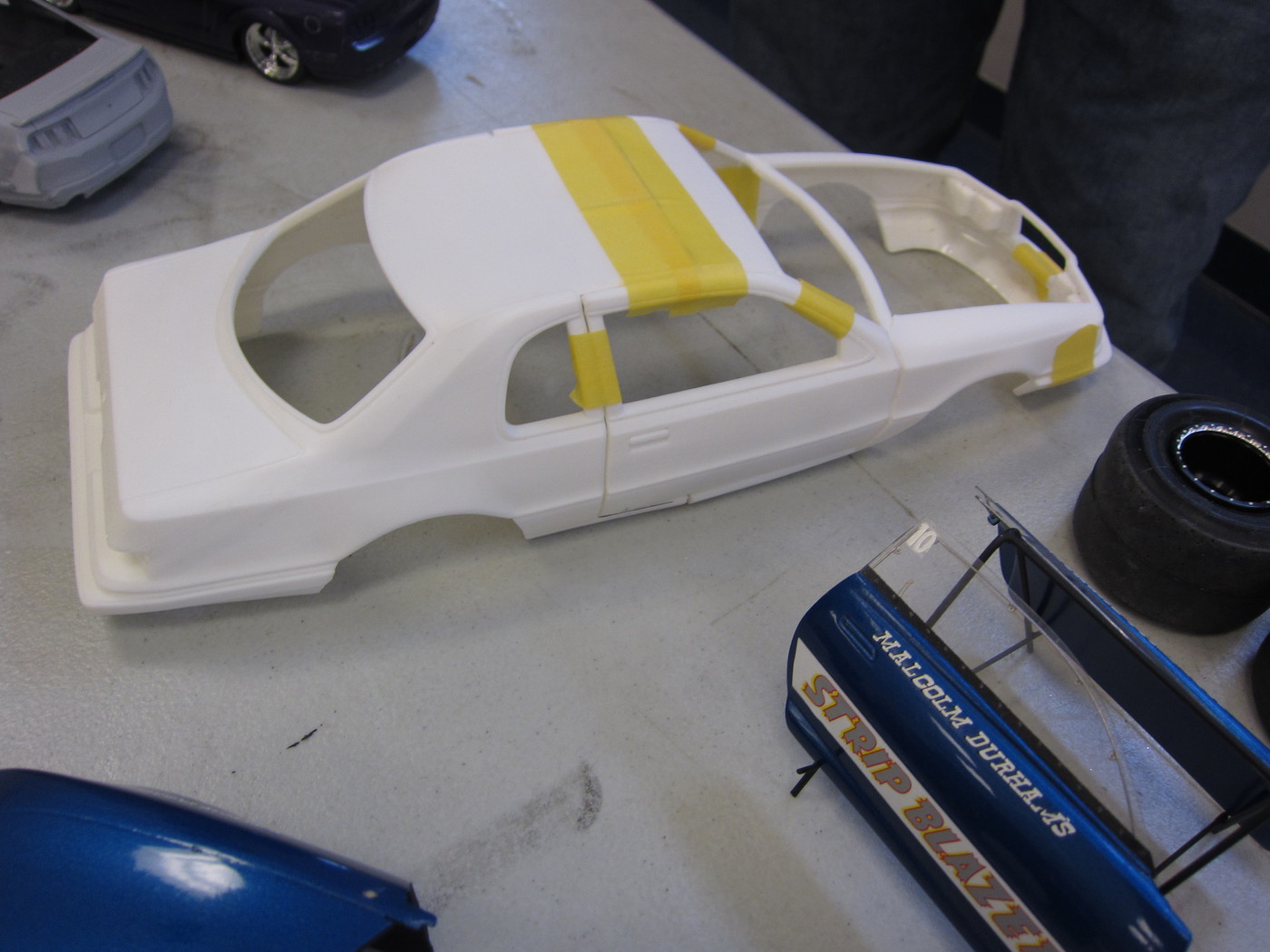 This meeting marked the return of our Pontiacs on Parade parking lot. It's a special area where members came group their Pontiac models together and share discussions of the historical marque's autos. Our newsletter editor, Tim Sickle has populated the lot here with a rebuildable 1968 GTO that is destined to someday replicate his own GTO, a rebuildable 1969 GTO, and a built MPC "War Eagle" Cafe Racer styled Trans Am.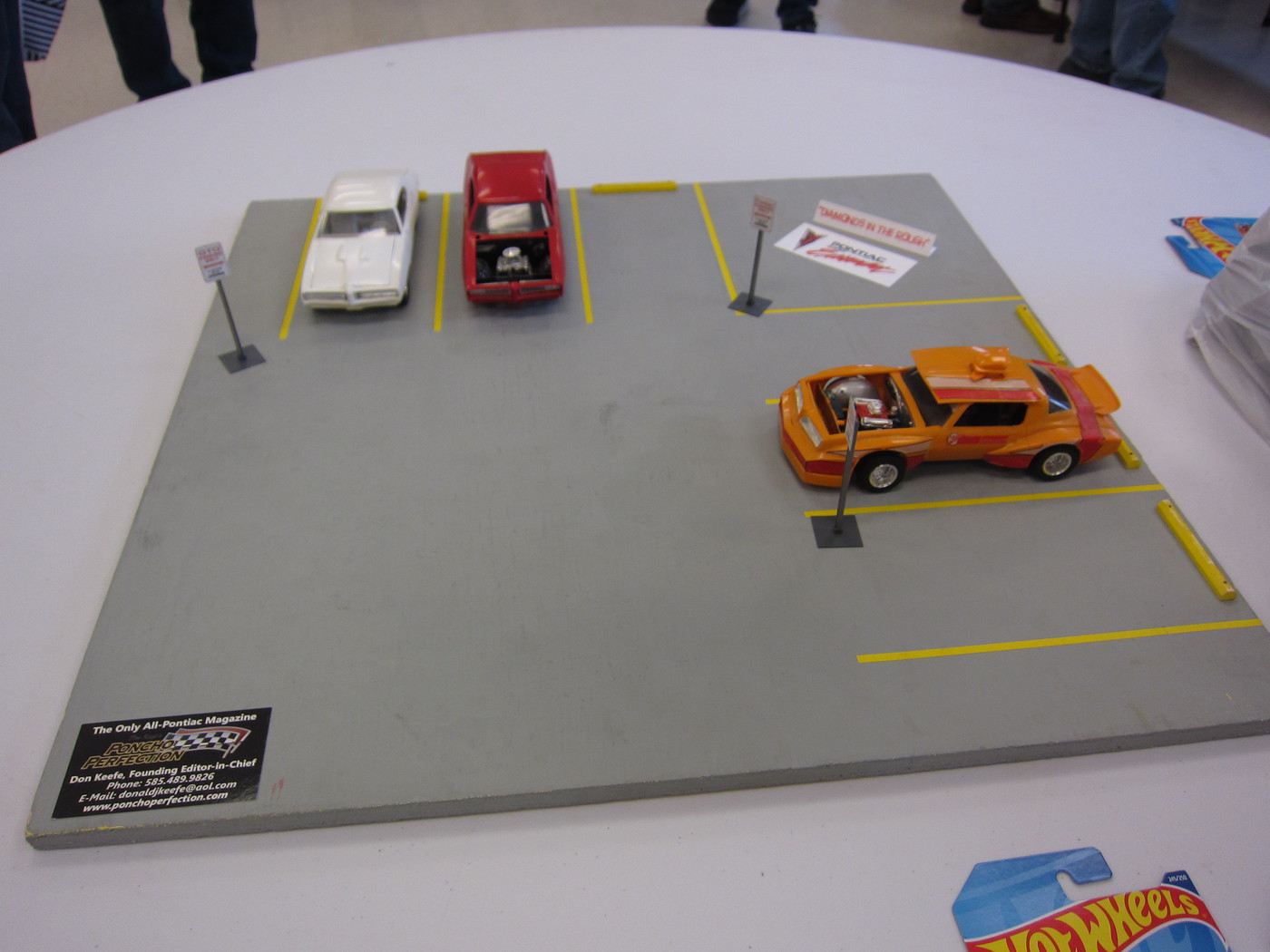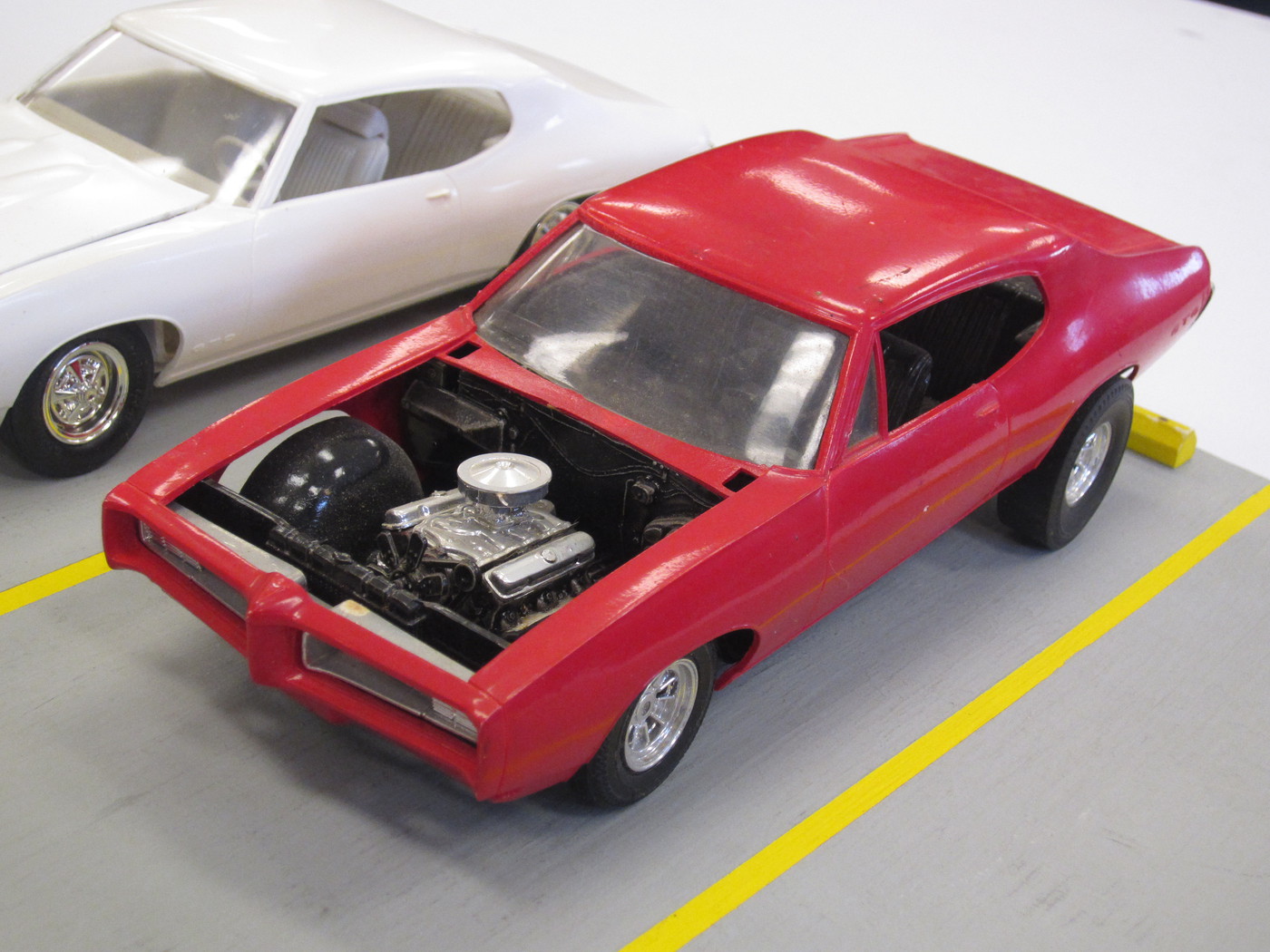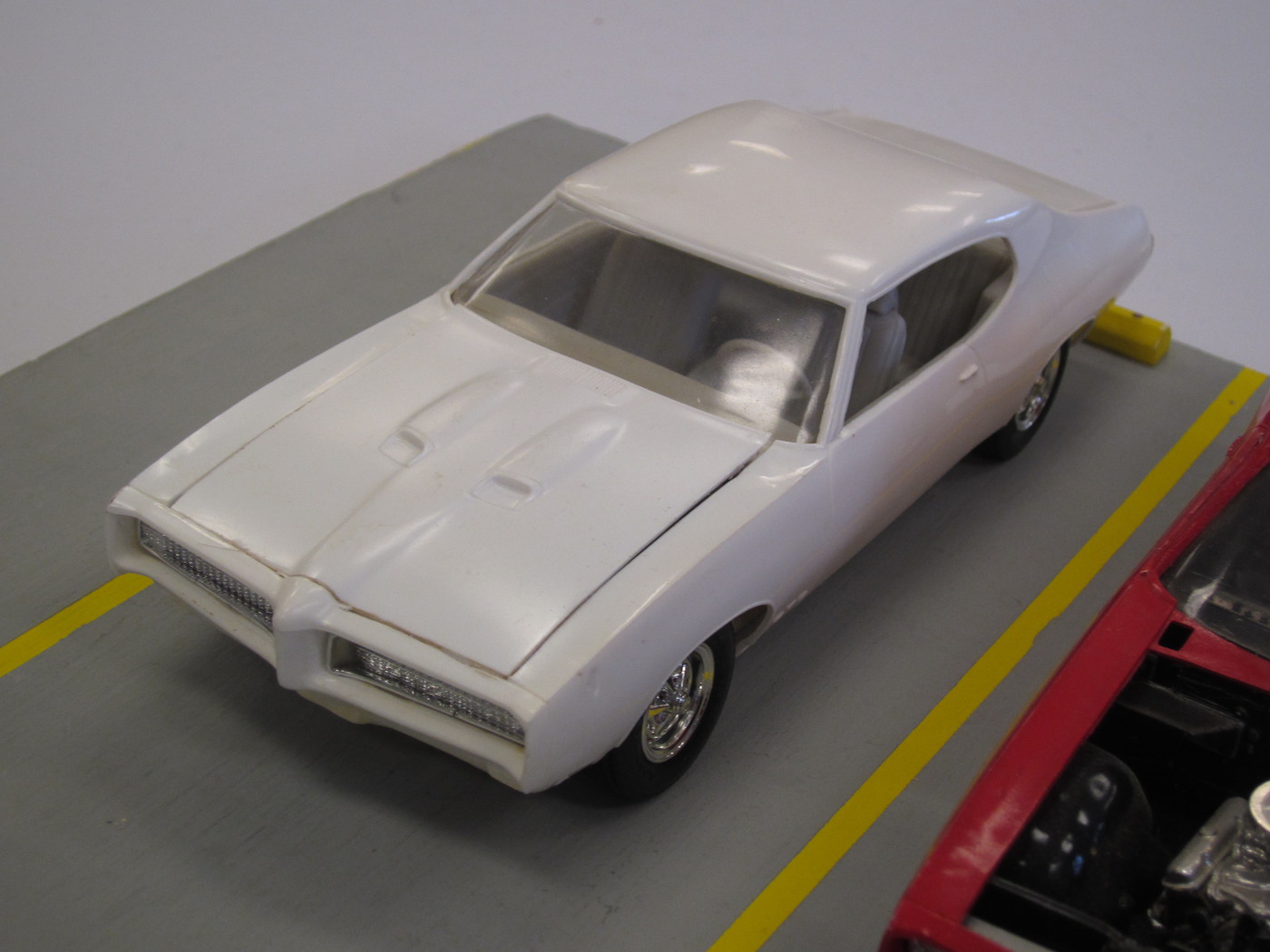 I didn't see who placed these models on the display tables.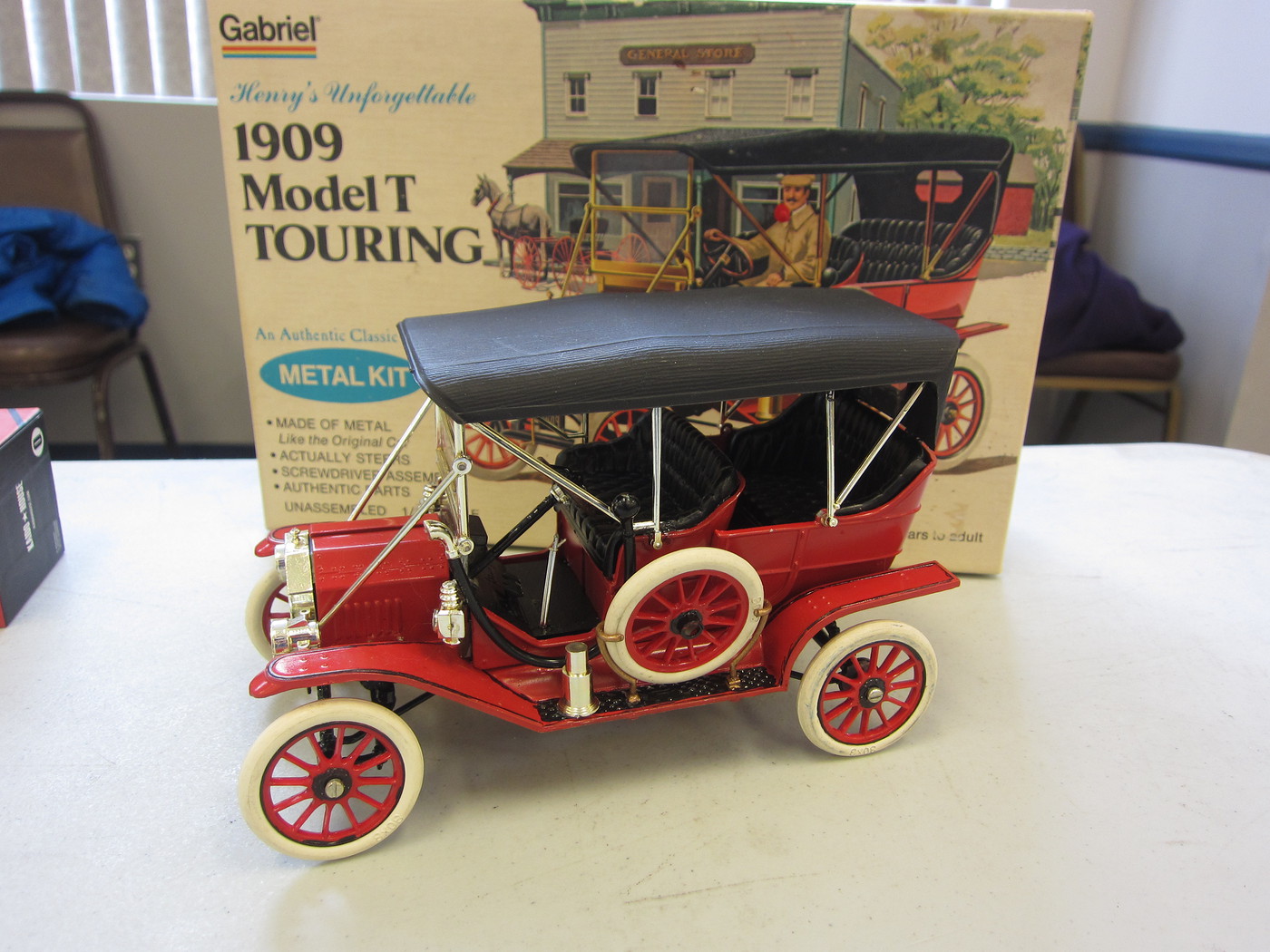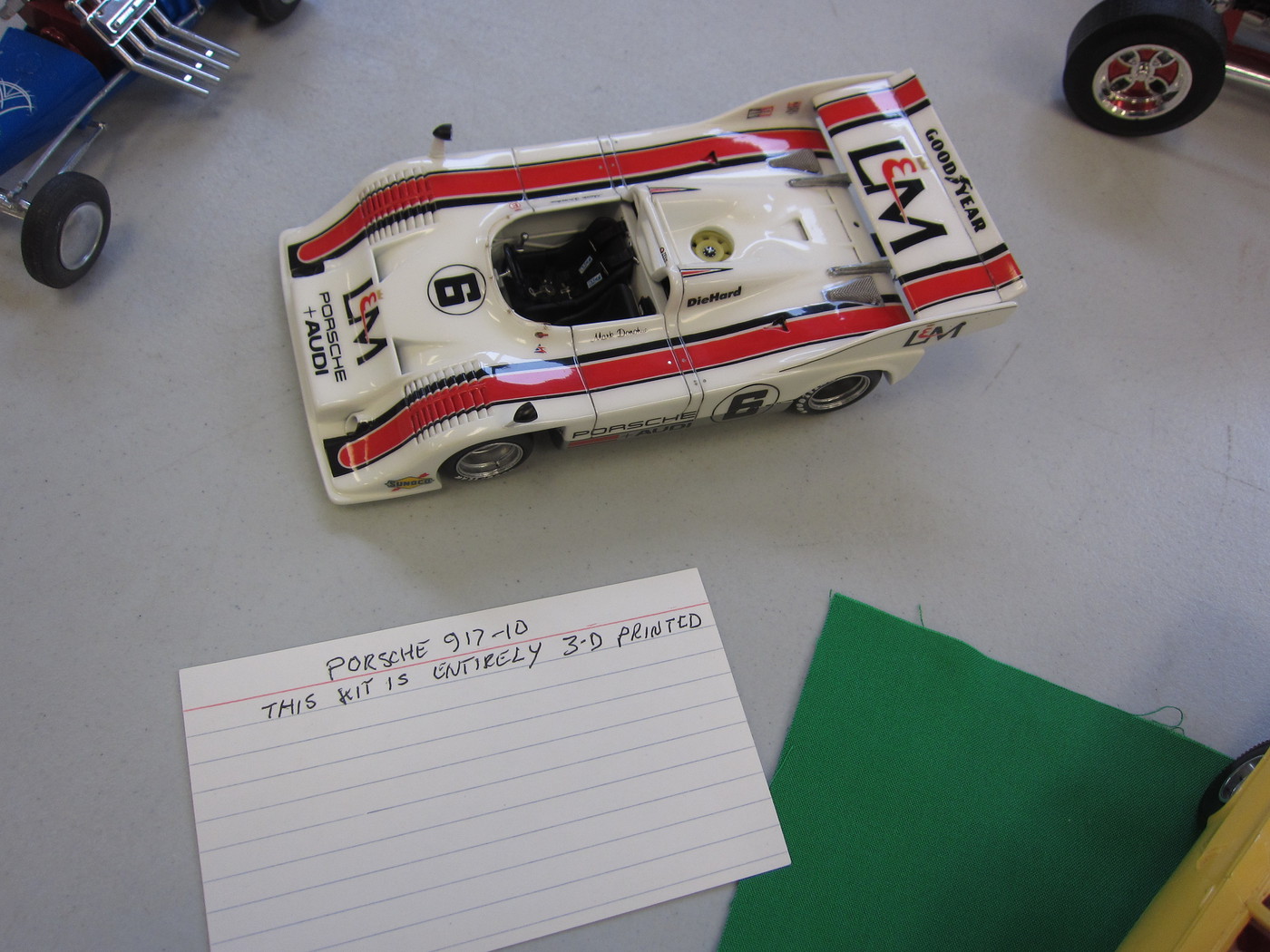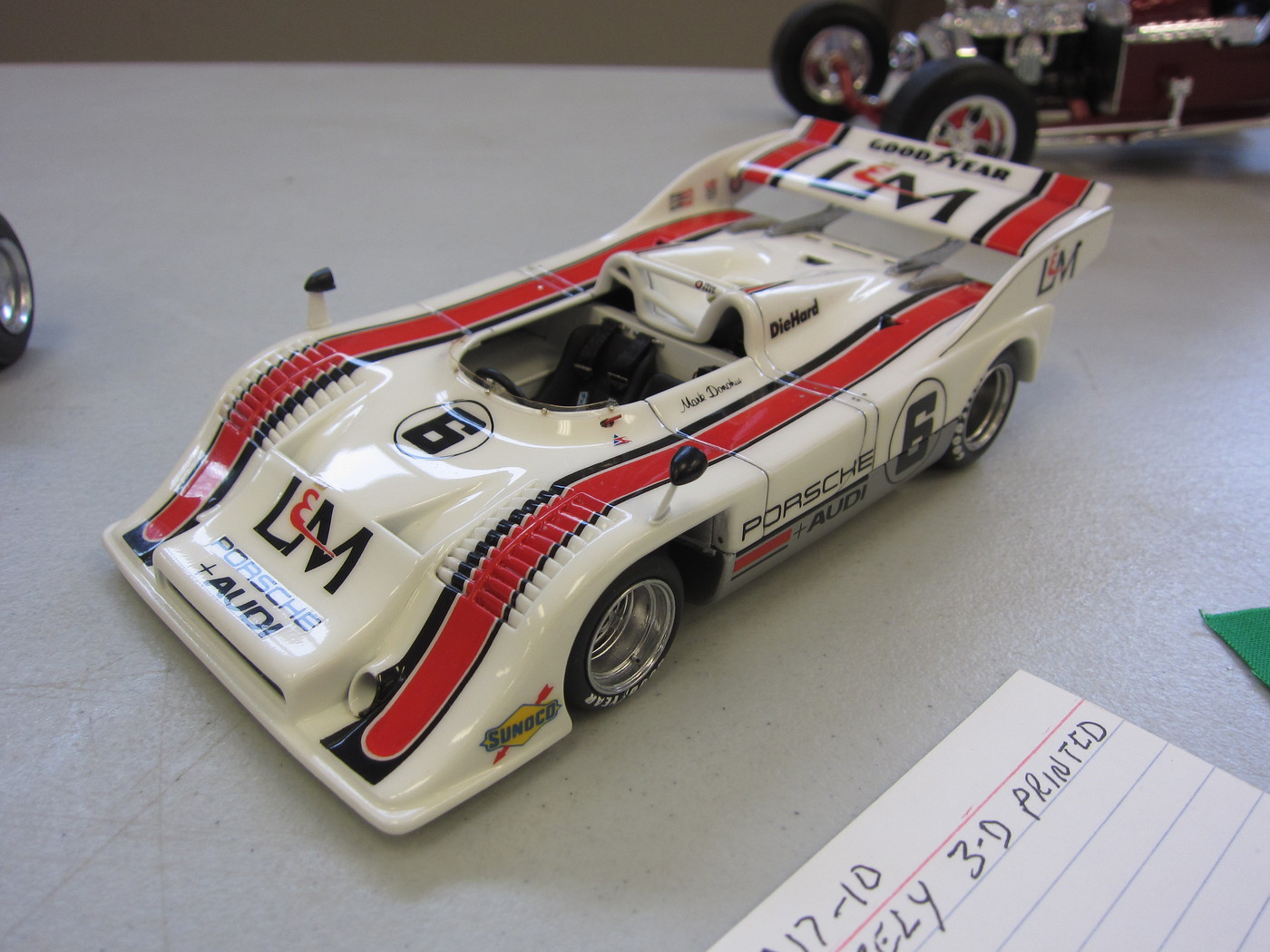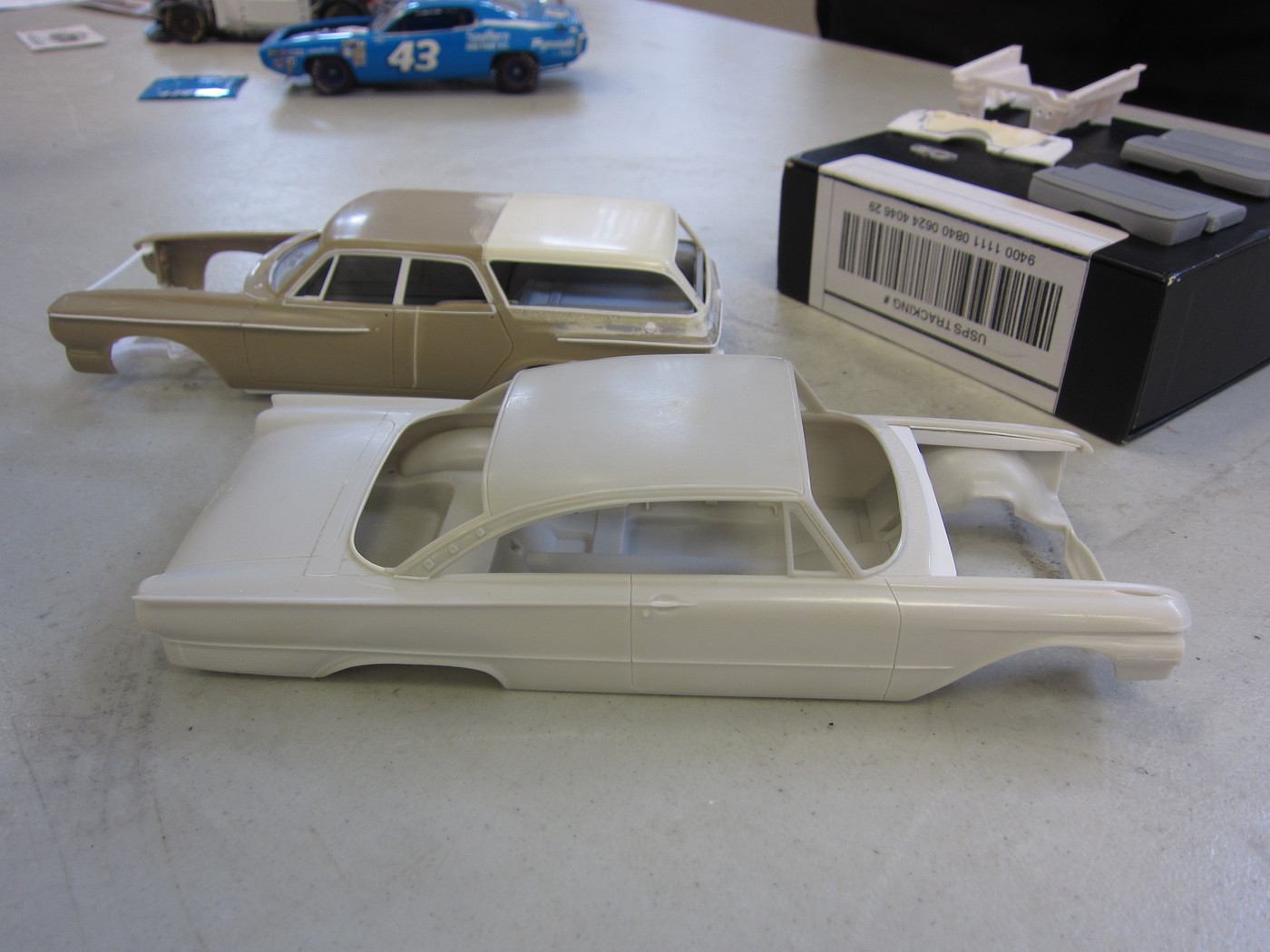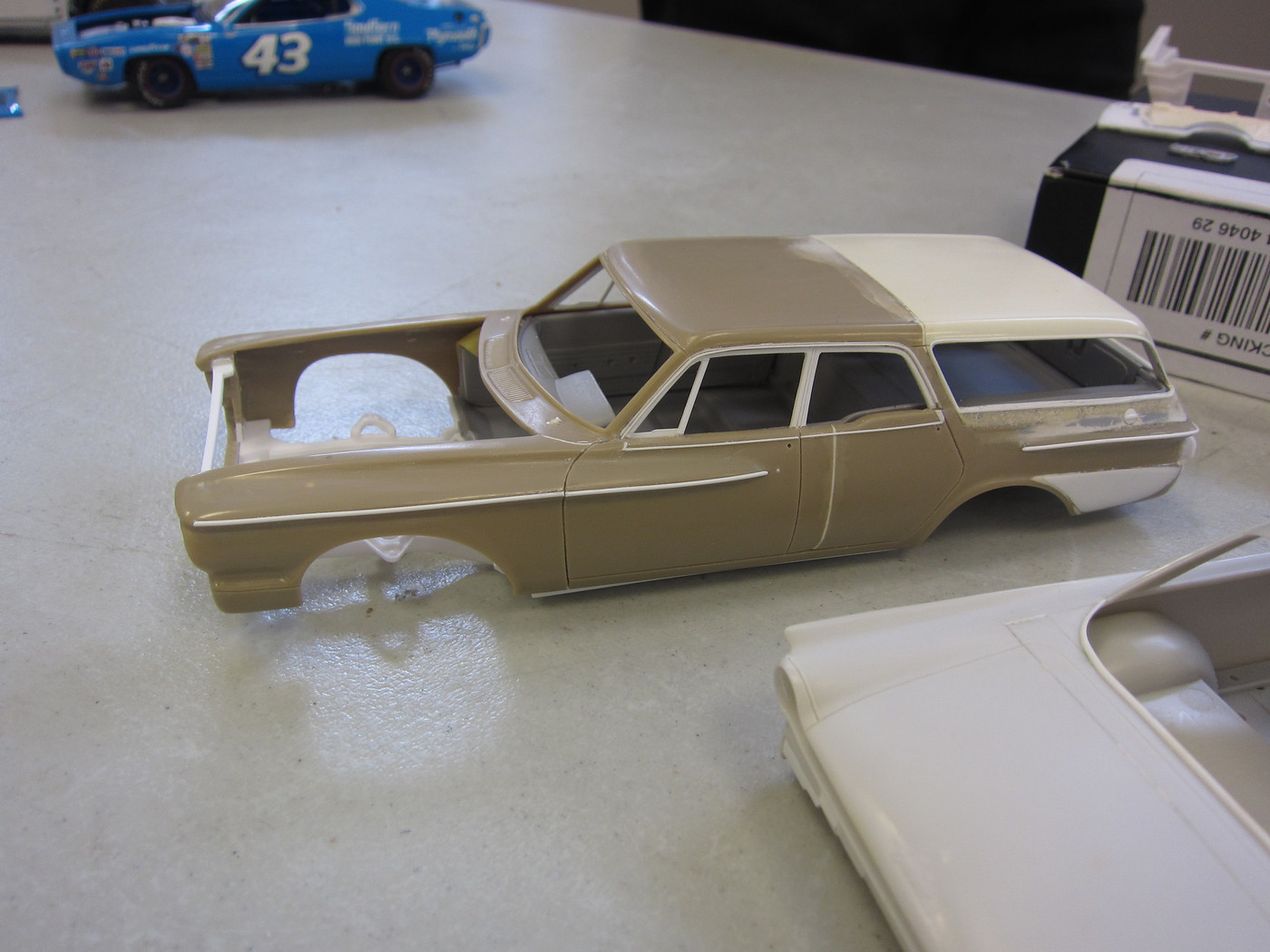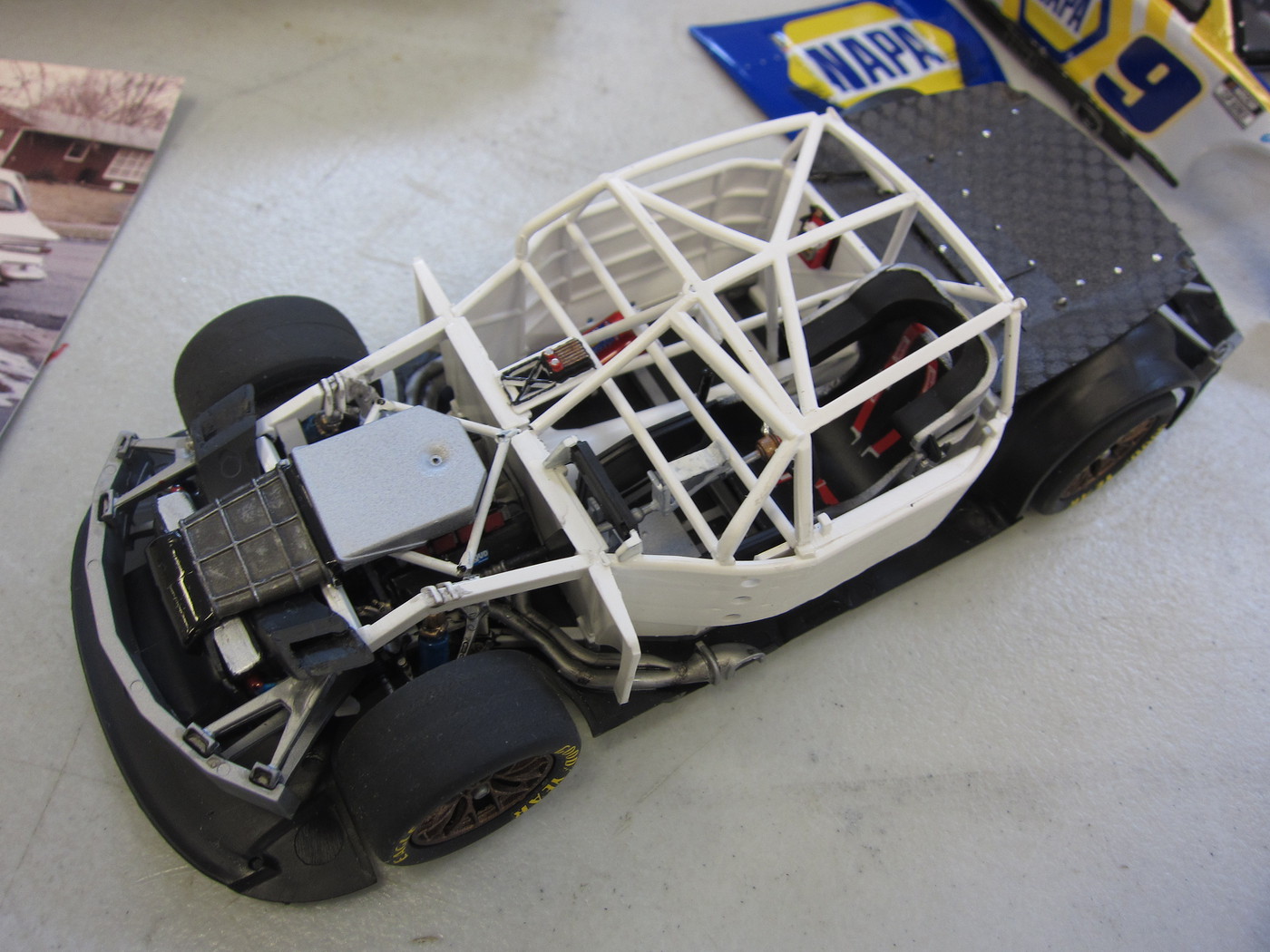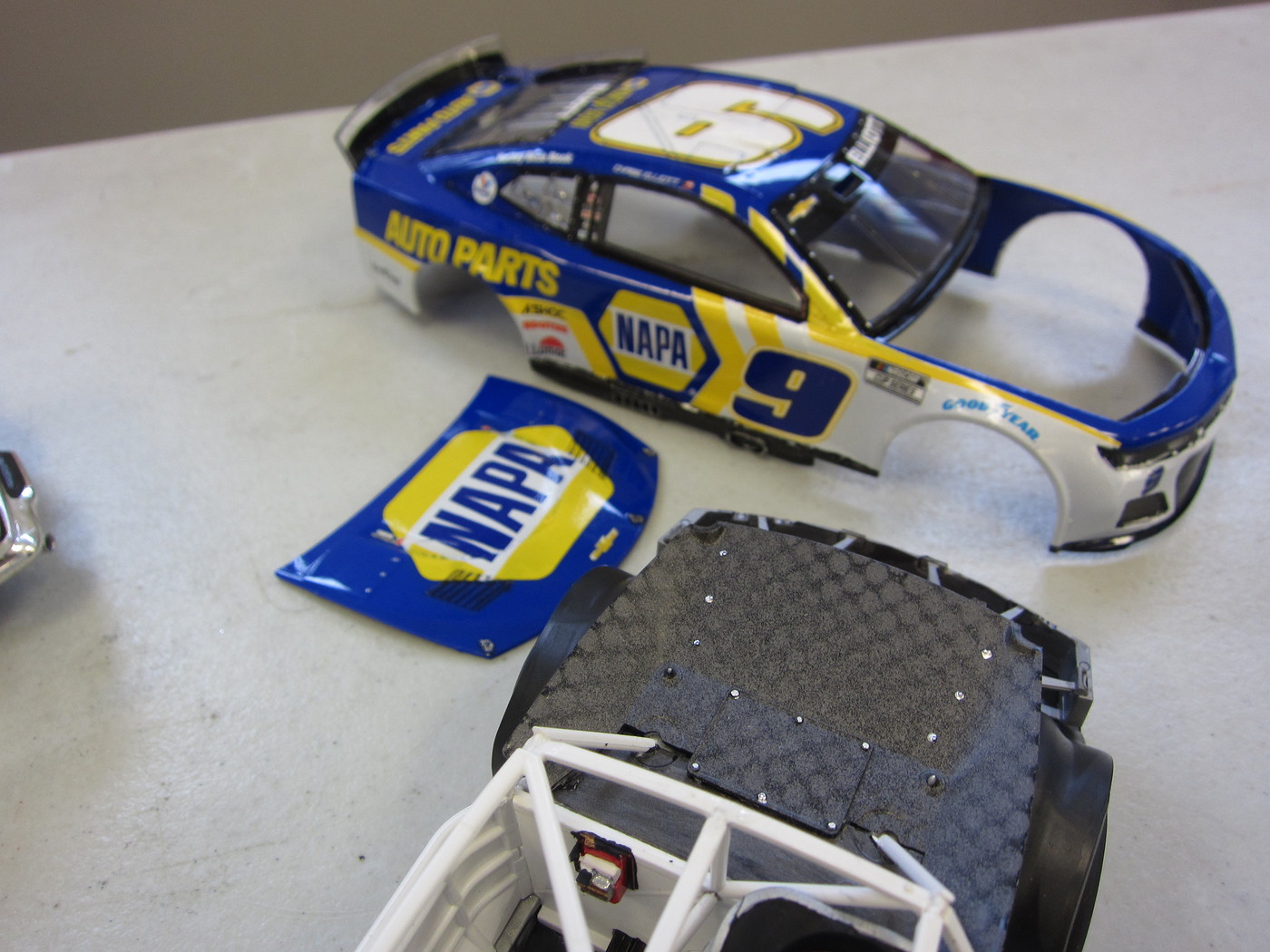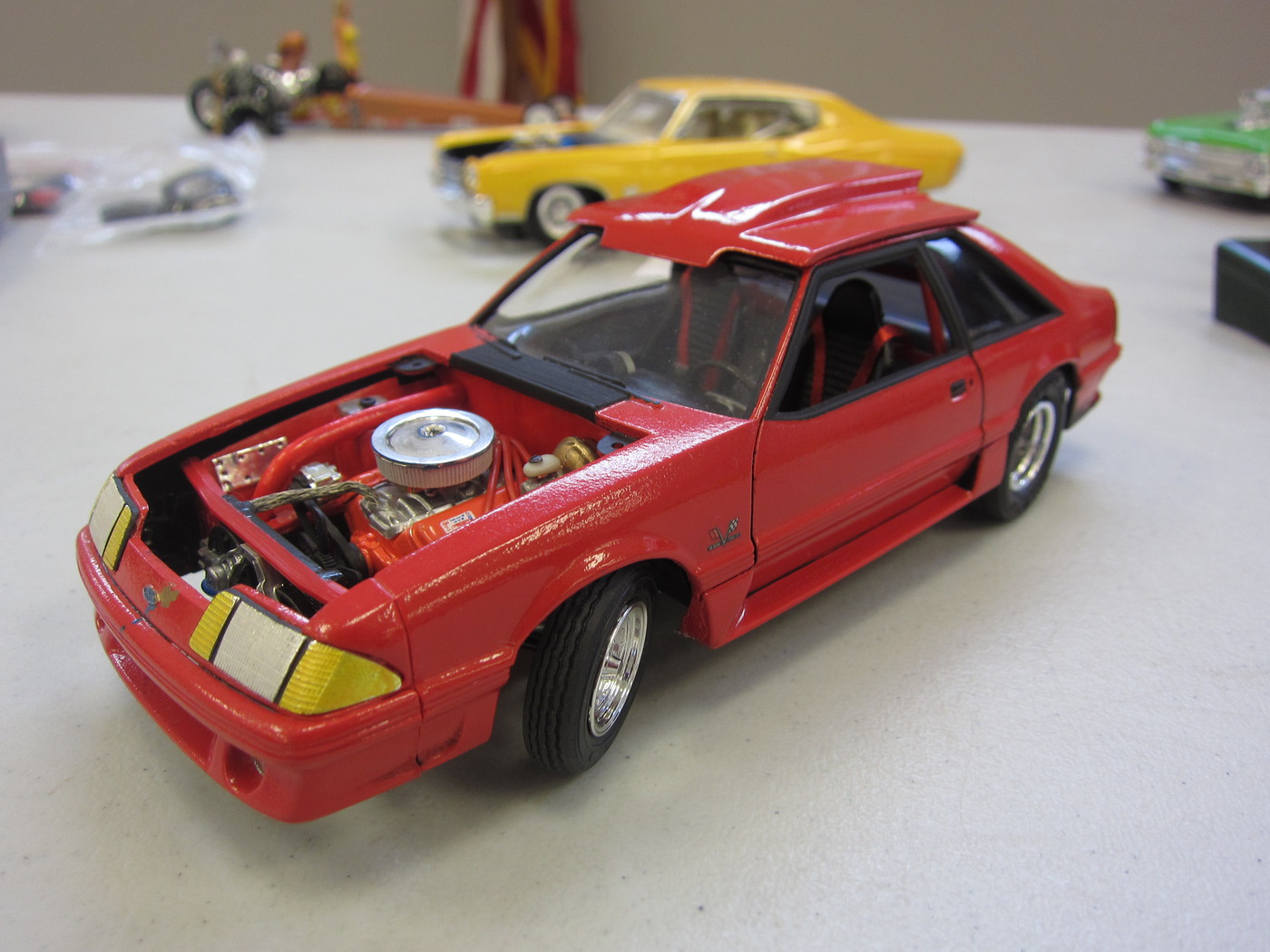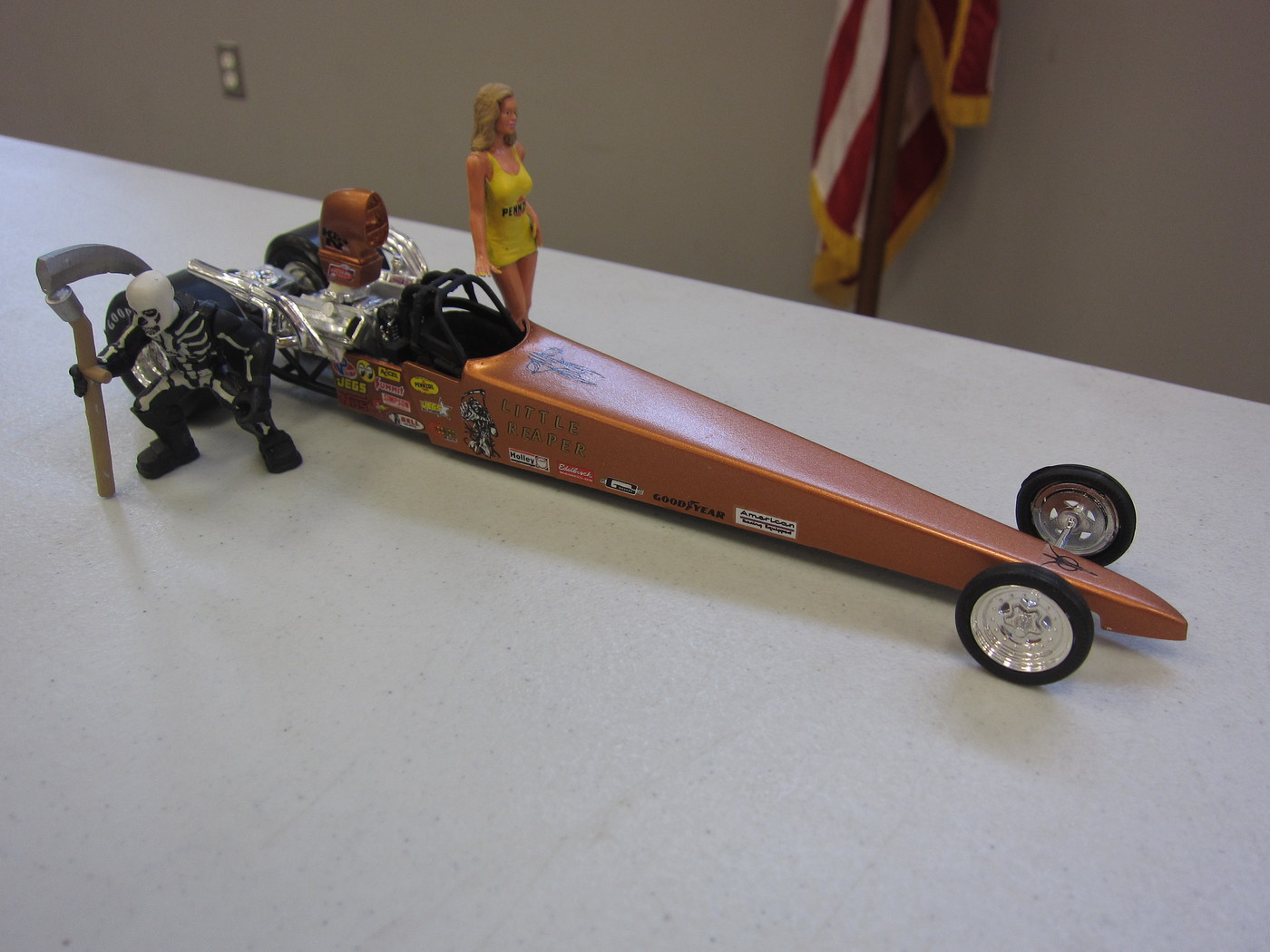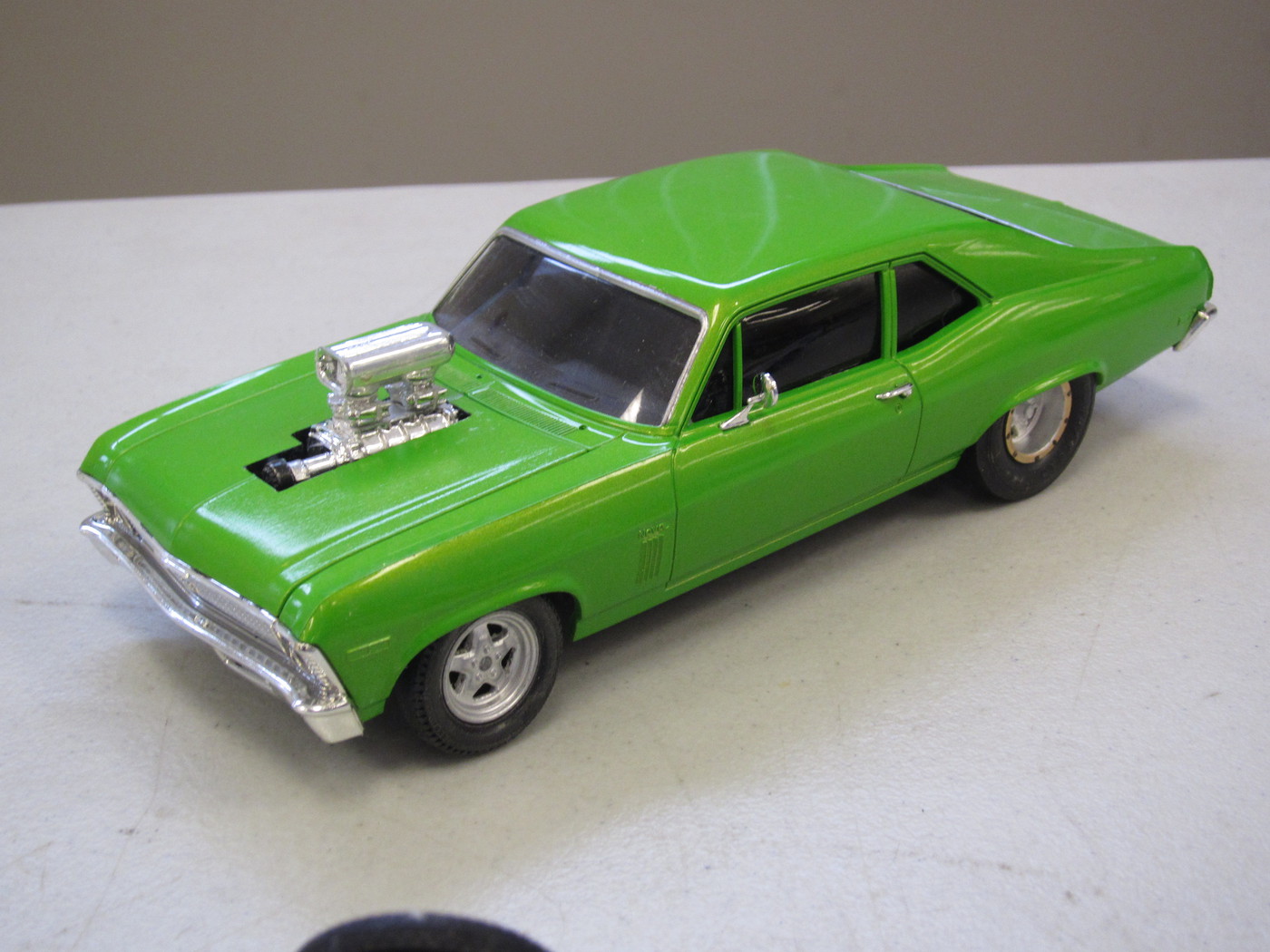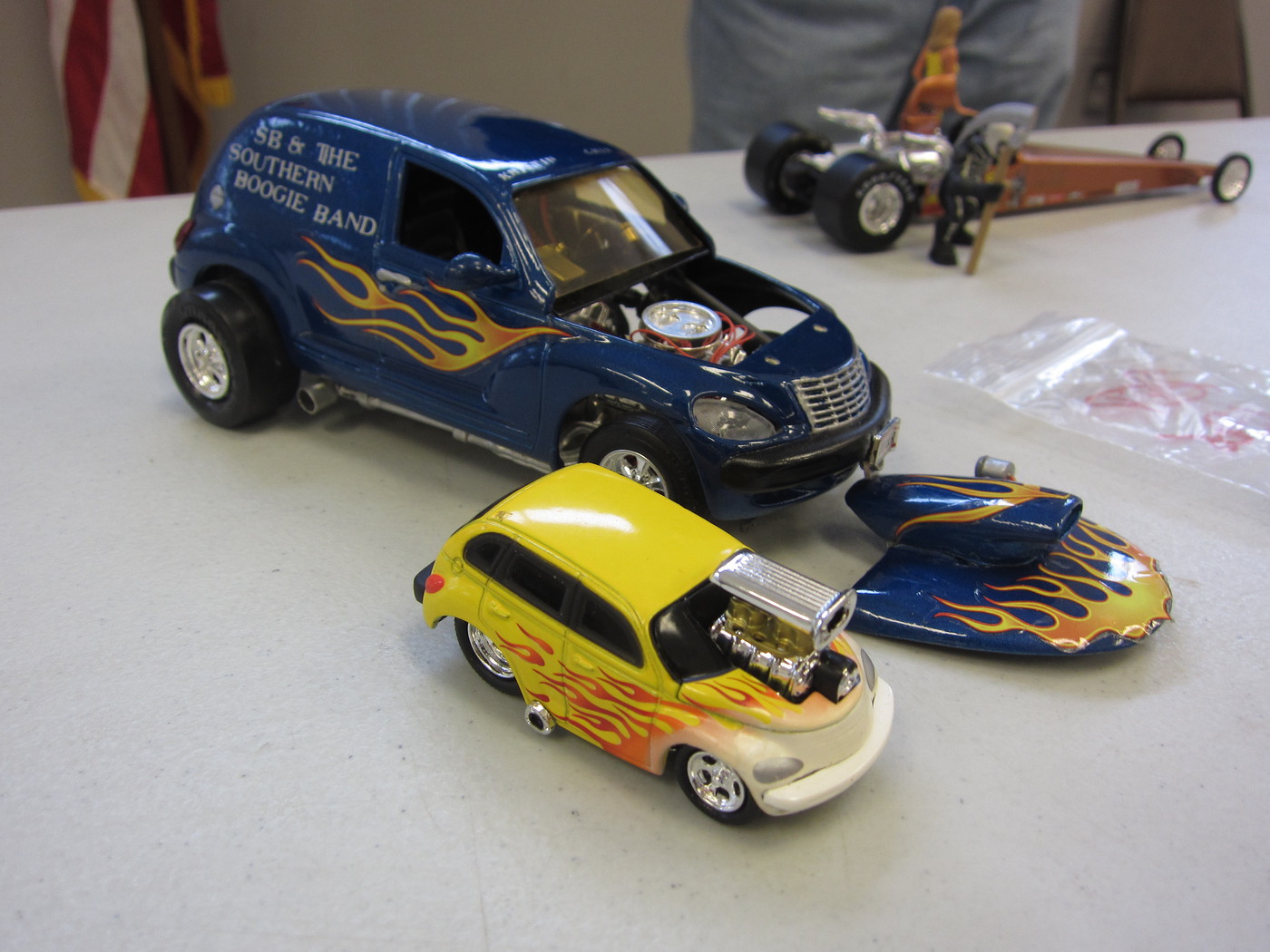 Some of the action: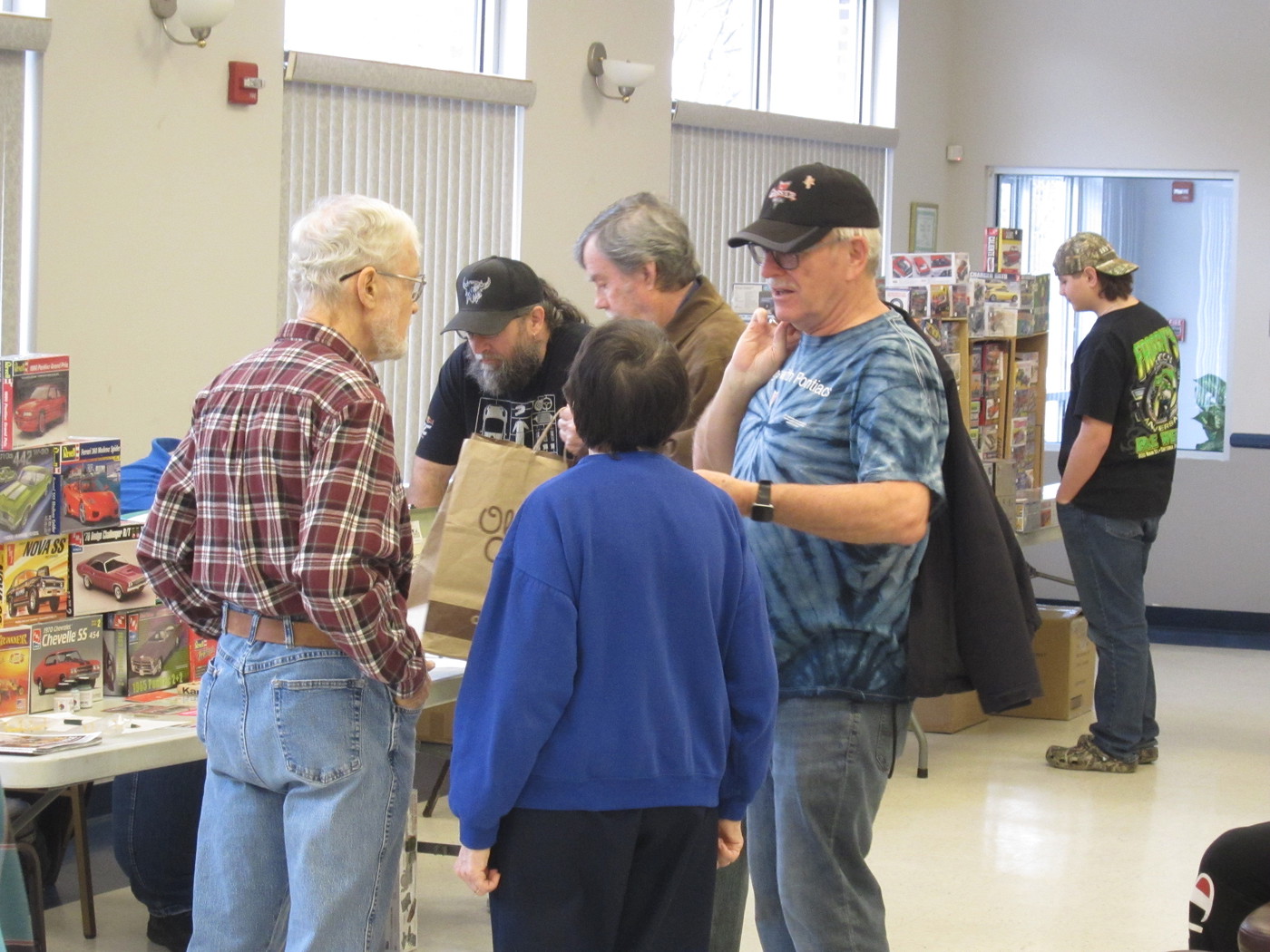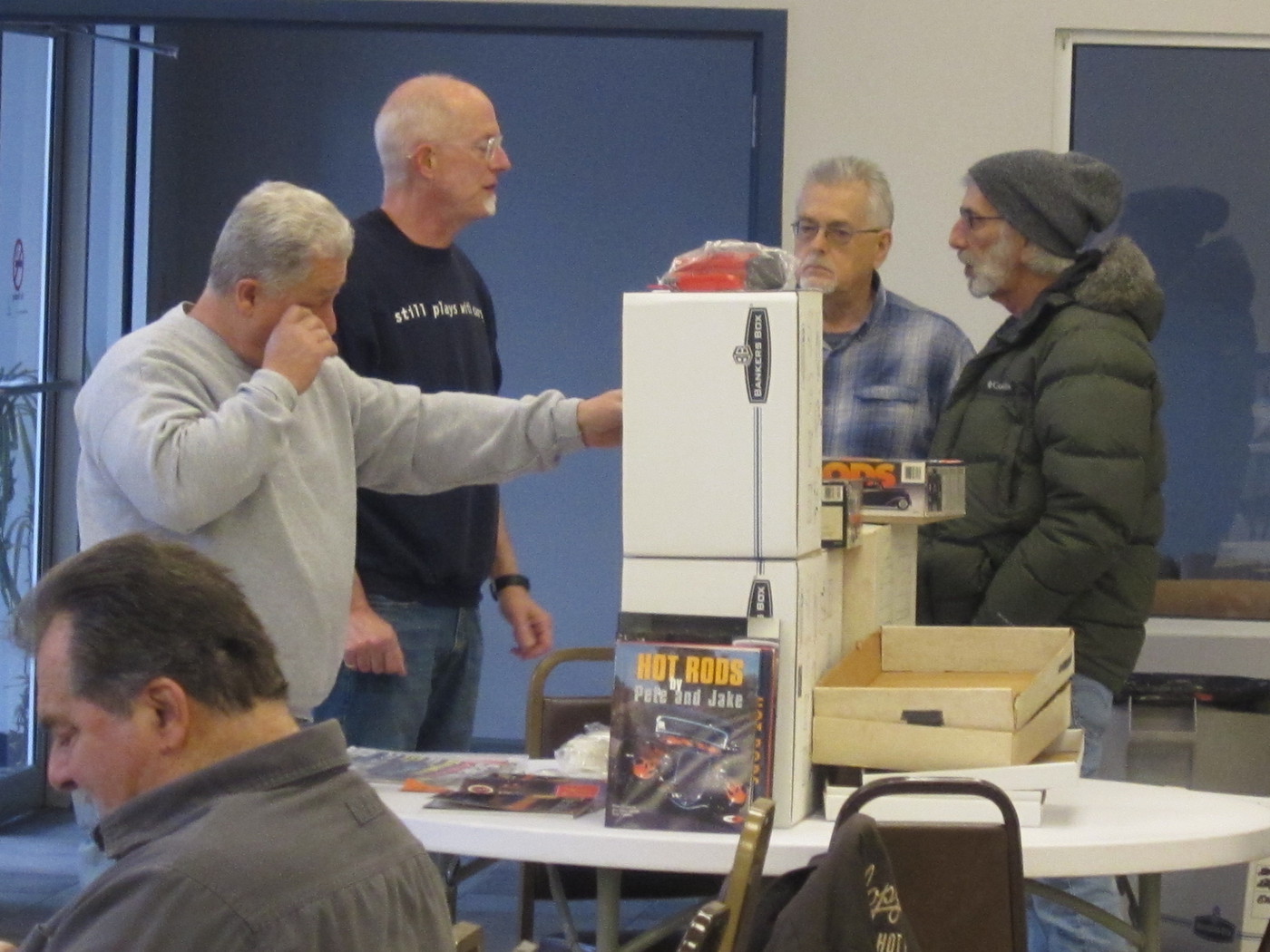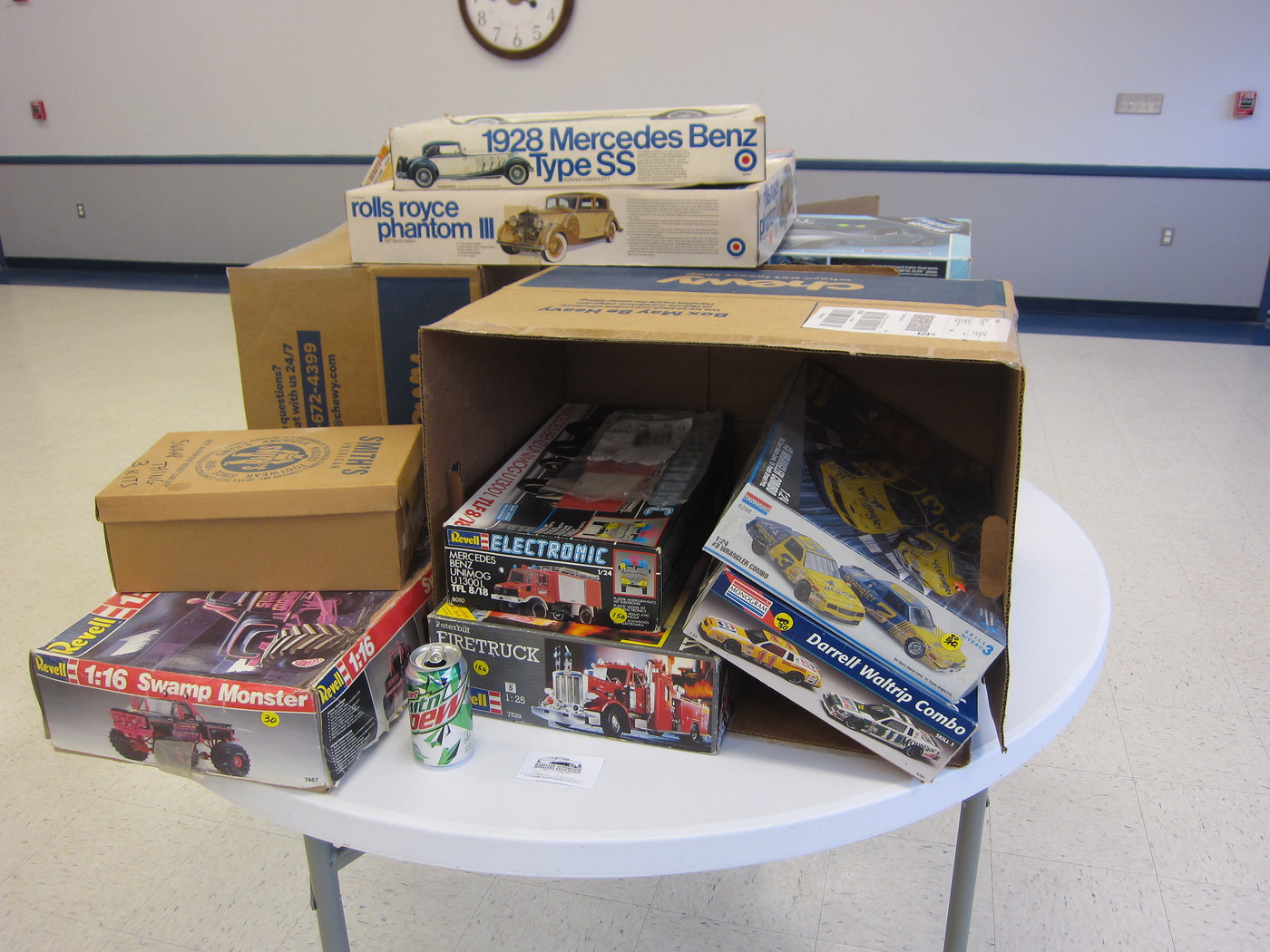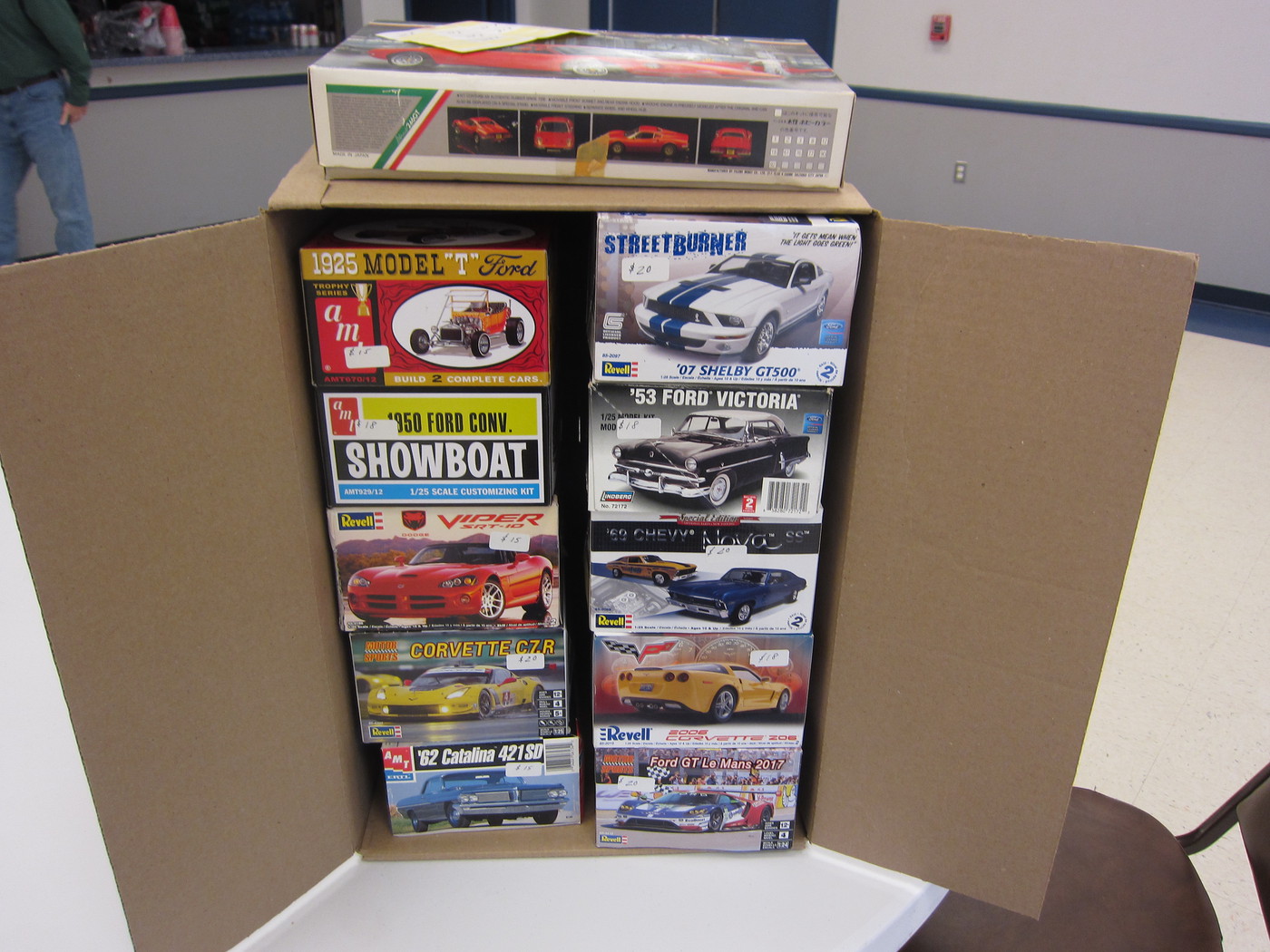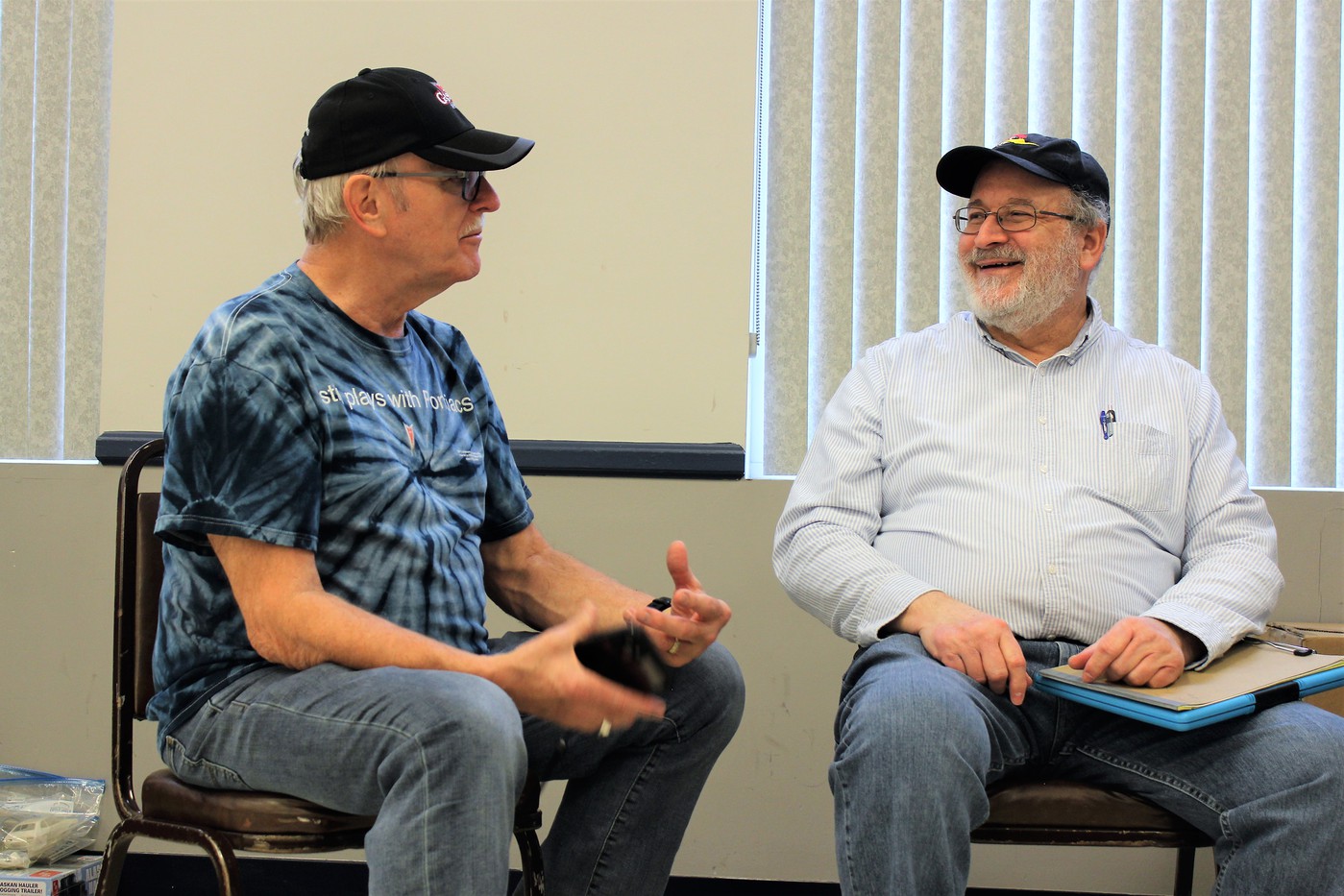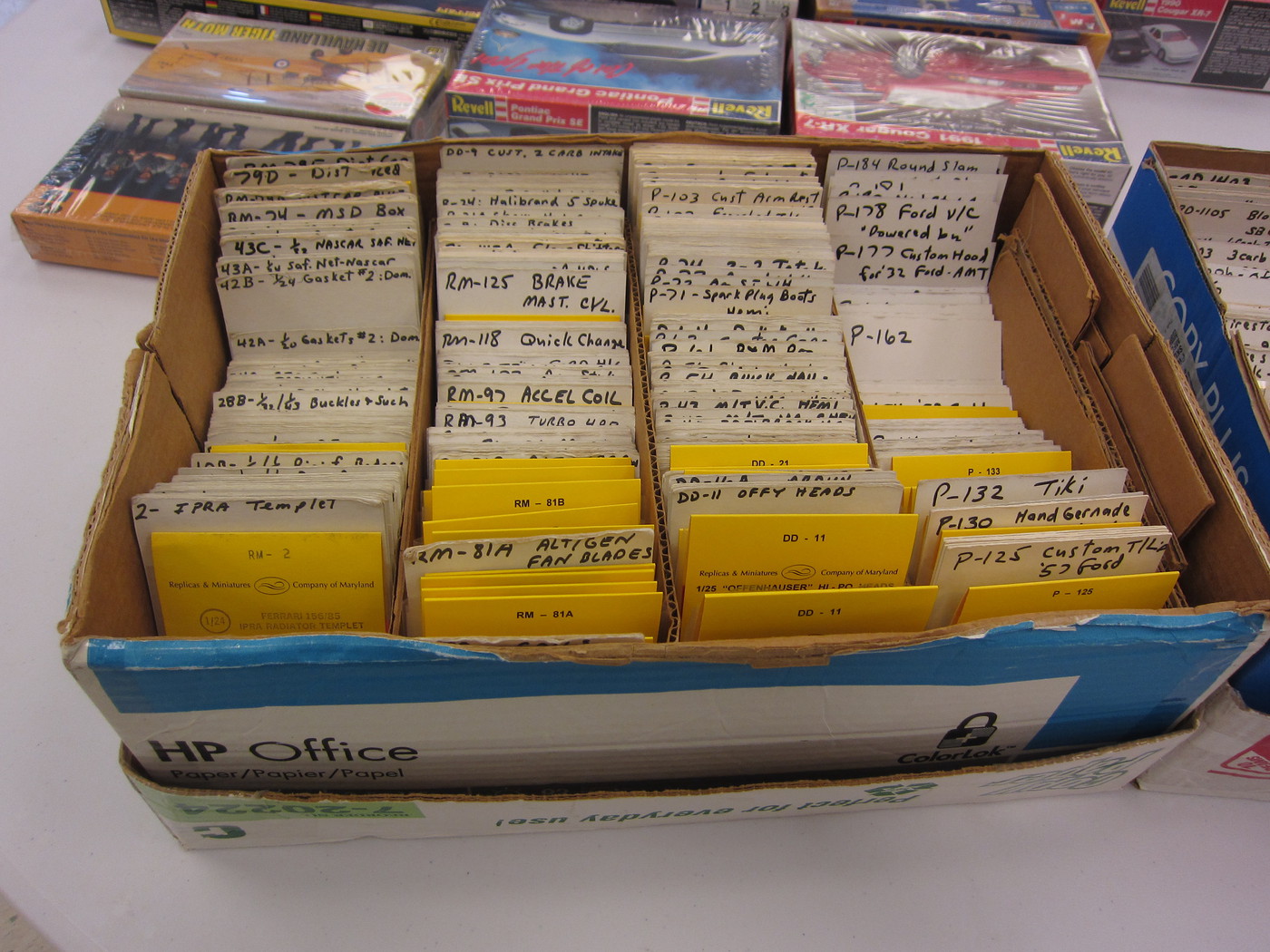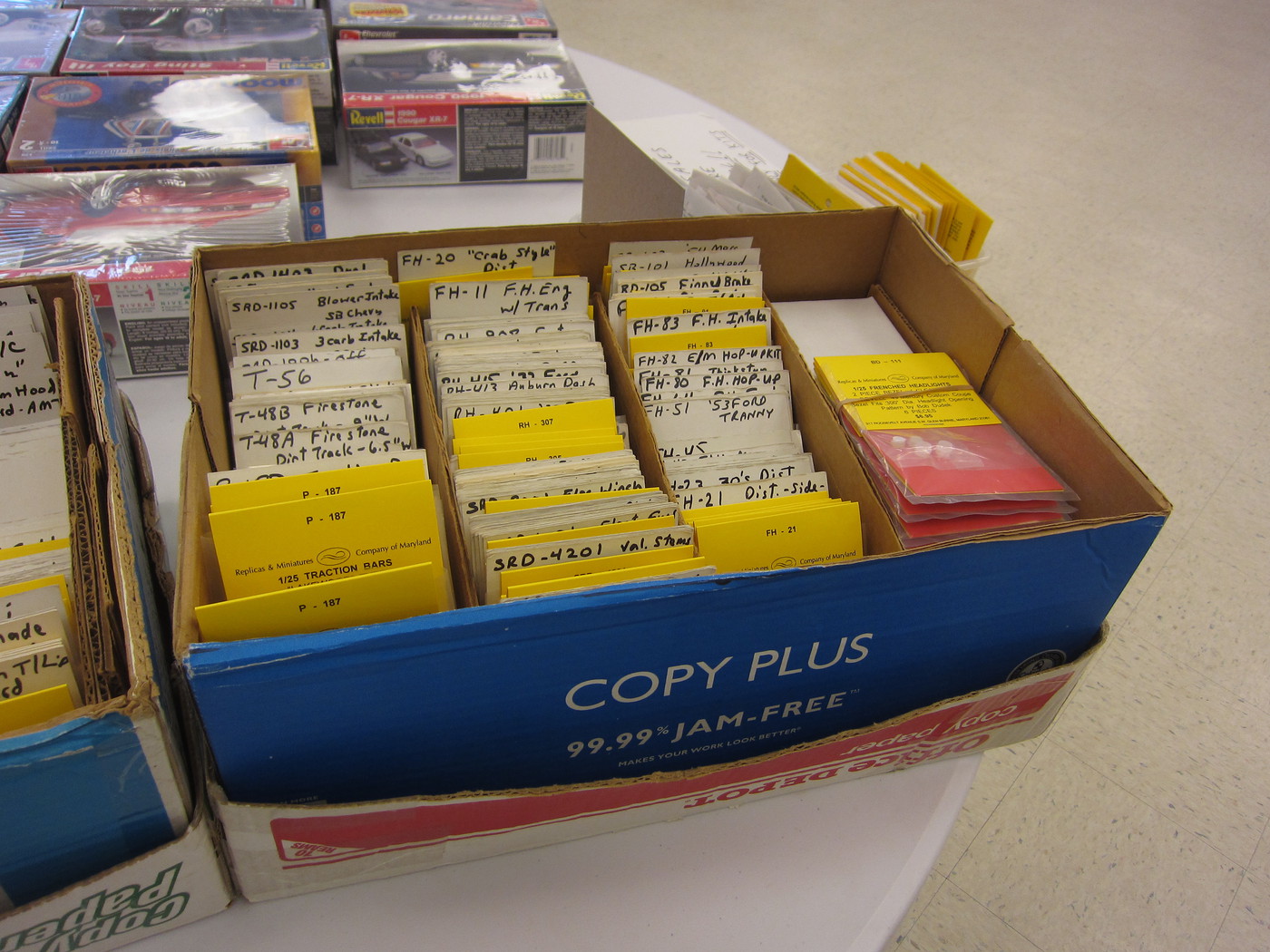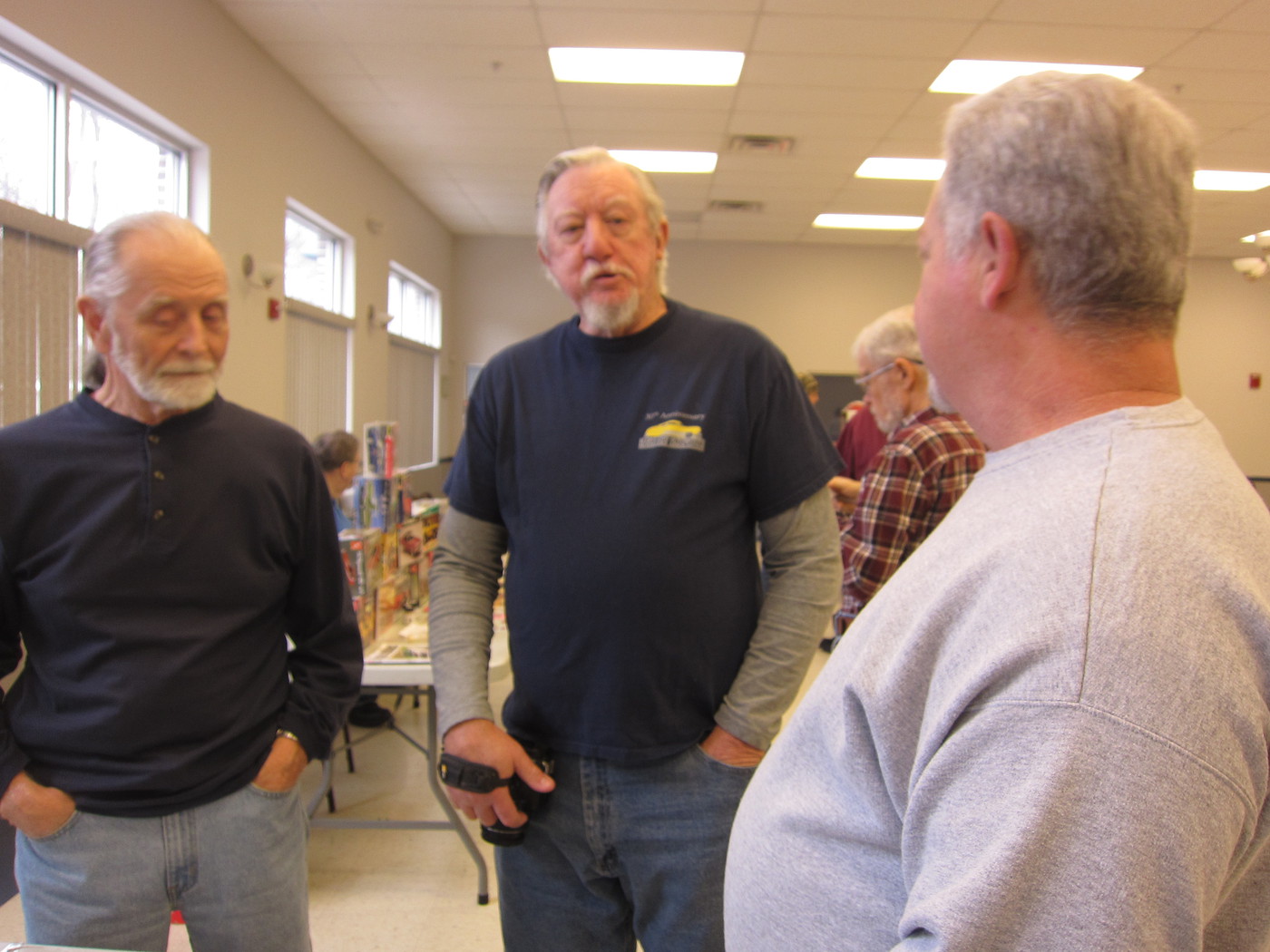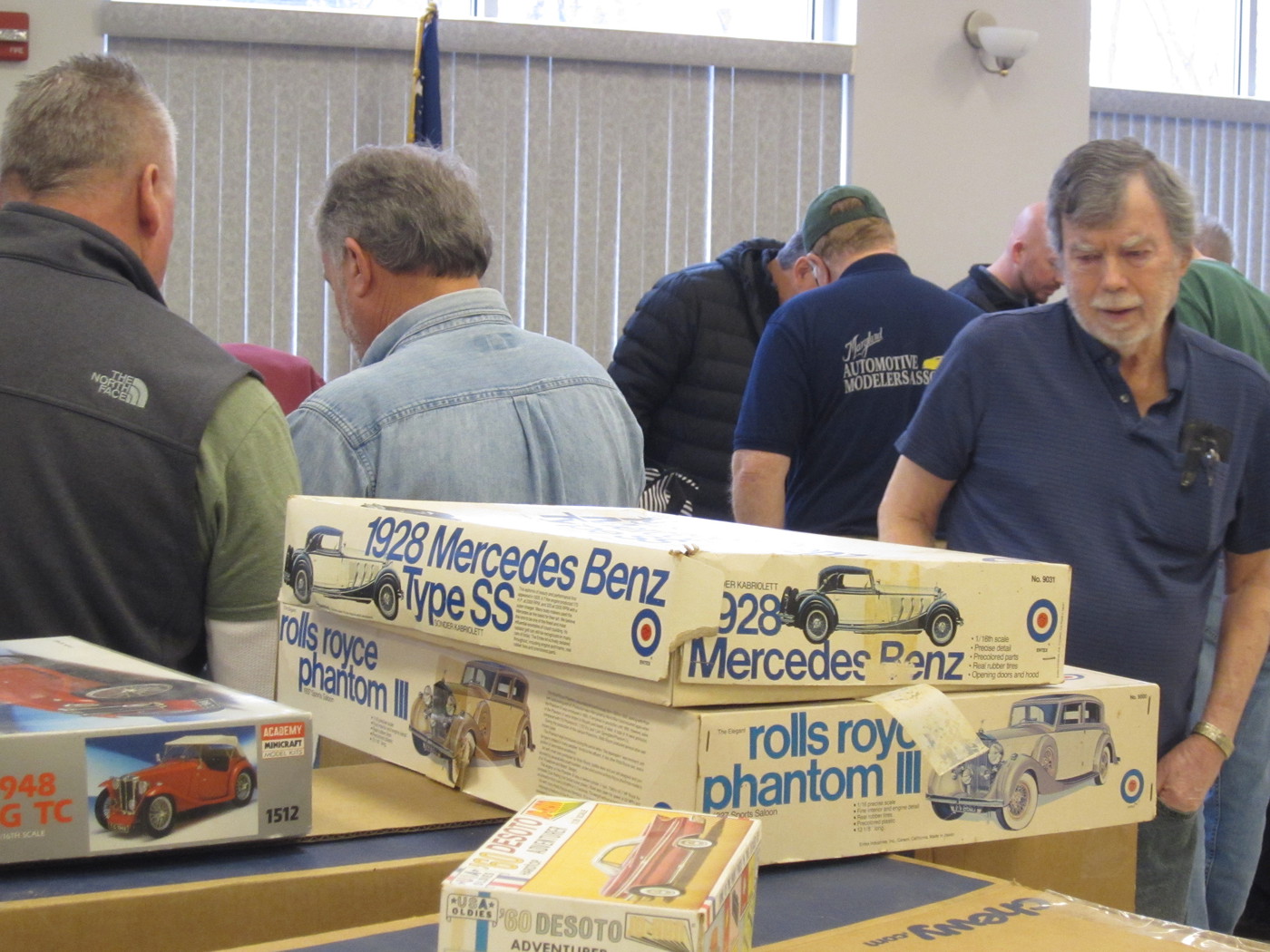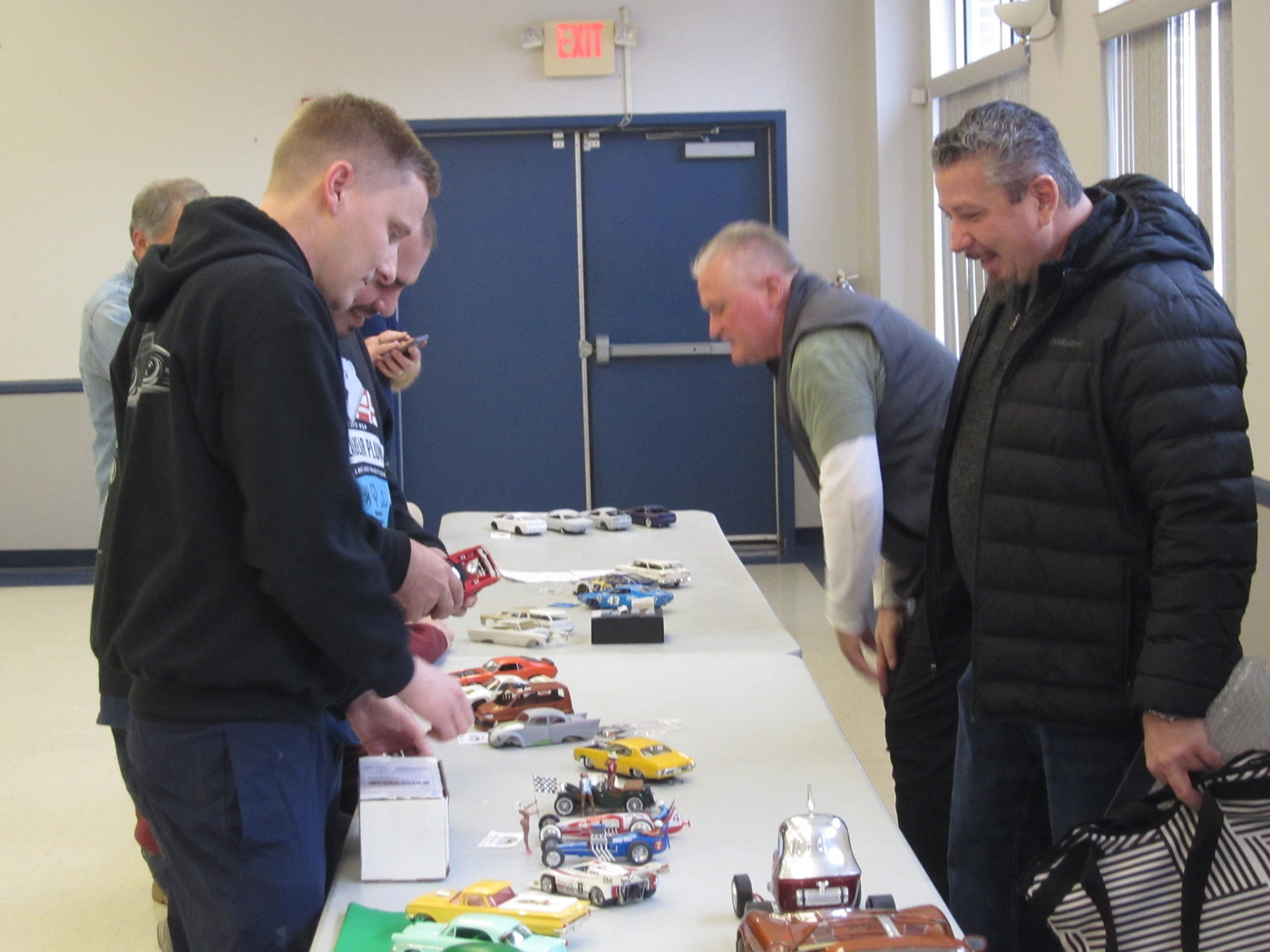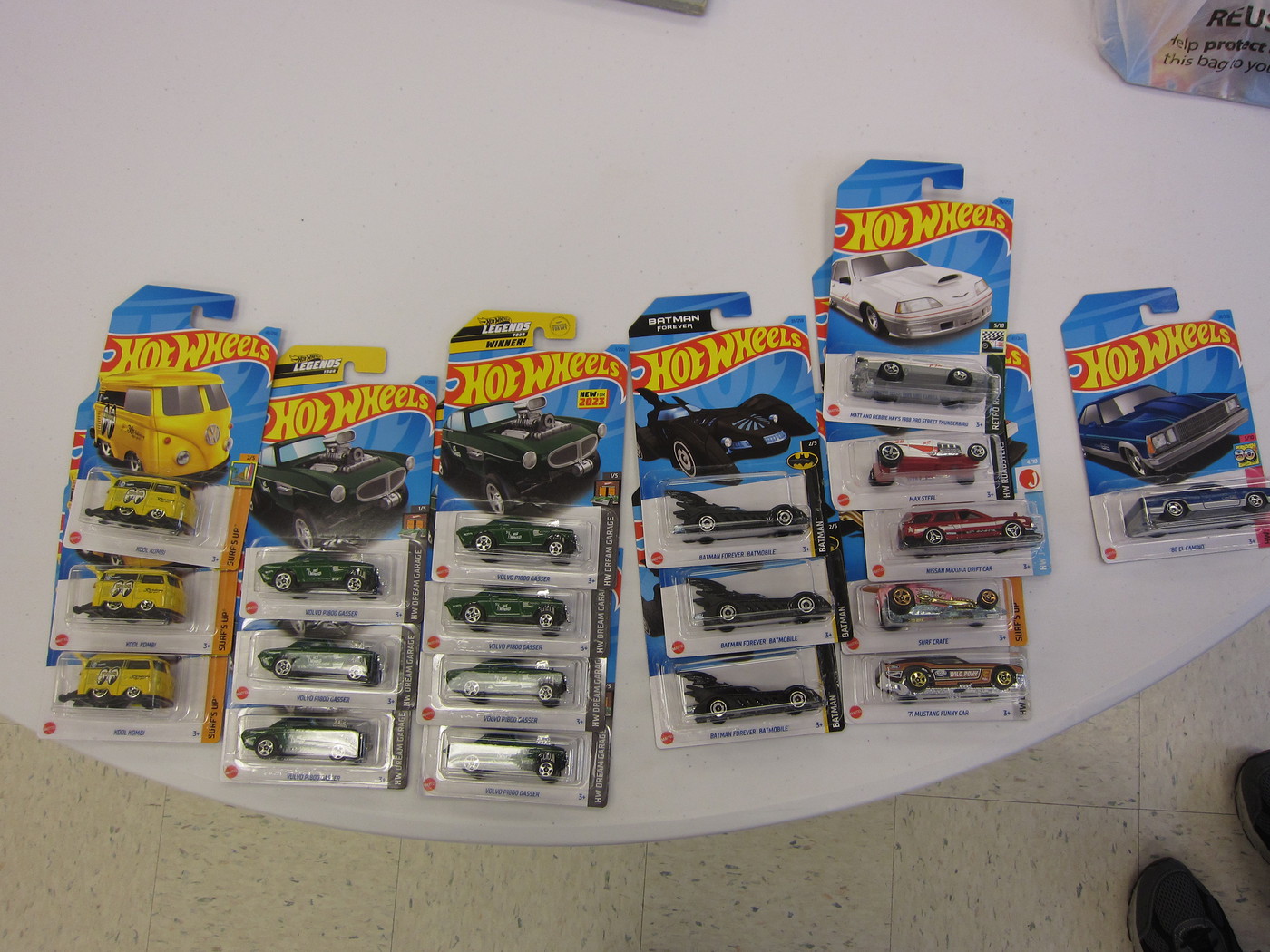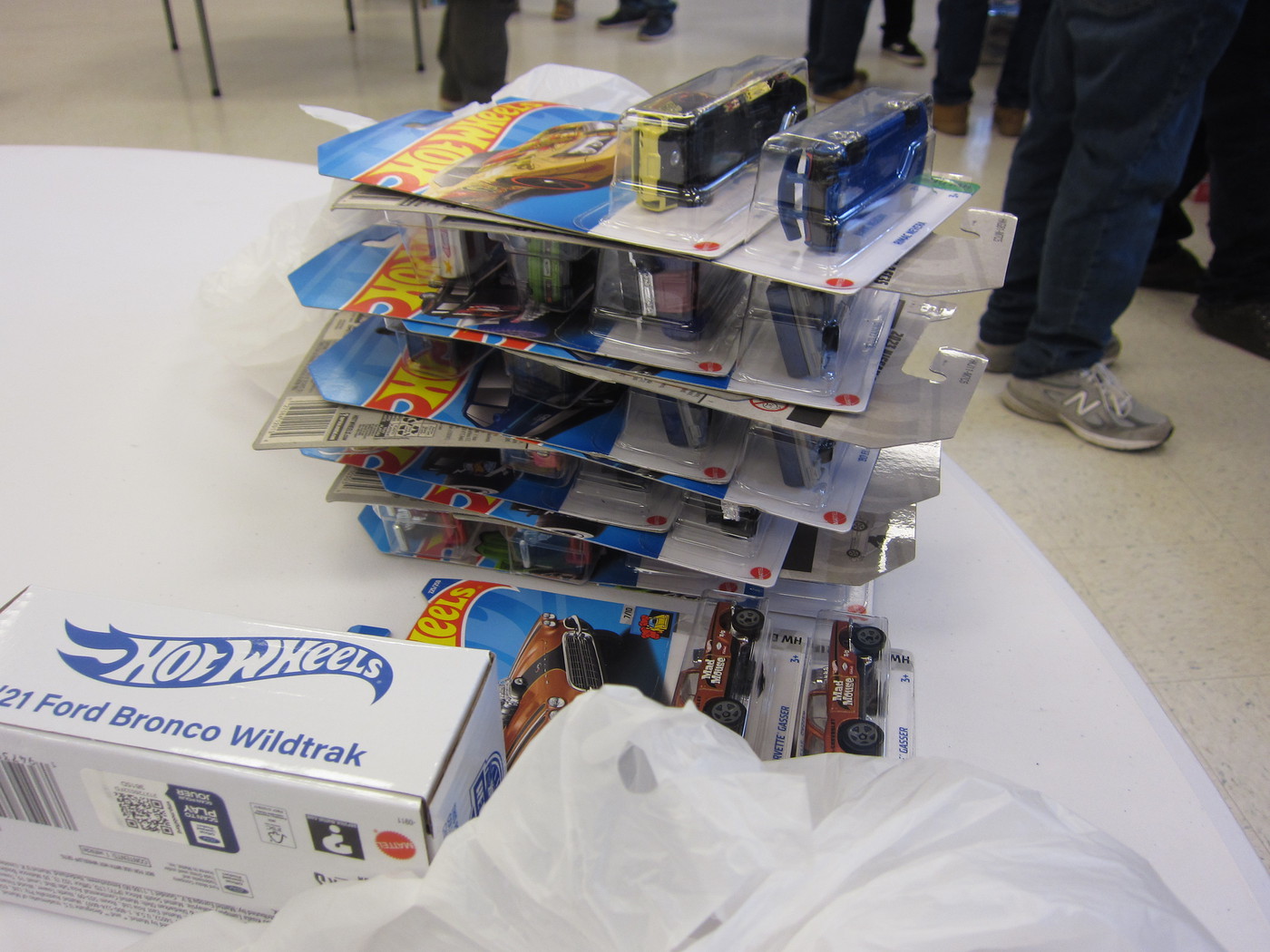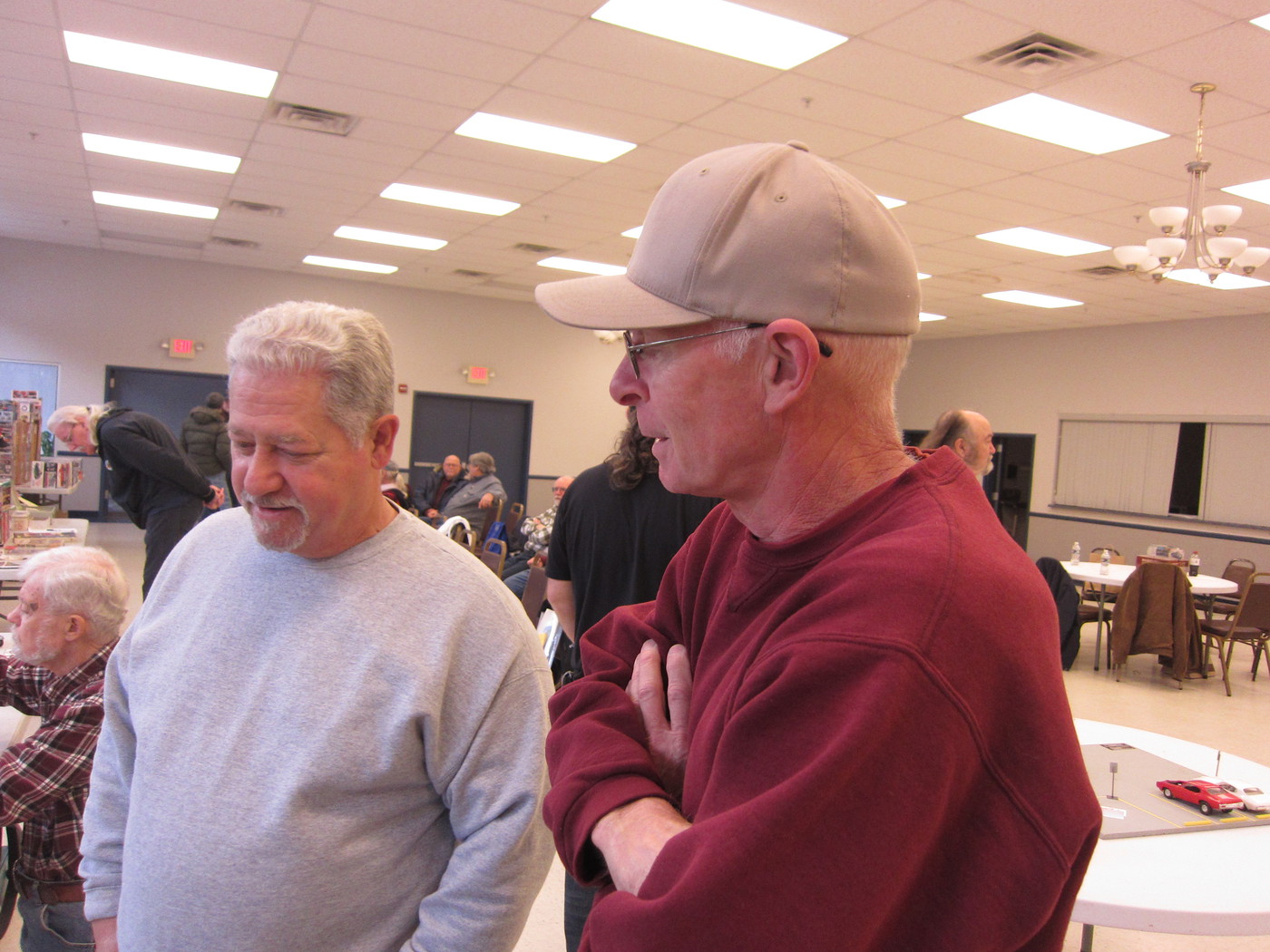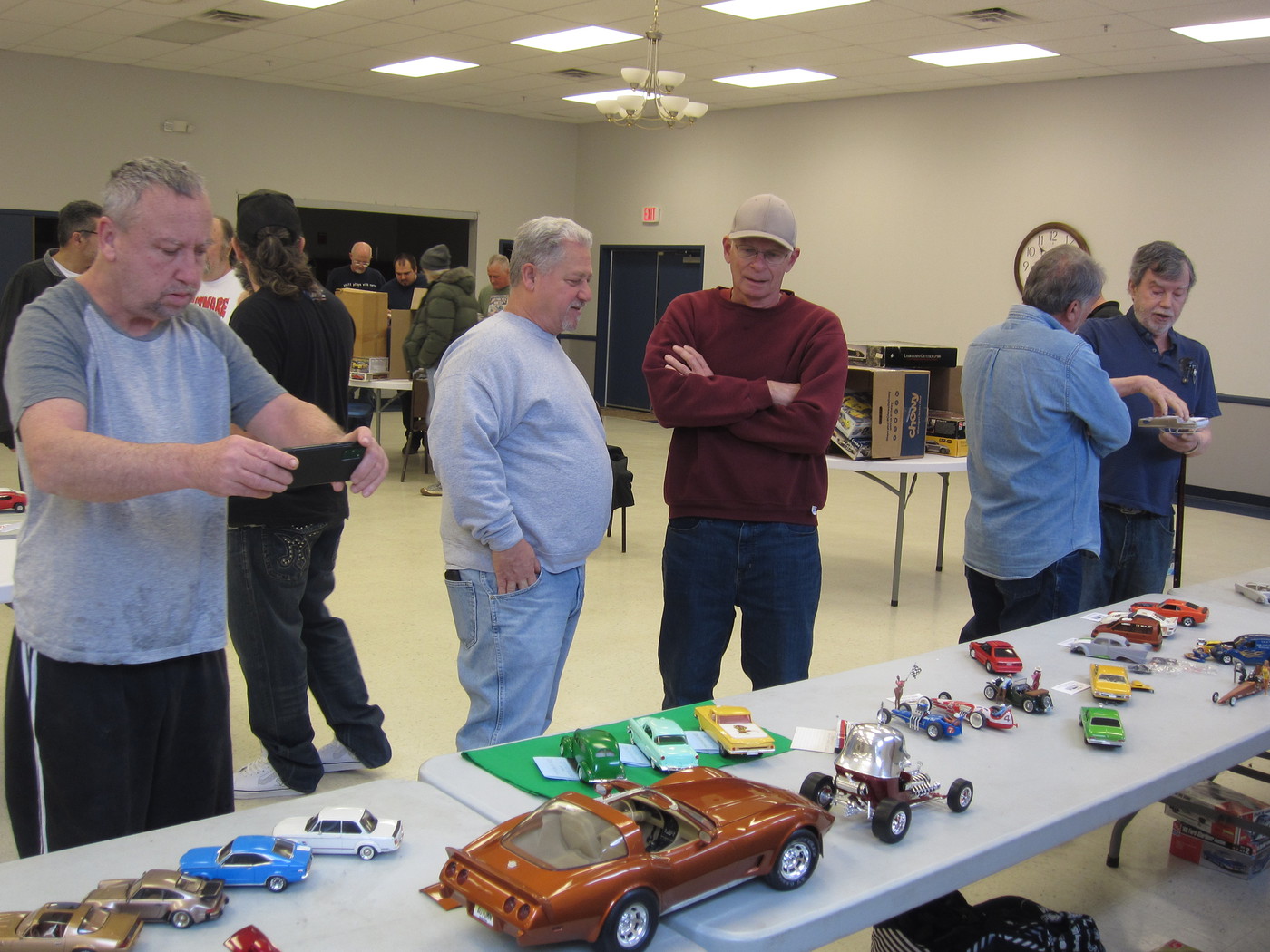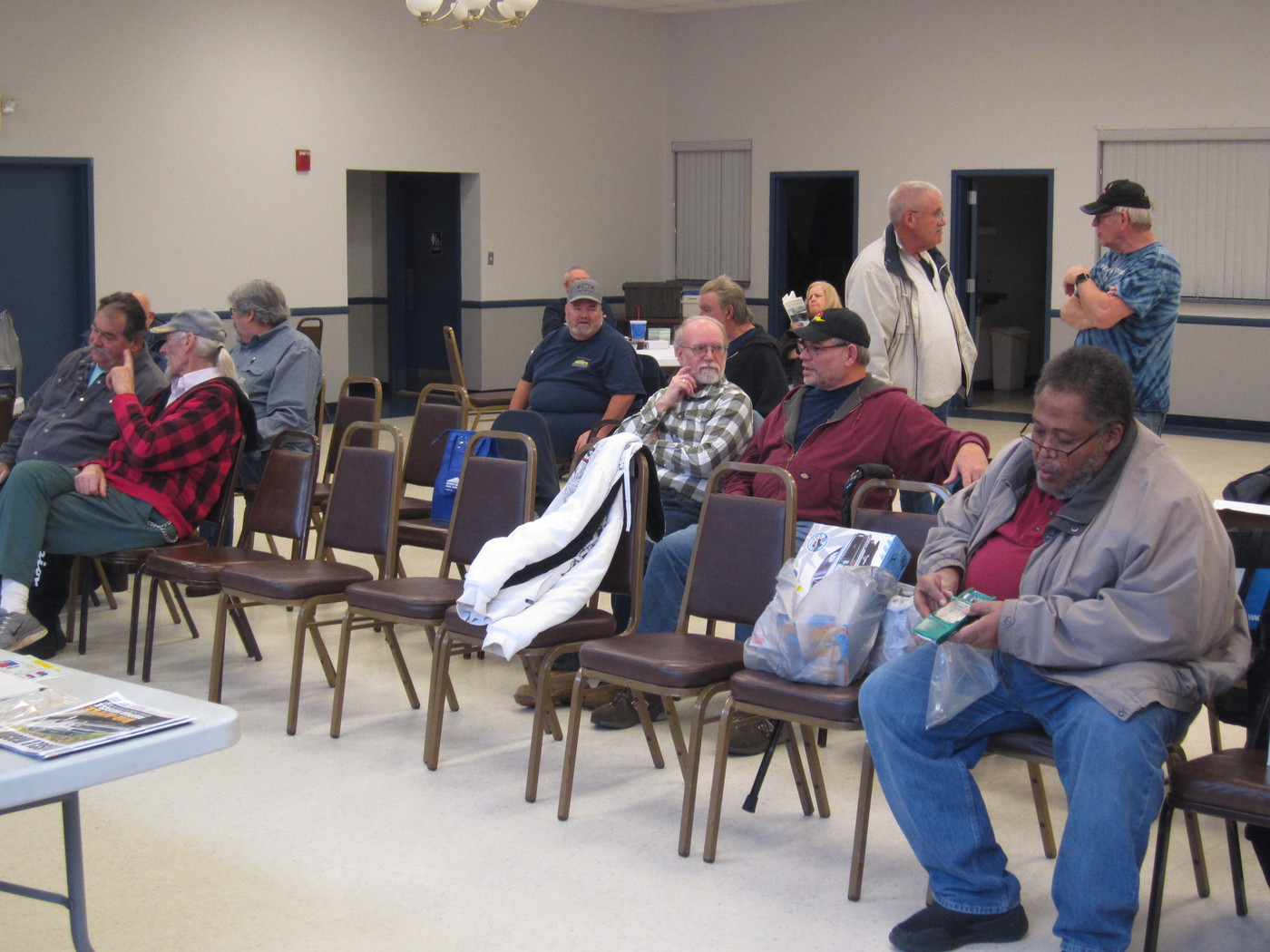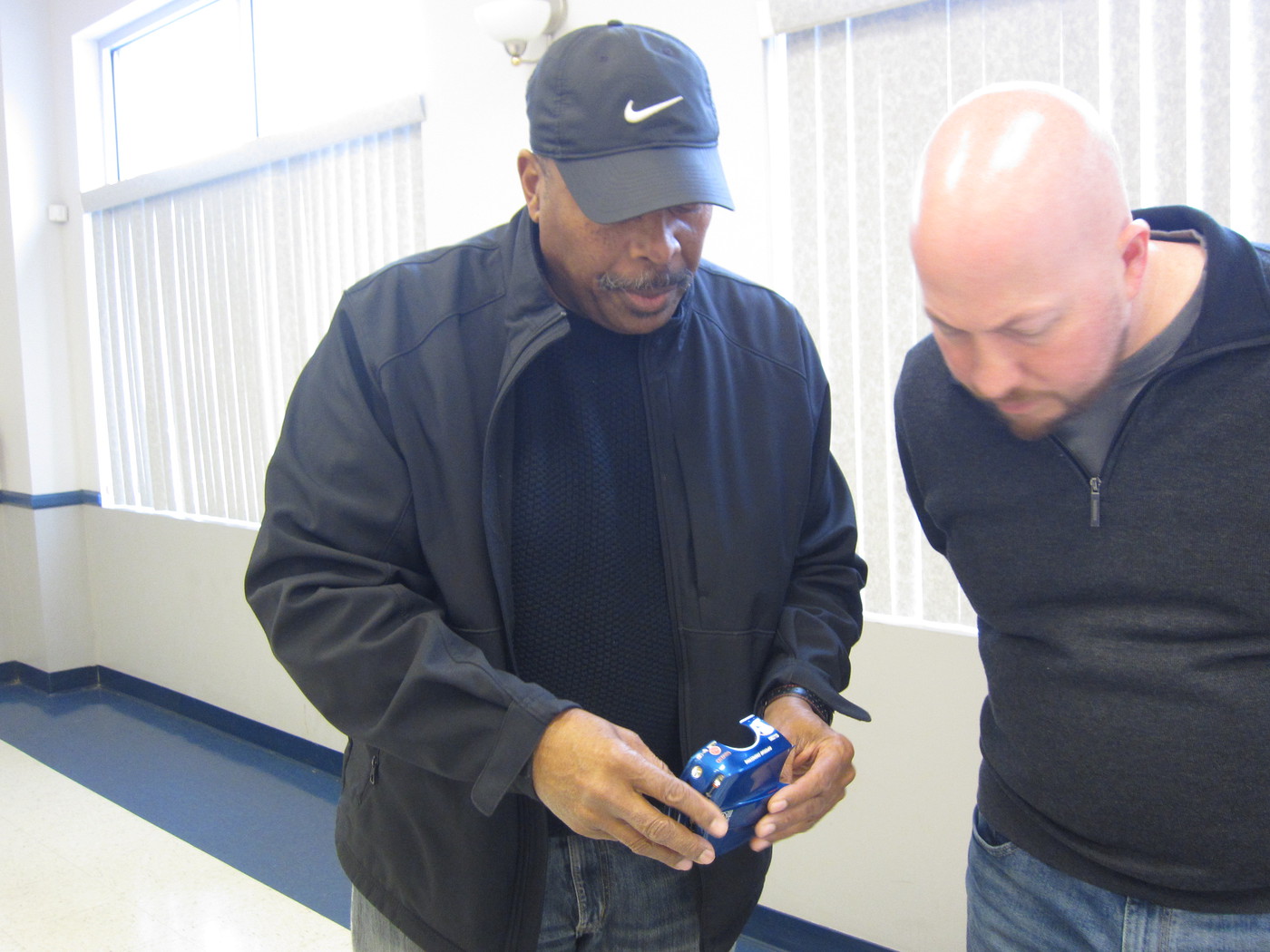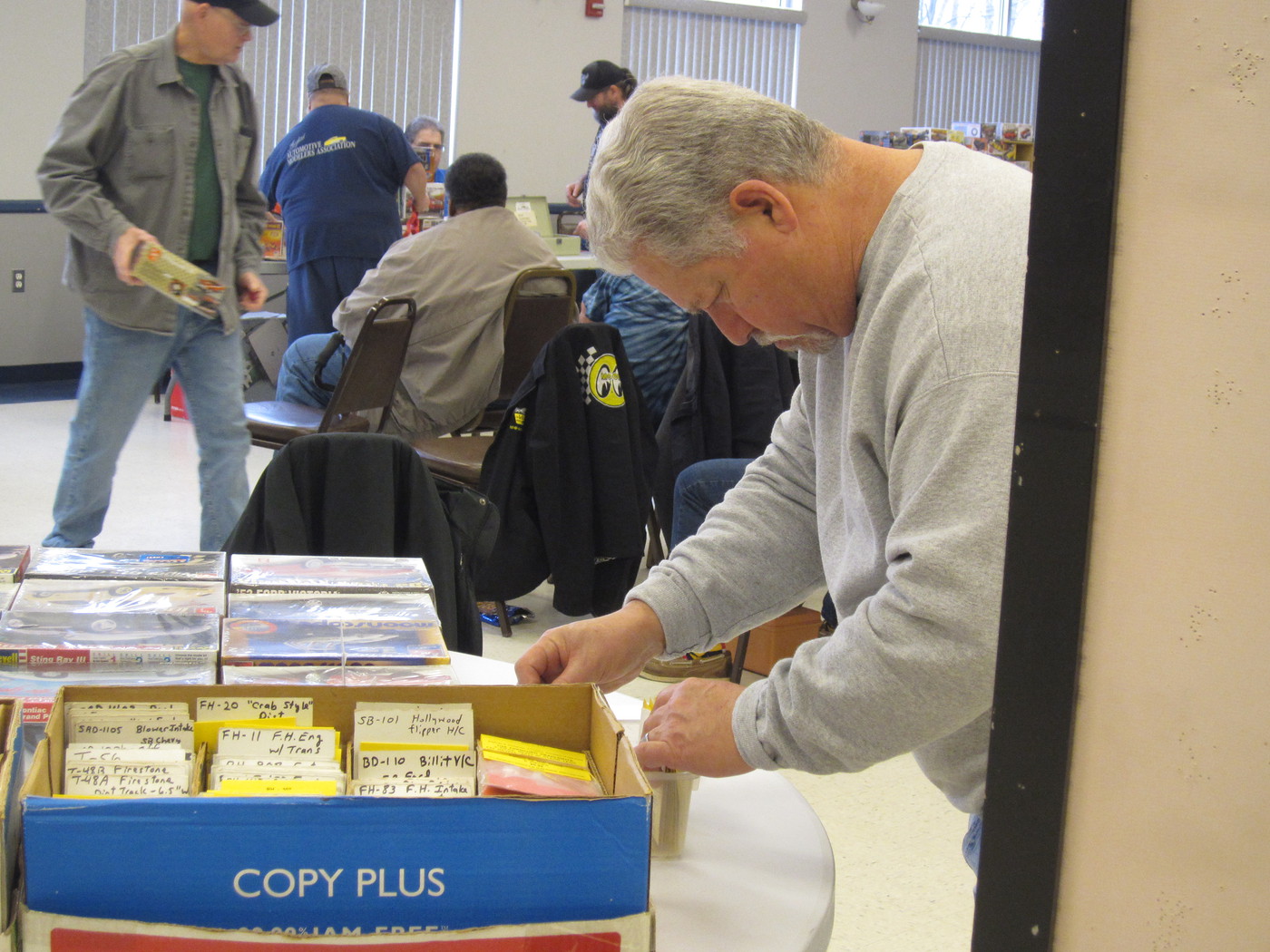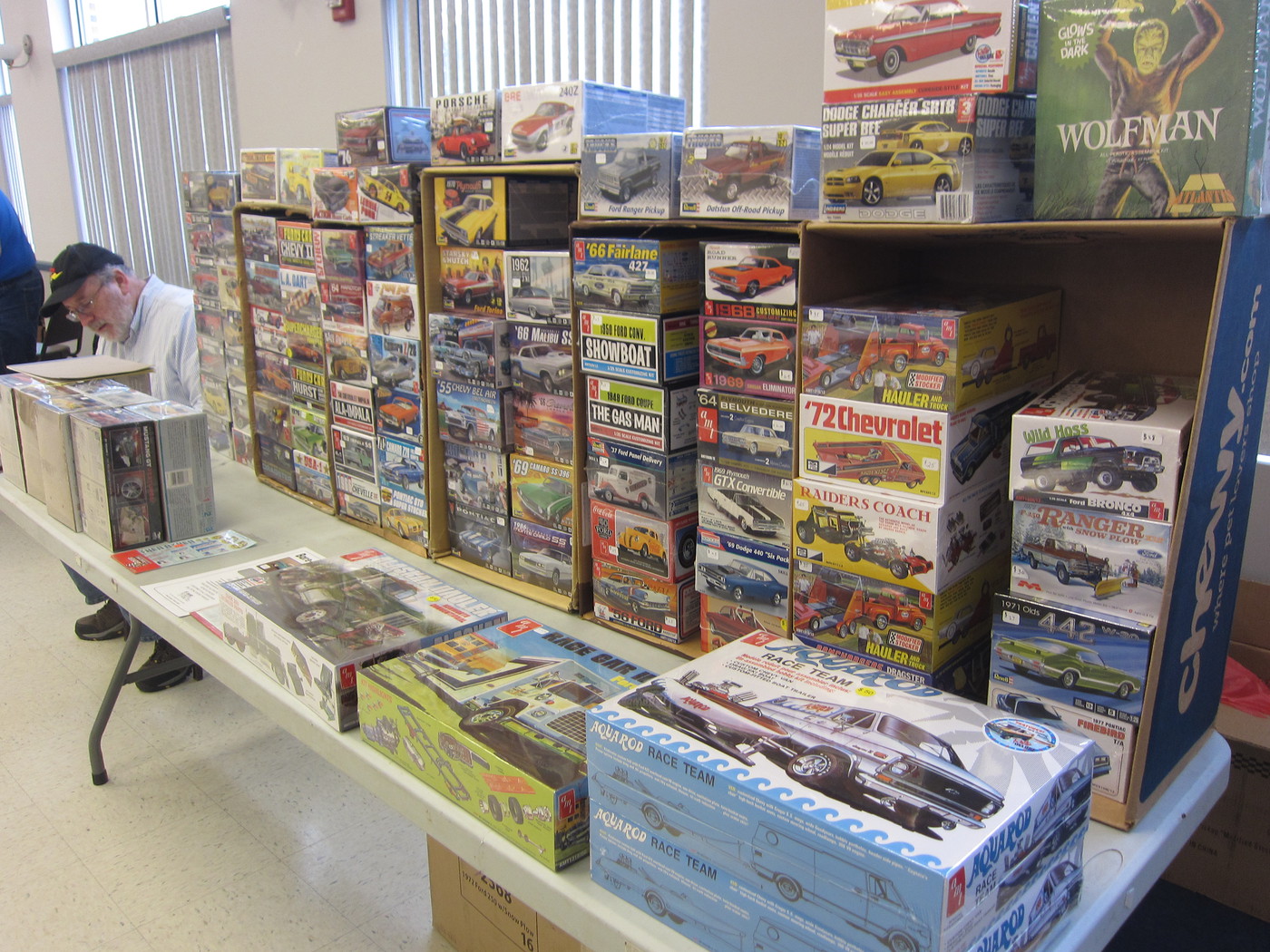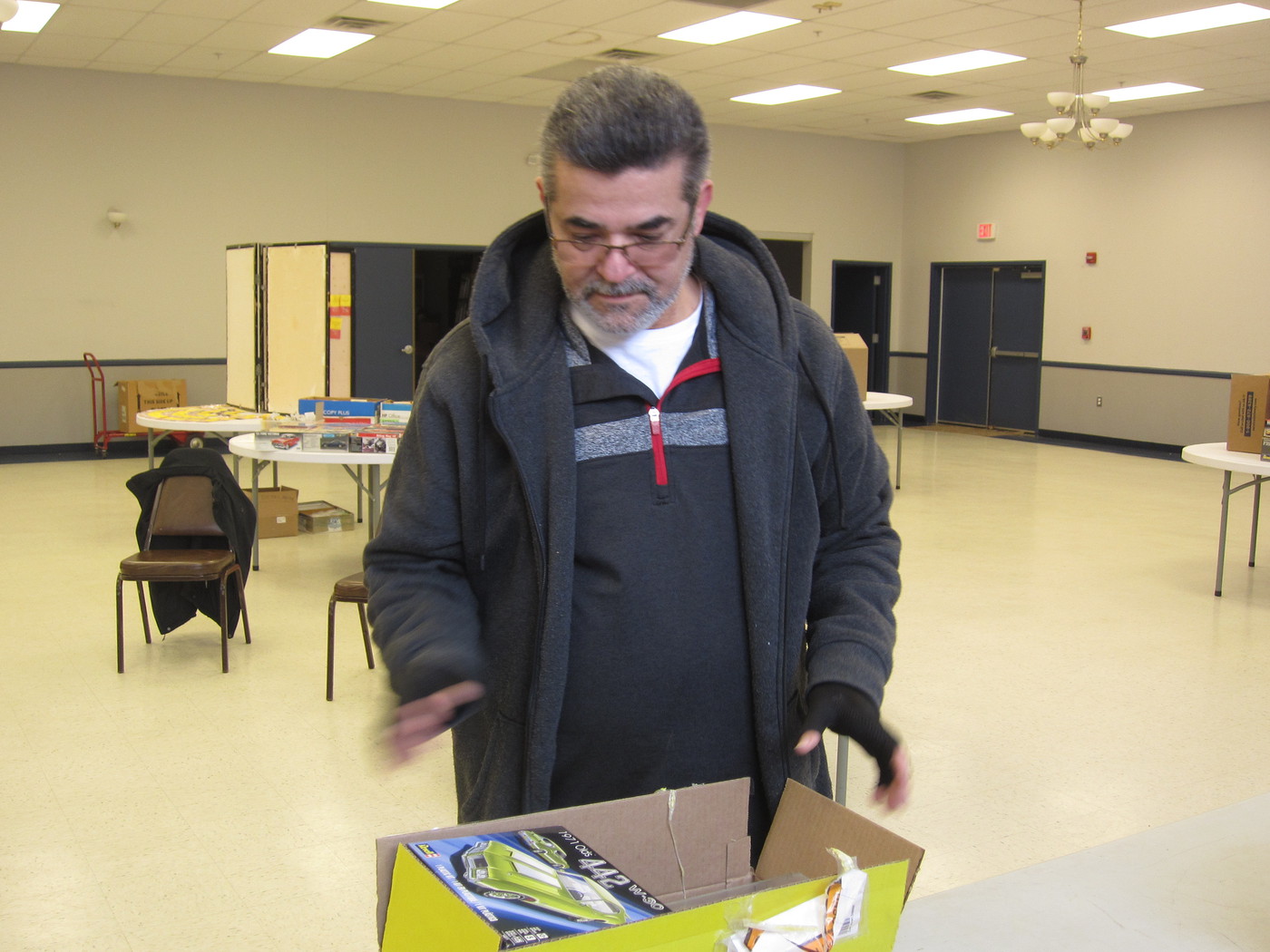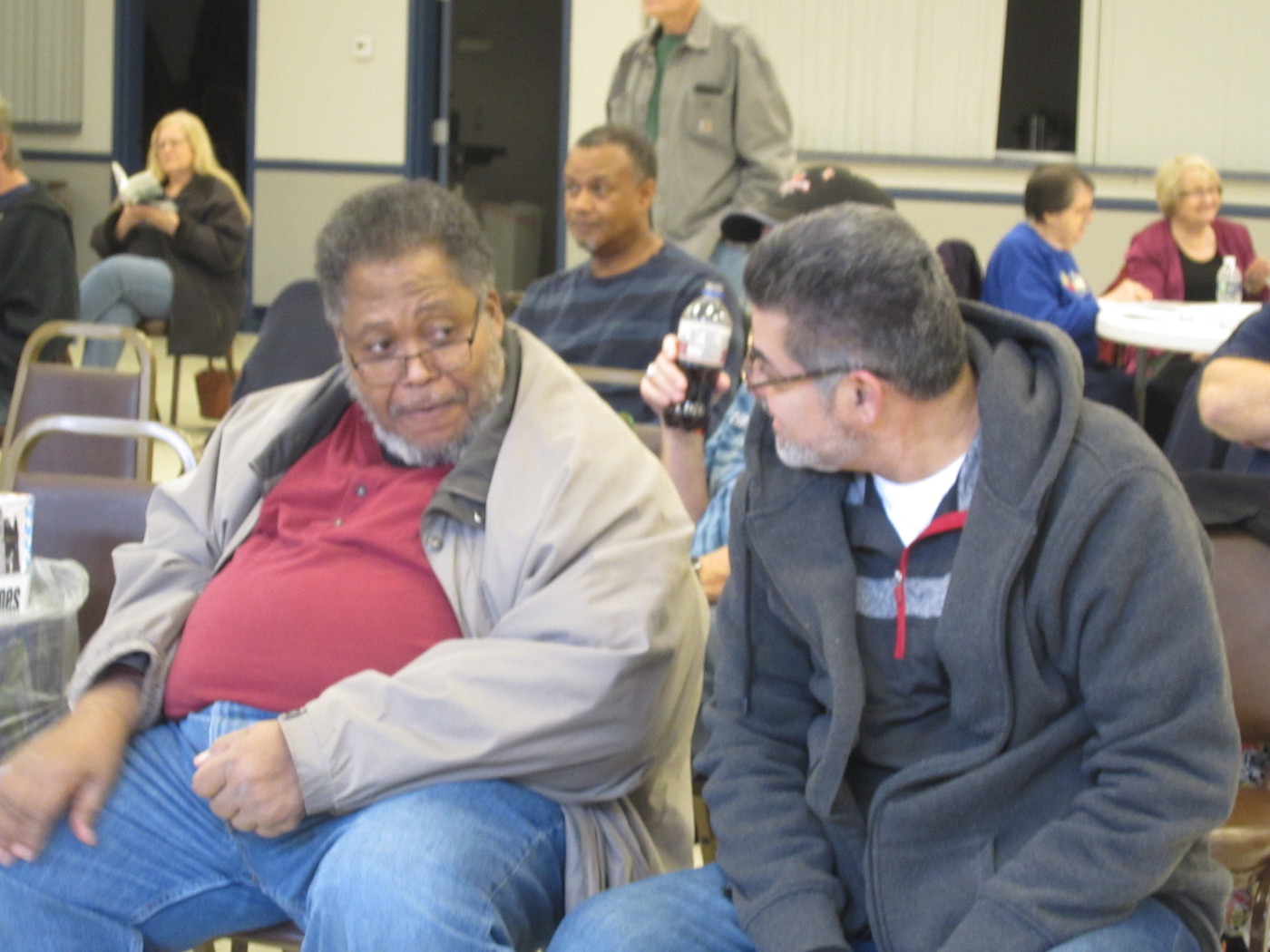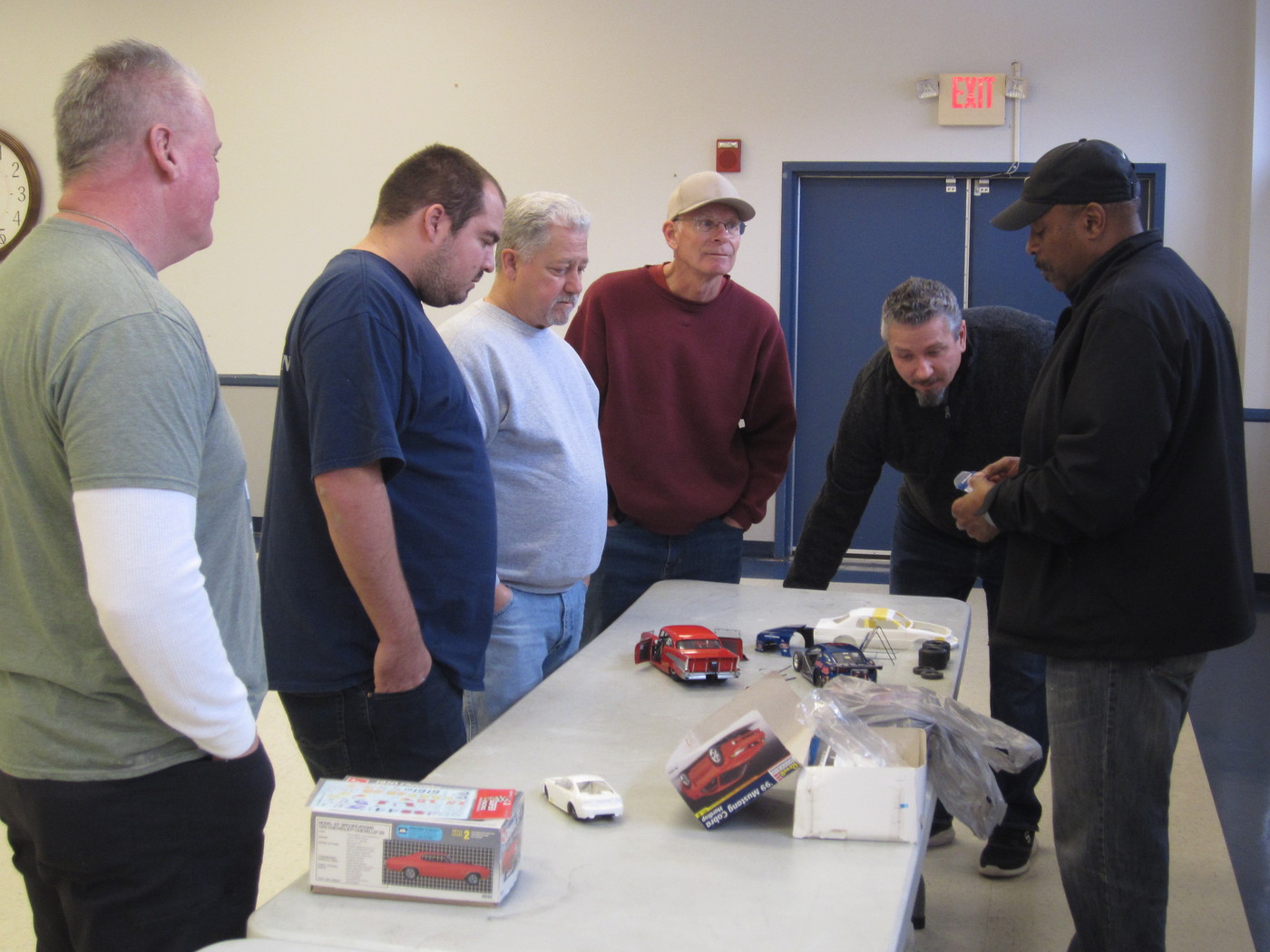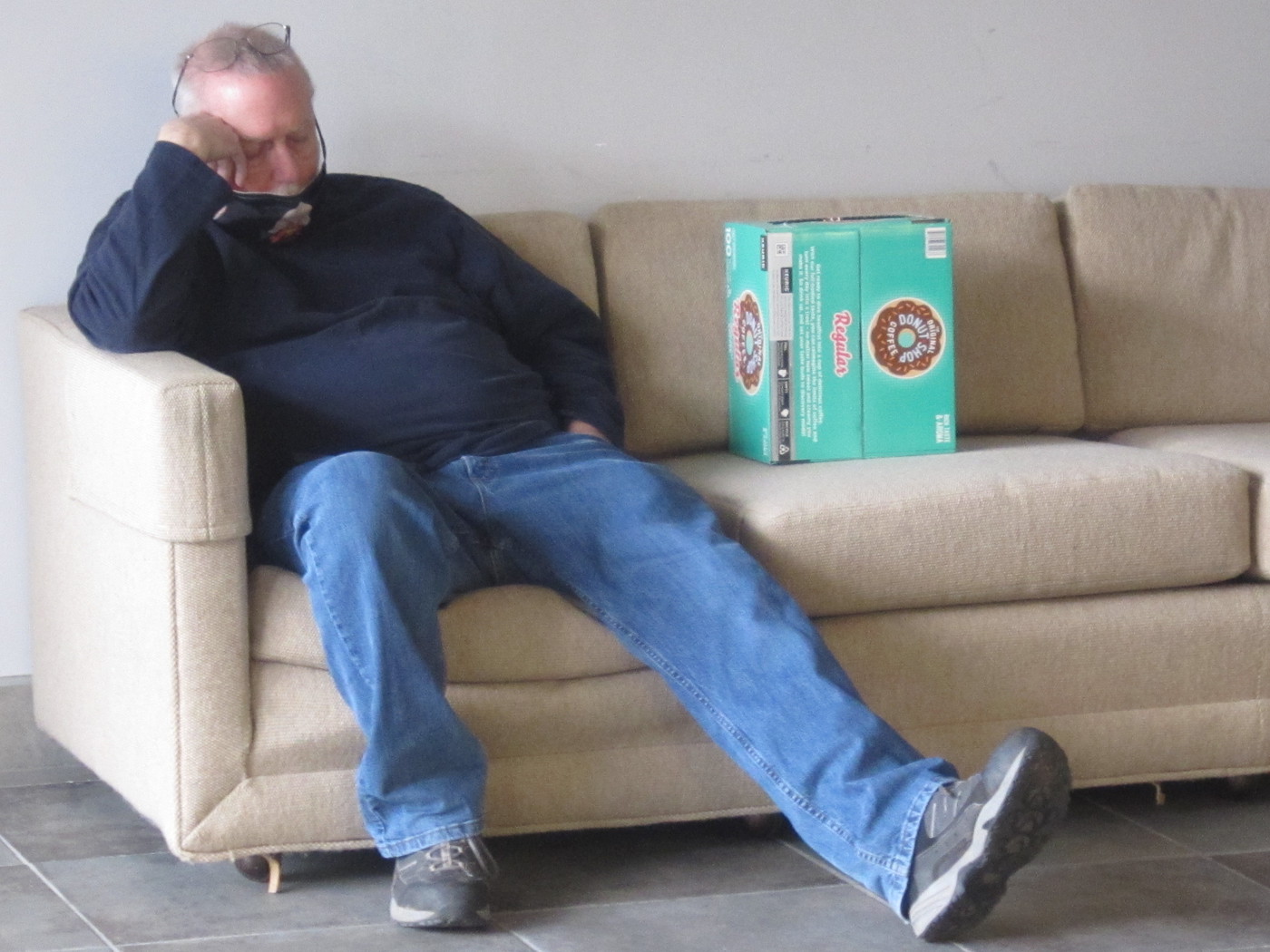 The raffle table was packed with goodies.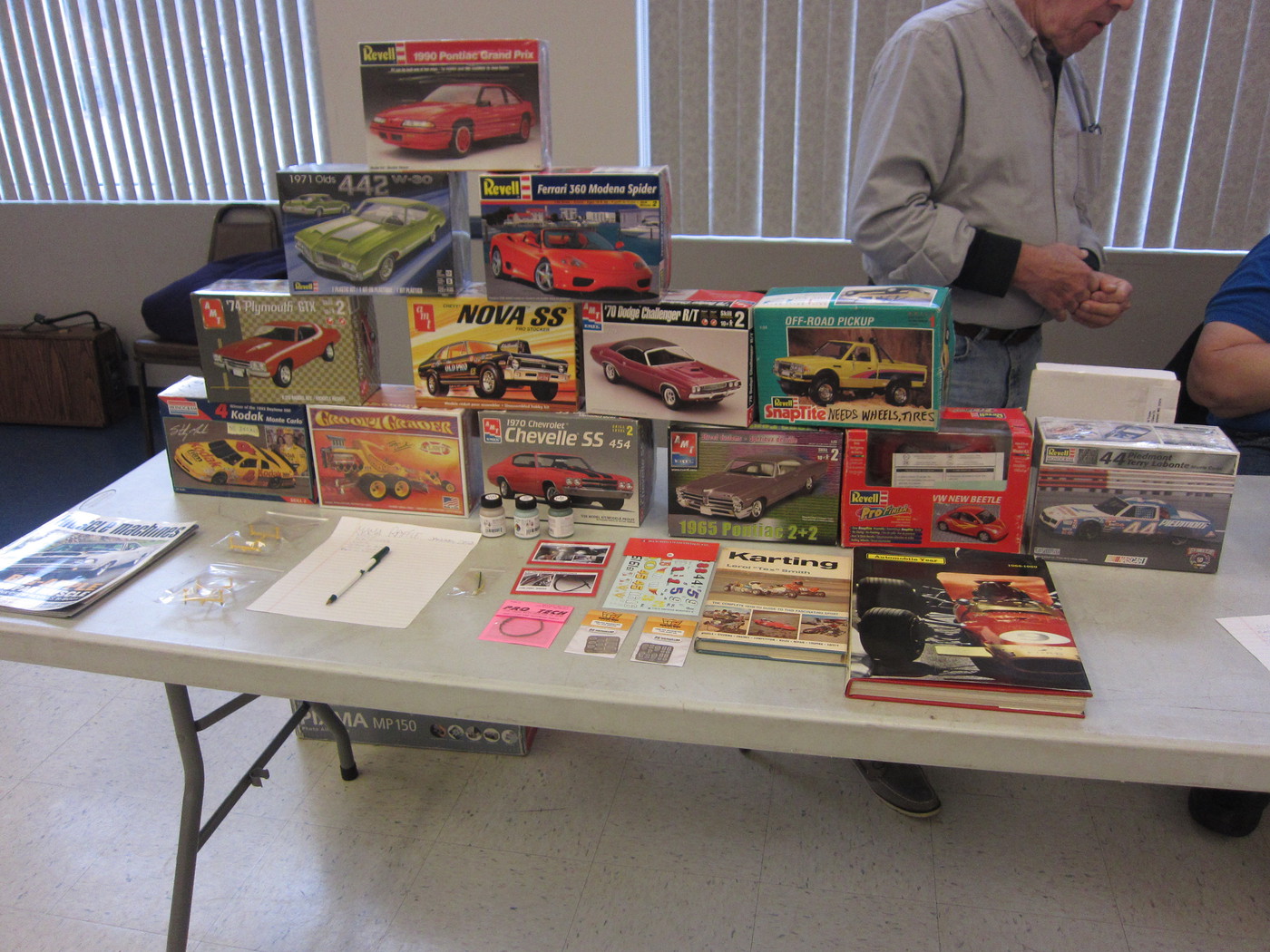 Oops, now that we can have cookies at the meeting again, looks like we forgot. (We're so out of the habit.) Well, here's some virtual chocolate chips to hold you over until next month.

You can see even more photos of this month's meeting at:
https://partsbox.fotki.com/model-car-shows/2023-01-january-mam/ and
https://public.fotki.com/mamaprez/model-club-meetings-2023/mama-meeting-1212023/