The September meeting will be our 31st Anniversary!
We will hold a fund-raising auction at our September meeting. The auction will help ensure that can continue to pay the rent at the Greenbelt Community Center.We're asking our members and friends to search through their collections and donate kits, nicely done built-ups, die-casts, aftermarket parts, and other model or full-size car related items.
to MAMA's Diner, the official home of the Maryland Automotive Modelers' Association (MAMA), where we serve entrees of fun, friendship, and model cars.
MAMA's current leadership team is:
President: Tim Powers
Vice-President: Dave Toups
Treasurer: Matt Guilfoyle
Newsletter Editor: Tim Sickle

***** SPECIAL NOTE *****
For all those who are planning to attend and participate in the auction meeting this weekend, Saturday 21 September: Please plan to arrive early.
We expect to have more than 200 items to auction, either individually or in small lots, so we will start the auction at 11 am. To facilitate registering everyone who wants to participate by that time, we will have the room open at 10 am. This will give us ample time to setup the room and get everyone and everything ready.
Please note: We have opted to restrict vending at this meeting to just our two primary club sponsors: the Replicas and Miniatures Company of Maryland and Bradley's Model Cars. We took this decision as we will need the front tables for the auction items and activities, and that has a ripple effect as normal table uses get shifted around the room to the tables on the side and back walls:
1. We still want to have tables available for you to display your latest builds.
2. We will need tables for the usual open kit displays and show fliers.
3. We will need a table for our 31st Anniversary cake.
4. We will likely need to use a table for auction management functions (late registrations, early check-outs, etc.)


Scenes from our August meeting:
You might recognize this Mazda model from the June 2019 issue of Scale Auto Magazine. Builder Noel Machdo gifted it to former MAMA Presidente Marcos Cruz as a "Thank-you" for his help with crafting the article. It features a 3-D printed 3-rotor Wankel rotary engine from Shapeways.

Rick Donovan displayed this mid-engined 1966 Barracuda Funny Car in Sox and Martin markings.

Rich Wilson built his 1970 Mustang Grande with a landau top from an old Bandit Resins conversion kit.

As Mike sings his favorite aria from Giacomo Puccini's La Bohème opera, it appears that Ron is getting ready to sucker-punch Matt in the background.

Didn't see who displayed this Revell 1932 Ford Sedan Delivery.

Dave Redzensky built this 1932 Ford Vicky Gasser in 1994.

These were among a collection of straight-line racers that formed the back row of the table:

Face it: MAMA meetings are all about fun.

Jim Maness just wrapped up this 1965 Mustang and 1969 Torino.

Here's Dave Schmitt's latest build, a custom Galaxie Models 1947 Chevrolet Fleetmaster.

Harold Bradford is just getting started on this resin kit of the #5 Mercedes CLR that went airborne with Peter Dumbreck at the wheel during the 1999 Le Mans race. Air got under the front end and the car sailed skyward doing backflips until it touched down, right side up, among the trees alongside the track - you can see it happen on You Tube. Fortunately, driver Dumbreck escaped injury. Team mate Mark Webber experienced a nearly identical somersault crash in the team's #4 car during practice for the race.

Mal Douglas is launching another fine gasser project with this AMT 1932 Ford Sedan..

I'm starting to think Steve Buter's favorite song might be (I Live For) Cars and Girls by the Dictators. He's back at it this month with a customized diecast "Orange Crisp" 1955 Ford Victoria wagon beach scene.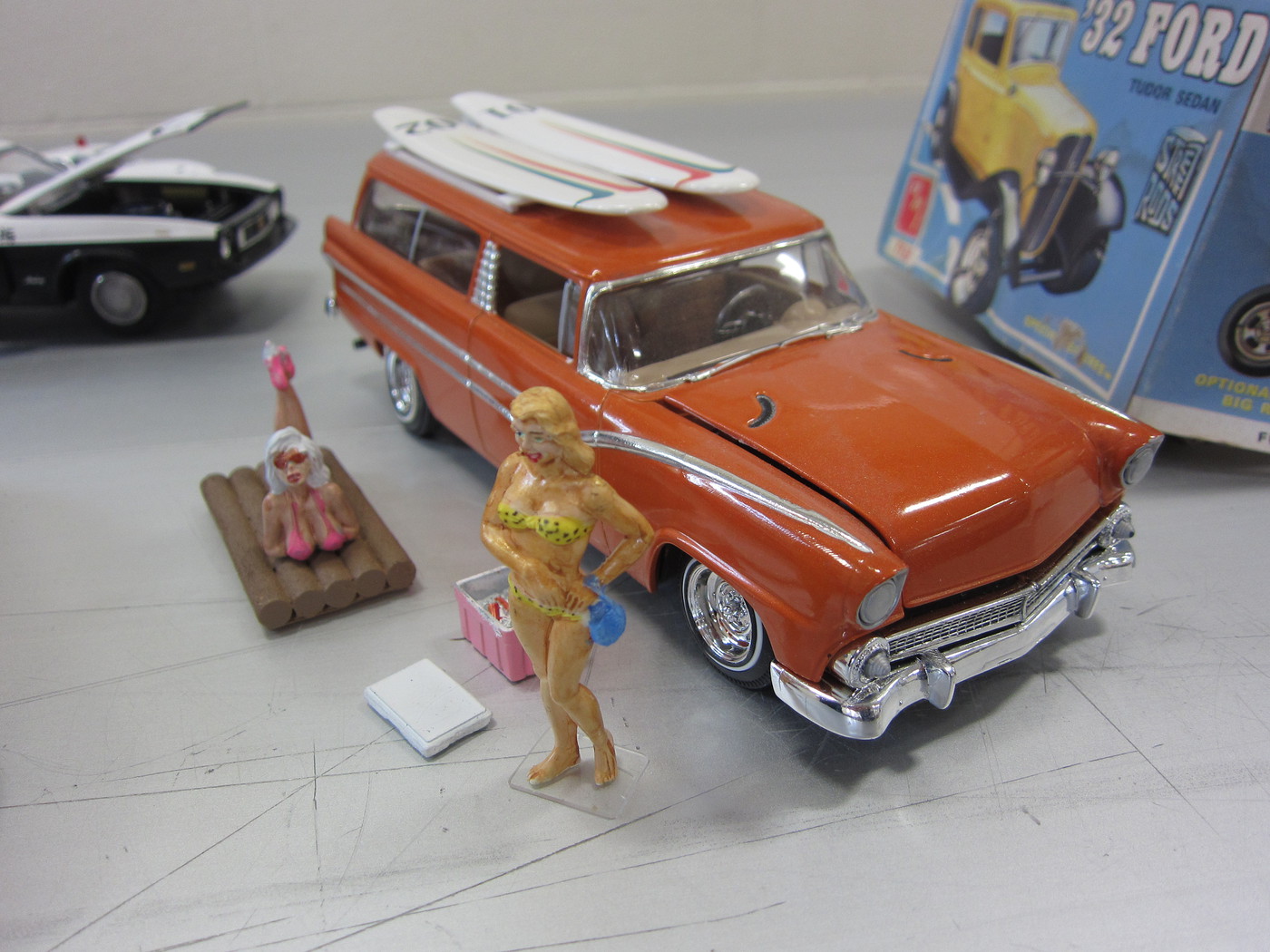 Sean scored big-time today.

I didn't see who displayed this Chevy S-10 tail-dragger pickup with the partly riolled down window.

Here are a couple new projects from Rex Turner.

This Bill Jenkins Pro-Stock Camaro appeared on the display table a bit later in the meeting.

As always, there were lots of conversations about cars and car models: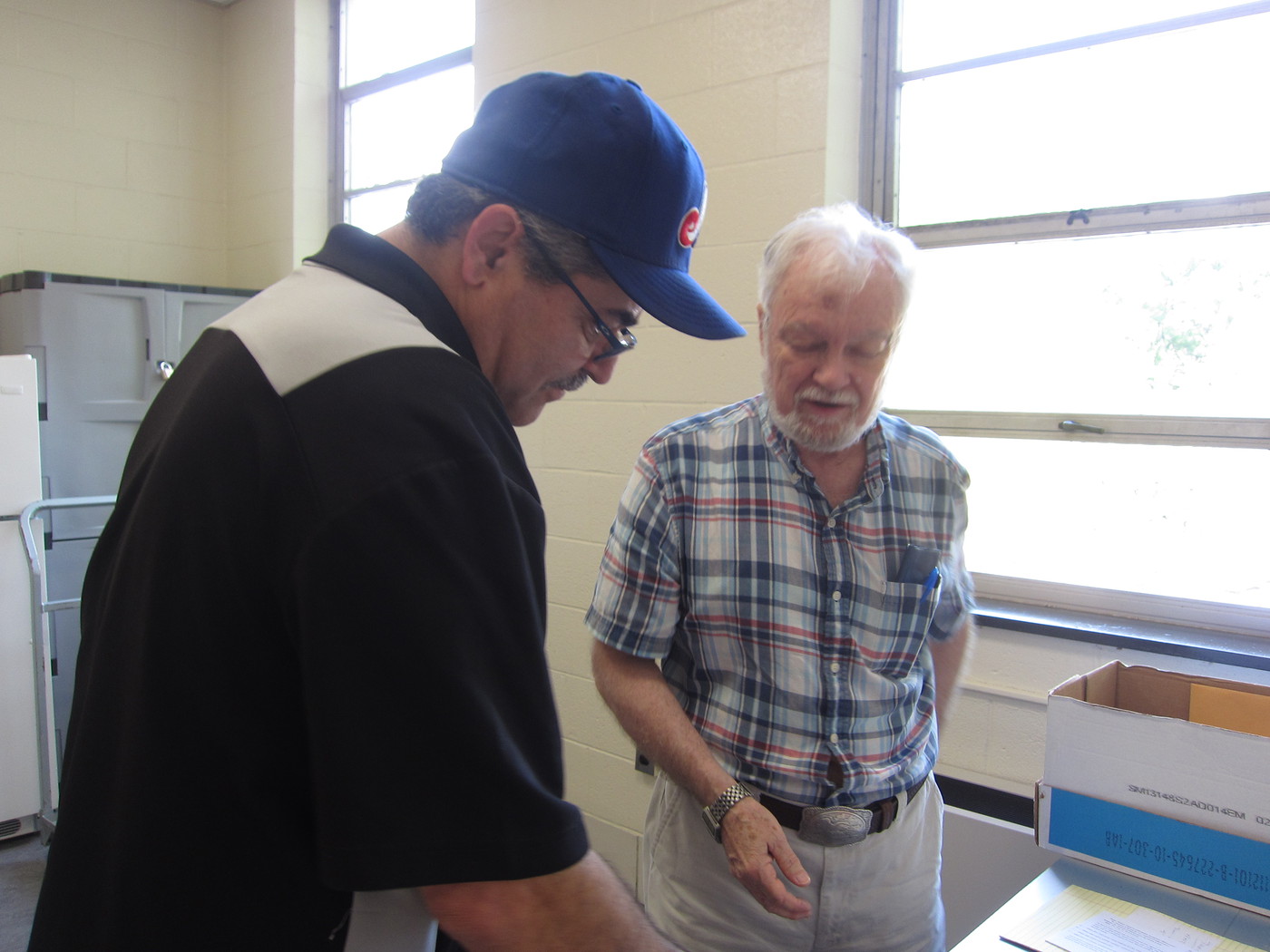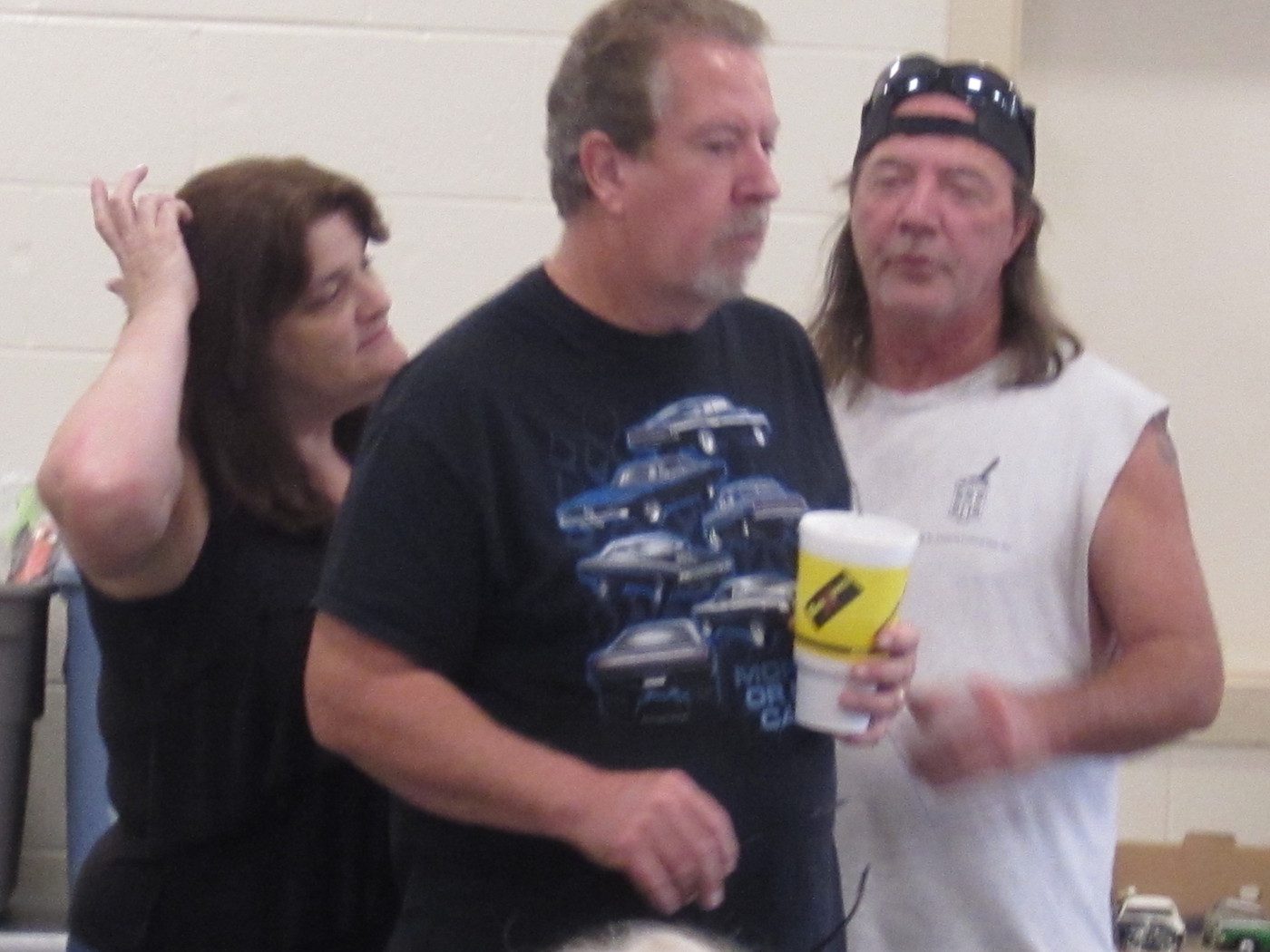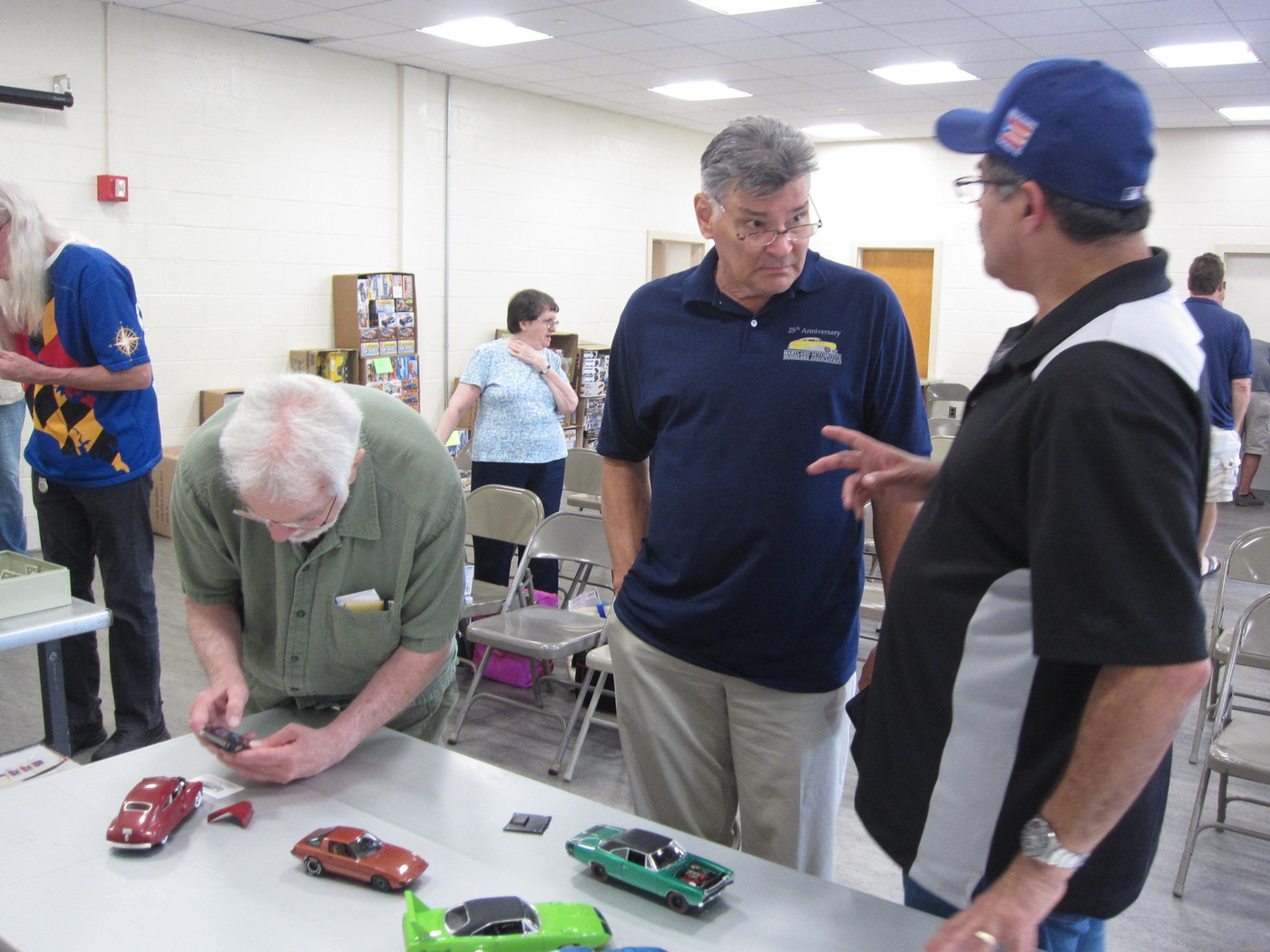 What was Matt thinking when he bought this built-up and abused Pacer Wagon???.

Here's a sassy preview of this month's VeePee Pick. Look for the details in next month's MAMA newsletter!

The raffle table was a bit light this month, but what was there was good stuff!

We are once again grateful to our esteemed club treasurer for ensuring that no one goes hungry during a meeting. Thank you, Matt, for this month's fine selection of cookies.

You can see a LOT more photos of this month's meeting at:
https://public.fotki.com/partsbox/model-car-shows/2019-mama-august-meeting/