Due to health and safety concerns regarding the possible spread of the Corona Virus the Greenbelt Community Center where we meet remains closed to events.
to MAMA's Diner, the official home of the Maryland Automotive Modelers' Association (MAMA), where we serve entrees of fun, friendship, and model cars.
MAMA's current leadership team is:
President: Tim Powers
Vice-President: Dave Toups
Treasurer: Matt Guilfoyle
Newsletter Editor: Tim Sickle

*** Show Updates ***:
CANCELED: Super September Showdown Model Contest and Vendor Show, was scheduled for September 13.
CANCELED: Tri-State Trifecta Model Car Show, Swap Meet, & Contest, was scheduled for September 26.
Please continue to follow the 15 Days to Slow the Spread guidelines issued by the White House. Your health and safety are far more important than any meeting, contest, or show. We want to see you there whenever we are able to have in-person meetings, contests, and shows again.
Scenes from our fifth pseudo-virtual meeting in July:
This pseudo-virtual meeting thing has been working pretty well. Due to public health and safety concerns and Maryland State restrictions on gatherings aimed at preventing the potential spread of the Corona Virus the Greenbelt Community Center where we meet has been closed since March. We had really good results over the previous four months with members and friends sending us photos and descriptions of the model cars they would have brought if we'd had physical meetings, or just any model cars or projects they wanted to share. For July we're doing it again.
Howdy Hoffman starts us off this time around with a replica of his real Dodge A-100 pickup.

Next, Howdy shared some replicas of Dick Landy and some of his Dodges.

Our resident blacksmith, Jim Maness, sent us this gasser-style 1933 Willys Street Rod and rendered his version of Big John Mazmanianís 1941 Willys race car.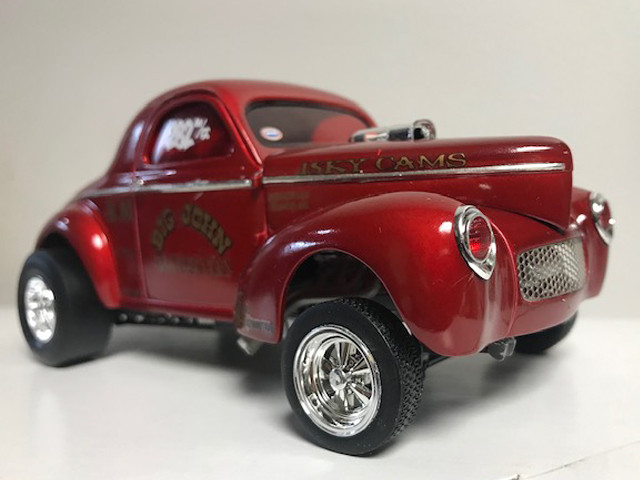 Paul Lee knocked out five builds this month: a Monogram 1940 Ford Pickup, Revell Mercedes-Benz SLS AMG Gullwing Coupe, Revell 1949 Mercury Woody Wagon, AMT 1958 Chevrolet Impala, and MPC 1969 Dodge Charger R/T.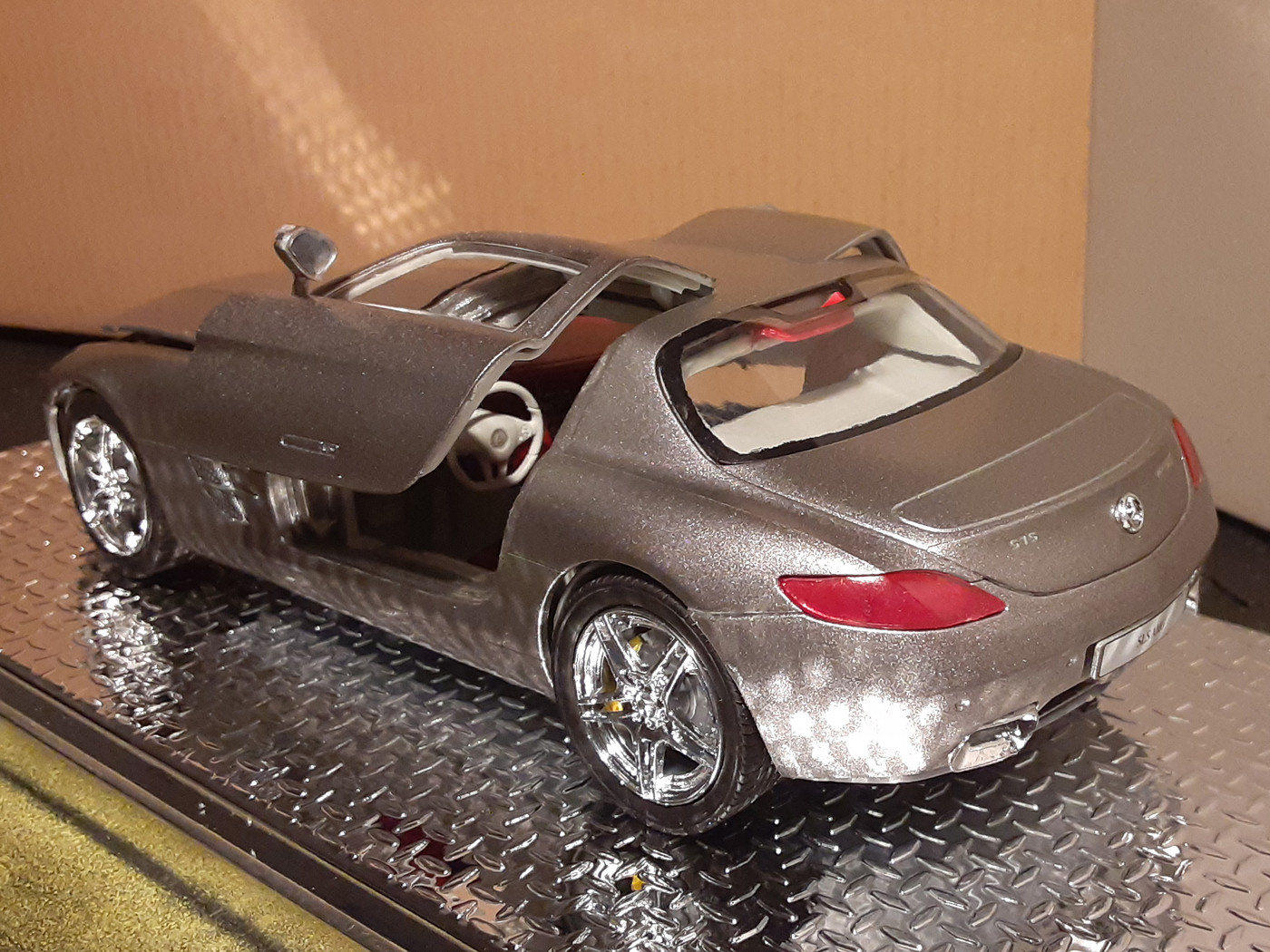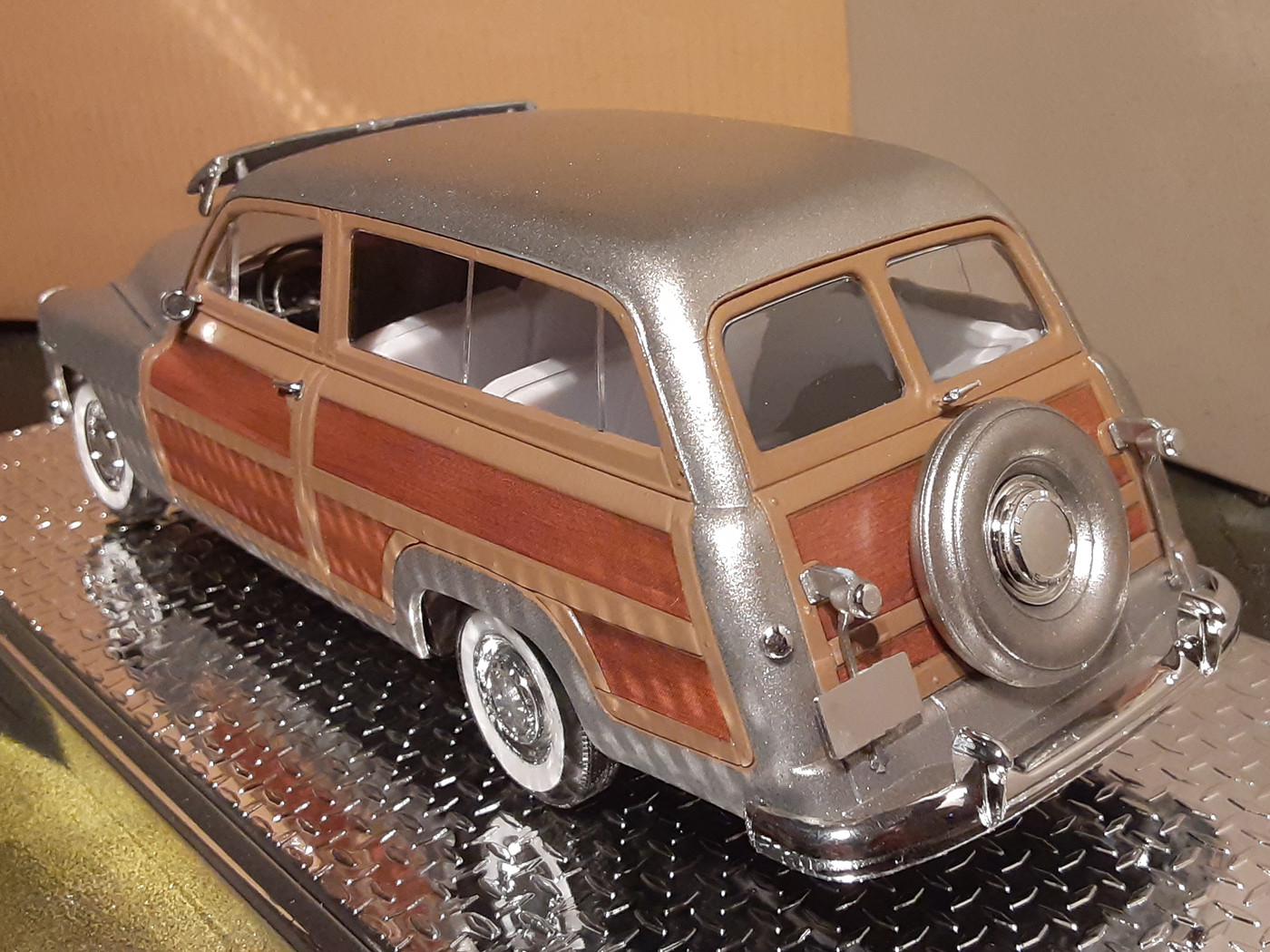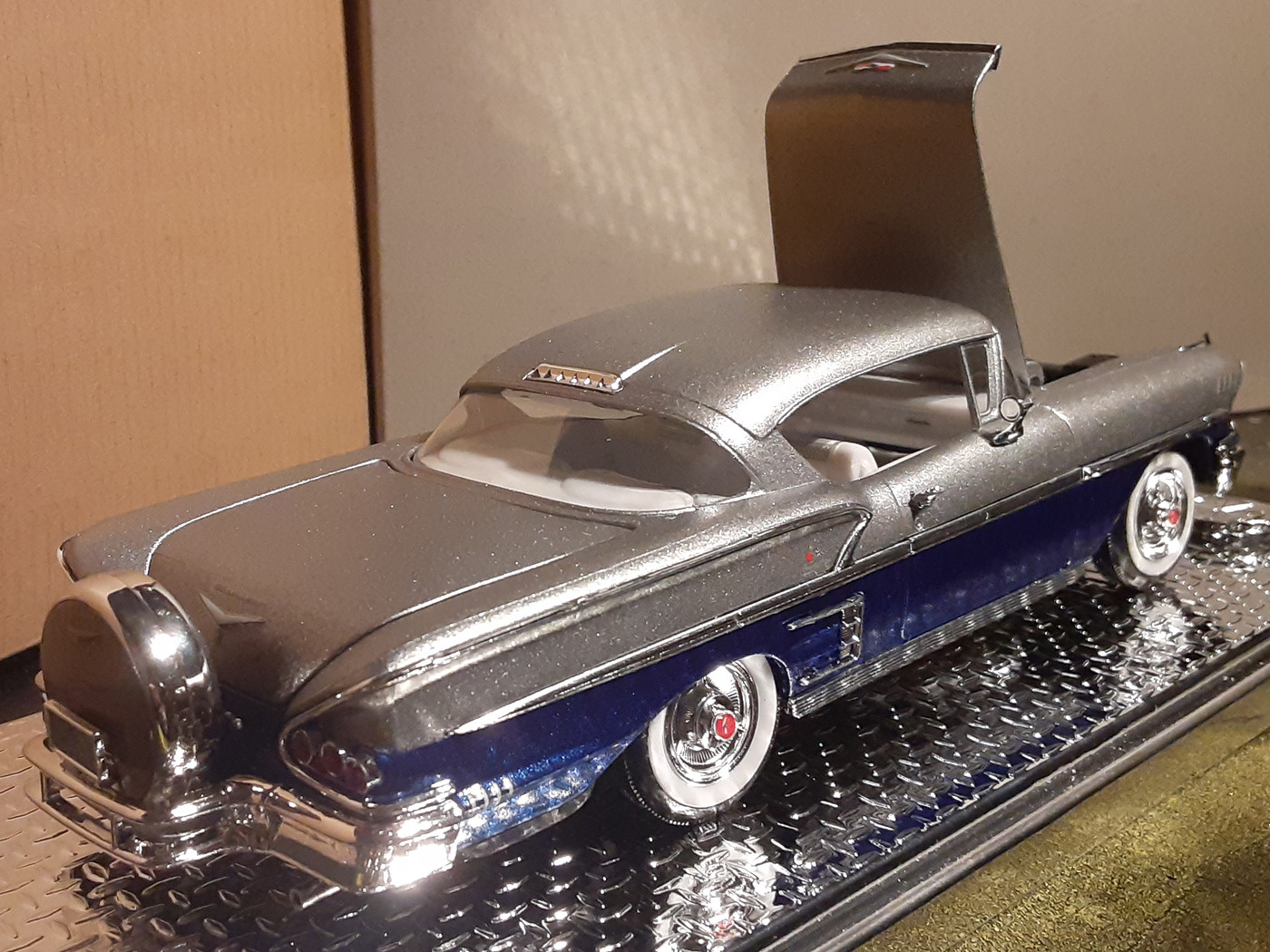 This time around Rex Turner ventured into new territory showing us some of what he calls his many "...started and Iíll finish them someday projects." Hmmm, they all seem to be Mustangs... As for where he builds them, he says he usually paints the bodies outdoors and lately he's been building at the kitchen table or even on the couch since he doesn't have a basement to go hide in. Rex said he has moved 95% of his kits inside the house (most were in the garage) to avoid having to go back in and out of his garage which is not cooled or heated.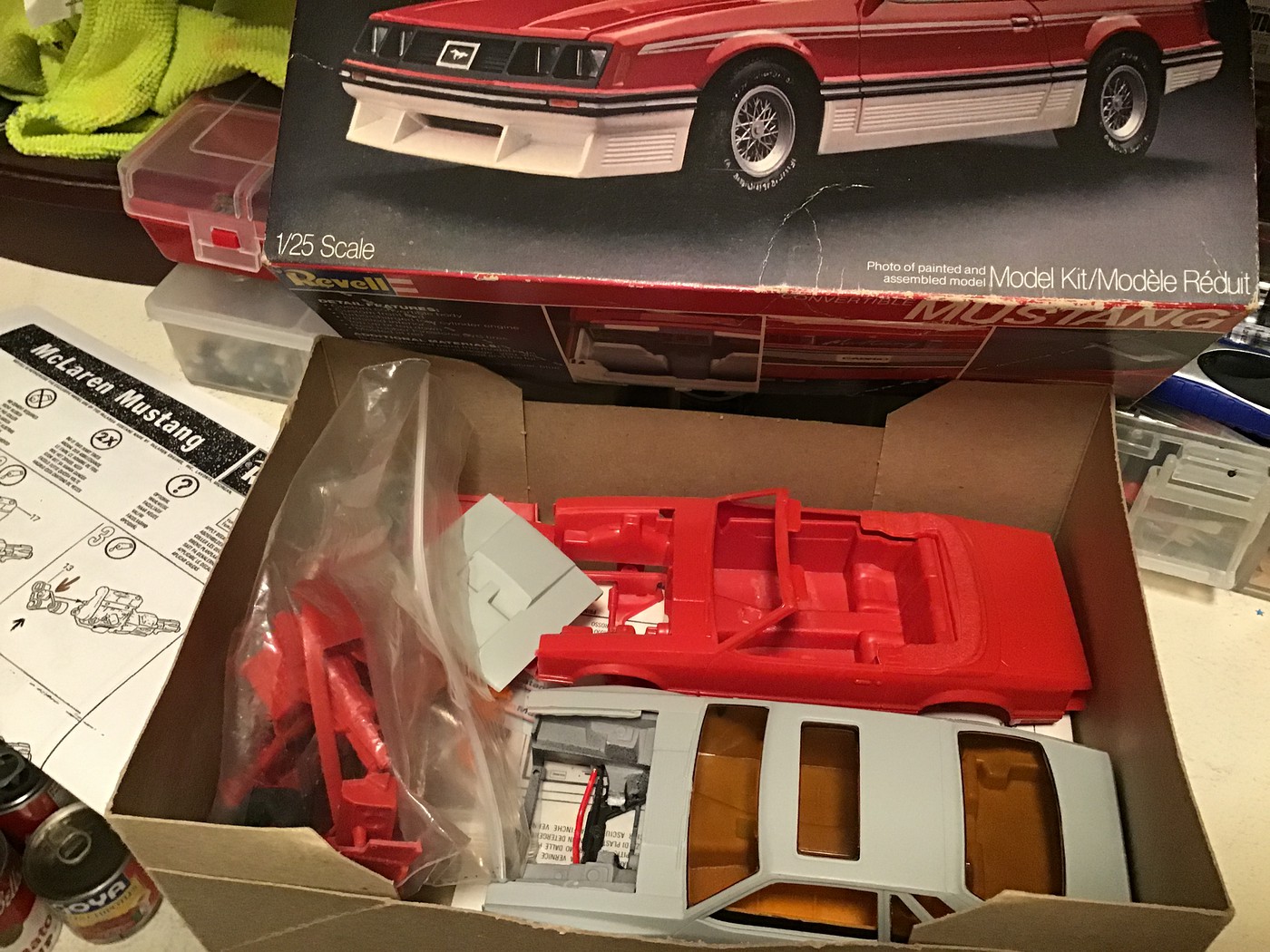 Malcom Douglas sent us a couple photos of the Fiat gasser he's working on along with a picture of his model workbench in his Glen Burnie home.

Ron Dreschler sent us photos of an older build that took Third Place at an IPMS award back in 2008, before it was even finished! It is a replica of a customized 1966 Big-Block Corvette that had been photographed in Florida for a cover story in a Russian car enthusiast magazine. The first photo is the almost finished car with its IPMS award. The second photo shows an interim stage of unifying bodies of multiple custom Corvettes and melted sprue. In the third photo we see the finished model enshrined in its permanent Florida home with a framed copy of the Russian Magazine that covered the full-size original. In the final phot we see Ron donning his Opti-Visor at his 18" deep by 24" wide model bench as he was starting the project.

Marcos Cruz just finished the Tamiya Mustang GT4, only with some minor changes. He didn't want to go with the race decals and decided to add two white stripes and paint the car with Tamiya Blue Metallic. The white stripes were masked and painted with Tamiya Pure White. He said he is really hoping that Tamiya can come up with a Factory Stock version of a Shelby GT 500 or something similar. He jokes that this kit is so well engineered that if you place a bottle of glue in the box and shake it just right, it might just build itself.

Cruz also sent his Hasegawa BMW 2002 Turbo build. He says that this model is a curbside but builds very nicely. He used BMW Chamonix White paint from MCW Finishes for the color. He decided to use different tires and rims instead of using the kit supplied alternative. Cruz caustions those planning to build this kit to be very careful when applying the decals as they are very thin and fragile.

Lastly, Cruz sent his Fujimi 1/24 Koenig Specials Porsche 928S4 build. This is a simple curbside kit with very few parts and lots of visual appeal. Cruz says it builds and looks terrific when done with a little love. His main reason for building this one was to test a new line of paints offered at Home Depot called Colorshot. Both their primer and color were used for this build. The paint was used right out of the can and worked nicely. He shot Testors Wet Look for the clear and made the flat color come to life. He says, "Try the paint fellas, I think you will like them." They offer approximately 20 different colors including some Metallics. They're not available at every Home Depot though. He purchased his at the Bel Air Home Depot.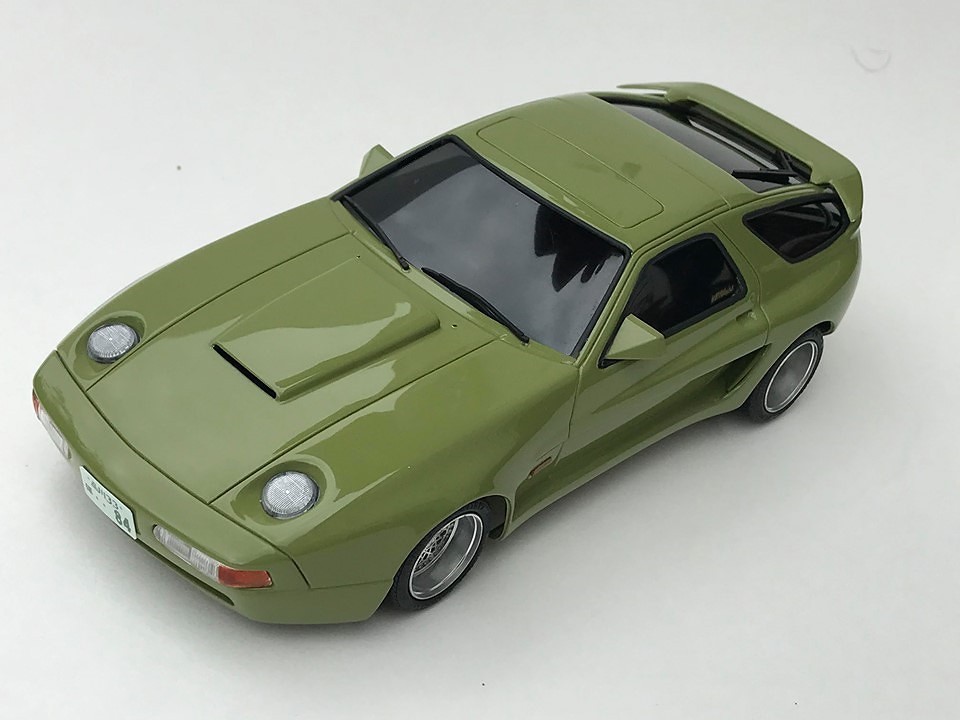 Steve Buter comes in this month with another "Rich Meany Rescue", that is, something Steve adopted from Rich's "Boneyard" at the last "live" meeting we had in February. What there was of this model came in a Ziploc bag. Steve hoped to scrounge enough old parts from his partsbox at home to convert the 1934 Ford pickup into a respectable stocker. But those parts were not to be found, so he raided a Monogram 1932 Ford "parts kit" for the front & rear suspensions, Chevrolet engine block and heads, wire wheels, bumpers, and louvered hood all to make a sweet street rod. Those finned air cleaner heads and the brake master cylinder w/power boost are resin items from the Replicas & Miniatures Company.of Maryland (RMCM.) The model had been originally candy apple red when Steve bought it, but he said that finish looked like it had seen better days before the model ended up in the Ziploc bag.The current finish is Testors Arctic Blue lacquer shot straight from the can. The original builder (unknown) opened the doors using the tried 'n true bent-wire diy hinges. Steve added resin pleated inner door panels with handles and window cranks from RMCM.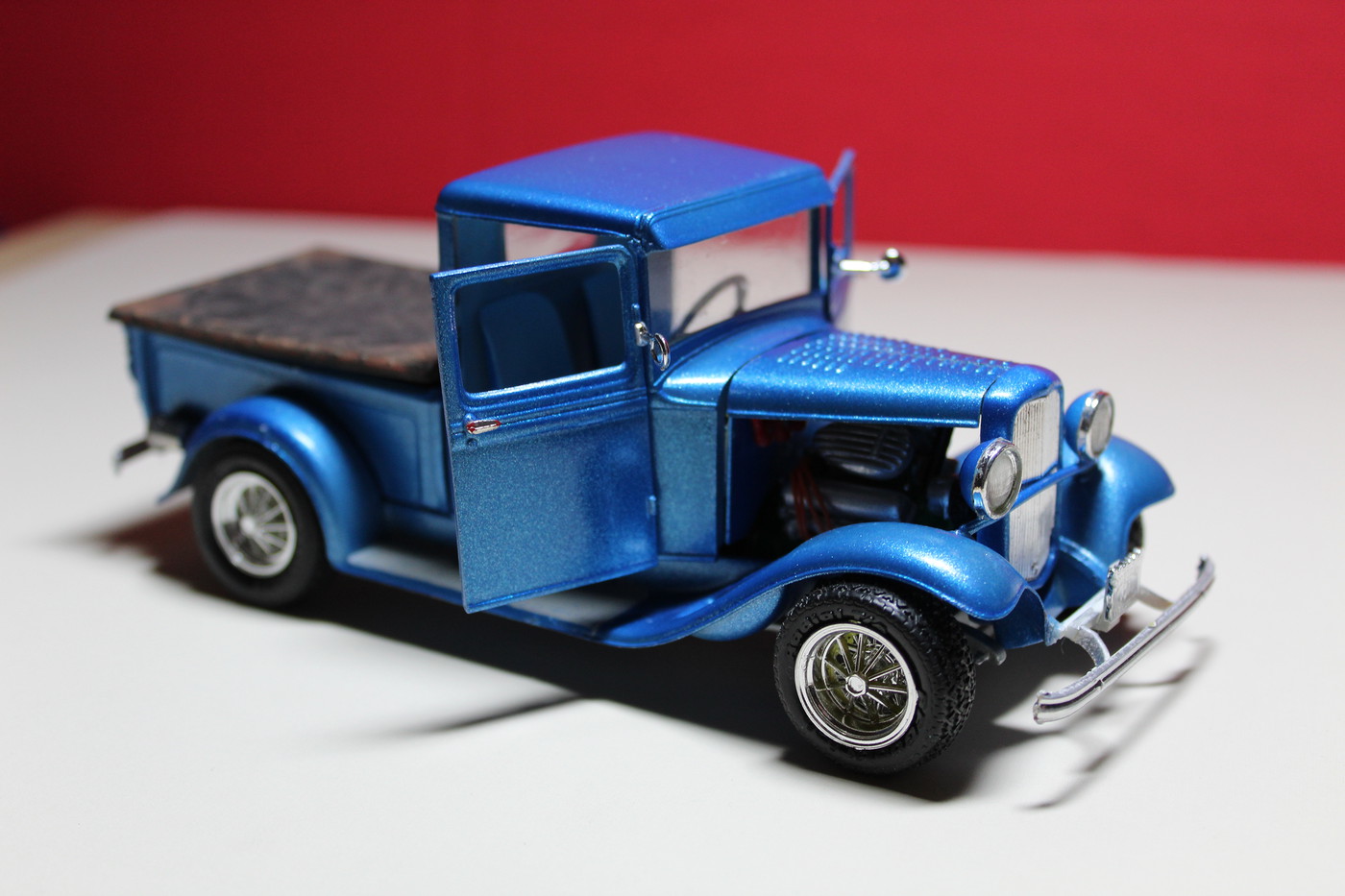 Steve also sent this little 1/32 scale 1940 Ford Convertible. He says way back, when he was a "creepy li'l kid," he and all his car modeling friends (hey, back then, ALL your friends happened to be car modeling friends) thought that those Pyro 1/32 scale kits were atrocious, given their lack of an engine, NO chrome parts whatsoever, the smaller size, and, Oh yeah, those one piece plastic wheel/tires. Times change, and as a middle-ager he decided to give one (now sold as a Lindberg kit) a shot after picking it from the raffle table when one of his numbers came up at one of our club meetings a few years ago. He's very pleased with how this project and its automotive spray lacquer finish turned out. So much so that he is thinking of trying some more kits from the Lindberg line. And the '40 Ford seems a lot happier now; it recently picked up a lady friend. The figure is a 1/35th scale YUFAN product that looks right in scale when posed with the 1/32 scale car.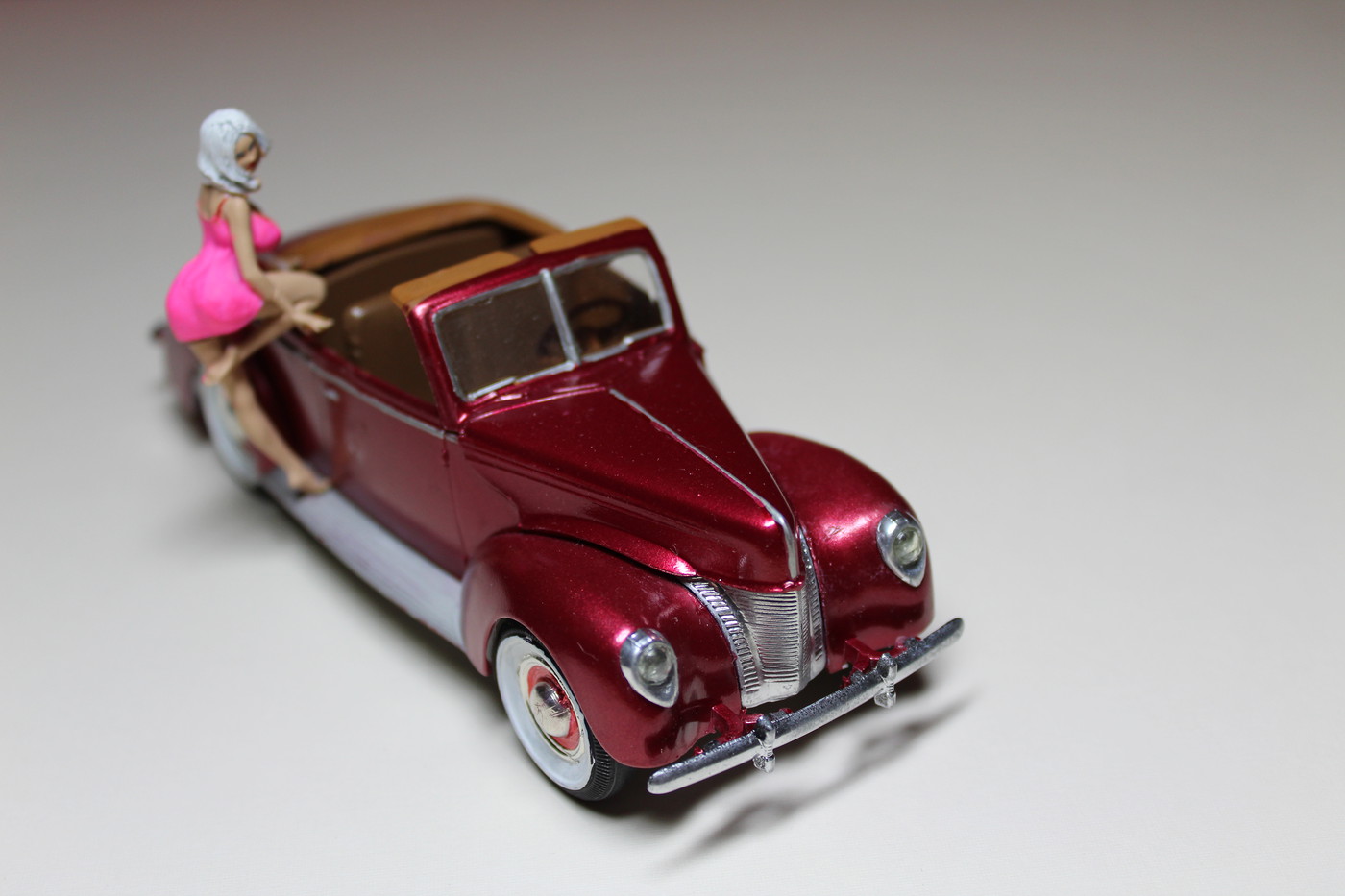 Steve finished up with a couple of those MAMA 30th Anniversary resin guitars that Norman Veber made us in 2018. Along with painting them up, he detailed them with a couple of figures.

Tom Jerow sent us photos of a pair of motorcycles and a shot of his work space. The first motorcycle is a 1/12 scale Tamiya replica of the BMW R80GS motorcycle used by Belgian-born rider Gaston Rahier in winning the 1985 Paris Dakar rally. The BMW was brand new for the race and was severely damaged during a media appearance before the race. Not having a spare, the BMW team quickly patched up the bike, crossed their fingers and sent Rahier out into the desert where he defied the odds. Tom built this one out of the box using the kit-supplied decals. Paint is Tamiya Bright Red and White shot from the spray can.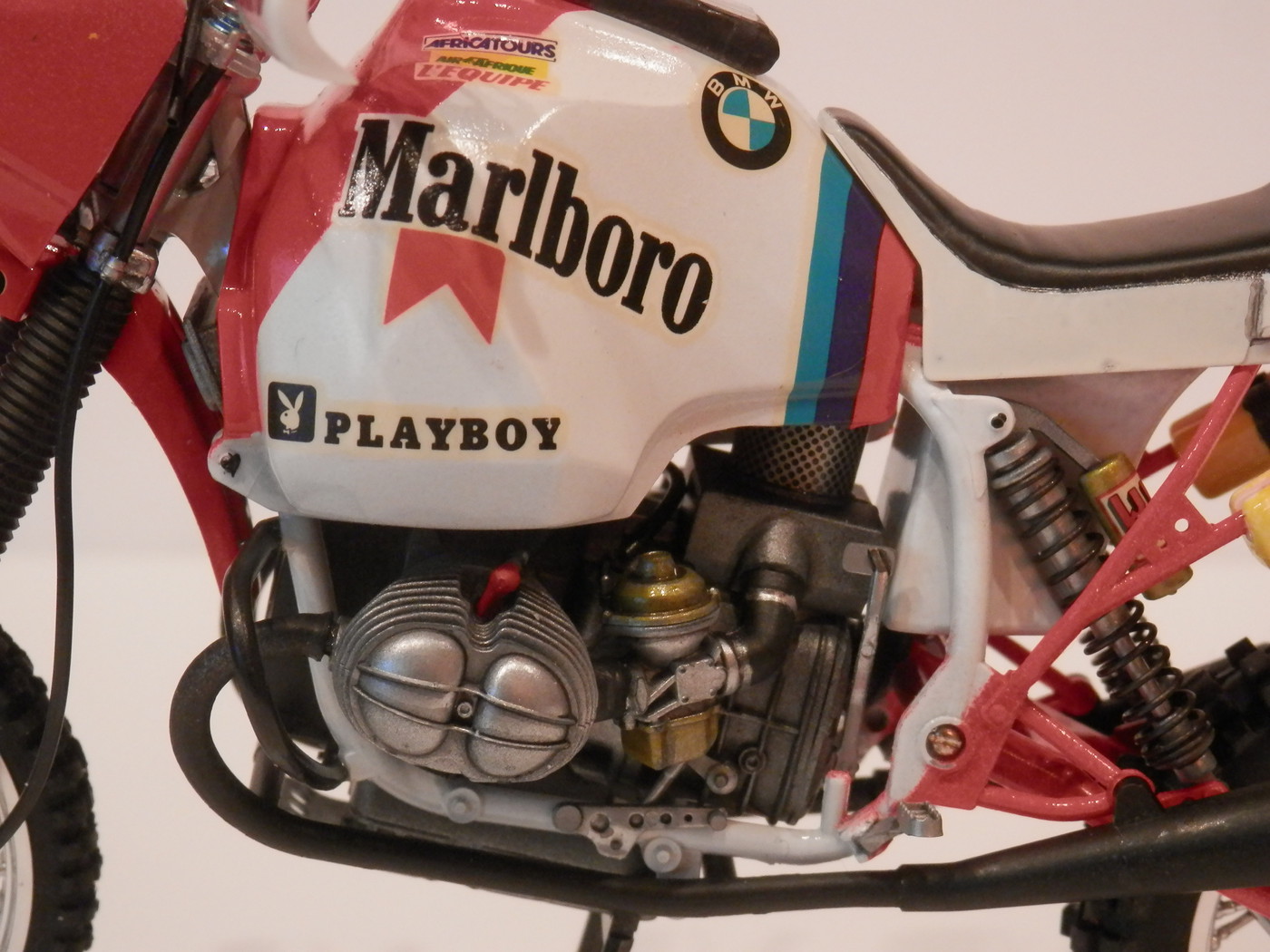 Tom's second motorcyle started as an out-of the box build of Tamiya's 1/12 Honda NXR750 1986 Paris Dakar winner, but he modified it with a Camel yellow paint scheme (Tamiya spray can) and aftermarket Camel livery decals.

Here are both bikes on the bench where Tom creates his scale magic.

Don Stone sent a shot of his current works in progress and four views of his hobby workspace.Don says the green and orange car just needs decals and that the rest are waiting for him to get the gumption to break out the air brush and paint their two tone paint schemes.

Here's Don's workbench. He says that yes, there is a TV on the wall in front.

These two photos are Don's builds and most of his unbuilt kits.

Here are Don's slot cars and Matchbox size toys. He says that one day he will put up the track.

"Bionic" Mike Costic staged a few shots of himself in his hobby room following recent knee replacement surgery. Although he's recovering right now, we expect he'll soon be leaping tall buildings in a single bound with his state-of-the-art titanium aftermarkets parts, just like Lee Majors (aka Steve Austin) used to do. Okay, maybe he'll just be building model cars on a full-time basis since he's retired and repaired.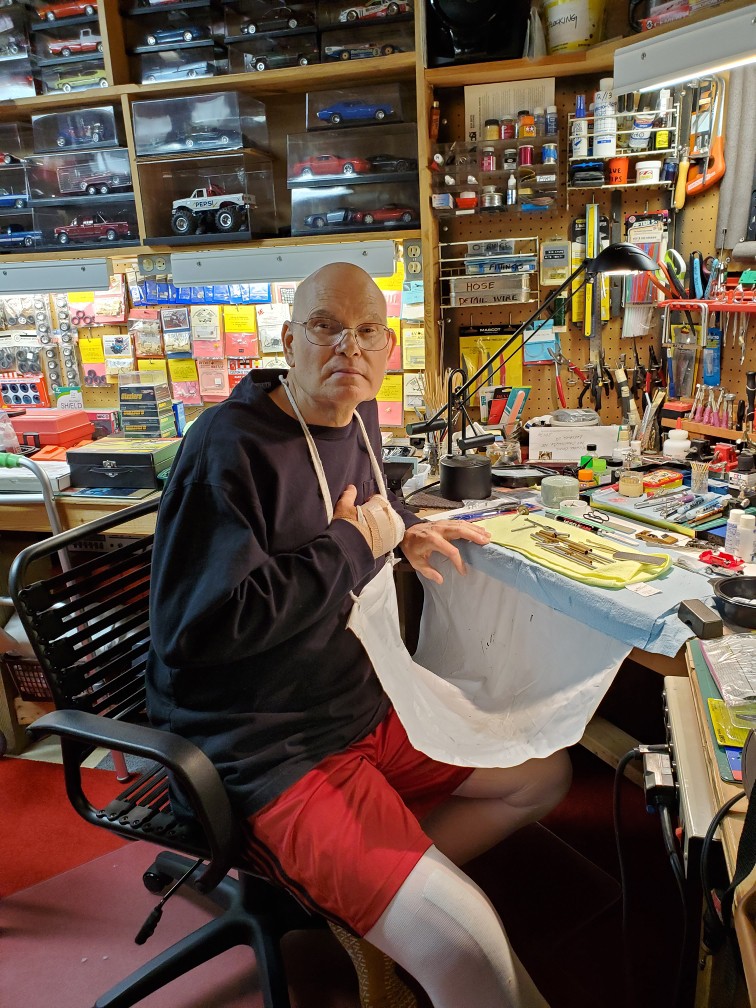 Lyle Willits just did something I always wanted to do, he built a 1959 Cadillac without tailfins! He said he'd always wanted to see what one would look like, and so have I. Now, we both know it what it looks like. Lyle says the easy part was removing the fins and doing the bodywork. It was the entire rest of the kit that was a NIGHTMARE!! Nothing fit. Nothing worked. He had to redo most sub-assemblies several times. But now it's done! The grille bars came from his parts box. He reshaped the rear wheel openings to mimic the fronts and he scratch built the chrome trim. Those big chrome wheels came from a phantom street rod kit that came out years ago. The upholstery inserts are 1/24 scale doll house wall paper images that he found online, printed, and applied with white glue.

You might recall that earlier Rex Turner said he didn't really have a dedicated space for building models and he uses the kitchen table or living room couch. Well, he does have a display area for his finished builds. He recently moved his unbuilt kits into the house from his garage because of the recent heat. So here are a few photos of his display room and some of those unbuilt kits. Rex points out that all his models are heavily guarded by the dark side...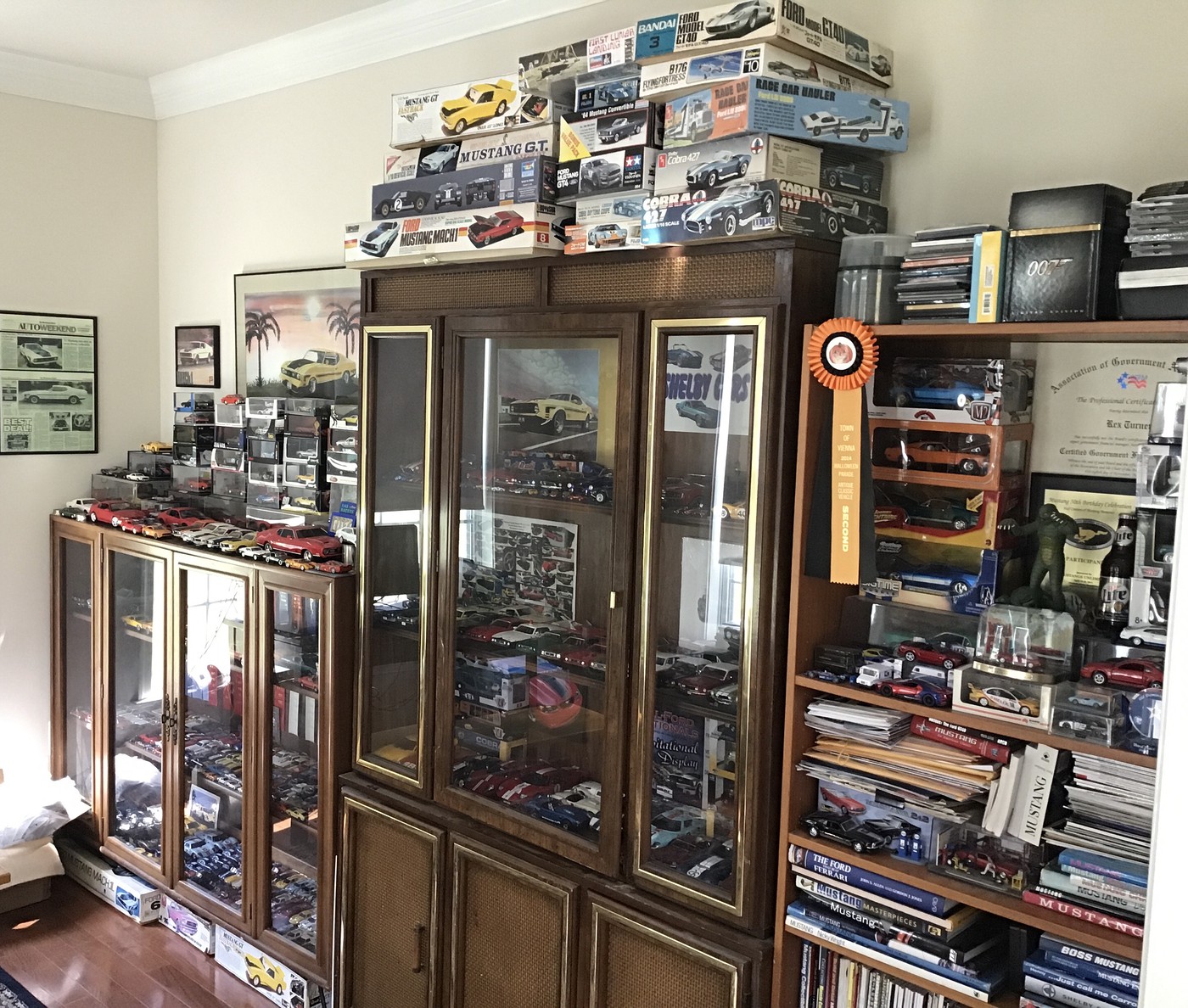 What kind of cookies did you have on July 18th?