Early reminder: The November meeting will be our annual Toys-for-Tots collection meeting. Please bring all the toys you can to help make this Christmas a little better for underprivileged girls and boys. We had a really good outpouring of donations last year; let's make this year's donations even greater. Please keep in mind that toys and games which do not require electricity (batteries or AC) are preferable.
to MAMA's Diner, the official home of the Maryland Automotive Modelers' Association (MAMA), where we serve entrees of fun, friendship, and model cars.
As a result of our most recent elections, MAMA's current leadership team is:
President: Tim Powers
Vice-President: Dave Toups
Treasurer: Matt Guilfoyle
Newsletter Editor: Tim Sickle

The Living Word International Christian Church at 16819 New Hampshire Avenue in Silver Spring, Maryland is seeking American Muscle Car models to display alongside military, aircraft, armor, ships, figures, and dioramas on Sunday November 11. The display will follow a service to honor American Veterans and a Salute to the US Armed Forces which will include observing a moment of silence at 11:11 to honor the 100th Anniversary of the Armistice ending World War One. If you would like to display your American Muscle Car models email Joe Bles of the National Capitol Model Soldier Society.
Scenes from our October meeting:
Rich Wilson customized this slick Shelby 427 Cobra.

Here are the rest of the models that Rich displayed.

Tom Jerow built this beautifully weathered Rothmans Racing Honda. It's coloful cowling is partly visible in the background.

I never did find out who built this clean Monogram Blue Beetle.

Steve Buter displayed this 1937 Ford Gasser and driver figure.

Jim Maness recently finished building an accurized replica of the real Dukes of Hazzard star. Based on a Revell 1969 Charger, this build shares only the decals and wheels from the AMT kit.

Here an exciting pair of Gassers.

Harold Bradford, aka Brad, displayed this somewhat expensive large-scale Model Factory Hiro kit of the Roger Penske Enterprizes Porsche 917/30 that was driven to the 1973 Can-Am Champion by Mark Donohue.

As usual we are very grateful for the many prizes from several donors filling our raffle table.

What to choose, what to choose? One lucky raffle winner ponders which item to select as his prize.

This 1969 Camaro featured billet aluminum wheels and safety belt details.

As always, whenever you put model car builders in a room together, they find plenty to talk about.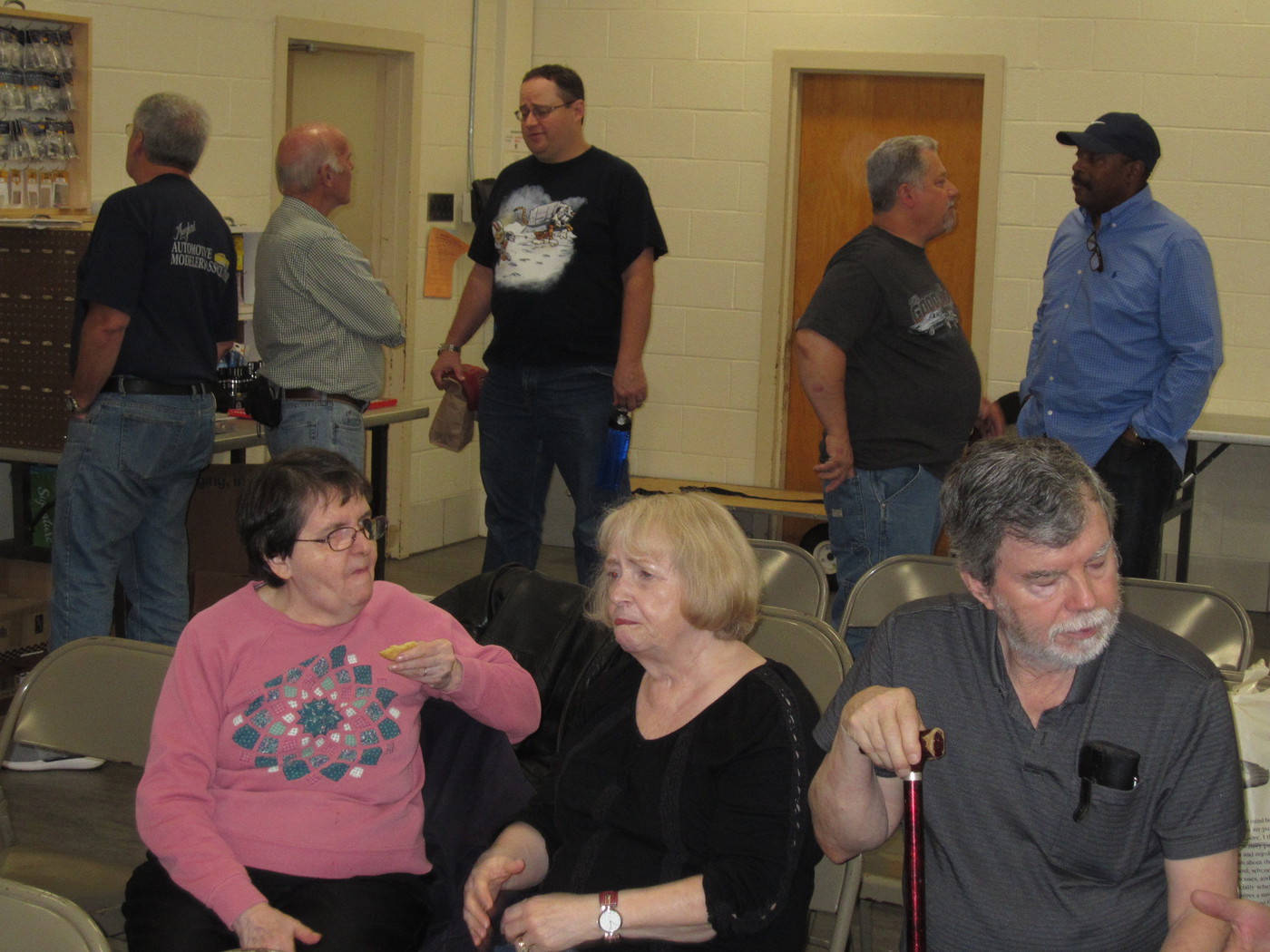 Praying at the Model Car Altar? Nope, that's just our founder, Norman Veber, getting detailed close-up photos of a very nicely made die-cast Ferrari.

Secretary and News Letter editor Tim Sickle also pens a regular column for Poncho Perfection magazine. Here's his latest featuring MAMA's 30th Anniversary celebration from the October meeting.

This month's cookies came with a Halloween theme. Thanks to treasurer Matt Guilfoyle for once again feeding our sugar addition.

You can see a LOT more photos of our September Anniversary Celebration meeting at:
http://partsbox.fotki.com/model-car-shows/2018-mama-october-m/