The September meeting will be our 30th Anniversary! See you there.
to MAMA's Diner, the official home of the Maryland Automotive Modelers' Association (MAMA), where we serve entrees of fun, friendship, and model cars.
As a result of our most recent elections, MAMA's current leadership team is:
President: Tim Powers
Vice-President: Dave Toups
Treasurer: Matt Guilfoyle
Newsletter Editor: Tim Sickle

Scenes from our August meeting:
This drop-top is the latest custom to roll out of Lyle Willits' model car workshop.The car features a detailed Joni "Lookout" Johnson figure from Master Box Ltd.

One of Hallmark's Honda 750 Christmas ornaments for 2018 was on display and prompted at least one member to fire up his cell phone and order one on the spot..

Dave Schmitt has been working on this Monte Carlo for some time now and his efforts are paying off. He has opened and hinged the doors and deck lid and added a vinyl top

New member Brian Shipley displayed this traditionally colored Lindberg 1/12 scale Fiat Gasser.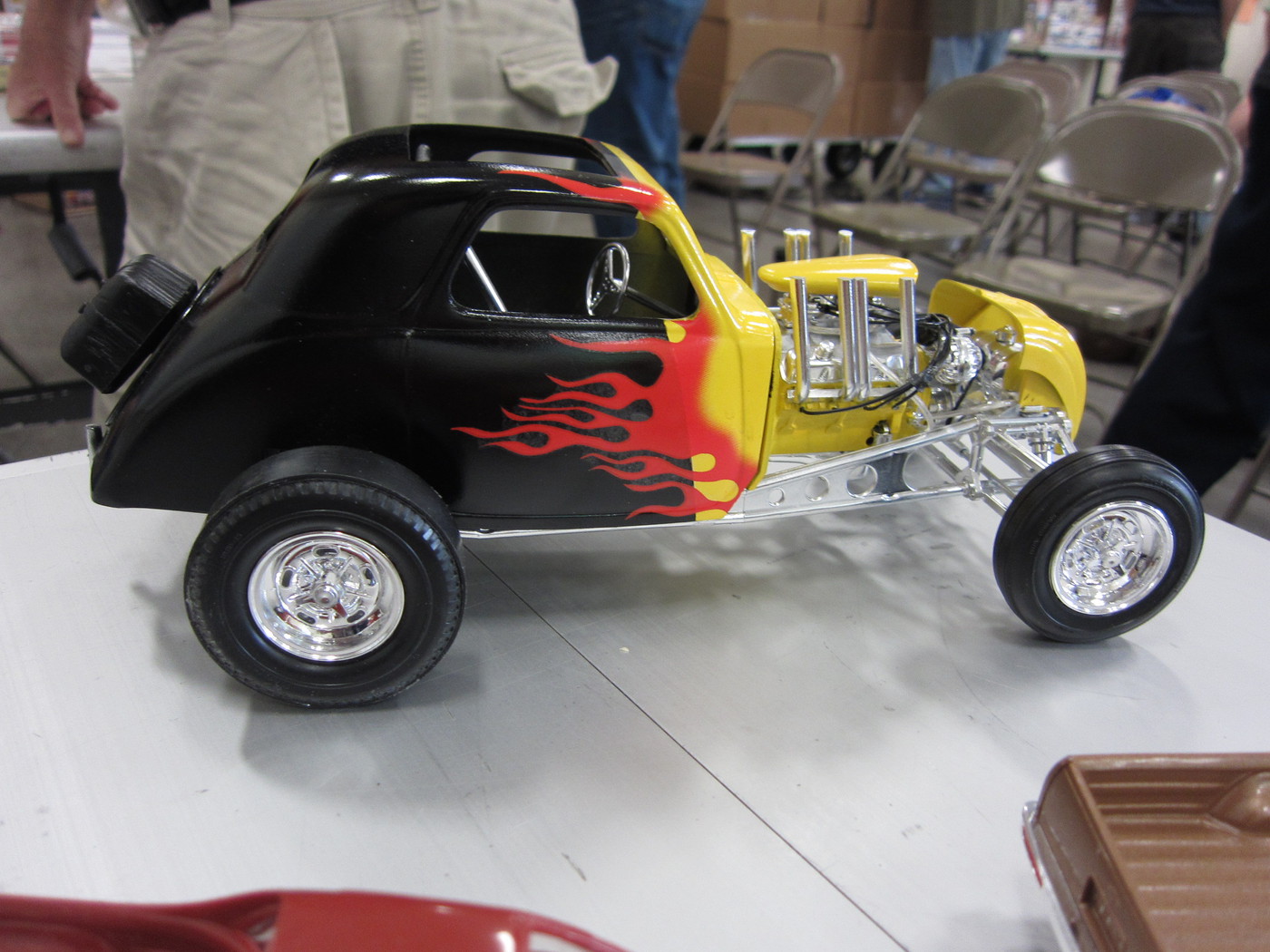 Gary Sutherlin's '32 Ford Dirt Track Racer got selected as the VP's pick for the month. There will be a write-up about it in the September newsletter.

So that's where all the El Camino Promos went! Our club President had a run of good luck buy them over the last couple weeks.

I never did find out who built this race-ready Nova.

Among the collection of interesting models that Rich Wilson displayed, was this rare Howmet TX Turbine-powered road race car model kitted by MPC.

Malcolm Douglas laid out the latest project he has in the works. look like its gonna be a great one.

Along with lots of discussions, tips and tricks sharing, and bench racing, there were concentrated studies of the models on display and plenty of new and old kits to buy all day.

Our raffle table was overflowing with kits, parts, built-ups, and magazines.

There was a good bit of discussion about how much of this NSX race car kit's body was covered by decals and how hard it must've been to aply them over all its curves.

Here's a cute little Fiat 500 by Rich Wilson.

Matt Guilfoyle brought the cookies as usual, but they didn't stand a chance against this crowd. They were devoured faster than a train car in a Godzilla movie.

You can see more photos of our August meeting at:
http://partsbox.fotki.com/model-car-shows/2018-mama-august-meeting/ and
http://mamaprez.fotki.com/model-club-mettings-2018/mama-meeting-8182018/