You all are great! This year's donations to the Toys-for-Tots campaign was terrific! Thank you all for your ever-growning generosity.
The December meeting will be our annual holiday feast meeting where we celebrate Christmahanukwanzika, Festivus, or whatever by eating way too much, and then sitting around groaning at each other until it's time to go home and eat some more.
As we are heading into the winter months, remember, if Prince George's county has a snow emergency in effect, there will NOT be a meeting. The inclement Weather Phone Number to check is: (301) 474-0646.
to MAMA's Diner, the official home of the Maryland Automotive Modelers' Association (MAMA), where we serve entrees of fun, friendship, and model cars.
As a result of our most recent elections, MAMA's current leadership team is:
President: Tim Powers
Vice-President: Dave Toups
Treasurer: Matt Guilfoyle
Newsletter Editor: Tim Sickle

Scenes from our November meeting:
Your Toys for Tots donations were the highlight of this month's meeting. All the donated toys more than filled two 8-foot long tables! That's nearly a quarter table more than last year and we had some stuff on the floor under one table. The generocity of MAMA members is alway impressive and most appreciated. Let's give a special shout-out to Mike Costic and his grandson for making a family event of shopping for their donations and getting carried away with how much they donated! Also shout-outs to my wife for the use of her Honda CR-V to cleanly and securely haul the gifts to A.C. Moore in Severna Park, Ron Dreschler for helping load them into the CR-V, and Ron Bradley for letting use his cart to haul the gifts to the car. BTW, John the manager at A.C. Moore was thrilled to have so many gifts come in on their first day of Toys for Tots collections.

Dave Schmitt showed off his vinyl-topped 1969 Camaro Z/28.

Two calibers of Bullit from Rex Turner.

Unfortunately, I didn't find out who built this patriotically decorated Corvette drag racer.

Steve Buter displayed this 1939 Ford sedan.

A few folks displayed their latest purchases for everyone to check out.

This is Rich Wilson's latest stretch project.

J.C. Reckner's Porsche 924 Rally project in progress.

When Rick Donovan bought this Falcon gasser as a started project, the paint on the body was so nice he wanted to keep it, but it had a little damage on the side cove. Rick added some highly reflective prismatic tape to cover the flaw and the results speak for themselves.

The raffle table held some treasures for a few lucky winners.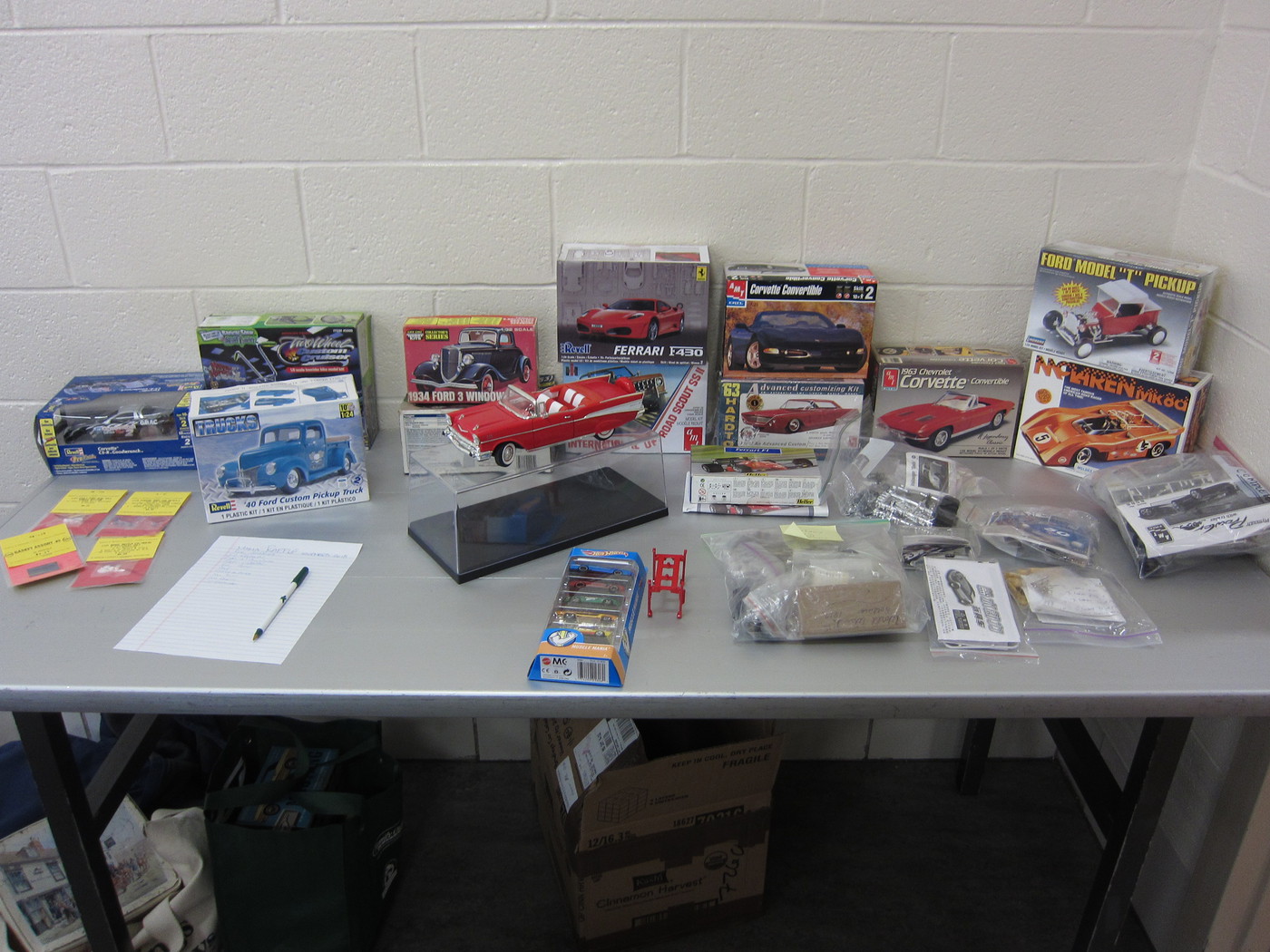 Leonard Harrod brough his Pro-Stock Oldsmobile back, only this time it is an award winning Pro-Stock Olds Cutlass. The car won it's class at the ACME Southern Nationals in Atlanta earlier this month.

Talking about model cars and buying model cars -- that's what it's all about. Oh yeah, and having lunch, too.

This little Vicky just grabs your eyes.

Hallmark's Batcycle ornament for 2018 was on display.

This month's cookies were joined by a box of Twizzlers. Thanks Matt!

You can see a LOT more photos of our November Toys for Tots meeting at:
http://partsbox.fotki.com/model-car-shows/2018-mama-november-/